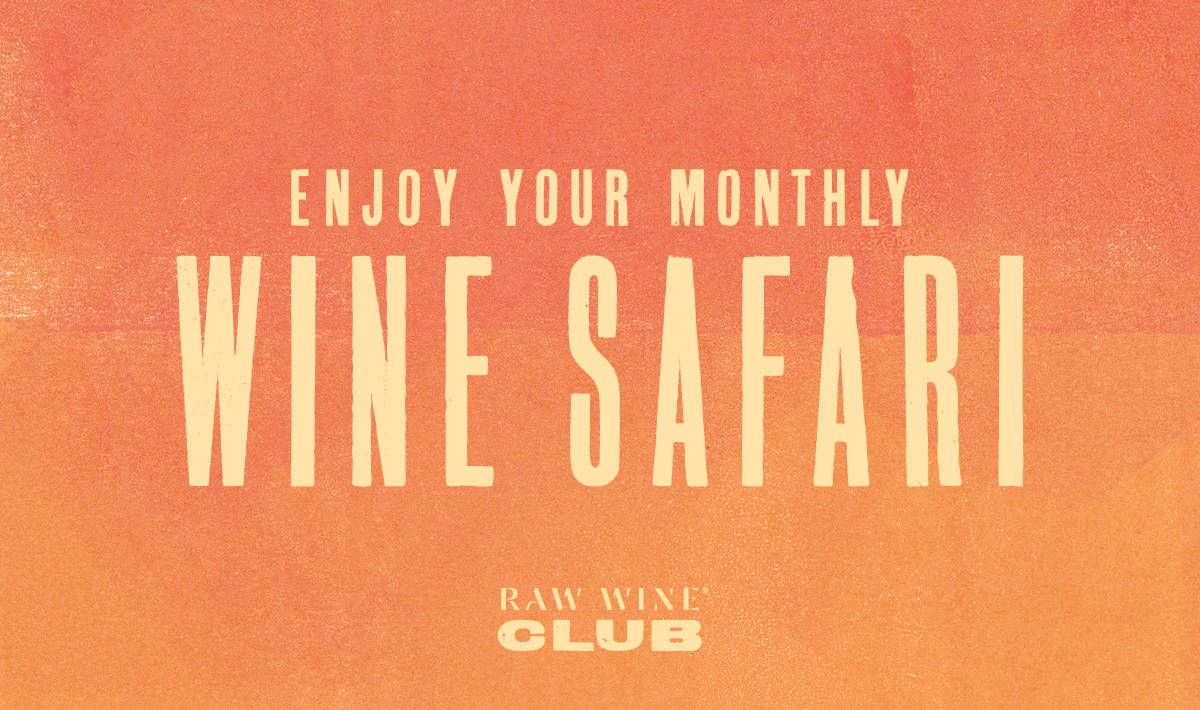 RAW WINE club - Tasting Notes - August 2022 Selection
20 min read
Hello and welcome back!
In our glouglou day and age, and its quest for the ever-more juicy glass of wine, we seem to prefer wines that have barely left the press - the newer, the fresher, the better. Out with the old and in with the new - it is almost the vinous equivalent of fast fashion. What we seem to have forgotten though, is that often wines made naturally - with zero to little sulfites - need time to calm their adolescent verve and find some centeredness. They need time to settle in the bottle. I personally like to drink wines with a touch of maturity, where more developed flavors start coming to the fore, which is why this month, all our bottles (bar 1) are from slightly more mature vintages - ranging from 2017 to 2019. Wines like the pink pétillant naturel from Les Tètes, the Riesling from Geschickt or indeed the Monastrell (aka Mourvèdre) from Julia Casado have all benefited from a little rest in the bottle.
In this box, you'll find a fine, savory pet nat; a bold, spicy Riesling from Alsace; a briny, heady, full-bodied orange from Peru; a crunchy, juicy Portuguese red and an earthy, deeply Mediterranean Monastrell from Spain. All well out of adolescence, and seriously delicious for it. But, so you don't miss out on the zing of summer, I have also included a taste of the fresh and the fruity with a fun, Austrian, 1-litre bottle of rosé - perfect chilled on a warm summer evening.
Happy tasting,
Isabelle Legeron MW, Founder of RAW WINE‌
---
Back in 2013, childhood friends Nicolas Grosbois and Philippe Mesnier bought a 12 hectare vineyard called Domaine des Hauts Baigneux, located in Azay-le-Rideau in the Loire Valley. They make estate wines here but also, with the help of friends Baptiste and Vivien, run a negoce project called 'Les Tètes'. For this project, they buy in organic grapes from four growers in Azay-le-Rideau, Muscadet, Gaillac and the southern Rhone, which they then blend for their range of still wines and pet nats. As Philippe puts it: "four climates, four soils, four grapes".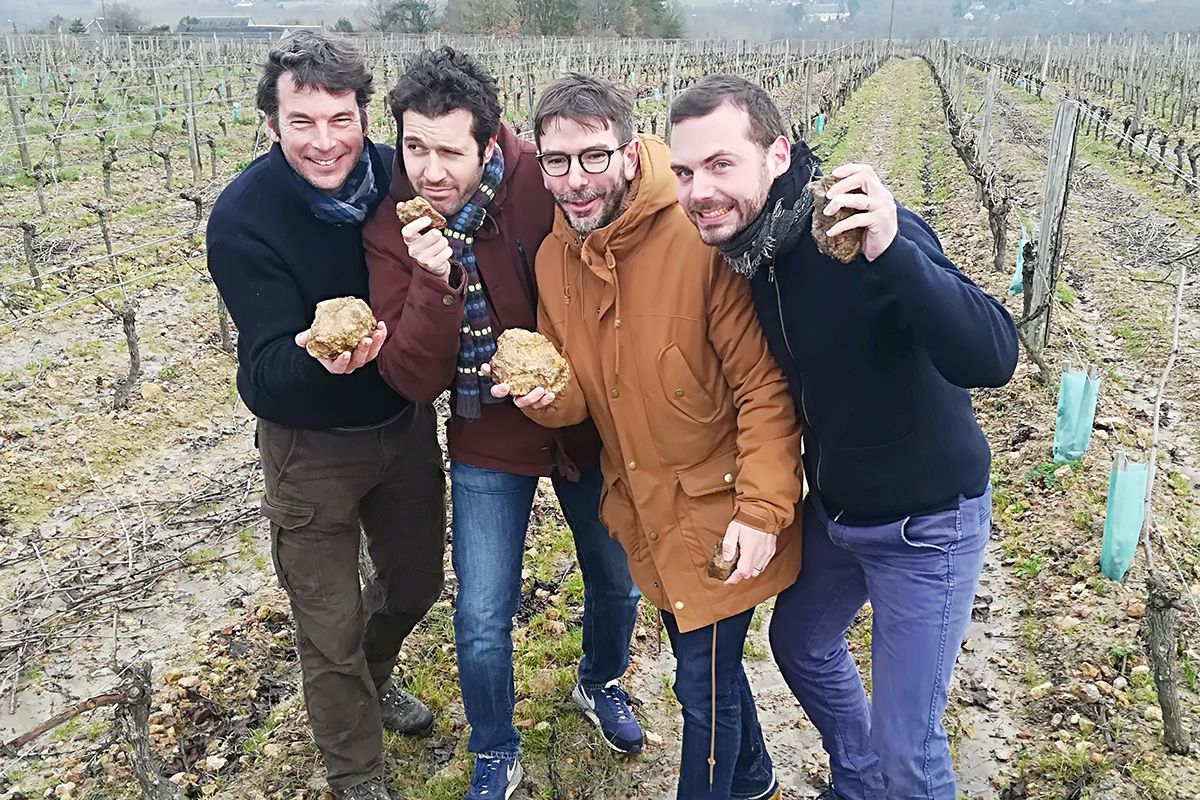 Q&A with Philippe Mesnier.
What's the idea behind Les Tètes?
The main target for creating Les Tètes is that we really wanted to be free and have this creativity. Four climates, four soils, four grapes.
What's your track record in making pet nats?
We started doing pet nats at the domaine but because of the frost in 2016 and  2017 we lost one vintage. At that moment, we said to ourselves that we know how do Les Tètes with still wine - so let's do a pet nat in exactly the same way, with freshness, white flowers, spiciness, minerality.
How do you select the grapes?
Everything is organic. We work closely with four gardeners. (That's what I like to call the growers.) We have become friends with them and are very close. They grow grapes but often don't want to produce wine themselves. Or they do for their domaine. When we started to produce pet nats we called them and asked if they had a little bit more grapes for us. We work with a fixed price for the grapes. We go several times a year to see the grapes as they grow, so we can have an idea of what the vintage will be like in terms of volume and maturity. We do get analysis of the grapes but the most important thing is to taste the fruit. In your head you say I want my pet nat which this specific balance - freshness and fruityness from the Loire Valley and wild flowers and spiciness and a little bit of richness from the South.
Do you ask your grower to pick earlier for the pet nats?
Yes, we pick early for the pet nats. Our harvest window is very wide. We start at the end of August and end with our own cabernet franc in the middle of October.
How would you describe this wine?
This wine is made from direct press Syrah (95%) and Duras (5%) without so2. 2018 was a very good vintage. It is a fresh and elegant pet nat, pale pink, slightly spiced thanks to the addition of the beautiful Duras grown on the clay and limestone slopes of Gaillac. The 2 years of bottle ageing prior to disgorgement also offers secondary aromas bringing complexity to the noble fruits still present.
How did you choose the name?
From the Les Tètes brand - our story of friendship. Our pet nat is 'Tète Nat'. It's as simple as that.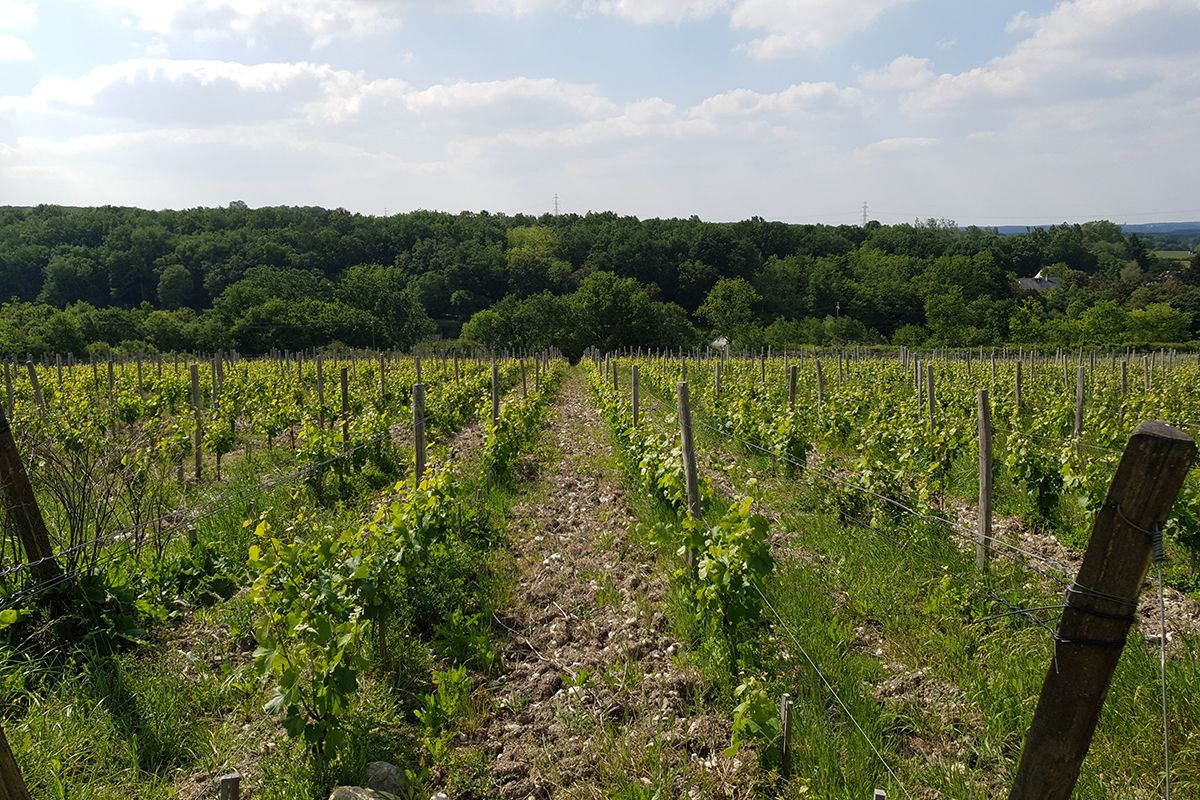 Tell me about the process for making your pet nats?
We don't take the grapes back to our place in the Loire. With two of the gardeners, they pick the grapes. For the other two, we do it ourselves. We direct press with the local pneumatic press and wait two days for sedimentation then put the juice in a refrigerated truck to do the fermentation in our place.
We don't do separate fermentations (then blending later) like our still wines. For pet nats, you need unity as quickly as you can. Unity brings you straightness and homogeneity. You don't want the wine to be fragile. You also do a lot of rotation of the tank, using agitators, as you don't want differences in the top and bottom. Everything is about unity.
Last year we did about 35,000 litres.  For the fermentation it is between 17-20C. We control the temperature as otherwise it will not be so elegant and precise. This takes about three weeks. Then we stop the fermentation by lowering the temperature to 5 or 4C. We want to have 25g / litre of residual sugar remaining. Then we do the stabilisation tartrique - we don't want the white sediment in the bottle. We do it naturally with low temperature. The crystals sink to the bottom. After eight days we raise the temperature and then it is the difficult nights. When you raise the temperature again it can be very quick that you lose the remaining sugar. We want to bottle at around 15 to 15.5g / litre. We know at that amount we will be able to do the secondary fermentation in the bottle. Anything less is very risky. You have to be very focussed. Every hour is dangerous. It takes about eight days. The pet nat could then be ready in the bottle by November. We keep it in a cellar in Saumur. We do disgorgement in January - we work with a specialist to do that. You don't do that by hand with 40,000 bottles.
You have lovely small bubbles - how do you manage that?
It's all about control of temperature, having the balance with the grapes and the mount of sugar remaining when you are bottling. If you want to take a risk you do it at 25g / litre - but then you have big bubbles.
How would you describe your style of farming?
Organic, biodynamic and agroforestry!
Do you add sulfites?
No
Any suggested food pairings?
Sea food, aperitifs and chicken with tropical fruits. Enjoy between now and 2027
Isabelle's thoughts on Les Parcelles, Tète Nat Igny Ruse, Rosé - The four friends behind Les Tètes are pros at crafting high-quality pétillant naturels, using a highly precise, scientific approach. Their pet nats are always very lean and crystalline. This pink sparkling wine is elegant with fine bubbles. It shows fresh, crunchy redcurrant notes but also some interesting aromatic development due to the bottle age: earthy, forest floor notes and some pepper spice. Bone dry, it will pair well with a simple dish of parma ham and melon for example.
---
Domaine Geschickt was established by Bernadette Meyer and Jérôme Geschickt back in the 50s and converted to biodynamic farming in 1998. Since 2011, it has been run by Arnaud Geschickt and Aurelie Fayolle who continue to produce classic Alsatian wines, such as this Riesling, but have also added pet nats and skin macerated white wines to their repertoire.
Q&A with Aurelie Fayolle.
Can you describe the wine?
Riesling is very typical in Alsace. We handpick the grapes at a good maturity - fully ripe. It's a dry white wine - large, generous, smoky, with notes of peach and lots of minerality because of the biodynamic farming. A touch of salt at the end. It is something we can share easily. You can smell it, you can feel it - it is a generous wine because of the maturity of the grapes.
Can you describe your farm?
We work behind the Vosges mountains. It is a very sunny place. Very cold in winter and very warm in summer. And there are a lot of little plots - we look after 40 plots over 11 hectares, with a lot of different types of soil and grape varieties, mostly aromatic. The Alsatian vineyard has the biggest diversity in terms of types of soil.
What is your philosophy for farming?
We have been biodynamic since 1998 and follow agroforestry using horse-drawn ploughs. We try to keep some verticality in the landscape and trees can bring birds and bats. We try to make a good balance in our wines so we try to have a landscape that's very balanced as well. We try to have trees, horses, a lot of vegetation. The landscape has to be well balanced to have a well balanced wine - so there is a symbiosis with the vines. We are in a sunny place so it is important to provide some shade as well.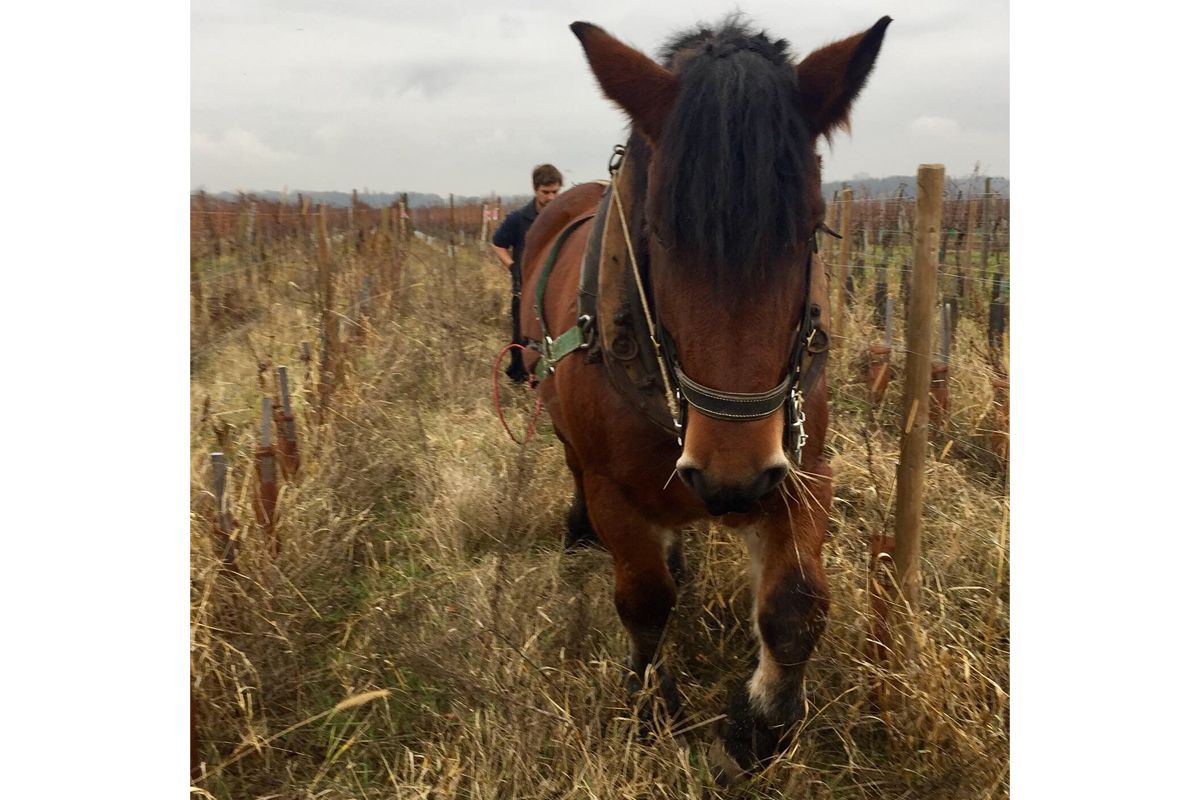 What was the vintage like?
2017 was a very nice vintage - sunny but low quantities because of the frost.
How did you make the wine?
It is important to pick the grapes when they are fully ripe, at a good maturity. You can smell it, you can feel it. Fermentation in steel tank and ageing in old oak foudre (100 years old). We press the whole bunch.
Any recommended food pairings?
Ceviche, goats cheese and (traditionally) choucroute.
Isabelle's thoughts on Riesling - Alsace is a hotbed for natural wine, which is a remarkable evolution. Rewind a few years and it was a pretty conventional landscape, home to no more than a handful of natural wine producers. Today it is bursting at the seams with dozens of new, young growers sprouting across its incredibly rich, mountain-rift, Rhine valley terroir. In fact, it is fast becoming one of France's most exciting wine regions. This Riesling is a very pure yet opulent, ripe, honeyed, concentrated wine from an underrated cellar that definitely deserves more limelight as they make really good wines. Geschickt's Riesling has some smokiness but also lifted and refreshing lime and citrus notes, and drinks beautifully now. I would actually drink this at the end of a meal with some nice hard cheese.
---

Weingut Ziniel is a winery located in the Burgenland region in eastern Austria, at the country's deepest point and sitting at around 120-130m below sea level. Andreas Zini leans into the simple, down-to-earth lifestyle of winemaking, with a focus on achieving balance - and each of his wines reflect this in their own way.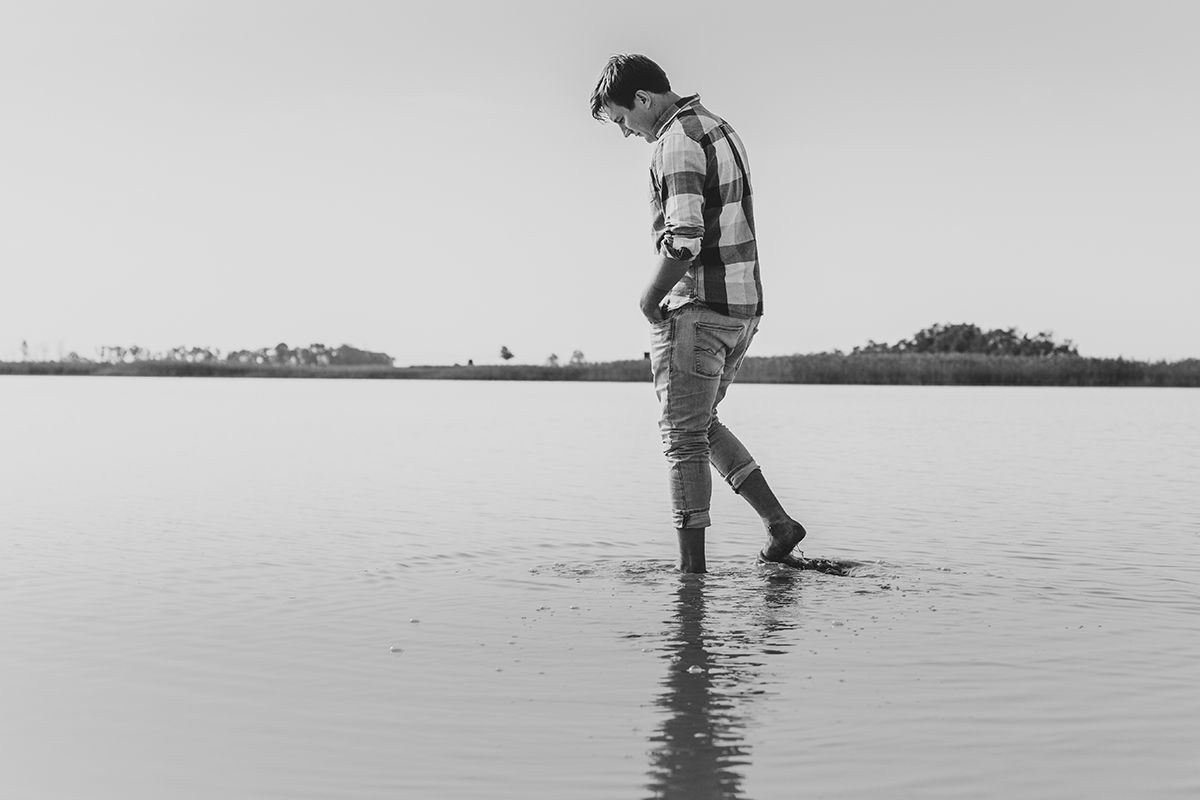 ‌Q&A with Andreas Ziniel.
Tell me about your style of farming.
We are organic - with influences from biodynamics - and are completely at peace here in the centre of the universe. We're more Buddhists than Rolling Stones. Free spirits, not city frocks. I like the life of winemaking - I like to have an easy-going life, and I like wine. Our wines communicate this in their own way. I believe they should not be too complicated. A fun wine should be clean, volatile and balanced. Balance is especially important for me.
How would you describe the wine?
It is a fun and vibrant wine made with authentic Austrian white and red grapes. It's the best vintage I've ever had, and I've been making wine since 2013. Drink now, or within the next 1-2 years.The litre bottle is a traditional shape used by my grandfather, who started our family's relationship with wine - the idea with this was to make the litre great again.
What's the story behind the name?
Zini is a nickname that my brothers and I use with each other. We like to have fun and wanted to produce a fun(ny) wine, so that's why we called it Zini!
Which grapes have you used?
Welschriesling, Muskateller, Sauvignon Blanc and Zweigelt.
How would you describe the soil and terroir?
Where we are is completely different to what people would expect. I always describe it as the Africa of Austria, because it's flat everywhere with an epic view. On one side you can see the Alps and, on the other, the Pannonian area. What's so special about it is that, back in the day, it was all sea so we have small patches of water leftover and vineyards all around them. We have a sandy, loamy soil with more or less gravel and calcareous compound. With our winemaking, we want to bring our salty soil and the freshness of it into the wine we make. We are also in the hottest region of Austria, but you don't feel that in the wines.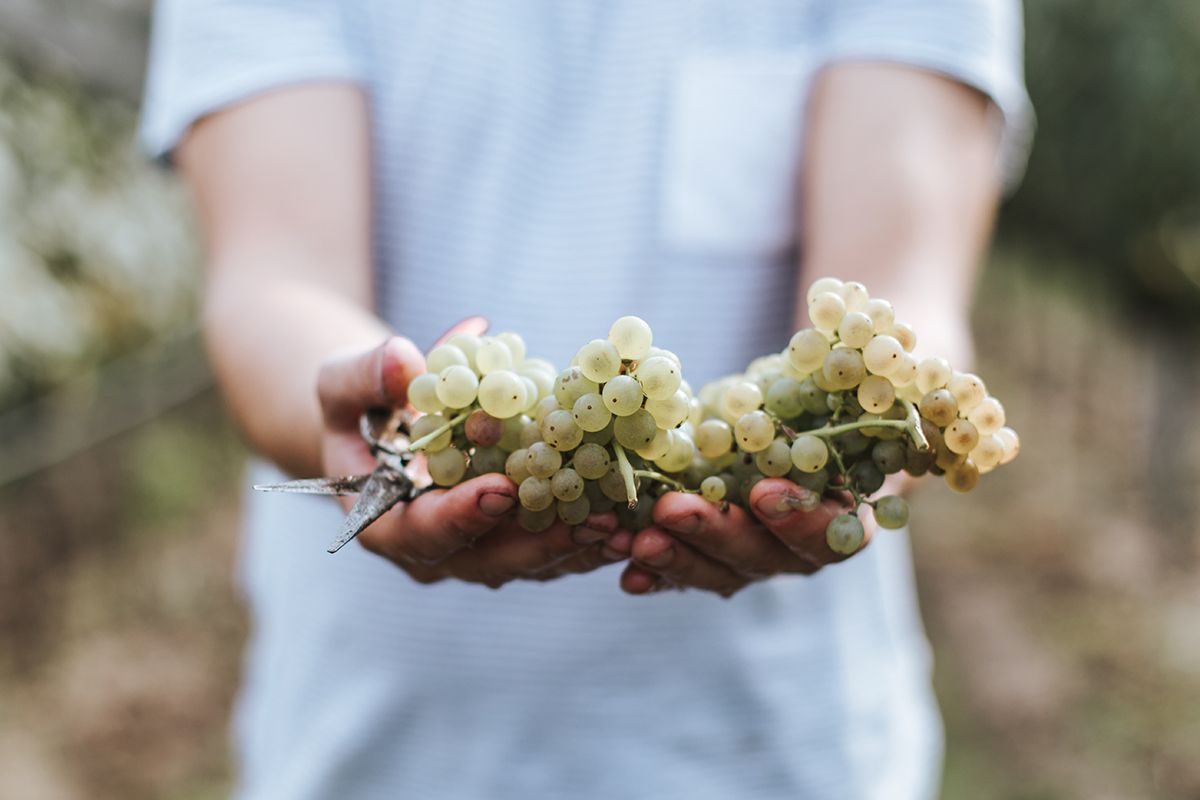 What was the process and what vessels did you use?
The idea is to avoid using anything mechanical on the berries - we ferment whole to avoid crushing them and use semi-carbonic fermentation for around a week, before moving them - still whole - to a small tank to ferment. The pre-fermentation takes around a week, without any punch downs. This is to make sure it stays a fresh, easy-going wine. The main fermentation takes another week and after that, we press and move the wine - partly into stainless steel and partly into concrete vessels, blending later. The idea is to produce a low alcohol wine (this one is 11.5%) with good complexity and length, and if we blend different vessels together, we can achieve this.
Did you use any sulfites?
No.
Any suggested food pairings?
Fresh and light dishes, served with salad.
Isabelle's thoughts on Zini - I recently tasted through 8 of Ziniel's wines and I really loved this fun, deep fuschia rosé. Unpretentious, this is ultimate glouglou material and it comes in a generous 1-litre bottle. Joyful, juicy, vibrant and low-ish in alcohol with 11.5%. Nose is surprisingly aromatic (thanks to the Muskateller) whereas the palate is pure, freshly squeezed mulberry juice.
---
Fundo El Quintanar is a project by José 'Pepe' Moquillaza and Leopoldo Quintana. The vineyard is located in Ihuanco in Peru on the side of a hill not far from the Cerro Azul coast. Pepe is known as a 'liquid storyteller' with a background in making spirits - the wines he makes tell the story of the land and the sea from which they're grown. He is dedicated to rescuing 'criollas' grapes, and using Peruvian clay vessels (botijas or 'piscos') for natural wine making.
‌Q&A with José 'Pepe' Moquillaza.

Tell me about your style of farming?
Our plot is only 1 hectare on the side of a little hill facing the Pacific Ocean. We are only 50 meters above sea level, with a soil rich in material from the sea - sand, quartz and granitic soils. The climate is cool, fresh and dry, and allows us an extended vegetative cycle. Because of our proximity to the ocean, we use low intervention methods to preserve the marine expression of the wines. We work using natural and organic methods, and follow the moon cycle for cultural practices - certification is too expensive for small producers like us.
How would you describe the wine?
It is a wine of the sea. The vines in Ihuanco produce fruit that expresses the marine soil and soul very articulately. When you drink Albita, you can taste the sea in all its dimensions - not just the salinity, but the scallops, sea food, calcaric soil, the umami.
How was the vintage?
2019 was a warm vintage with strong rain in the Andes and floods on the coast. While we had some difficulties on the vineyard, the white vines didn't suffer at all. 2023 is the optimal time to drink Albita, but you can keep it for 10 years.
What's the story behind the name?
Albita is a conjunction of two grapes: it's 50% albilla (Palomino Fino) and 50% Italia (Muscat de Alejandria). Hence, ALB-ITA. The word also means 'little mornings'.
How would you describe the soil and terroir?
It's a mix of sand, quartz and granitic soils that give mineral aromas, light saline touches and good levels of acidity. The soil is rich in material from the sea, so we make little intervention to allow the wines their full marine expression. The terroir is very flexible - if we want a particular expression of wine, we can ask for it and the terroir does it for us.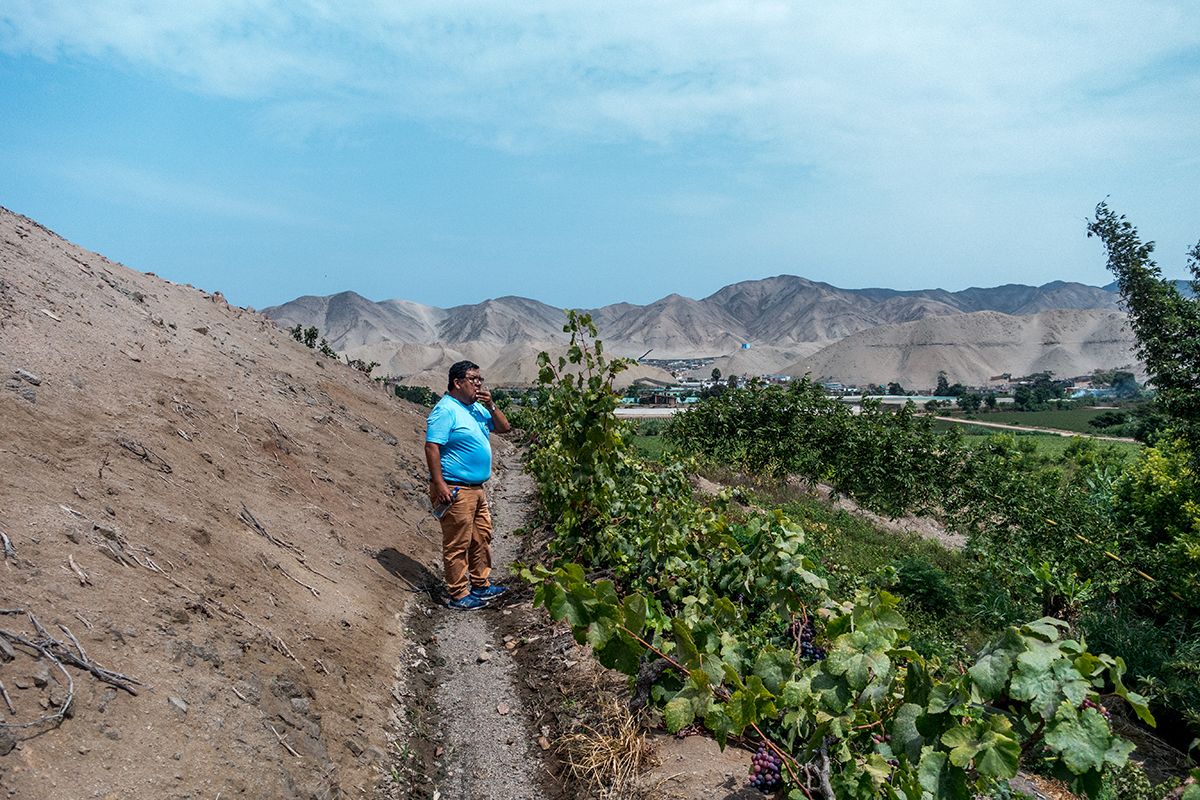 What was the process and what vessels did you use?
We harvest the grapes four weeks before full maturity for two reasons: to decrease the sugar content and increase the natural acidity. For this wine, we use only flexi tanks - because of its freshness and salinity, it doesn't need much microoxygenation. Wines from poor soils need oak or clay vessels, but wines from rich soils - like this one - don't need to rely on them to keep their balance.
We use whole bunch, spontaneous fermentation using only indigenous yeasts, and believe in a 'placenta' effect through interaction of skins, pulp and seeds. We ferment for 8 or 9 days and after this, we make a decision on the duration of the skin contact. For Albita, we chose 60 days of skin maceration. This is the perfect length of time as the soil is very clean in expression, so it's enough to preserve the marine character. We press the wines and transfer to another flexi tank where it will rest or age for 6-7 months before bottling.
Did you use any sulfites?
We never use sulfites to make our wines, and use only 15-20ppm for bottling - our wines need to travel, crossing oceans, so it helps with that.
Any suggested food pairings?
Sea food! Scallops, squids, urchins, raw fish tapas and Thai styles. It also harmonizes very well with spicy food.  

Isabelle's thoughts on Albita -  My experience of Peruvian wines is limited but I think this briny blend of Moscatel and Albilla (aka Palomino) is a particularly fantastic (and highly individual) example. Pepe farms one hectare, very close to the cooling Pacific ocean. This orange vino de chacra (or farm wine) saw extended skin contact of 60 days, lending a beautiful texture to the wine as well as notes of acacia honey, aniseed and kaffir lime leaf. This is moreish and complex.
---
Quinta da Ermegeira is a project by Ricardo Melo. The vineyard is located in a valley amongst the Serra de Montejunto hills, 15km from the Atlantic sea and just 45 minutes north of Lisbon. Originally from Brazil with Portuguese heritage, Ricardo used to work in the trade importing natural wines from Portugal to London before he moved there and launched his own project. Ricardo farms using organic and some biodynamic practices and values the location's cooler climate and terroir.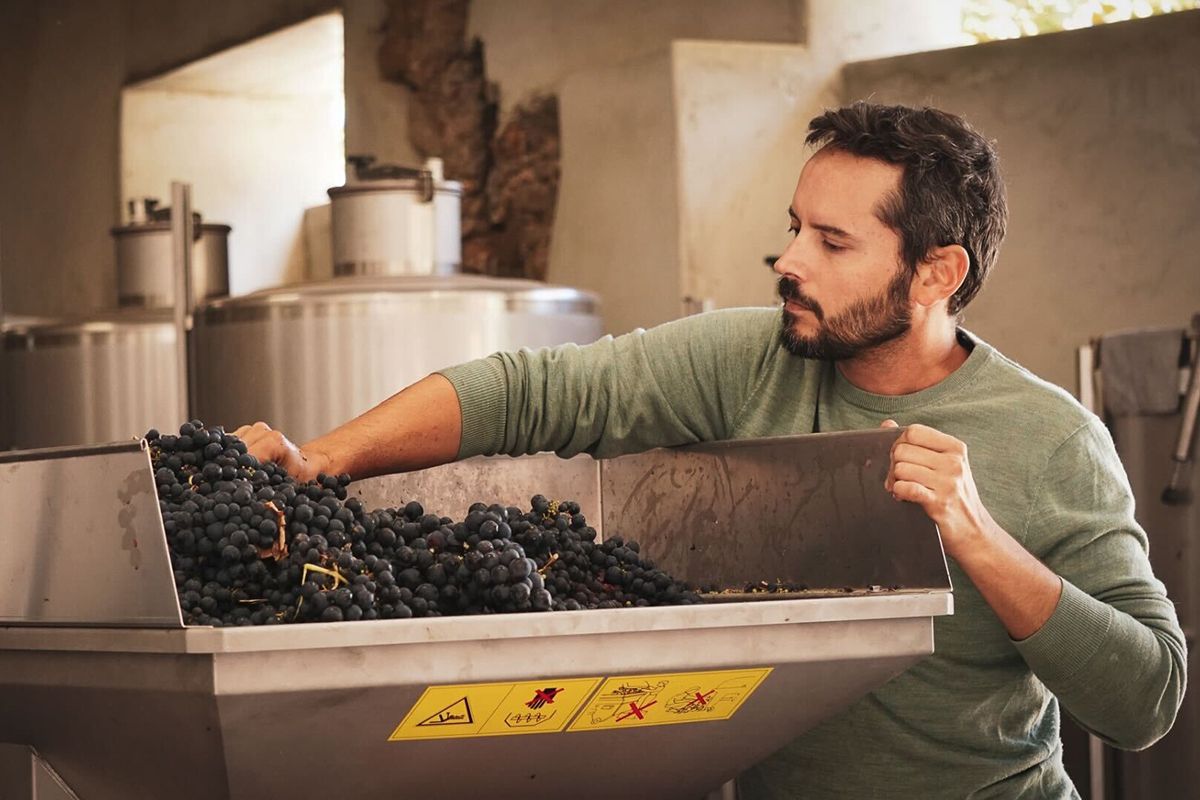 Q&A with Ricardo Melo.
Tell me about your background and style of farming.
I used to work in the trade in Brazil - I had a wine bar there. I wanted to study more so I moved to London and did my WSET. Whilst there, I paired up with a friend and started importing natural wine from Portugal, visiting the winemakers frequently. I have Portuguese heritage so visited many times when I was young and always loved the country. Eventually, I wanted to experiment for myself so I made some wine in 2015 and 2016 and enjoyed it very much. So I moved to Portugal to start my own project.
Originally, this was further inland until I moved over towards Lisbon in 2017. I found this property, where I am now, which had been abandoned for years but still had a cellar and some vines. I started with the very little that I knew about winemaking, rebuilt the cellar in 2018 and brought a friend who was making natural wine in Brazil, and have learned a lot through him and from hands-on experience. You learn a lot year in a year.
I came to Lisbon because it's a very discreet area - most people associate Portuguese wines with other, more known areas, and nobody had really explored this area. The natural wine movement is still growing here and I like the cooler climate, the terroir and the proximity to Lisbon itself. When I arrived, the vines had been left for some time and I have maintained an organic approach, using some biodynamic practices for farming - I use horsetail every year and use a lot of sea algae. The climate in Lisbon is very temperate and cool, but we've had heat waves since 2018 which the vines aren't used to, and the sea algae helps to manage this.
How would you describe the wine?

It's a good wine for getting to know my style of winemaking and for getting to know the terroir in Portugal. My wines have a lot of acidity and I like to make them as easy-drinking as possible.
Because of the proximity to the ocean, this region is very temperate and regulated by the sea. The North Atlantic water is very cold so the closer to the ocean you get, the more cool wind you get. The grapes mature much more slowly and maintain their acidity, which you struggle to get in other parts of Portugal. I don't like to macerate the wine too much either.
The wine is developing well. It's a little more like a chianti, or like Ginjinha the Portuguese cherry liqueur. It's best enjoyed now, but can keep for 5-10 years.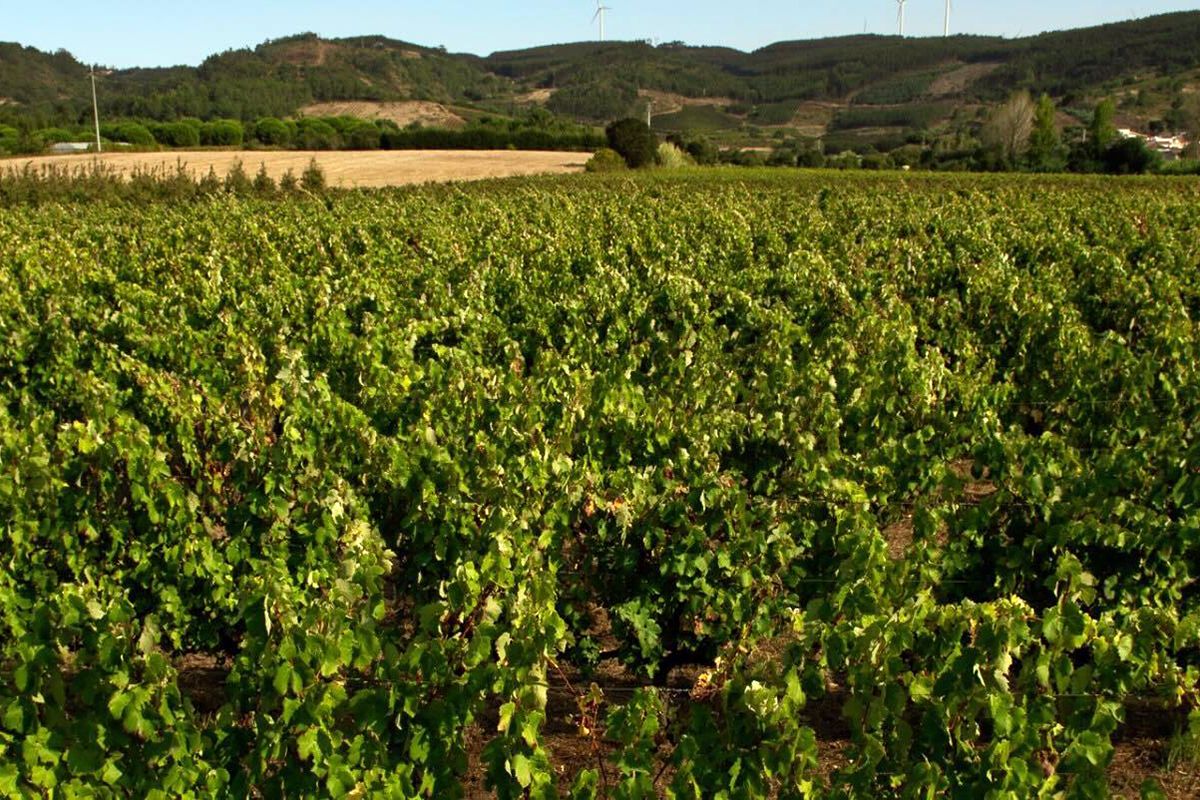 What's the story behind the name?
The name Mia was chosen by Maru Winden, a friend from Brazil who I've known for quite a few years and designs all our labels and logos - people love them. Sometimes we choose the name together, or sometimes I do, or she does. I'm not sure why she chose Mia for this bottle, but for some of the other wines, they are a tribute to the people who've lived in and passed by the property in the last 500 years, since it was built in 1526. There are a lot of stories to draw from! Sometimes, though, the names are just for fun.
Which grapes have you used?
Tinta Roriz, aka Tempranillo from Portugal. In Spain you get a more continental Tempranillo and here, more Atlantic.
How would you describe the soil and terroir?
The soil has clay and sandstone (grés) with quartzite minerals. Here, besides the fact of the Atlantic weather, I am surrounded by hills which affect the climate here as well. We are in a valley, so a lot of moisture gets trapped. Some years we get a lot of mist, with very misty, humid mornings and very dry afternoons. This part of Portugal has a lot of fruit production - pears, apples, stone fruits in general and, of course, grapes.
What was the process and what vessels did you use?
2019 was a dryer, warmer year for us - not common where we are - and a large yield. I picked the grapes a little earlier than usual, fermented whole and macerated them for just 4-5 days. I gave them a very gentle press and used a stainless steel tank. I use mostly stainless steel, but am experimenting with concrete and also use some acacia barrels, and Portuguese and French oak.
Did you use any sulfites?
No - I don't add any sulfites.
Any suggested food pairings?
Sometimes I pair it with pizza or pasta, and sometimes with oily fish. In Portugal, it's common to eat codfish cooked with olive oil. It's a deep water, oily fish and it pairs well with Mia.
Isabelle's thoughts on Mia - Ricardo Melo and I met a long time ago when he was working in London importing great Portuguese wines. He has now embarked on an exciting venture, making wines just north of Lisbon. This pure Tinta Roriz (aka Tempranillo) is a delicate example with fine, albeit pronounced, chiseled tannins and a bright, sour cherry-like acidity. Aromas of bright red fruits (cherries and pomegranate) as well as lovely floral notes make for a pretty, mid-weight wine.
---
La del Terreno is a winery in the northwest region of Murcia, Spain, run by Julia Casado. She dedicates herself to the traditional viticulture of Monastrell, also called 'la del terreno' (from the land). Julia is interested in exploring the close relationship between old vines and local culture, understanding wine as an element linking both as "liquid culture". She has decided to work with a portable and economic winery and her goal is to preserve old vines as well as generating local value.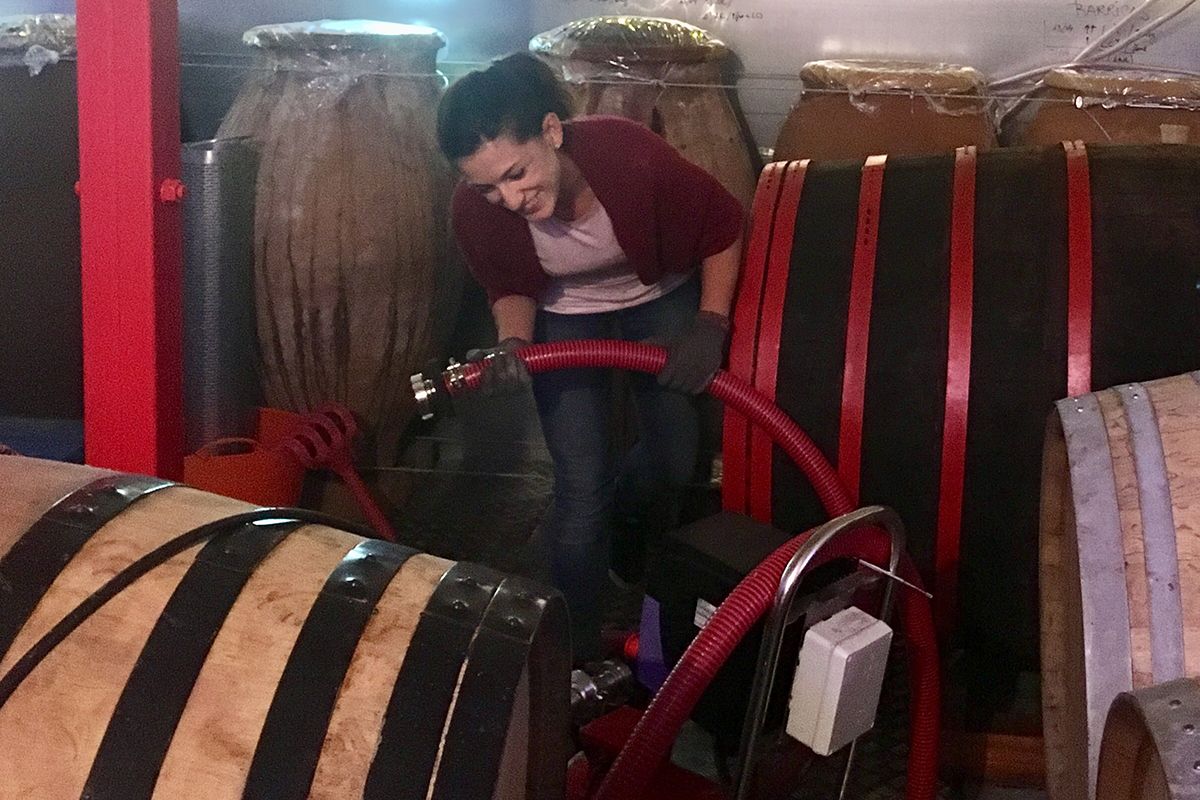 ‌Q&A with Julia Casado.
Tell me about your style of farming.
I studied in Germany for 5 years, studying both the cello and agriculture at the same time. I had no idea about wine then but in order to finish my studies I had to make up some hours at a winery. I travelled to Cuba to study their agriculture and rural development and this experience changed my relationship with not just agriculture but the music, too. I'm still a musician now and have the same passion for music that I do for making wine. The two work in harmony, and each has a unique expression of rhythm that communicates with the other. Cuba was a great experience: meeting people, of course, but also learning a lot about agriculture in a way that was very different to what I had been learning in Europe.
After my studies, I decided to come back to my home region of Murcia. I heard about a place called Bullas - a village in the northwestern part, close to Andalucia. I heard about some little plots of monastrell and how it was supposed to be very different to the monastrell found in the northeast. I travelled there and fell in love with this little plot with different soils, different orientations and different altitudes. I decided to build a winery there and, for the first year, I worked on the vines alone. I farm using organic practices. I love monastrell and like to describe it like a brunette woman - very concentrated, and if you care for it tenderly, you get floral notes with a rustic, delicate centre.
How would you describe the wine?
This wine comes from a single vineyard at 800m elevation in the village of Cehegin, DO Bullas. It had a cool, fresh summer and a rainy autumn, and the harvest was a bit later than the previous year. Probably the best vintage we've ever had. It's far from the oak-monster Monastrells of Jumilla. No oak plus the addition of 5% white grapes gives a bright, floral-scented expression of the variety, with red and black fruits and a subtle wild, animal note. Some herbal character too, with sagebrush and thyme. It's juicy and supple on the mid-palate with fine, chalky tannins and a refreshing acidity. Best enjoyed before 2030.
What's the story behind the name?
"La del Terreno" is the local name for the variety of monastrell.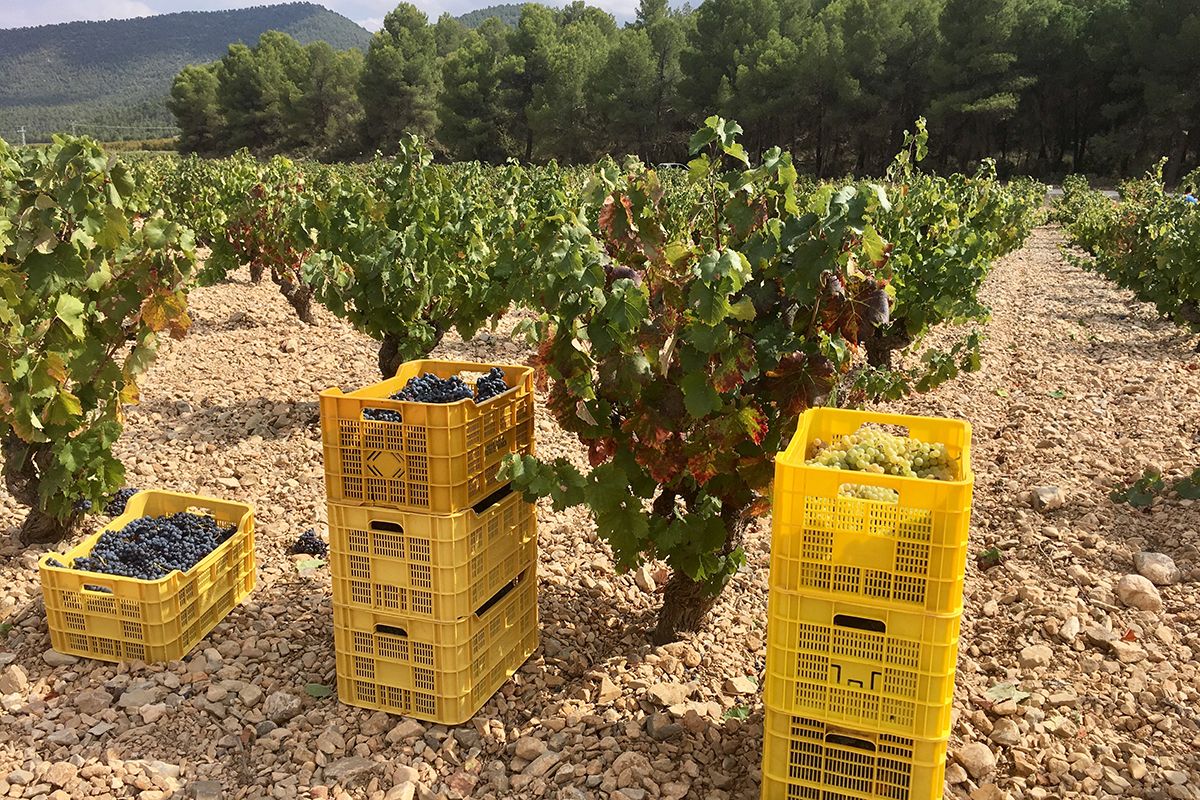 Which grapes have you used?
It is 95% monastrell, plus 5% old white varieties planted in the same plot.
How would you describe the soil and terroir?
It's a sandy loam soil covered with a thick layer of granite and calcareous gravel. The vines face north and sit on wavy hills.
What was the process and what vessels did you use?
These grapes are grown on old vines between 50 and 60 years old and I try to preserve the purity of the grapes. I destem them and put them in a small concrete tank of around 4800 litres. They get around 2 weeks on skins, at which time the juice runs out naturally - without pressing - and is collected. We take away the skins and put the juice back in the tank. In spring I remove it from the tank, clean it out, add the lees and place the juices back in to ferment. It will stay in there with the lees until around May, so it ages for almost a year before bottling, with no additives.
Did you use any sulfites?
Normally no, but if I do, it is a very small amount before bottling - <1,5 g/100 HL.
Any suggested food pairings?
Have with cheese or "spoon dishes" - something with beans or lentils that you can eat with a spoon.
Isabelle's thoughts on La del Terreno - Julia fell in love with this remonte corner of Murcia in southeastern Spain. She is fascinated by Monastrell, also known as Mourvèdre. This grape variety can produce pretty rustic, chunky and bold wines, often very tannic and lacking charm. La del Terreno though is anything but. Harvested from a single plot of old Monastrell vines at 800 meters altitude (including 5% of white grapes that are co-planted in that same field). A dash of brett adds complexing savory notes to a full-bodied wine that is bursting with ripe black cherries and some violet notes. This is quite different from the all too familiar oaky, alcoholic and over-extracted Monastrells which are commonly associated with this grape variety. Julia has a very light touch and, together with the great calcareous and gravelly terroir of Bullas, brings great elegance to her wines.
---
---