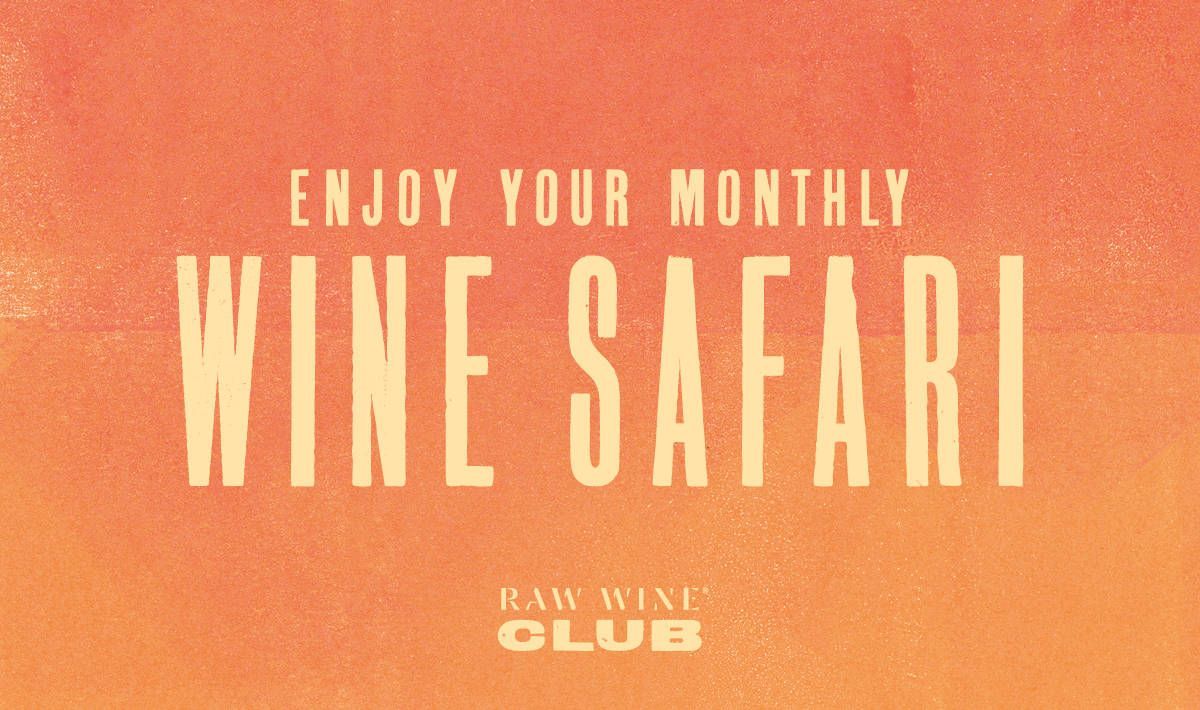 RAW WINE Club - Tasting Notes - October 2023 Selection
33 min read
Hello and happy October!
This month's box is filled with autumnal spices. There's a sparkling skin contact; a peppery Sauvignon Blanc from the iconic Camillo Donati; a creamy Portuguese field blend from old vines grown on the São Mamede Mountain in the Alentejo; a wild, complex, tannic orange from another iconic Italian, Cantina Giardino; an elegant, gastronomic rosé by Domaine de la Roche Buissière in the Rhône Valley; a delicate, pretty, floral Spanish red by Bodega Frontio from 100-year-old Juan García grapes; and a deep, concentrated, full bodied Tempranillo by another Spanish maker, La Rural, a promising tiny project starting to make waves in the natural wine world.
Warmest wishes and hope you enjoy the box,
Isabelle Legeron MW, Founder of RAW WINE‌
---
Camillo Donati is a winemaker in Emilia Romagna, Italy. The third generation of winemakers in his family, he makes low intervention sparkling wines from local grape varieties.
Q&A with Camillo Donati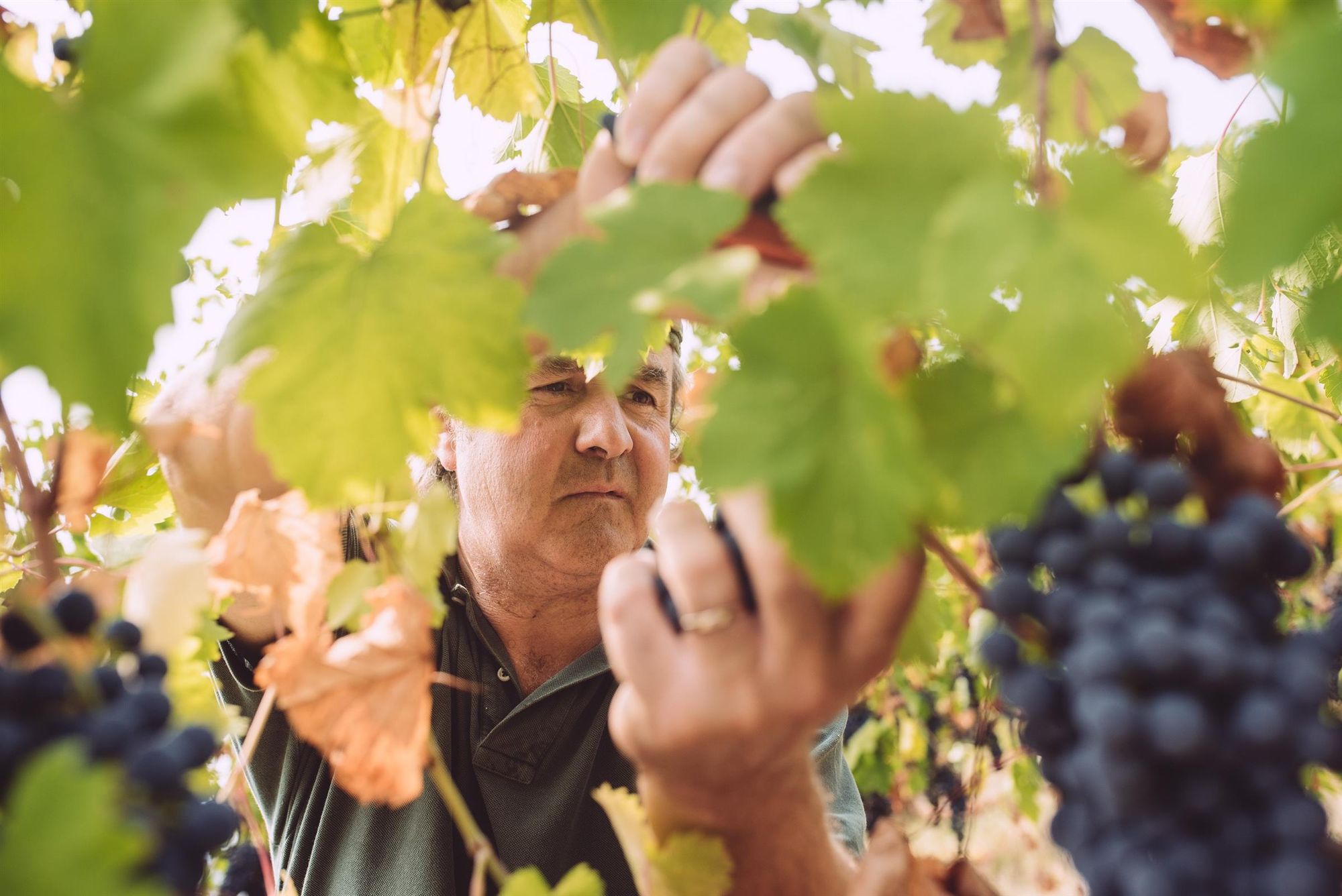 Can you tell me about your background - as the third generation of winemakers in your family, was this always the route you wanted to go down? Did you study or work elsewhere before working on the family winery?
My grandfather planted a small vineyard for family consumption in 1930, at a place called Groppone in Arola. His brother-in-law helped him farm popular grape varietals, along with rare and now extinct varietals. He would press all the white grapes and all the red grapes together, providing wine for the family to be drunk every day - wine is often considered a luxury now, but then it was essential to make up for other deficiencies. My father followed another path - accounting - but would always help out in the vineyard. When my grandfather died in 1964, my father took it over.
Has the family estate always followed natural winemaking practices, or is this an influence you picked up elsewhere?
I learned from my father a real love for nature and the belief that vines are living beings, each with their own distinct identity. Understanding each vine's identity is crucial to helping her thrive. If you listen to her and treat her with respect and love, she will repay you amply. I learned this care for my vines from my father, and learned my approach in the cellar from a friend of his, named Ovidio. He transferred his wisdom to me and, in turn, I try to transfer my wisdom to my wines so that their essence can be captured. I am grateful to all of my family for their support and encouragement.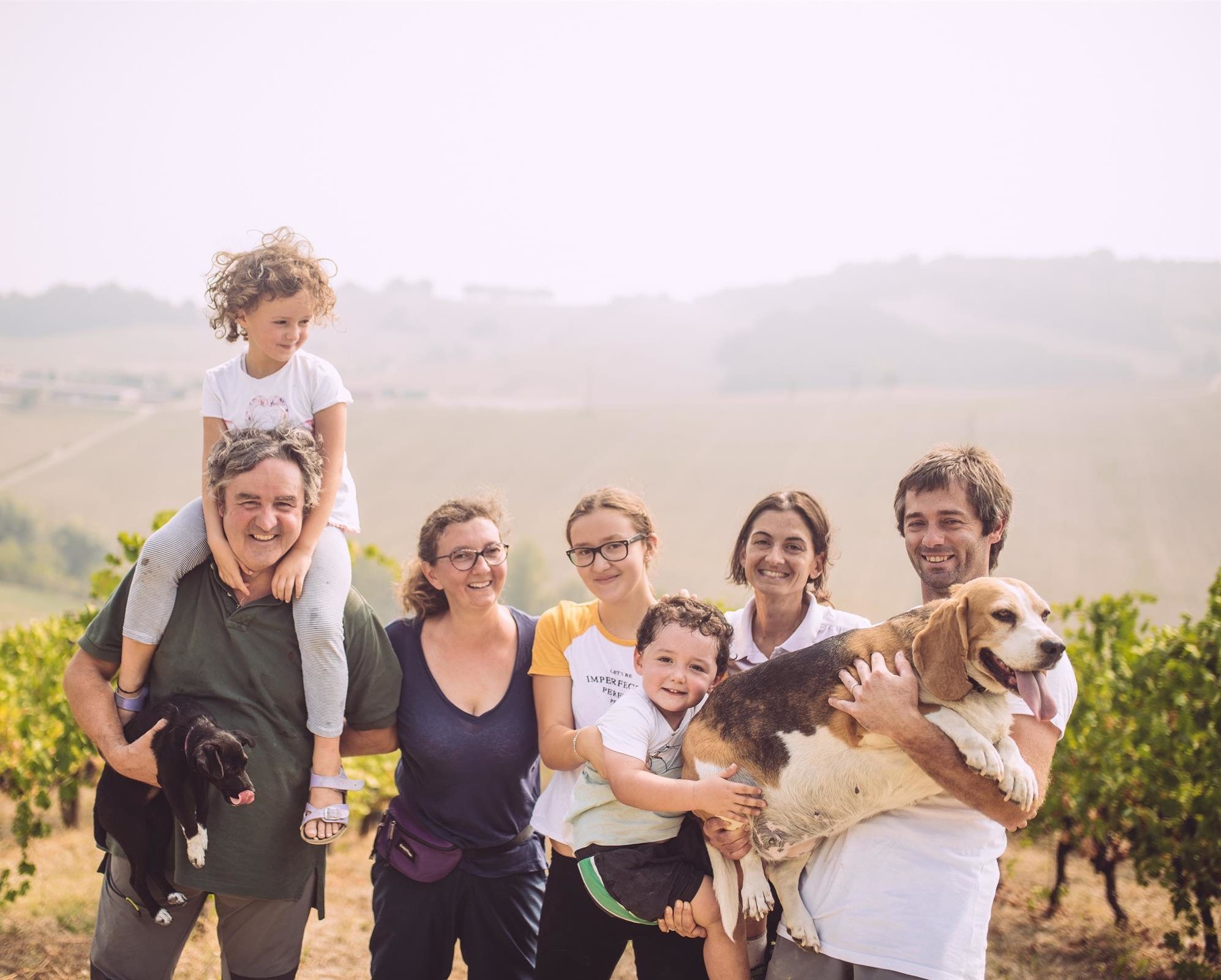 Can you talk me through your approach? In the field and the cellar.
We do all our work in the field by hand - pruning, tying, harvesting, etc. We also take great care of the soil, and everything we do aims to improve its structure. We have the utmost respect for the life of the soil itself. The grass cover is spontaneous, with over 70 kinds of herb present.
We use copper and sulfur sparingly. We don't use any fertilizer except in the first years of planting. If necessary, we provide mature manure. This way of cultivating vines can only be done on suitable land, where it's possible to produce healthy vines with minimal human intervention.
We vinify the grapes using native yeasts. We don't practice any fermentation control or thermal forcing, no chemical aids or clarification. We are committed to not destroying what God has given us with nature.
Can you describe the vineyard and its surroundings?
We own 12 hectares on the hills of Sant'Andrea di Barbiano, in the Municipality of Felino, at 300 meters above sea level. We also rent a vineyard of 5 hectares on a hill in Località Vidiana, in the Municipality of Langhirano, at 250 meters above sea level. At both vineyards, we grow Barbera and Malvasia Aromatica di Candia, and at our vineyard, we also grow Sauvignon, Trebbiano, Lambrusco Maestri, Fortanina del Taro and Croatina. We train the vines using a simple espalier method with retouched rows, a single fruiting head in Guyot style, and a planting density of approx. 3,500/4,000 vines per hectare.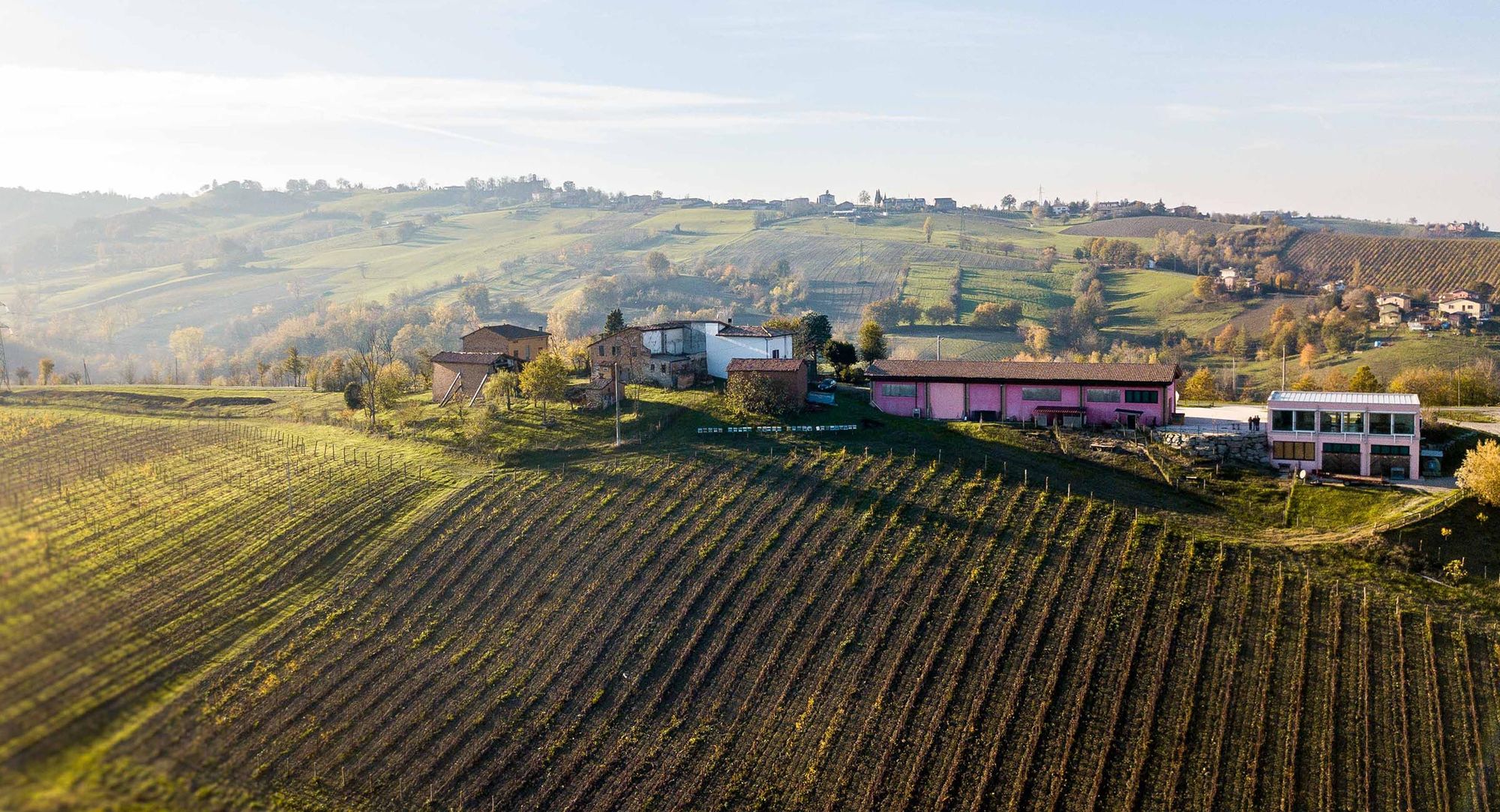 Can you talk me through the process of making this wine?
Almost all our grapes are vinified with differing times on the skins depending on the vines and vintages. Once the skins have been separated from the must, the latter finishes fermentation in an open-air stainless steel barrel. Once fermentation is complete, the wine is separated from the heavy lees by decanting and is placed in a closed barrel. From there, if it no longer requires any further decanting, it will remain until bottling.
Partially fermented musts are fundamental when refermenting in bottle. This is because they will serve as an addition of sugar for wine that will have completely released its sugar during the first fermentation. We use sweet Malvasia for all white wines and sweet Bonarda for all red wines.
The sparkling takes place after bottling, which we carry out in the spring following the harvest, in a completely spontaneous way. It's an ancient method that's respectful of the organisms that make up the wine. Each bottle is different.
Which grapes have you used?
The grape variety is Sauvignon, which is of course of French origin. It's been present on our hills for centuries. In the 19th century, Count Brian imported Sauvignon vines from France and planted them on his estate around the hills of the Felino castle. The Sauvignon grape is an ideal match for our climate and soil.
How would you describe the wine?
It's a very elegant wine, with a delicate aroma and good structure.
When is it best enjoyed? Now or later, if people want to age it further in the bottle?
It lends itself well to aging in the bottle, which will simply refine and enhance the wine's characteristics even more.
Any food pairings you'd recommend?
It can be paired with many dishes - it's especially good with cured meats such as culatello and with fish. It's also excellent just as an aperitif.
Isabelle's thoughts on Sauvignon dell' Emilia Frizzante - A sparkling wine with some skin contact, Camillo Donati needs little introduction. His bubblies are profound and age amazingly well. In fact, I usually have a few back vintages in my cellar as they all just seem to get better with time - and hence the reason I picked his 2021 for this month's selection rather than his most recent vintage. Bright yellow with a golden hue, it shows honeyed notes, blackcurrant leaf, some smokiness and a dash of tannins but overall it is incredibly fresh and juicy.
TOTAL SULFITES: <10mg/L.
---
Dominó is a project by Vitor Claro and Rita Ferreira in Alentejo, Portugal. Vitor is a restauranteur and celebrated chef in Portugal and abroad, while Rita is an oenologist and winemaker working in the Douro Superior.
Q&A with Vitor Claro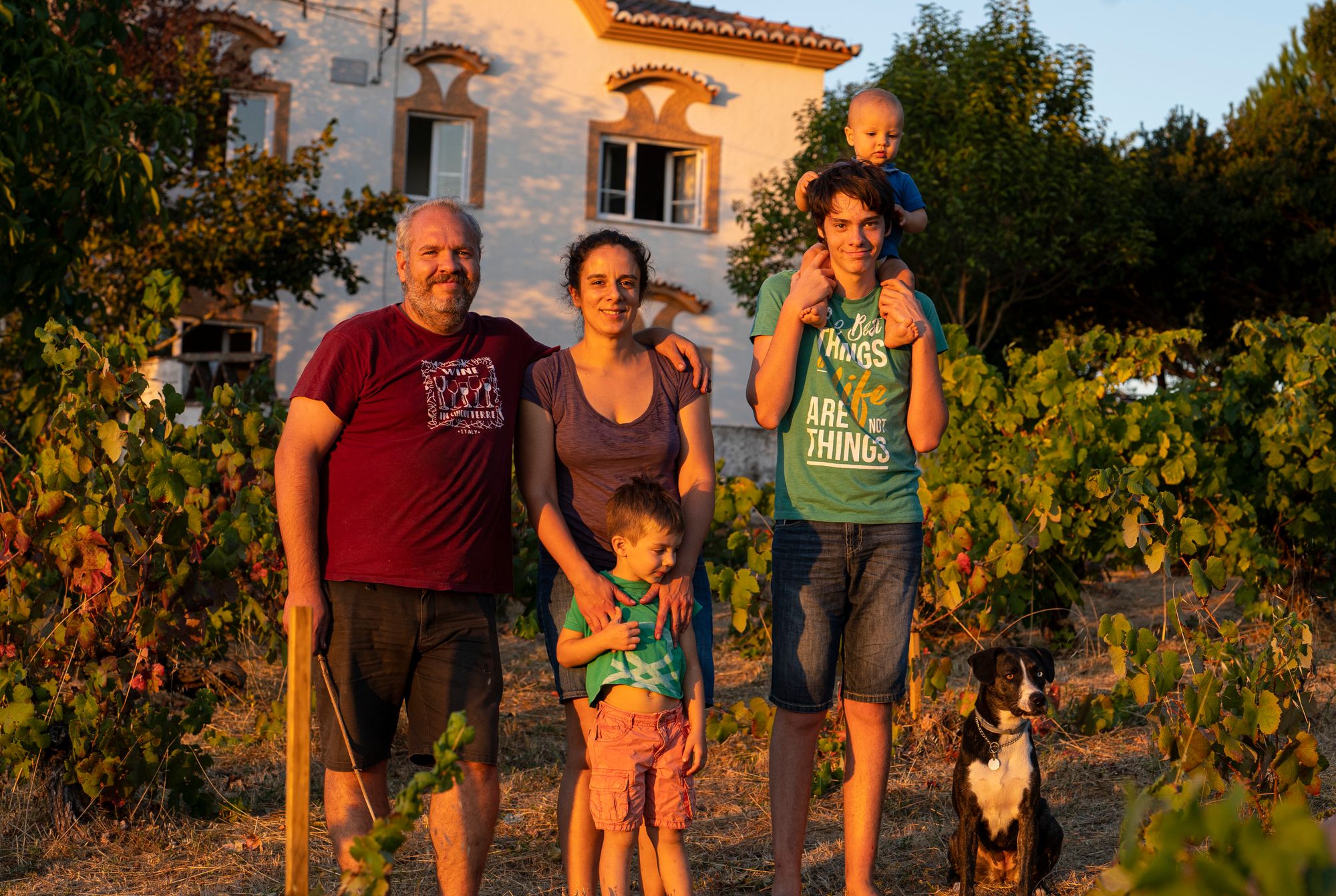 Can you tell me about your background as a chef and restaurateur? How did that begin and is this still a part of your life?
I trained as a chef in 1998 to 2000 and started working then, travelling and working abroad, before opening my restaurant in early 2012. I shut the restaurant at the end of 2016 and stopped all hospitality-related activity, except for cooking at home.  
At what point did you become interested in wine, and when did that interest turn into a desire to make wine?
I was lucky to be invited to be the head chef in a restaurant where one of the partners was Dirk Niepoort [a famous Portuguese winemaker], and since became his friend. He invited me into his home and was the one to show me what a fine wine really is. It changed my approach to cooking, and later inspired me to make my own wine.
How did you meet Rita, and what made you decide to work together on this project? What kind of wines did you set out to make together?
Rita is a trained architect. She was working in the office of a friend of mine who organized for her to celebrate her birthday in my restaurant. That was the day we met, in late 2013. We got together a few days after that and had our first child in mid 2016. After a series of events, it became clear that restaurant was not viable in our lives. We wanted to make a change and decided to make wine. In 2016, I made our first wines in our garage, while Rita was home with the newborn baby.
What do you farm and how many hectares do you have?
We own 2 hectares in Portalegre, Alentejo and rent 1.5 hectares in Carcavelos, near Lisbon's sea shore. We farm organically, but don't certify.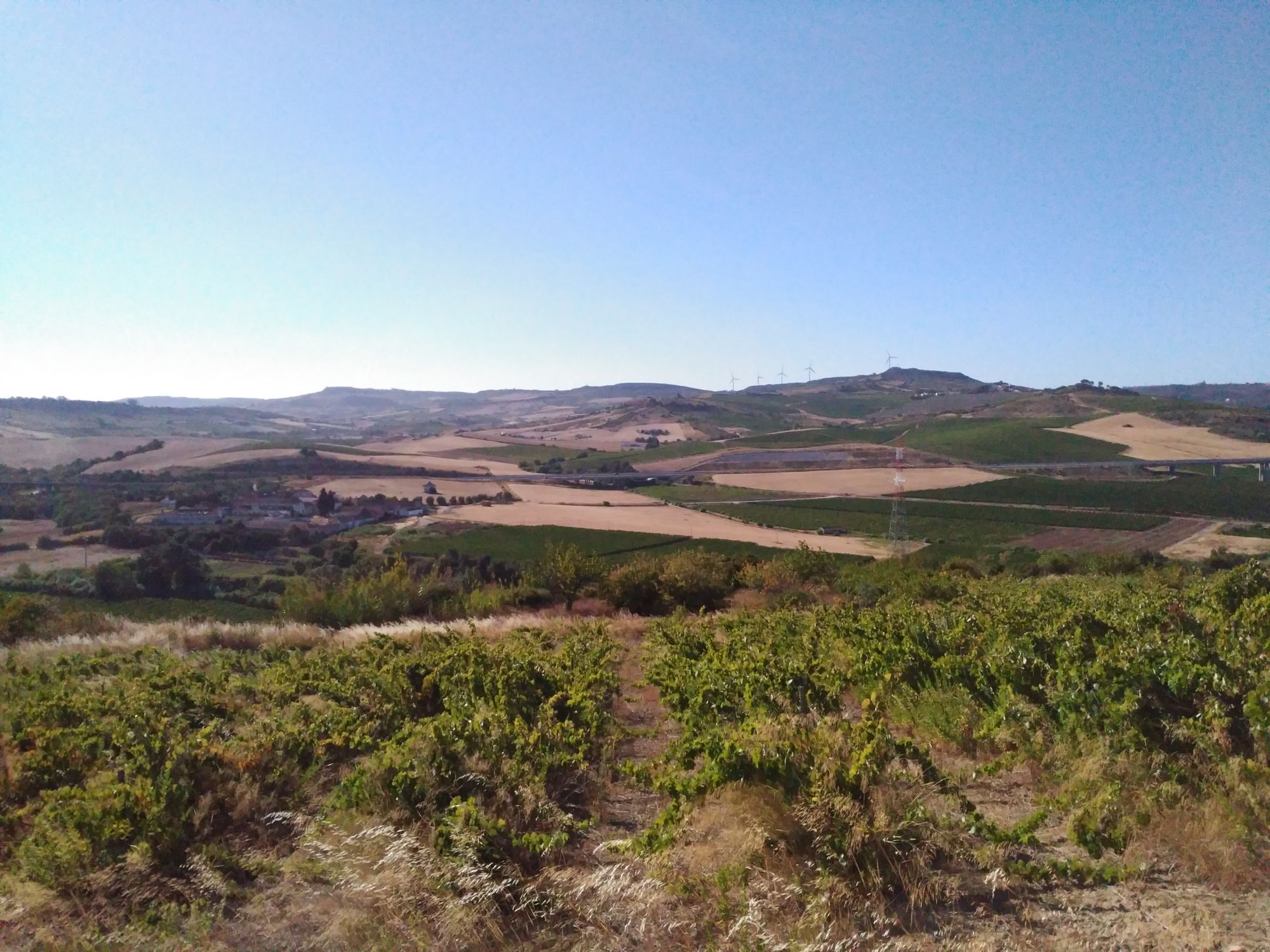 What has influenced your style of farming and producing?
We are self taught and didn't train, instead learning from everyone we visited along the way, taking on insights from all we saw. This does obviously mean we make mistakes as we go, but these are our biggest teachers.
What grapes have you used for Vinho Branco Monte Pratas?
Monte Pratas comes from three different vineyards in the mountain, with vines between 75 and 120 years old. Varieties planted back then include: Arinto, Boal Alicante, Tamarez, Pérola, Fernão Pires, Boal Cachudo, Rabo de Ovelha, UvaRei, and some others.
Where do these grapes come from? Can you describe the vineyard and its surroundings?
They are from a variety of very similar plots, all of them less than 1 hectare, isolated and surrounded by woods. São Mamede Mountain is a nature reserve, where we find these rare jewels.
We have continental weather - moderately warm with 2-3 weeks of very hot days and warmer nights. But we are 650m high which means we cool down at night. The soils are franc-clay on granitic mother rock.
Can you talk me through the process of making this wine?
It's very straightforward. We press the whole bunches, decant after 48 hours and allow them to ferment with only some added sulfites - depending on pH, sugars and health of the grapes. We ferment in stainless steel or concrete tanks, depending on availabilty and quantities, and re-rack after São Martinho [Saint Martin's Day] which is on 11th November. From then, it stays on the fine lees in concrete until it clears off and we bottle from there.
Do you use any sulfites?
As mentioned, we do use sulfites. Our cellar is not high tech place and doesn't have the conditions we would like and dream of. Our tanks are outside, but in the shade. Our soils are granitic, which means they have a lower pH and makes for a higher pH in the grapes. We are adjusting every year the soils with chalk and lime powder. It's a work in progress and there are a lot of small details which, when solved, will let us use less and less sulfites - without any cost to the quality of our wine.
How would you describe this wine?
I am my worst critic, but vain enough to be cheered about the wines we've been making lately. Our process of low intervention winemaking makes our wines rustic. Although we aim to always search for finesse, drinkability and digestive wines, I would rather let some volume go - mouth volume, boldness I mean - for the sake of keeping lightness without losing flavor. It's bone dry, round and savoury, with grapefruit, hay and fennel.
How does this vintage, 2020, compare to others?
It was very special. Looking back to the restaurant closure in 2016, the harvests of 2017, 18 and 19 were very, very difficult. We had to make 4 times the quantity in order to make this business liveable, as it became our only source of income. We had three very difficult years with some other personal health problems in the way, so 2020 was the first vintage we produced in the initial premises of what is now our cellar. It made a very big difference and it's very obvious when tasting 2019 and 2020. And from then on.
When is it best enjoyed? Now or later, if people want to age it further in the bottle?
I, again, don't like to be too praising of our wines. Although I only made 620 bottles, I sometimes like to open and taste my 2010 vintage. The wine is very lively and for the way I did it back then, knowing what I know now, it's amazing how much it still rocks. 2010, 2011 and 2012 are all showing well. I have a lot of pleasure opening one at a time. If you like to drink a crisp young wine, this might not be the one. If you enjoy a matured wine, I believe the Monte Pratas 2020 will be good for years to come.
Any food pairings you'd recommend?
Anything cooked in the way we make this wine. No makeup, no over cooking, no over seasoning - just plain, simple, fresh and flavorful food. Which could be grilled fish or Iberian pork, some leaner ham, charcuterie, pot-au-feu, etc.
Isabelle's thoughts on Vinho Branco Monte Pratas - A true field blend of a dozen or so indigenous grape varieties, this mid-weight, creamy white shows an unusual array of notes including an earthiness that is celeriac-esque, fresh nuts, aniseed and fenugreek spices, as well as vanilla bean and pollen. It has a lovely, almost waxy, texture that probably stems from the extended lees ageing.
TOTAL SULFITES: 30mg/L.
---
Cantina Giardino is a winery run by Daniela De Gruttola and Antonio Di Gruttola in Irpinia, an appellation in the Campania region of southern Italy. They make wine from local grapes grown in historic vineyards, with low intervention in the cellar.
Q&A with Sara Fant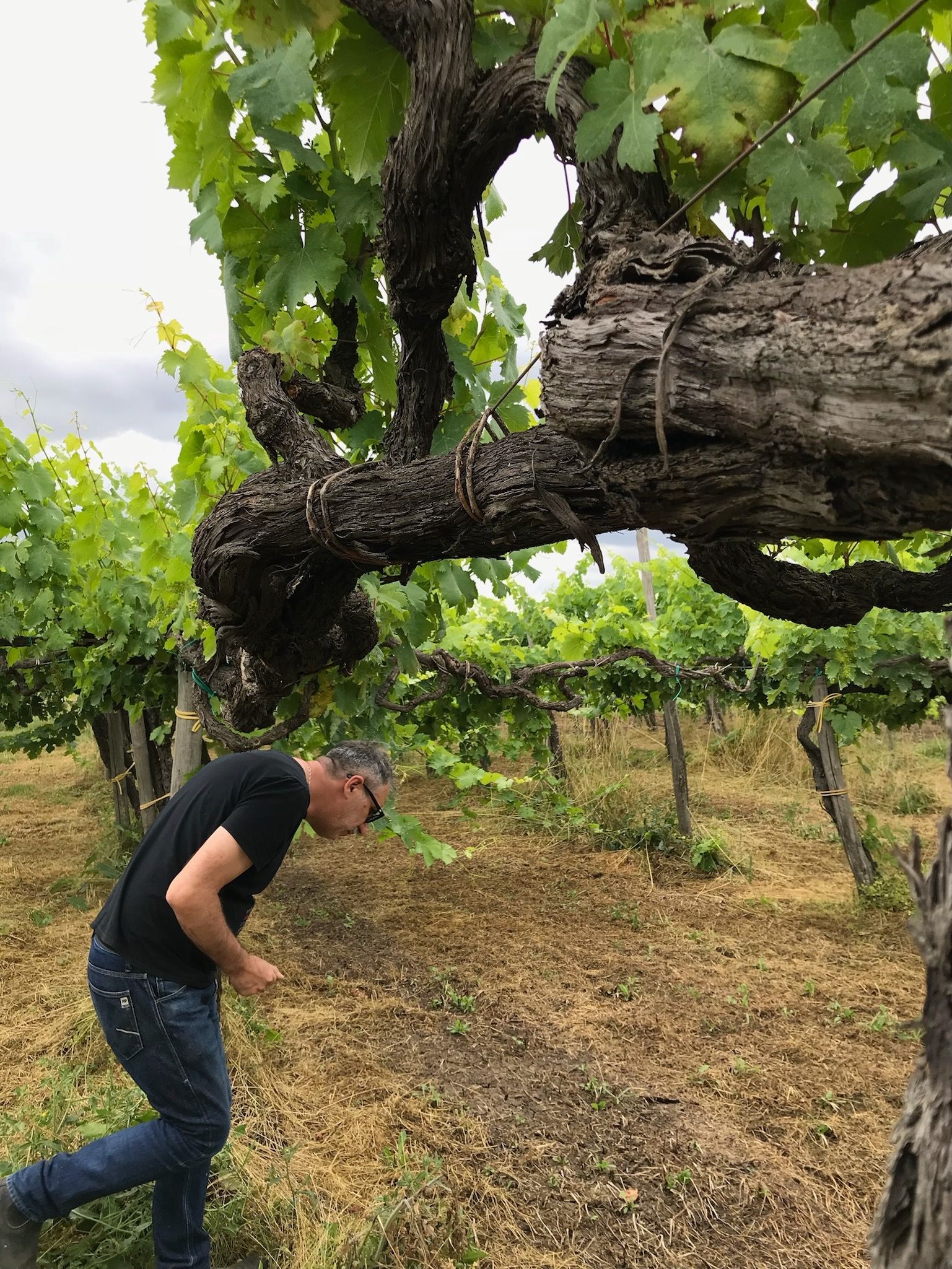 What's your role at Cantina Giardino?
I have spent the last three harvests working here. Since last year, I have also taken care of the communication with importers, tastings, the organisation of events ad our participation in wine fairs. Of course, I still help with the harvest and make wine in the cellar at crucial moments, such as bottling.
What can you tell me about Daniela and Antonio's background?
Antonio studied food technology at university, and then specialised in viticulture and oenology. He went to Piedmont to do it and had the opportunity to there drink a lot of good wine and learn from his professors. Both Antionio and Daniela come from Irpinia, and at the end of the 1990s they were making wine for fun with a group of six friends inside one of their garages - Professor Giardino's garage - to drink for themselves. At one point, they realised that their family and friends really enjoyed what they were making, so they decided to start a business and begin this adventure. Now, it's just Daniela and Antonio making the wine, but the others are still part of the society. They named the project Cantina Giardino because is all started in Giardino's garage. At the time, Antonio was a professor of chemistry and making wine for others, but at conventional wineries. The wine they were making for themselves was natural, using spontaneous fermentation and without anything added.
The winery is located in Irpinia, a region in the middle of Italy - right in the middle of the 'boot'. The area was hit by earthquakes many years ago and a lot of villages were destroyed. A lot of people left their homes there to live in cities, as there was no reconstruction. It's an area with a long winemaking tradition, and a lot of vines - especially old vines - were abandoned. A big part of why Daniela and Antonio started the project was to preserve the patrimony of the land and its culture. Initially they worked as a negoce - buying grapes but learning how to work the vines, and tasting wines made from them which were completely natural. The more they tasted, the more they were convinced to make natural wine. They enjoyed it so much.
They started with red wine, because here the main grape is Aglianico. But after three years, they also started to make skin macerated white wine, inspired by the Friuli area bordered with Slovenia, which has a long tradition of skin macerated whites. Cantina Giardino is really connected to the idea that wine needs time to express itself. Yes, you need wine that you can drink immediately, but it should also be able to last for many years. For example, there's one Aglianico we make that is only released to market after 10 years.
Are Daniela and Antonio from a winemaking families?
Antonio was the first generation of his family to make wine for public consumption, but in this territory viticulture is really present - so families typically grow their own vines to make wine to enjoy at home.
What do you farm at Cantina Giardino and how many hectares of vines do you have?
For white grapes, we have Fiano, Falanghina, Greco and Coda di Volpe, which is a clone of Trebbiano). We also have red Coda di Volpe and Aglianico. We have 7 hectares of owned vines, then 18 more that we either rent or buy from. For those vines, we have really long contracts - 15 to 20 years long - and the vineyards are worked by old people who are happy to see their grapes being used in this way. We also work most of the vineyards we rent, so it's a collaborative relationship. But in terms of quantity, it also depends on the vintage and how many grapes each plant grows. This year, for example, we had problems with mildew and 2 hectares might produce the grapes of half a hectare.
What has influenced Cantina Giardino's style of farming and producing, and why do you take a low intervention approach?
There's a local traditional vine growing system called 'Raggera Avellinese', named as such because we are in the province of Avellino. You grow the vines like a pergola and it's a system that's impossible to work with machines, so you need to put a lot of effort into cultivating them. The reason for growing them this way was originally to allow for more ground space for cultivating other things. Because the vines are tall, farmers could grow on the ground and middle level beneath them. They also provide shadow for other crops. So it's a method of integrated agriculture and, the viticulture here was - and mainly still is - a family thing. But it's very difficult to find people that have experience of working in this way - we're not sure if we will be able to continue.
And in terms of the low intervention approach, Daniela and Antonio believe that natural wine is real wine, and they love to drink old wines, made without the use of chemistry. For instance, if you drink a Barolo from the 1940s, it will have had almost nothing added to it. To them, natural wine tastes real and gives them a taste and feeling they love, and because it all started in a garage, not making wines to sell, they didn't need to apply products to increase production or prevent problems, because they were making it for fun. From the very beginning, they had no doubt that this was the path for them.
They initially started using a small quantity of sulfites. But, to export to Japan and a number of countries in Asia, deep analysis is required. In February 2006, they analysed a selection of wines from 2003 and 2004, and realised the sulfur they had added was already gone. You use sulfur to protect the wine and it should still be there in 2-5 years in order to keep protecting it. They realised the small quantity they were using was pointless, so from that point on haven't used any sulfites in their wines. They had also tried a lot of wines without sulfur and loved them, so it just made sense. And they still keep incredibly well - the other day, we had a bottle from 2009 and it was crazy, really deep and evolved.
What's the average age of the vines you work with?
We have some from 2015, as we did some replanting of single plants at that time, but most of them are 50, 70 or 90 years old. We also have some pre-phylloxera vines. A lot of them we took over from old people, who chose not to use pesticides or herbicides as they're too expensive, so they're really clean plants.
What grapes have you used for this wine?
The variety is Greco, which is a local variety. It's called Greco because it's believed the ancient Greeks brought it with them when they arrived in the south of Italy. In the beginning, it was only found near Napoli in the volcanic area, but around the time of the plague in 1600, a lot of people escaped the area and fled to Irpinia, bringing the Greco grapes with them. The best area for growing this is Tufo, in the Greco di Tufo appellation. It's spread out because a business man who opened suflur quarries in the area loved the variety, so the people who worked for him would grow it. Our Greco comes from Santa Paolina, where there's also a sulfur quarry, so we find sulfur stones in the soil. The characteristics of the grape is a skin that's rich in polyphenols, with a deep colour and strong presence of tannins.  
Can you describe the vineyard?
It's a hilly. mountainous area, but not a super high altitude - between 450-700m. It has a mix of sand, clay and limestone soils.
Can you talk me through the process of making this wine?
We harvest the grapes at the end of September, beginning of October. We make late harvests here because the varieties ripen late. The grapes are taken to the cellar, destemmed and put into chestnut barrels with 5 days of skin contact. We then press the grapes and then put them into inside 30HL barrels, also chestnut, for almost a year. During this time we make one movement of the wine, to take off the thick lees. Then it spends at least 1 year in the bottle. We don't add any sulfites.
How would you describe the wine?
It has sharpness and minerality - a characteristic of all Cantina Giardino wines and our terroir. It's also a bit caramelly with some fruits, like dried apricots and bruised apples. The tannins are present but mild, with the bitterness of stone fruit, almond, orange. And juicy. It's really good.
How does this vintage compare to others?
2021 was pretty balanced, so the wine reflects this. Because it comes from this soil characterised by sulfur, it has a somewhat reductive quality. It's a really balanced wine, even if it is only 2 years old.
When is it best enjoyed? Now or later, if people want to age it further in the bottle?
It's really good now - we had it today at lunch - but you can definitely forget it in the cellar and drink it in 20 years. Over time, it will develop more tertiary, secondary aromas and the fruits will become smoother, and more towards cooked or dried fruits instead of fresh fruits. It's an evolution, and the tannins really help to maintain the structure.
What's the story behind the name of the wine, T'ara ra?
It's an expression in the local dialect, which means 'you need to give yourself'. It's a little like carpe diem. It's about when there's a moment in your life where you need to give yourself fully, a turning point for your life. You say it to people when they need to just give it their all.
Any food pairings you'd recommend?
All our wines are really gastronomic. We don't think there's a special, singular food to be paired with them, because our whole idea is that a real natural wine goes well with so many things because it's alive and adapts itself in the mouth with the texture and elements of the food. Today for instance, we had oven baked pasta with sausage and it was perfect, but we didn't plan the pairing. In general, you can pair it with every food, because it has complexity, sharpness and minerality.
Isabelle's thoughts on T'ara ra - Wild and vibrant, with a gorgeous deep copper color,  this is an overt, complex and incredibly intense orange wine that features a medley of coriander seed, linden flower, tarragon, matcha, dried apricots and persimmon. It is soulful and accomplished, combining freshness of aromas, tannins and intensity. It is both grippy and luscious in texture, and gets better as it opens up (even the next day). Definitely one to decant.
TOTAL SULFITES: <10mg/L.
---
Domaine la Roche Buissière is a winery run by Antoine and Laurence Joly northeast of Vaison-La-Romaine in the southern Côtes du Rhône. They work 15 hectares of organic vineyards, and have done since 1974.
Q&A with Laurence Joly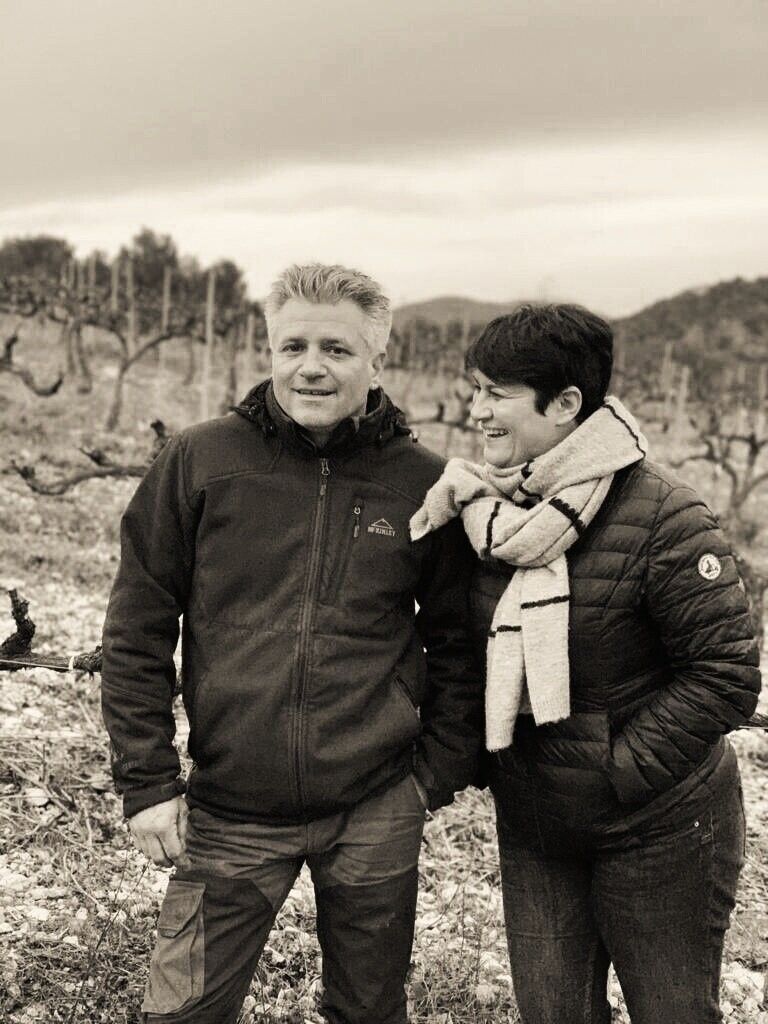 Can you tell me about your background, how you became a winemaker, and what influenced your approach to farming and production?
Antoine's family owned vineyards in the mid-70s. My father-in-law has always practiced organic farming, without specific regulations. He didn't make wine; instead, he took the grapes to a cooperative. Antoine had a background in environmental studies and water management, which was influenced by the devastating floods in Vaison la  Romaine in 1992.
He later gained experience in winemaking and fell in love with the process, which motivated him to pursue a BTS (vocational degree) in viticulture in Burgundy. In 1998, he started making his own wine with just one hectare. By 1999, it had expanded to three hectares, and in  2000, we reached 10 hectares.
As for me, I had no formal training and was a student when I met Antoine. After a year of studying abroad on Erasmus in England, I settled down with Antoine, and together, we embarked on this adventure. I later opened the cellar to begin selling our production. I received training in wine and did practical, extensive internships to enhance my knowledge, including one at Marcel Richaud's winery.
Between 1998 and 2003, we gradually transitioned away from the cooperative while maintaining the same philosophy. Our influences come from Marcel Richaud, representing a southern school of winemaking that inspired us to work as naturally as possible. Today, we cultivate 18 hectares of vineyards and produce red and rosé wines, mainly using Grenache and Syrah grapes, with a touch of Cinsault. We do not produce white wines.
Can you describe the vineyard and its surroundings?
Located in the northeastern reaches of Vaison-la-Romaine, we find ourselves amidst the Vaucluse region, an emblematic part of Provence. Nestled upon the foothills of the Baronnies, this area marks the threshold of the Alps.
Our current elevation hovers between 350 and 400 meters, affording us a commanding vista of the north face of Mont Ventoux - an area of striking natural beauty. While the sun's warmth is undeniable, the ambient air bears a subtle hint of coolness.
This locale is distinguished by its undulating terrain, adorned with vineyards and olive groves (bearing the AOC Nyons designation), which lend it an unmistakable Tuscan ambiance. The soil composition predominantly comprises clay-limestone, offering a rich tapestry of textures encompassing silt, marl, and a modicum of sand, notably devoid of substantial rocky deposits.
What grapes have you used for this rosé?
This wine is made from 70% Cinsault and 30% Grenache grapes, sourced from vines that are around 20 to 30 years old. The Cinsault vines are on a south-east facing slope with clay-limestone and slightly sandy soil. The Grenache vines also face southeast and are approximately thirty years old, growing in soil with a stronger loamy base. The vines are trained and trellised. Weed control is done with a tractor and cover crop seeding.
Can you tell me about the winemaking process?
The grape harvest is carried out by hand. After meticulous sorting and destemming, the grapes are pressed directly to obtain a wine that is light in structure and color. Maceration lasts for 7 to 8 days. This is the only wine we ferment in stainless steel tanks because we cold-settle it if necessary. Once completed, it undergoes aging in concrete tanks and is bottled the following spring.
We add sulfur dioxide (SO2) only during bottling, with a maximum of 12mg added. Generally, the total SO2 levels in our wines after bottling are virtually undetectable. For fermentation, maceration, and aging, we primarily utilize raw concrete tanks, occasionally stainless steel for our rosé, and sometimes fiberglass tanks for certain racking processes.
How would you describe the wine and how does this vintage, 2021, compare to others?
It's a perfect aperitif rosé that can also be enjoyed during a meal. We produce approximately 4,000 to 5,000 bottles of this wine each year.
The 2021 vintage is particularly exceptional for us as we were fortunate enough not to be affected by the frost that devastated the Rhône Valley. The conditions were ideal, with spring rains, no heatwaves, resulting in a superb year in terms of quality and yield.
I prefer this vintage over the 2022 because it has a lot of tension and freshness, with a beautiful fruity note. I find it very well-balanced and genuinely enjoyable.
When is it best enjoyed? Now or later, if people want to age it in the bottle?
It's best suited for consumption over the next 2 to 3 years. Ideally, it should be enjoyed before the next summer.
Are there any food and wine pairings that you would recommend?
It pairs perfectly with fish or a nice grilled meat. It's ideal for an aperitif and dishes served in a straightforward manner.
Isabelle's thoughts on Côtes du Rhône Rosé - This is a classic, earthy, elegant rosé that is perfect for autumn dining. It isn't shouty at all but rather more reserved and very pretty indeed. It has a lovely intensity of rose petal notes, some ripe pink pomelo, pomegranate and some pepper spice. A couple of years spent in the bottle before release, has also developed some interesting savory, vinous notes as well. It is a textured, full-bodied wine that goes well with food.
TOTAL SULFITES: <10mg/L.
---
In 2016, Thyge Benned Jensen quit his job in Copenhagen to live out his dream of making wine, and bought some vineyards in Arribes, Spain - Bodega Frontio was born. Arribes has a long winemaking tradition, but many have been lost. Thyge's work aims to reclaim these traditions, making wine from a lesser known local grape variety, Juan Garcia and other local varieties nearly unknown outside Arribes.
Q&A with Thyge Benned Jensen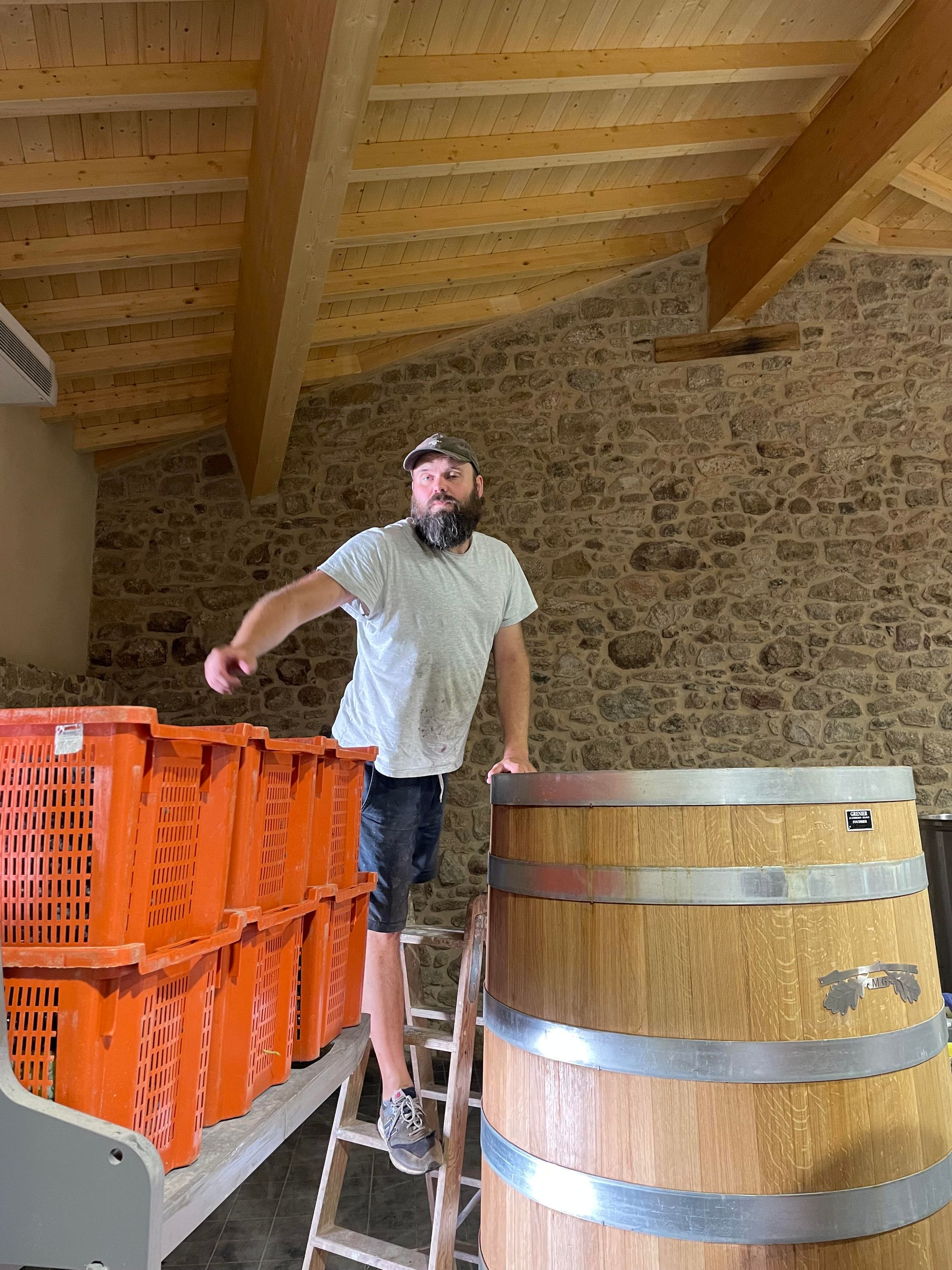 Can you tell me about your background before you started making wine - are you from Copenhagen? What career had you pursued before wine?
I was not born and raised in Copenhagen, but on the west coast of Denmark. I moved to Copenhagen for my studies. I have a masters in economics from the university there, so I lived there during my studies and worked there as a gas trader, then at a shipping company. I worked in the gas industry for around 10 years.
Where did your interest in wine come from, then, and what made you decide to take the leap to become a winemaker?
My interest in wine was from when I moved to Copenhagen. My brother and his friends had a big interest in wine and I was a rookie back then, but I found it really interesting. Then I started working in imports for 5 small champagne growers in 2005 alongside my studies, as I was bored with it all and enjoyed champagne. It was a lot of fun, and I did a lot of champagne tastings. When you do tastings, though, you have no idea what's actually going on in a winery - you might have an idea in your head, but I can see now it's completely different. Hands-on experience really gives you a steep learning curve. Then, when I started in the gas trade, I closed the champagne business but was still interested in wine.
Of course, when you're young and you go into your first job, you're very career-minded. But I realized that not everyone can be the CEO and I started getting bored. In principle, everyday was the same. I considered moving companies or moving industries, but I didn't like sitting in the office. In winter, you spend the day sitting in a dark office and by the time you leave to go home, it's dark. I decided I wanted to work with my hands and be outside.
I visited winemakers in France and some in Italy and Germany, and decided it seemed like a good job. In Jura especially there's a lot of winemakers who come from different, non-wine backgrounds, so I thought, why don't I do the same? It was one thing to sell the wine, but another thing to make it. I decided on Spain, first of all because I did 2 semesters in Alicante and I thought I had some Spanish still - but didn't really.
Plus, it's cheaper to live in Spain than in France or Germany, and you have these abandoned or lesser known regions where it was easier for me to get my own vineyard. My dream was to work the vineyard in the morning and play cards in the square with the old guys. I haven't played cards yet, but hopefully soon.
Why was going down the natural wine route important to you?
It was a combination. For me, Copenhagen has quite an extreme natural wine scene - and I don't always like all the wines. It's very hipster. Denmark doesn't have any wine background as a country, so the importers can really influence people. I also always ate organic food and took care of the environment, so it wasn't even an option for me to explore using anything in my wine - other than sulfites.
At the beginning, I probably used too many sulfites, but every year used less and less sulfites until I got down to none. For most wines, though, we always add some sulfites before bottling, due to my learnings over the years and my experience. Again, it was a very steep learning curve and with a huge difference between grapes. Some vineyards need more attention in the cellar.
The timing of the harvest is also a big factor. The first year, I was renovating an old cellar in the village and started harvesting around the same time as the rest of the village, but soon realised my grapes were low in acidity, so started harvesting a little earlier to get wines with much more acidity and freshness. In 2017, it was very hot, so I harvested a month earlier. People were shouting at me that I don't know what I'm doing and the grapes were green. Since then, I'm always the first to harvest. Arribes is an area without any hotshot producers - unlike places like Jura or Burgundy, where there's always somebody you can ask or be influenced by. Whereas here, it's just myself and 2 friends of mine who are working this way. We're on our own and learning as we go.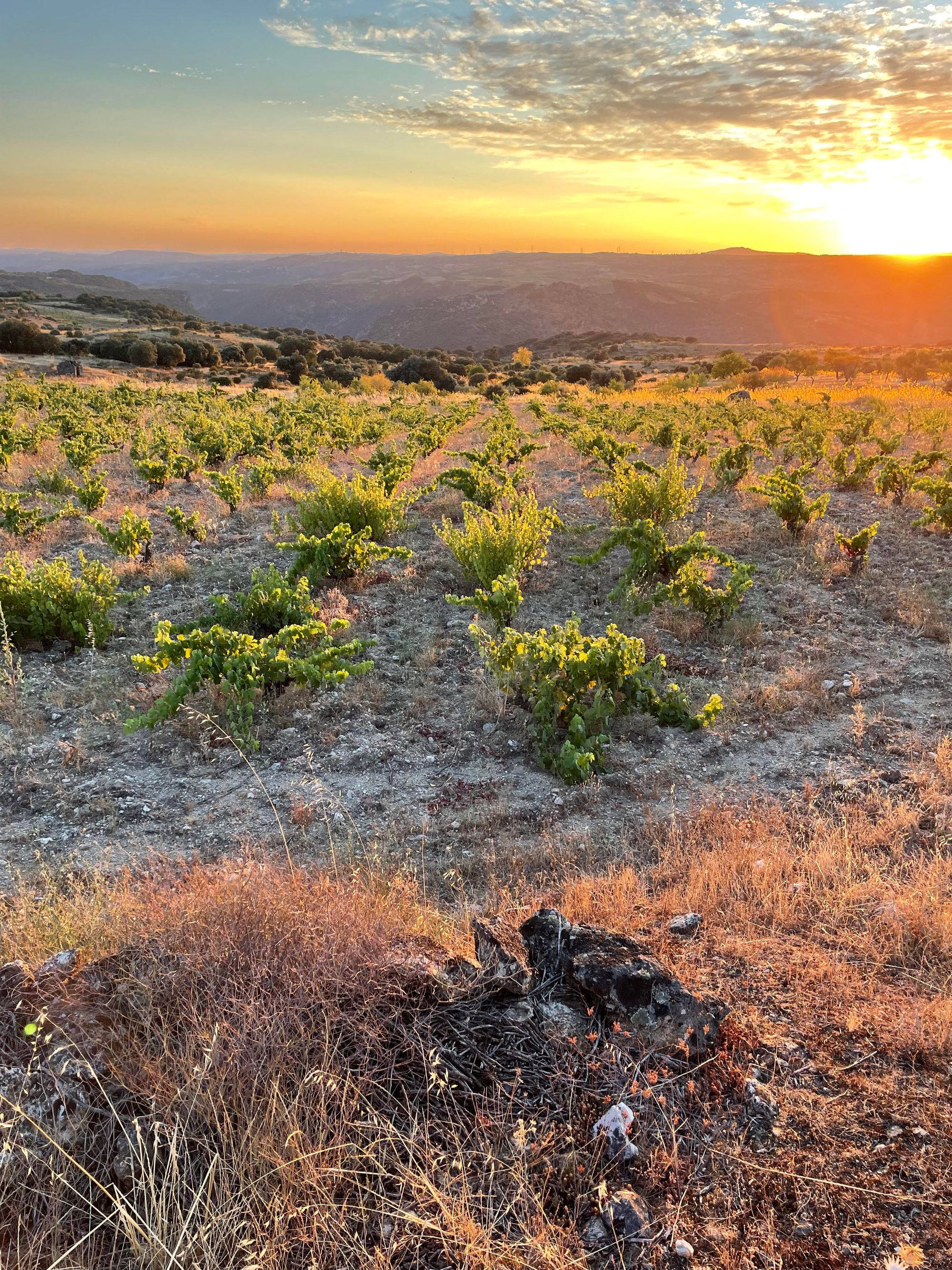 You mentioned why you chose Spain, but why Arribes specifically?
The most simple explanation is that I was able to buy a vineyard. I was looking at Salamanca, too, but couldn't buy a vineyard there. I was also keen to work in a beautiful, scenic area, and with old vineyards. This used to be an area where, 30 years ago, there were 3,000 hectares. Now we have less than 300. To plant a vineyard in Europe, you have to own the right to plant, and in the 1990s and 2000s, Rueda and Ribera del Duero both had a huge expansion and bought the rights, ripping out old vineyards so they could plant their own. The winemakers who were here before were offered good money, so they took it.
If I had arrived 15 years earlier, I could have had much more choice. Now, I have to plant vineyards to be able to grow the grapes I want. There are some old vines left, but not a lot. I was able to buy a vineyard of course, but it's still hard. The people who chose not to sell back then still own the rights to grow. Economically speaking, they should have sold them off, but because they had been harvesting through generations, they held onto them. Because it's an emotional or familial attachment, that won't change over time and the price I can offer won't change their lives.
I was lucky that, in 2016, there were 3-4 people looking to sell. But then it took me 5-6 years to buy the next one. I own around 10 hectares and long-term rent 3-4 hectares, so work with around 12-14 hectares total. The yield per hectare is very low, particularly from the old vines. It's a low yield area because of the age of the vines, the pureness of the soil and the dryness of some of our years. Plus, the plantation is not a lot of vines per hectare.
What is the average age of your vines?
They range from 3 years to 110 years, so it's hard to pin down an average - but I'd say probably 80-100 years old. Phylloxera was here in the late 1880s, and they started replanting in 1910 to 1930.
What was the wine scene like in Arribes when you first arrived in 2016 and has it evolved since?
This village, Fermoselle, is very famous for Juan Garcia, a local grape that's also in Galicia - but they nearly always blend it. Here, we make single Juan Garcia wines. This grape is quite fun because it's very thin skinned and reaches maturity around 11-12 degrees of alcohol. However, if you don't pick it at the right time, the grapes very quickly become raisins and reach 20% alcohol. By blending good grapes and bad grapes (raisins), you get a wine of around 14-15 % ABV, which is still the norm in the village. My wines are completely different - less heavy, less jammy, around  11-12% ABV and fresh. In terms of natural wine, it's just me, my friends Liliana and Jose Manuel, who run El Hato y el Garabato and Alvar de Dios.
Can you describe the vineyard and its surroundings?
The Bébeme vineyard is Juan Garcia around 100 years old and on very poor soil at 680m above sea level. Everything here is granite, with some slate, quartz and schist, but mainly granite. This specific plot has topsoil of sand, gravel, but the soil is very poor. The vineyard is northeast facing. It's very hilly with some difficult roads, from which you can't see the vineyards - you have to know where they are. The Duero river is the border between Portugal and Spain and we have a view of the river from the winery. The vineyards are behind the hills.
Which grapes have you used for this wine?
100% Juan Garcia.
Can you talk me through the process of making it?
It's very simple. We harvest by hand, take it to the cellar in plastic or wooden bins, then ferment with whole clusters. Juan Garcia is so thin skinned that you can't destem it or it would crush the grapes. So whole bunch fermentation in wooden tanks. We do pumpovers, no pigeage, for 10-12 days, then press it off and it goes into used French oak barrels of different sizes, from 225L to 500L. It stays there on the lees, then we blend it in July or August and add sulfites just before bottling.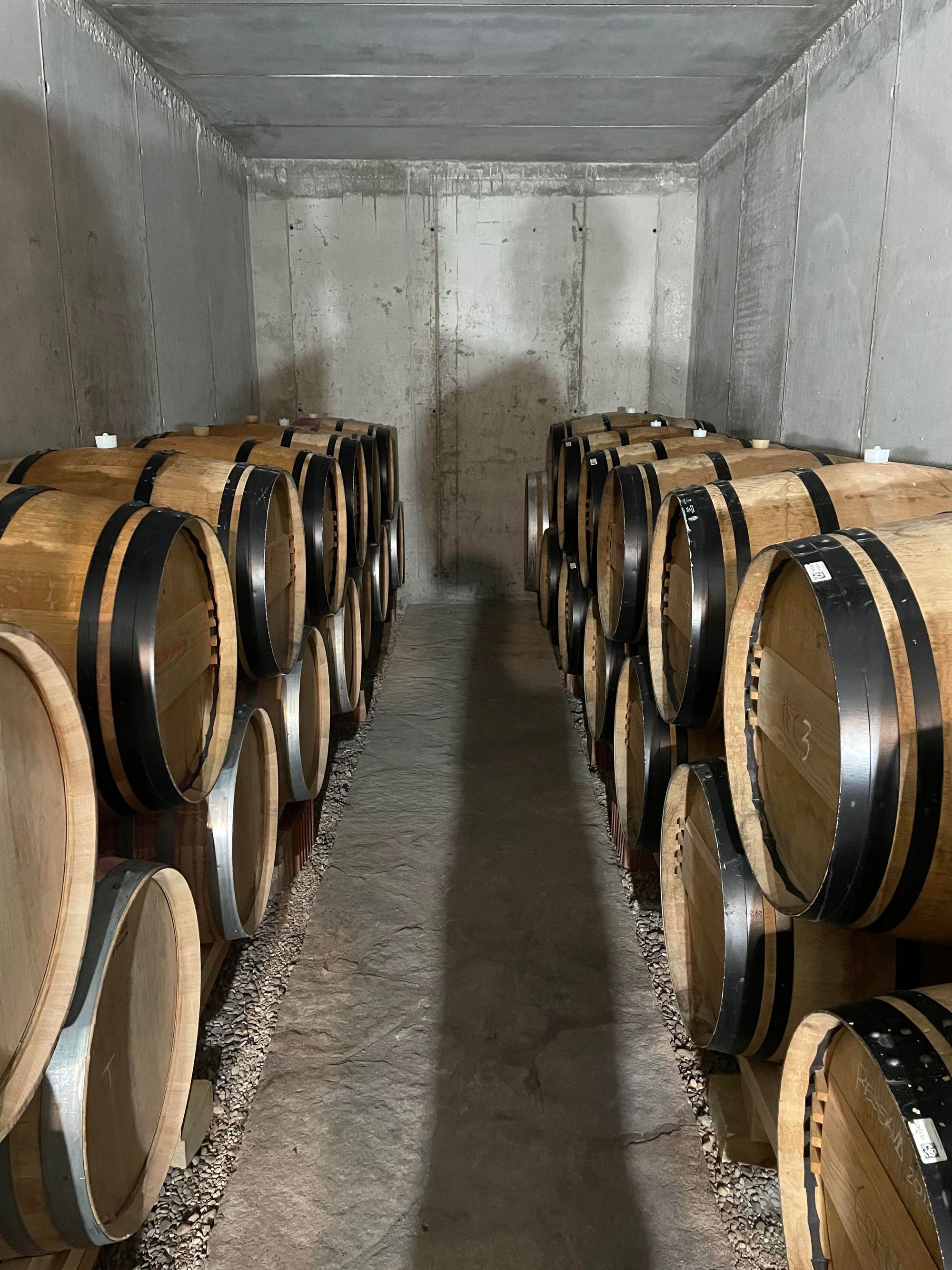 How would you describe the wine?
A classic Bodega Frontio wine. It's very austere, mineral and at the same time has some freshness, fruitiness and is a little perfumed.
Why are you called Bodega Frontio?
Frontio comes from frontera, meaning border. We're the last village on the border before Portugal. This project was also the border of my life, or the frontier of my life - the beginning of something new for me. And when I moved down here I was an uncle or, in Spanish, a tio. Frontio = uncle on the border.
And what's the story behind the name of the wine, Bébeme?
It means 'drink me' in Spanish. That's my wine philosophy - you should be able to drink, and drink, and drink. You shouldn't need to have it with food, or even notice when you finish the bottle. It's probably not politically correct for me to encourage people to drink, but it's about that for me. To make wine that's easy to drink.
How does this vintage, 2021, compare to others?
It was a very nice vintage. 2019 and 2021 are my best vintages.
When is it best enjoyed? Now or later, if people want to age it in the bottle?
It will get better with time. I usually say my wines need 2-3 years to lie down. 2025 would be ideal, but it's great now as well.
You said it doesn't need to be enjoyed with food, but have you tried it with anything that has worked particularly well?
It's easy to drink, but it's not a glou glou. It has body and structure, and is a more serious wine than the name suggests. Food pairing to me really depends on what kind of food you're eating. For instance, we have a 5 year old son, so we're eating a lot of pasta right now and it works really well with that. But of course, because of the kind of wine it is, it pairs well with foods on the lighter end of the spectrum - chicken or vegetables. It has good acidity and freshness, so it goes well with a lot of food.
Isabelle mentioned that you found distribution with Nomadic at RAW NYC - what impact has RAW WINE had for you as a winemaker?
The first RAW WINE fair I went to was London in 2018. There, I made some contacts for Japan. I've also done London in 2019 and NYC in 2022. I was exporting to the US before the NYC fair, but then there was a 25% tariff put on Spanish wines, so I stopped. I then met Nomadic at the fair, who have helped me start exporting to the US again. RAW WINE has helped me a lot - we'll be pouring at Berlin in December 2023, and possibly LA and Japan in 2024.
Isabelle's thoughts on Bébeme - This is a highly gluggable drop made from unusual, 100 year old Juan García grapes, grown in a dramatic region overlooking the Duero river on the border with Portugal. Crunchy and fresh, it is a chiseled, juicy red that is best enjoyed on the cooler side. It is earthy and elegant, showing notes of wild blueberries and a gorgeous minerality that is almost saline.
TOTAL SULFITES: 23mg/L.
---
La Rural is a winery in Alt Camp in the town of Santes Creus, run by brothers Xavi and Andreu Padró. They started the project in 2018, making single-varietal and single-plot wines without additives.
Q&A with Xavi Padró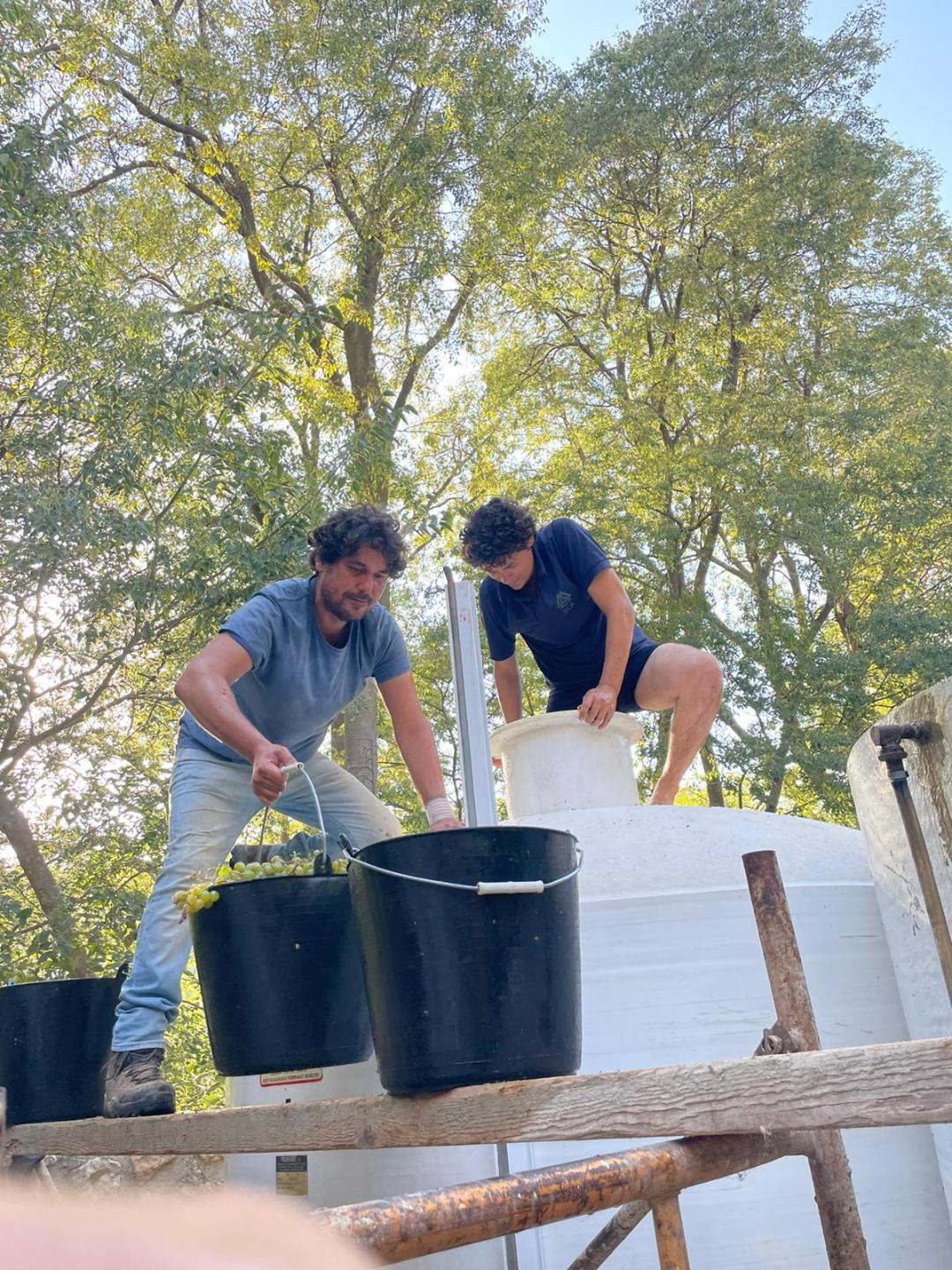 Can you tell me about your background - do you come from a winemaking family? Did you ever explore another career?
In 1925, my parents bought the land of a marquis that my grandparents had worked on. My brother and I were raised in the vineyard. Working in the field was both a game and an obligation. My family used to sell the grapes to a cooperative. Then my brother and I decided to start a mini wine production project out of a garage in 2018, and in 2020, we began making our own wines and transformed the space we have below our house into a cellar.
We have 35 hectares of vines, with 12 of them being leased. We also have other fruits, but the primary focus is the grapes. We sell the majority to other small producers and keep the rest to make our own wines, which was around 20% this year. Unfortunately though due to drought, we lost half of our production.
What or who has influenced your style of farming and producing? Why do you choose to work without additives?
Natural wine is the only kind of wine through which we're able to connect with our ancestors. As well, my brother took a course with the winemaker Oriol Artigas, and was part of the last generation to benefit from these classes. We actually sell some grapes to him now. We have a very old Sumoll vineyard that we vinify with Oriol - he does a carbonic maceration maceration, while we use our own method with three days of skin maceration. The first bottles will be released this year, so let's see how they turn out!
What is it like to start the journey in natural wine? Is it quite difficult to make connections in this world or on the contrary quite easy?
It depends on the individual. For me, making natural wine was an obvious decision because I want to let the land identify me. I don't see winemaking as a technical or chemical act - my brother and I don't have formal training. I'm openminded, but our direction is always going to be focussed on having a strong connection to the product and the land. If I had to change course, I wouldn't make conventional wines, but would pursue architecture - which is my other background. In terms of making connections, being attached to RAW WINE and the natural wine world is super important for us.
Can you tell me about La Rural and the wines you make?
The winery is beneath the family house. It used to be a cellar where animals were kept, and where bread and a small quantity of wine were made. It was transformed into a materials storage space, then we converted it into a wine cellar three years ago.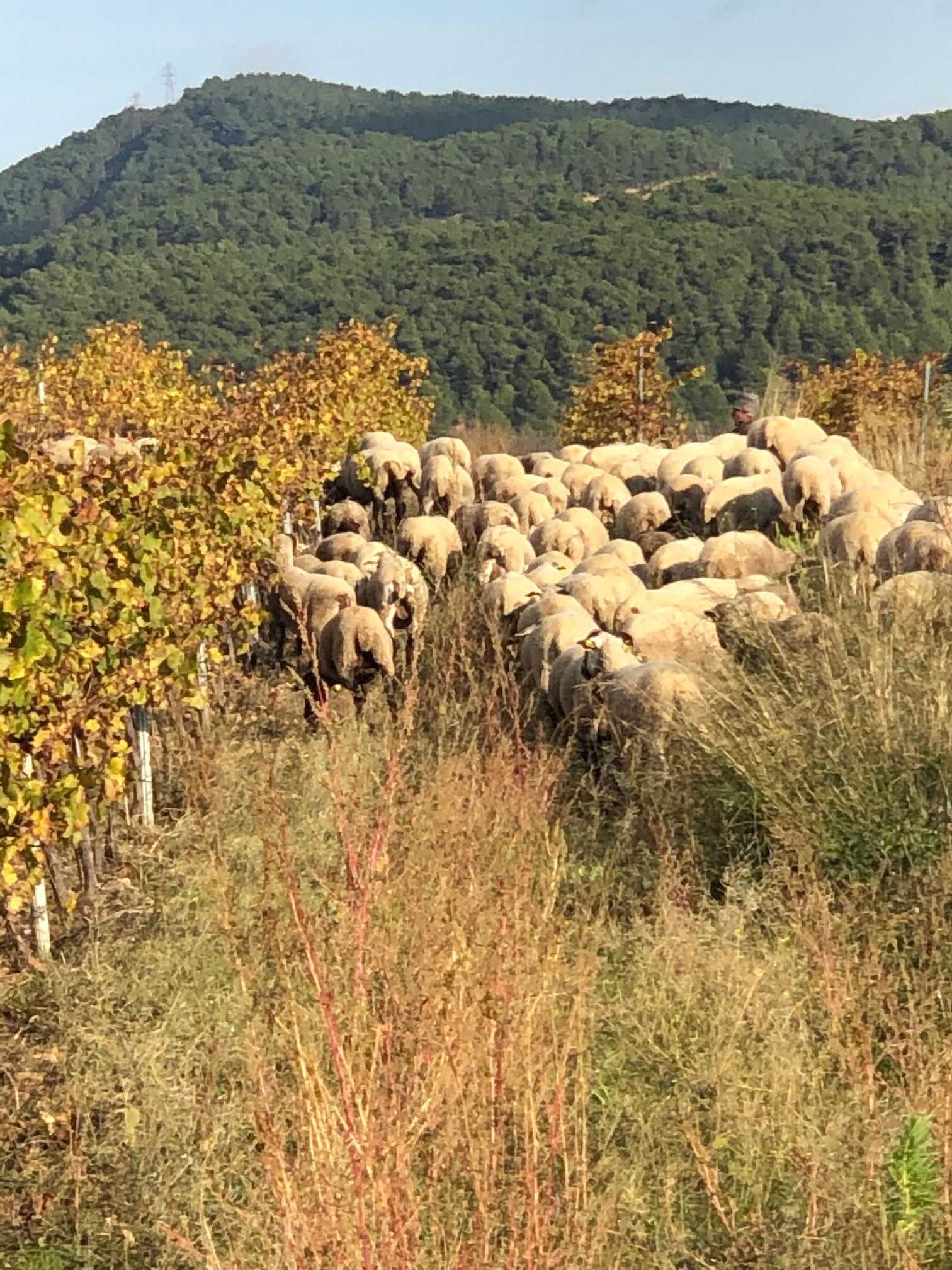 Why single varietal and single plot?
Almost everyone here has separate vineyards with a maximum distance of 10 kilometers between them. The advantage is that we work with different terroirs and climates that allow us to produce different wines. We also plant varieties according to orientation, climate, etc.
The grape varieties are native to our region, and the idea is to continue with these and plant other local varieties. We make single varietal wines to showcase the character of each grape. Sometimes we also blend two grapes.
What grapes have you used for Ull de Llebre? How unusual is this grape?
Ull de Llebre is the Catalan name for Tempranillo. It's a variety that wasn't common in this area, but around 40 years ago it was planted due to demand. We have this grape in a plot located 30 kilometers from the sea and at an elevation of 420 meters above sea level, which was planted in 1988. We work with one row of cover crop and one row without, which balances the vineyard.
Can you describe the vineyard these grapes come from, and its surroundings?
The vineyard is on a plateau, at its highest point. Nearby, there's a small forest, and the soil consists of clay and sand with river stones, as it's 1 or 2 kilometers from a river called Gaia. This plot is spread across 0.8 hectares, with three other Parellada vineyards nearby.
Can you talk me through the process of making this wine?
In 2021, we harvested all the grapes on the same day, all by hand. We used 50% carbonic maceration for one week and 50% skin maceration for three days. Then, we blended the two portions until the end of fermentation, all in stainless steel. No added yeast, nothing. We aim to work with reduction - the opposite of oxidation - because it helps protect the wine naturally.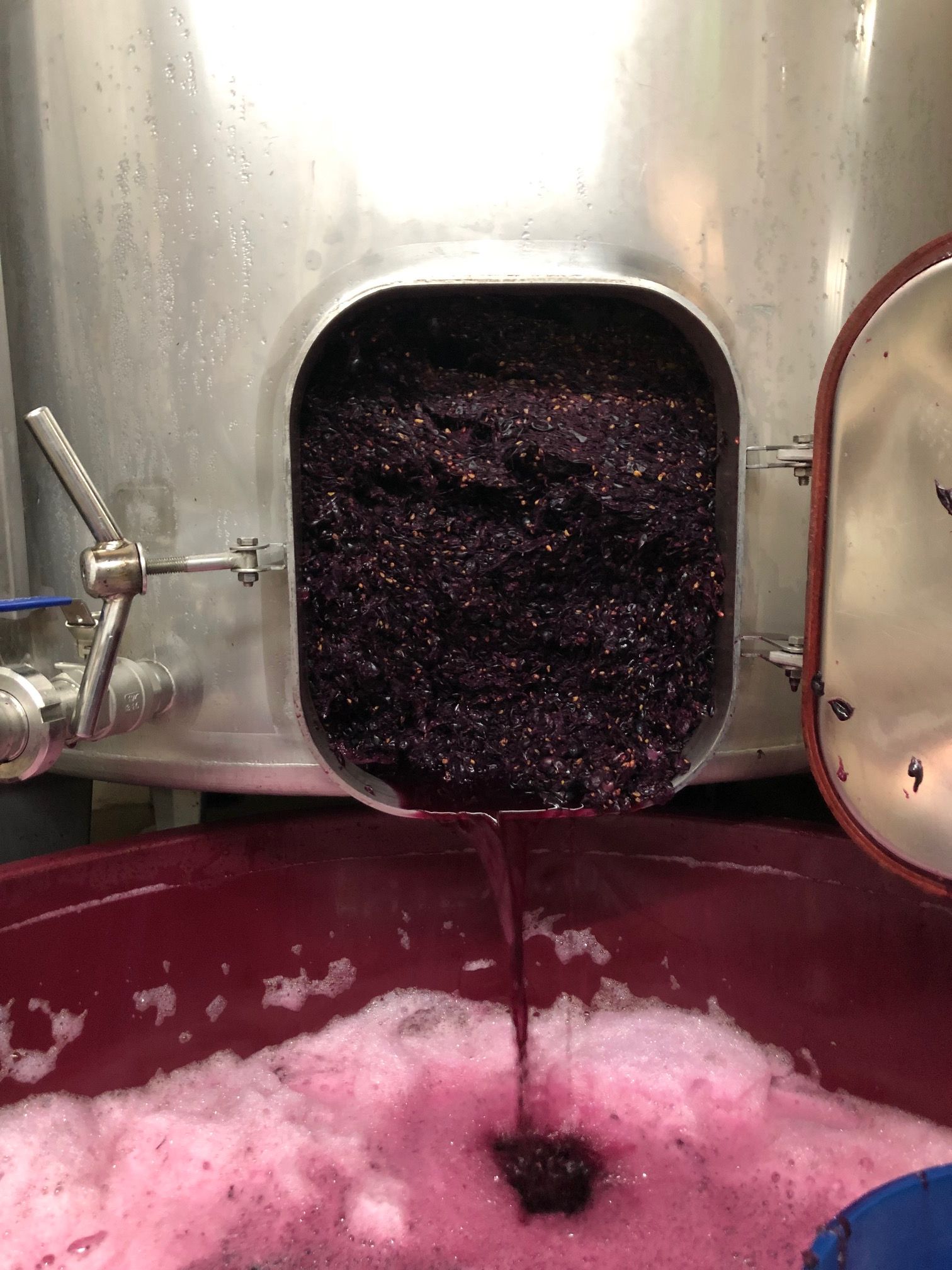 Do you use any sulfites?
There are no sulfites in any of our wines.
How would you describe the wine?
Tempranillo is a wine that we want to interfere with as little as possible, representing the environment in the best way. We want it to be a representation of the landscape it comes from.
How does this vintage compare to others?
The vinifications change slightly each year in terms of maceration. In 2021, it wasn't as smooth as what we make now due to longer macerations. It was the first time we decided to harvest 2 -3 weeks earlier, to have smoother wines with less alcohol.
As well, the 2021 vintage is a very small production - less than 980 bottles - because some of the grapes were sold. In 2023, we didn't sell any of the grapes and produced 3,500 bottles.
When is it best enjoyed? Now or later, if people want to age it further in the bottle?
It's a wine that's ready to drink because it spent a year and a half in the bottle. It can also age a bit longer if people want to lay it down.
Any food pairings you'd recommend?
These are versatile wines that can be enjoyed with any dish. It's a smooth and tannic wine, and it pairs ideally with cheese.
Isabelle's thoughts on Ull de Llebre - This is a full bodied, mediterranean red that is very intense and concentrated, laden with notes of liquorice, blackcurrant fruit, a dash of bitterness (think black olives) and some freshness. This is a big wine so while it is a touch jammy, it is also very floral and perfumed (think violets). It is both rustic and accomplished - a very nice wine that packs a punch and will be ideal for winter entertaining.
TOTAL SULFITES: <10mg/L.
---