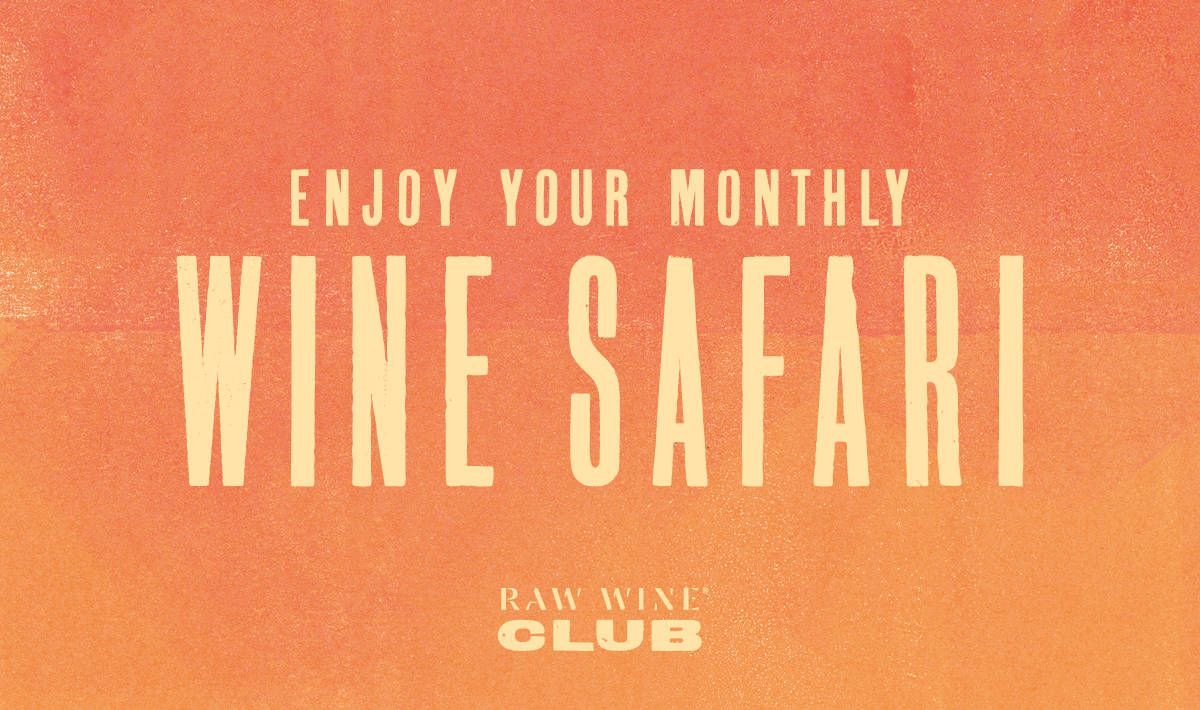 RAW WINE Club - Tasting Notes - December 2022 Selection
37 min read
Hello and welcome back.
To carry on in the festive vein, and to celebrate this extra special season, we've included a bottle of Champagne - even if Quentin Beaufort can't quite call it that because his vines are on the wrong side of the Appellation line. There's also a crisp, salty, white, new wave Loire Muscadet; a delicately herbal, Greek wine made using pine fir branches; and a gorgeous trio of reds, including two Californians that are the polar-opposite in terms of style (one a fresh, pomegranate, chillable drop, the other a mature, deep, concentrated, spicy Merlot), and an elegant, cool climate earthy Pinot Noir from Alsace. They're all great with festive fare so they're perfect for drinking now.
Happy tasting as always, and happy holidays with your nearest and dearest! Looking forward to seeing you in 2023 and thank you for joining us on this journey.
Isabelle Legeron MW, Founder of RAW WINE‌
---
Domaine Alice Beaufort is a winery founded by Quentin Beaufort, named in dedication to his wife, Alice, and as a continuation of his family's work in making fine, natural wines. Quentin's father founded André and Jacques Beaufort (Jacques is his father), which has been producing organic champagnes since 1971.

Q&A with Quentin Beaufort
Can you tell me about your background - how you came to be a winemaker and what influenced your style of farming and producing?
My father was the first to make organic champagne - in 1971 - for a simple reason: chemicals were simply not available when he started working. I was born into the estate and into the natural winemaking method. We then divided my father's estate between me, my brothers and sisters. At the same time, my wife and I bought 8.5 vineyards in Burgundy. 1 hectare in Champagne was 1 million euros at the time, compared to 50,000 for where we are. You pay just for the name and starting out this way is impossible, so we bought the vineyard just 3km from Champagne - which a century ago was actually used for making it. We are therefore straddling the two estates. I love it because they can't tell us not to do certain things. When regulation gets more and more strict, it starts to all taste the same. Why would you want people in the same appellation all making the same wine? It's crazy! My wish in the years to come is to develop the 'franc de pied' to continue to cultivate the authenticity of the estate.
Can you describe the vineyard?
We grow Pinot Noir and Chardonnay on both estates. For Champagne Quentin Beaufort, I work with my father's oldest vines which were planted in 1969. The harvest is small but very concentrated and was nominated at the Oscars Del Vino for the 2015 vintage. The production is small and makes 2-3000 bottles. The vineyards are in the dawn in Polisy, a village of 180 inhabitants. They are at 250m altitude and face due east with clay and limestone soils.
The Petit Beaufort vineyards are 8.5 hectares, with 6 of Pinot Noir and 2.5 of Chardonnay. One parcel of 1.5 hectares is separated from the rest of the estate and is located in the woods, on a plateau at 315m. The second parcel of 7h is in Pothières, half of which is on a plateau and the other half on a hillside. This is the main part of the estate with a clay-limestone soil which is ideal for making bubbles because it is a soil that brings freshness.
The vines on the hillside are situated at 240m and are on marl which generates fatter and less fresh wines - ideal for red and white Bourgogne wines.  The interest of the vineyard is this diversity of soil. To be able to work the land, I chose to leave a vegetation cover to avoid slipping and to avoid rain gullying. From our vineyards, we can observe a magnificent plain where the Mont Lassois is located, where the famous Vix vase was found in a princely tomb, a 100L Gallo-Roman vase that was used to contain wine.
Can you talk me through the process of making this wine? What vessels did you use?
The grapes are harvested manually. The vinification is done in old 400L barriques of less than 7 years old. I do not use new vats to avoid astringency and to avoid breaking the fruit and favouring the work of the yeast. Everything is made with indigenous yeasts.
The bottling is done just before the harvest. I keep the fine lees and wick the barrels with sulfite sticks. I put the following grape must in these barrels so that it is in contact with the yeasts from past year in order to keep a continuity, a living signature of the wine.
At the end of fermentation, I rack and wash my barrels. I then put the wines back in to sleep for 8/9/10 months. This way, I considerably reduce the use of water.
Do you use any sulfites?
Yes, I do use sulphites in the barrels and during disgorgement. I never use sulphites in the vineyards. In total SO2, the results are generally between 10 and 30 mg/L.
How would you describe the wine? How does it taste?
This wine comes from a warm year. It is a little less fresh than the other vintages. It is really fat and perfect for drinking now. It is a perfectly balanced wine, with a very appreciable roundness and warmth. The bubbles are fine, full and silky... particularly feminine.
What's this vintage like?
2019 was a particularly hot summer with a low yield and we also suffered from frost. The work remained easy despite everything with only 4 organic treatments (home-made copper salt and essential oils).
When should people drink it?
It is a perfect wine to drink now.
How long can they keep it for?
It can be kept for another 4-5 or even 10 years without any problem.
What's the story behind the name of the wine?
The parcel is called the Grand Charme. The name of the wine is linked to my family's estate. We are a little further away geographically and without appellation (ie. AOC) and this is why we have decided to call it Petit Beaufort!
Which grapes have you used?
60% Chardonnay and 40% Pinot Noir with vines planted between 1996 and 2003.
Any food pairings you'd recommend?
Petit Beaufort is ideal with fish in sauce. Fish such as swordfish or tuna are perfect. It also goes very well with light poultry such as chicken curry. When chilled, it is also well suited to aperitifs such as fish mousse and mackerel rillettes.
Isabelle's thoughts on Le Petit Beaufort - This bubbly (or Champagne-that-can't-be-called-a-Champagne) is living proof of the absurdity of the archaic appellation system that arbitrarily drew up areas. This vineyard is just outside the Champagne region (literally a few kilometers away), which means they can't put Champagne on the bottle but the quality is definitely there. A pretty Chardonnay / Pinot Noir blend, it shows notes of white flower blossom and ripe quince, which gives it a great sensation of ripeness even though it is is a brut nature (i.e. It's a zero dosage wine so no sugar is added whatsoever). Petit Beaufort has great mineral tension, which brings focus and freshness to the wine.
---
Domaine de la Sénéchalière is a winery run by Marc Pesnot with 13 hectares of vines - including 50-year-old Melon de Bourgogne used to make Muscadet - in the Loire, near the city of Nantes. They make complex wines which can be paired with a variety of dishes, and are designed to be a pleasure to drink.
Q&A with Marc Pesnot
Can you tell me about your background - how you came to be a winemaker, and what influenced your style of farming and producing?
It is above all a family story where we are practically all winegrowers. My father was a winegrower and I inherited his knowledge which I perfected thanks to a school course that enabled me to complete my apprenticeship in my 25th year. I took over and expanded the family estate in the 1980s. Until 2000, I made conventional wine and it was my brother, a sommelier, who introduced me to winemakers with a different approach (Domaine Gramenon and Domaine Overnoy) and I discovered wines made differently. As a result, I transformed the estate into organic and in 2004, as my estate was considered 'atypical', I lost my designation. Nevertheless, I chose to continue along this path thanks to the support of my American and Japanese importers and today I have no regrets. I have made my way around my convictions.
Can you describe the vineyard, where the grapes are grown?
My vineyard is part of the Loire region. It is 60km from the sea and benefits from a strong oceanic influence. We are the last vineyard before Brittany and still on the Armorican massif, so we sit on a 350-million-year-old mountain which was formerly 8000m high. It now sits at 30m high, but its heritage is essential for the land because there are 8 different rocks under our feet, the 8 rocks of the Muscadet appellation.
This specificity gives a real identity to the wines made from 2 grape varieties which are the Melon de Bourgogne at 80% and the Folle Blanche at 20%. These grape varieties have very simple tastes that we manage to magnify thanks to two different techniques - harvesting and pressing. We generally visit the vines twice to harvest the grapes at the ideal maturity (neither too much nor too little), and press extremely gently for 18 hours to capture the precious flavonoids rich in antioxidants. They are truly the quintessence of the grape variety.
Can you describe the soil and the terroir?
The soil is made up of the 8 rocks of the Armorican massif. We find among others Shist, Micaschist, Amphibolite, Lepnitinistes and Gneiss which contain many minerals. Gabros and granites are also present.
Can you talk me through the process of making this wine? What vessels did you use?
Here we have underground concrete tanks that are lined with glass. These are 300 hectolitre compartmentalized vats as well as fibreglass vats. We don't use stainless steel here to avoid reduction and petroleum flavours.
Do you use any sulfites?
We only use sulfites if necessary - microscopic work allows us to determine whether it is necessary or not - and at an extremely low dose. The maximum amount of natural volcanic sulphur added is 10 to 15 mg. This is the only addition that can be made at the estate and can be done at the time of maturation, fermentation or at bottling.
How would you describe the wine? How does it taste?
La Bohème is a popular bottle in our region. The grapes used are from 30-year-old vines which undergo the same vinification as the old vines. It is a multi-terroir cuvée that reflects our estate and its terroir extremely well.
It has a mineral base without being aggressive. It is quite similar to what we can find in Burgundy. It's a bit in the same spirit.
This wine is marked by notes of citrus and bitter almond. This is probably the result of those long pressurisations I mentioned, which allow us to find beautiful notes of grapefruit or clementine.
What's this vintage like?
2020 was a pleasant year, with no notable climatic problems if you compare it to 2021 or 2022. It was a good year with no accidents and a good yield.
When should people drink it?
This is a wine that I recommend to drink now and with friends! It is one of those wines that you open as an aperitif! Hence its popularity... Nevertheless, it has all the characteristics to be kept for 4/5 years.
What's the story behind the name of the wine?
It is a name that corresponds well to this wine and a nod to Charles Aznavour's song because it evokes the freedom I have to work without the dictates of the appellation.
Which grapes have you used?
La Bohème is a 100% Melon de Bourgogne, a grape variety which is the first cousin of Chardonnay or Aligoté.
Any food pairings you'd recommend?
The wine goes wonderfully with shellfish (grey shrimp for example) to reveal the iodine of the sea products. It also goes perfectly with cheeses such as goat's cheese.
Isabelle's thoughts on La Bohème - When I was growing up in southwest France, Sunday lunch was reliably consistent week in, week out - oysters, bavette barbecued in our sitting room fireplace, chips, and a glass of Muscadet made by one of my dad's buddies from agricultural college. Back then Muscadet was green-tinged, lean without much concentration. Fast-forward 35 years and Muscadet is now home to exceptional growers who have rediscovered the incredible terroir of the Atlantic Loire. Marc Pesnot was one of the pioneers of this revival - he started making organic, natural muscadet back in 2004 and, while it was tough being the outsider at first, he stayed the course, was true to his convictions and it has paid off today. La Bohème is a sheer delight. A bright, pale gold Melon de Bourgogne, it is the perfect ratio of salinity and ripeness with subtle notes of melon and pear as well as a textured, almost creamy, mouthfeel.
---
Doric Wine is located in the Koniakos mountains in Fokida, Greece, sitting at 800m altitude within a remote forest. They make wines using ancient Greek grape varieties, organic farming practices and over 300-year-old unique family traditions.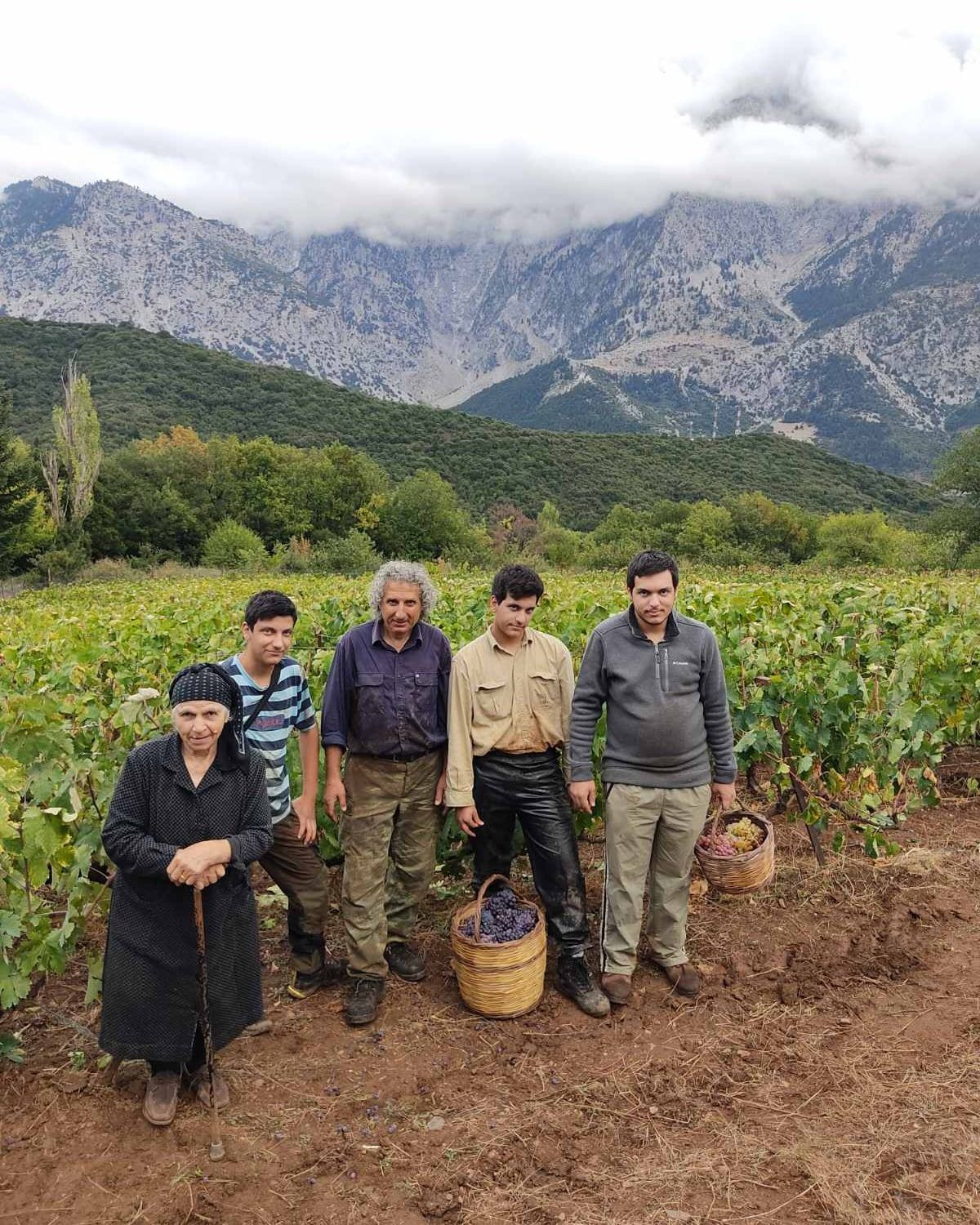 Q&A with George and Christos Balatsouras, father and son - Christos translating George's words from Greek to English
Can you tell me about your background - how you came to be a winemaker, and what influenced your style of farming and producing?
I was born in a region with a lot of vineyards and grew up amongst winegrowers. I knew from childhood that I wanted to become a winemaker. I got very excited by the smell of grapes and the process of winemaking. I never skipped school, but I made an exception for harvesting and producing wine. Growing up, I started to notice a lot of vineyards getting abandoned in the area as people moved to Athens seeking a better life. It made me sad to see, so it was then that I decided to pursue winemaking.
In 2000, I revived my father's vineyard with 15 local grape varieties - the majority are Kosmas - a local variety. I started with this vineyard and continued from there to work with wine, producing our first grapes in 2004. For many years our family possessed a very small vineyard of around half a hectare and I learned from my parents to never use any chemicals or additives in the farming or in the cellar. My parents believed that all these chemicals and additives were dangerous poisons to nature and people. After starting my winemaking career, I had very big trouble with Greek state authorities to recognise natural winemaking and local grape varieties. This process has taken many years and is why we think making natural wine in Greece is very difficult, because the state doesn't support it.
I also planted a new vineyard across another half hectare of land in rows, whereas the previous vines were just scattered across the vineyard - which made them difficult to farm. The old vines were 150 years and coming to the end of their life, so we planted the same grape varieties as in the old vineyard, and in the last 5 years we've expanded our land to 2 hectares and the majority of our vineyards have new vines which will start producing grapes from this year on. The majority of our vines are planted self-rooted and our region was never plagued by phylloxera, because we are isolated in the mountains. And because of this isolation, we managed to keep all the local grape varieties without importing from other regions. We really are a vinegrowing museum.
Can you describe the vineyard?
Our vineyard and winery are located in central Greece near Adelphi on a slope in the forest on the mountain Vardousia with no other human activity nearby. The only human settlement near us is our village Koniakos which is 1km away. It's the only settlement in the area, all else is forest.
This region was of the ancient Doric people and around 10km from us there is the ancient town of Kallipolis, which is now underneath the lake of Mornos in the area which is used to provide Athens with drinking water. The only remains not under water are that of the citadel. Mornos is also the name of the local river that flows from the lake. Since ancient times, the local people had the philosophy that they could live without food, but not without wine.
Can you describe the soil and the terroir?
The soil is inclining because of the slopes and we have built some walls of stones to make it flat. And because people have farmed here since ancient times, a lot of these stone walls have existed since then. The soil is limestone and we have light soil, so it can't sustain a lot of moisture. We face the east, and we have a mild summer and autumn which helps the grapes to grow, but some years the winter is very heavy because of the mountainous terrain - although the vines are used to this weather and can sustain the harsh weather of the winter.
Can you talk me through the process of making this wine?
We use the same method for all our products - the method we use for our white wine is the same we use for all of our wines, with some differences depending on whether it is red or white. We harvest our vineyard by hand picking grapes, keeping only the good ones. We then crush the grapes and the only machine we use in the whole process is the machine we use to crush the grapes. The grape pulp is thrown into open wooden tanks - they are handmade and some are 200 years old, inherited from our ancestors. After they are filled with the grape pulp, we use fir tree branches on top - fir trees are popular in our area, and this helps the wine must to rise to the surface and keep the grape skins in the must, and that's how we avoid the oxidisation of our wine. At the same time, we use pumps to move the wine from the bottom to the top. Using the branches gives the wine a mountainous character and imparts aromas. This is our process in general.
For our white wine specifically, we follow this process with skin contact for 5-6 days and using the skins of the grape variety of Roditis helps to age the wine and give it this golden colour. After this, we let the wine flow naturally without pressure from the tank and transfer it to some inox tanks to stay there for 2-3 months in order for the wine to clear up by itself and the other material to sit in the bed of the tank. Also the cold winter weather is very helpful for this process, as it allows this process to complete naturally.
We then transfer it to some old oak wooden barrels that don't give any other aromas to the wine, but let the terroir stay as it was. They don't influence the wine because they are old. In order to bottle, we avoid filtering and in order to preserve our wine, we avoid the use of any artificial preservatives or additives, but have a secret family recipe for fir tree resin as a natural preservative. We carve fir tree wood to extract the resin which has sanitising abilities and gives a very special aroma to the wine. The quantity of this is a secret of course! But it's very little as it is quite strong. We totally avoid sulfites - our wine is zero sulfites, zero chemicals, zero artificial additives - zero, zero, zero. It is the same wine that our ancestors drank 500 years ago.
For me, it's very important for the people who drink this wine to know that they are drinking the same wine that the Doric people were drinking 500 years ago. It's like entering a time machine into the past of our region - there's nothing more tempting than Doric wine. We can proudly say, without arrogance, that we produce the most natural wine in Greece.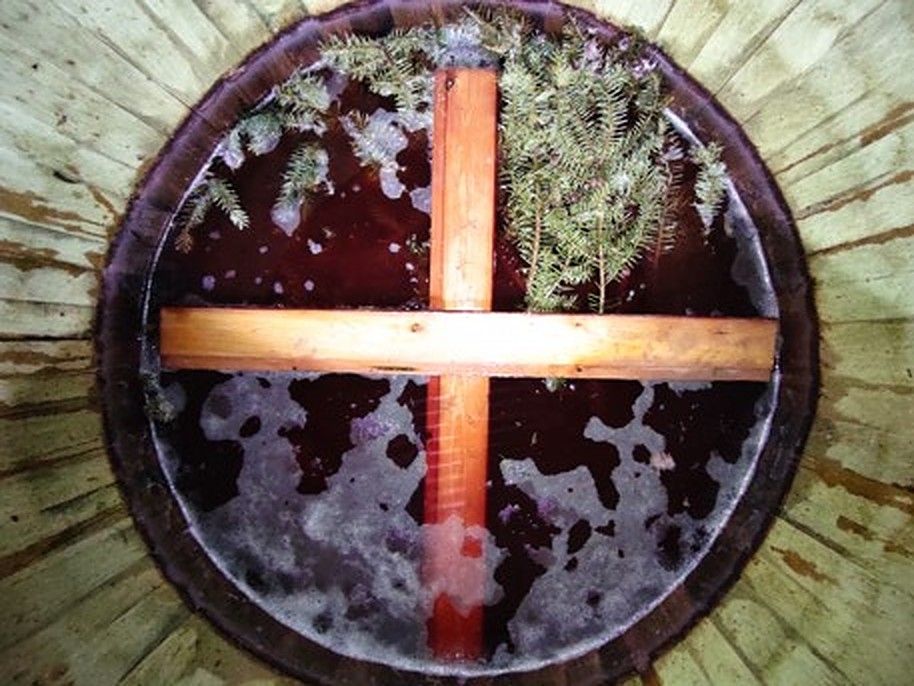 The fir tree branches for fermentation - when did that originate, how did you start doing it and is it commonly used?
It has been consistently used by our family and ancestors, and was very popular in this area in ancient times. But it is not any more - we are the last family that follow this method because all the people here abandoned their vineyards for a better life in Athens.
How would you describe the wine?
I would describe it as alive. It has a strong body for a white wine and is very pleasant to drink. You can enjoy it with food or by itself - it has strong, unique aromas and because it's completely unique, it cannot be compared to any other wine.
We have very high demand for our orange wine and don't have the quantity to make it vintage. We also believe the people who drink it will enjoy it better if tasted in the first year. But if people are looking for something very different or unique, they should leave it to age in the bottle for 1-2 years. It will be worth the wait! But this is for a minority of consumers who like to let wine age.
Which grapes have you used?
65% Roditis, 30% Malagousia and 5% of rare local grape varieties - Kolokythara - which means very big pumpkin - Voidostafylo, Lagorthia and Asprovoulitsa - which means white little dot. We have also planted all these rare varieties in our new vineyard and in coming years we will try to vinify them in different wines.
Any food pairings you'd recommend?
This wine can be paired very well with chicken baked in a white sauce or a spinach pie. Also with a salad, but without any intense vinegar - this can interfere with the aromas of our wine and we want people to experience the strong finish of the wine.
Isabelle's thoughts on White wine - A luminous orange, this blend of Malagousia and Roditis is striking and unusual. Made using an ancient Greek winemaking method that sees the fermenting must macerating on its skins for a few days covered with pine fir branches, Doric's White has fascinating aromas of orange rind, subtle fresh pine needles and a delicate tannic texture. It also has an incredible acidity and freshness, which gives it lift, and it features leafy notes that reminded me of matcha tea when I tasted it. If there is ever a time to drink a wine like this, it has to be the Holidays - it feels like Christmas! Just like the smell of fresh pine.
---
Old World Winery is a small, family-owned winery and farm run by fourth-generation winemaker Darek Trowbridge. For 20 years, Darek has used organic and biodynamic methods to make dry farmed, hand picked wines, using techniques learned from his grandfather Lino Martinelli.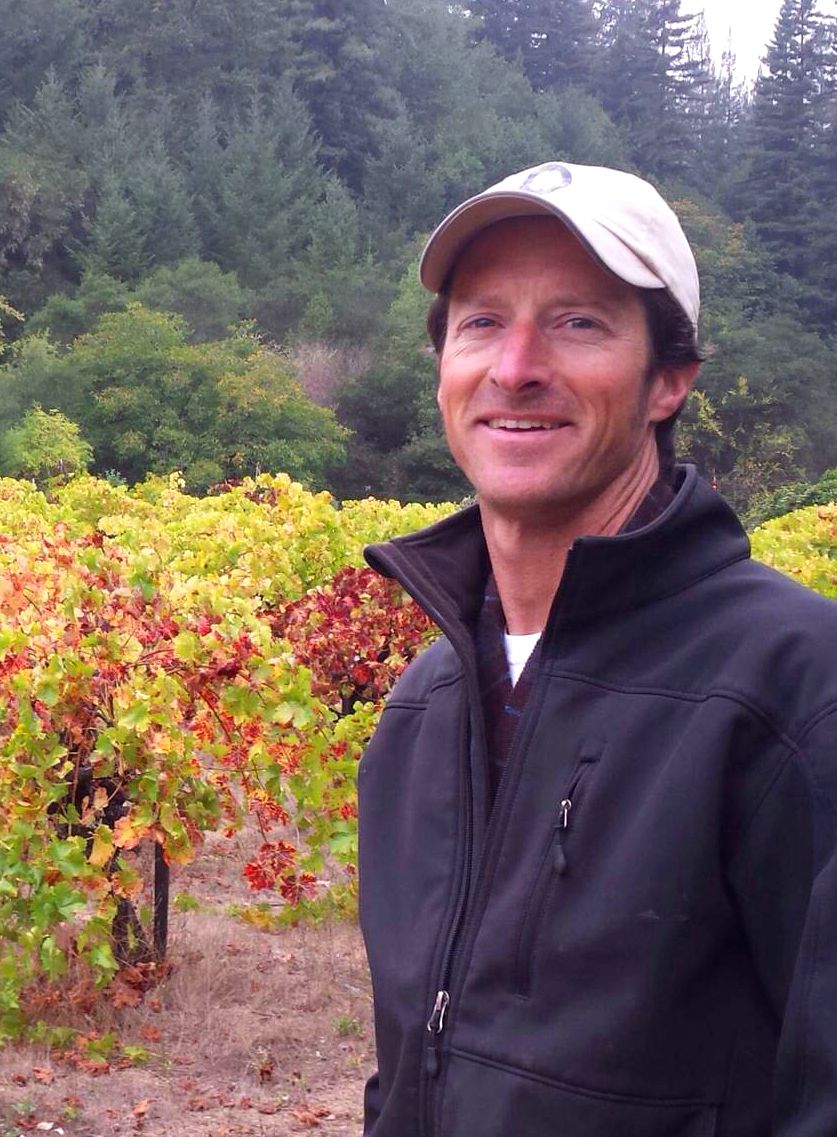 Q&A with Darek Trowbridge
Can you tell me about your background - how you came to be a winemaker, and what influenced your style of farming and producing?
I was born into winemaking, my mom's side of the family - Martinelli is the name - there is a Martinelli here in California that's considered a cult Pinot Noir winery and my uncle owns it. My grandfather though, his dad, was the one I wanted to be like. When I was a kid I worked with him and went over to the ranch, really I idolized the ranch, and he was a winemaker. So I drank natural wine as a kid, but I didn't know it as that. All he did was talk about his process, he never said he was strictly natural - there was none of that conversation ever. Fast forward to getting a bachelors degree in viticulture and a masters degree in winemaking, it was during my masters that I was like, "Oh shit, this isn't what I want to learn to do!" They were teaching me manufacturing, how to do chemical ads, use the equipment and how to make wine, sure partially with your hands, but most likely some you're never going to touch.
At that time, I was like, well what did I grow up drinking? The wines we were making at school were simple and I didn't like the process using freeze-dried yeast and a singular yeast. One of our grad school brethren was doing his thesis on native yeast - not necessarily natural wine, but native yeast as the best way to ferment from French tradition. And that's when I learned that it's 25 species and there's a complexity of the palette that I'd already zeroed out to and you had to have that to get past zero, to be enjoyed. So I had to relearn all that and had a couple of years with my grandfather before he died, asked him a bunch of questions and realized he was making natural wine.
When I started Old World back in 1998 and there was no such name, and organic wine was a real problem in California in the 80s. People needed sulfite-free wine so certain wineries just started making wine without sulfur, but they didn't have the long tradition of France of that possibility so let's just say there were a few endeavors that nobody really wanted to drink. So you kind of didn't want to be associated with that. I called it Old World which is confusing because I'm an old world winery. But it just alludes to the information that came from my great grandfather who came to the US from Italy, through to my grandfather, who were making wine the way wine was made for hundreds of years. There was never any question, never anything to add. It wasn't until recently that the term natural wine came out and that we could have a discussion about what that meant.
How has it been for you to navigate the change in natural wine's popularity?
I felt like a surfer - I'd been waiting all these years for that wave to come in. For 15 years it had been a struggle. I was a small town kid making wine and trying to sell it, calling it natural, and that was really difficult. So when the wave started coming in, I thought, thank God - I've been waiting all my life for this.
But to continue with the surfer analogy, I felt like I was sitting on my board and the waves were just passing me by. It was a pretty lonely feeling and unexpected, because the wave had a specific taste in mind that I hadn't really understood. What a proper marketer would know if the kind of style and flavor people want - but that's not the way I was going about it. I was just trying to make the terroir-focussed red wine I could with tannin, and that's not what people wanted at the time. People wanted carbonic maceration which I really don't like, and I was already making skin contact whites but when the wave came in, I lost my sources. I was doubly out and it was even more difficult for that to happen.
And then I changed my ways and started making some lighter, more fruit forward wines which I really enjoy. And I think that tannin is still yet to be discovered in the natural wine scene. There are many undiscovered flavor profiles that wine is capable of.
Can you describe the vineyard that the grapes for Bloom 2021 are grown on?
Bloom is a slightly different blend each year based on how the components turn out, only the best goes in.  For the 2020 vintage it is mostly Pinot Noir from the Green Valley sub appellation of the greater Russian River Valley.  The Choate Vineyard is near the quaint town of Graton in Sonoma County, CA and is located within a breathtaking group of undulating hillsides.  The vineyard utilizes the best land with trees right up to it on all sides.  This area is very close to the Pacific Ocean with its foggy mornings and cold nights which suits Pinot Noir perfectly.
I farm many different small places - that's how you do it in California because land pricing is so expensive. I don't own vineyard land, I own the land the winery is on but I can't afford more land than that. So I lease vineyard acreage which means I do all the farming and take all the risk and pay a sum to the landowner each year.
The next varietal in the wine is Abouriou, which is a Basque variety that my great grandfather planted in 1930 in a block on Martinelli Road that I get to farm today, as it's owned by a family member. It's one of the most beautiful places I go to, with mountains all around it. And we're in this little low spot. There's not even 30 acres of plantable flatland in the area. It's kind of like an Alpine Valley. It's just not fully Alpine by altitude. And it's not even really high altitude but it feels like it is - and mostly what your visuals are is this redwood studded mountain, all the way around and then down below.  And then we have these 80 year old vines and we use mulch at the base to help the vine health.
Then we have Merlot from the Warnecke Ranch in Chalk Hill, which is aptly named for its volcanic chalk, clay, and rock in the soils.  The Merlot was planted by owner and operator Margo Warnecke's grandfather.  
I farm each vineyard regeneratively using a composted mulch to grow microbiology that revives old dead soil that has been tilled for way too long.  Each vineyard is dry farmed (non-irrigated) with no tillage (soil disturbance).
The secret sauce in this blend is Chardonnay, shh don't tell anyone.  Chardonnay always adds zest to a reddish wine!
I am a person who cares about ecology and the owners of the vineyards I lease usually share the same.  They want organic farming next to their house so they can feel safe from pesticides, that's how I become involved.  
Sonoma County is beautiful because it's really mountainous, and it has a lot of forest. And luckily I get to farm on the edge of these places!
Can you describe the soil and the terroir?
The Arbouriou is shale as Martinelli vineyard is all shale, very eroded soils from too much tillage for too many years. You know, you get an 80 year old vineyard, it's been tilled for its whole life. It's been non till since I've been farming it, for 14 years now. And each of my vineyards is no till and regenerative farmed. But the other two, one of them is actually a super loamy bottomland that, that produces highly, but it's in a weird spot. It's a small vineyard, so it doesn't draw the attention to that the big guys want. But the the Pinot Noir is on the side hill, in a kind of a difficult terrain that feels almost claustrophobic because the roads are so close together and the trees are so close to the vineyard. It's almost like someone shaved a space on their head and there's trees all around - you've got this little tiny vineyard in the middle. It's a funny thing. But it's beautiful when people preserve ecology, you know, instead of just denude the forest. I always respect that.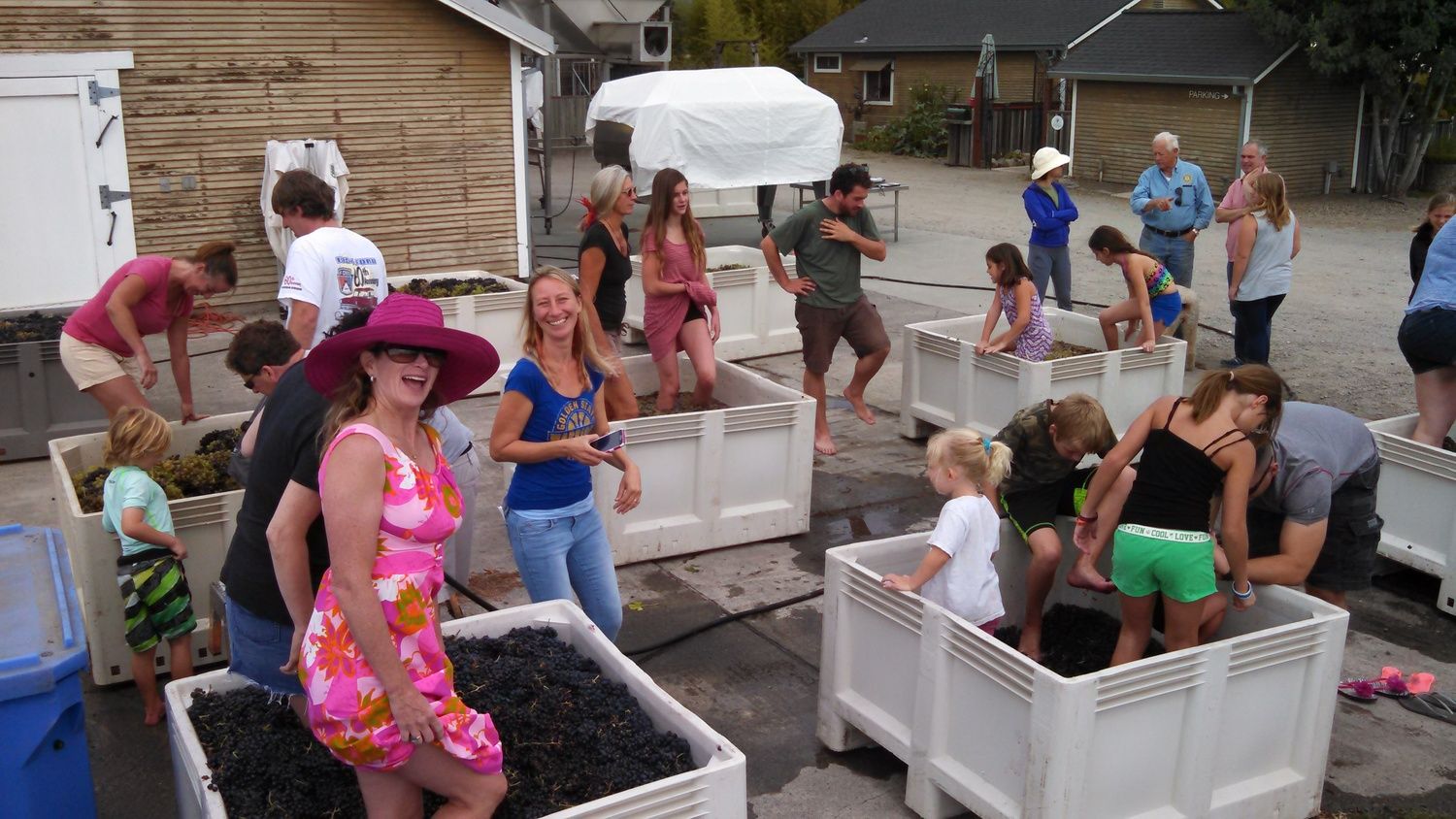 Can you talk me through the process of making this wine?
Bloom is a blend and the constituents for the blend are made separately. I'll pick the vineyard when it's ready, bring it in and stomp it with everything stomped 100% on on the stem. The grapes are all crushed by foot, but no machine crushing. Then it's just allowed to soak for about five days, five day maceration. It just starts to ferment and then we press it and put it in barrel and it finishes the ferment in barrel. We let that go for a year in the barrel, so the ferment might last a couple months and then the yeast lees and bacteria lees will stay there, enriching it over that entire time and each one is made the exact same way.
At blending, I'm looking for colour and I'm putting pieces together to see. I had 22 different lots this year, a lot of them small and a lot of them were apples actually, but I bring stuff in when it when it's at the peak for itself. And then after that I'll do a few different treatments and with the skin contact, maybe press something earlier and something a little later. In the end when when we want to decide what goes into each blend, we'll come through and see how they taste together and every year Bloom gets a different blend. It's fun to blend when you have a bunch of different varieties. And to me blends always tastes better than varietals. My palate doesn't really want varietal wine anymore, so I'm getting the flavour quality that I want in a blend like this and I guess that's why it's been popular. It's one of our best sellers!
How would you describe the wine? How does it taste?
The way I like to enjoy wine is I'll pour it in the glass and just spend a little bit of time sniffing it - I enjoy the smell the most. And that's one of my favourite parts about wine. You get a hint of what's coming you can smell the richness, you can smell the bright fruit qualities and there's ever changing parameters. It's got this amazing quality that's like a slight tea-like quality, which is just enough. Tannin comes in, but it's not a tannic wine.
It's a chillable red so it's like a rosé - you get just this little hint of a medicinal herbal quality, and a light quality. I also think a wine has to be savoury or it's just a fruit balm and my palate gets bored, so savoury is the first note you may notice on the nose, but it's always associated with the big fruit that comes right after it. In a sense it's like a chutney where you get that sweet fruitiness but it always comes with spiciness and with something more. I think Bloom probably does that better than any other wine that I make. Combining that that savoury spicy and bright fruit quality. The fruit is watermelon, pomegranate, cherries and strawberry.
Do you use any sulfites?
I don't use sulfites in the farming or in making, but at bottling will add around 25 parts per million to make it a little more stable for shipping, and I've never found that to be noxious or a problem. I'm super sensitive to sulphur.
When should people drink it?
This is the fun part! And this is where my wines vastly differ from others. I've always prided myself on making long range wines. 1998 was my first legal vintage and those wines are still going strong, so that's 24 years old. Even the lightest Zinfandel that I made is going strong and a rosé that I made in 2002 was one of the most amazing drinking experiences I've ever had in like 2012 at 10 years old. I thought it was going to be bad but I opened it up and it was just the best. It shocked me. So then I started to learn, you know, how does that happen? I really always want to make a wine that's going to last 10 years, and it doesn't matter if it's light, there's just a certain flavour profile that works for longevity and a certain amount of reduction. It's not predicated on sulfur at all. They're low sulphur still, but these wines are built to last 10 years.
Is that inspired by your grandfather's approach?
He was making 30 year wines, but they were super high alcohol, what I call California-style now and that's what I got in the business to make. My early 2000s there was a lot of 14 and 15% alcohol wines, especially the Zinfandels. And I loved that! But really, as 2010 approached, my palate started to change and I had some experiences with low alcohol long range wines. And I just said, 'Well, why not that?' and now we shoot for 12% alcohol and long range. It does come from my experience at the beginning and in my path and desire to make a long range wine. I don't ever want to make something that falls apart, because I think that looks bad. If you take one of my bottles and you're enjoying it tonight, and you don't finish it so you cork it, it should actually be better than next day. If it isn't then there's a problem in my opinion. A lot of wines don't stand what I call the second night test.
What's the story behind the name of the wine?
Bloom is a great word that I've always loved. It's the word for when the flower comes out of the grapevine - when they're in bloom, you can smell it when you're walking out there and its beautiful smell. Then of course there's the more visual flower world of bloom - bloom of a rose, for instance, which is on the label, and that's what we decided to capture with the idea of bloom, but it also means pink.
Which grapes have you used?
Pinot Noir, Abouriou, Merlot and Chardonnay.
Any food pairings you'd recommend?
I always say to pair it with farm fresh goods. - it's great with fresh produce grown with integrity. You can feel it, the same flavors jump off and it's a different kind of pairing. An integrity pairing. That experience to me is the most important part and overrides that kind of 'flavour designing' if you will.
How should people chill the wine?
Stick it in the fridge and leave it there, then pull it out sometime before you eat - preferably an hour or maybe when you start prepping dinner, unless you're drinking as you make dinner of course. If it sits for an hour after it's been chilled, that zone is really where it's at - just bright and crisp.
Isabelle's thoughts on Bloom - I first met Darek back in 2013 while out in California researching for my book. A decade later, I can say with certainty, he is a truly gorgeous person - kind, generous and very hard working. He is also a big proponent of regenerative farming and has even developed his own recipe to turn leftover wood chips from the tree industry into biodiverse mulch for farming. His winemaking style has evolved a lot over the years, becoming fresher, more focused and also a lot more vibrant. Bloom is a good example of this change. The blend (of grapes and vineyard sites) is different every year, and I get the impression that Darek has a lot of fun putting it together. This particularly delicious bottle is a medley of Pinot Noir, Abouriou, Merlot & Chardonnay, and tastes of pomegranate juice and wild strawberries with a perfumed poppy lift. A moreishly easy drink.
---
Les Vins Pirouettes is a project and collective founded by Christian Binner and brings together the work of multiple different organic and biodynamic winemakers. Each wine they produce is named after the winemaker whose experience, methods, grapes and cellar were used to make it.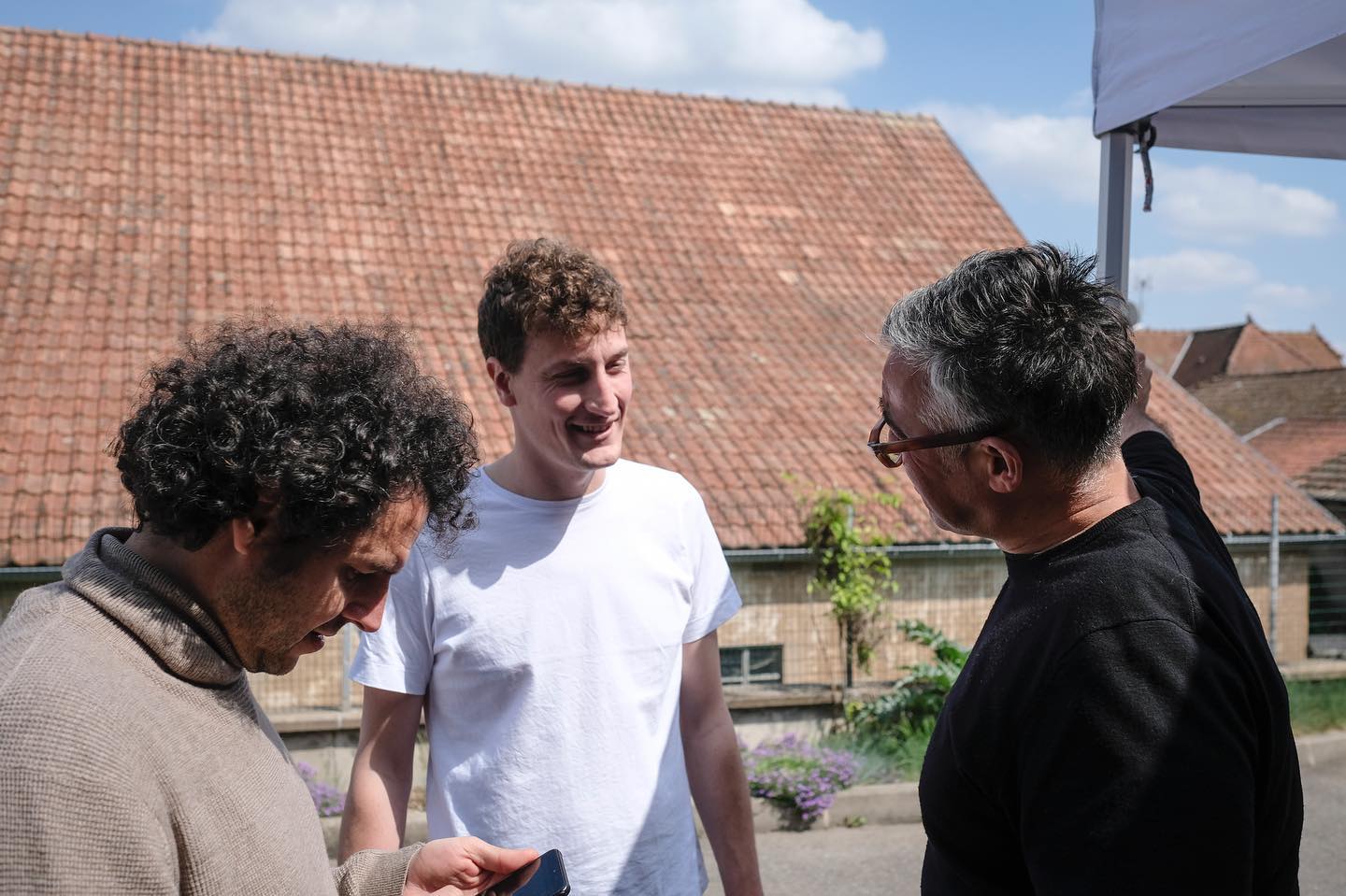 Q&A with Remi Segura
What's your connection with Les Vins Pirouettes?
I joined the collective in 2018 and take care of helping the winemakers in the cellar, as well as working on the commercialisation and communication of what we do. The concept of Les Vins Pirouettes is to help winemakers who are already bio certified to use natural vinification in the cellar and to sell their wine. Each wine is always made directly by the winemaker using his own grapes, in his cellar, then bottled at the winery. And after that, we share all the commercialisation. From the harvest through to the bottling, we help them to understand where it is important to work naturally and show them that they can make this kind of wine and find a way to sell them. We started with 5 winemakers in 2014, and now we are 20. We continue to do 2,3 or 4 wines maximum with each winemaker.
What's your background, and how did you come to be involved?
I am a bit of a Swiss army knife - I multitask a lot! I worked in hospitality for 10 years in France, Luxembourg and Australia, and was always in touch with natural wine along the way. Then at a certain point, I was a bit tired of hospitality - for reasons you can imagine - and I was on the way to do the harvest at Christian Binner's winery, and after this he spoke to me about Pirouettes, so it was then that I came on board. I now spend 97% of my time is on this, and 3% is making my own wine in Portugal.
Can you tell me about who made Pinot Noir d'Hubert et Christian?
Hubert and Christian [Engel] are 2 brothers who have been retired now for 2 years. Pierre, the son of Christian, manages the winery, but wanted to keep Hubert and Christian on the label as a nod to his father and uncle. Pierre did his first vinification in 2017, so 2018 was his second. At the time of making this wine, he was 22 years old. It's a real tradition in the family to work together and they own 10-12 hectares now. Everything is bio certified and what's very interesting about the Engel family is that they have almost all the vines in one place, all on the same block, which is quite rare in Alsace, generally all the blocks are separated by blocks from other winemakers, so it's nice to get a full and biodynamic plot of vines with everything in one place. It's very comfortable to work with at the same time. Across their hectares they grow a variety of grapes - Muscat, Riesling, Gewurts, Pinot Noir, Pinot Gris, Silvaner a bit as well. And the Pinot Noir is at the beginning of the hill so it's always very ripe.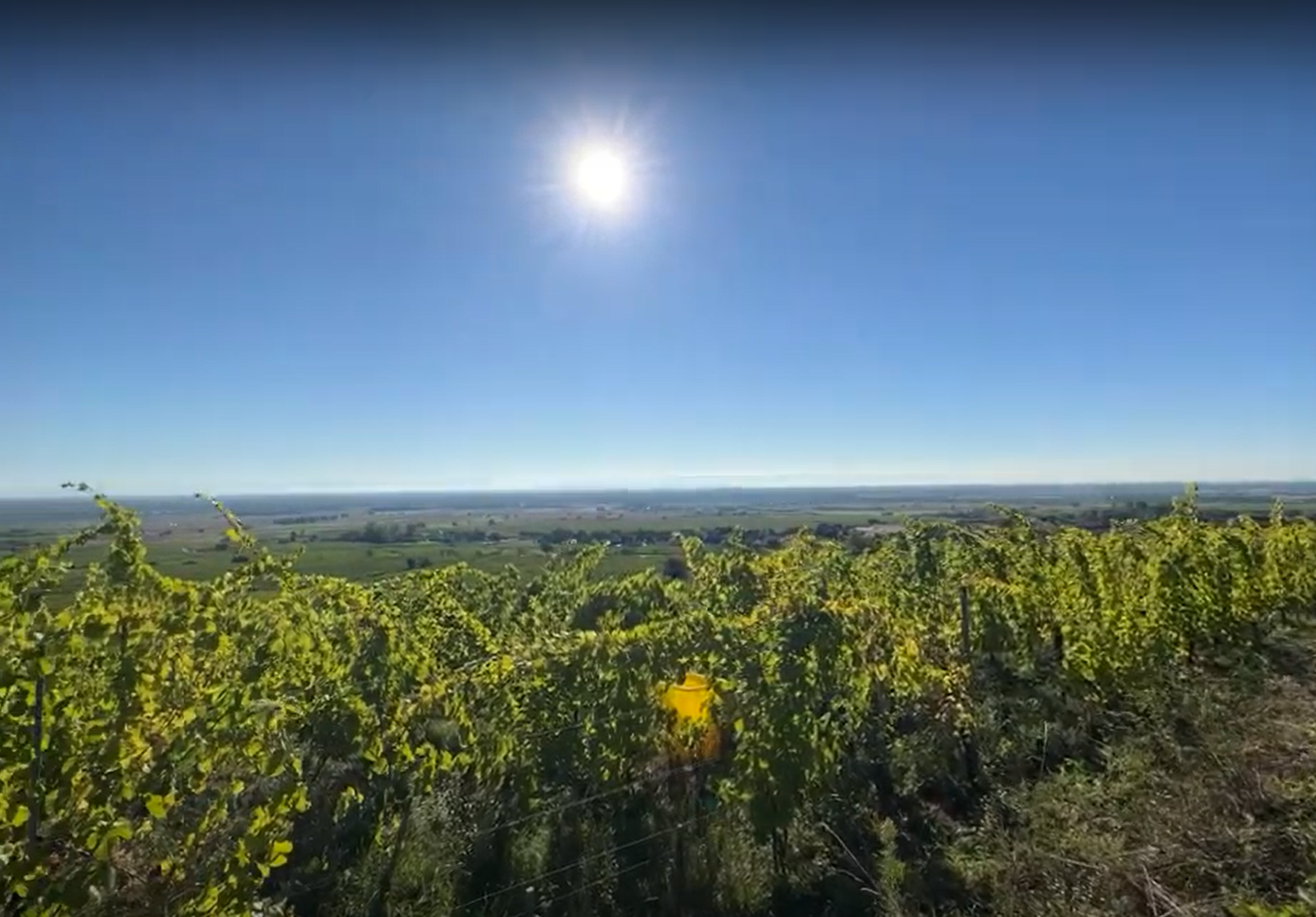 Can you describe the soil and the terroir?
The climate is classic of the region - very warm. And the soil is Gneiss which holds water and feeds the roots year-round, and provides very smooth tannins to red or macerated wine.
Can you talk me through the process of making this wine?
The grapes are manually harvested, then macerated for 15 days without destemming at all. We choose to do this kind of vinification because 2018 was a very warm vintage for us. When we keep the stems, we get by the tannins, a bit more acidity - that's not a generalisation, but it's our idea of it. And this type of vintage, it's always nice for us to get a bit more tannin and acidity from the stem. Then we age for almost a year in stainless steel tanks, and bottle it like this without filtration or the use of any sulfites.
How did the warm vintage affect the making of this wine?
On the vines, 2018 wasn't easy, but it was a cool vintage to work on. We had good rain in spring and not much vine sickness, but the problem was at the end of July. It was so warm that towards the end, the vines struggled to get their energy to the grapes. When you have a very dry season towards the end, you get good quality juice, but not a lot of it, so with a bit of water between those 2 months, you keep the quality, but you get a bit more juice.
How would you describe the wine?
It's an Alsace pinot noir as we like to do it. Juicy, a bit of tannin, but nothing too complex and not too complicated. It's an everyday pinot noir.
When should people drink it?
It's very nice now but I'm sure it could be aged for 5 more years without problem.
Any food pairings you'd recommend?
I would go for something like Pot-au-Feu - it's an old traditional French stew made from beef and vegetables, which you cook from morning to night. It works with the wine because it's not too concentrated. It's a stew with very tender meat and vegetables, but not too spicy. And for a vegetarian option, I would go for a Vietnamese banh mi, but not too spicy. A banh mi full of veggies and a nice sauce would work well.
Isabelle's thoughts on Pinot Noir d'Hubert et Christian, Alsace - Les Vins Pirouettes is an interesting project that was created to help organic growers transition to natural winemaking with the help of natural wine veteran grower Christian Binner and a team of fellow winemakers. This particular bottle is hard to resist (after all, when isn't it time for a glass of pretty Pinot?).  A deliciously perfumed drop, expect notes of ripe raspberry, spicy black mulberry, aniseed and a crunchy, mineral acidity. A versatile, crowd-pleasing drink.
---
Marioni Wine is a California winery run by Dan Marioni, who is a 5th generation Sonoman with a background in engineering. Dan started making wine with Nic Coturri in 2016 with Sonoma Mtn Winery, and now makes his own terroir-driven wines from organically farmed vineyards with zero additives.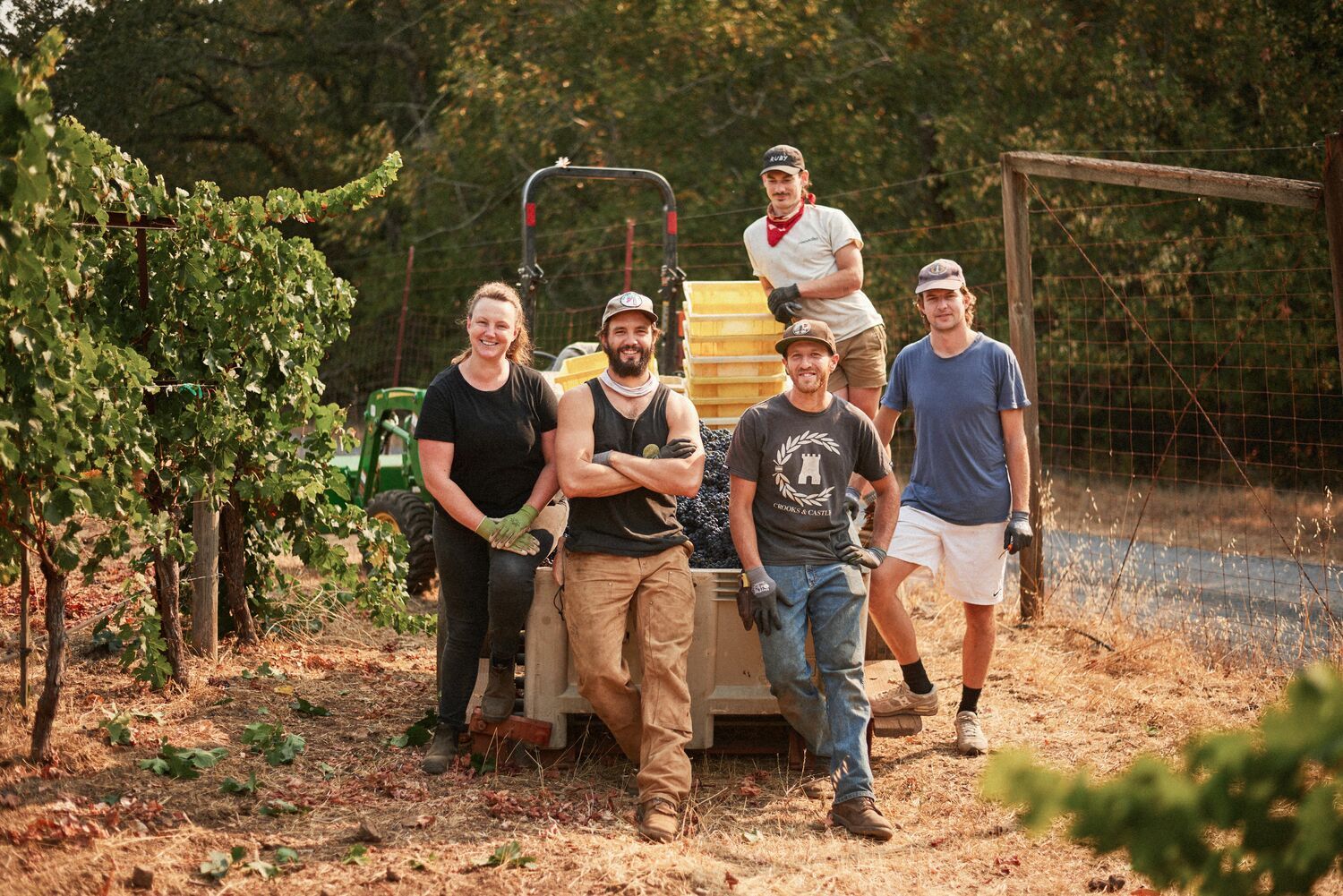 Q&A with Dan Marioni
Dan and his wife Jessica are currently raising funds following an accident involving the couple and their baby in December which has left Jessica in need of medical care and 4-6 months of rehabilitation. If you would like to support them with their medical bills, child care and living costs, please donate to their GoFundMe.
Can you tell me about your background - how you came to be a winemaker, and what influenced your style of farming and producing?
I started here in Sonoma, which is my hometown. I'm a fifth generation Sonoman, and my family before me did not make wine. I didn't not grow up in a winery, but I did grow up in the California wine country. My education is actually in engineering and I worked in the, in the Bay Area for about 10 years. I then came back and to get a break from work and ended up working a harvest up at the Coturri winery in Glen Ellen here in Sonoma which had a very long history of organic farming and winemaking. I went to high school with Nick Coturri, the owner Tony Coturri's son, so I just went up and worked harvest in 2016, then I kind of stayed. I really bought into that business and started working weekends, then I went full time into winemaking the following year. So that was kind of how I got started.
I think a lot of my inspiration came from the way that the Coturri family made wine here in Sonoma, and really focused on traditional California wines and blends. Tony is very passionate and his son Nick is too, about the wines being zero zero wines - no sulfites used, no filtering, no nothing. Just full expression and kind of chauffeuring winemaking of the pressed grapes and fermented grapes along the way. Everything is very manual, hands on and extremely low tech. It feels like you're making wines of 3000 years ago, in California maybe, which is weird. It's about as Old World style as you can get - there's no forklifts or machines, we have a couple pumps, but everything else is very manual. It's very hot, so during harvest, during crush it's all very sticky and very romantic.
That really has influenced me along the way up to where I am now which is very different from where I started 5 years ago. Now I'm fully focused on the farming, I am really environmentally driven. And I think that regenerative farming is very important. In California, we have a very limited amount of rainfall which makes it hard to grow plants, and especially plants that are very dependent in certain ways on ground water and on their their root zone moisture to survive. So from the beginning, using chemicals in the vineyard was not an option and I would have never really considered it. Thinking from a sustainability, holistic and product lifecycle standpoint is the most important thing for us and for winemakers to be focused on what's happening on the land. And on how we're stewarding the responsibility of growing these grape vines which are a relatively luxury product, so it's wild to consider that we could be exacting such a toll on nature in exchange for this product. It's a large responsibility to be farming correctly.
It's really the only way and I've taken that a couple steps further than when we started, when it was very hands off, letting nature do its thing. Now, I'm rehabilitating abandoned vineyards that were conventionally farmed for years and then have been either left to go fallow or have been forgotten about or the people that own it just simply can't afford to take care of them anymore. I'm trying to revitalise and rebuild nature as much as I can to create spaces in my hometown that are a bit more vibrant and focus on soil health.
To me, the farming aspect comes first, and then the wines are secondary - they're almost something that you need people to buy in order to support your landscaping or ecology project. As far as the winemaking goes, I try to remember that when you don't have a crutch or a chemical panacea for issues that can pop up, you really have to be more in tune with the vintage that you have, with fruit of the vineyard. Being minimal means that you have to be a bit more creative and really responsive with your wines. There is no recipe, so to speak. And a lot of decisions are made on on the fly and each vintage we may do things a little bit differently depending on the growing season, and what the actual grapes look like when they come in. I learned about taste and response and blending along the way, instead of utilising additives and then filtration. It's about being aware of lees management and and racking wines and blending in order to round them out or to be more of a teacher or sculptor in that way. That's the artistry to me.
Can you describe the vineyard, where the grapes are grown?
There are multiple vineyards around Sonoma and over the years I have managed up to 15 hectares and down to 2, then I keep on adding some here and there. Most of the vineyards are around the Sonoma Mountain AVA and have a little bit of elevation to them. They're all kind of volcanic soils. And they go from sea level up to 600 feet. And none of them are really larger than 3 acres.
The Merlot for this wine is grown on a single vineyard of just under 2 hectares with gravelly loam soil. It sits at about 600 feet elevation and was planted in 1996 by the Coturri family and so it's never seen any kind of chemical application. It's been organic from the start and arguably dry farmed. The soil there is extremely healthy and pure, and all cane pruned. A Merlot clone on Saint George rootstock in proximity to a very small lake called Lake Josephine. It has nice Eastern facing exposure with a bit of slope to it, so it has great soil retention but drainage at the same time.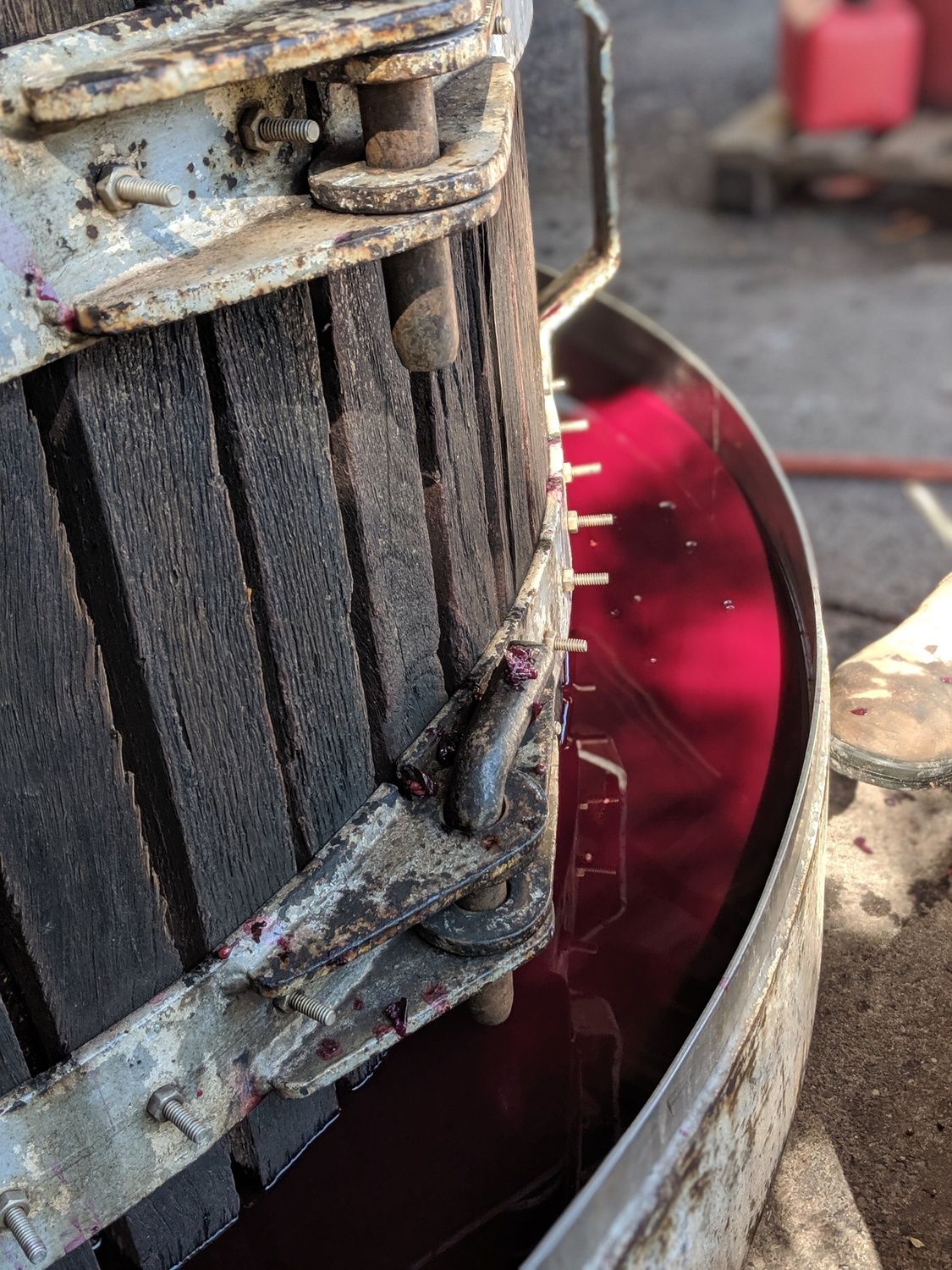 Can you talk me through the process of making this wine?
One of the things I learned back then was knowing when to pick and since we don't add water, it's very important when we pick these vineyards. So we pick based on pH and sugar content and, and bricks. 2018 was just a perfect year for growing as far as you know, sugar level and pH but the Merlot on its own can be quite high acidity and also quite high sugars. It's made in our traditional style, which is 100% destemmed. It's through an old destemmer and they're all fermented outside in open top macro bins or T bins (1 tonne). Then they are manually punched down for about two weeks, multiple times a day, then pressed through an old basket, bucketed over it and then pressed to used neutral French oak barrels, where they're topped and aged in barrel for a year. Then it's bottled, and I really try to get 2 years in bottle before releasing Merlo.
Do you use any sulfites?
No sulfites in the barrels, no sulfites added, no fining or filtering. Just racked once and then bottled.
What's this vintage like?
It was a warm year for sure. In 2017, we had really bad fires around Sonoma, part of California winemaking is balancing fires and smoke. But in 2018, if I remember correctly, we didn't have the same pressure as in 2017 when we thought the winery was going to burn down and everyone got evacuated. 2018 was a relief and it was still a warm year but an excellent growing season. We had a pretty significant amount of spring rain which was helpful. There wasn't any extreme temperature spikes - there may have been a couple of days above 100 degrees but there was just a lot of fruit.
I think around California people would agree that there was good tonnage and a good amount of juice. The clusters were were full and there wasn't a lot of reasoning. It was a forgiving year and kind of a reminder that things are okay.
How would you describe the wine?
It's a classic old world style merlot without a lot of weight. Although it has good fruit, it's more accented by the tertiary aspects of the wine. It's really structured, not high alcohol, but a good amount of acidity and a more complex wine. It's a good expression of the place where it was made. It has aspects of it that give it a sense of place. It feels like the West Bank has come to California in this French style of wine.
When should people drink it?
Consume now or wait 6 years just for fun.
What's the story behind the name, Merlot without the T?
It's just a play on being very phonetic here with American English. It's a real Americanism, I think, so it's kind of a statement of flaws.  I  joke around and say that's how we spell it in Sonoma. You know, we have we have growers here and who instead of saying Carignan say Car-eeg-nan and some people just go crazy with it.
Which grapes have you used?
100% Merlot.
Any food pairings you'd recommend?
My first thought is meat really but I'd like to say a roasted veggie dish - something like eggplant. But for meat, something like roasted duck or steak of some of some kind. A big old cowboy cut of a fatty ribeye.
Isabelle's thoughts on Merlo - Today the Californian natural wine scene is mostly about lower alcohol, fruit-driven wines, but it wasn't always that way. Dan's Merlo is old-style California and it is wonderfully refreshing to find a bottle that isn't just following a trend. Full-bodied and structured, Merlo shows lovely developmental notes of sweet cedar, cinnamon and ripe blackcurrants, as well as chewy, silky tannins and a lovely, balancing acidity that underpins the lot. It is perfect for this time of year, especially for those planning on a traditional Christmas lunch.
---