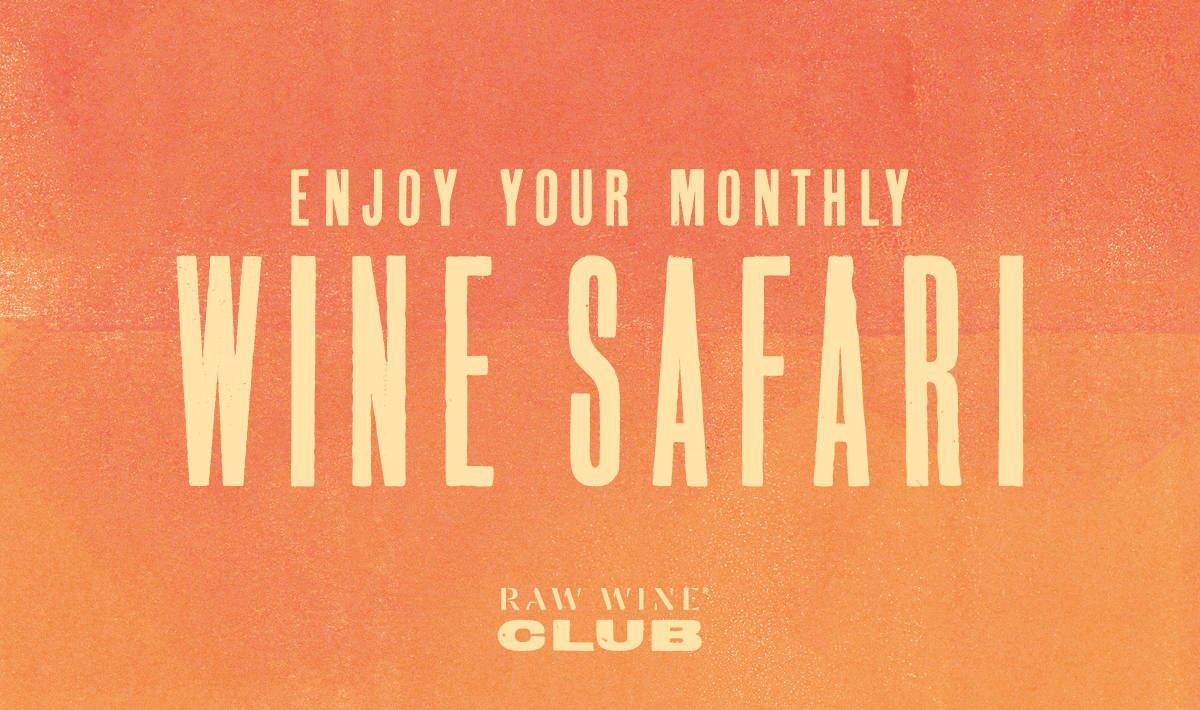 RAW WINE Club - Tasting Notes - April 2023 Selection
36 min read
Hello again.
Time to crack open April's selection, and I am sure you won't be disappointed. There's a refreshing, textured, zesty bubbly from Italy's Abruzzo with moreish pomelo bitterness and hints of tropical passion fruit; a steely, creamy, almost minty, Muscadet; a salty Andalusian Palomino with some spicy, baked apricot and lime notes; a complex Oregon Pinot Gris that is textured, flowery and full of life; a savory, sun-kissed Grenache / Mourvèdre blend from the slopes of Banyuls, and, last but not least, I was stoked to be able to include a deliciously ethereal wine from my dear friends Stephanie and Eduard from Gut Oggau.
Enjoy, and here's to hoping they bring a smile to your face as we say hello to longer evenings and more sun.
Warmest wishes,
Isabelle Legeron MW, Founder of RAW WINE‌
---
Lamiddia is a project in Italy's Abruzzo founded by Davide Gentile and Marco Giuliani in 2010, when they made their first 1,000 bottles. They use a wide range of methods to encourage discovery in their winemaking, but one thing that remains is that they never remove or add anything, but try to find the best expression of each grape.
Q&A with Davide Gentile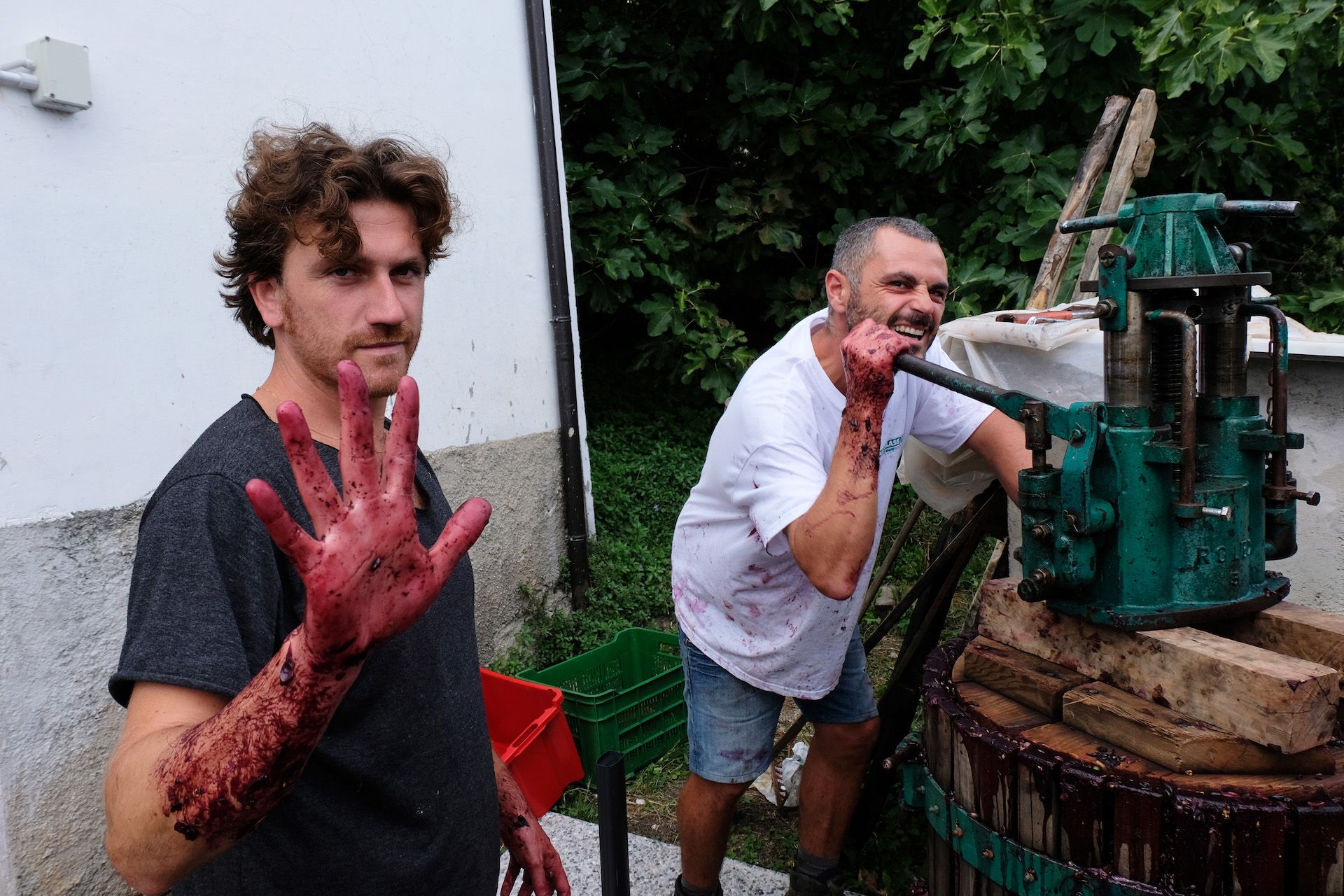 Can you tell me about your background? How did you and Marco meet, and what was your entry point to wine?
Marco and I have known each other since we were 3 years old - we're both from Abruzzo and have known each other forever, really. We went to school together and went to university together in Rome. I studied engineering and Marco studied communications, and it was around that time that we started drinking wine a bit more seriously - drinking more consciously. After my Bachelors degree, I moved to Milan to do my masters in engineering management, and Marco moved to Paris. From there, we started going to a low of wine fairs and tasting a lot of different wines.
In 2008, we discovered natural wines and our approach to wine changed completely. At the same time, I was working in marketing and innovation at a consultant company and Marco was in sales. We started meeting a lot of winemakers and visited France, Spain, Germany and Italy and had fallen in love with everything about it - not just the result (the wine), but everything that goes into making it. I was in the big city at the time and I saw the love that winemakers had for what they do, and their way of life, it was all very inspiring to me. So in 2010 after some travelling across Beaujolais and Burgundy, we came back and decided to try making some wine for ourselves, to understand how it works.
At my grandmother's house in the mountains, where we have the cellar now, there was a small cantina where my grandfather used to make wine for himself, so we started making wine using this sort of ancestral tool. From the very beginning, we always knew it was possible to make with with just grapes, 100% and nothing else. Upon making it ourselves, we discovered that yes, it's possible, but it's also very difficult. We made five wines to explore the process and, coming back from Beaujolais, we decided to try carbonic maceration, which nobody was doing in Abruzzo. The experience of making wine was so profound for me that I left my job in Milan, moved back to Pescara and then Marco and I rented a small vineyard so that we could continue experimenting. We both worked still to support ourselves.
In 2014, we carried out works to make the cellar legal in terms of health, so this year was our first official vintage and we started selling the wine. We were able to buy a small field and planted it vine by vine, growing slowly to what we are now, which is 8 hectares with two cellars. The first which we call 'Origin' is in the mountains, at my grandmother's house, where we make small quantities of more premium wine, doing everything by hand, pressing by feet and using a barrel, concrete and amphora vessels to age the wine. The old methods. And the second, which we acquired in 2019, we call the 'Urban' because it's a hangar in Pescara where we work a little more technologically. The idea is always the same, but it's a different process.
Ever since the beginning we have liked experimenting - we have 30 different cuvées at the minute, with differing grapes, macerations, vessels, etc. It's a lot, but we like to always experiment and learn, speak to other winemakers to gather inspiration, and treating wine as a science, but there are many variables you cannot control.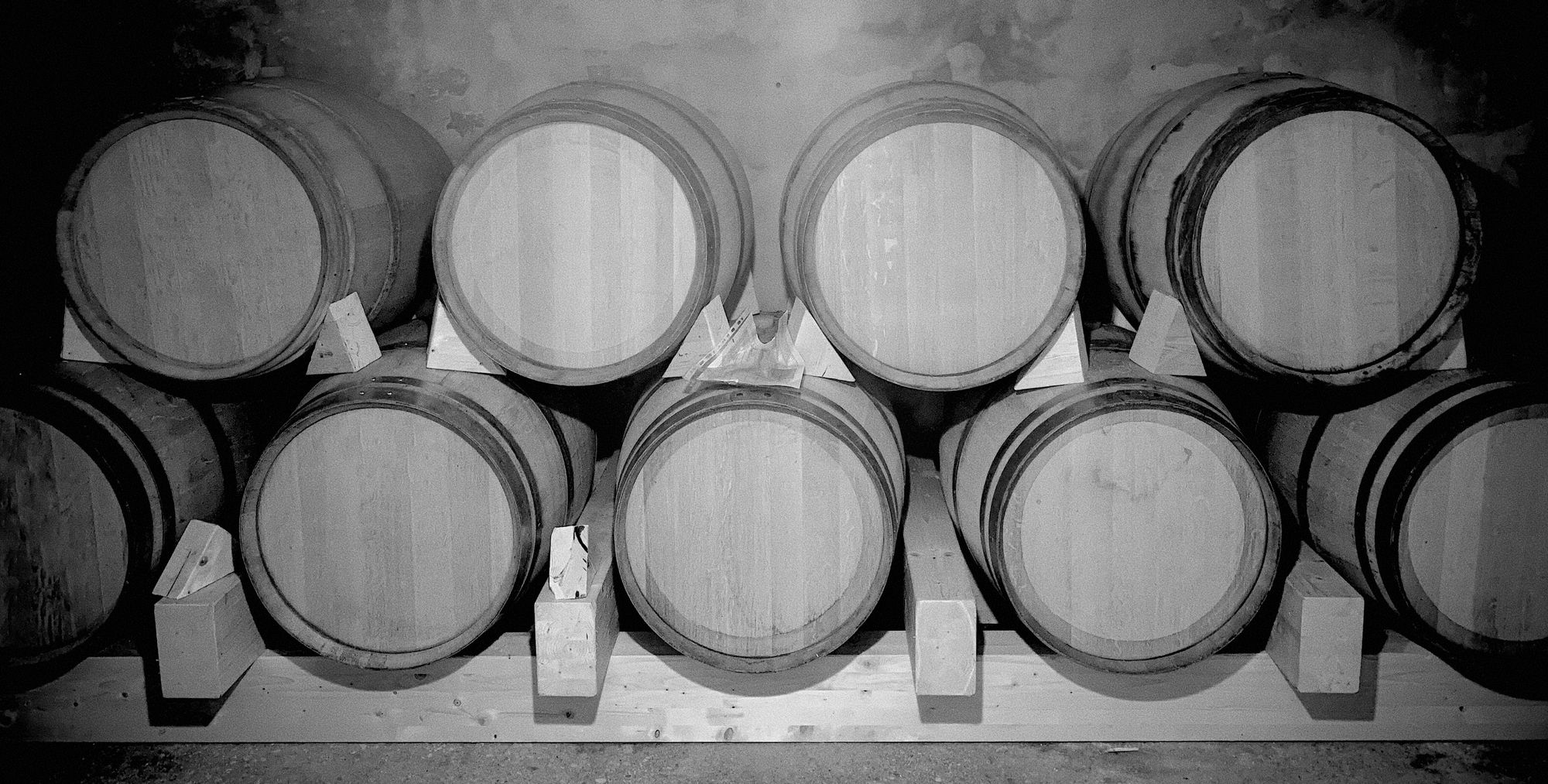 Can you describe the vineyard and its surroundings?
The grapes for this wine are grown in Villa Celiera, where we grow Trebbiano, Pecorino, Chardonnay and Traminer. Trebbiano and Pecorino make up 70% of the grapes. The vineyard, which we planted in 2016, is south facing and sits in the mountains at 700m above sea level. There is only a small portion of Chardonnay and Traminer - we bought these from a friend after deciding to add Chardonnay for acidity and Traminer for aroma. Right now it's snowing and is 1 degree Celsius (33.8 Fahrenheit), so I'm scared that the vines will freeze.
Can you describe the soil and the terroir?
The soil is mainly clay and limestone, While we are at 700M, the mountain reaches 1500M to the back of us. It's nice because it's very windy and the temperature changes a lot from day to night. So in the summer you get hot, sunny days and cool, fresh evenings. The difference in temperature is good because it helps the grapes. And the constant wind means spraying isn't needed as much, so the grapes and the land are healthier.
What's the winemaking history where you are?
Where we are, there are no winemakers and no vineyards - only trees, forests, and fields for sheep. But because of climate change, people now want to move into the mountains where we are because on the flat land, or even just a short way down the hill, people are struggling with the heat. We hope that we will be safe here for at least 10 more years.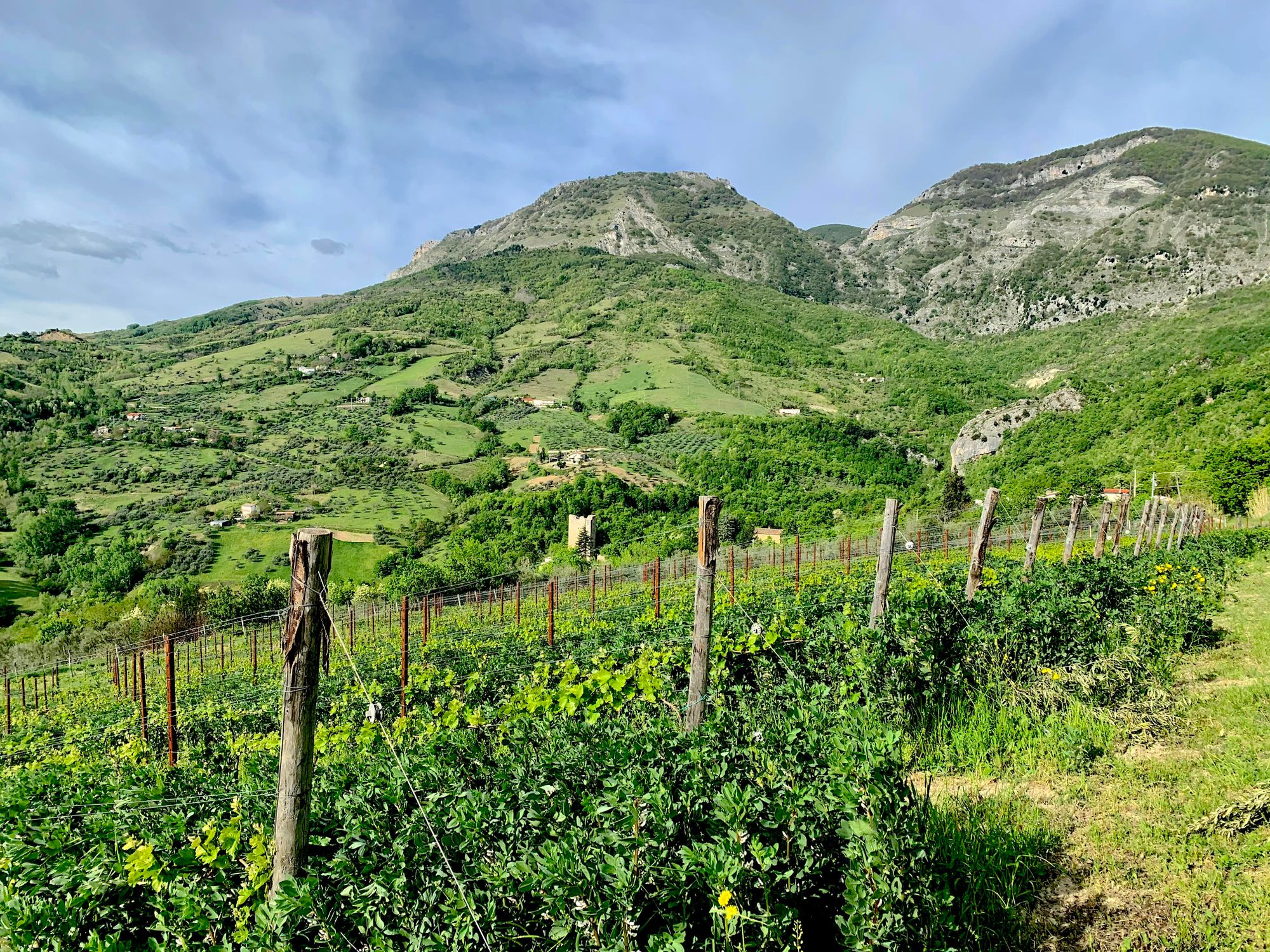 Can you talk me through the process of making this wine?
We harvest everything by hand and do two harvests - one of Pecorino, Chardonnay and Traminer in August, and then a late harvest at the end of September of Trebbiano. The first harvest acts as the base of the wine which we ferment in a champenoise kind of tank that we invented, then we add the second harvest on top with the fresh must from the Trebbiano, which is needed for the second fermentation which happens during bottling. We bottle with a crown cap and pray that the second fermentation happens without any issues - that's what makes the wine sparkling.
Which grapes have you used?
Trebbiano, Pecorino, Chardonnay, and Traminer.
Do you use any sulfites?
No - never. This was our first promise and we will always keep it.
How would you describe the wine?
It's very dry and fresh, and has a lot of tropical fruit aromas - mango, pineapple and apple as well, with some floral aromas. It also has a little saltiness in the mouth. During harvest, we start working at six in the morning and finish at ten at night and it's always the first and last wine we drink. It's very refreshing and easy to drink.
How does this vintage compare to others?
This was our first vintage and until 2018, our sparkling wine was 100% Trebbiano. That year, the second fermentation didn't happen. This approach is very risky as if it doesn't happen, the wine just stays still and sweet. In 2019, we decided to stop making sparkling wine because if it doesn't work, you lose all those grapes and all those resources and time spent on it, but whenever we were in the cellar we would always say, 'Let's drink some bubbles!' and it's hard to find sparkling wine that's 100% natural with no sulfites, yeasts, etc. so we decided to try again in 2020 and it worked. We were very excited and so this is the first vintage. The method remained the same, but we added in the Chardonnay, Traminer and Pecorino. We asked our friends who made bubbles for tips and it's worked every year since.
When is it best enjoyed? Now or later, if people want to age it further in the bottle?
It's ready now but you can also age it - it's not disgorged and has the yeast inside, so it will continue to evolve for a long time. It depends on personal preference.
What's the story behind the name of the wine, Paparazza?
The word 'paparazzi' was invented by a filmmaker from my city, Federico Fellini who made the very famous film La Dolce Vita. When they were shooting the movie, there were so many photographers taking pictures of the actors, and he said that the movement of the camera's lens reminded him of the way that clams moved and, in Pescara, clams are called paparazza, hence how paparazzi was born. When we made this wine, we knew it would work well with seafood, like fresh clams or oysters, so why not call it Paparazza?
Any food pairings you'd recommend?
I like to say it pairs with another bottle of Paparazza! And as I said, seafood works really well.
Isabelle's thoughts on Paparazza - Known for its uncompromising approach to winemaking, Lammidia is iconic in the natural wine world. Owners Davide and Marco clearly have a lot of fun in the winery as there are always dozens of different cuvées on the go. Paparazza is a delicious, opulent, deep yellow bubbly. Some skin contact has given the wine a lovely weight and texture, whilst the blend adds tropical flavors like ripe guava as well as a passion fruit like acidity. It is incredibly refreshing and zesty with some moreish pomelo bitterness. I would serve this well-chilled on a sunny day.
---
Les Vins de Lavie is a winery run by Guillaume Lavie and Adèle Lemoine in Muscadet's Gorges appellation with 8.5 hectares of vines. They work with respect for nature through organic and biodynamic farming methods, and work to achieve a balance between soil, plant and climate to guide their work in the vineyard.
Q&A with Adèle Lemoine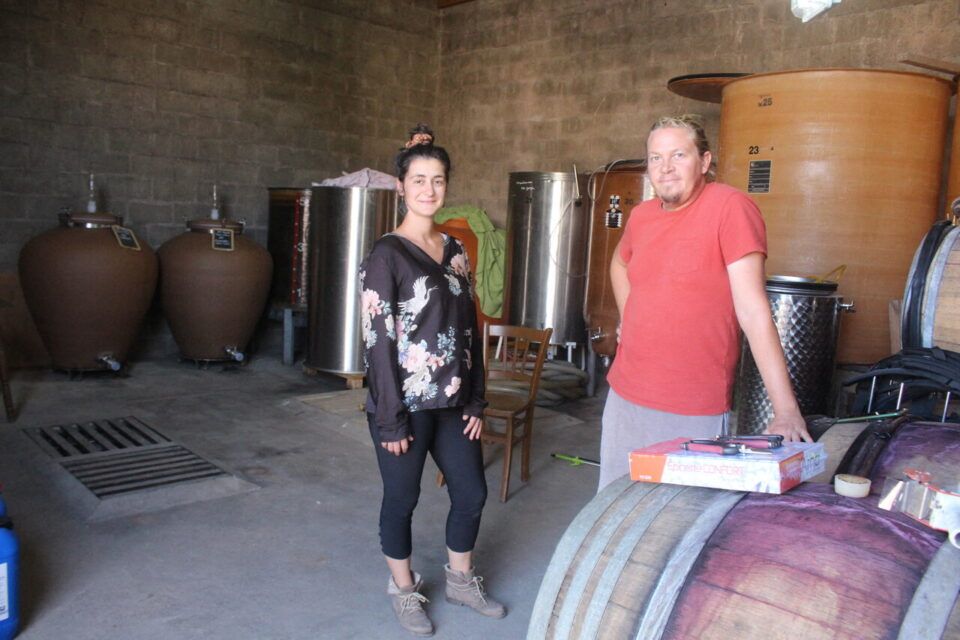 Can you tell me about your background - how you came to be a winemaker, and what influenced your style of farming and producing?
Guillaume created the estate Les Vins de Lavie in 2015. Before that, he worked in agriculture but not in wine - as a landscape gardener. He had experience across several terroirs, mainly in Burgundy and Beaujolais, and decided to devote himself to growing and making wine. He took his exams to get a professional certificate in agriculture, and decided that he wanted his own estate. He found an estate to rent in Bugey, Savoie, which was a small estate with just 1.5 hectares of vines, but the family who owned it closed it down in 2018 for family reasons. Guillaume wanted to find another estate, but it's very complicated to do so in Savoie, especially if you're not from there - he comes from Brittany - so in 2020 he came to Saumur, which is where I'm from.
After three months, he found an estate in Muscadet (the Gorges appellation) and with Melon Blanc, which is a Muscadet variety that he loves. The first harvest was in 2021 and at first it was 12 hectares but when I joined him, which was in 2022, we decided that this was just too big. We wanted to work biodynamically, and it just wasn't feasible for the two of us to do on our own, and we didn't have the money to bring on people to help us. So we now have 8.5 hectares and it's a lot better. Before this, I was a wine seller and a sommelier at a wine bar in Saumur, and worked in a wine cellar in Nantes.
Can you describe the vineyard and its surroundings?
It's very horizontal - there are no hills or mountains to see. We're mostly surrounded by vineyards. We have a lot of metamorphic, mineral-rich rocks, which is why Muscadet is very mineral.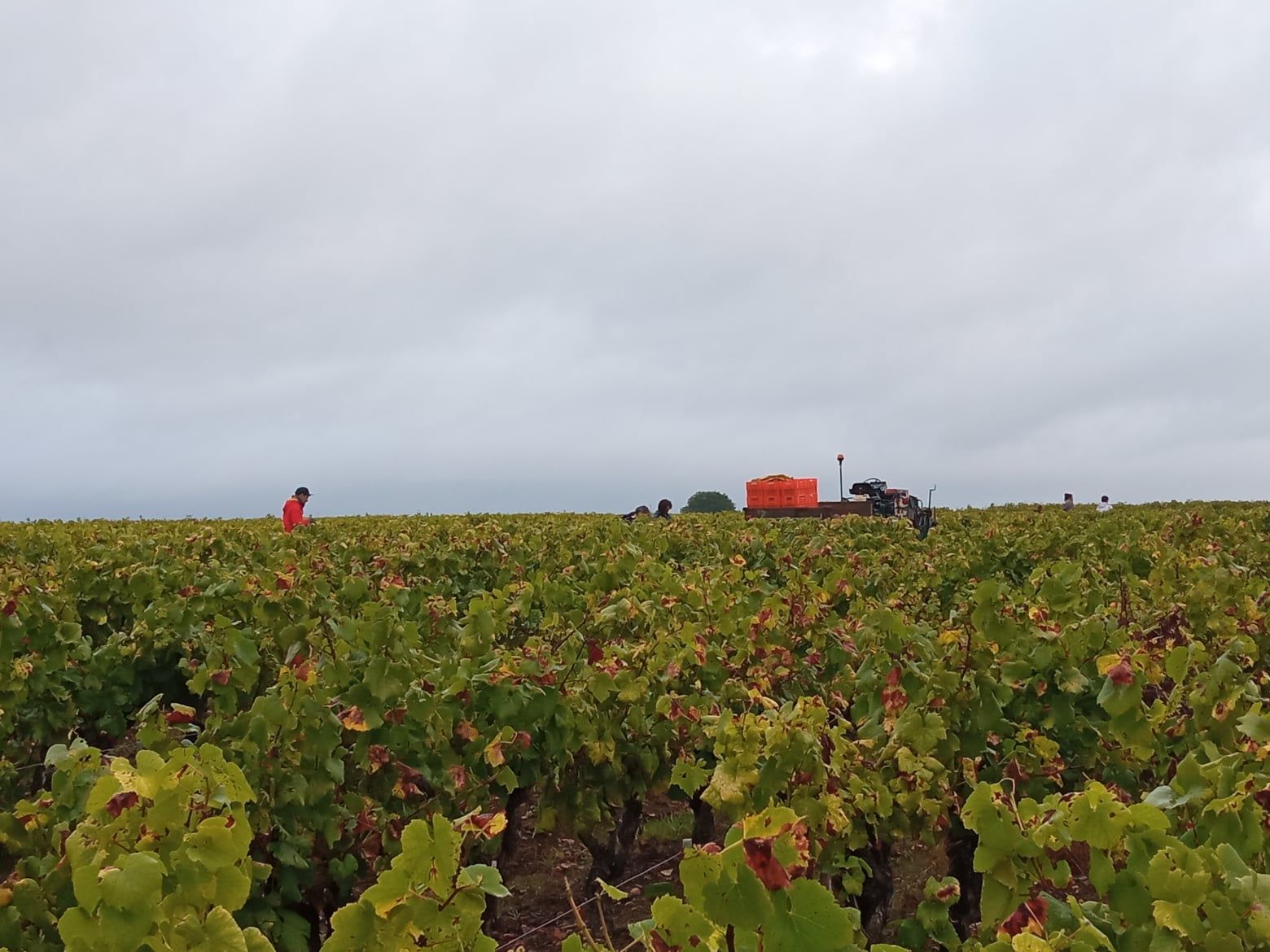 Can you describe the soil and the terroir?
The soil is mainly acidic brown soil, it's shallow in places, with clay and sand. In March and April we get frost, which can cause problems for us - it's a big issue in Muscadet. Some winemakers use fire to combat the frost, but this can be complicated to manage. Some are very rich and have their own methods of preventing the freeze. But we combat frost by pruning a little earlier in February. That way, if we do get frost in March or April, the vines are less advanced than others and the damage is less.
Can you talk me through the process of making this wine?
In 2021, we did have a lot of frost - in April there were 10 days of it. So we had a big battle to fight against the frost and, because it was our first year, it was tough. We lost 80% of the vines, so we didn't make many bottles. The summer was very cold too, so we harvested later, at the end of September, beginning of October. Grape maturity was complicated but the advantage of this is that we achieved a beautiful acidity. And the small quantity we did have was beautiful because we protected the grapes with biodynamics, and didn't use any sulfites.
Once the grapes are harvested, we press them directly using a beautiful machine that we have, before putting them into a steel tank which sits underground. The grapes stay in this tank for 7-8 months and aged on lees. We didn't use any filtration for this vintage - just put it straight into the bottle without any sulfites. We won't do any work on the wine in winter, because the wine is cold, so we bottle in spring.
Which grapes have you used?
Melon Blanc - it used to be called Melon de Bourgogne but legally, we can't say this anymore.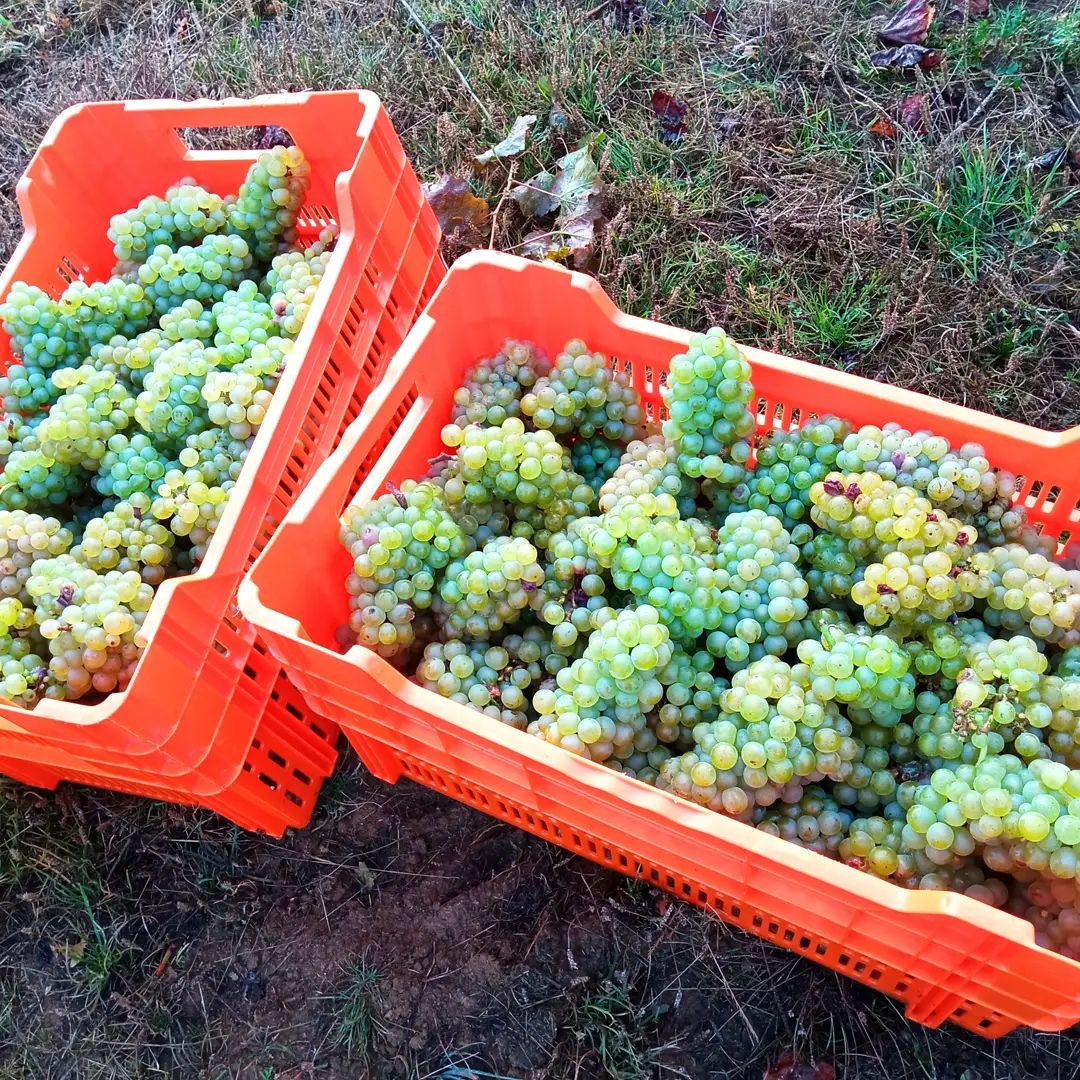 How would you describe the wine?
All Muscadets are very, very mineral, but because Guillaume and I work naturally, we use both alcoholic and malolactic fermentation - most winemakers prefer not to use malolactic as they like wines with more acidity and tension - but we can't stop this from happening, and the result is that we have a Muscadet that's more aromatic than others. It still has that acidity and tension, but is aromatic too. It's fresh on the nose and rich in the mouth, and gives you the sensation of a powerful wine.  
When is it best enjoyed? Now or later, if people want to age it further in the bottle?
It's good to drink now, but for me, this grape is a beautiful variety to keep and open in a few years - not 30 years, but up to 10 years. So you can do either and it'll be great.
What's the story behind the name of the wine?
Do you know Alain Souchon? He's a French singer songwriter who we love very much in this country. He has a song called 'La vie ne vaut rien' which in English, means 'Life has no value'. Guillaume and I were at a party and the song came on, and of course the estate is called Les Vins de Lavie, and the word Vaurien means naughty boy, so we thought it would be a fun play on words and would be a great name for a cuvée.
Any food pairings you'd recommend?
Seafood mostly, fish and white meats. I love white wine with cheese and I think Muscadet is good with goat cheese. It would also work well with a vegetable that has a powerful aroma, like artichoke or asparagus.
Isabelle's thoughts on Les Vauriens - This is the second Muscadet that I have included in the Club selection (the previous one being December's La Bohème by Marc Pesnot) as this incredibly dynamic region never ceases to amaze me. Reborn over the last 15 (or so) years, Muscadet underwent radical transformations both in terms of vineyard and cellar work, and today is awash with talented, young growers and makers. Lavie is a new one of these. His Les Vauriens is both creamy and incredibly mineral (always a great combo), and shows herbal, almost minty, verbena notes as well a delicate floral freshness, a little like hawthorn blossom.
---
Mahara is a project by brothers Miguel and Jose Gómez in San Fernando, in the Andalucian province of Cadiz. They worked in and around Cadiz under the name of Bodega Vinificate for many years, and founded their flagship Mahara in their hometown of San Fernando in 2011. Mahara focuses on the Tintilla grape, which is the native red variety of the area.
Q&A with Jose Gómez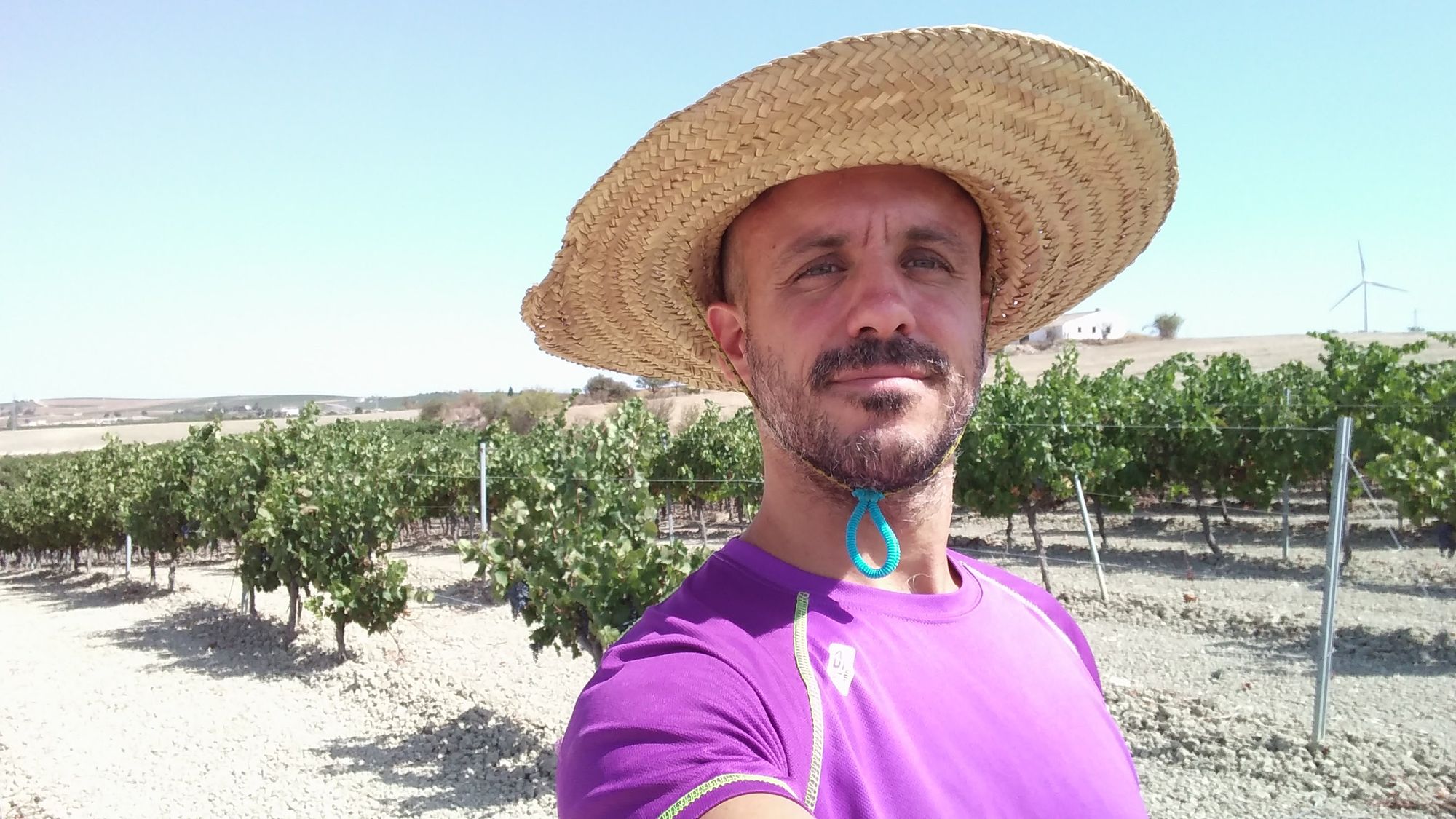 Can you tell me about your background - how you came to be a winemaker, and what influenced your style of farming and producing?
We don't have a winemaking family or any connection to wine that way. We both studied chemistry and my brother really wasn't enjoying it. He loved nature and the countryside, and discovered enology, which worked for him as it meant he could go to the country and work in vineyards. So he made the switch to enology and then I followed shortly after. I was working at the university we went to and saw how much he loved working in the vineyards. I loved nature too, so decided to make the change. We both have a strong relationship with nature and always loved spending time in it, either in the mountains or swimming in the ocean. And this way, we could stay in nature. And we make wine the way we do because of this love we have for it - industrial farming kills nature. But also, we don't like to eat or drink chemicals, so we work naturally in the vineyard and in the cellar. And also we think that when you use chemicals in the vineyard or the cellar, you lose the terroir.  
Can you describe the vineyard and its surroundings?
The winery is in San Fernando but the vineyard this wine is grown from is from Sanlucar (or Sanlucar de Barrameda), in the beautiful pago of Miraflores. It's a very special place. Here, you can see see the biggest natural park in Spain called Coto de Doñana, the Guadalquivir river and the Atlantic sea. You can really feel the freshness of the sea. It's a special place with a lot of energy.
Can you describe the soil and the terroir?
The soil is a type called Albariza, which gives salinity and sapidity to the wine. We have strong winds at sunrise and strong winds at sunset. In 2019, we had a warm and dry winter and then in the spring, it was dry too. We didn't have a lot of rain and, in the summer, we got a lot of wind. The wind is wet and cold, but at the end of the ripening season, we had 2 or so weeks of what we call levante, which is sunrise wind. It was very dry and warm that year.
The region you're in is historically linked to sherry production - has this influenced the way you make wine?
We drink sherry, but for me it has too much alcohol for the kinds of wine we should be drinking in this region. I prefer light, drinkable wines. I like sherry too, of course, but I will only drink one glass. I prefer to open a bottle and finish it. So we try to make wines with less alcohol - it was difficult in 2019 because of the dryness, but we typically have around 11% alcohol. This lighter kind of wine isn't typical where we are, but there are more people exploring the style now than there were before.
Has sherry always been the predominant winemaking tradition in your region?
We have a very long history of winemaking here - the Phoenicians started making wine 3,000 years ago. In that long a history, this region has seen all kinds of wines. We're doing something different to most right now, but we're not inventing anything new.
Can you talk me through the process of making this wine?
We harvest in the early morning to avoid the heat of summer. We press directly in the cellar in full bunches, then we ferment in a little plastic tank of around 1500L and always try to keep the temperature of the wine to 23 degrees Celsius (73.4 degrees Fahrenheit) or less. We fill the tanks to the top to prevent flor from growing. When fermentation finishes, we move it into amphoras of around 4 to 500L, where we leave it for 7-8 months. We then move it to barrels of around 500L, where the wine stays for 2-3 weeks, before being bottled.
For Albur, we used skin contact in 2017 and 2018, but stopped in 2019 because we wanted a lighter wine. When we use skin contact with Palomino, the wine gets a little fat - we want it to be more drinkable.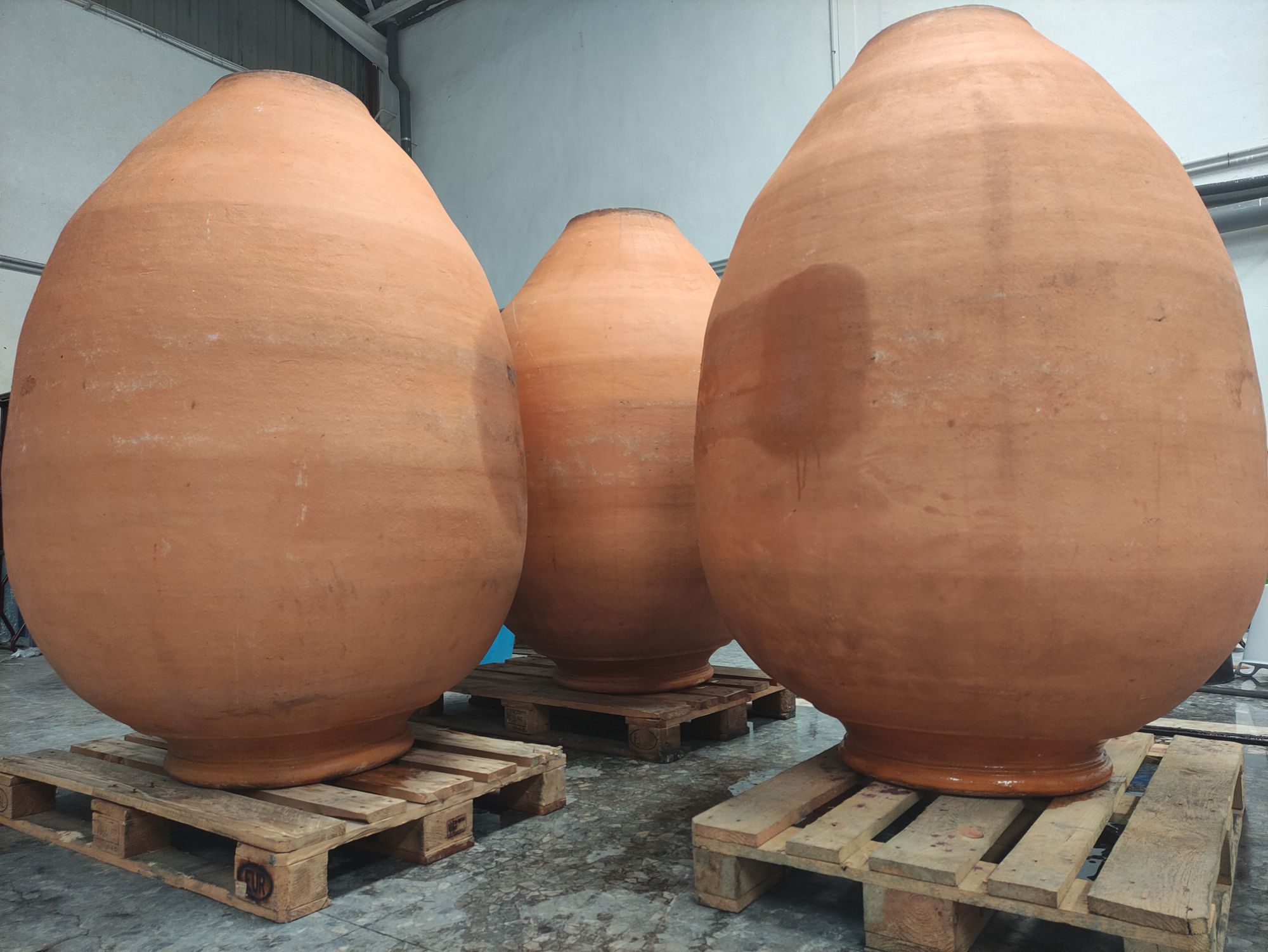 Which grapes have you used?
Palomino. We don't see the point in using international varieties because we have great varieties here like Palomino and Tintilla, which are already adapted to this climate.
Do you use any sulfites?
We use a little but of sulfur - around 30 parts per million - to help preserve the wine. I want people who open a bottle in the US to be able to taste the same thing I taste here in Cadiz.
How would you describe the wine?
This wine has a very nice, yellow-gold colour. The flavours start with a little bit of leather, and continue with pineapple and dried rose. In the mouth, it's very fresh, very easy to drink, and it has a lot of sapidity and a long finish.
How does this vintage compare to others?
This vintage was so dry and as a result, 2020 and 2021 are a little fresher with more fruit on the nose. The dryness is where the leathery, dry rose notes have come from. It's quite different to the other years.
When is it best enjoyed? Now or later, if people want to age it further in the bottle?
Palomino always ages well in the bottle, but I think wine is for drinking, so I'd say to open and drink it. And always drink with friends.
What's the story behind the name of the wine, Albur?
Albur is the name of a fish we have here. We have two different lines of wine. We have the first, or what we call the little brother, Amorro - very young, funny, drinkable wines. Then we have the big brother, Mahara. Each Mahara has a kind of surname, like Albur, and we have others with different names, all relating to Cadiz. When I bottle my wine, I try to bottle Cadiz. Albur is the name is a fish we have here, that lives in the sea close to my winery.
Any food pairings you'd recommend?
It's very good to pair with food because it has a lot of salinity and sapidity and when you drink it, the body asks you for something more. It's perfect with food. I think it works well with seafood and fish, like raw tuna, and rice with chicken or duck. It also works well with Manchego cheese and brie, as well as more intense cheeses. For vegetables, I think a warm, oven baked vegetable salad with things like onion, pepper and tomatoes.
Isabelle's thoughts on Albur - This is a fantastic expression of Palomino aged in amphora. Made in tiny quantities (less than 2000 bottles were produced), it is a wine crafted by powerful elements - the Atlantic Ocean, strong Levante winds and striking chalky soils. Miguel and José focus on freshness of style with early harvesting, but Albur is marked by a hot summer which has given it a hint of baked apricot. Some notes of salty almonds and lime zest too.
---
Buona Notte is a winery run by Graham Markel in the Columbia Gorge, between Oregon and Washington in the United States. Graham makes low intervention, unfined and unfiltered wines using Italian varietals. *Joining us for RAW WINE Los Angeles later this month - come meet Graham in person*
Q&A with Graham Markel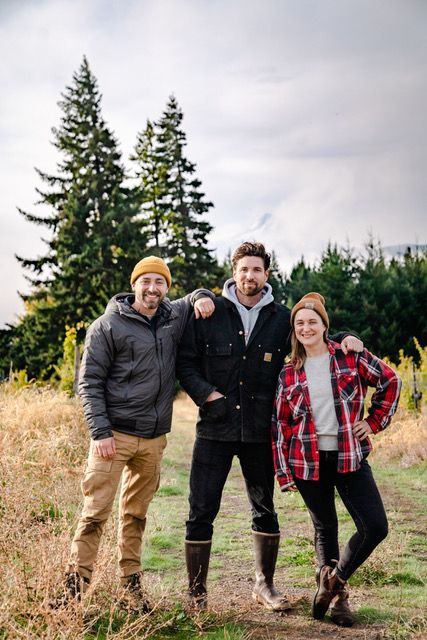 Can you tell me about your background - how you came to be a winemaker and what your influences are?
I spent a lot of my childhood here in Italy at my mom's cooking school [in Florence, where Graham was visiting when we spoke].  She's had the school since I was nine, so I would spend about a semester of school here, either going to the local Italian school just outside of Florence in Chianti or, later on, the American International School of Florence. So I have a really deep connection to Italian food and wine. Beyond that, I started working in restaurants and learned more about wine and cooking, working front of house as well as bartending.
I learned a lot about wine in particular at this restaurant in Boulder Colorado where I grew up, and had the opportunity to work a harvest which at the time just sounded like a fun way to learn more about the process and work with my hands - never in a million years did I think I could start my own winery. I got a great job through a family friend, Nate Ready, who's the winemaker and co-owner of Hiyu Wine Farm. Then I worked for this place called Antica Terra in the Willamette Valley for four years. In the first couple of weeks working there I was hooked and at that point became convinced that I would eventually start my own winery.
I spent seven years total working for other people and started to explore making my own wine using their cellars. At that time, I was trying to figure out what I wanted to do. I knew I didn't want to make more Pinot and Chardonnay in Oregon,  because there's so many great winemakers doing that and I didn't feel like I had anything to add to that conversation, then I found some Sangiovese for sale one day and drove out to the vineyard just before harvest to check it out. It was in eastern Oregon, which is nothing like you'd imagine Tuscany, or anywhere else that Sangiovese is grown, to be. Driving through the cherry orchards and rolling wheat and mustard seed fields, I felt that even stronger, but then I got to the vineyard which sat on this beautiful, sloping hill with fields around it, it did look like Tuscany in a weird way and I put one grape in my mouth and knew in that moment that I would make wines from Oregon and in the Columbia Gorge with an Italian style. That's how it all started.
And how about the farming? How is that done?
I don't do the farming myself, but work closely with around eight different vineyard which all come in different styles. I try not to be too overbearing and trust them to do a good job because I've been working with these guys for six years now. It ranges from full biodynamics to conventional vineyards with a small plot of naturally farmed grapes for us. That's paid off actually because two of those conventional vineyards now spray the entire vineyard naturally. It's been good to have an impact that is commonly quite conventional when it comes to farming. Most of the vineyards are dry farmed.
What about the farm where the grapes for Rosalba are grown?
That farm has been organic for 20 years and is moving towards biodynamics now - it's a vineyard called Rock Steady which my friend Jason Mann bought three years ago. It's an 80 acre estate with 40 acres of vines and 40 of different kinds of pear, which are a really big thing here in the Columbia Gorge. The vineyards site at around 1400ft above sea level in Underwood, Washington, overlooking the Gorge. It's an old pyroclastic flow on an old volcano with incredible soil. You can get things really ripe and still maintain great acidity. It's one of my favorite vineyards in the entire gorge.
What are the growing conditions like?
The beauty of the Gorge is the diversity of these little microclimates. Starting on the very west side where this vineyard is, it's high alpine with 45 inches of rain a year and pretty cold at night due to the altitude. But for every mile you drive east, you lose an inch of annual rainfall. So within 20 miles, you're in the high desert where you're at 15 inches of rain a year and that's kind of our sweet spot for getting grapes - in between those two climates.  That diversity is why I'd love to have my own vineyard one day. There's the two 11,000 foot volcanoes 125 miles to the south, Mount Hood and Mount Adams 25 miles to the north, and you have the Columbia River running down the middle of it all which just creates this massive wind tunnel, so things are always breezy with lots of air flow but it's dry and sunny in the summer so we can grow grapes, which is really nice.
What's the natural wine scene like in Washington and Oregon?
There is quite a big natural wine scene, particularly in Portland, Oregon.  In the Gorge, we get fruit from both sides, but the natural wine scene is definitely more prevalent in Portland where I live. We have a pretty good history of winemaking there from the Willamette Valley and then Portland. One of the best things about Portland is how affordable it is to start anything there. It's created an environment where young people can start wineries, especially natural wineries in that area, and have access to vineyards and grape grapes that have a great history. I think it's one of the two kind of epicenters of natural winemaking in the US - Portland and the Bay Area. There's such a great community here - we're always asking each other questions about winemaking and the wine business, collaborating and, we have a natural wine fair and a ton of natural wine bars - it's a great place to make and drink natural wine.
Can you talk me through the process of making Rosalba?
I decide when to pick based on phenolic ripeness, maintaining some acidity and looking at ripeness of skins. The grapes are handpicked by the crew of the farm and I usually come out for a little bit and send one or two of my interns to help as well. I then do the 20 minute drive back to the winery, over some pretty sketchy bridges with a big truck and trailer. We get a lot of Pinot Gris, so I try to do as many different things that make sense to it, so that when it's time to blend it back together, I have what I call a spice rack, where I have all these options to work from to try and make the best possible blend.
Normally the differences would be in the amount of whole cluster used, time on skin and vessels used. For this Pinot Gris, I put it through the stemmer and within like 30 seconds just shut it off because it was pulverizing things and it didn't look great - and I want the wines to look beautiful - so it's 100% whole cluster but with varying amounts of time on the skins ranging from four days to six and 12. I like to use this kind of blend because four and six days are more fresh, then the 12 day ferments to get some tannin, body and colour.
The grapes are then pressed through our hand cranked basket, directly into barrel. We do around a 70% free run, a bucket of the light press and then once that's done, a medium press into every barrel. Then we let the fermentation continue in the barrel for around three weeks to a month, then top them up when they're done fermenting and leave them in the barrels for another six months until we bottle.
Which grapes have you used?
This is 100% Pinot Gris.
Do you use any sulfites?
We use approximately 15 parts of sulfur bottling.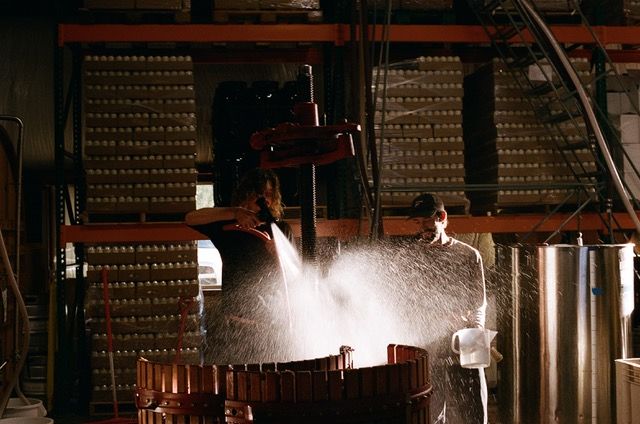 What's the story behind the name of the wine, Rosalba?
Rosalba is a type of, chicory, like radicchio. I love to like incorporate food names into my wines because I always think of us as being a food and wine company. Buona Notte means good night so it's about having a good night with your friends and family, and sharing good food and good wine. It also means white rose because Pinot Gris is usually considered to be a white grape, even though it's more pink.
How would you describe the wine?
I like to describe it as a bit of a chameleon that explores what a Pinot Gris can be. It has a little body which reflects the grape, a little tannin to stand up to food and some texture, but still delicious on its own.
How does this vintage compare to others?
2021 is one of my favorite vintages all round. It was a warm, generous vintage and still able to hold on to some good acidity. This one's just a little richer and bigger, and is drinking really well right now. I'm glad you guys have it. It's definitely got  just enough tannin to make it like that perfect in between of rose and orange.
When is it best enjoyed? Now or later, if people want to age it further in the bottle?
It's in a clear bottle so usually expect people to open it while it's pretty fresh. You could lay it down for a couple years and it'd be really lovely. It has enough tannin and acidity to age, but at the same time it's perfect for just having a picnic and drinking some wine now.
Any food pairings you'd recommend?
Definitely a picnic wine - so it works well with charcuterie, tomatoes and Pecorino. Or even a pasta made with fresh tomatoes and some Pecorino on top.
Isabelle's thoughts on Rosalba - This deep, spicy Pinot Gris is an eminently satisfying aperitif. Whole bunch maceration and some skin contact has given Buona Notte a balanced tannic structure as well as savory, herbal notes that are a great counterweight to the playful exuberance of rose petal, cinnamon spice and a hint of tropical lychee. This is a versatile drink that stands well on its own.
---
Gut Oggau is a winery run by Stephanie and Eduard Tscheppe-Eselböck in Oggau, out of Austria's Burgenland. They founded the winery after taking over an established property in 2006, and now cultivate 26 hectares of vineyards using biodynamics.
Q&A with Stephanie and Eduard Tscheppe-Eselböck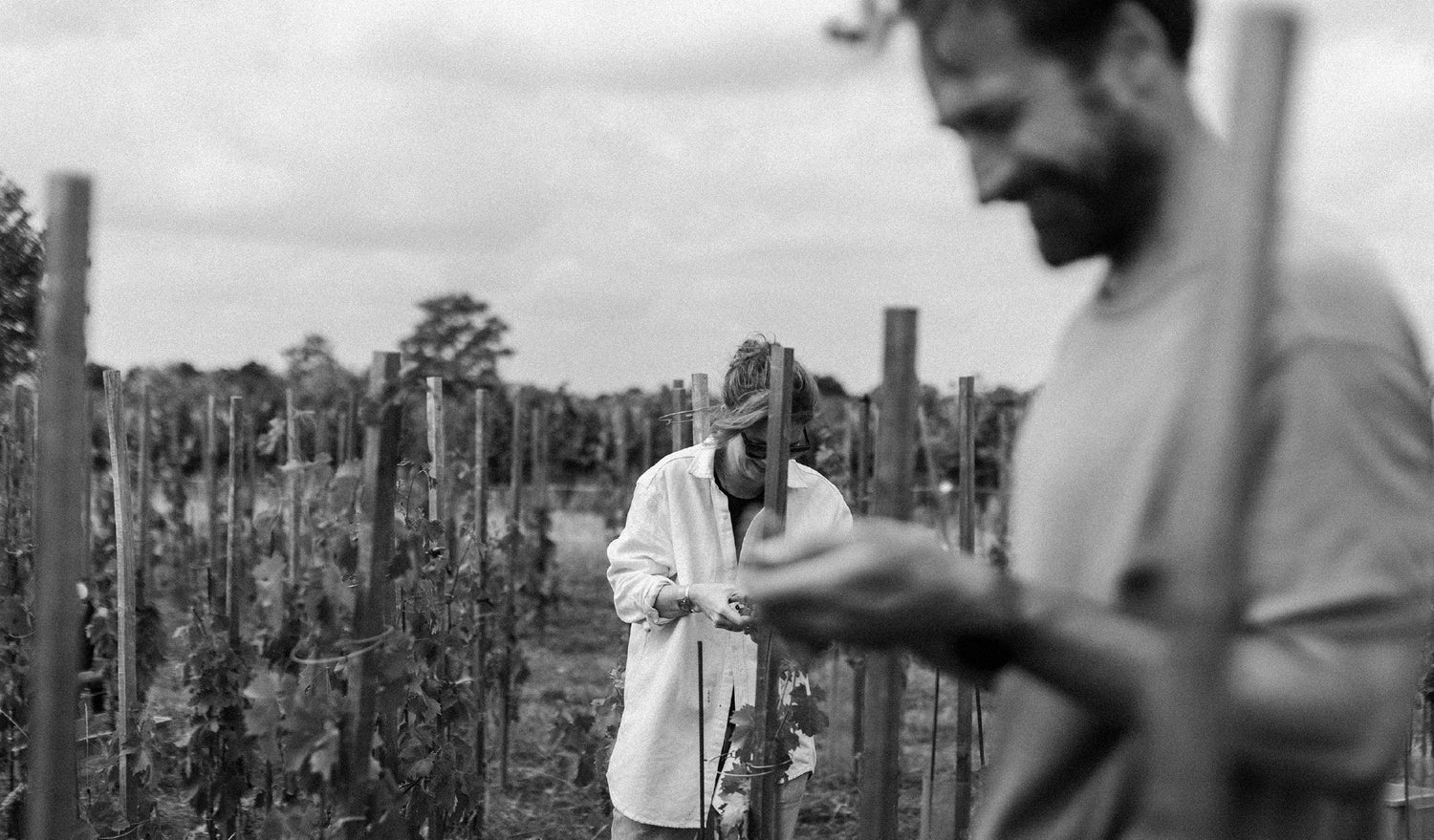 Can you tell me about your background - how you came to be a winemaker, and what influenced your style of farming and producing?
Stephanie: I'm Stephanie.
Eduard: I'm Eduard.
Stephanie: We are based in Austria in the beautiful Burgenland where we bought the estate at the end of 2006. We had our first vintage in 2007 and since then, we have been producing biodynamic and Demeter certified wines.
Eduard: I come from a wine growing background and my parents used to grow wines in Styria, but in a conventional way. I was never trained to be a wine grower or maker, and studied business administration while helping out at home. But I met my beautiful wife.
Stephanie: And it's such a long time ago, I can't even remember!
Eduard: But when I met my future wife then, I quickly asked her to marry me and she said yes, luckily, I moved to Burgenland and the only thing we knew was that we wanted to do something together. It wasn't always wine - we could have opened a wine bar or restaurant, because Stephanie has a background in hospitality. But we think looking back, we were looking for a place to create something, and that place was probably also looking for us. Everything kind of fell into place.
Why did we work biodynamically? Probably because we felt the need, for those old vineyards we took over to get them back in shape, into vitality, to go for the most sensitive approach. And why natural wine? Because we needed to have a wine without any makeup, because the former owners didn't produce wine, they only sold the grapes. So we needed to find out about their potential in a very, let's say, naked way. That's why we didn't intervene in the winemaking originally. There wasn't really a master plan before we took over the estate, more than one thing happened after the other because of the place, and probably because of us creating a vision driven by its potential.
It was clear from the beginning that we would go for biodynamic certification, but mainly for the sake of being part of a group of interesting biodynamic farmers. And in Austria, there are quite strict rules in wine - for instance, if you want to be Demeter certified, you have to go for natural fermentation.
What was the natural wine landscape like back then?
Eduard: The term natural wine didn't exist, there was no platform for that. It was still taking these baby steps, but there weren't any discussions between wine growers gathering together to discuss the idea of producing wine naturally. There were some wineries converting to biodynamics, without necessarily working naturally in the cellar, but there was certainly something in the air.
Can you describe the vineyard and its surroundings?
Eduard: We work on 26 hectares of vineyards at the moment - two of them are young vines, not in crop yet, and 24 are quite grown up vines. Most are between 40 and 70 years old. That's quite interesting in our area because we are on the west bank of this lake. We have quite diverse soil types here so there's vineyards on the flat land mainly on gravel soil, which is rather poor - there's no loam, no concentration. And then we have those hillsides mostly facing east, southeast, towards the lake, which is mainly limestone from ancient mussel reefs and some rocks. On top there is mostly sand, so it's also quite poor soil.
We have many different parcels all over, and that's quite typical of our area. Historically, this has been part of the Austro-Hungarian empire and the law claimed that each child would get a piece of land, rather than just the oldest child claiming all the land. So it means that the pieces of land have gotten smaller and smaller over the generations, so we have more than 60 vineyards around the winery. We decided from the beginning to not go into the single vineyard/single grape varietal approach, but to blend each vineyard with the same identity, the same character and the same soil.
This vineyard I would say brings a rather youthful, energetic and eclectic personality to the wine. Like this young, self-confident guy, really straightforward and a little principled, pushy. But you get to know him better and he can be really soft and gentle. We base our vineyards more in terms of identity and personality, than say the grape variety.
Can you talk me through the process of making this wine?
Eduard: When we start making the wine, we always get a feel for the vintage, tasting the grapes and whether they're more or less structured, but we always partly ferment on the skins. For 2021, I think around a third of the grapes were on skins for around two weeks, and the other two thirds are directly pressed. After fermentation, everything is blended and then it's given 10 months in the barrel to age before bottling. We ferment and age in wood and we have barrels from 300-5,000L.
Which grapes have you used?
Eduard: Blaufränkisch and Zweigelt.
How would you describe the wine?
Eduard: Again for us, it's more the personality we want to describe him with. When he approaches you, he has a mint in his mouth and he appears quite straightforward, but then you get closer and he's completely drunk.
How does this vintage compare to others?
Eduard: 2021 was a challenging vintage because of the extremes in weather - spring was quite cold and summer was really dry and hot from June onwards. Then when we started picking in mid-August, the temperatures at night dropped dramatically which is really uncommon for that time of year, so we had hot days and cool nights. This vintage combines everything you get from a warm year with what you get from a cool year and, for us, it's a really special one. You get this kind of cool breeze in the nose and this warm feeling on the palette, and lots of freshness from minerality, not necessarily from high acidity. It's charming and straightforward, but with a strong backbone. You need a strong character to cope with 2021!
When is it best enjoyed?
Eduard: If you feel a little bit exhausted, you feel tired or whatever, have a sip of this wine - it kind of wakes you up in the best sense. The energy it has is so special and challenging in the best sense. It can be enjoyed from breakfast onwards, if people are comfortable with that.
What's the story behind the name of the wine, Atanasius?
Eduard: All the names tell the story of the former owner's different family members and, to an extent, we picked the more interest and exciting sounding names. On one hand, it's a reference to the tradition of the place, and on the other, the interesting names are to showcase that these wines are rare gems. But the faces we use on the label are fictional and chosen based on the character of the wine. So this guy we found on a postcard and obviously it's a Greek name, so it must have been a Greek friend or relative of this family.
Any food pairings you'd recommend?
Eduard: It's really versatile in terms of food - you can enjoy it with Mediterranean food, Schnitzel, grilled fish. It's kind of a chameleon and can adapt to work well with all kinds of food.
Isabelle's thoughts on Atanasius - The fabulous wife and husband team, Stephanie and Eduard Tscheppe-Eselböck, and their Gut Oggau winery need little introduction. Their natural wines have achieved cult status all over the world and are today often allocated on a bottle by bottle basis, so I was absolutely thrilled to secure enough of an allocation of Atanasius to be able to offer it to Club members. Stephanie and Eduard's relentless work in the vineyard and incredible attention to detail have seen the vines blossom over the years. The wines have become more focused, more mineral and more terroir-driven while also retaining the incredibly joyful, juicy, deliciousness that first captured their fans' hearts all those years ago. Ethereal and peppery, Atanasius shows notes of pomegranate and black mulberry, as well as soft, silky tannins.
---
Nénu is a winery in the Banyuls AOC of Roussillon, France, run by Rasmus Aamand Olesen and founded in 2017. They make low intervention organic, honest wine with grapes grown in 'living soil', native yeasts and minimal sulfites.
Q&A with Rasmus Aamand Olesen
Can you tell me about your background - how you came to be a winemaker, and what influenced your style of farming and producing?
I am a researcher, I hold a PhD in biology and I still do research in neuroscience, but I started as a biology student and because I wanted to become a farmer, I just needed something to do on the side so I planned to be a high school teacher to help me pay for the lease of a farm. But I like things that are complicated, that I don't know about, so I headed into neuroscience which is what I'm studying right now, but on the side, for as long as I have had this love for farming, I also had this love for the magic of fermentation. When I did my studies in biology, I always played around with fermentation on the side. For someone who's in love with mountains, farming and fermentation, what's better than being a winemaker?
The mountains keep all the tractors and big, industrial mechanics out of farming - it's just not possible. They keep you honest. That's really how I started out. It's the farming that got me into it. I wanted this kind of direct link with the soil and molecular life that I discovered through biology - the miracle of life that I wanted to work with. And that's why I make a good researcher - this curiosity for everything that's alive.
Can you describe the vineyard and its surroundings?
Banyuls-sur-Mer where I am it's where the Pyrenees are plummeting into the Mediterranean sea. So where I'm sat right now, I can see the top of the Pyrenees which sits at around 1000 m above sea level and if I go to the other side of my house, I can see the Mediterranean sea. We have everything from around sea level up to around 350 m is the highest, so they're not high altitude, but they're steep. And of course the Pyrenees has valleys, so we also have some vineyards that are more flat. But of course, when I say flat, they still have some sort of incline. It's more in the sense that you can work with a rotavator without it falling off the hill.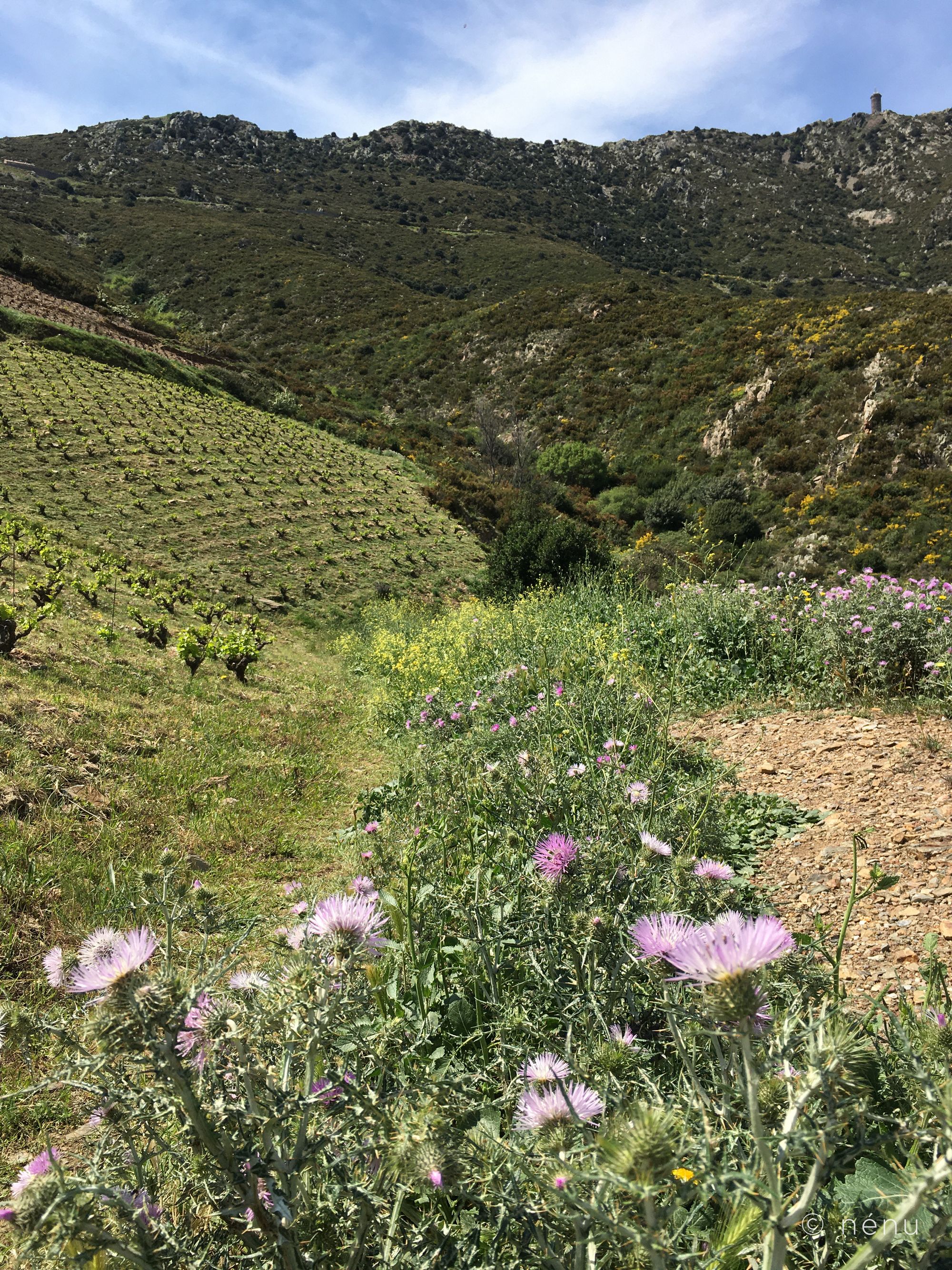 What's it like to work on these steep slopes?
You have to be more manual. I'm sure in this era of humanity, there must be some kind of robots that can do this kind of work, but right now, it's not possible to farm any other way. It's not a challenge necessarily, but more a question of, do you value this kind of work enough that you are happy to put the hours into it? You have to have the values and to love what you're doing. You have less power to do what you want - we can't just use a big tractor or irrigate everything - when you're in the mountains, you're the smallest power in there, so you have to follow the climate. And with my eternal love affair of everything living, I also like to not work the soil too heavily. I want to work and enjoy my vineyards - the more that's growing, the more insects are flying, the more flowers and such there are, the happier I am. If I started working with all these splendid chemicals that have been invented over the last 70 years, I could make a moon of my vineyard, but it's not about economics for me. I have to enjoy it.
Can you describe the soil and the terroir?
Mostly schist in different shapes and forms, and of course being in the mountains we go between very rocky vineyards and lower in the valleys, silt, sandy-like soils. We have wet fragile schist and black schist, which very easily falls apart, so you get some very deep soils. It's half rock, half soil but the roots can still penetrate. It's nice soil to work with as the vineyards do very well in summer. And we have these little magic pockets of schist limestone soils - not a high percentage of limestone, but just enough to make the terroir not too schist heavy. This makes for different kinds of taste profiles. For this wine, it's this kind of red schist.
How's the climate where you are?
The ever-changing climate! We're in the south of France - what can I say, we have a large influence from the sea in that it doesn't get overly cold in the winter. We do get snow and frost in the higher areas, but it also helps us with the extreme temperatures in the winter. And we have this wind blowing all year which helps our grapes from overheating and keeps the vineyards healthy, protects them from mildew. When we do get rain, we get heavy rain, and a fair bit of it in winter, but the summers are dry. We don't expect rain from June to September. It is an area that goes dry in the summer but in an average year gets a decent amount of rain with very heavy downpours in winter.
Are there many growers in the area working organically?
There's a lot of people working or should I say trying to work organically, mostly smaller producers. Very few who produce their own grapes really succeed, because it's a difficult area to be an organic winemaker. Or at least that's what you're told when you start out. In the first 3 years, I heard this everyday, but now that's subsiding. In this area, you're told all the time it's impossible to be an organic winemaker. Most of the people farming grapes sell it to cooperatives or other winemakers, and don't work organically. The old farmers tell you you're going to kill your soil and not produce any grapes. But I've been fortunate enough to be bestowed with some decent harvests, so I'm getting rather confident that it is doable in this region without overly working your soils and without being a conventional farmer. We're getting more and more people working in organics, which is very positive - they're just difficult conditions to work in.
Can you talk me through the process of making this wine?
This wine is made up of three different years and is a kind of liquid history of what I did from 2018 to 2020. In the field, everything I do is always with a specific wine in mind. I hate saying it because it's so overused, but it's true that the wine is made in the field. This cuvée is sort of the leftovers from when I do the more traditional red style.
At harvest, I look for a balance of ripeness, acidity and sugar, and of course phenolic maturity and tannins. If the balance is not there, I have a hard time making a wine I want to drink myself. Balance means you can work with as little intervention as possible, and acidity means you can work with as little sulfites as possible. So I harvest with as much acidity as I can get. We do everything manually in the vineyard and we do pretty much everything manually in the cellar as well. But it also helps me to work my wines very gently. We use a manual destemmer that's like a table with holes in and put it in the tank manually as well. Same for pressing.
For most of our wines, we use very gentle punchdowns. If I don't need to, I don't want heavy extraction of anything. This is indigenous yeast of course - in 2018, we inoculated it from the white grapes. I've been doing different variations using different starters, and managing fermentation is something that's continually evolving. But right now I like to work with starters from my own vineyard and would love to build a library of samples from each vineyard.
In 2018, I had just started out, so I was using old French oak barrels for primary and secondary fermentation. I had taken them apart and took off the lids, and punched down by hand. In 2019, I started using stainless steel for primary maceration, then the barrels for secondary. Same again in 2020. When I bottle, I do it myself with a manual corker. If needed, I use a smallest amount possible to prevent oxidation, and always write the total sulfites on the wine label. I like transparency in winemaking. In most things, to be honest.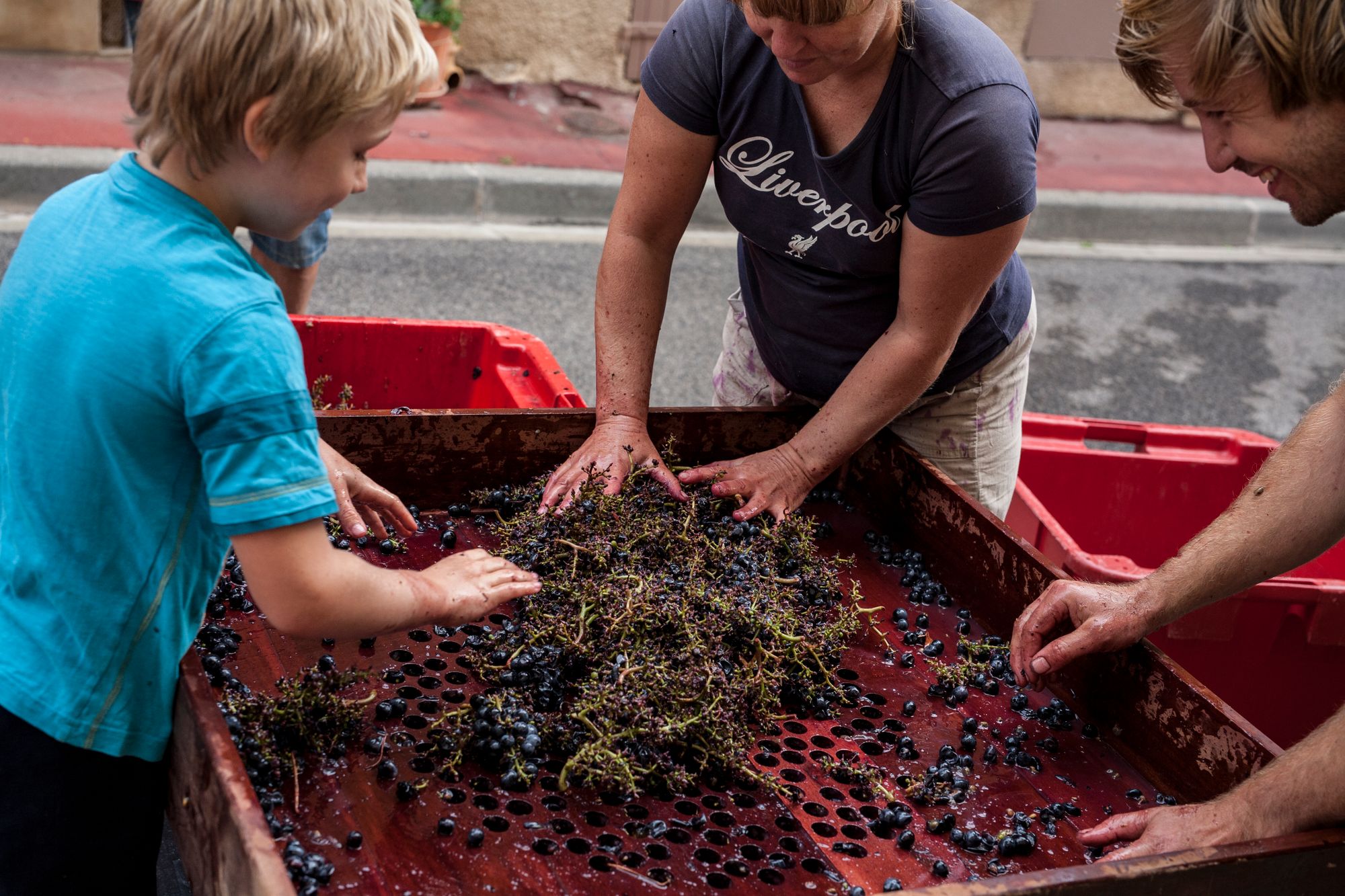 Which grapes have you used?
Grenache Noir and Mourvèdre.
How would you describe the wine?
It's different from what I do normally - it has more wood notes than normal. I tasted it yesterday and it has blueberry and vanilla notes as well. I tried it in different glasses and it goes more leathery in bigger glasses and more fruit weighted in smaller glasses. It has this nice wild garrigue, piney thing going on, with stone schist and decent acidity. Of course you have the tannins from this kind of press, and it's linear with a slight bitterness working against the acidity. It's nice, more rustic than my other wines.
When is it best enjoyed? Now or later, if people want to age it further in the bottle?
It's good now - when I opened it yesterday, it was great on opening but then I left it in the glass until dinner and I really enjoyed it then, too. It's opening up still in a positive way, but I don't think you should age it for much longer. It's not unstable, or with any weird, dirty taste to it, but it's not overly closed either. It's at a decent stage with an old, round tannins and a little fruit from the younger wine.
Any food pairings you'd recommend?
Game - although myself, I rarely eat meat, it does pair well with heavier dishes. Not in the sense of fattiness, but intense flavors. Like a spiced lentil stew - not hot spicy, but densely seasoned.
Isabelle's thoughts on La Cuvée MM - Nenu is an exciting, new discovery for me as I met this Dane for the first time this year when he contacted us to join us for RAW WINE Copenhagen. It takes real commitment and strength to engage in organic farming in and around the incredibly steep (and stunningly beautiful) slopes of Banyuls in the Mediterranean foothills of the Pyrenees. Mechanization is nigh on impossible so vineyard work has to be done by hand and on foot, which is why so many conventional producers use weedkillers in abundance. Not Rasmus and the result speaks for itself. La Cuvée MM has notes of black olive, blackberries, dry thyme, wild rosemary, as well as some sweet cedar spice. The wine also shows some bottle development but still with a lot of freshness of fruit.
---
---