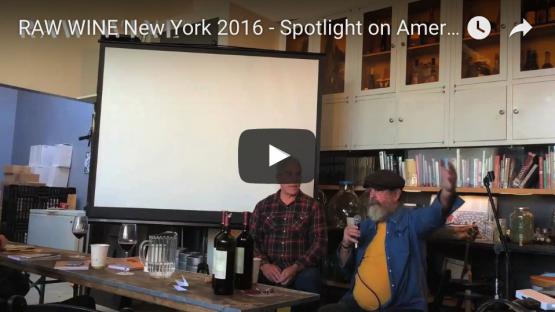 Speakers' Corner NYC 2016 - Videos
1 min read
As part of the New York 2016 edition of the fair, we hosted a RAW WINE Speakers' Corner which saw all sorts of natural wine heroes give talks, tastings and do book signings – sharing their experiences and knowledge to help visitors get to grips with this extraordinary world.
As promised, a while back, we filmed the sessions so that those of you who were unable to attend, could enjoy them from the comfort of your own homes. Unfortunately the technical side of things didn't quite go to plan and both the image and sound turned out more than a little shoddy. In fact in two cases we have had to ditch the footage altogether – the talk by Isabelle Legeron MW on 'What is Natural Wine?' and the talk on Australia – so apologies if you were holding out for either of those two. We have done our best to make the ones below as audible as possible. Next time, we promise we'll do a much, much better job.
Lorenzo Corino on "Organic farming to obtain quality wines that are alive"
---
Reading, Tasting, Book Signing: 'For the Love of Wine: My Odyssey through the World's Most Ancient Wine Culture' by Alice Feiring.
---
The Impact of Dirt (its power, meaning and hell yeah-minerality) with Alice Feiring and Pascaline Lepeltier MS
---
Naturalness in other drinks
---
Featuring Arnold Waldstein as the panel moderator; Panellists: Raphael Lyon fromEnlightenment Wines (Mead, New York), Géraud Bonnet from Ferme Apicole Desrochers D. (Mead, Canada); Jonny Piana from Fable Farm Fermentory (Cider, Vermont) & Bianca Miraglia from Uncouth Vermouth (Vermouth, Brooklyn)
Spotlight on America: Q&A with Tony Coturri. Hosted by Mike Colameco.
---
Somm-thing to Drink?
---
An on-trade talk featuring Jorge Luis Riera (Wine Director, Wildair & Contra), Justin Chearno (Wine Director, The Four Horsemen), Severine Perru (Wine Director, Ten Bells),Linda Violago (Head Som, Rouge Tomate), and moderated by Jordan Salcito (Wine Director, Momofuku)
---