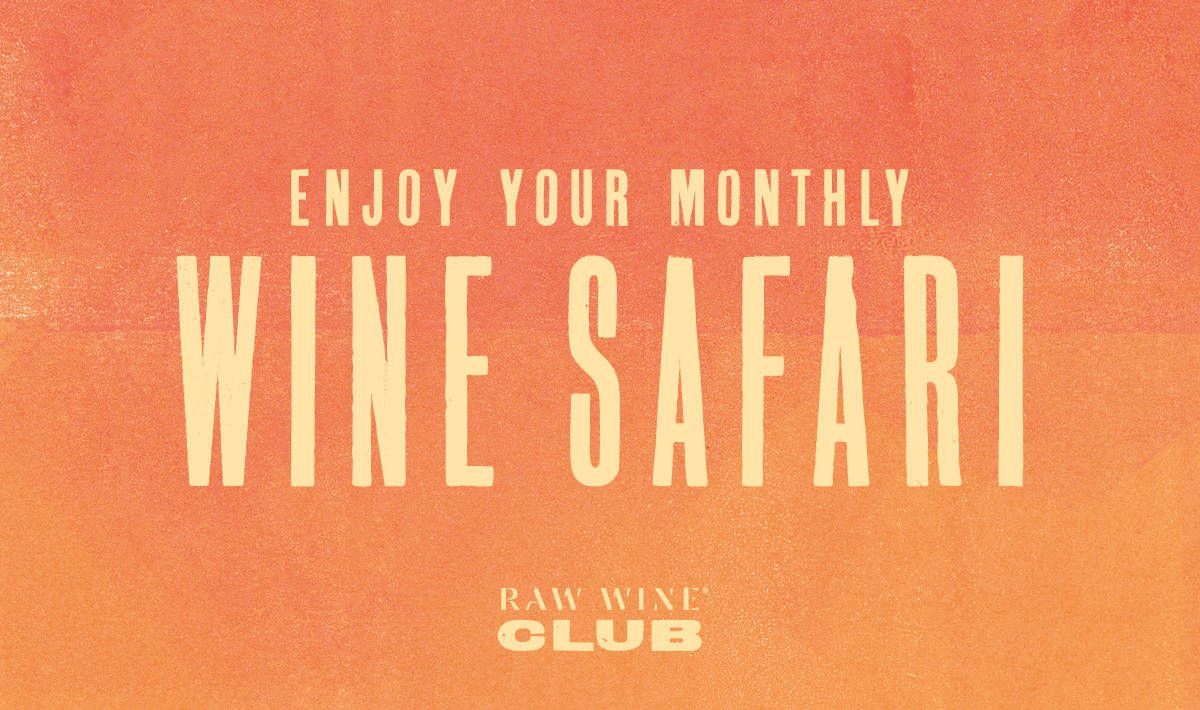 RAW WINE Club - Tasting Notes - May 2023 Selection
32 min read
Hello again.
All the wines in our May selection are pretty wow - there are no shrinking violets here. Instead we're tasting a variety of big voices from Italy, Spain, France and The US. There's a dangerously easy drinking, almondy, Venetian bubbly; a powerful Spanish white wine from Galician Godello grapes that reminded me of a white Burgundy; a delicate, fresh, aromatic skin contact from Disko, a brand new project by Sean Hogan who is bottling his own creation while still making the wines at Coquelicot; a light, crunchy, mineral driven Mencia from Bierzo; a delicious, chewy Gamay from Brouilly in Beaujolais; and last but not least, a deliciously vibrant Zinfandel/Palomino blend by Rajat Parr from ancient vines grown on the outskirts of L.A.
Warmest wishes and happy drinking,
Isabelle Legeron MW, Founder of RAW WINE‌
---
Marcobarba is a self-titled project out of Veneto, Italy, by winemaker Marco Bertoldo. Initially a carpenter, Marco's wine career began with an interest in biodynamic agriculture and a stint as a shepherd and farmer in the Canton of  Jura in Switzerland. In 2015, Marco moved home and started working at friend and winemaker Stefano Menti' winery, before launching his own project from the estate in 2018 producing straightforward wine with 'a big heart'.
Q&A with Stefano Menti, translating for Marco Bertoldo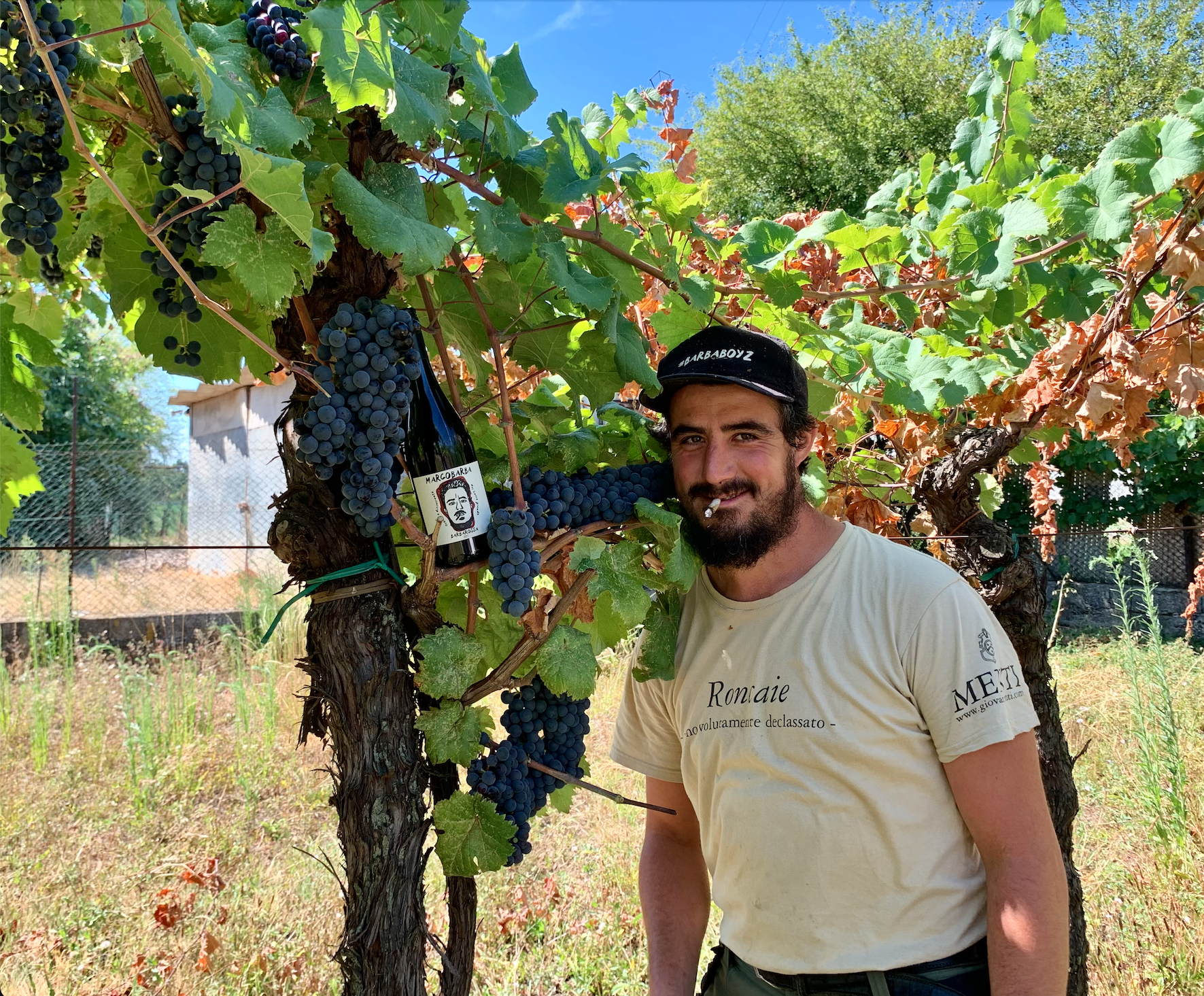 What is Marco's background - did he grow up around wine or was it something he discovered later on?
Marco first started making wine, like garage wine, just for himself. He worked as a mechanic, before travelling to Switzerland to work on a biodynamic farm, taking care of the animals and the vegetables. In 2015, I was looking for help at my winery, Menti Winery, and he was dating my sister at the time, so when he came back to Italy wanting to change his profession from mechanics to farming and in particular wanting to work with a biodynamic farm, he asked if I was interested in working together, so that's how we came together. Since working on the winery, the quality of his work in the field and in the cellar has developed from making it just for himself.
What was it that interested Marco about agriculture and biodynamics?
About agriculture, he loves working in the open air and in touch with nature. And about biodynamics, he loves the methodology because it provides a better culture for cultivating a farm and also a better quality of soil.
How close is Marco's work on Marcobarba with that of Menti Winery?
At the beginning, Marco was an employee taking care of the vineyards and learning how to make wine. He was also taking care of vineyards for a number of widows, who have vineyards in their gardens and have nobody to take care of them, using these grapes to make wine at a relatively low standard. When he learned how to improve the quality through his work at Menti and asked me for advice on how to make wine, we started producing together at the cellar he used in one of the old ladies' houses.
Then around 7-8 years ago, Marco started taking these wines to fairs in Italy and once people got to taste it, he realised that people liked it. He was selling it for around 7 to 10 euros per bottle and selling out quickly.  He asked if I thought there was a possibility for his project to grow - I provide consultation to a number of winemakers - and I said he has a good story, you know with the people and the vineyards he was taking care of, the wine coming from grapes grown across different vineyards, the cuvées changing every year. The idea was strong.
So we started making it in the small cellar then moved it into the Menti winery to expand production, and it grew very fast. The first official harvest was in 2017 and since then, the project has grown 100-150% every year, until 2020 when we reached the maximum quantity we could produce for the Marcobarba project. Most of the vineyards are still the widows' plots and we also have some vineyards we use of people growing organic grapes just 1km from the old ladies' parcels, another who asked for his father in law who wasn't able to take care of his vineyard and another man with cancer who wanted someone to manage his vineyard organically so he and his dogs could enjoy the field.
What kind of landscape and climate is Marco working with?
During the last year, the climate has become hotter. My first harvest was in 2001 and in the last 20 years of course the temperature has increased and the maturation, ripeness of the grapes and the harvest is earlier than it used to be. The vineyards are typically flat - although we're not far from the beginning of the alps. The vineyards are mostly planted inside gardens of old ladies for self consumption. The vines are quite old, not pre-phylloxera old, but some are older than the ladies, and the oldest lady is 88! The soil is mostly sandy and limestone, and not so green. We are in the middle of a small village and the plots are inside walls, or close to the homes of the ladies.
Can you talk me through the process of making this wine?
Marco harvests by hand into baskets, harvesting all the white grapes available so it's a mixed variety. We bring the grapes to the winery and prepare a small quantity with pied de cuve with skin contact and have 150L fermenting naturally. The other grapes are pressed and we combine this with the pied de cuve. The fermentation starts naturally and we transfer to concrete tanks fo 14-16 days without any additions. When bottling, we add all the juice of the dry grapes we have available, or if we need to, fresh grapes too. The second fermentation happens in the bottle for 25-30 days.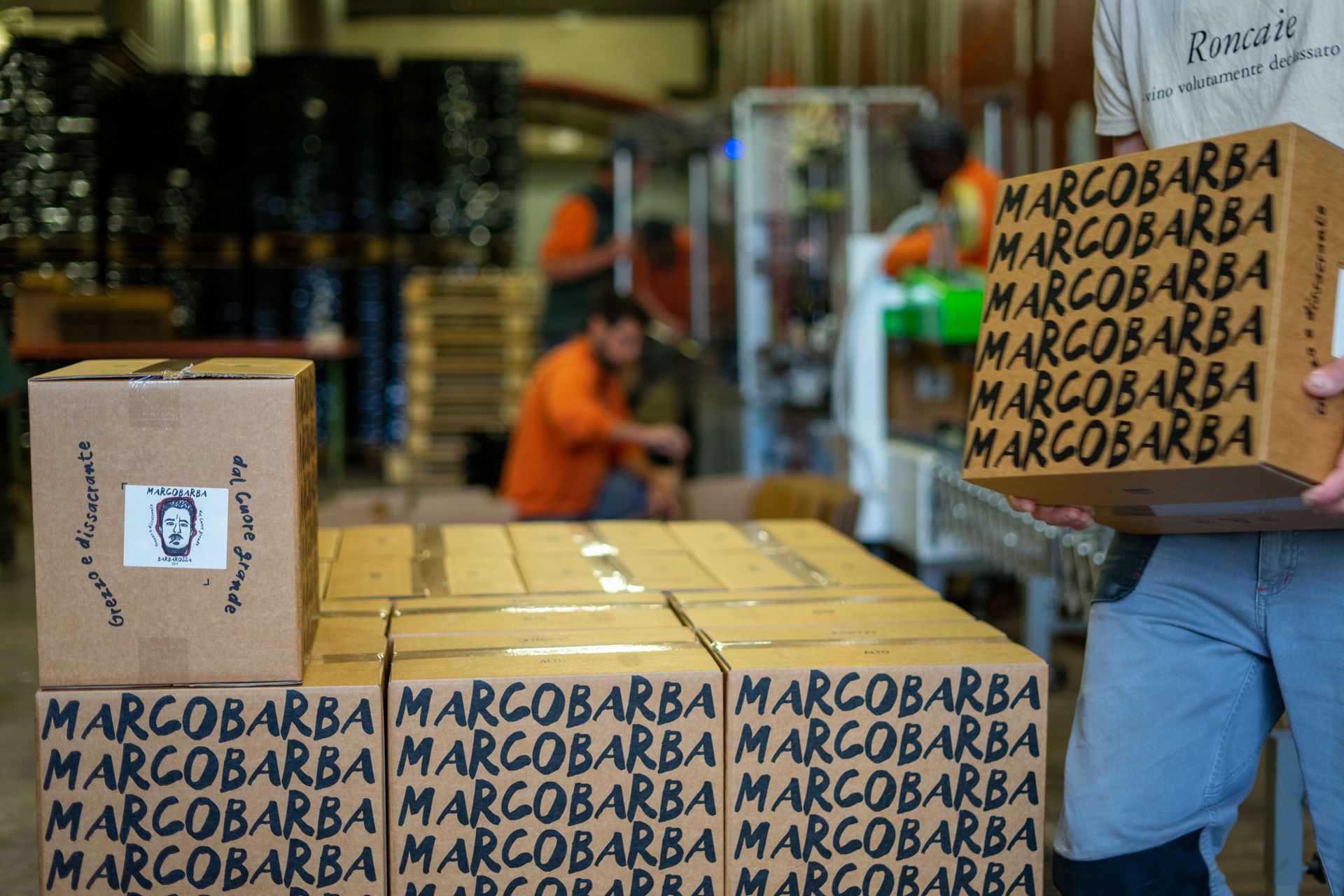 Which grapes were used for the 2021?
Garganega, Trebbiano, Glera, Moscato Giallo and a small quantity of other varieties.
Does Marco use sulfites?
If necessary, he uses sulfites, but in the case of this sparkling wine, not at all because it's not necessary.
How would you describe the wine?
Marco describes it simply, as happiness. When he drinks it, he's happy.
How does this vintage compare to others?
It was a good harvest, better than the others, because it wasn't too hot like 2022 or too rainy like other years. It's one of the best harvests we've had.
When is it best enjoyed? Now or later, if people want to age it further in the bottle?
Marco doesn't know the ageing potential because he's not had been producing it for long and therefore hasn't had the chance to see how it develops. His advice is to drink it now.
Any food pairings you'd recommend?
He likes to drink it at 9am with his other colleagues, but of course it's forbidden at Menti to drink during work time. He likes to enjoy it as an aperitif after work when he's allowed to drink. He loves it with cheese or pizza.
Isabelle's thoughts on Barbabolla - Barbabolla is a delicious Col Fondo - a style of bubbly where fine lees remain in the bottle, which makes the wine a little cloudy. It is a field blend of local grape varieties (Garganega, Trebbiano and Glera), and the result is light and creamy with notes of almonds and citrus fruits, and a touch of moreish bitterness reminiscent of oil-preserved artichokes.
---
Adega do Demo is a project by Laura Rodriguez and Carlos Lorenzo in the southeastern, Galician province of Ourense in Spain, where they have been making wine on his family estate since 2005. For 11th House, Carlos has worked in collaboration with Zak Elfman, a San Francisco Bay Area native making wine in Galicia under the label of Mission Wines, and Iria Otero, a Galician native who trained as a pharmacist and worked in London before returning home to make wine.
Q&A with Zak Elfman
Can you tell me about your collaboration with Carlos and Iria and how it came about?
Back in 2019, we all met at a small boutique wine fair here in Galicia. Carlos was tasting and meeting people, not showing his wines. He's been growing and selling grapes to cooperatives for 20 years and it wasn't until 2017 when he started making his own wine. We were all having a barbecue after the fair and he said he had around 2,000 kilos of grapes and asked if Iria and I wanted to buy it. We'd already established that we had similar styles and went ahead with making what ended up becoming this wine, 11th House. We used Carlos' grapes and his winery, while Iria and I were there, making decisions and collaboration wherever we could.
What's your background? How did Mission Wine come to be?
Mission is my winery - I'm in the Ribeira Sacra and have branched out into neighbouring parts of Galicia. I started in 2015 and really wanted to make wine in a place with old vines and grapes that remain fresh and ideally done by hand. Ribeira Sacra has both the benefit and drawback that everything has to be done by hand due to its steep vineyards, so it's all very small scale and handmade. It's been a difficult but very rewarding journey and I love it.
The grapes come from Carlos' vineyard. Can you tell me about the landscape and the climate where he is?
Carlos is up a bit higher than most places in the Ribeira, which helps maintain freshness. It's up in the hills and surrounded by forests. The soils are a yellow slate, pretty soft so the roots can penetrate easily. The vines are I think around 40 years old. It's mostly Godello but there are other varieties in the mix - we also use 10% Albarino, with a little Treixadura and Loureira.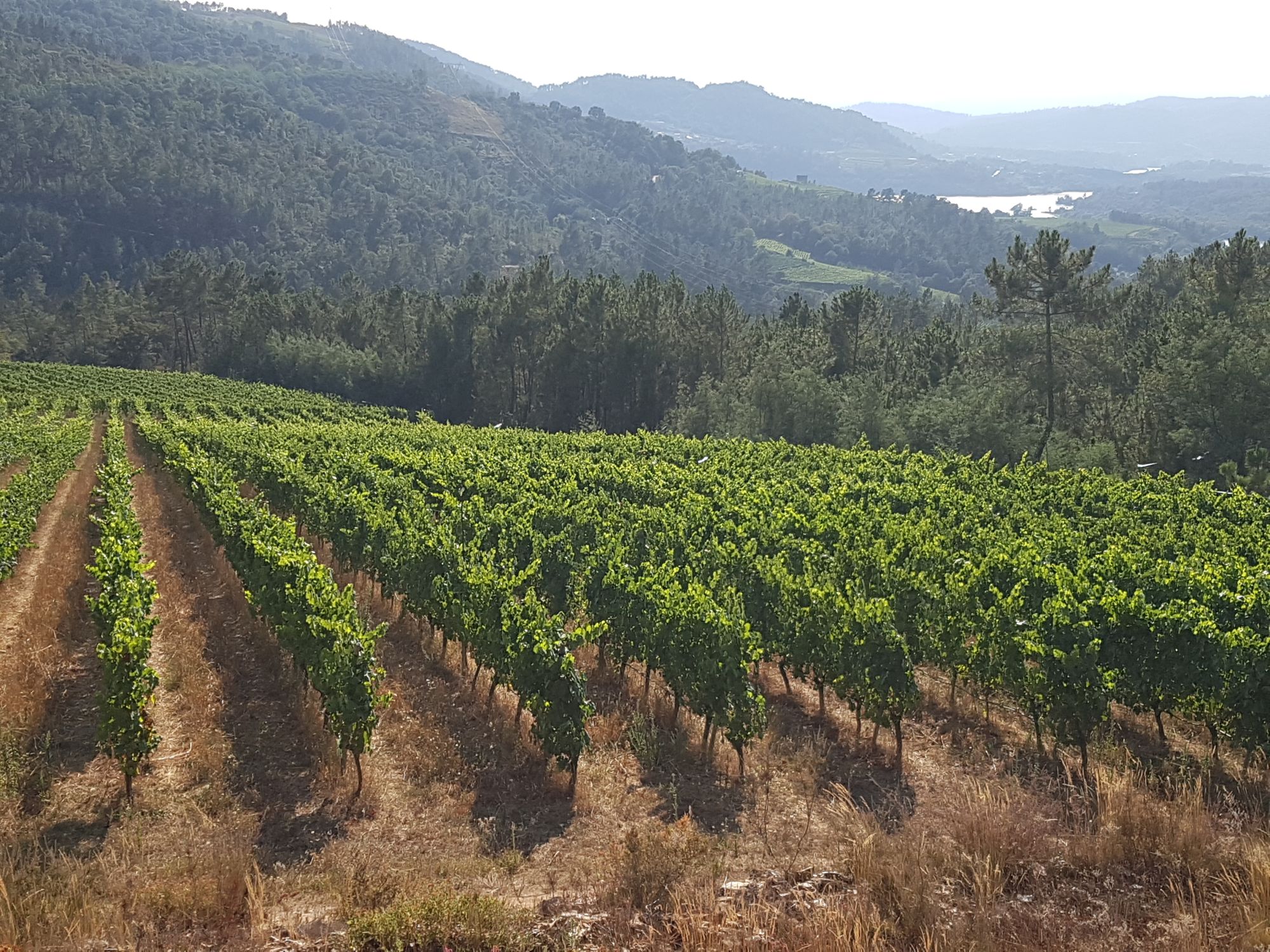 Can you talk me through the process of making this wine?
We all agree on the winemaking but I insist that everything is done very simply and with as little intervention as possible. We brought the grapes into the cellar, crushed and destemmed them and macerated for 1 day. Then we pressed and started fermentation in stainless steel, all the grapes in together, and when it got down to around 1070 density after 3-4 days, we racked into barrels to finish fermentation. It was in 11 French oak barrels for around 3 weeks, after which point we consolidated into 8 barrels to age on lees until ready to go. We met periodically to taste it and made the decision to take it out of the barrels after 10 months, before going back in stainless steel to clean up for 4 months ahead of bottling.
Why is low intervention something you insist on?
I believe that's how the best wines, or the wines I most like to drink, are made. Whenever Carlos, Iria and I would meet to make decisions, we'd always bring wines and have a barbecue and some drinks, and talk about what wines we like, what we want to make and we all kind of agreed on that philosophy.
Did you use any sulfites?
We used 2g at crush then corrected up to 25 ppm at bottling.
How would you describe the wine?
It's quite mineral, it's got a good amount of richness to it. We don't work the lees, but it sits on them so it adds a layer of that. It's full bodied and we're in Galicia, so full bodied relative to this area. The minerality comes through and it's got nice acidity, but is balanced at the same time. The Godello in Rivero gets pretty rich, so it does have that richness and roundness that you don't always expect in today's Galician whites.
How does this vintage compare to others?
It was a really warm, dry summer that lent itself to some healthy ripe grapes. We picked quite early.
When is it best enjoyed? Now or later, if people want to age it further in the bottle?
It's 2019 so of course it already has 4 years on it. It's not going to deteriorate with a couple more years in the bottle, but it's drinking well now so I don't think there's any reason to wait. I recommend opening it now.
What's the story behind the name of the wine, 11th House?
During one of those lunchtime tasting sessions, we were brainstorming and weren't able to come up with anything, so just left it for another time. At a later session, in February, we ended up discovering that all our birthdays were just a week or two apart and that all three of us are Aquarius, so we tried to find a name around that. All the names we came up with sounded a little watery which we didn't want associated with our wine, and Aquarious is in the 11th house of the zodiac.  
Any food pairings you'd recommend?
Pretty much anything Galician works - octopus, shellfish, cuttlefish, squid. Even pork ribs or chicken. A washed rind cheese would be pretty stunning and I'm always reluctant to recommend cheese as a pairing, since most cheese works with most wine, but I think that's a really good pairing. For a vegetable, maybe a lightly spiced red lentil dal. It's pretty versatile as it has the minerality, acidity and richness, so you can drink it on its own as well. It doesn't necessarily need food. It's very adaptable and a great place to start with the wines from all three of our wineries so if you like it, definitely seek out wines from Mission, Adega do Demo and Iria Otero.
Isabelle's thoughts on 11th House - 2019 was Adega do Demo's first vintage and the result is a really interesting take on Godello. It is a bright golden yellow wine with creamy notes of vanilla pod, butterscotch, a little French oak spice that sits nicely in the background, as well as notes of guava, peach stone, fresh, young hazelnuts and heather honey. But don't be fooled, this isn't a sweet wine. It is also very savory. The whole is almost a Burgundian Chardonnay on the nose.
---
Disko is a project by Sean Hogan who makes easy drinking, low alcohol wines sourced from organically farmed grapes grown across Santa Barbara County, California.
Q&A with Sean Hogan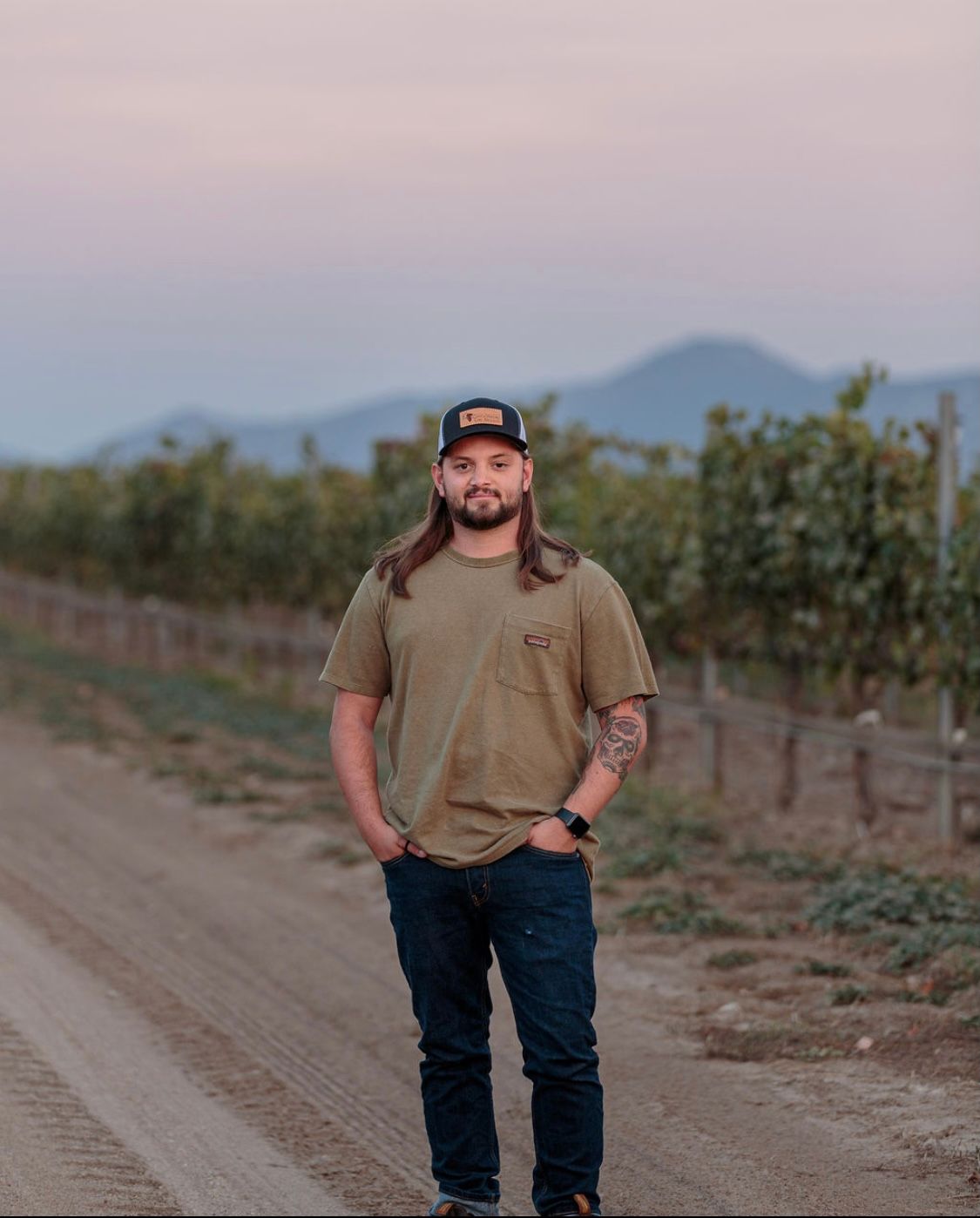 Can you tell me about your background and how you came to be a winemaker?
My first vintage was right after I graduated high school. At 18, I decided to take a leap year from school, came out to Santa Barbara County where I worked under my uncle Michael Roth of Lo-Fi Wines, who at the time was working at the Demetria Estate at the time, where I did my first vintage in 2010. I then went to college and worked in the restaurant industry for a few years before deciding that winemaking was the path for me. In 2015, I moved back to Santa Barbara - and I'm originally from New Jersey so really the opposite side of the country - and decided to commit myself full time to making this my career. I worked across a number of wineries doing different things and then I landed a job as the cellar manager at Coquelicot [who we have featured in RAW WINE Club before], working my way up and I continue to make wine with them today. I'm going into my ninth vintage with Coquelicot this fall.
How did Disko come about?
Disko started in 2020, the year the pandemic began. I'd been wanting to make my own wine for years and never really got around to it, so was just saving up the money. I kind of capitalised on that time during the pandemic where we were staying inside and not doing much of anything, and fortunately was able to save up some money. Fast forward a few months later in August, I bought 2 tonnes of fruit and made an orange wine, a gamay and a piquette. Nomadic Distribution picked it up kind of early on and I've gone from making 200 cases with my first vintage to up to 1500 cases just two vintages later. The growth has certainly been a challenge - as a winemaker and working with mostly estate fruit, I didn't automatically have the connections to source the fruit to be able to work organically, but thankfully I was able to do this and now work pretty heavily with just two vineyards. They're vineyards that I know I can grow with and know that they're farmed honestly. My aim is to make fun, fresh, clean, organic natural wines and keep growing with that.
Where do the grapes for Flower Power come from?
The grapes for this wine came from Oak Savanna Vineyard, which is one of the vineyards I still work with today, and from Santa Ynez Vineyard, which is under new ownership and I no longer work with. The latter was a really small block and it wasn't somewhere I could grow my production with. Since 2022, I've been working with Oak Savanna and another vineyard called North Canyon Vineyard, who I know will be in the future of my wine.
How close together are Oak Savanna and Santa Ynez where the grapes for this wine was grown, and what's the landscape, soil and terroir like?
They're just a few miles away from each other. Maybe a 10 minute drive, if that. The primary soil is called chamise shaly loam and it's kind of like a clay-ish sandy soil. It's around 1400ft elevation and has warm sunny days. The vineyards are on hills and because of the elevation it gets a lot of fog. The warm days build sugar in the day and the fog helps cool down at night which helps retain the acid in the grapes. I want them to be high acid, bright and lower alcohol, so I like working with the Oak Savanna vineyard in particular for that reason.
Can you talk me through the process of making this wine?
This wine is an all skin contact white. The grapes are picked separately based on different ripening times of the fruit. Aromatic whites can sometimes lack acid, so the Chardonnay in this vintage was something I picked very early to add bright acidity and minerality. They are 100% destemmed and fermented in 2 tonne open top tanks for about 2 weeks until the lines go dry, they're pressed out and aged in neutral french oak barrels for about 5 months and then they're all racked and blended together. Then it's back into barrels for 1 more month and racked again before bottling.
Which grapes have you used?
Gewürztraminer, Malvasia Bianca and Chardonnay, around equal parts.
Do you use any sulfites?
I use just a small amount of sulfites before bottling, roughly 40 parts per million in total.
How would you describe the wine?
Everyone tastes something different, but it's very bright and has beautiful aromatics on the nose. I get white flowers, orange blossoms. On the palate, it has spice and zest, and I sometimes get stone fruit and tangerine, with this really bright acidity.
How does this vintage compare to others?
2021 was a great vintage. I was really happy with the wines I made. They were very light - the last two vintages have been on the cooler side. I'm not trying to build these ripe, extracted flavors so having these high acids and low sugars resulted in a really nice year for us and I was happy with the turnout of the fruit in 2021 and 2022. This year, 2023, we've had so much rain which was much needed, so we should have a nice bountiful year this year, as crops were a bit down in 2022.
When is it best enjoyed? Now or later, if people want to age it further in the bottle?
It's drinking really nice right now, but it does have potential to age. I made a similar wine in 2020, my first vintage for Disko, and I opened it recently and it's aged really nicely. Something I'm really big on is lack of oxidation in my wine so making sure my dissolved oxygens are very low. I can't entirely speak on how the wine will age but to my best knowledge, it should age just fine. That said, my whole motto is that these wines are meant to be popped and enjoyed.
What's the story behind the name of the winery, Disko, and the wine, Flower Power?
Trying to come up with a name was the most difficult part of trying to start a business for me. I made some nice serious wines, but I wanted to create a label that's fun and energetic and one that I can play around with, make fun labels and fun wines, that I love to drink and want to share. Disko just came to mind one day and I thought it was fun. And the first year I made the wine, it was labelled varietally, then in the second year, people were saying how flowery and aromatic it was, like a flower bomb, so I realised it has this kind of flower power. It's just another fun name to play with really.
Any food pairings you'd recommend?
I think it goes great with food. I'm not the best food pair-er because I think you should drink wine what you want with whatever food you want. But it's been nice with seafood, raw fish and ceviche because it has this zesty, zippy acid. If anything that'd be the first thing I'd think. And then I think harissa roasted carrots or sweet potatoes, something kind of sweet and spicy.
Isabelle's thoughts on Flower Power - This is a skin contact blend of Malvasia, Gewürztraminer and Chardonnay, macerated on skins for 2 weeks. It is bursting with notes of lychee, passionfruit and green mango, as well as lovely, balancing, dry herb flavors of fennel and aniseed. A touch of tannins brings texture to the finish. On paper all these flavors sound almost overpowering, but it actually works really well. This is a lovely, moreish wine that has structure, a bit of backbone and leaves you wanting more.
---
Bodega La Senda is a project founded by Diego Losada in 2012 in a small spot in Bierzo on the outskirts of his hometown, Ponferrada, in Spain. Millions of years ago, the valley of Bierzo was an inland sea, so Diego's soils contain a variety of minerals that contribute to his expressive, uncompromising wines.
Q&A with Diego Losada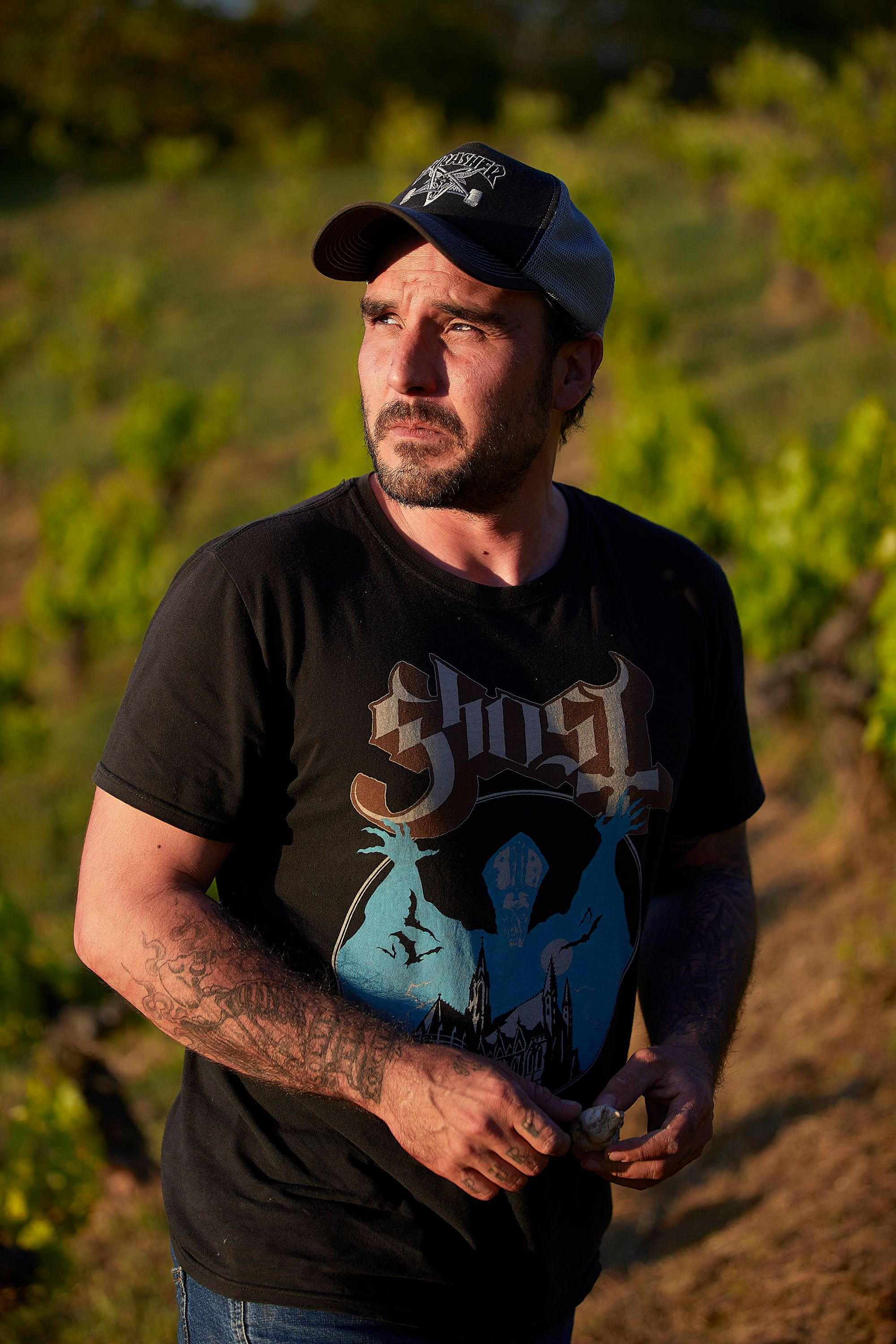 Can you tell me about your background - how you came to be a winemaker, and what influenced your style of farming and producing?
Everything began in 2006 - nobody in my family has made wine or has been involved in vineyards and I got into it somewhat accidentally. During my studies, which were in chemistry, I started working in a conventional cellar in 2006, then moved to another one. I really enjoyed making wine and working in the vineyards, especially the creative process you can find in it. You can see how the plants grow, then the grapes, then you take them and transform them into wine. I didn't learn to make wine, I learned how not to make wine, especially through working for conventional cellars. I realised there's a lot of things in the vineyard and cellar that to me were silly. Taking things out, replacing them with artificial products and all that kind of stuff. I didn't like it and feel more comfortable in just letting things be.
That's the way I like to make wines. When you don't focus on the technology or making up the wine, every vintage is a new adventure. Now is especially challenging because the weather is changing so quickly and the impact is so extreme. Sometimes it's not fun, but most of the time it pushes you to another level. You're always learning, staying active and trying to create the best thing that nature offers you year on year. I work with a lot of different varieties, soils and altitudes, and sometimes it can feel like you have to think too much, but really I need it to feel alive and to stay active. You can call it natural wine but I don't like to put labels on it because the outcome of the wine is so different year on year. Each vintage presents its own challenges and to me it's a question of keeping the fun, staying active and creating something without interfering with nature.
You studied chemistry - what made you go down that route and does that influence your winemaking?
Actually what I loved most in life then, and still do now, is music. But more often than not you can't feed yourself by playing music. I studied chemistry and enjoyed learning where things come from and how and why things happen. It's helped me a lot in understanding what happens within the winemaking process - how the grapes transform into an alcoholic beverage, the yeasts and how they interact, and all the things that happen along the way that change the grapes into the end result.
Do you have your own vineyard or work with multiple plots?
I rent vineyards because, here, in Bierzo in the northwest of Spain, we are a really small region. We have big valleys and mountains and it's difficult to acquire new land because people want to hold onto their property here. It's even more difficult when you get higher into the mountains and are looking for interesting plots at different altitudes and with different soils and such, so I rent and farm different vineyards using the methods I like.
I look for quite isolated places because I want to farm by myself and not have any neighbours using sprays or doing anything else that might interfere with my work and my plans for the vineyard. I like special places which are isolated with nobody around - that's the main thing to me. I work across 14 plots of 5 hectares, spread around the Bierzo area, which can be quite difficult and of course because of the steepness, you're unable to use machinery. Most of the grapes we have are hand harvested, which takes more work but retains the connection between farm and human. You can feel things before they happen, like disease, because you're living in the same moment as the plants. That's really important to me. When you don't work with artificial products, you have to be one step ahead and be able to predict what's going to happen.
Where do the grapes for the 1984 come from?
They grapes which are 100% Mencia come from three different plots in Bierzo not far from each other. It's a town that sits on the side of the mountain. The Mencia grapes here are very different to the grapes at the lower part of the valley. At the bottom you have a lot of clay soils, and when you start to climb the mountains, you find less clay and more minerals, lots of quartz, iron and some slate. And at around 600m, the grapes grow around a week later than those at the lowest part of the valley. It means you get a real difference within the same variety, due to different altitudes and soils. One of them is from one of the biggest plots I use which is a hectare.. The vines are between 80-90 years old and in the vineyard you find mostly Mencia but also white grape varieties. In old vineyards it's hard to find single variety plots.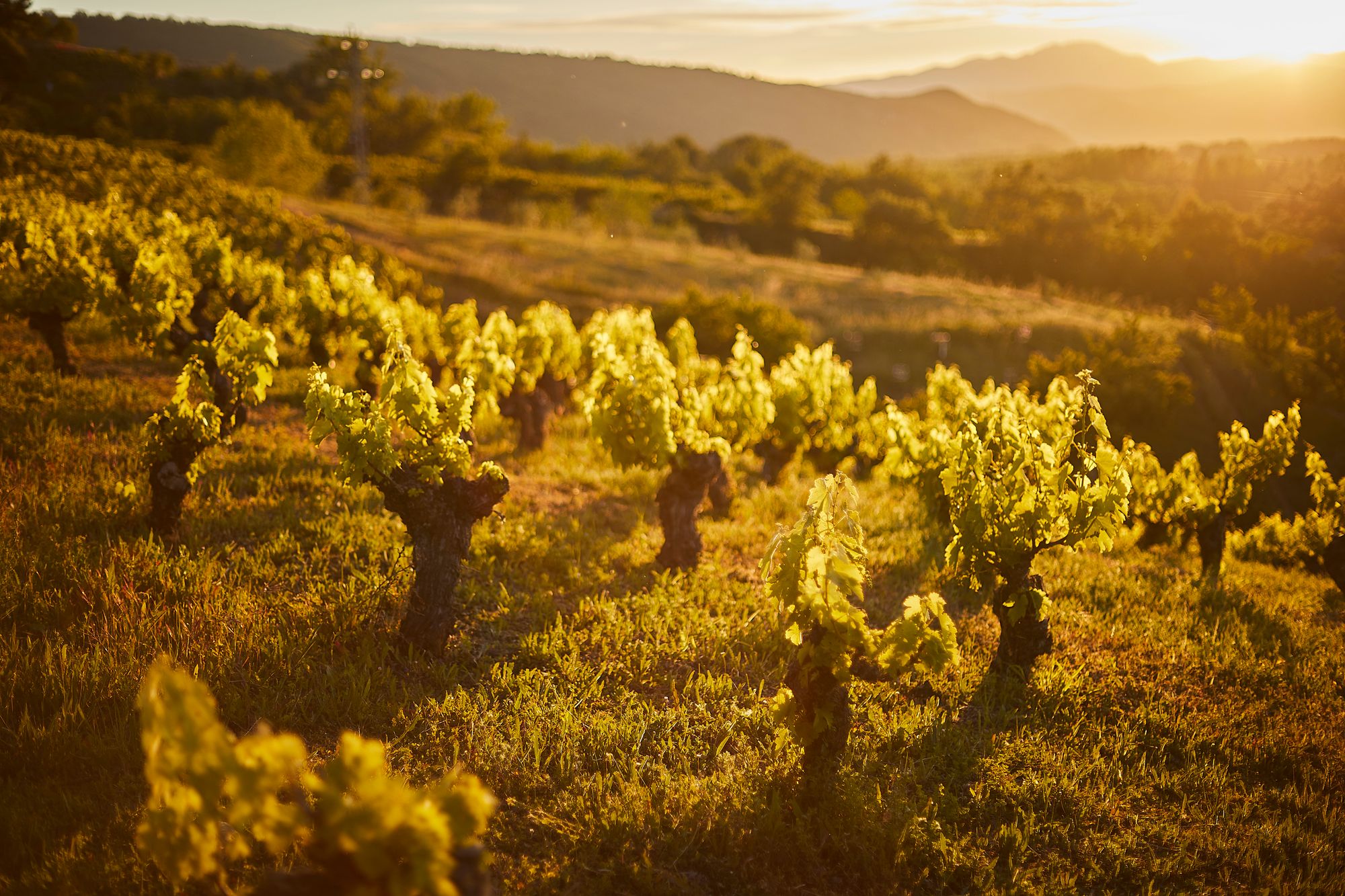 Can you describe the landscape and climate?
In Bierzo, the bottom part of the valley is around 500m altitude and the peaks are around 2000m altitude. Between the lowest and highest parts, there's around 30km more or less, so you can imagine how the steep the sides of the mountains can be. In the south of Bierzo, it's more humid and wet due to the mountains and wind they get. Usually you have a mix of Atlantic and Continental climate. With global warming, things are changing very quickly. If we get winds from the Atlantic, which is around 200km from here, the winter isn't too cold and we have just a couple days of snow, with a more rainy climate. Everything is green, we have big forests and mountains.
2021 was a really extreme vintage with double the rain as usual, high temperatures at noon, storms and fog in the morning, so I picked the grapes as fast as I could to avoid losing too many grapes. 2022 was the total the opposite, the driest and warmest year on record for the region. With global warming, we're facing more extremes. In the past, these extremes came every 10-20 years, now it happens so fast and every year is the opposite to the last. It's very hard to predict our climate and to make plans. You have to adapt and be more focussed on the vineyards than ever before so you can predict what's next as much as you can. Typically, we don't have the same sun and warmth as the rest of Spain. We have the mountains, the forests and the rain. To me, it makes a lovely place. There's only animals around.
Can you talk me through the process of making this wine?
It's a simple process. We wake up early, go to the vineyards and pick up the grapes, which are hand picked into around 15-18 boxes. Then I return to the cellar, which is a small space, and in 2021 I used big tanks of old oak, 60-70 years old, with the tops open. Most of the grapes were destemmed, and I left them until they started the alcoholic process. With skins, this takes 3-4 days. I don't rack or press, or do anything - I just let the grapes start fermenting. Then I take them out and put them in different sized oak barrels and leave them for a month for alcoholic and malolactic fermentation.
I always do it this way with the Mencia grapes. If you have skin contact for too long, you lose all the acidity and make a heavy wine. Because we live in a really fresh town, it doesn't make sense to me to make heavy wines. It's all in the balance, achieving not too much alcohol or colour. The whites are the opposite - I use really short periods of skin contact with the reds and really long contact with whites, around 2-4 months. After all the fermentation ends, I let the wine rest during the winter and rack before bottling.
Do you use any sulfites?
No I don't use any sulfites but I'm not precious about it - it's not because of any extreme ideals. I just don't use them because I work with in a really reductive way and the Mencia grapes are a really reductive variety. If I added more reductive things into it, it may not taste so good. What I will say though is that the 2021 has really low alcohol and low structure due to the rain, so if you leave the bottle open for more than 5-6 hours, it won't be as good. So I say it's a wine to drink by the bottle with friends, not by the glass on your own. It's about finding a balance between making sure people are happy drinking the wine and making a wine that's true to its vintage.
How would you describe the wine?
Because of the soils, it's quite mineral in the mouth and because of the rain we had in 2021, it's very smooth and easy to drink because of the low alcohol and low structure. Some red and some black fruits, really smooth tannins.
When is it best enjoyed? Now or later, if people want to age it further in the bottle?
I always imagine the same kind of scene - some kind of barbecue or al fresco dinner. Enjoying it with food cooked over fire, sitting and having conversation around the fire or the grill. Maybe it's too idealistic but it's what I think is perfect for this wine.
Any food pairings you'd recommend?
Red meat or fish. It's so drinkable and pairs with anything. Probably nothing heavy though. It's for drinking and enjoying with a group.
What's the story behind the name of the wine, 1984?
1984 was one of my favorite books in high school. I always loved science fiction and graphic novels and was always happier in the underground than the mainstream. When you start making wine, they're always under the umbrella of the DO and it's difficult to go outside of that and decide your own path. So it's about making things by yourself and for yourself, no f***ing rules, you know?
1984 represents my own way of thinking and it follows the story of the wine and the freedom to do things your own way. It sounded good in my head at the time anyway, not sure how it sounds now! It's also my birth year and the first wine I made back in 2014. I made only 3,000 bottles and now I make around 10,000-12,000 bottles depending on the vintage. But I try to grow in a controlled way and find a balance between that and it's like having children, letting the wines go their own way. Me against the world or something like that.
Isabelle's thoughts on 1984 - With 1984 we're in northwest Spain, in Bierzo known for its full-bodied, extracted, oaky, tannic wines made from the ubiquitous Mencia grape. Diego's wines though couldn't be more different as his focus is on freshness, elegance and crunch. Expect notes of red currants, blackcurrant leaf, some black peppery spice and licorice. This particular bottle is a slightly lighter expression than usual due to a challenging vintage marked by lots of rain.
---
Scythian Wine Company is a project by sommelier turned winemaker Rajat Parr and philosophy professor turned winemaker Abe Schoener, who collaborate to make natural wines from organic, dry farmed 100+ year old vines from the Cucamonga Valley in southern California.
Q&A with Rajat Parr
Can you tell me about your background - how you came to be a winemaker and what has influenced you along the way, prior to starting Scythian Wine Company?
I started out working in restaurants for 18 years, mostly drinking European - French - wine, and getting to know the history of it definitely got me interested, in learning about the vines and how they differ around the world. That's how it got me. Old vines in particular because, in the new world and in California especially, there's a lot more younger vineyards and so hearing that historical side really got my interest.
What led to you starting Scythian Wine Company? How did you and Abe Schoener cross paths?
I met Abe in around 2010 when I was working in a restaurant in San Francisco, I had my own restaurant there, and we connected on the topic of old vines. Then around 2018, he spent some time in Santa Barbara and was going to move to LA to start the Scholium Project - I think his first vintage was 2019. He and Christina Rasmussen came to LA at the same time and the three of us started kind of driving around Southern California looking at vineyards, at some of the old vineyards Abe had told me about. I had no idea about it really. That's when he started LA River Wine Company in 2019 and made the first vintage, so that's how we discovered all these vineyards, mostly drinking European wine.
Why were old vines so interesting to you? Why do they matter from a historical perspective?
Everyone in France and Spain would mention how old vines are better vines, so to me I always had this idea about old vines and then I went to the Canary Islands in 2017 and saw some vines which were 2-300 years old, which just got me intrigued. I came back to California and asked a friend of mine, where are the old vines in California? Who told me either up north in Sacramento or south of LA. It was just the history side of things and how much the Europeans admired old vines that got us interested.
Can you tell me about your other project, Phelan Farm, and how you work there?
Phelan Farm is where I live now, in Cambria. It's maybe 5-6 hours north of the vineyards in Cucamonga and we have 4.5 hectares of vines and some apples. We grow other things here, but mainly grapes. It's a very different climate. It's very coastal, cool, foggy and wet as opposed to the Cucamonga, which is warm and dry, and very sunny. Here at Phelan Farm, we have mostly Jura and Savoie varieties and farm in a regenerative way, with no chemicals in the vineyards or the cellar.
Are the Scythian wines made from grapes grown across different vineyards?
In 2022 we made six wines. Of the six wines, six are from Cucamonga and there's one called the Lone Wolf from Temecula which is further south. Cucamonga is definitely the focus, they're all quite close to each other.
Can you tell me about the Cucamonga vineyard this wine comes from?
Cucamonga Revolution comes from one single vineyard called Lopez. It has 5-6 hectares of Palomino and 25 hectares of Zinfandel. The soils are very sandy. It was planted between 1912 and 1918, just prior to prohibition so the grapes were sent to home winemakers around the US because at the time you couldn't buy alcohol. It was legal to sell the grapes, but not to sell alcohol. So people would make it themselves in their basements.
Is that history something that connected with you?
Oh, for sure. I mean, vines planted 100 years ago was always something that interested me. You don't talk about old vines, especially here in California.
Can you tell me a bit more about the climate in Cucamonga?
It's definitely a dry, arid kind of Mediterranean climate. This year there's been a lot of rainfall, but on an average year we only get 3-4 inches. It's bush vines, so no wires, and sandy soils. It's in the foothills of the mountains and is reminiscent of southern Spain with a very desert-like climate.
What grapes do you use for this?
It's 70% Zinfandel and 30% Palomino, which is a white variety.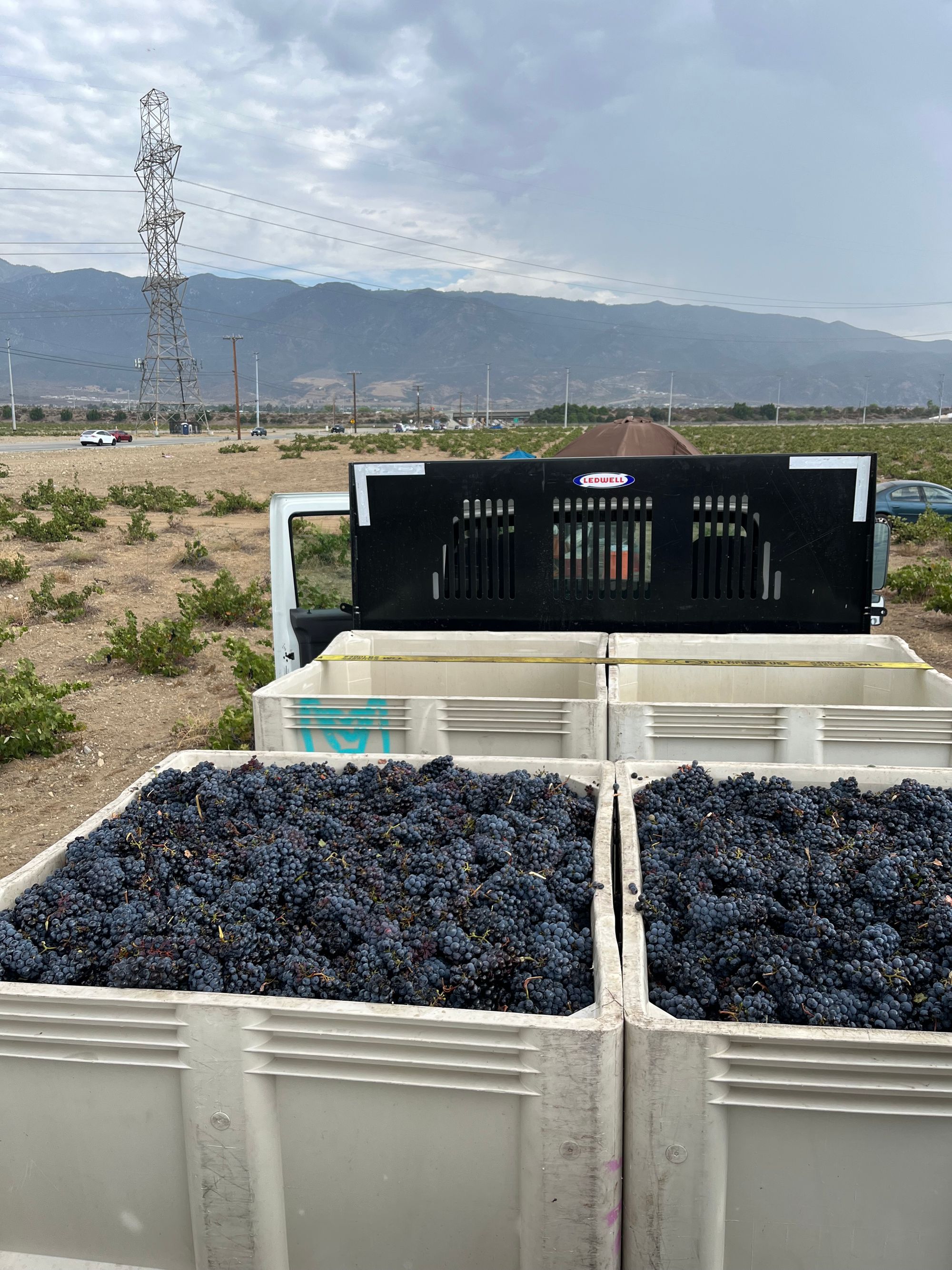 Can you talk me through the process of making this wine?
Everything is harvested by hand into small buckets and last year, the last couple of years have been around the beginning of August. In 2021 it was the beginning of September and it depends on the grape variety. We harvest by hand into buckets then into a half ton bin. It sits on a truck while we harvest and it's pretty warm. We can only harvest for a few hours by hand because we have these massive bush vines. When we're done, we drive the 40 minutes to the winery in downtown LA and put the grapes into stainless steel tanks, leave them there for a day or two, depending. You start smelling to see how the fermentation is taking off. Then we just do bucket overs by hand and it ferments slowly in old barrels over three weeks. Then we bottle in March.
Do you use any sulfites?
We added 2g of sulfur to the grapes because the winery is new and we don't have any yeast around us. We don't add any yeast or anything else, just 2g for the wine to ferment. We bottle without any additives, no sulfur at this stage, fining or filtration.
How would you describe the wine?
It's our first wine and more kind of, on fruit, a softer style and more easy drinking. I don't like tannic wines, so it has more of a silky texture, soft, fresh and lovely.
When is it best enjoyed? Now or later, if people want to age it further in the bottle?
Because it's our first vintage, I don't know how it would age, but I'd say it's more of a drink now kind of wine.
What's the story behind the name of the wine, Cucamonga Revolution, and the winery, Scythian?
Cucamonga isn't really well known, so we wanted to make a bit of a statement that we are trying to revive this region which has been totally forgotten for the most part.
What would you want people to know about Cucamonga who don't know anything about the area?
This is the old history of California, where grape growing started in southern California. It started in the 1800s and people don't know the real history of California because people think it's just Napa and Sonoma, which is fine as they're very important too, but this is the real history.
Any food pairings you'd recommend?
It's probably best paired with game and chicken, or maybe something with mushrooms. It works well because the wine is not very tannic, it's soft and juicy, so it works well with foods that also have that kind of softness to them.
Isabelle's thoughts on Cucamonga Revolution - This wine was made by the prolific Raj Parr from incredible, historic vineyards close to Los Angeles that were planted during Prohibition. Dry-farmed and long grown without the use of any human interference or agricultural products, these extraordinary bush vines are a long-forgotten slice of viticultural history. And the bottled results are just as wow. Like all Raj's wines that I have ever tasted, Cucamonga Revolution is incredibly elegant and restrained. It is an unusual, co-fermented blend of Zinfandel (80%) and Palomino. Pale purple in color, it is full of energy, oozing black mulberry, ripe pomegranate and an almost minty freshness. It is smoky on the palate and has a grippy, tannic texture.
---
Domaine de Botheland is run by Rémi and Laurence Dufaitre in Beaujolais, France. They make wine using whole bunches and a classic carbonic style, with no temperature control and minimal foot-stomping to achieve minimal juice in each tank.
Q&A with Rémi Dufaitre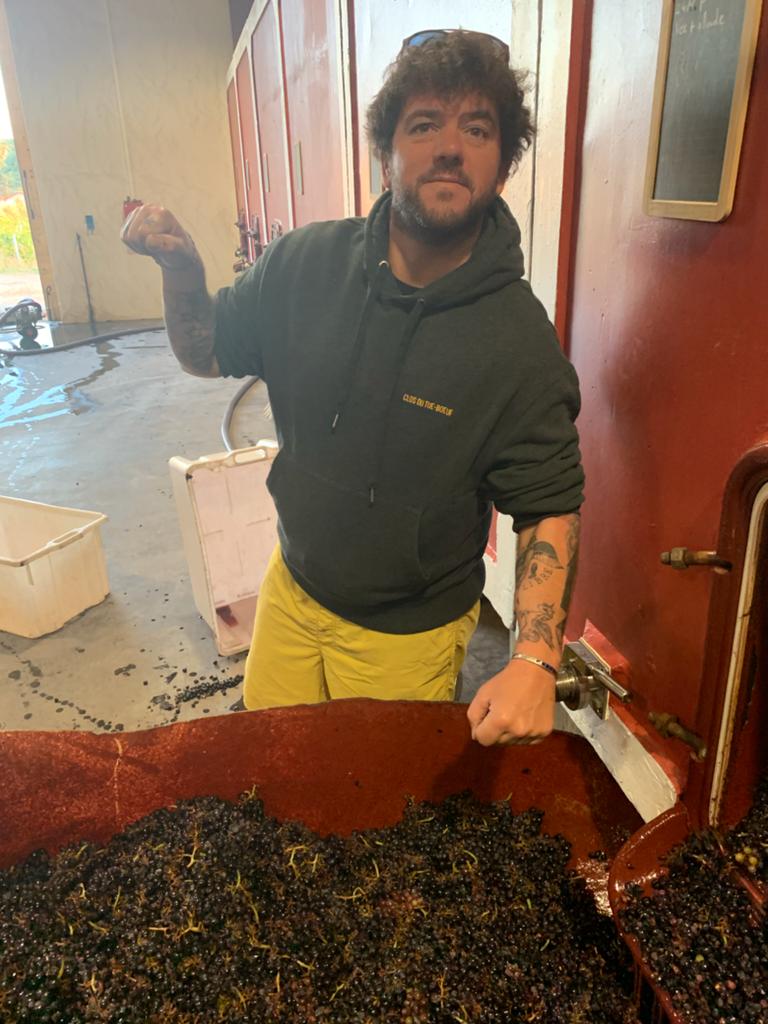 Can you tell me about your backgrounds - how you came to be winemakers?
It's quite simple really - I did many things before then I started to take over vineyards with Laurence as part of a cooperative. Through spending time at Domaine Jean Foillard [another Beaujolais winery], I caught the bug! We started out with a few plots and released our first vintage in 2011 with the help of Foillard and Thierry Puzelat. Now, we have 16 hectares that we farm organically as well as buying grapes for our Beaujolais nouveau.
What has influenced your style of farming and producing?
It is mainly my encounters along the way and, as we consume a lot of what we produce, we realized that we got much less sick with our wines. That was something that really played into the choices we made along the way. We love wine but wanted to take health and respect for the environment into account so the choice was easy: no chemistry in the vineyard or in the wine!
Can you describe the vineyard and its surroundings?
We built a building 2.5 years ago with two hectares around it. My house is 400m from the cellar with three hectares on sand mainly, alluviums of the Saône to be precise. All of it is very hilly. The other plots, around ten, are in the form of scattered islands all around the property, the furthest plot being 7km away, the others being located at 1.2 or 3 km.
Can you describe the soil and the terroir?
On the Beaujolais Villages, we are on very filtering soils - sand, alluviums of the Saône as I said. The vines here are about 50 years old on average. On the Brouilly, we are on 100% granite soils with 60 year old vines. On the Côtes de Brouilly, we are on schist soils and the vines are 75 years old.
How would you say Beaujolais has evolved in the time that you've been making wine?
I find the evolution quite positive in recent years even if the numbers remain low. Organic farming represents 2-5% of the appellation and production between 1-1.5%. This remains derisory but many young people are looking to settle. The negative evolution is that there are more and more large structures developing with owners from outside the region or foreigners, to the detriment of young people who want to settle or develop.
Has there been a change in the quantity and quality of natural Beaujolais coming out of the region?
Natural wines have improved significantly over the past 10 years, which is very positive. Winemakers have understood how to make clean wines! Previously, wines could be completely ruined and volatile with lots of acidity, reduction, etc.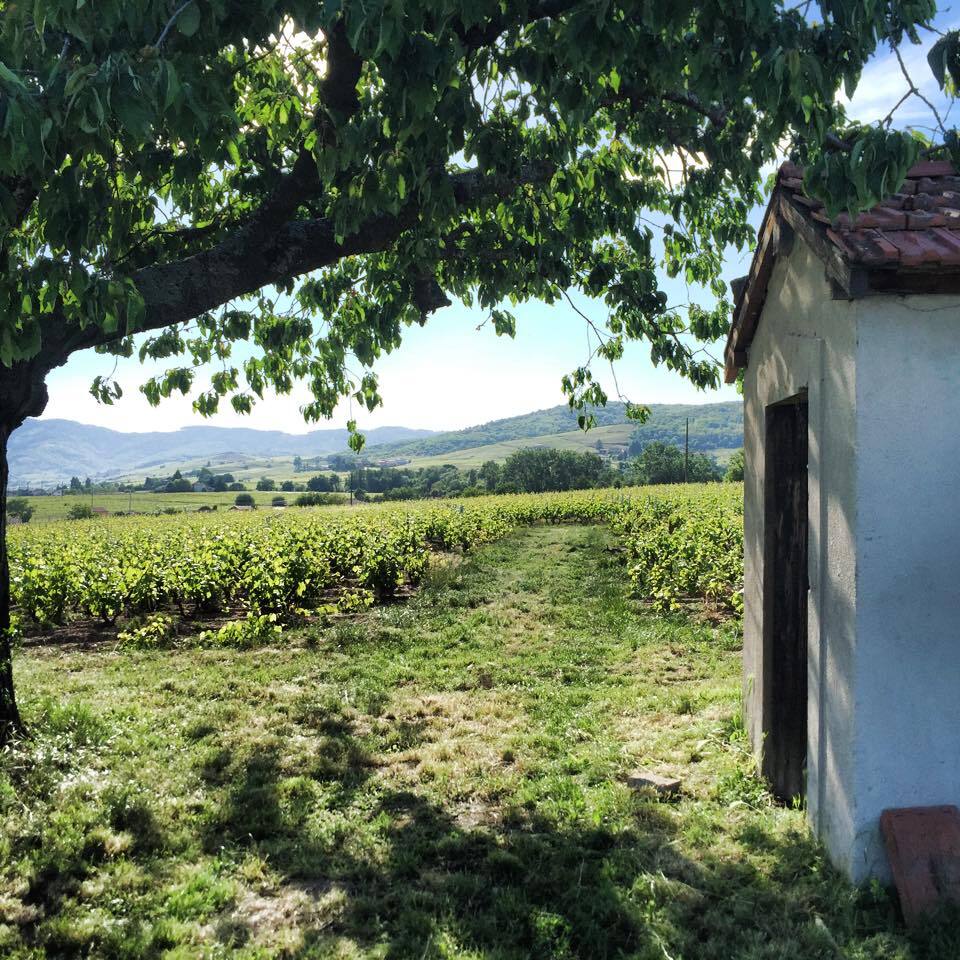 Can you talk me through the process of making this wine?
The process is almost the same for all the cuvées. We pick by hand into small crates as soon as is necessary. The daily harvest is stored in a cold room. We take it out the next morning, the grapes are around 6 degrees, and we put them in raw concrete tanks, still by hand. We saturate the tank with carbon dioxide until it starts fermenting 3-4 days later. The Brouilly usually ferments for about 20 days. The tank never exceeds 18 degrees Celsius. We then pass everything through a press and age it in concrete tanks and tronconic wooden vats. The end of fermentation and malolactic fermentation take place during ageing. In March, we draw off one moon before bottling, which usually takes place a month later! No filtration is done and no inputs are used. There was no addition of SO2 in 2020. The 2022 received 10mg at drawing off. I use sulfur exceptionally on more complicated cuvées, but never at bottling.
Which grapes have you used?
It's 100% Gamay from 60-year-old vines grown on granite.
What vessels did you use?
I always work with concrete tanks and large wooden vats to respect the terroir and keep the freshness of the Gamay.
How would you describe the wine?
This Brouilly is a super light and fresh wine even though the 2020 vintage is a particularly sunny year. It's a wine that I find delicious and mostly tense with a beautiful acidity. It 'pinotes' (tastes more like a pinot noir) a bit as it ages. It is elegant and lively. What I love about it is that it is really on the tension.
How does this vintage compare to others?
As I said, it's a slightly warmer and sunnier vintage compared to 2021 and 2022. It's a wine that has more substance than other years.
When is it best enjoyed? Now or later, if people want to age it further in the bottle?
It's ideal to drink it now, even though it's a wine that generally ages well.
Any food pairings you'd recommend?
It will go perfectly with grilled meat.
Isabelle's thoughts on Brouilly - A delicious, chewy Gamay from the wonderful cru 'Brouilly' in Beaujolais, full of ripe, dense flavors of blueberry and raspberry fruit, chewy tannins and floral notes of violets. The generosity and opulence are thanks to a warm, sunny vintage. Although it makes for great drinking now, good Gamay wines (which this most definitely is) can be surprisingly long-lived. I have had examples dating back to 1929 and 1949 that were incredibly drinkable. So whether you've planned it for tonight's supper or to welcome in the next century, you won't be disappointed!
---