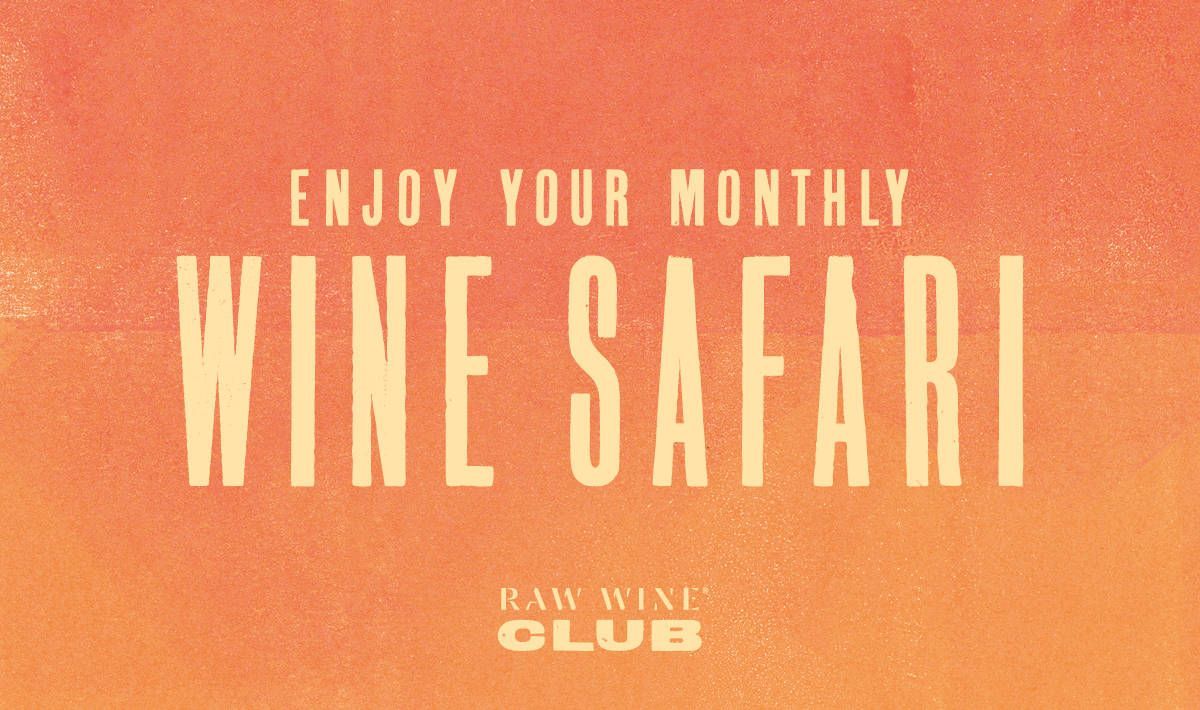 RAW WINE Club - Tasting Notes - July 2023 Selection
43 min read
Hello and happy summer!
Here's what awaits in this month's selection: a textured, creamy sparkling from Alsace; a fruit-driven white made from the unusual Mauzac grape variety; a wild, vibrant skin-contact expression of verdelho, Australian style; two different expressions of Carignan - a pale, spicy rosé made from old Mendocino Carignan vines and a crunchy, fruit-driven red from a rising star in southern France; and finally a serious, restrained Pinot Noir from cool, coastal South Africa.
Warmest wishes and happy exploring,
Isabelle Legeron MW, Founder of RAW WINE‌
---
Domaine Rietsch was founded by Pierre and Doris Rietsch in the early 1970s, who handed the winery down to their son, Jean-Pierre and his wife Sophie. Since 2008, they have farmed the 12-hectare estate organically.
Q&A with Jean-Pierre Rietsch
Can you tell me about Domaine Rietsch and how it came to be - was it your parents who founded the winery?
Domaine Rietsch was founded in 1987 as a cooperative farm with my parents. Before that, it was a family farm with various crops, animals, cereals and vines. In 1976, my father decided to specialize in viticulture and, in 1987, the farm became a cooperative. I started in 1987 and, in the 1990s, my sister and her husband joined us, until 2016 when we divided the vineyards.
In the same year, we created a partnership with another domain that employs disabled people, from whom we buy half of the grapes we use. These teams also help us with work in the vineyard. The social dimension is also present in our activities. We have always worked to create activities that allow young people with disabilities to train and obtain a vocational diploma. The estate is also a place that welcomes woofers (volunteers in organic farming).
We have recently created a trading company to prepare for the future, as I am approaching retirement and plan to lease my vineyards to one of my employees, while continuing to do some personal trading.
Had you always planned to follow in your parents' footsteps, or were there any other routes you explored?
As the eldest, I was predisposed to take over the operation. I had moments of doubt, but in the end, it is a profession that has allowed me to flourish and do other things on the side, such as ironwork and DIY.
How has the domaine developed since you and Sophie took over?
We were part of an association for a long time that allowed many winemakers to transition to organic farming gradually. I did not choose the biodynamic path as it is not necessarily my belief, although there are some very good aspects to consider.
We decided to convert the estate to organic farming in 2008, and today we are trying to cope with climate change and adapt our vineyard cultivation. We work on cover crops, green manure, and avoid harvesting overripe grapes to achieve vitality. I try to maintain a style focused on freshness and less on concentration, wood aging, etc., which explains the particular style of my wines.
Why is this way of working important to you?
It is important because aiming for vitality helps maintain a vineyard resistant to drought and other climatic constraints. The region is very dry due to the Vosges mountains acting as a barrier, retaining water from the west. Working on yield requires more time for macerations, and having a good team allows for quicker harvesting and immediate pressing. All of this clearly defines the wine's style.
Where are you based, and can you describe the vineyard and its surroundings?
We are located in Bas-Rhin, within the Alsace in northeast France. It is a beautiful region with landscapes composed of vineyards, orchards and hills, offering great diversity. In Mittelbergheim, where our estate is located, about 90% of the vineyards are organic, with around 20 organic domaines and many young winemakers sharing the same philosophy.
What's the soil and the terroir like where you are?
In our area, the base soil is clay-limestone with nuances of oolitic limestone in the south, and sandy and ferruginous limestone in the higher part, dating back to the Tertiary and Secondary periods. Not far from here, there is the grand cru Wiebelsberg, which is on pure sandstone, and the Kastelberg, which is schist. Geologically, it's a very interesting region with rocks ranging from the Primary era to the Tertiary era.
Is the wine you make typical of the region?
Yes, absolutely. We also have a portion of grapes sourced from the Molsheim area, which is on clay-limestone soil, and from Stierkopf, which is on sandstone soil.
Who would you say are the pioneers of natural wine in Alsace? Are they the inspiration behind your project to work in organic and natural methods?
The pioneers are well known, including Binner, Frick, Meyer, and others. Patrick Meyer was my mentor because he was well ahead in terms of organic farming. We were a great group conducting tests and blind tastings of organic and traditional wines. These tastings convinced us and opened my eyes to natural wine. It was truly the taste that guided me in my choices of cultivation. In 2006, I made my first attempt with red wine, and two years later, I continued with whites.
I must admit that wine bloggers played a crucial role in helping us market our wines and facilitating our first exports to Japan, Denmark, and other countries.
Can we speak of a boom in the production of natural wine in Alsace? And why do you think Alsace has changed so much in the last 10 years?
Certainly, everything is progressing in our profession, and the evolution is impressive. We are starting to make a small impact. However, it should be acknowledged that we only represent 10% of the total production in Alsace, which means there is still a long way to go due to the appellation's requirements, among other factors.
Can you talk me through the process of making this wine?
During the harvest, we train the harvesters in grape sorting, equipped with one white bucket and one black bucket. All the grapes destined for maceration wines are rigorously sorted into the white bucket and brought to large vats that trailers directly transport to the cellar. The grapes are either poured onto a conveyor belt or directly into the fermentation tank for maceration.
The sorted portion of grapes is taken to the press - these are the slightly less beautiful or damaged grapes. They undergo the same treatment. We let them settle for a few hours, often overnight, and the next day, we decant the juice and pour it back onto the whole sorted grapes. So we keep the entirety of the vineyard, but the damaged grapes are first pressed and clarified, and in case of any doubt, I take the juice to the lab to check for any excessive bacterial presence. If it's healthy, I reintegrate it with the whole grapes.
The macerations are often 'infusion' macerations, depending on the vintage. Sometimes there's more juice than whole grapes. In the case of a year with mildew, like in 2021, we had to adapt. We adjust the winemaking process based on the grape quality.
For terroir wines, the grapes are harvested for direct pressing. I'm thinking of Stein, the grand cru of Zotzenberg, although last year I also started doing infused macerations for those wines! Slightly macerated wines in our region tend to have better sugar fermentation. They ferment better than with direct pressing. It's also an alternative in response to climate change and most likely due to the fact that we provide more nutrients and the yeast populations are more present in the skins and pulp.
Which grapes have you used?
We used 60% Auxerrois, 25% Chardonnay, and 15% Pinot Gris for this Crémant. They come from dedicated parcels at the bottom of the slopes, which are productive, and I try to use them every year unless there are issues with diseases or mildew, etc. The grapes are vinified according to the specifications of Crémants d'Alsace - 150kg/100L of must. The fermentations are spontaneous, and I often blend two vintages for the base wine. For the tirage, I induce refermentation with a fresh indigenous yeast culture and grape juice from the following harvest, approximately 10% of the volume. This is an ancestral method that allows us to harvest fully ripe grapes and avoid adding sugar, which would increase the alcohol level by 1.5%. We can harvest the grapes at 12 or 12.5 degrees because adding a volume of the same density or slightly less doesn't increase the alcohol content. This results in a different flavor maturity, especially in terms of the perception of acidity, which is completely different between grapes harvested at 11 and grapes harvested at 12! That's also why I don't add any dosage liqueur, as it's unnecessary. Therefore, we disgorge the bottles and immediately seal them after removing the sediment.
What vessels did you use?
We use cement tanks lined with food-grade resin because the glass plates that were previously used have deteriorated. For red wines, I use stainless steel tanks to preserve the purity of the fruit. Large oak vats (foudres) are used for macerated whites or terroir wines.
Do you use any sulfites?
Ideally, I avoid using sulfites, but if the environment becomes bacterial during the first fermentation, I don't hesitate to add 10 or 15mg if needed. In the last three years, due to drought, I had to add 10mg during fermentation. The total is always below 10 mg/l.
How would you describe this wine?
This Crémant has already developed a certain aromatic bouquet due to the blend of two vintages. It exhibits toasted and autolytic notes with a hint of brioche flavor. It showcases a beautiful freshness and a perceptible salinity. The 25-year-old vines contribute to the wine's lovely minerality. Being dry, it has a sense of richness and glycerol due to the aging process. The slightly riper grapes also play a role in this.
How does this cuvée compare to other vintages?
This cuvée is made from two warm years (2019-2020) and has a maturity level of 12. It has substance and beautiful ripeness. Previous years were lighter in comparison.
When is it best to enjoy it? Now or later, if people want to further age it in the bottle?
I believe it can be aged for another year to fully appreciate the best of this Crémant. So, it should be enjoyed in the spring of next year!
Are there any food and wine pairings you would recommend?
Certainly, Crémants are often enjoyed as an aperitif with light snacks. It is also a gastronomic Crémant that can be enjoyed throughout a meal, even with desserts featuring fruits. A vegetable option could be root vegetables, such as carrots or kohlrabi.
Isabelle's thoughts on Crémant Brut Non Dosé - Alsace is one of the most exciting spots for natural wine at the moment. It has one of France's greatest concentrations of organic and biodynamic vineyards, its cellars are following suit at speed, and the result is a region that today is quite a hotbed for natural wine growing & making. Creamy and powerful, this bone-dry crémant shows lovely ripe yellow fruit (quince, apple, pear), some fresh toasted sourdough bread notes, and a fresh, moreish acidity.
TOTAL SULFITES: <10mg/L.
---
Laurent Cazottes runs a distillery and winery in Southwest France's Midi-Pyrenées, which is home to over a thousand years of fruit and vine growing traditions. He makes eau de vie, liqueurs and wine using organically grown fruits and sustainable vinification methods.
Q&A with Joanna Dubrawska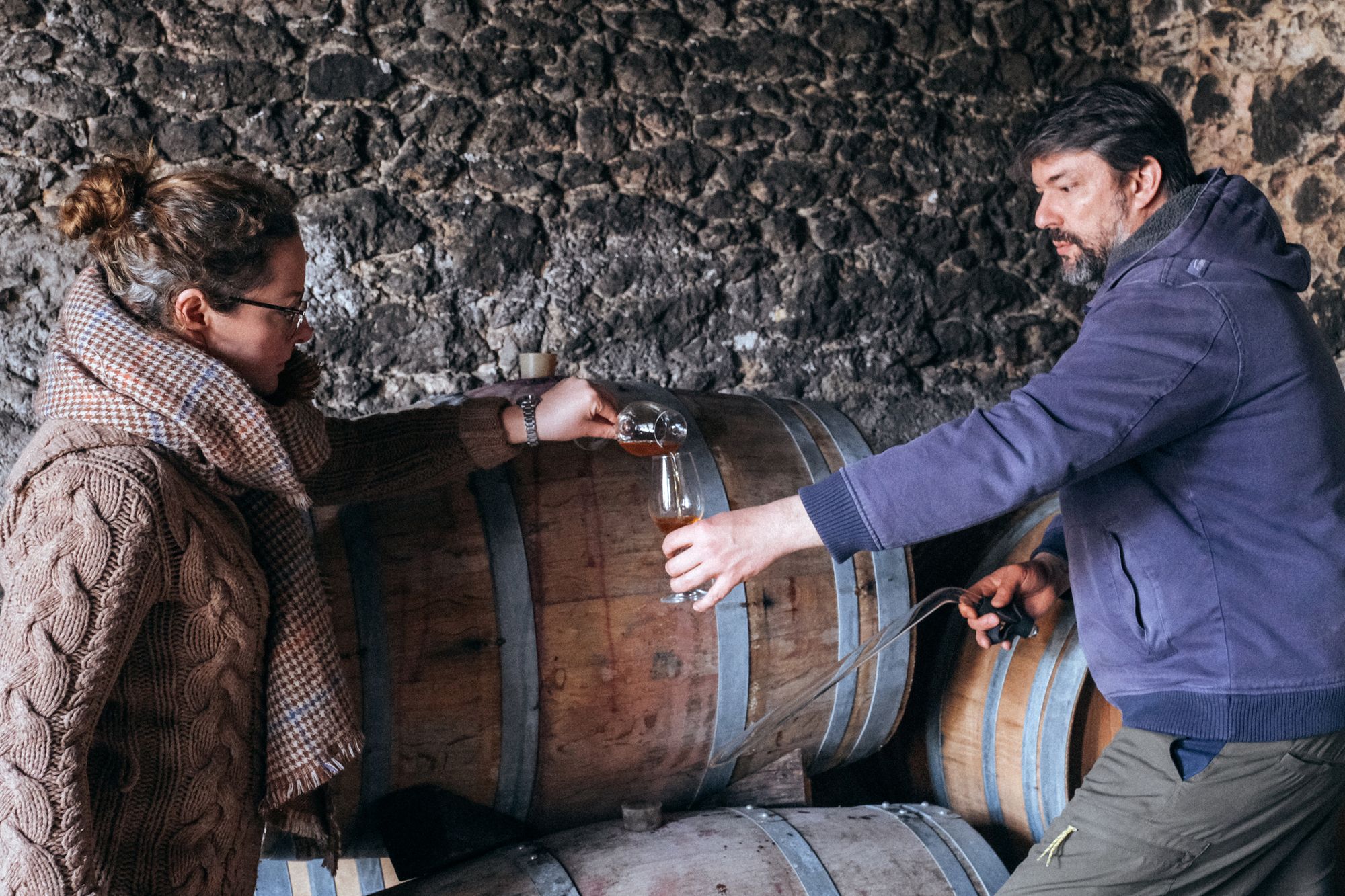 Can you tell me about your background and how you started out making spirits?
I'm from Poland originally and my background is in PR. I moved to Sicily where I was still working in PR, but for Azienda Agricola COS, where I worked for five years. After this, I moved to France and started to work with Philip Gimel in Provence, and then I started to make wine for Laurent and Cazottes. Today, one of my roles for Cazottes is winemaking and I also manage the vineyards. The wines and spirits we make share the same philosophy, and Laurent always wanted to make the spirits and liquors in the same way as wine, you know with vintages and concentration of the taste, with no additions - just the pure taste of the fruit. Laurent's family has been making wine for generations, at first just for themselves, then the first proper vintage was 2012. And the spirits started in 1998.
He followed in his father's footsteps, but his father was kind of a moonshiner, selling fruit to other people around the villages. When Laurent started, he decided to make it himself at home. He started working organically in the field and the cellar. Today we have four hectares of vineyards and around 11 hectares of different fruits, still working organically and using biodynamic treatments. We try to manipulate the wines as little as possible. But our main problem for many years is the malolactic fermentation, starts at the same time as the alcoholic fermentation which can make the wines volatile. It's not always possible to make wine without any sulfur, but we try to when we can. The Champetre Blanc has 15mg/L and I don't know if it helps to control the wine, but it helps me sleep at night. We've got a very small cellar which was Laurent's grandfather's, and sometimes collaborate with local producers working in the same way as, us as we don't grow an enormous amount of grapes. For example we get the Mauzac Blanc for this wine from a local producer, but are present for harvest and throughout vinification.
Can you tell me about the vineyard where the grapes for Champetre are grown?
The vineyard is around a 15 minute drive from our cellar, it's next to Cahuzac Sur Vère and is around 250m above sea level. The soil is composed of around 30cm of clay and the rest is all calcareous, pretty salty with iodic notes. But we have to remember that, especially white varieties, in the Garric region there's a lot of acidity there, so it's not exactly what you'd expect from a calcareous terroir. So yes, it's a little bit salty, but with this variety and in the Garric, it goes much more on the floral and fruity side with a lot of you nose of almost cider, apples and pears. That's the characteristic of the variety that you can taste in Champetre.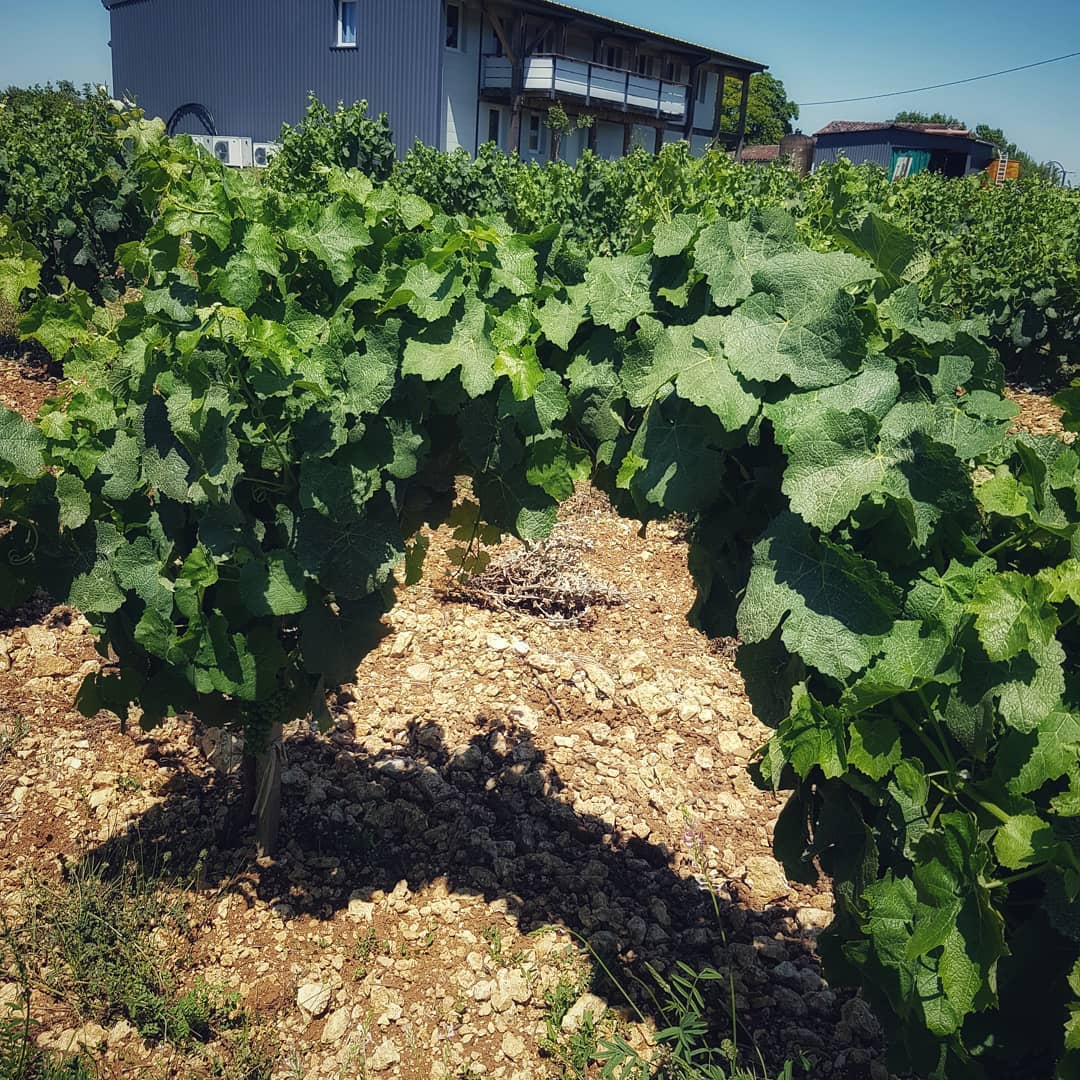 Which grapes have you used?
100% Mauzac Blanc.
Can you talk me through the process of making this wine?
We pick it up manually in the beginning of September, not too ripe to get some acidity and it's pressed directly. We get the temperature down to around 10 degrees in the tank overnight and then we are taking only the flower of the must. For the rest of fermentation there's no temperature control. We rack the wine normally twice – after the fermentation, which can take a few weeks, and before bottling, normally in the beginning of spring. The wine is vinified in the fiberglass tank or in the stainless-steel.  
When is it best enjoyed? Now or later, if people want to age it further in the bottle?
It really depends on the vintage and is a bit of a lottery. The Mauzac will be a bit oxidative, but I would say this vintage is safe to keep for six years. But once it's in the bottle you can enjoy it immediately.
How would you describe the wine?
So we are at 250m altitude and we have a lot of sunflowers, a lot of forest, a lot of soft water. And I think you'll find the wine to be very floral, it is not too acidic. Mauzac will always go in the direction of apples. It's very fruity and an amazine wine for an aperitif. It's very rich.
Any food pairings you'd recommend?
The food pairing isn't so obvious - it's not a white wine for, say, fish. But I think it works well with vegetables. Having lived in Sicily, I immediately think of tomatoes and cheese. But also quiche or vegetable tart.  
How does this vintage compare to others?
2020 was a good vintage actually, it doesn't happen very often! For us is was just right. The balance of rain, summer and temperature was perfect. Still very fruity but with nice notes of acidity. Not a lot of tannins as it's pressed clean and direct. No cloudiness. It wasn't a challenging vintage, so it's a really great wine to get hold of.
What's the story behind the name of the wine, Champetre?
It's a translation for kind of like, the wistful countryside, and I know that Laurent was planning to call it in this way to highlight the way we work with local producers and grapes, that it's all made at home.
Can you tell me about some of the other drinks you make, in case people are interested in exploring further?
Laurent started working on spirits in 1998 and always worked with a huge focus on organic fruit and knew how important this is for the distillation process. All it is, is concentrating. So if you use chemicals on your fruits, you're also concentrating the chemicals as you distill it, which will come out in the final laboratory analysis. With industrial distillates, you'll find a lot of chemicals, so it's really important for us to work in this way and more people are starting to work in an organic, artisanal way. But the problem for lots of people working artisanally is that they're still using industrial alcohol as the base and calling it organic. We use our own brandies as the base, which is made organically from the grapes we grow.
Isabelle's thoughts on Champêtre - Well-known in natural wine circles for their spirits and liqueurs, Cazottes has also quietly been making a lovely range of delicious still wines from obscure, local grapes. Champêtre is a soft, easy drinking, summer evening, type of wine. It is full of scented, white blossom notes, like acacia and honeysuckle, as well as mirabelle plums and a hint of licorice sweetness.
TOTAL SULFITES: 20mg/L.
---
Yetti & the Kokonut is a winery founded by Koen Janssens and David Geyer in South Australia's Barossa Valley. They source their grapes from organic and biodynamic vineyards - or vineyards they're working to convert to those farming practices - from all around South Australia, with a particular focus on obscure and forgotten varietals.
Q&A with Koen Janssens and David Geyer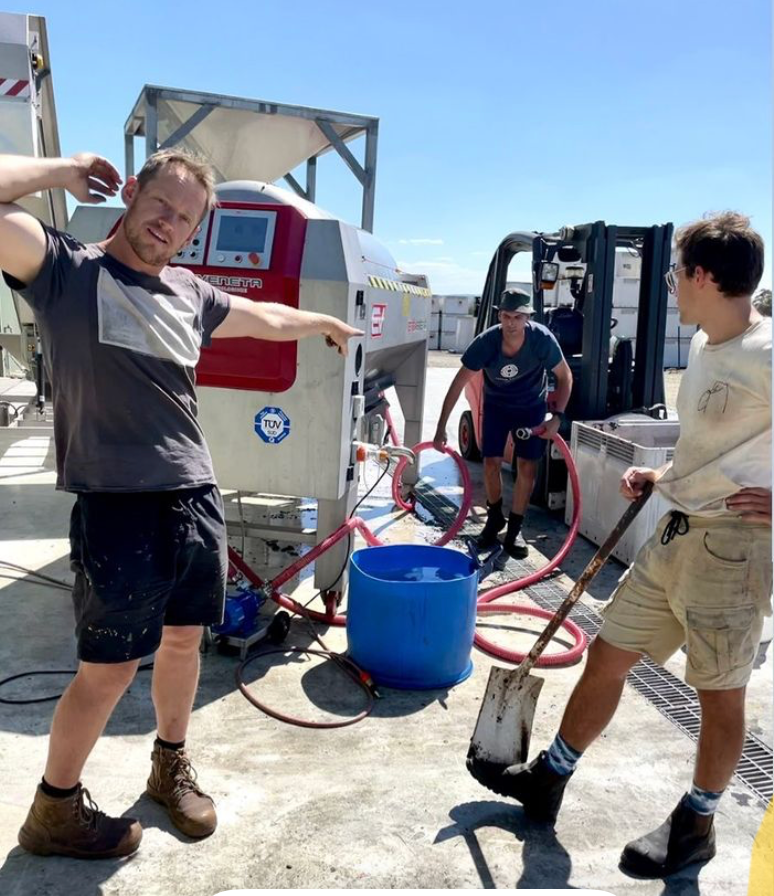 Can you tell me about your backgrounds, and how you both came together as winemakers?
David: I've been in the wine industry since I was about 15, here in the Barossa Valley. I started working on the vineyard side, then transitioned over to the cellar and did a lot of travelling overseas to work on different vintages. And that was sort of the inspiration to start making more and more wine - spending time in the Roussillon with Tom Lubbe at Domaine Matassa, and Craig Hawkins at Lammershoek in the Swartland (Craig now has his own winery, Testalonga). That was where I decided that natural wine, and winemaking in general, was something I was super passionate about. I was actually making another brand of wine when I met Koko (Koen), who was a sommelier at a restaurant here in Adelaide. He fed me a lot of drinks and, yeah, the rest is history.
Koen: I got you wasted! So I was born and raised in Belgium and started working in hospitality at a fairly young age - doing dishes at 14 and was in the kitchen at 16, before transitioning to front of house. Then I became a sommelier around 18 after graduating from 'hospitality high school'. I worked in Michelin starred restaurants in Belgium, France and The Netherlands. I arrived in Australia 2012, mainly for a party. I lived in Sydney for 6 months  and didn't really vibe with it, so I moved to Adelaide to do my first vintage ever with Jauma Wines. I just fell in love with winemaking - and I fell in love with my wife, which is also the reason I decided to stay in Australia. I met Dave at Bistro Dom, he showed me his wines one day and we became friends from there. Then one year later, he came into Africola. A new restaurant back then, with his wife and two other friends. I'm a massive fan of Madeira and this one variety called Sercial, so I said to him I have this killer bottle - a '87 from D'Oliveiras - you need to try it. And I'm not sure if you still remember, Dave, but you said, 'Actually my father-in-law has got this planted and there's a vintage coming up, fancy making some wine? So that's how Yetti & the Kokonut came together.
How about your winemaking philosophy? How did you both align on that?
Koen: I think we just bonded over the same passion for wine but also that wine isn't just about the winemaking, it's about the vineyard. Dave and I are very likeminded - the wines we drink, although we have very different backgrounds coming from Belgium and the Barossa Valley, our influences were the same.
David: We sort of always wanted to push the boundaries, even when Koko was at Africola - he'd always put some weird stuff on the list and that was really interesting to me. The chemistry at the start was all about pushing boundaries and our first wine, we destemmed it with no heads in it and didn't punch it down. We didn't do anything for about a week and it went volatile, but we decided to just ride it out. Nobody else is doing that, or that's not how you're supposed to do it, so it's kind of just about sticking the finger up to the mainstream winemaking industry
What's the story behind the name, Yetti & the Kokonut?
David: I've been known as Yetti for about 15 years, going back to when I was a quite a large boy with dreadlocks down to my shoulder blades, just a big lumbering lug of a person.
Koen: And English people can't pronounce my name - my name is pronounced Kun, but a lot of people say Cohen or Colin or whatever. Then during a vintage, a dog on the winery was called Coco and someone was shouting quite annoyed  at him and I thought it was directed at me. But they said, 'You're more of a coconut than coco,' so that's where the nickname started.
What kind of wines do you like to make, and why?
David: Growing up in the Barossa Valley, it always felt like it was not quite right the way it was being done. To hang fruit to get exorbitant alcohol, add acid and all that kind of stuff people were doing. It didn't make sense to me. So when Koko and I first started making wines, it was all about picking the grapes at the right time and not having to add acid, or sulfur. About the varieties that interested us - Verdello, Gewurzstraminer, Sercial - and that had been forgotten about or discarded here in Barossa. That's what drew us to making something that people still found approachable and delicious, with grapes that noone else cared about.
What led you down the route of using grapes from leased or managed vineyards, rather than your own?
David: It's always been monetary really, and we've got a 10-year lease on a 40-acre vineyard which keeps me well and truly entertained for the majority of the year. The parcels we seek out are always extremely far apart, like we've got one in Eden Valley and a group in McLaren Vale, so to maintain all of that would take an army of people. When we started, it was just me and Koko, not even as our full-time job, so it just wasn't viable for us. And a lot of time you're looking at the history of of a vineyard and it's been run by the same family for 3 or 4 generations. They know what they need to do you ,just need to you just need to encourage them to change a few things and put a bit more back into the vineyard and that kind of thing. But it was always logistics.
How is climate change affecting your work?
David: It's the unpredictability of the climate. We had a hail event last year before we took the lease over on a vineyard, which has put us back 2 years to where we need to be. We had an extremely wet ripening season this year where we had rain where we just didn't expect it, and high powdery and downy mildew pressures - things that you wouldn't be expecting in a dry climate like South Australia or at least the Barossa Valley. Climate change is definitely affecting us in that way, but we always come back to good viticulture, which I think tends to smooth over a lot of those those high ebbs and flows. You can have hot spells, but if your vines are healthy then they get through them better.
How has the natural wine scene developed in Australia, and is there anyone you see as a pioneer?
Koen: There's four winemakers - James Erskine from Jauma Wines, Tom Shobbrook from Shobbrook wines, Anton Van Klopper from Lucy Margaux and Sam Hughes from Dandy in the Clos - who I'd say are the godfathers, the ones that broke apart the wine scene as it was and made natural wine a hot topic in Australia. About five years ago there was a really big boom, a touch after when Dave and I started. There used to be a big group of people really sticking together and exchanging information, whereas now it's more clustered and separated.
What grapes have you used for Salsa Verde and can you tell me about the vineyard they came from?
David: This is one a 100% Verdello from a vineyard we source fruit from down in McLaren Vale called Gem Tree Vineyards. They're biodynamic and organic certified, which makes our job a hell of a lot easier. They're maybe 10 kilometres away from the ocean, so they get that Mediterranean influence or sea influence. It's perfectly run and they have plenty of grass under the vines. They don't work the soil at all really so it works well for what we're aiming for.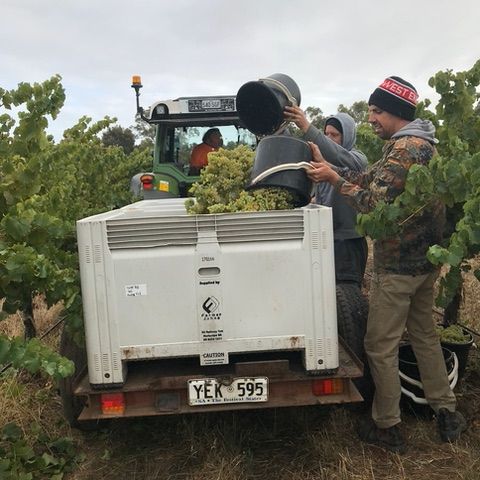 What kind of soil do they have?
Koen: It's a sand soil over loam, over brown clay. But the McLaren Vale is like a checkers board when it comes to soil, it's very disrupted there if you look at a map. It's like a rainbow with all the soils next to each other - it's ridiculous, really.
Can you talk me through the process of making this wine?
David: We organize a crew to go out and get the vineyard picked. We check the fruit quality in the bins and then that makes the drive back to our winery in the Barossa. It's about a 2 hour drive and when it gets gets the winery, we get all in to ferment and it's treated every day with pumpovers. We want this one to be an orange wine, so we see how far we can push it in the way of oxidation, so do pumpovers 15 mintues at a time, morning and afternoon for 10-14 days. After this, it should have a good amount of structure, be quite textural and grippy, but still with this nice vibrant acidity, and you start to get those tropical notes from the oxidation. So we press and get it into foudres (neutral French oak barrels) where it ages, on lees, for about 12 months.
Do you use any sulfites?
David: This gets sulfites at the crush, around 10 parts, and we find that just tightens up any bacterial issues and negates any issues further down the line.
How would you describe the wine?
Koen: It's basically like you're driving a red Mini Cooper in the heart of London, with blue neon lights and Elton John blasting through the speakers while it's pelting down with dark cold rain the middle of winter! No but, if you keep in mind that Verdello is a very primary driven variety, in terms of the aromas, it's always very fruit-forward and exotic in style. So when you amplify that with skin contact, you get quite a bold structure and give it more complexity. It has a multi-layered, explosive nose, with touches of peach, pineapple, mango and, at the same time, dry hay. Then you get a touch of vanilla flower and frangipani flower, and a soft touch of white pepper - they kind of dance together like a beautiful salsa. The mouthfeel has a kind of opulent viscosity, then you get that complexity again with amazing acidity that holds it all together and lifts it all up, with a never ending flow. It's amazing.
Why the name, Salsa Verde?
Koen: We write names on all our barrels - I wrote VDLO on this one, because of it being Verdello, but somehow just from spitballing names for it as you do, it evolved from VDLO to SV then to Salsa Verde, so it evolved over the vintage.
How does this vintage, 2021, compare to others?
Koen: Well, there's not much change between vintages I'd say. If anything, it would be from the barrels we use that have changed, as in the last vintage we changed the kind of oak we use. In the the last vintage, we put it into Stockinger oak, which is a different type of oak grain with a light charr on it.
David: We started off in small format - like hogsheads rather than large foudres - but the techniques have stayed the same.
When is it best enjoyed? Now or later, if people want to age it further in the bottle?
Koen: There's heaps of acidity which tends to hold the wine together, so if you like to age wines in the bottle, I say just go your hardest. You know, wine is a living organism in its own you know entity and you can win big time,  but you can lose very hard too. I can't really tell you what to do, it's more about what you enjoy yourself. And it doesn't matter if you're in the park, or at the beach, if it's summer or it's winter, if you're at a wedding or a funeral, with your mum or your dad or your best mate, at a is a family party that you absolutely hate because your uncle's pissing you off - it's for any moment of your life. I think as a winemaker, my biggest achievement that I could get is to be a second in someone's timeframe. The biggest compliment you can have as a winemaker is when become a part of someone's life and and become part of their story in, hopefully, in a positive way.
David: You're chasing the capacity to allow people to have an experience that's tied to your wine, and for it to be a pivotal point. Even if it's, as Koen said, at a funeral or with that uncle you don't like, it's all about creating experiences and making sure the wine fits.
Any food pairings you'd recommend?
Koen: We have a whole menu! As an entree, I'd say keep it simple and go for a prawn cocktail and just make sure you use a little cognac in the sauce because that freshness and acidity will bring together the freshness of the Salsa Verde and the protein character of the prawns. Then for your main, I'd say something like turbot, maybe with a little char on the outside so when you cut it open, it's kind of this bright, slightly pink white. It's the fattiness from the fish that works well with the wine. For a veggie option, I'd go for a stir fry with soy sauce and maybe even add a dash of this wine when cooking to balance out the soy. Then as a dessert, I'd say crepes suzette.
Isabelle's thoughts on Salsa Verde - David and Koen craft a creative, eclectic range of wines from slightly-out-of-the-ordinary grapes. Each one has bags of personality. Salsa Verde is a wild cocktail of lime juice, lime zest, pineapple, hemp flower and celery stick notes that also shows great complexity and depth of flavor.
TOTAL SULFITES: 21 mg/L.
---
Vinca Minor is a Berkeley-based winery run by grower and maker Jason Charles, supported by his wife Emily Charles, who runs the programming and events, and their daughter Ava. They work with historic vineyards, with a particular focus on old vine Carignan.
Q&A with Jason Charles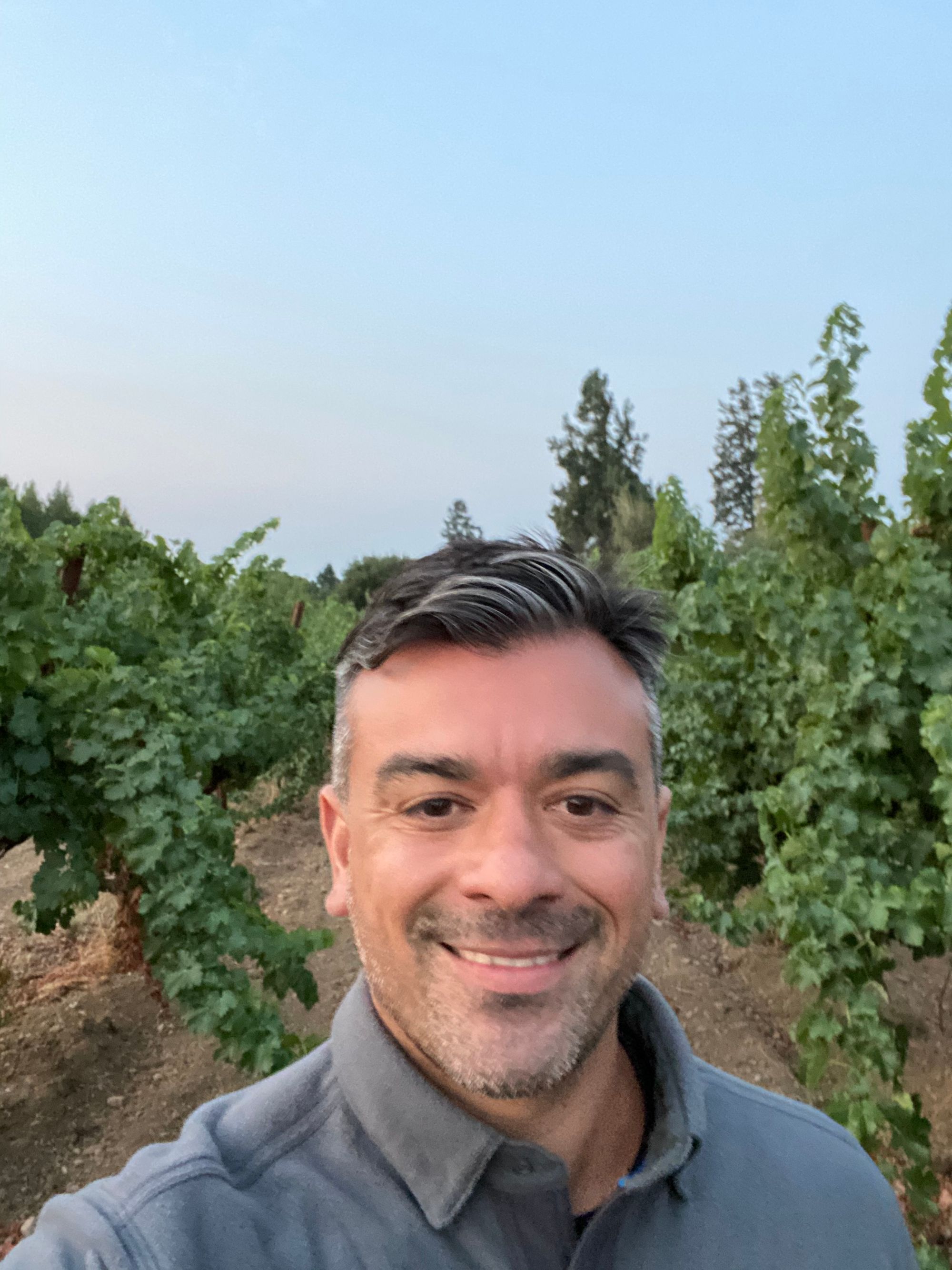 Can you tell me about your background, and how you came to be a winemaker?
I grew up in Lapeer, Michigan which is a small town in the midwest. I didn't grow up with wine - I grew up wanting to become a photojournalist, and that allowed me to travel after my college years. Living in Spain, specifically Barcelona, in my twenties, I was young, and curious and inspired, and even though I had no wine knowledge, I became very interested culturally in what was happening with food and wine in general, and very quickly I realized how important wine was culturally. From there, I moved to New York City to continue pursuing photojournalism, and I ended up in the restaurant industry. There, I think I very quickly realized that I was surrounded with some really, really thoughtful and talented wine professionals and there were a lot of European producers coming into town. I started going to tastings and that's really where I fell in love with wine. My wife and I made a trip to California back in around 2006, in Napa and Sonoma and I think it was then that I realised I wanted to make a career change. I moved to California, got a job in Napa Valley as a production assistant and that's where it began.
How did you go from there to having your own winery?
You know, I was really lucky. There was a gentleman in Napa that I worked with called Luc Morlet, who's originally from Champagne. He was a consulting winemaker in Napa and also had his own estate. I was lucky because I was working on his production team and once in a while, he would send me with his farming team to prune and work in the vineyards, and on other days I'd be with him at a different property where he'd be consulting. Within just a couple of years, I was able to see every side of production, from farming to the cellar, and even going to fairs and selling wine. It sort of expedited the process of of learning very, very quickly and I realised I was able to start making my own decisions and the direction that I wanted to go in one day if I had the opportunity to make my own wine.
Do you have your own vineyards or buy your grapes?
We don't own any vineyards but I have aligned myself with a handful of growers who have been around for generations in Northern California. For example, the old vine Carignan is farmed by Pete Johnson, who is a sixth generation grape grower and he's been organic since day one. He's certified and he just an incredible farmer. He's been doing this for generations, so as a winery, we have aligned ourselves with with growers like Pete and we get access to these incredible grapes and have developed these really special relationships in Northern California, specifically Mendocino.
For us, it's always been about telling the story of some of these incredible vineyards up in Northern California and work incredibly minimally. It's really important for us to tell the story of the growers and to make energetic, bright and fresh wines - whether it's rosé or red, that's out style across the board. We love to explore Mendocino's history, specifically through the lens of Carignan. whether they're rose or I even like to describe the Karen Young red as just being very very bright and energetic and and and focused and that's that's something That's ah, very much our style across the board and but also you know for us, we just love to explore.
Was it a conscious choice to work with more historic vineyards, and old vines for Carignan?
It wasn't initially. It started because I was working in Napa and I knew I was about to start a small wine brand. I was priced out of Napa and I also had no real interest  in working with Cabernet. I had a few friends who were already working in Mendocino, with some some old vine Zinfandel and Mourvedre, then some Carignan became available and I had never really worked with it before. And to be honest, very early on my in my career, I had never really had that many 100% Carignans. So there were just a few things that checked the box for me. I had access to vineyards that were probably 100 years old, so to me that right away seemed incredibly special - that I, as a young winemaker, could access these really old grapes. Then on top of that, they were certified organic and I just very quickly connected with the region.
That was where it began, and then over time I realized that working with old vine fruits was just incredible. Here we are in Northern California amongst all this history. A lot of these vineyards were planted in the late 1800s and still farmed by the same family. I fell in love with the Carignan, the fruit and the vineyards, and every year we've just been kind of digging in a little bit further, exploring more and learning more. And it's really just trying to tell the story.
What's the natural wine scene like in California, and how have you seen it evolve?
What's happening right now in Northern California is truly exciting. It feels like it just keeps growing, and the community just keeps getting stronger and stronger. When I launched Vinca Minor back in 2013, I don't really think there was a whole lot of discussion around natural wine. Of course, there was Tony Coturri as early as the 1970s, and a few other producers, but it still felt very underground and very niche. Fast forward to 2023, and this past weekend I was able to present my wines at a really incredible, thoughtful wine fair up in Sonoma called Big Wine Fest up in the Redwoods and I was surrounded by natural winemakers. A lot of them were just beginning their kind of their winemaking journey and making a couple hundred cases. The natural wine scene is really growing.
Are you seeing any impact from climate change in the work that you do?
Over the past few years in California in general, there's there's been a lot of fires and I think we are going to keep having to deal with that. Some years are going to be pretty mellow, and other years are going to be a little bit more intense, and that will help us change our picking decisions and the way we choose to ferment. And we are starting to work with other fruits, like apples and pears. I feel like we just have to keep evolving. I don't think any of us are going to leave California. We absolutely love it here and, at the end of the day, the quality of life and the history of the vineyards will allow us to continue to make wine. It's just about adapting.
What's the meaning of the name, Vinca Minor?
Vinca Minor is the Latin translation for the flower periwinkle, which is this really pretty purple flower. And the words Vinca Minor felt very abstract and like I could use it and it mean many things. It gives me a lot of freedom to work within that.
Can you tell me about the vineyard that the grapes for this wine come from?
The Carignan for the rosé comes from the Redwood Valley in Northern Mendocino and it tends to be a little bit cooler, then at night you have a lot of coastal influence. The grapes tend to have a little longer to develop flavor and profile, and they're always backed up with a ton of natural acidity, which is really pretty. That's one of the things that I really love about Carignan is that there's such a range that you can work within the varietal. You can pick it very early and have these like really delicate bright characteristics, always with acid, or you can go in and pick later and have more complex fruit, but still backed up with with really fresh acidity. That's one of the reasons I think I fell in love with with Carignan is its diversity, especially from this vineyard, Hawkeye Ranch up in Redwood Valley. It's the perfect spot.
What's the soil and terroir like?
It's a very rocky, iron-rich clay, which is really well drained. Because of the terroir and the rocky soils, you get more of a lighter, brighter essence of Carignan than if you go a little further south in Mendocino where you get very heavy clay and you tend to get a little bit heavier, dense wines but Redwood Valley is just perfect for making these very delicate, bright rosés.
Can you talk me through the process of making this wine?
The Carignan is hand harvested in the middle of September with Pete's crew and the grapes will go into these quarter-ton bins. We jump in there and foot tread everything, whole cluster. The stems are in there with the grapes and we just want to break up the berries and allow the juice to soak for a little bit with the stems and the skins, and then we'll put it directly in for a gentle press. The juice will go to stainless steel tanks and settle, then from there we take the juice and divide it into older French oak barrels and then also stainless steel barrels, where it will ferment naturally at a cooler temperature for a slower ferment. After around 20 days, the fermentation starts to slow down and goes dry.
We'll keep them in the tanks and in the older barrels, and through the winter it will finish malolactic fermentation. Then usually around end of February or March, we'll take the juice from the barrels and the stainless, and combine everything into a larger stainless steel tank. We'll get it off the lees, rack very cleanly, put them in the tank and let it settle. Then from there we bottle - unfined, unfiltered and, because the Carignan rosé is so high in acid and so low in alcohol, we don't really have to use much sulfites at all. It's usually 5 to 10 parts of sulfites, prior to bottling.
How would you describe the wine?
This particular vintage of Carignan rosé is so bright and delicate and and really acid driven - it's the perfect summer rosé and is barely 11% alcohol. There's a slight essence of under ripe strawberries, and watermelon and herbs. We've made some rosés in the past that were a little bit more fruity and dense, but the 2022 vintage was so lean and bright and acid driven that, for me, it's the perfect wine for summer and for when you're eating lighter dishes.
Any food pairings you'd recommend?
It's great as an aperitif with soft cheeses, grilled fish or fresh oysters. At times there's this saline minerality to the rosé that makes it pair especially well with oysters.
When is it best enjoyed? Now or later, if people want to age it further in the bottle?
I've been able to go back and and open up some rosés in the past that have 4 years of age on them and they're still really pretty. Some of the primary fruits have disappeared and there's this kind of fun, savory, nutty quality to it. For me though, I'd say drink now, because it's so bright and fresh and we're in the middle of summer. But if you have an opportunity to hide a couple of bottles away, it'll take on some lovely qualities with ageing.
Isabelle's thoughts on Carignan Rosé - This is a low-alcohol, thirst-quenching, pale rosé that is quite Provençal thanks to its delicate style. Full of crunchy white- and red-currants, it is almost herbal in its mintiness, with notes of blackcurrant leaf and a dash of mace spice.
TOTAL SULFITES: 10mg/L.
---
Thomas Angles is a winery located near Cessenon-sur-Orb and Saint-Chinian in the Languedoc region of France (in the Saint-Chinian appellation). The estate extends across 5 hectares of limestone, clay and silt old dry-framed vines. Thomas has been producing red wines since 2020, using local varieties as well as Alicante and Syrah.
Q&A with Thomas Angles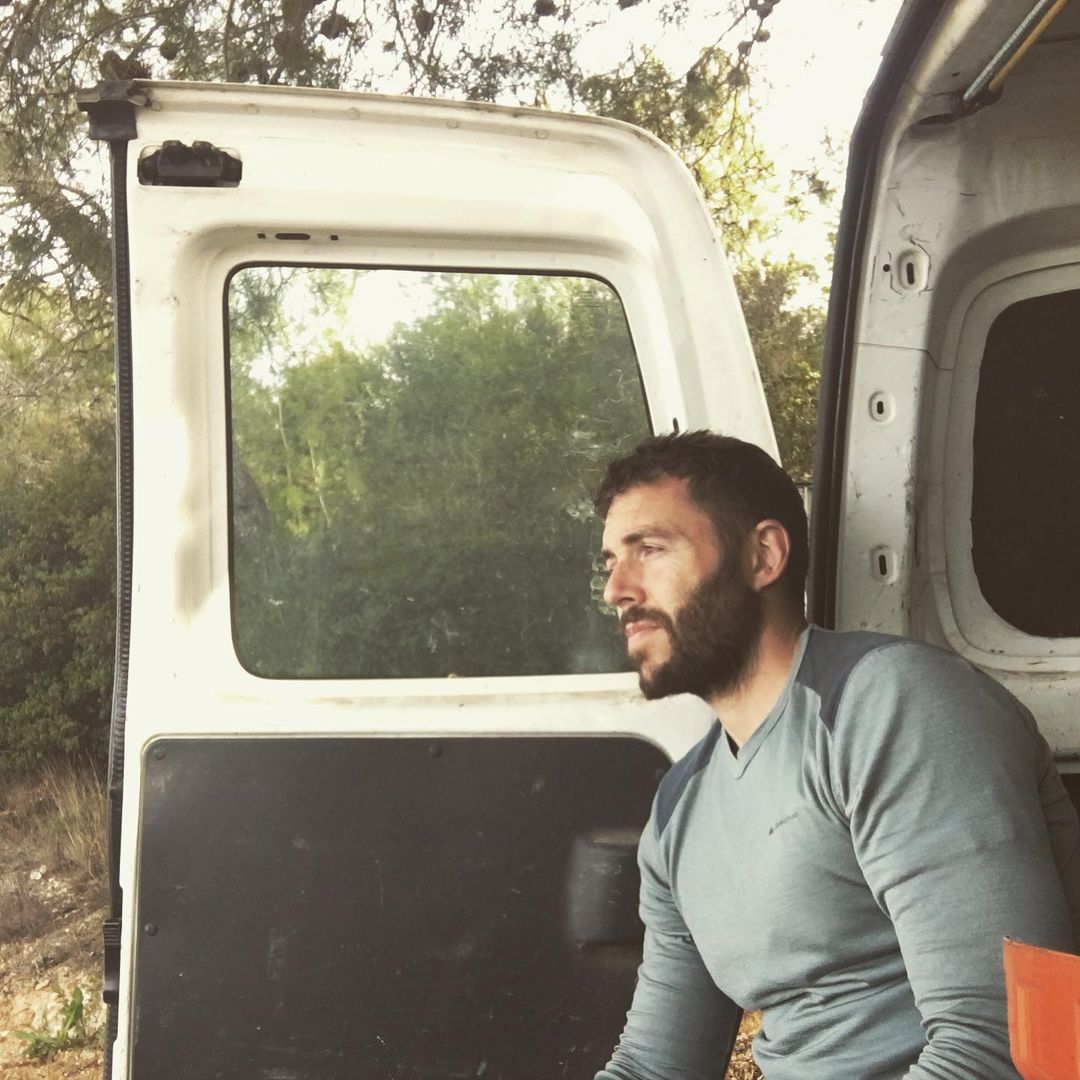 Can you tell me about your background - how you came to be a winemaker, and what influenced your style of farming and producing?
I have a degree in food science, so I worked as a food scientist for 10 years and my last job was as the technical manager for a company supplying processed food - for example, fruit puree - to the industry. That was my first career and I moved across several countries for my job, but always kept one foot in my hometown. Generally, people from Saint-Chinian find it hard to go away without regularly coming back. My father worked at the cooperatives, where all the farmers would send their grapes to make wine for mass production. But as a second job, he kept three hectares of old vines from my great grandfather. During my childhood, I would help my father, but wasn't interested in it beyond earning some money to spend with my friends.
Then at 20 years old, I started thinking about creating something from these three hectares, as I saw potential in them. Later I also felt like I wanted to go back to natural farming, because I was in the industry and working with farmers, but not actually doing any farming myself.  Six years ago I started buying new parcels, and it took some time for me to really build the estate. I quit my job and went to learn from other winemakers, and at this time I met Jeff Coutelou and Yannick Pelletier. Jeff is a huge inspiration to me. I love his way of thinking about and making wine. Farming has to be organic and close to nature, or I would not be a farmer at all. I like to be close to the plants.
Now we have five hectares and do a lot of things by hand, even a significant part of the spraying. What's good is that you see every plant one by one, so you are close to it and start to see the plant like they're a person. You wouldn't treat a person with violence - or spray it with chemicals! So I don't do that with my plants.  In my previous career, I was used to working with conventional and industrial farmers, for whom productivity and profit are often the priorities. They don't care that much about what they give to the plant. The land gets poorer and poorer, and relies on chemicals to stay fertile.
What we try to do in organic farming is keep the land alive on its own, and to unite land and plant as one. We are here to help bring them together, and to help bring nutrients and bacteria to the soil and to the plant. Carignan in particular is a very sensitive plant. If you remove bacteria, funghi, insects and biodiversity, it becomes even more sensitive, as you leave the plant to fight alone. We want to keep biodiversity to help the plants get stronger.
Can you describe the vineyard and its surroundings?
The area is the Saint-Chinian appellation, which is a big area across around 20 towns. The soil is divided into two main areas - the northwest is shale, and the southeast is clay and limestone. Our estate sits in the southeast. I have two plots in clay and limestone and one in silt with rounded river pebbles. I grow the Carignan in this silt soil - when I taste the grapes from different soils, I always find this one to be the best in terms of aromas and taste. It's also the first parcel I bought myself and is a small plot of 0.45 hectares. The vines are 50-60 years old. That brings some complexity to the wines.
In the north we have mountains and to the south we have the Mediterranean sea, so we are in a valley at 100m above sea level. The landscape is garrigue which is quite dry and vegetation is very diverse with a lot of bushes, oak trees, pine trees, and rosemary and thyme. We have a lot of these herbs even amongst the parcels, so it smells good when you walk through. We also have some natural hedges in the parcels. The silt soil drains water very well and the roots grow quite deep, which is maybe why these grapes do so well here. I find I get more freshness here than from other plots.
Since I've been a winegrower, we've had extremes every year. This year it was extreme dry weather, and usually dryness is good for organic farming. We should get around 600-700mm of rain each year - especially during autumn - but this year we had 100mm over the last 10 months and then another 100mm this week, so it's been an extremely dry period for us. We typically get quite cold winters, a sweet spring and then up to 40C in summer. We also get a wind that we call tramontane. The conditions are good for organic farming.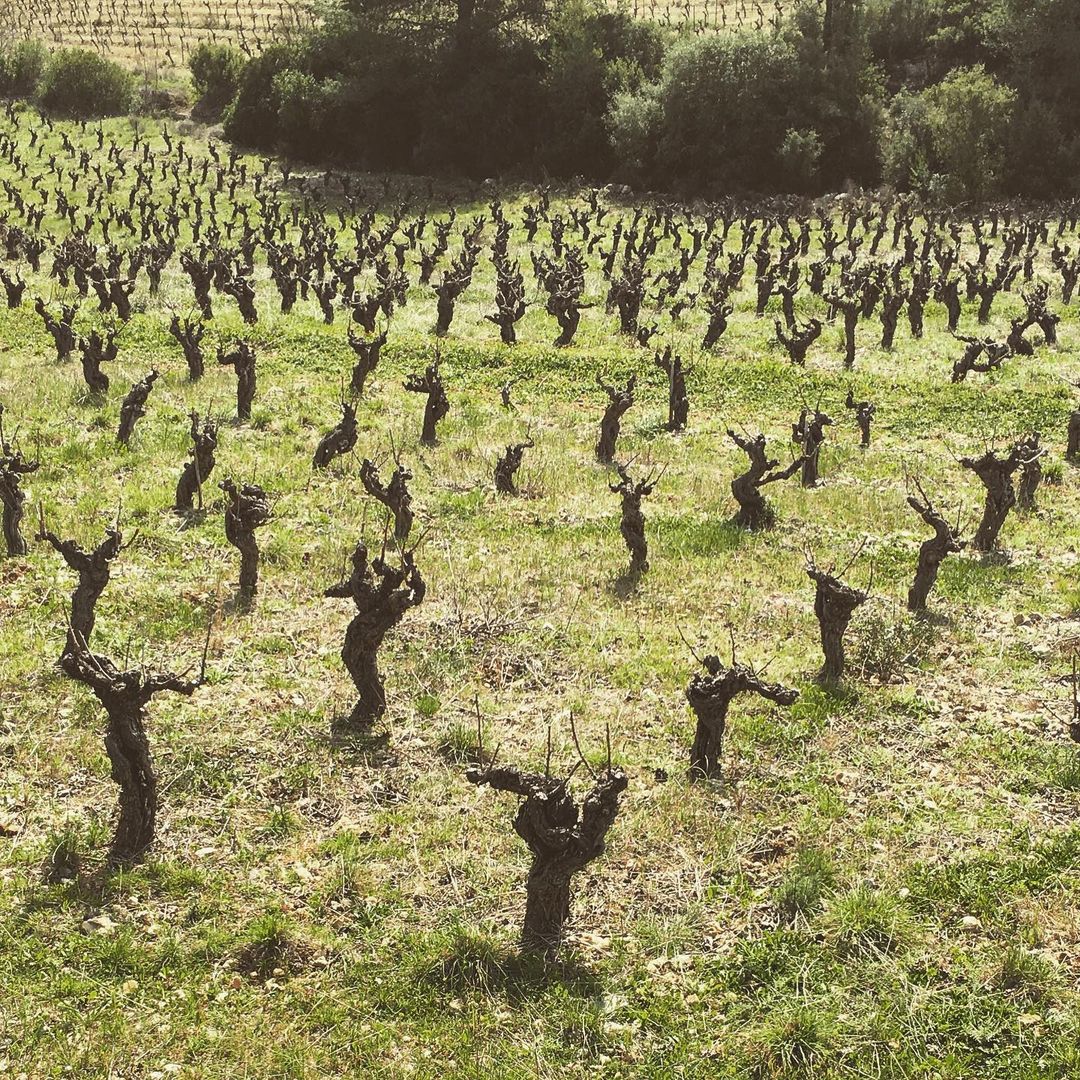 Can you talk me through the process of making this wine?
When I harvest, I look for maximum maturity - not overripe, but the perfect phenolic maturity for full aromas. We harvest in 15-20kg boxes and then it's 100% destemmed, but not crushed, when it goes in a stainless steel tank for fermentation. I pumpover the wine maybe 3 times at the beginning of fermentation, but don't move it too much beyond that. Then we pushdown every day or two to get some tannins but keep the freshness. I stop when it reaches a good balance between tannins and alcoholic percentage. For this wine we had 14 days of fermentation, before pressing and returning to the same steel tank for 7 months of ageing. Wine is fermented with natural yeast from the grapes. There's no fining or filtering. For this vintage, we didn't add any sulfites, but I will add a very small amount if necessary. Sometimes I remove some of the CO2 (from the fermentation) before bottling, but we have to keep a small amount for the protection of the wine.
How would you describe the wine?
Carignan is our local grape. It originated in Spain of course but has been farmed in Languedoc for decades, especially here in my hometown. Back in my great grandfather's era, everyone was farming Carignan. We still have a lot today, but not quite so much. This wine is different from other Carignans you find around here, because I don't use strong extractions and try to keep the fruitiness and freshness. We still get some tannins as it's Mediterranean wine and we need them to balance the alcohol, but Carignan can be a little austere or rustic a lot of the time. This one is much fresher.
How does this vintage compare to others?
2021 was the first vintage of this specific wine, the second was 2022. so I can't compare all that much. But 2021 was marked with black frost in April and we lost a lot of growth. Fortunately, we got some good weather and rain later on, so the plants were able to produce new grapes and achieve a good maturity.
When is it best enjoyed? Now or later, if people want to age it further in the bottle?
It's best enjoyed now to get the full fruitiness, but you can keep it for up to five years. It has enough alcohol and tannins to age well.
Any food pairings you'd recommend?
Personally, I prefer to drink wine on its own with some friends, which is why I bring the fruitiness and freshness to the wines I make. But this winter we had it with cabbage soup and smoked sausage, and it worked really well.
Isabelle's thoughts on Carignan - While a red rather than a pink, our second Carignan is in a similar vein to the first. Carignan often produces fairly chunky, rustic reds but Thomas has a light touch. It has floral notes of violets, red cherries,  pomegranates as well as a touch of spicy, black olive that reminds us of its mediterranean origins. Remarkable especially given this is Thomas' second ever solo vintage (and the first of this particular wine).
TOTAL SULFITES: <20mg/L.
---
Johan Meyer founded his self-titled winery in the Swartland in 2010, after working in wine around the world for a number of years. He makes wines from grapes farmed organically out of leased vineyards and from the Platteklip Vineyard and farm he now lives on with his wife and daughter on the Piketberg Mountain.
Q&A with Johan Meyer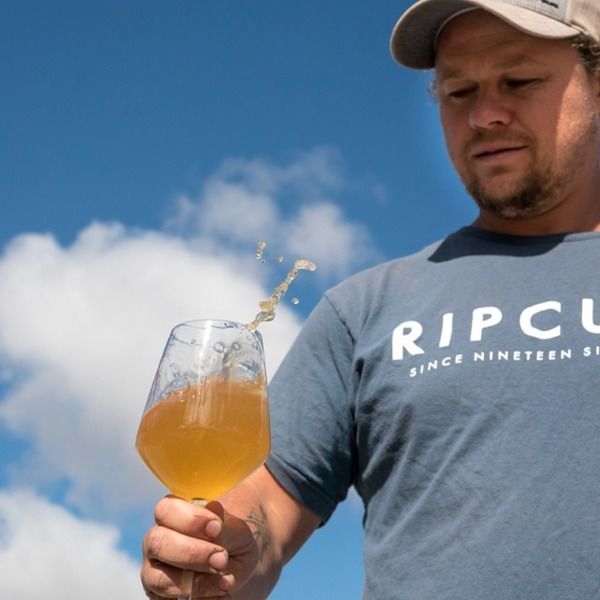 Can you tell me about your background - how did you start out in wine, and what influenced you the most along the way?
I grew up on a dairy farm up on the Southeast Coast of South Africa, so I've always had farming in my blood. I went from there to agricultural school and then to university in Stellenbosch, with the goal to go back into the dairy business with the family farm. South Africa is a big country and there's a very small section of the country which is the Winelands area where Stellenbosch is, and where people drink and really understand wine, but the rest of the country doesn't know much about it. You get, you know, sweet wines and semi-sweet rosés, but that's about it. I grew up in George which is about 4 hours east of of Stellenbosch, so not that close to the Winelands and I wasn't really exposed to wines growing up.
When I went to university, I was in the heart of the wine country, and got intrigued by that. When you've got farming in your blood and suddenly see something that you can farm and make art out of, it's immediately intriguing. I'd rather sell a bottle of wine than a bottle of milk. So it was the farming background and my time in Stellenbosch that got me onto wine, and after 6 months I changed my course to study viticulture and winemaking, and got the degree in that instead. After I graduated, I started working and travelling around South Africa, Australia, New Zealand and California, doing internships and trying to find my feet in the wine business. And the more you get into it, the more you'r intrigued by it. I liked the fact I could farm something, turn it into something artisanal and sell it to people. It's a great way to present yourself and get in touch with nature at the same time.
I worked in a couple of big places but that way of working never interested me -you spend 11 months in a vineyard, then you harvest the grapes and make something completely different to what the grapes actually give you. Instead, I want to showcase the product that I farm - 90% of it has to be in the farming, not in the cellar.
I ended up working with Tom Lubbe at Domain Matassa in the south of France and he was a big inspiration in terms of farming. Seeing how he lives and farms, and makes his wines, was a big changing point in my career. I became more focussed on the culture and on presenting a sense of place, and making wines with a bit more character than your everyday, supermarket stuff. That was where I saw what I could do, so I came back to South Africa and started my own brand, being a negociant buying in grapes and trying to work with growers who suit my needs. It can be difficult in South Africa to find a vineyard working in this way. The first market I found for my wines was in the UK, I started there with Indigo Wines, who bought all my first vintages and, once you get into London, you get exposed to quite a lot of markets in the industry, and it's basically grown from there.
Am I right in thinking you now work with a number of leased vineyards, as well as your own on Piketberg Mountain?
With the specific wine we're talking, it's from some vineyards I lease - and started leasing back in 2010, as the farmer is a good friend of mine. A lot of vineyards aren't farmed organically, so it's difficult sometimes with the older regime to change their mindset. But luckily this guy was my age and as I said a good friend of mine, who was willing to to follow what I want in the vineyard. Our lease actually expires at the end of next year, so I'm in two minds about whether to renew it or move to my own vineyards, as that's when they'll start coming into play, in terms of production.
We planted our own vineyards on Piketberg mountain in 2019 and added a little bit of crop this year, so will probably make 3 or 4000 bottles, then as of next year the crop will increase and we'll have production from the farm. It's kind of worked out well that that I had a 15 year agreement with the other farm and that just so happens to be when production starts out of my farm.
Can you tell me a little about the vineyard where this Pinot Noir comes from and where it is?
There are three vineyards involved in three different appellations within the South Africa system. The first vineyard is from Elgin, which is southeast of Cape Town, just on the other side of the Somerset-West mountain, where we sit at 280-300m altitude on quite a lot of ferracru, so it's iron-rich oxidized soils with a baseline of shale. That makes up around 40% of the blend.
The second vineyard is a place called Elandskloof, which is a little further north of that first vineyard and behind Franschhoek. It's slightly higher in altitude, we're about 780m above sea level there. The soils are more sandstone, so a little closer to the main rock formations, but we've got quite a bit of decomposed sand which essentially forms clay on the top layer. It's not as as stony as the Elgin vineyard.
The third vineyard is called the Hemel & Aarde Valley towards Hermanus, and is the southern most of the three vineyards. We sit at around 250-280m altitude with a lot of clay, probably the most out of the whole blend. So there's essentially three soil types: the ferracru, the sandstone and the clay shale; and they're all at a slight altitude. The days can be quite hot, but we typically have a cooler night-time temperature.
Where our winery sits on the Piket-Bo-Berg, and where we've planted our vineyards, is basically a combination of all three. It's the first time in South Africa's history that vineyards have been planted there, so we're creating something completely new. The Piketberg Mountain is the northern part of the Swartland and we're quite close to the coast. As the crow flies, I'm around 35km from the Atlantic Ocean. I can see it now as I'm sitting here. The other vineyards are Southeast from here.
What's the natural wine like in South Africa?
When we talk about natural wine, it's not always naturally made. A lot of people are brave enough to start off naturally, but they don't always keep it that way by the time it reaches the bottle. Honestly I think there's 4-5 guys in South Africa working completely naturally, sitting with over a thousand wineries in total.
But there's a lot happening nowadays in the industry, especially in and around Cape Town and Johannesberg. It's always the big cities where people are more intrigued by natural wine. I always say, you have your nice organic beef and vegetables and healthy foods, then you're washing it down with all these commercially produced wines. It's a big challenge for us to get people into what we do. Cloudiness and unfiltered wine is a big no-go here. The same South African guy will wake up in the morning and drink his freshly squeezed orange juice with bits in it, but he can't drink an unfiltered wine with his lunch or dinner. So it's just the mindset.
I think there's a bit of a mind shift happening within the food industry, but it's still very small. There's maybe five restaurants that buy my wine in Cape Town and that's it. It's about getting people to know that it's the product that needs to be properly farmed, and there's definitely an upwards movement - you know, with myself, with Craig Hawkins of Testalonga, with Jurgen Gouws of Intellego. A few of us have been doing it for a while and there are more people starting to become interested in it.
How easy is it to sell your wine to local customers - or do you mostly export?
At this stage, we export 90% of our wines, just because we still have a way to go here in South Africa to sell this kind of wines. There's a lot of young people who are a  little more experimental in terms of what they want to drink, but not as much as people in, say, London, New York or Japan. In a way, though, it's a good think, as the international market only have 4-5 guys in South Africa to buy from.
Can you talk me through the process of making this wine?
Very easy - we bring it into the cellar and we leave it! No, of course, there's always some technique involved. We try to follow the grapes each year, but most of the time I try to work 100% whole cluster or whole bunch. We don't destem the grapes, but we sort and some of the vineyards will have more rain and we'll get some rot, so we sort the clusters and from there it all goes straight into a tank. We get two people in to crush the grapes by foot, and then we let the fermentation kick off naturally. We'll do a very light extraction, so maybe every second or third day, we'll do a pumpover just to get the juice moving.
That fermentation happens for around two weeks, then we do quite a bit of post ferment, up to 12 weeks. We call it a submerged cap, where we push all the grape skins down into the wine, fill the tank up and let it sit. That kind of just integrates it down slightly better, and gives it a little more kick. Then we'll press it and this vintage went half into concrete and half into old French barrels for aging, about 12 months on the lees, before a month in stainless steel. We never rack up the wine until bottling, and we bottle without any sulfites or filtration.
Do you use any sulfites?
No, so the idea is to stay away from it completely. I find with these vineyards and these grapes, we can do that because we're sitting with much lower PHs.
How would you describe the wine?
Pinot Noir is one of those varieties in general that kind of needs certain spots to grow and to make a good quality wine from it, and a lot of people always strives to replicate the Burgundian style. But obviously we're not in Burgundy, so you have to take your own terroir into consideration. It still speaks of Pinot Noir, but it's a Pinot Noir from the African continent. It's a much warmer climate so you get more texture, a little more structure in terms of tannins, but you also get a light earthy kind of freshness to the wine. It's a real Africal terroir Pinot Noir - you know it's not Burgundian, it's not Jura. You can feel that it's from somewhere different. We've got leopards walking through our vineyards, we've got baboons. Where we are is completely different to Europe and you can taste it in the wine. There's a slight earthiness, a slight rawness to the wine in terms of character.
How does this vintage, 2021, compare to others?
2021 was good. In South Africa, we don't really have the extremes that they get in Europe. Our only extreme is the sun. But 2021, the summer was quite cool and we ended up with a little bit of rain during December, which kind of helped these dry farm vineyards pull through towards harvesting. There's a lot of fragrance. It was a lot of like a lot of fragrance and a lot more primary fruits. Everything ticked the boxes.
When is it best enjoyed? Now or later, if people want to age it further in the bottle?
With this one, I'm looking at a 2-6 window. Obviously sulfites does have an impact on whether a wine will age for longer, but our first vintage was 5-6 years ago and it's still drinking perfectly. But the first 2-3 years is when I like to drink it.
Any food pairings you'd recommend?
It's one of those wines that adapts well with food. At home, we like to have it with lamb chops which we cook on open fire. Barbecued food works really well with it, including all kinds of vegetables. My personal favorite would be eggplant.

Isabelle's thoughts on No SO2 Pinot Noir - This is a delicious, restrained Pinot Noir that combines earthy, umami notes, with a touch of smokiness, sweet cedar spice, and upfront, juicy notes of black cherry and elderberry. Tannins are present but silky and integrated. A refreshing wine with an almost saline minerality.
TOTAL SULFITES: No added sulphites - 15 mg/L.
---