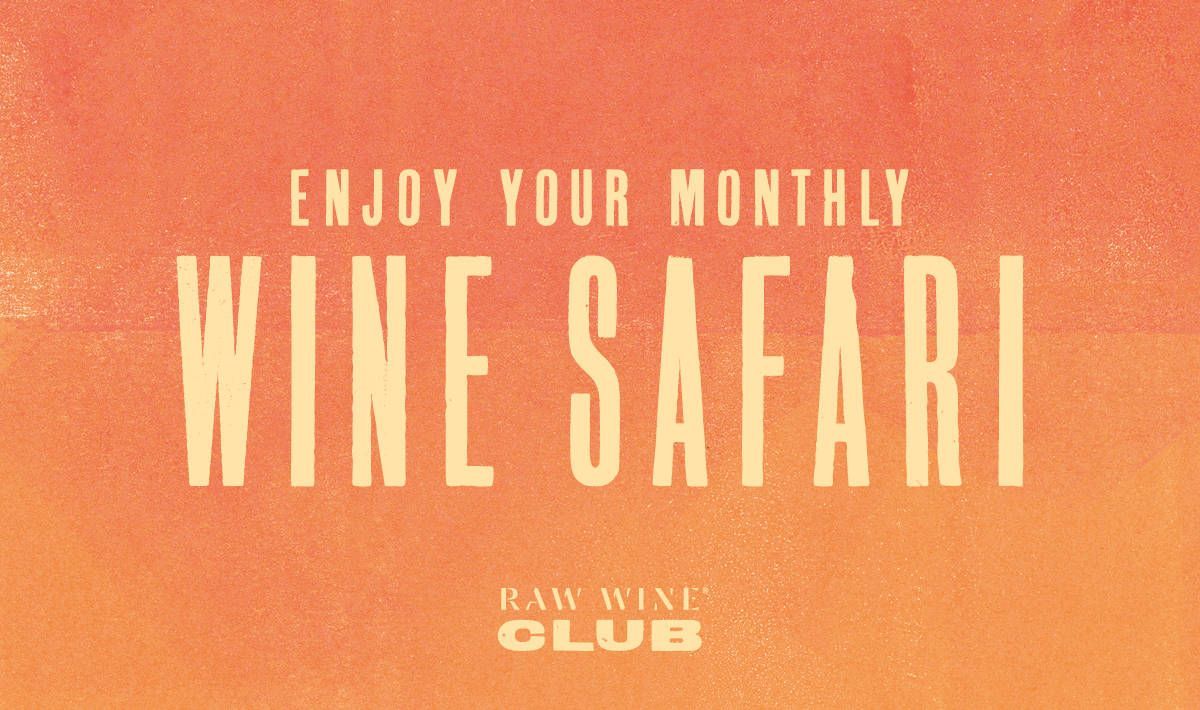 RAW WINE Club - Tasting Notes - January 2023 Selection
43 min read
Hello and welcome back,
I hope you have all had a joyous holiday season and a great start to the new year.
For those of you doing dry January - have no fear, these bottles will wait. Just be sure to store them somewhere cool and dark. For those of you doing Veganuary - the great news is that all of these wines are vegan friendly. And for those of you keen to get going - open and enjoy!
There are two whites - one is a textured, spicy drop from 100+ year old vines that also happens to be the still version of our infamous pet nat that never made it into your cellars; the other is a crisp, Alpine wine.
There are two rosés - one an upfront, easy-drinking, juicy bubbly; the other a serious, concentrated, still wine from the Priorat.
And there are two reds - one a full-bodied blend of Chilean cinsault and carignan; the other an elegant expression of one of Italy's oldest grape varieties that was enjoyed by the likes of Pliny the Younger.
Wishing you all an adventurous 2023,
Isabelle Legeron MW, Founder of RAW WINE‌
---
Weingut Bianka und Daniel Schmitt is run by 2 winemakers from Flörsheim-Dalsheim in Germany's Rheinhessen. Bianka and Daniel founded the winery in 2012, and have been learning ever since. They work intuitively and creatively, and make wines with experience, love and humility.
Q&A with Bianka Schmitt
Can you tell me about your background - how you came to be winemakers and what influenced your style of farming and producing?
As many people know, we started a decade ago - well, a decade last year - in 2012. And because we are 2 winemakers, we also have 2 different paths. Our paths crossed 10 years ago and have continued together from then. Daniel's background is traditional - I always joke that there was never an option for him not to be a winemaker, as he is the 4th generation in his family to work on the property. And of course he had different dreams - he wanted to work for the police which is quite funny. But of course, it was certain that he would continue the family property and become a winemaker, so after his degree he started on this path.
In my case, until I had my degree, I wasn't sure what I wanted to do - I actually also wanted to work for the police, but I grew up in Budapest, Hungary. Part of the Budapest is a wine region and there's also a winemaking school in Hungary. I grew up spending time with my grandparents, and my grandpa wanted to be a winemaker but because of the Russian Hungarian revolution in '56, he didn't have the opportunity to make his dreams come true. He was always making wine in his garage as a project, and that's what I grew up with. It's funny because he didn't filter any of his wine and I only recognised 10 years ago that actually this was really special and he was already creating my future with his own hobby. I like to think that I made my grandfather's dream come true, which is beautiful really. And through school - which is the Hungarian winemaker school - I had the opportunity to come to Germany in 2012 to do 5 weeks harvest and get some experience in abroad.
I landed at Weingut Schmitt and Daniel was 25, I was 21 - it's a typical love story. He came back from a trip to New Zealand and Australia and wanted to do his own first vintage and I joined at the beginning of that harvest. He was actually the person who changed the organic property to biodynamic, because on his travels he was working for biodynamic wineries. I only had experience in organics, not biodynamics, but this kind of farming was always interesting for me. I never understood why we needed to learn about the industry driven systems and tools at school because actually our souls and nature don't need much to grow. Nature regenerates itself. So this is our background and how we got started on our path together.
Can you describe the vineyard and its landscape?
We are in the Rheinessen and the elevation in our case isn't big. We are in the south part of the region 60km southwest of Frankfurt in Floersheim-Dalsheim, with a third of the vineyard in Monsheim, the last village before you reach Palatine. Beyond that, you have Alsace - we're around a 40 minute drive from the French border. The elevation is around 180M, so it's quite a wide view with around 50 wineries in the local area. They're everywhere - the area is comprised of tiny villages, narrow roads then huge spots of vineyards.
Can you describe the soil and the terroir?
The soil is mainly limestone, covered by luss and covered by clay depending on where you are in the vineyards. And some parts have gravel also.
Can you talk me through the process of making this wine?
First I'll tell you about Frei Körper Kultur as it's a whole range of wines. Frei Körper Kultur = free body culture. It speaks for equality and acceptance and in total we have 17 hectares. From these 17 hectares when we started working with and took over from my parents in law, half were planted with traditional varieties like Dornfelder and Portugieser, which were actually in the past used for bulk winemaking - something typical of Rheinessen in the 1970s and 80s because a lot of the region is flat and easy to cultivate. This also has a lot to do with industrialisation and the investment in these specific varieties which can produce huge quantities in less time. Of course, this also comes with less quality, but that's not the focus of those manufacturing cheap wine. The second effect of this is that the lifetime of the vines wasn't as long - they would have to replant every 12-15 years.
10 years ago, we started to change the pruning method of this vineyard, because we knew that in 10-15 years' time, we wouldn't want to work with these varieties - they're not reflective of our philosophy.  We could not allow ourselves to just replant them, because it was almost 8 hectares and we need to keep the business going, we have employees to think about as well. So we needed to approach it in a smarter way, step by step, and what we started doing was cultivating the vineyards in a different way. We started with gentle pruning, using a system that reduced the yield to 50% - before, the vines produced 10-11,000 litres per hectare, whereas now they produce 5-6,000. With this reduction and new pruning system, the quality of what you extract increases and the lifetime of the vines as well. These vineyards are our transition vineyards, they are all biodynamic, but we know we will be changing the varieties in future. For instance, in the Frei Körper Kultur vines, the varieties are not always the same with each vintage as some were already replanted.
Because we have a huge portfolio packed with single parcel wines, wines aged under flor, wines from amphoras, big barrels, small barrels, etc. We needed to create something that could be drunk quickly and provide a nice foundation for conversation. That's what the Frei Körper Kultur wines are all about. It's wine that's exciting - but not too much - it shouldn't take your full attention and should be consumed in a very uncomplicated way. We decided to create it as a line up that's friendly and accessible because sometimes, if wine has a little CO2 people can feel a bit scared or hesitant around it - maybe not the more experienced palettes - but we wanted to appeal to consumers who might be new to the market or natural wine beginners.
To answer your question more directly, what we did with the fizz in this case, we did a second fermentation. It's not made using the ancestral method - it's made using a second ferment. So we whole bunch pressed the Portugieser and Dornfelder grapes after hand picking. Dornfelder is very dark, so we don't need any skin contact, but Portugieser when pressed without any maceration is quite a light colour - combined, then, you have a rosé colour. And then we just let it ferment in 5000L fibreglass tanks. The fermentation takes around 2 weeks, after this the malactic fermentation happens as well, which we call a natural stabilisation of the wine. After 3 months ageing on the lees, we put the wine into a pressure tank for a second fermentation, when the CO2 is created.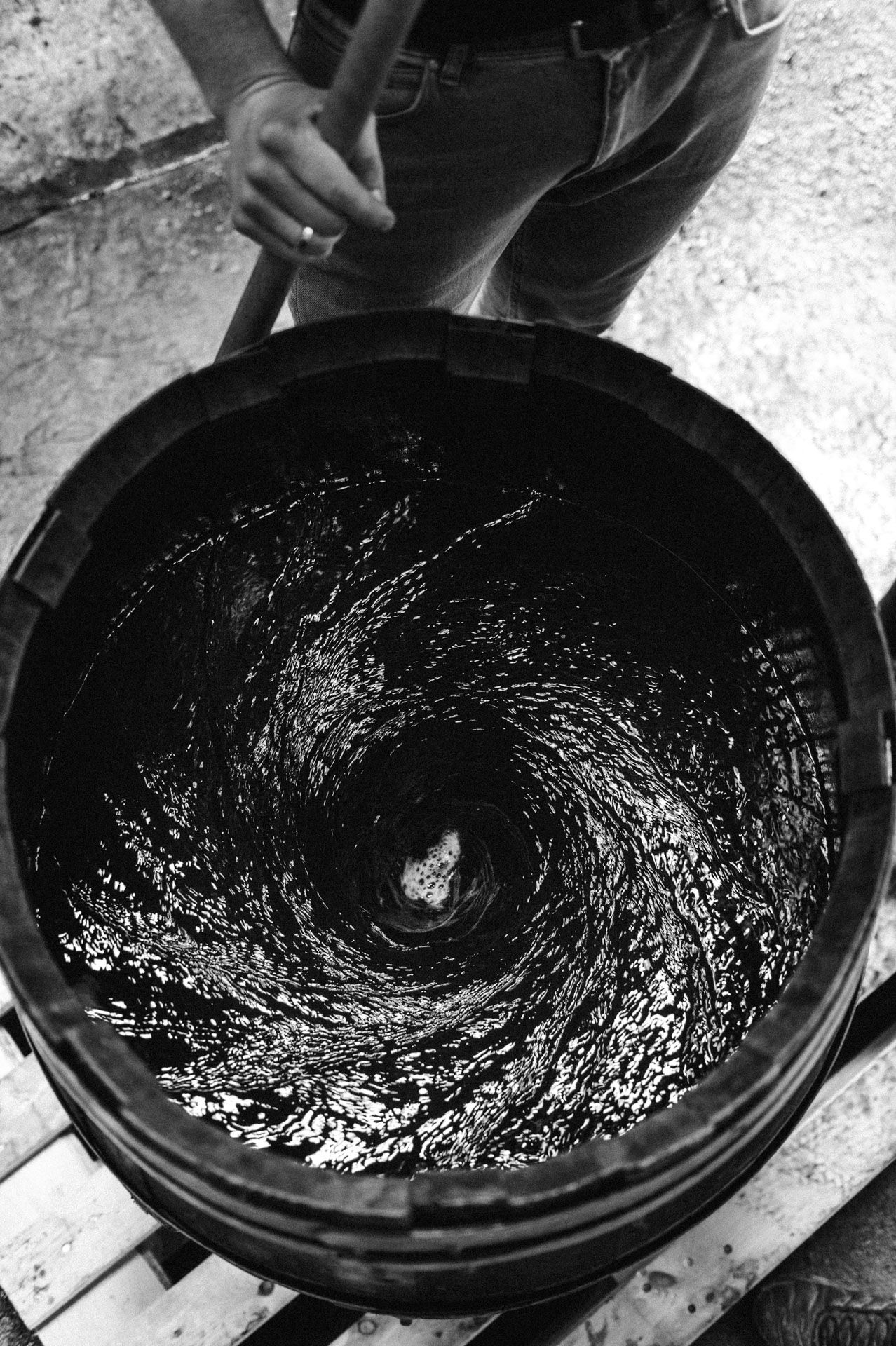 Do you use any sulfites?
We are not dogmatic regarding sulfites - we work with a very minimal amount, adding around 10mg per liter before bottling.
How would you describe the wine?
Because of the varietals, Portugieser and Dornfelder, the aromatics of this wine have a lot of freshness and fruitiness. We always compare it like green strawberry - aromatic but not that sweet. And also some watermelon. I was in Sao Paolo last year and many people described it like lacto-fermented salted watermelon juice, which I loved because that sounds super tasty. And the colour is a fresh rosé colour but it depends on the vintage, as Dornfelder can develop a dark colour and we want the personality of each vintage to come through to allow for that collaboration with nature.
What's this vintage like? 2020
2020 was very warm compared to 2021, which was cold and rainy, so we needed to pick the grapes quite quickly. 2020 was warm and dry, so we were not struggling with anything. Every vintage is different and challenging. For this one, the Dornfelder had a very deep colour because of the sun, and the Portugieser we had to pick a little earlier. If we picked it with Dornfelder, then it would be overripe and lose acidity. This is something you always need to take care of with Portugieser as it doesn't have a huge amount of acidity.
When should people drink it?
If they want, people can keep it in the bottle - this is partly the reason that we add a little bit of sulfites. Non-sulfite wines can be beautiful, but you need to drink them within 2-3 years. Of course, if you have the perfect conditions to keep the wine then you are lucky and should do it. But many people don't and often have a small case in their kitchen. We also need to consider that people feel disappointed when they spend money on something, trust the quality, then the wine is unenjoyable when they consume it because they wanted to keep it for a special occasion or to drink with special people. So this is why we go down a more secure route with the sulfites.
As I said though, Frei Körper Kultur wines are designed to be uncomplicated, everyday wines and should be approached in this way. The fizz is a nice summer wine and you can grab it, drink and enjoy it in the park with your friends.
What's the story behind the name?
There's a historical aspect I didn't mention before - when Germany was united, in East Germany there was a movement to show the West that they were equal and human and all belonged together, and this was done through nudism. When people see our labels they think we like to run around the vineyard naked! But if you look a little closer, you see our labels and see different scenarios that show we are human beings and all that we do belongs to nature. The labels symbolise everything that happens on our vineyard, and our philosophy of acceptance and respect. This is how we deal with people and kindly ask for them to deal with us.
Which grapes have you used?
50% Dornfelder and 50% Portugieser. However these varieties will change while we transition our vineyard, and the fizz will instead be Pinot Noir, Cabernet Franc and Merlot. Our current varieties don't reflect our philosophy, but before we bring in the new we have to respect the past. For instance, the 2022 already has Pinot Noir and Saint Laurent, and the next vintage will be completely without these original varieties, so it'll be interesting for people to try the wines as they change.
Any food pairings you'd recommend?
I always recommend bread and butter because it's a neutral platform and I always have it at home. But if you want something a little fancier, fermented vegetables or fruits.
Isabelle's thoughts on Frei.Körper.Kultur FIZZ - Howdy 2023! This tutti-frutti, red fruit salad of a wine is a lovely way to welcome in January. Made by an energetic and inspiring duo who started making natural wines some 10 years ago, this is a  fun, low-alcohol and light-bodied wine. An aromatic bubbly that is all about pleasurable, easy drinking - a sort of compote of red fruits. Fragrant and upfront, it shows notes of  wild strawberry and crunchy redcurrants.
---
Les Equilibristes, which translates to 'The tightrope walkers', is a French project founded by wine merchant and restaurant owner François de Monval and travelling winemaker Florent Girou. François and Florent work with 7 winemakers across 5 regions (Anjou, Périgord, Languedoc, Corbières and Côtes du Forez) to craft vibrant and unique organic wines from indigenous grapes using minimal sulfites.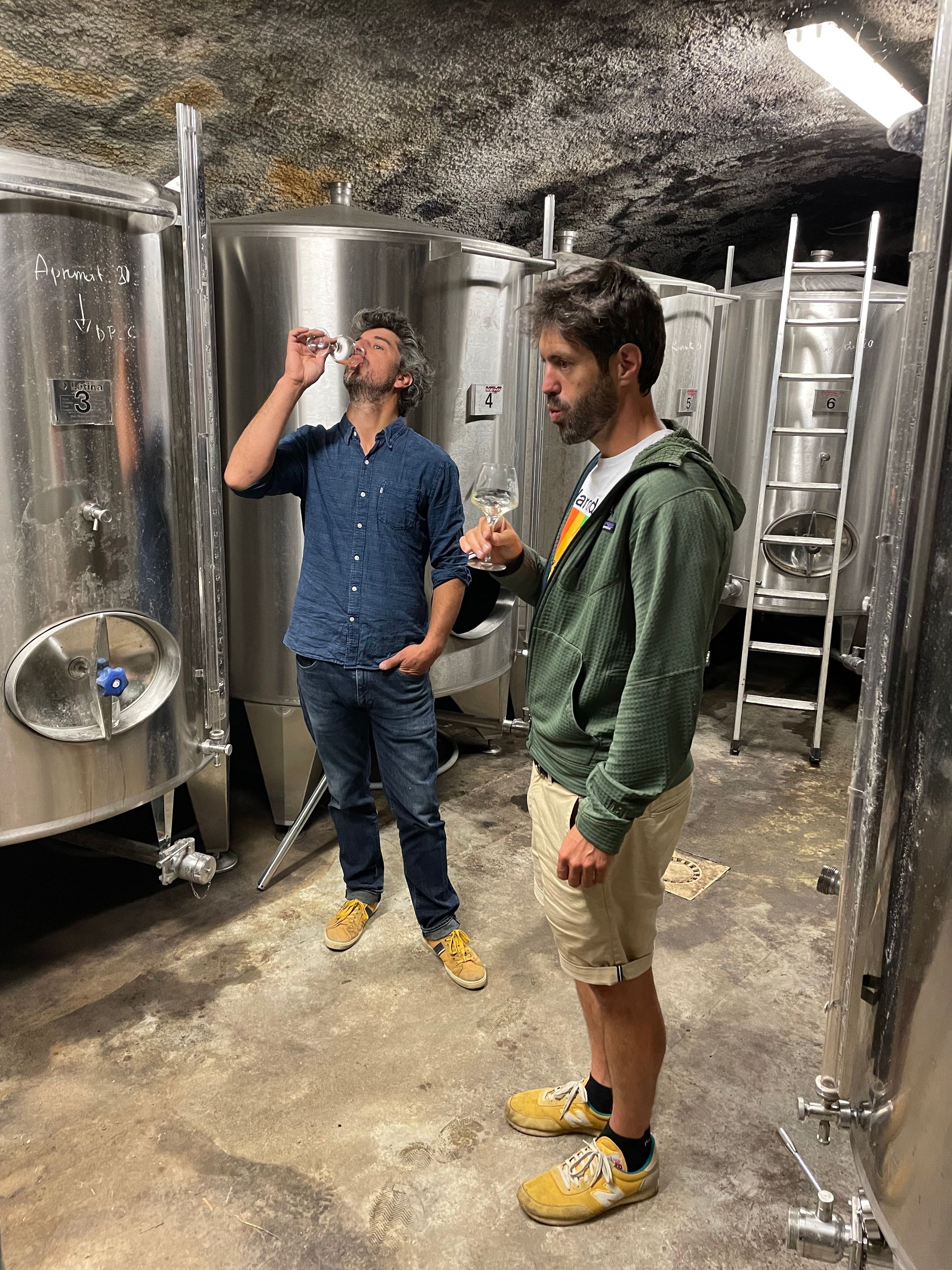 Q&A with François de Monval
Can you tell me about your background - how did you and Florent come to work together?
My partner Florent has a family vineyard in the southwest of France, in Bergerac, and is really good at making wine because he's been working with it for a long time. He used to work at Tenuta la Novella in Italy in 2008, and still works with them as a consultant today. He also worked with consulting oenologists Denis Dubourdieu and Michel Roland in Bordeaux, and worked at L'Eglise Clinet in Pomerol from 2015-2016. And myself, I have had a natural wine bar in Paris for 25 years and spent time with him - at least 4 or 5 times per year - to help him in the vineyard and to learn a little more about making wine. I'm not a winegrower or maker - it's Florent who is the technical person in the project - but I'd like to learn more about the process.
One time, I said to Florent that it's a shame to only work with a handful of varieties and work only in one terroir and he agreed, and told me that he'd like to work in other countries with different terroirs and different varieties. So the idea of Les Equilibristes is to go and see other winemakers that we love and say, 'We love what you do and want to do something with you, but we don't want to make the wine ourselves, we don't want to put our stickers on your wine. We want to do something different.' That was the idea at the beginning and now, we assume the financial role, work with them to sell the wines and push them a little bit to do something different and to work in a more natural way. The other part which is really important for us is to have for every harvest, having the same person working in the vineyard. And we use at least organic vines and work in the cellar with little intervention.
Who is the winemaker for Borboyon?
Borboyon is from Savoie and we work with a young winemaker called Thomas, who runs a family vineyard. He's the 5th generation of his family in the vineyard - he used to work for a few years in Champagne, which explains his passion for bubbles. When he moved to his family vineyard he immediately wanted to work organically, so he implemented phytotherapy treatments. We were really interested in working with him to do something different and to share our experience. We were very lucky to meet him.
Can you describe the vineyard where these grapes are from and its landscape?
We are in Savoie in the mountains with a 10 hectares of vines, many of which are old. In fact, most of the vines are over 60 years old. They were planted by Thomas's grandfather and the vineyard has been organically grown since 2018 and certified since 2020.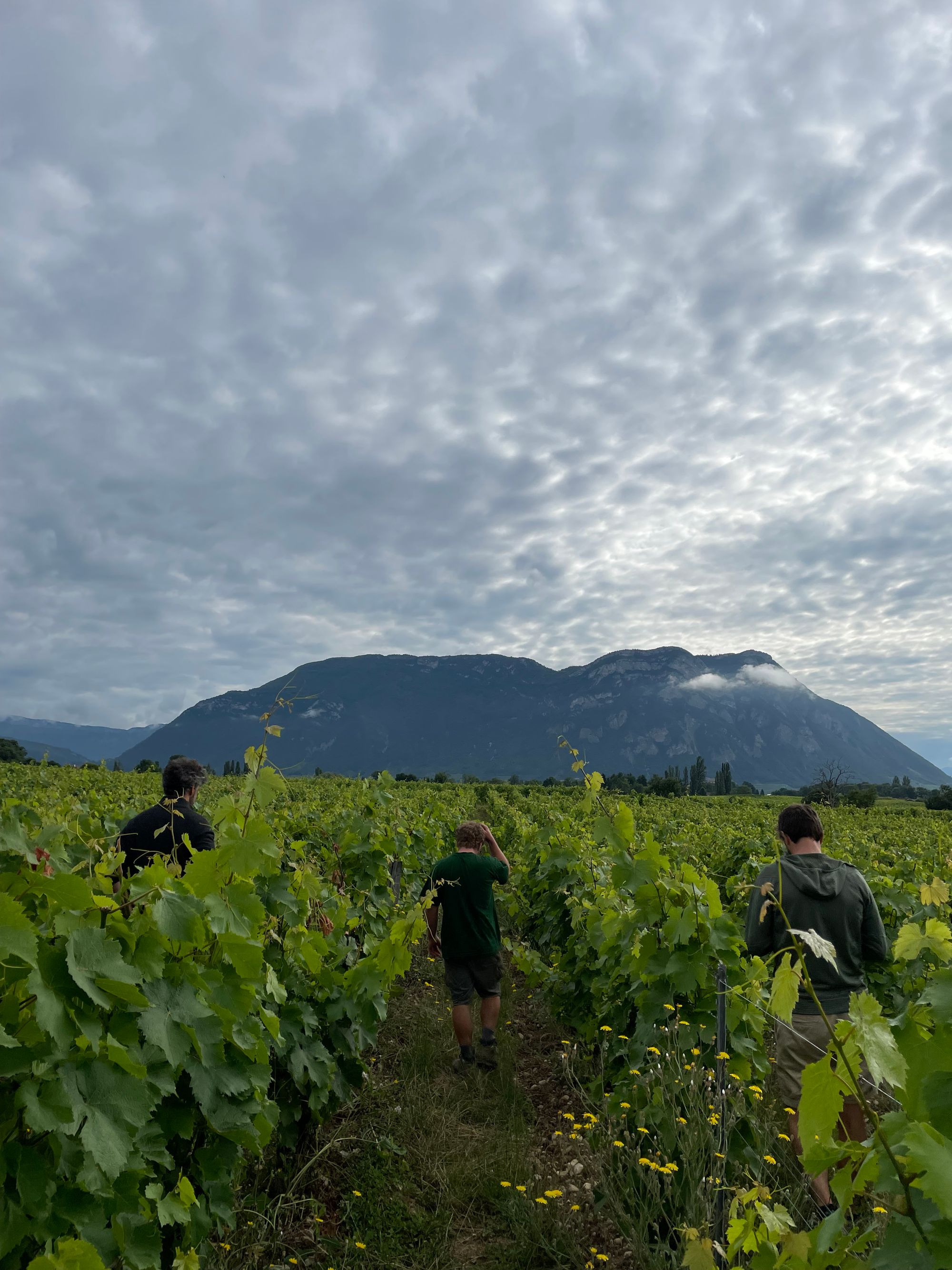 Can you describe the soil and the terroir?
It's a clay, limestone soil coming from a nearby small mountain. It's a very filtering soil which always gives a lot of purity to the wines. It's a real continental climate in the mountains, so in the winter it's very cold with snow and in the summer there's a lot of sun and heat.
Can you talk me through the process of making this wine?
We talked to Thomas about wanting to do something really different - something uncommon for the area - so we use Jacquère which is an authentic variety for Savoie press 50% then with the other 50%, we do a maceration for around 10 days and this is a process that isn't common in this region. Then we age the wine on lees for 6 months and then we will blend the 2 wines around February. We will give them 3 months more, in stainless steel tanks the whole time, and bottle in around April.
Do you use any sulfites?
There is no sulfur during all the vinification - there is only a little bit during bottling if necessary, but not every year. For 2021, we only used less than 10mg per litre of the wine. We use only indigenous yeasts as well.
How would you describe the wine?
As Thomas likes to say, when you make a good Jacquère, you have the impression of biting into a bunch of grapes during the harvest. There is a very fresh side, a little bit of thyme and chlorophyll, then for us the maceration reinforces the acidity in the finish and gives more volume in the mouth. This is a process Thomas didn't do before, but through our partnership we tried to push the wine a little further. For us, this is a good balance between the acidity and linearity of Jacquère.
What's this vintage like?
As I think in all of France, it was a a very difficult vintage for organic farming with a lot of rain until mid-August. So there was a strong pressure of mildew, but thanks to phytotherapy at the end of August and September, Thomas managed to obtain beautiful grapes. It was not easy but with work we got there.
When should people drink it?
After bottling, we like to age it a bit more - the wine at the beginning although very good, was a little austere. So now, the wine is beginning to enter a very good period and it will continue to open up for 4-5 years while retaining a lot of loveliness and energy. I think keeping the wine in the bottle for 6 months will help it along.
What's the story behind the name?
Borboyon is like an old French name for little freshwater streams that descend the mountains of Savoie and make a lot of noise. In Thomas' vineyard, there's one that's runs close-by the vines and the cellar and gives the wine a lot of energy. So when we saw it, we decided it could be a great name for the cuvee.
Which grapes have you used?
We use Jacquère with a tiny bit of  Altesse to add some complexity, but the idea was to not add too much - it's a typical variety from this area - because it could be too rich and we want to retain the spirit of the Jacquère.
Any food pairings you'd recommend?
It's good with cheese as an aperitif. Seafood, scallops or white fish work really well with it. And for vegetables, mushrooms, asparagus and greens.
Isabelle's thoughts on Borboyon - Made using autochthonous Savoyarde grapes - Jacquère and Altesse - this wine tastes of the mountains. It has a sort of icy, cold wind quality to it. This is the diametric opposite to a froufrou wine. Stark, reserved and with a pure, crystalline acidity, this is a wine dappled with elegant, restrained notes of white stone fruit, crisp pear, a delicate daisy-like florality and a subtle, glacial mintiness. It opens up as the wine gets a bit warmer in the glass. A pretty, tight, mineral wine.
---
Microbio is a winery run by 5th generation winemaker Ismael Gozalo in Nieva, Segovia. His father was the first to bottle the wine in their cellar based just in front of Nieva's church, in a space previously used by local monks. They grow pre-phylloxera Verdejo vines along with others at 8-900m above sea level on sandy soil amongst pine forest. They also buy grapes from Salamanca.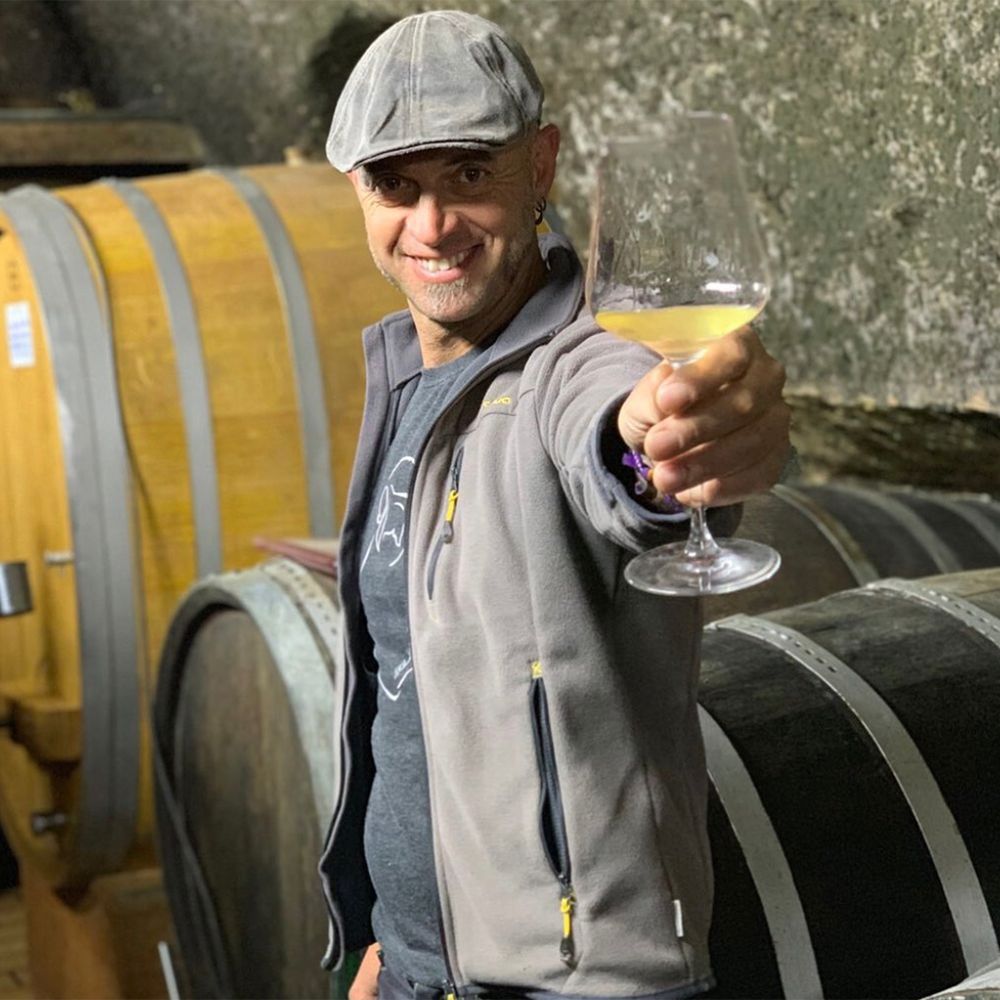 Q&A with Ismael Gozalo
Thank you for sharing your wines with the Club again! We wanted to include this wine as it's almost a still version of your pet nat, which some people weren't able to try after it exploded in transit. What do you think caused this?
Thanks for choosing one of my wines again - it's an honor to be part of your Club and to share my wines with the RAW WINE family. La Banda del Argílico is one of my youngest wines and it was the Nueva York that we sent last time - some bubbles. It exploded because it's a live wine, I think that happens when the bottles are ready to go out into the world. Sometimes the wines choose their own moment - they know when they're at an ambient temperature and feel like it's the right moment to be drunk. They open themselves and say, 'I'm here! It's a good moment to share, let's go to the party.' When you don't use any chemicals, wines take on a life of their own.
For those that weren't members in July, can you tell us about how you came to be a winemaker, and why you make wine in the way you do?
I make wine because I am the 5th generation of my family to do it. I was born in the vines, during October in the middle of harvest. It was not a decision but an imposition to be in this life. Then I decided 24 years ago to focus my life on making wines for people. And I decided to make these kinds of wines because, my whole life, these were the wines I drank with my family. My grandparents, my parents, my whole family never drank wine with any chemicals. For us, this is normal wine - we never say natural wine because for us it is just 'wine'. Healthy wines.
Was there phylloxera there when you took over?
Phylloxera never arrived here because we live in a very sandy place. 60-70% of our land is sandy. It has a natural border of pine trees that fought the phylloxera from coming in. Phylloxera has 4 stages in its life - 1 of them is digging a hole down into the soil. In clay it is hard to drill down and in sand it is very easy but it's unstable and collapses on the way down, so the insects die in the soil and that's what protected our vines from it.
You said in our last interview that your vineyards are located in high, flat land at around 950m above sea level, and that it's very sandy. Does that create a bit of a microclimate?
Yes, it's hard in the winter and hard in the summer. We say we have 9 months of winter and 3 months of hell. During winter we can get -18 or -19 degrees C, it's a hard climate here. Usually it's -12 or -14 with a lot of snow. But the problem really is the summer, we can get 42-43 degrees. It's a very dry place with under 50L of rainfall per square meter, when 220-240 is the average. So it's nothing really. The roots are very deep and it is that reason that the plants can feed from the soil, they're 18-20 meters deep. Because of this, we want to preserve the humidity as much as we can.
What's Nieva like? Would you say it's underrated?
We say that we live in the middle of nowhere. Years ago it was a more important village because we lived here with 700 or so people. Now it is just 230-240 people. We have 4 more cellars in the village, which are bigger than ours. Hence 'micro' and 'bio' - we're a small winery working in bio. Easy to remember! But when I was young, here in the village, there was 70-72 wineries, private cellars. Most of the people here produced their own wine, but they are now old or dying, or moving out to live in the capital with their families. It's difficult to live in a small place because most people want more contact with other people. For me it's not an issue as I travel a lot around the world, but for older people they want to see their family and their friends.
I understand you work with some old vines, so it'd be good to hear a little more about that.
In France, people say vines are old if they're 20-25 years old and very old if they're 40-45 years old. Our youngest vines are 140 years and the oldest are 277 years. For me, that's what old vines are. And they create more concentrated juice. The rest of the vines in the area produce 12-13 tonnes per hectare, and ours produce 2.5 tonnes per hectare. For me, the most important thing is the quality. There is no limit to the quality working from these vines. For me, the trouble is for the rest of the sellers that want to produce cheaper wines without any soul.
Is there any revival of old grapes happening in the region?
I heard about some vines that are more than 300 years old - around 15km from here, in a village called Santiuste, the same age as Chilean vines. There's a special winemaker living there, Esmerelda Garcia, who produces healthy wines from these old vines.
Can you talk me through the process of making this wine?
La Banda del Argílico means 'The band of clay'. It sounds like a rock and roll band, but the most important thing in these soil is to have these small bands of clay to invite in the humidity. It's like a tampon and when rain falls, it gets soaked up by the clay and stays in the soil to feed the roots of the plant, when you have the exchange of mineral and animal. These bands of clay are very important. The label is a picture of the soil - when you cut it 2m deep, you can find these strands of clay. We made this wine from 2 different harvests and we work with 2 different presses in the cellar. 1 vertical and 1 pneumatic. Which press we use depends on the wine and we also decide whole cluster or destemming. For this wine, we destemmed and pressed pneumatically. And we made a first harvest to preserve the humidity, then waited a couple more weeks to make the second harvest to have a really nice ripeness. When we make only 1 harvest in the same plot, we lose the natural acidity and balance, so we harvest at 2 different times and blend it to ferment them together.
What vessels did you use?
For this wine, we use stainless-steel tanks - around 2500L tanks, the small ones. For others, we have many other vessels, such as amphoras, barrels, etc.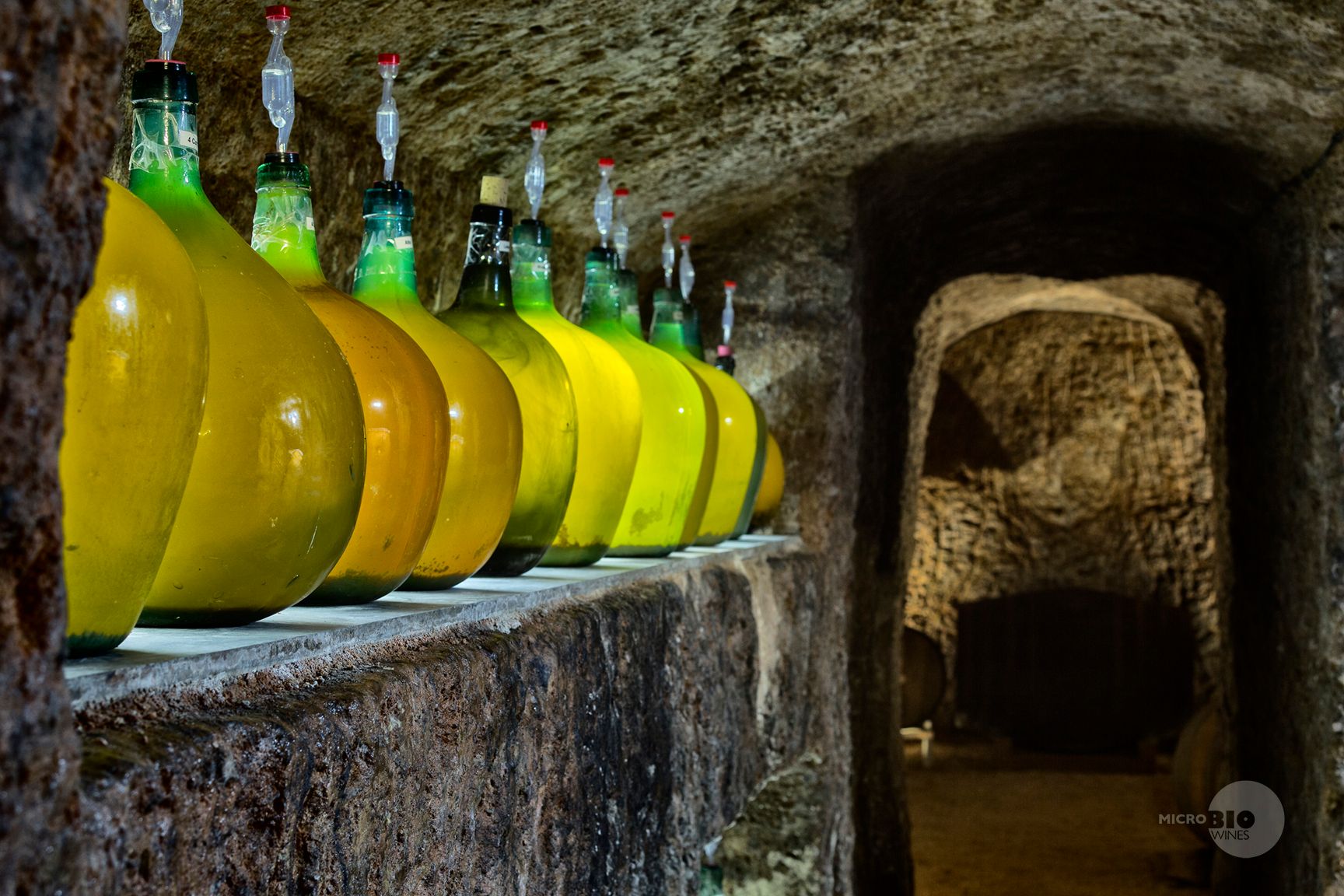 Did you use any sulfites?
We never add sulfur during harvest, pressing or fermentation. For this wine, we have added some at bottling, just 15-20mg. This is because some of the customers of my importers are not focussed on natural wines. They asked me to add sulfites so in this case I added a little.
How would you describe the taste?
It's hard to describe - I always say it's my impression rather than the taste, as it depends what glass you're using, the temperature of the wine, the day on the calendar and many more factors. But certainly you're going to smell, going to feel that it's very fruity, very herby - lots of fennel and anise.
When should people drink it - is it best enjoyed now, or aged in the bottle?
Now is a super good moment to enjoy the wine, because these wines are made to drink within 3-4 years, not more. It has only 5 months with yeast to develop structure, but not too much. I don't want to have any more complexity, because I have other wines, other labels designed to be more complex. After fermentation, the yeast goes down and dies, then just before bottling it needs time to integrate - this small corpse of the yeast is called autolyses. We keep each year 12-15 bottles of each cuvee and during this year's harvest we opened a bottle of the La Banda del Argílico with the team and it was amazing.
How does the 2020 compare to other vintages?
2020 was super dry for us. From September to September, we got like 180L of rain, 50-60 less than a normal year. But the whole cycle was amazing because every moment during the cycle of the vines, everything that needed to happen, happened. During the winter, it was very dry and cold, and when the vines started flowering, we didn't have any freezing during the spring. Here it's very common to lose 50-100% of grapes to freezing. In this case 2020 was amazing. Cold in winter, rain in the beginning of the cycle, then going up, up, up in temperature very slowly, very dry summer and slow maturation. We had 7 weeks of harvest, a very slow harvest.
Which grapes have you used?
Always the same grapes - Verdejo, our local, ancient grapes.
Any food pairings you'd recommend?
Always the best pairing is good company. And just to share the wine. This gastronomic wine is interesting with salad, cheese, cream, fish, white meat - many different things. You can enjoy it alone, 'eat in glass' without adding food. Just good company!
Isabelle's thoughts on La Banda del Argílico - I am very excited for you to get to try this aromatic verdejo as it is the still version of the bubbles which many of you sadly did not get to taste since the warm summer saw quite a few bottles empty en route. But since a number of you asked me what it tasted like, I jumped at the chance to get you the bubble-less version. This is an opulent, mid-weight wine from 100-year-old vines, with great concentration and minerality as well as a little smokiness and a little spice (white pepper, fennel, star anise). It has a creamy mouthfeel, is quite salty and shows notes of white blossoms and freshness, almost like a zest of lime.  
---
Vins Nus is a range by Alfredo Arribas north of the Priorat and Montsant regions of Catalonia. They produce "wines with more absences than add-ons" in respect of the terroir, including their SiurAlta collection of mountain and almost monovarietal wines, and the InStabiles' series of mutable origin and free composition wines.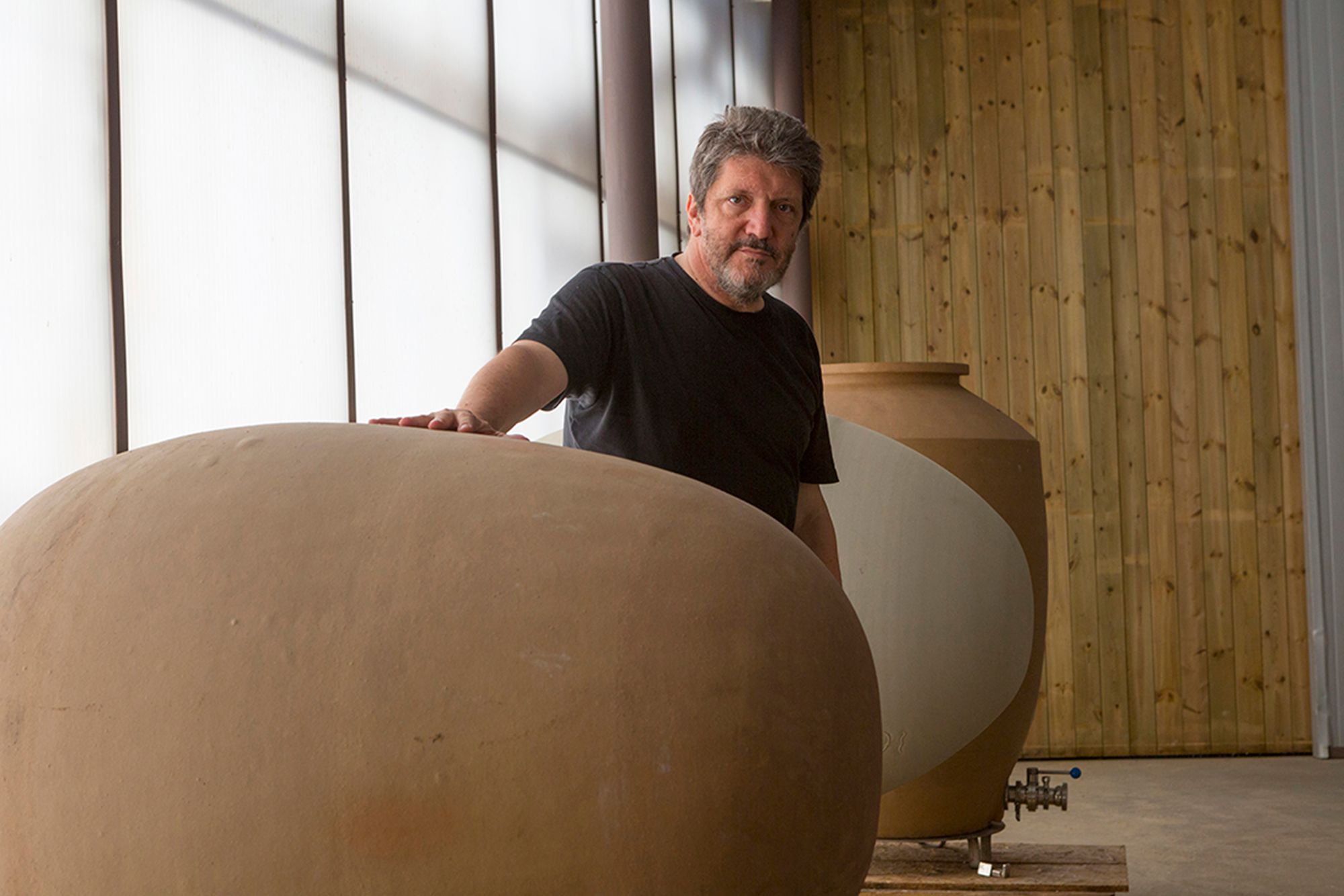 Q&A with Alfredo Arribas
Can you tell me about your background - how you came to be a winemaker, and what influenced your style of farming and producing?
I'm a former architect and have combined this and winemaking for 20 years. For that reason, I think my approach, especially to the farming, planting, landscaping, is a bit more intense - a bit beyond what is usual and traditional in our region. I feel more free to experiment and to work outside the borders of possibility. The Priorat is very extreme in terms of the viticultural conditions, the topography is complicated, the inclines are steep so vineyards are based on terraces or slopes that make the work very difficult. And also the climate is very extreme and very dry, so as we work with biodynamics and do everything organically, we needed to translate the theory that works in other vineyards into our particular situation. We are one of the few wineries in our region that work using low intervention methods in the farming and the winemaking. It's more of an experimental and more advanced way of expressing the incredible terroir of our region.
How did you move from architecture to winemaking?
There are several aspects in common. One is the combination of technique and creativity in both disciplines. Also I think complexity is present in both. And maybe the reason to come back to nature for me was because my grandfather was in viticulture and from my childhood, these memories have been present for my whole life. One day I decided to not just remember, but to act on these memories. I think the mind of an architect is very organised to afford complex methods of developing theories and ideas, and mixing technique and art together. That has been super helpful to me, to view the wine world from another perspective and to benefit our wine production and break free from the borders, repetition of traditional approaches and without the idea that something new can be implemented, I would not be interested in making wine. For me, what's important is the level of intervention in the farming, more than in the wine itself. Without the work in the farming and the modelling of the vineyards, the textural world that is making wine - all these material things for me, the basic aspects, are the most attractive parts.
Can you tell me about your vineyard?
Our production is based in different locations - we are not based in just one place in the Priorat, but have different implementations and different wine ranges. The wine that we are presenting to the Club belongs to the InStabiles family and belong to Vins Nus - the wines we produce without adding sulfites and intervention. The InStabiles range has a rule - they are 'free wines' and they resign themselves to the vintage and the origin and the vineyard we use can change from one year to the next. What's really important is the concept of the wine, so in this case a claret - somewhere between red and white - so the InStabiles wines are exercises in the art of assemblage, always looking for lightweight, gravity-less, this kind of craft work. The vineyard for this vintage is very wild and sits at a high altitude of 450m high, in an area next to our cellar called the upper rock. This is not necessarily the same vineyard we will use for the next vintages of the InStabiles claret, but this one is very wild, surrounded by nature in an isolated area and this is part of its attractiveness.
Can you describe the soil and the terroir?
The soil is clay - not the usual schist or slate soil of the Priorat region. It's more clay and it really influences the wine's character. The minerality goes a different way if you compare it to a typical Priorat wine. Also the frame planting is very narrow, so the competition between vines is high and the result is very interesting and we like to look for intensity and a different mineral character than when you have slate as a soil, that goes to more power and exuberant structure. We are looking for subtlety because of the kind of soil we have.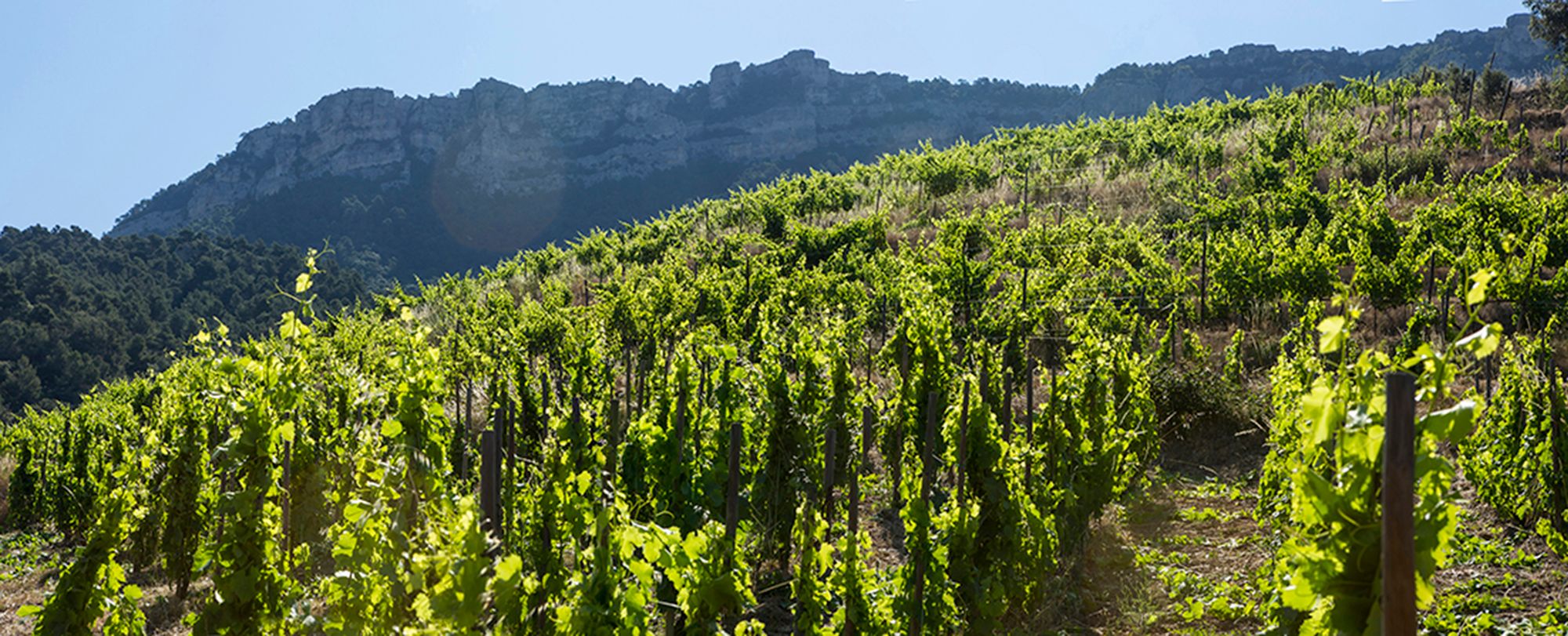 Can you talk me through the process of making this wine?
There is something unusual about our process - we make the claret without any maceration, so it's a bleeding - not pressed - of the initial litres that fell down when the grapes came into the cellar. So for instance, 5000 kilos of grapes, give us just 1000 litres at most at the beginning. It's totally transparent in colour and goes into a steel vat. As you can imagine, it's a small quantity of wine. Then just at the start of fermentation, we pass through very big, old casks which will not afford any oaky character or taste to the final result of the wine, but fantastic for providing exchange of oxygen over a long period of time so the consumption of sugar for this wine is very slow and sometimes takes 8-9 months. So we do this until the wine becomes dry and this can happen end of spring, early summer, so quite a long time and this gives to that wine an enormous complexity.
Do you use any sulfites?
Absolutely not - it's not needed because the very slow process of fermentation protects the wine from any oxidisation. The wine keeps itself very whole and healthy, without the addition of anything.
How would you describe the wine?
The first thing is color - it's very unique. Of course, for rosé a lot of people want to achieve a pale color, but in this case it's very natural because the grapes are entirely without skin contact. The color is very clear, almost more of a clear orange than a pink rosé color. The smell and taste are a surprise because there is no sweetness, and this was the basic idea behind the wine. This is our first vintage and the idea was to avoid sweetness because sometimes rosé can have too much and makes you tired of drinking before you finish the bottle. The second aspect is the intensity present in the smell, and in the palate. It has a very volatile acidity which has the role of providing a structure to the wine which hasn't developed tannins due to the method of making it. It ends with notes that express this long process of fermentation and notes of patisserie, of certain pastries. It's surprising because it all comes from the way we make it.
What's this particular vintage like?
In 2020 we had some rain for the last part of the year, before harvest. It was a very hard vintage for those working organically, we lost a certain percentage of the plot, so it's a vintage that everyone remembers. But the grapes that survived were fantastic. To me it's one of the greatest vintages we've had.
When should people drink it?
The moment to drink it is now - I recommend to profit from the near year it's already had it in the bottle, to enjoy it with this youthful expression. Maybe it could be more complex in years to come but I recommend to have it now. Also it's our first vintage of this rosé, so it's tough for me to know how long it would hold in the bottle for - I guess around 5 years to wait for expression of the maximum accent of the wine content. But this is a wine for pleasure and to be enjoyed now.
What's the story behind the name of the wine?
Claret is a combination between red grenache, and white grenache in a very small percentage. Claret normally means the combination of red wine and white wine. In this case, it is red grapes and white grapes as everything was fermented in parallel. It's a grenache with 90% red and 10% white.
Any food pairings you'd recommend?
It's a kind of different wine - if you were thinking in pairings, I'd say it's very universal. It's a wine that's not exactly a red, not exactly a white. But I'd say fatty foods - like lamb or pork. Surprising really as rosé can go with delicate flavors, but the density of this wine means it goes really well with fatty and intense-tasting pairings. But we are still discovering its potential - it's a wine with few precedents and so a lot more to discover. For a vegetable dish, I'd say root vegetables - I think they would be fantastic with this wine.
Isabelle's thoughts on Instabile Claret - Rosés are notoriously tricky for the trade as traditionally they have a very short window of popularity, which is basically summer. So you may be thinking why on earth choose not one but two rosés (see Schmitt above) in January? For exactly that reason, because great rosé is worth it at any time of year, and this is one such example. A serious, full-bodied, vinous drink, Claret deserves time and attention. It shows elegant, subtle, mellow fruit aromas of pomegranate and ripe red cherries, as well as herbal notes of sage and rosemary. It is a red and white grenache blend from Priorat in the Spanish Med so it is full-bodied and dripping in sunshine - ripe, opulent and spicy (vanilla, cocoa nibs). A deliciously foodie wine.
---
Macatho is a project founded in 2016 by couple Macarena del Rio from Chile and Thomas Parayre from France. They work out of the Itata and Maule valleys to make small parcel productions of natural wines from recovered old vineyards, working with the farmers who have cultivated them historically.
Q&A with Thomas Parayre
Can you tell me about your background and what has influenced your style of winemaking?
I'll start with Macarena because her profile is more interesting than mine - she's an agronomist engineer who studied in Chile, then travelled to France to become an oenologist and began working mostly with small producers, doing a year in the conventional winemaking industry. But she discovered natural winemaking quite early on in her career, back in 2008, and once she had, she never went back. She began working with natural wine producers in the South of France and lived there for around 7 years. In 2014, a handful of people asked her if she knew Louis Antoine Luyt, a Frenchman living in Chile, and if she knew about the Chilean vine called Pais. That year Macarena visited her home country and I happened to be good friends with Louis Antoine and, at the time, shared a house with him in the south of Chile, where we are now with Macatho. I was helping him with some video content of his work, but offered my help in the warehouse too, and when Macarena heard he needed some helping hands with his harvest, she came along and helped out too.
Of course, Macarena and I met during that time and then in 2015, both travelled to France to work on another harvest - Macarena in Beaujolais working with Yvon Metras a well-known natural winemaker and I was working with Jean-Christophe  Comor of Les Terres Promises, another renowned winemaker. We came to back to Chile at the end of the year and decided to start our own project in 2016, and that's how Macatho came to be. We don't own our own parcels and from the beginning we decided to work this way. In the beginning it was hard to find small vineyards that were well farmed and among these first parcels was Tinajacura - the wine we're talking about today.
Can you tell me a bit more about the Tinajacura and where that's grown?
It's a tiny parcel, around 0.3 hectares - it's more like a garden really. But it belongs to a locality called Guarilihue Alto which is at the epicentre of the Itata Valley in Chile, and the spot where the first vines were planted by Spanish colonisers almost 500 years ago when they arrived in the country. Tinajacura is in that very place. Of course, it's very different to how it used to be, but it's important to note that it's where the very first vines were planted in Chile.
Tinajacura is a blend made from the same parcel - Cinsault and Carignan. And although they are different grapes, we manage to harvest them on the same day. The main difference is what we do during pruning, as they don't mature at the same time but we prune in a way that allows us to harvest them together - we first did this in 2016. We always co-macerate and co-ferment them together as well. The 2019 had a very short maceration of 7-8 days and same with fermentation, around 2 weeks. This little parcel is typical of the area - it has the dryness of the interior mainland, but if you look at a map of Chile, you will see that we have the Pacific Ocean only 25km away and are also close to the corner of the Andes, so of course this changes a lot the precipicity of the wine.
We also have a marine influence from the ocean and the sea is part of why the wine is so fresh. And in Chile, there's a big difference in the temperature at night, sometimes you can have a difference of 20 degrees. The closer to the ocean you are, the bigger the difference will be. It's also at 268m above sea level and the altitude offers a lot of freshness by night and keeps it during the day. The rootstock of the Cinsault and the Carignan is grafted is on old Pais grapes. The Pais is the very first kind of grape planted by the Spanish and the Cinsault has been planted for around 40 years and the Carignan for around 15, but grafted from old Pais. This is very common of these varieites in the Itata Valley.
When choosing a vineyard and farmer to work with, is there anything in particular you look for?
We work with 7-8 parcels per year and first and foremost, we fall in love with the parcel. We will have a sentimental breakthrough with a place and it doesn't happen all that often, so we try to listen to our feelings when this happens. Then we look at the relationship we can develop with the farmer who owns it. And that's a big part of course as we have to explain how we want to work the parcel, what kind of agriculture we want to use and it's easier of course if we find a parcel that's historically been organic. If that's the case, the relationship is much easier as the work we are trying to do is already aligned and there's marginal work in refining the details.
Say we find a lovely parcel and we are clear that the work done before has all been clean, it hasn't received any chemical treatments, just sulfur during the year, the kind of change we make may be during pruning and harvest time. It can be a very surprising moment in our relationship with the farmer. And many Chilean farmers are told that wine is better if it has a lot of alcohol in it and we don't think like that, so for many farmers the harvest date is a concern because we may choose a date sooner than they would have thought to harvest. So we have to explain that we are confident in what we're doing, we want freshness and we're not looking for the maceration or high alcohol that they're used to. That's the easy part of the relationship with the farmers. And during the year we determine a schedule with them to identify the work needed in the parcel - there are always a few changes, sometimes bigger ones, but in general we fall in love with a parcel because it's been well watered before we get to it, so mainly the work with farmers is just to have a good relationship in all the other terms that can be a relationship with them.
Of course, the economic side is very important - we are living in Chile, a country with a very peculiar and recent history of wine. From the 1950s to the 2000s more or less, Chile was dominated by the big industrial wineries. It has one of the biggest wineries in the world but they make it badly, using and abusing small farmers because they don't care and just want grapes that allow them to make large quantities while paying a poor price for them.
Part of our work is not just making natural wine, we are also making it because it's very important for us to live well, to incorporate this social aspect into the way we are working. We have medium term contracts with our farmers to afford all their requirements and needs, and to make payments to them all year round. We don't own parcels, so with Macatho we want to establish a good model to work with farmers in a better way to produce better grapes together.
What's your personal approach to winemaking?
I could go into detail about our approach, but the main idea is that we try to be very gentle in our vinification, we have very little pigeage, we are feeling, smelling, hearing our wines and determining what kind of work is needed, but we don't apply any recipes. We'll get to the warehouse, get to the tank and smell, see how we go and the amount of sulfites we use is always is very small. We use sulfites but the total is very low - around 5-12mg per liter.
And how about the process for making this wine specifically?
We separate the Cinsault and Carignan into different boxes and destem both, then what we try to do is alternate layers of grapes into the tank, so one of cinsault, one of carignan and so on, a little like making a cake. We keep making it that way and for the 2019, it had a short maceration of around a week, then fermentation for around a 14-20 days. The process is as gentle as possible. In 2019, we didn't work yet with a pump - we only got this in 2021, so for this wine we used gravity and a 20L bucket, which is of course more gentle than using a pump.
What vessels did you use?
We macerated and fermented in small stainless steel tanks between 1000L to 3000L. They are very small compared to other wineries - we are a little winery with 4 hands, Macarena's and mine, plus a little help from friends and from good and kind people. And so the materials we use are small too. We want to keep working in this way and agreed that 30,000 bottles per year is our limit - we made this number in 2021 for the first time, but had a baby in 2022 so made very few wines, and in 2019 we did 18,000. We don't want to make more bottles - we want to keep working in the way we do. Of course we can improve in many ways, but we want to focus on the parcels we work with and many of them are spread out across 2 regions in Chile, so it takes time and energy. It's artisanal, it's funky and we try to never lose the spirit of what we're doing. It has to be fun every year.
Can you describe the soil and the terroir?
It's granitic soil, like almost all of the soil in Chile from all the volcanic activity. What is interesting to note here is that you have different ages of granite in the soil through many years of degradation. It is more or less decomposed, or more or less old, and that's the variation. Guarilihue where Tinajacura is, it's a very old, aged and degradated soil because of the proximity to the coastal mountain.
How would you describe the wine?
I'm not good at this part - because I know what kind of wine we want to make and I know up until bottling what we're trying to do. And we are very happy with this wine as it has developed into a very fresh wine, very straight, I wouldn't say serious but it knows what it is. And that's what we're looking for - freshness and straightness, no high volatility but as any winemaker would say, each bottle that ends up, say, in the US or in London, it's difficult to know how it will taste at that point. Even here when we open a bottle of Tinajacura, it can surprise us - it's natural so it can change. Of course it's our wine, so we're always fond of the end product, but sometimes we're really fond of it!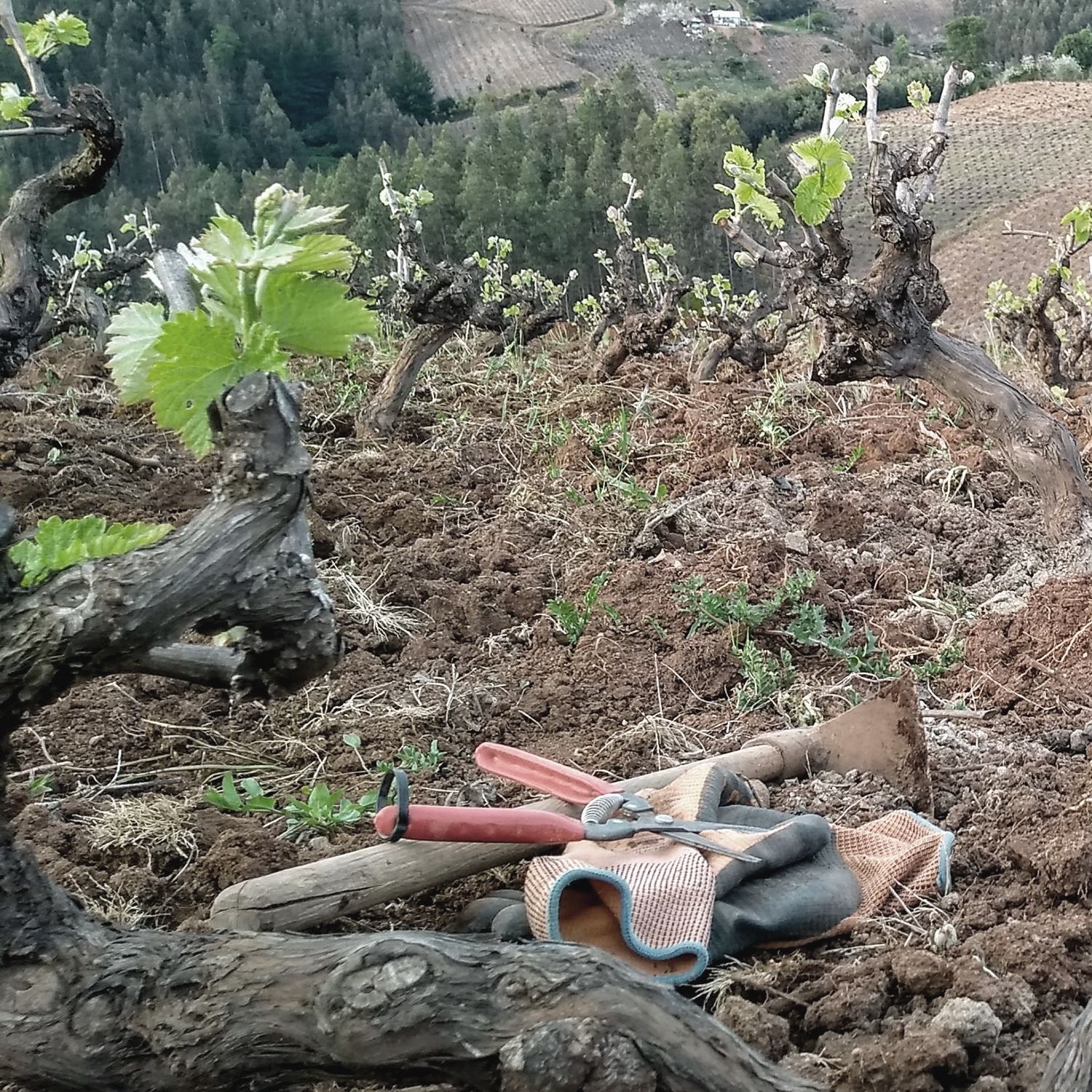 When should people drink it?
We are still opening bottles from 2016 and it's a wine that ages very well as it has a real acidity. However I wouldn't gamble as to whether it will keep for say 20 years, time would tell in that case. For the 2019, I wouldn't dare to give you a precise number but it's in good shape currently. Macarena and I opened a bottle with friends recently and we found it very young still. I'd even recommend picking up a few bottles, opening 1 now to taste it and leaving the others to develop for different times to compare the end result.
Any food pairings you'd recommend?
It's hard to make recommendations as I don't know what people like to eat and we don't generally open a bottle to match with food, we open a bottle that we want to drink. But I will say that I recommend opening the bottle with a good person at the right moment and that will make a bigger difference than the food you enjoy it with.
Isabelle's thoughts on Tinajacura - Macarena and Thomas are conscientious, serious producers whose wines always need a little time to open, and Tinajacura is no exception. On first approach the wine will be a bit closed but give it a little time in the glass and it really opens up. Dense and concentrated, this Cinsault/Carignan blend shows perfumed, floral notes with a lovely herbal quality to them - think violets and crunchy blackcurrants - as well as aromas of black olive, garrigue and tapenade. This is a sun-kissed, elegant wine that is testament to just how well-suited these southern European grapes are to the Med-like climate of southern Chile.
---
Vigneti Tardis is a project in Italy founded in 2017 by Jack Lewens, the former co-owner and sommelier of Leroy in Shoreditch, and Bruno de Conciliis, winemaker and the 'creative force' behind Viticoltori de Conciliis. They are based out of Cilento in the southerly province of Salerno, where they make organic and biodynamic wines.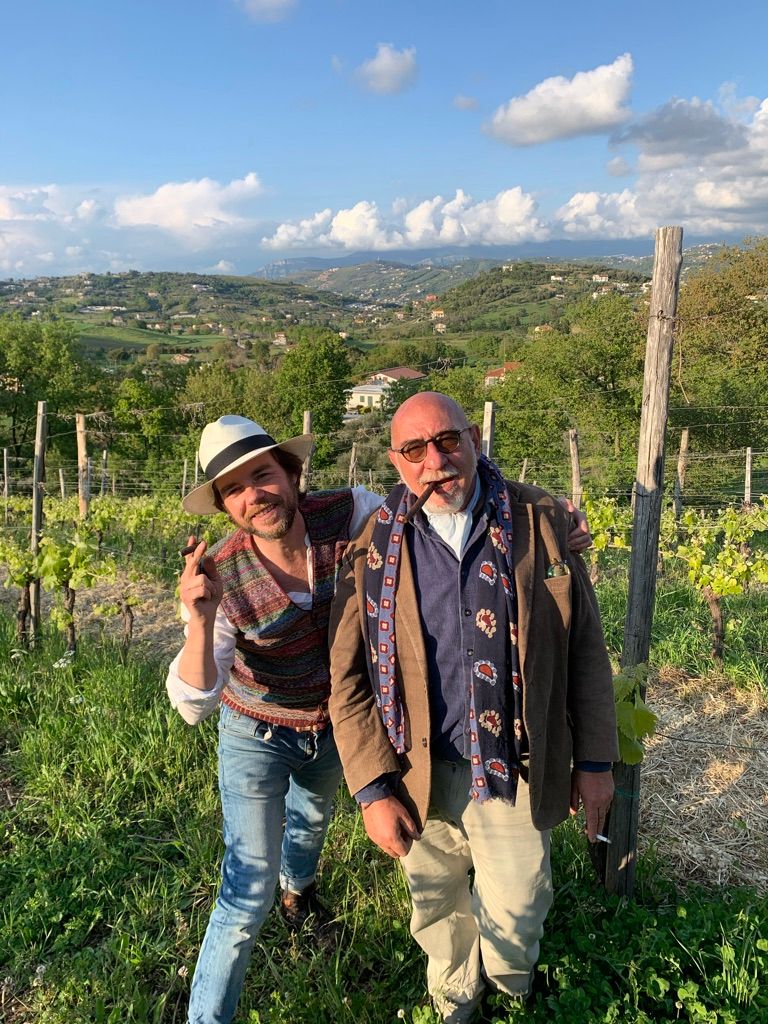 Q&A with Jack Lewens
Can you tell me about your background - how you came to be a winemaker, and what influenced your style of farming and producing?
I come from a sommelier background. I cut my teeth at a restaurant in London called the River Cafe and learned excellence in wine through the Italian route. It's slightly more traditional, outside Italy at least, to grow up in excellence through French wine, but I just happened to be working in a place that had an exclusively Italian list. I completely fell in love at the diversity and the beauty of Italy, which is very generic as a concept, but it's a country that has so many grape varieties and so much diversity and such a fabulous relationship between food and wine that really spoke to me.
In 2007, I did my first harvest - I came down here to Cilento, south of Campania, which is where I am now. I decided then, within a certain amount of time that I'd end up turning my head towards production. So in 2017, I made a proposal to my business partner who's the main winemaker and said, 'Let's set up a company,' you know, let's get some vineyards together, so that I could be involved in every area of production from decisions in the vineyard through to winemaking and bottling and styles of wine, etc. And that's that's how I arrived really.
During that period between 2007 and 2017, I was a wine director for various companies and groups and worked in Hong Kong for a while as a wine consultant, and then opened my own restaurant called Ellory, which then became Leroy, but both of which got Michelin stars. Now I'm just focused on the wine and a couple of other little initiatives in the UK, but I'm no longer part of that Leroy restaurant. I guess that's my story!
How do you and Bruno work together now?
Bruno and I work together creatively on the style of wine we want to make and I come back back and forwards from from the UK to Italy every 6 weeks or so, then much more during the harvest. I'm around for most of the harvest and the winemaking, and Bruno takes care of the practical side of vineyard management with our staff, and I do a little bit more of the marketing and sales these days.
Can you describe the vineyard and the landscape in Cilento?
It's really important to understand this about Campania - it has 2 of the oldest grape varieties in commercial production, namely Fiano, which is a principle white and Aglianico, which is the principle red and the grape made to use the wine we're talking about. Both of those grape varieties have more than 2000 years of written history, going back to Pliny the Younger, which is really exciting. But crucially, in terms of the territory, the most famous appellations are Avellino for the Fiano and Irpinia for the Aglianico, both of which have got quite volcanic soils. They're in the volcanic territory of Campania, slightly inland. And essentially, because of the way the topography works, even if they're only 40 or 50 kilometres from the coastline, there's so many small mountains and hills that it's got its own microclimate there, and you could describe it as Continental. There's a minimal maritime influence, depending on where you are.
Now, in Cilento, we're 2 hours south of Naples, right on the coast. There's zero volcanoes, the territory is dominated by limestone and is much more maritime. So in Avellino, you might describe the wines as having a kind of austerity to them. Whereas into Cilento, you might describe the wines as having a bit more generosity. Now, that's actually an observational point, rather than a qualitative point, but we make wines that are potentially a little bit more fruit forward, though they've still got tension and acidity and are well balanced. But compared to the more famous appellations, the wines are just a bit softer and a bit more fruit driven.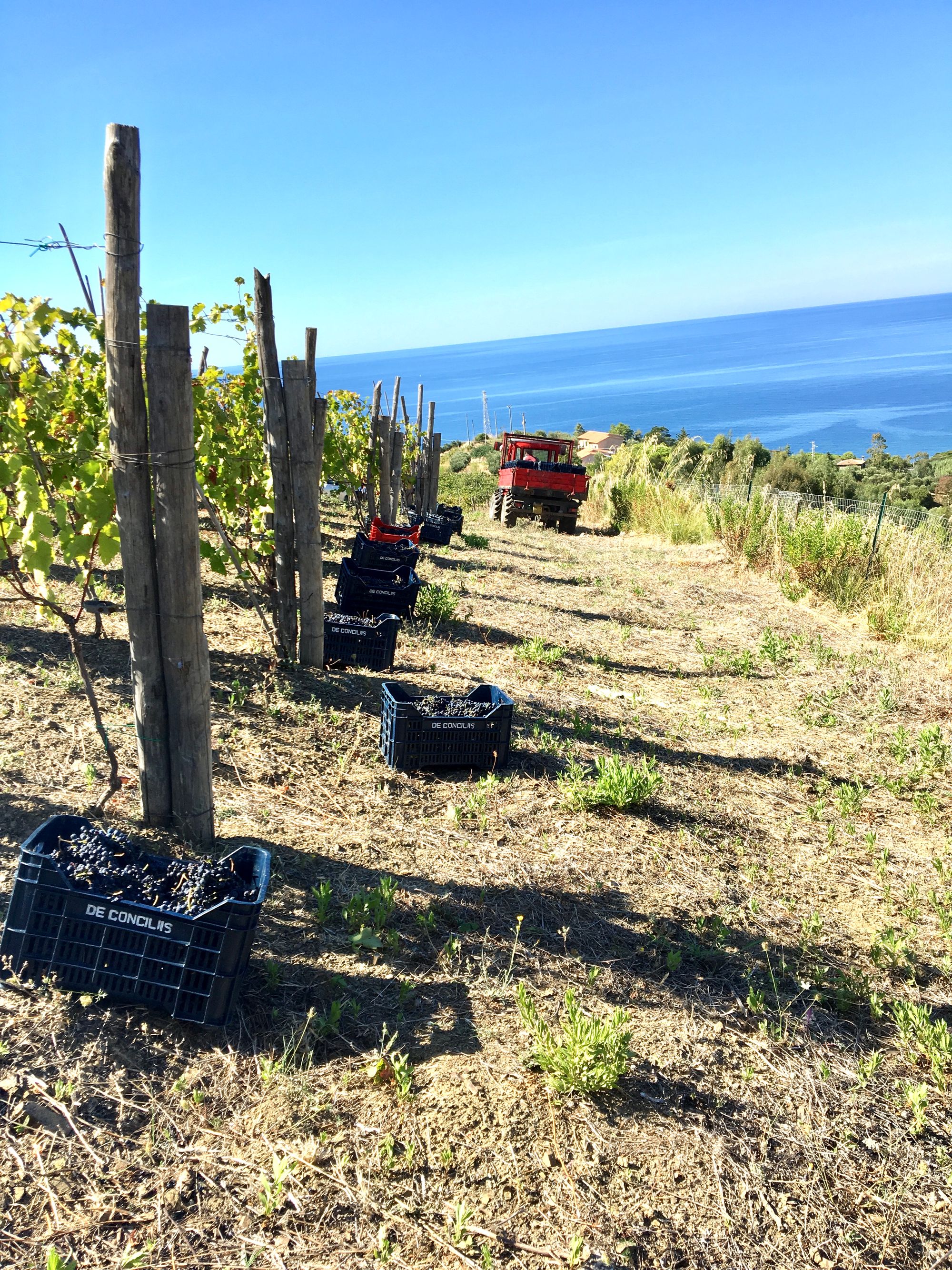 Can you talk me through the process of making this wine?
The whole initiative of Vigneti Tardis was built around this wine, so if there's any of our wines that I've got a real pride for, it's the Martedi. The abstract when Bruno and I started this initiative 5-6 years ago was to make a winebar red, so I had at this time a restaurant in London and wanted to pour an Aglianico which is famously high in tannins, quite hard work, high acidity, a big monster of a wine. But I wanted to make this winebar red. Now that doesn't mean a vin de soif, but something that's a bit more accessibly and potentially lower in temperature if you like something like that.
So for this we destem all the fruit, put everything in the tank - everything's made in inox by the way for this wine - and then we let the fermentation start. That takes about 48 hours to get vigorous and it's all native yeast and there's no additions at that stage. The once fermentation has started, we do a very gentle wetting the cap pumpovers. Then after 3-4 days, we open the tank and ferment only the free run, so there's minimal extraction. What we're looking for is an authentic profile of fruit with as minimal extraction as possible. And Aglianico isn't anything like Pinot Noir - it's got a lot of color. So in terms of color fixing, we haven't got any problems with 3 days maceration because it's still reasonable dark. But what we get when we make the wine like that is something more in red and blue fruit, rather than the black fruit and big licorice, extracted style of Aglianico which people are more familiar with. The goal is to make something juicy and accessible with minimal tannins.
Do you use any sulfites?
Just when we bottle - depending on the harvest and whatever the pH. We've normally got somewhere between 30-50mg as as the combined value which of course was in 2019 for this wine, so will drop below 50 now, a couple years later.
How would you describe the wine?
Aglianico inherently has a kind of savory profile to it, so when I talk about it being fruit driven or fruit forward, that doesn't mean it's some kind of fruit bomb - it's still got nice, kind of savory characteristics to it. There's a really nice tension, really good saline acidity to balance any of the tannins, so we call it medium bodied. It's not medium-full - so it's medium-bodied with really good acidity. It's a brilliantly versatile food wine. I mean, you might not want to have sea bass carpaccio with it, but you could have octopus in tomato sauce or even lamb with it. The versatility is something that I really value and what I was referring to earlier when I called it a wine bar red. It's got sort of red, blue fruits and a floral kind of licorice profile, rather than a dark black licorice profile. It's a truly Mediterranean wine, so I value the versatility of that wine from a food perspective.
How does the 2019 compare to other years?
2019 was a was a really good harvest for us. We tend to make more or less wine depending on the harvest, which is kind of natural, but 2019 was a really nice balance. It had a long hot ripening season, so it wasn't particularly forgiving and it was a slightly early harvest, mid to late September. We've got two sources of our own vineyards, and then we've got one other source, which is organic fruit that we buy from from a close contact. So we started picking around the middle of September, then one of the vineyards was towards the end, which has a slightly higher altitude - around 700m. But it was a balanced vintage, even if it was slightly early and we had to stay on our toes. The acidity is the crucial thing we don't want to fall away and luckily the Aglianico is quite forgiving with acidity, so that makes the wine quite easy to work with in a way once you've got through any challenges earlier in the growing season, you know such as mildew or something like that, which we didn't suffer with for this harvest so it was particularly good.
When should people drink it?
What's really vital about this wine is that it's a drinking wine - it's drinking now. We've got other wines that have got ageing potential. I've got another Aglianico called Giovedi which is 2-3 times the price, but a wine that you can keep for 50 years. But the whole principle, the raison d'etre, of this wine is for it to be drunk now. I want it to be as vivid as possible and as pure an expression of primary fruit as possible. The 2019 is somewhat coming to the end of its journey in terms of the energy of it being primary and juicy - it'll age okay for 4 or 5 years, then it'll turn into something else which might be really interesting, but we're yet to find out. But principally, it's a drinking wine. you know, it'll age, age, okay, for four or five years, and then it'll turn into something else, which might be really interesting, we're yet to find out. But principally, it's a drinking wine. Get it open,
What's the story behind the name Martedì?
All of the wines are named after days of the week - it's a little bit random, but essentially, when we were thinking about it and calling them days of the week, we then sort of moved towards this idea that days of the week are related to the planets and the planets are related to the gods. So it just became a bit of fun, really, at the beginning of the idea. But we did choose the wines for each day in with the kind of gods and the energy in mind. The first wine that we made was Venedi and Venedi is Venus and Venus gives birth to everyone, so it kind of made sense that it was the first one we bottled. Then the second one was the red Martedì and that was also, Venus and Mars, we just thought that was the right thing to do. Then our top wine is Giovedi, which is Jupiter, and Jupiter is the kind of grandmaster of the solar system so that has to be the big, top red wine. And then in Italian Sunday is Domenica, which I thought was a bit heavy, so we called Soledi, which is a direct translation for sun day. So our top wines are Giovedi - Jupiter - and Soledi - the Sun - which are the apex of the solar system. It was just an idea that stuck really.
Any food pairings you'd recommend?
Grilled vegetables, anything nutty or mushroomy. Bold flavored seafood and fish, or fatty fish, and definitely mushrooms and polenta, pasta. Also spicy food. I love spicy, middle Eastern food - it's terrific with chilli and the cuisine of Lebanon or Israel or something like that. Any of the bold Mediterranean flavours.
Isabelle's thoughts on Martedì - Made by Jack Lewens, an old friend from my London restaurant days, this is Aglianico with a twist. Notorious for being big wines with big tannins and deep color, Jack decided to make a more approachable version using a gentle infusion winemaking technique. Martedi is the lightest and most versatile of Jack's range. Featuring notes of dark cherry and blood orange, as well as hints of herbal, verbena aromas, Martedi also showcases a lovely minerality that is in no small part thanks to the vineyard itself, which grows on a limestone plot close to the sea. The result is a wine with great freshness and tension that can be hard to find with Aglianico.
---
---