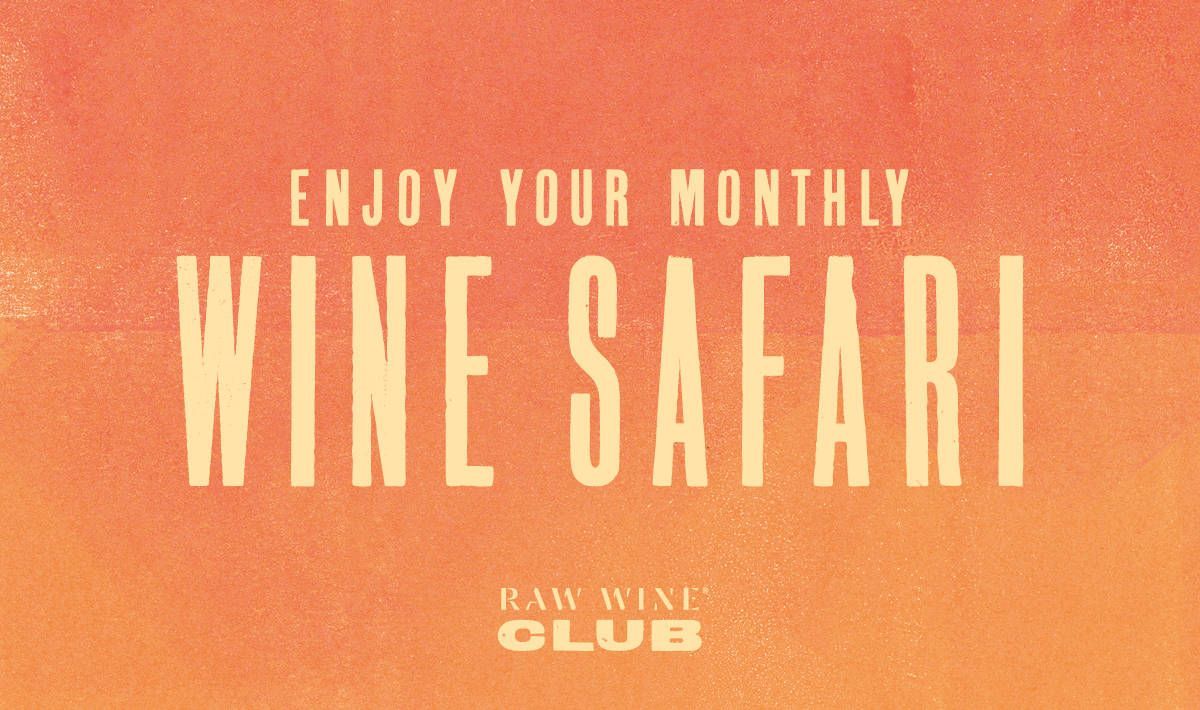 RAW WINE Club - Tasting Notes - February 2023 Selection
40 min read
Hello fellow wine lovers,
Welcome back to another eclectic selection. There's a lot of elegance in this month's box, and a lot of light, luminous, freshness in keeping with the season - here in England snowdrops are out and the days are visibly longer; the sun more present. Hail the early signs of spring!
In amongst the collection, you'll find a creamy, disgorged pet nat; an Old World, New World Chardonnay; a bold, classic orange from the Caucasus; a crunchy Rioja; a Zin with Zing and a mineral field blend from the slopes of a volcano in the Atlantic. They're all delicious. Hope you enjoy the picks.
Warmest wishes from a crisp, chilly Europe,
Isabelle Legeron MW, Founder of RAW WINE‌
---
Domaine La Grange Tiphaine is a winery in the Loire, taken over by Coralie and Damien Delecheneau in 2002 and run with respect for the soil they inherited, the nature that surrounds them, the ancient practice of making wine and a demanding fruit. Their wines seek to express their terroirs and origin: Montlouis sur Loire and Touraine Amboise.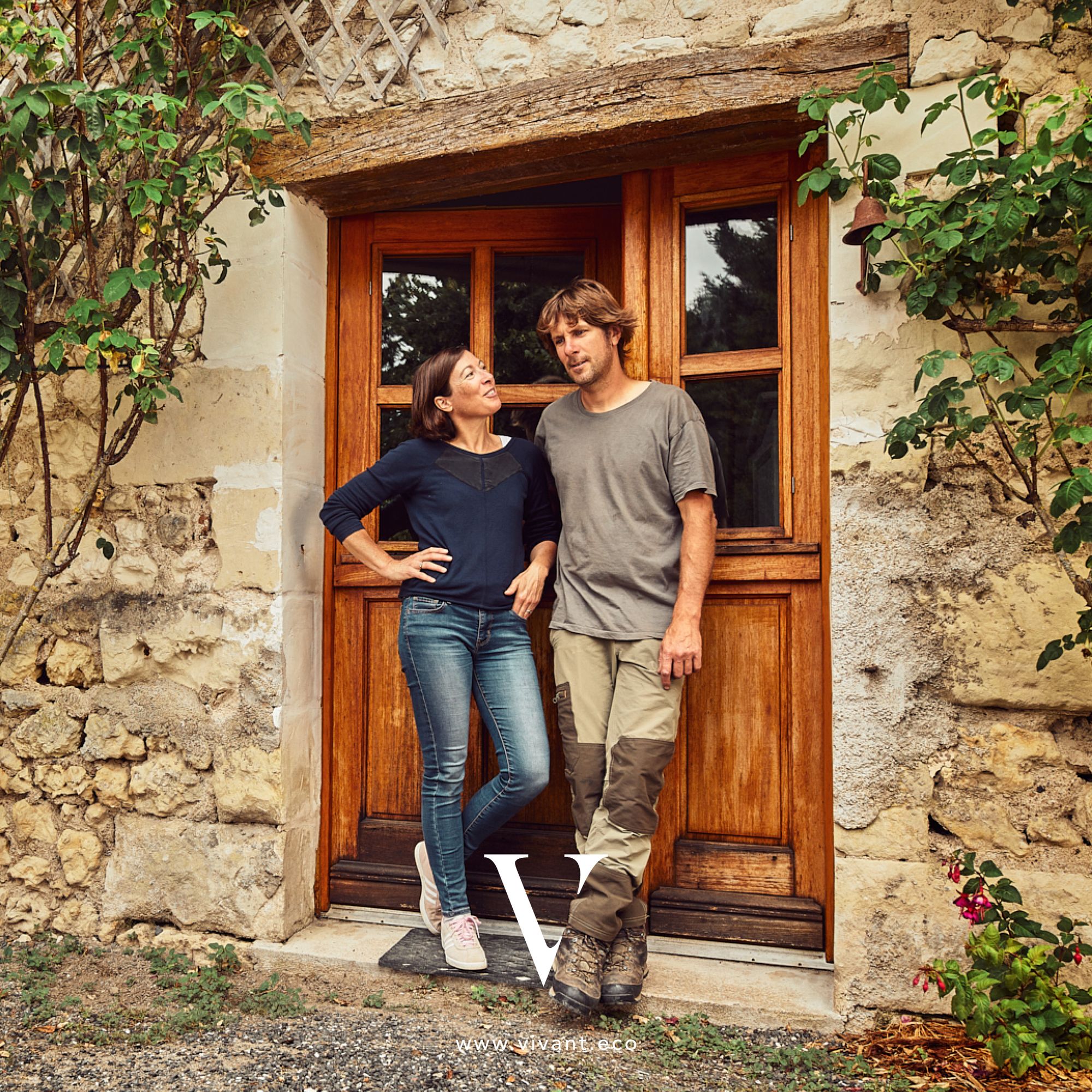 Q&A with Coralie Delecheneau
Can you tell me about your background - how you came to be a winemaker, how you and Damien came together and what has influenced your style of farming and producing?
For Damien it was quite easy because his family was already at La Grange Tiphaine. He took over from his father in 2002. In the beginning he didn't want to be a winemaker or a vine grower, but at 18 years old, he decided he couldn't leave and do something else - his life was at La Grange Tiphaine. For me, it was a little bit different. I am from Alsace and my family is absolutely not in the wine industry! At first, I wanted to be a brewer and to work in the beer industry. I switched to wine, though, and studied in Champagne. I travelled and then I went onto Bordeaux, where I met Damien during our studies together. After graduating, we travelled then came back to Amboise when Daniel took over from his father. I joined him a little later though in 2008-2009.
Damien changed the winery over to organic practice. His father was using sustainable agriculture with just a small amount of chemicals. When Damien took over, the domaine was only 9 hectares - now we have 16. He immediately changed it over to organic and when I joined him, I asked if we could get certified. We started with organic certification in 2008, started working biodynamically in 2010 and gained biodynamic certification in 2014. So we really took our time with it and now work that way across 2 appellations: Montlouis sur Loire and Touraine Amboise. The cellar is Amboise and the vineyards in the 2 appellations are really important to us.
Can you describe the vineyard?
Nouveau Nez is from Montlouis sur Loire and it's a very easy to remember appellation because it is 100% Chenin grapes. With the Chenin, you can make sparkling, dry, semi-dry, sweet, super-sweet - you can make completely different styles of wine. Nouveau Nez is a pet nat made with 100% Chenin. The vineyard is on the south bank of the Loire, facing the Cher river. The appellation is stuck between 2 rivers, the Loire on the north and the Cher on the South. On the west you have the city of Toursd on the east Amboise. It's a microclimate really - the soil is a light, draining soil. Clay, mixed with sand, with limestone as the mother rock that goes around 6-7m deep. The vines for this wine are mostly young - between 3 and 10 years old, while the first picking is from old vines. We harvest the grapes at a good maturity which gives them quite fruity aromas.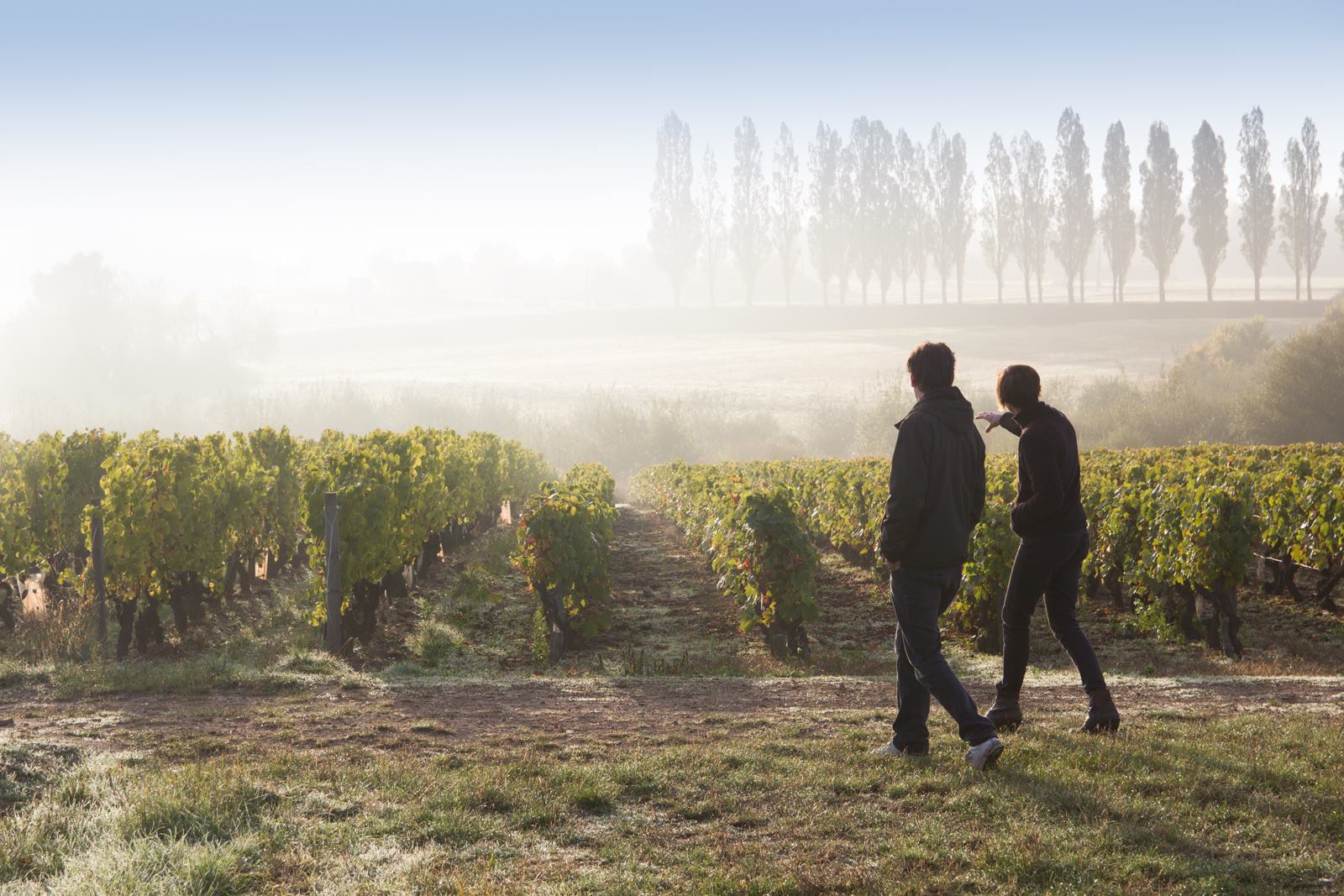 Can you talk me through the process of making this wine?
We harvest our Chenin by hand. When we bring the grapes to the cellar, we press directly. We collect the juice and add a little sulfite at this stage, put it into a settling tank and let it sit for 24-36 hours to settle through gravity and a little bit of thermoregulation. After the settling, we put the juice in a concrete tank and fermentation starts with natural yeast. During the fermentation, we bottle the wine with wild yeast, residual sugar and gas that's already there. We try to keep the wine for at least 10 months but the ideal time is 15, 18 or 24 months. The longer you keep the wine on lees, the better. We keep the wine on lees to finish the fermentation to improve the quality of the wine. And when we decide to sell the wine, we disgorge and extract the yeast deposit and there is some wine left in the bottle, so we fill it with the exact same wine and cork it. For the fermentation, we don't add any yeast, sugar, or sulfites.
How much sulfite do you add during the settling stage?
Just 10mg per litre during pressing - nothing more. It's just to have a clean juice during settling and to help the fermentation.
How would you describe the wine?
For me, this wine is a very happy wine. Which means you have fruit aromas - peach, apple, white peach. Plenty of freshness, plenty of white ripe fresh aromas and it's also dry. You have ripe aromas and dryness, which makes a wonderful pairing. It refreshes your palate, makes you thirsty and it makes you want to have another sip, which is really what we are looking for with this wine. It's a sparkling wine with less pressure than a crémant or champagne. It has fine, creamy bubbles which carry the aromas. It makes for a long wine in your palate.
What's this vintage like?
The 2021 vintage brings me a lot of grey hair! I aged 10 years during this harvest. It was very difficult - we had a huge frost and lost a lot of crops, so we had low yield but still high quality juice. It retained all that is great in the chenin. We are proud of this vintage but we had to fight for it.
When should people drink it?
For me, it's a wine to drink now. Once we disgorge it, it no longer improves with age, so I suggest now or within the next 2 years.
What's the story behind the name of the wine?
Nouveau Nez is a really special cuvée because it literally means new nose - it's a very aromatic sparkling wine with ripe grapes. Also, if you take out the last letter, it means newborn. We started making this wine when we had our first baby. Now, our newborn baby is 16 years old - but if you look a little closer, each bubble contains the profile of a baby.
Any food pairings you'd recommend?
This is a good wine to refresh your palate - as an aperitif or as a digestif, when you've had a good meal and plenty to eat. It starts your palate again. However, I have discovered some great pairings. I really like it with creamy goat cheese - it goes with the acidity, the texture and the saltiness. It's also a wine you can pair with fat - cheese, creamy white meat, sweetbreads.
Isabelle's thoughts on Nouveau Nez - Grange Tiphaine is an accomplished vineyard and winery that grows and makes consistently good, pure wines. Nouveau Nez is one of my personal go to wine when I want something that I know will be good and will please. It is an incredibly pure, clean style of pétillant naturel. Always disgorged, it has a nice weight, a creamy, waxy texture and a lovely complexity, showing aromas of ripe pome fruit, including pear and quince as well as a touch of vanilla. It's a deliciously gentle wine, and a great apéritif.
---
Florèz Wines was founded by James Jelks in 2017, after his studies at UC Davis and time working with wineries all over the world. James works out of Santa Cruz producing a classic style of wine, along with some older styles, while experimenting with new techniques such as co-fermentation and carbonic orange wines. He focuses on achieving the truest possible expression of terroir, favoring natural winemaking to help him along the way.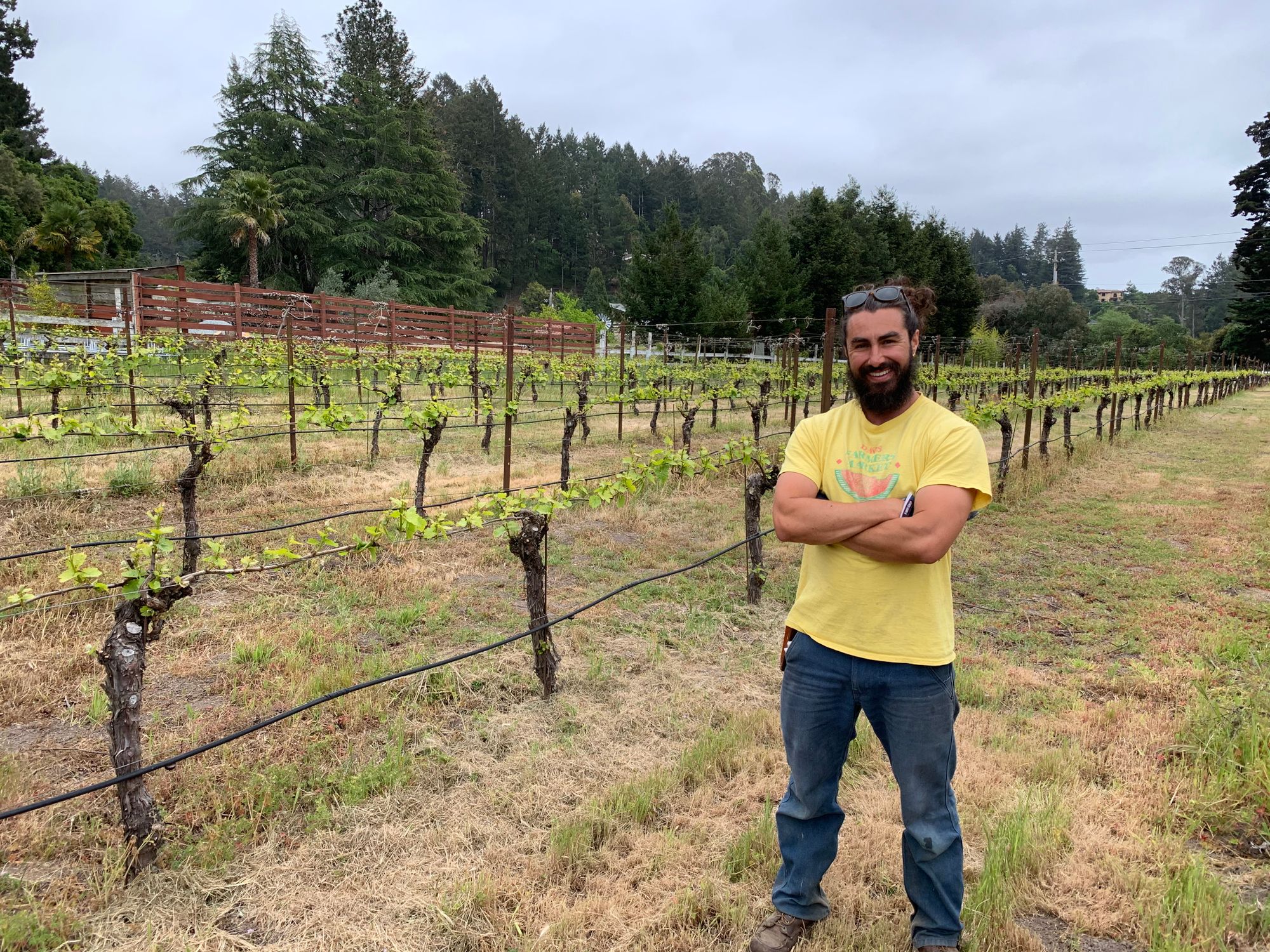 Q&A with James Jelks
Can you tell me about your background - how you came to be a winemaker, and what influenced your style of farming and producing?
I'm from California - I was born in Santa Cruz and grew up in Davis, and my interests had always been related to the natural world. I was interested in gardening and working on mechanics and I was committed to going to UC Santa Barbara to study aquatic biology. As a sort of summer adventure, I wanted to travel abroad out of high school but I wasn't going to just gifted money and a backpack like, 'Okay, you can go and do whatever you want.' But my mom had worked at the university UC Davis and suggested I do one of their summer abroad programmes. I found introduction to winemaking which took me to Burgundy, France when I was 18 years old - not even of legal drinking age back home in the States - so that's what exposed me to wine and you couldn't ask for a much better way in.
Then I proceeded to go to school at Santa Barbara and at the time didn't think I'd go into wine, I didn't really know if there was a career in it. But as I learned more about wine through reading, because frankly I was underage, I kept involved and was able to taste now and again and eventually it just clicked that this is what I want to do, and what I am going to do. Some of my reading at that time was Kermit Lynch's 'On the wine route' and a book called 'Corkscrew', which I don't even know if it's a good book anymore, but those books exposed me to the concept of the vignerons, native fermentation and classic European winemaking without adulteration, without the ameliorations, the focus was on the fruit - you're not trying to doctor it to become something else and the goal is to highlight the terroir. So early on I discovered that and it's always driven my style of winemaking.
I ended up transferring from Santa Barbara to Davis and completing their programme in Oenology and Viticulture and then started working for other people. At the time there were some natural wineries budding in the Bay Area, so I would go and visit the likes of Donkey and Goat, Broc Cellars - some of the earlier wineries that focussed on natural winemaking, so that's how I began to get involved. I worked for other people and was always committed to terroir driven wines, native fermentation and not fussing with it. I was never attracted to trying to put the wine through a mold to make it a specific way, but more a case of, okay, we've got good fruit and we really just wanna guide it into being a wine.
When I finished at UC Davis, I began working for other people, I went over and did a harvest in France, which took me back to Burgundy, went down to New Zealand, went to Oregon, down to Australia and back to California, so I really jammed in a bunch of harvests. At some point, I knew I had done a lot of interning and that it was time to try and take the next step to find a winemaker or an assistant winemaker job. That was the route I was initially taking, but I met a group of young people in Santa Cruz - Ryan Stirm of Stirm Wine Co. Megan Bell of Margins Wines - and I started working for Ryan. Part of my compensation was that I was allowed to make some wine, so we had a bit of a cooperative in a sense. Brent Mayeaux of Stagiaire Wine moved in in 2018, and there was a handful of other projects coming out of that facility as well, so it felt a little like the right place, right time. We were all focused on natural winemaking and supported one another. We were all able to grow into brands that have, so far, succeeded and grown.
I leased out a winery space actually with Megan in 2020 and I'm still there and that's in an old apple cold store warehouse in Corralitos, just out of Santa Cruz, which is kind of the perfect retrofit for a winery, being insulated and cool. I also take care of a couple small vineyards in the Santa Cruz mountains and we've always farmed organically. We also purchase fruit from growers throughout California from Mendocino, Sonoma, Santa Cruz and San Benito County. All our fruit is organic, some of it is CCF certified, some of it is non-certified, but still cultivated organically. Whether or not they've sought certification, you want the fruit to be grown as if part of the landscape and not disjointed from it. We have a lot of ideals - like dry farming and non- tillage - you can't always get away with both those things in California, but as long as people are being judicious, that's good.
Can you describe the vineyard where the Chardonnay is grown?
This vineyard is a Sonoma Mountain Chardonnay, it is its own AVA. It's awesome because it is on Sonoma Mountain, it's not just a valley floor vineyard, this is a mountainside vineyard. You're up there surrounded by oaks and madrones, which is typical California landscape, and you're overlooking Sonoma Valley. Across the way you can see more vineyards. This is a small one of around 4 or so acres. The mountain isn't totally uniform so you can't really plant huge vineyards up there.
You can't ask for much more in my opinion - it has nice southern exposure, well drained soils and it makes for just extremely high quality fruit. I prefer hillside vineyards over valley floor vineyards. The fruit is a little more expensive because it's lower yielding. My friend David Rothschild who's also a younger fellow is the farmer for this vineyard and he's always been committed to organics. He was originally in organic crop production but it's difficult to make a living from it but the grapes had a little bit of a higher profitability.
What type of soil is it grown from?
These are metavolcanic soils - rocky loams up on the hillside, pretty thin soils and well-drained which I feel comes through in the wine. We get really good acidity and part of that is also the climate. In Sonoma it does get warm but typically, the days are 70 to 90 degrees it doesn't get too hot unless there's a hotter spell. With well drained rocky soils and moderate climate, we get really good acidity ease which is a hallmark for quality, concentrated fruit.
Can you talk me through the process of making this wine?
Being that these grapes are from a friend's vineyard, typically I'll go stay over with him and we'll get up at 4am with the rest of the crew picking and harvesting by hand. We'll load up, go back to Santa Cruz and what's unique about this wine is that for 50% of the fruit, I foot tread, so we get a little bit of skin contact. It's not intentionally an orange wine, but we do get a little bit of skin contact there, and then the other half is direct pressed. Typical Chardonnays are often just direct pressed, if you're going for a really fine light Chardonnay, but the skin contact on this one this one gives it a little bit of a rusticity. You get a little more texture than you would if it was just all direct pressed.
With the juice, I let the native fermentation start in stainless steel and when I can tell that the native fermentation is going to go basically without issue, I'll rack down immediately to barrel and we'll have a barrel fermentation. I like to let it start in the stainless because one year when I was still learning, I was sending things directly to barrel, but there's a lot of variability and we had a couple just small challenges, but if I let it start in steel, I can observe it, smell it and if it's healthy then rack down the barrel ferment. There's no new wood on this, it's is all neutral wood, and then the wine is fermented on lees for about 10 months.
In all of my winemaking, I minimize movements. I don't want to disturb the wine at all or any more than it needs to be. We're not doing battonage, which is the stirring of the lees basically - we ferment it, we top it up and we don't fuss with it. This wine has no sulfur added at any point during fermentation or at bottling. My stance on sulphites is I try and I don't use them, but I do view it almost like medicine. You don't take medicine if you don't need it, but there are on occasion times where maybe the wine is sick or you have challenges and that is an appropriate time to use a little bit if needed.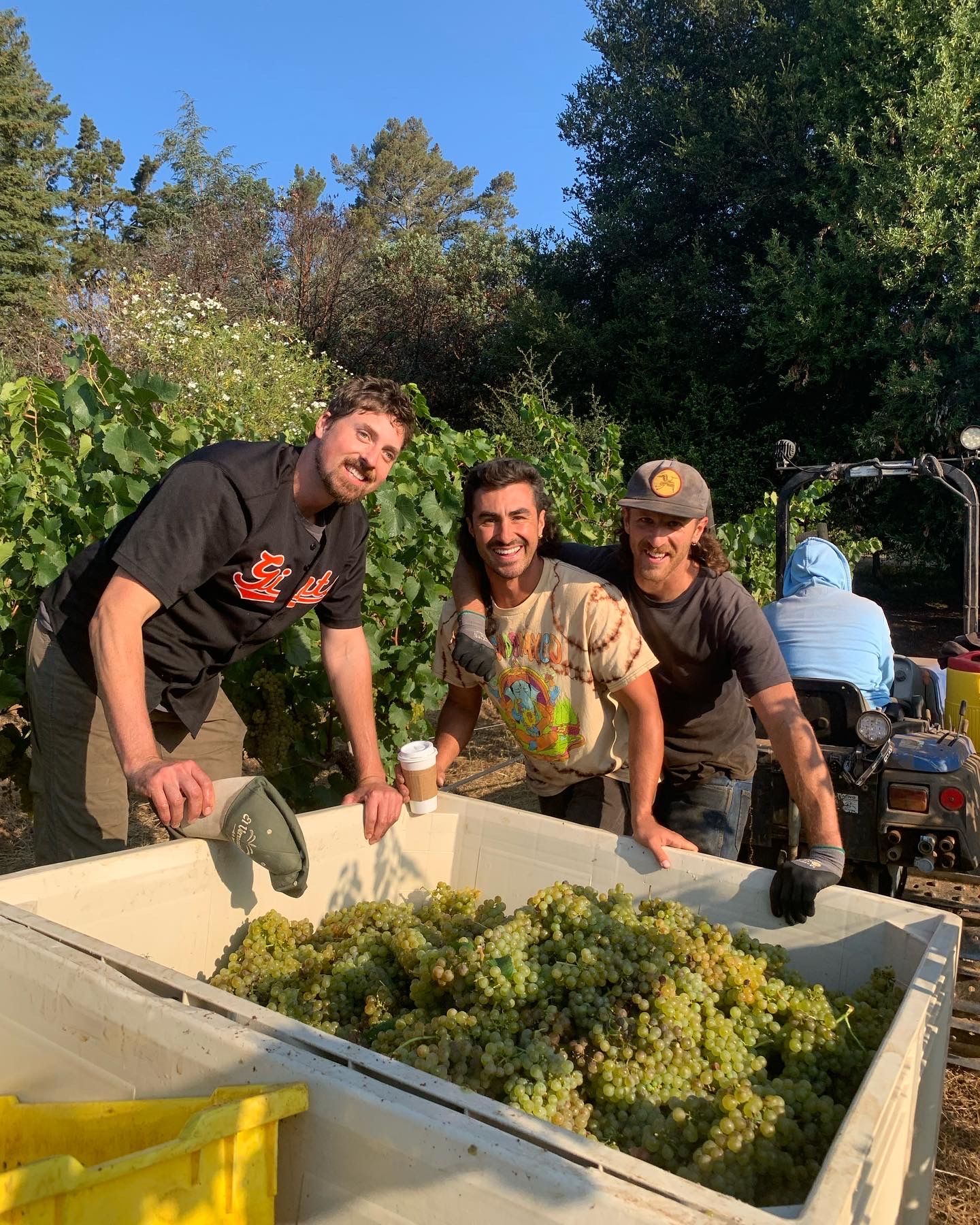 How was 2021 as a vintage?
For this wine, I've seen 2020, 2021 and 2022 and it's always gone without a hitch, so that's a relief. '21 across the board was an amazing vintage for California - a long growing season without issues. Probably some of the best wines I've ever made are from 2021.
When should people drink it?
For this wine in particular, there's very moderate alcohol, it's like a flat 12%, so a pretty delicate Chardonnay that you can drink now, but also ages well - it'll just gain weight as it does.
How would you describe the wine?
It has a classic Chardonnay fruit core of citrus and stone fruits and due to the lees aging, there is sort of a brioche and sort of a yeast quality to it. There's good minerality.
It also has good acidity but is slightly rustic in character due to that little bit of skin contact - I don't like too much for a Chardonnay - but it gives it a little more texture on the palate and is not just your status quo Chardonnay. It's a little more interesting.
What's the story behind the name, Pegleg?
The moniker comes from it being half foot tread and half direct pressed, so sort of like one foot in, one foot out. All my wines get quirky names that I come up with so they often have a story, not always, but this one does. Also it's kind of a joke, because my friend David who farms the vineyard, I joke that he's a bit of a pirate.
Any food pairings you'd recommend?
A kind of classic food pairing, but hard cheeses like a Comté style cheese or any kind of nutty cheese will go really well with it. If you're having it as an aperitif, dried nuts work too. With main dishes, I'd say poultry - so chicken or if you're getting fancy, it could be quail or squab or duck. The wine has some weight to keep up with things. And for vegetables, I bet that sautéed carrots would go really well. I think that some of the phenolic, robustness would pair really well with that herbaciousness in carrots, or even a parsnip puree - roasted root vegetables in general. And salads.
Isabelle's thoughts on Chardonnay, Pegleg - James is part of the energetic, ethical New Guard of Californian natural wine makers that includes the likes of Megan Bell (with whom he shares an old apple processing warehouse that is now their winery) and Glassmaker (see below). I love what this exciting band of young producers does and how they do it. James makes soulful wines, which are often not available so it is wonderful to be able to include a bottle in this month's selection. Pegleg sees some oak in its making, giving it a touch of spice and a very creamy texture. Rather than being fruit-driven, it is a restrained, Old World style of Chardonnay that is earthy and mineral, showing notes of ripe yellow plum, a touch of aniseed and a crunchy lemon zest freshness.
---
DoReMi is an organic winery in Kakheti, Georgia, founded by two friends Giorgi Tsirghvava and Mamuka Tsiklauri in 2014. They strive to make the finest organic wines using ancient Georgian methods and grapes harvested from across the country. Their wines are processed with wild yeast and free from additives, while most are fermented with the skins and aged in traditional clay qvevris.
Q&A with Irakli Davitaia
Can you tell me about DoReMi and how it came to be?
It was founded in 2014 by Giorgi and Mamuka, their family have been making wine at home their whole lives, but for their own consumption. They decided to combine their knowledge of making wine which they had accumulated from their families, and started looking for old traditions and collecting new experiences. Their goal was to make the finest natural wines from indigenous grape varieties from Georgia, according to ancient traditions. This is how the idea of DoReMi Wine was born.
What do you do at DoReMi?
I am Irakli and I work on the sales and marketing, as well as managing the relationships for DoReMi, whether small friends or business relationships. They make the wines and I do the 'company management' side of things.
How do you choose the vineyards you work from?
Before we chose any vineyards, we tasted many wines from across Georgia's different regions and decide from there which align with the DoReMi brand. We have our own vineyard in Kakheti which is 8 hectares planted with many different endemic grape varieties: Saperavi, Kakhuri Mtsvane, Kisi, Khikhvi and Rkatsiteli. Along with some old endangered Kakhetian grape varieties: Ikalto Tsiteli, Akhmeturi Shavi, Gvinis Tetri, Chitistvala Bodburi and Grubela Kakhuri. 60-70% of our grapes come from Kakheti.
We also buy some grapes from the Imereti and Kartli regions. We don't just buy there though, we are involved in the management of the vineyards as well, to make sure the grapes are grown and cultivated as naturally as it should be.
Can you describe the soil and the terroir?
These grapes are grown in our Kakheti vineyard. It's in the eastern part of Georgia in the Akhmeta municipality, in the village of Ozhio. The village is located in the middle of the Caucasus and Gombori mountains. It is 500m above sea level. In our vineyard the soil type is clay with some stones, highly carbonated. The grapes grown in this region are known to have energy, character and body. You get very energetic wines from this vineyard.
Can you talk me through the process of making this wine?
Making wine in Georgia is very simple because we have been making wine here for 8000 years. The most important thing - every part is important - but the most important is to plan the harvesting date correctly. The grape needs to have enough sugar, not too early, not too late. And it's very important to not have recently rained. Early in the morning at around 7am, we start harvesting by hand and bring the grapes to the cellar in plastic boxes. After, we crush the grapes using a machine and separate skins from stems - we don't use the stems in our winemaking.
We then put the juice into qvevris with the skins and after 24 hours, the wine starts fermenting and the fermentation continues for around 20-25 days. During this period, we stir the wine very gently and slowly every 4-5 hours. After fermentation, we age the wine in qvevri for 6 months of skin contact to create an amber wine with energy and body. After that, we move the wine from the qvevri, separate juice and skins and put the juice back into a qvevri for 6 months more. In total, the wine stays in a qvevri for 1 year until the next vintage. We then rest the wine in a steel tank for around 4 months, and 2 more months in bottles. After a total process that takes around 1.5 years, we start selling the wine.  
Do you use any sulfites?
Yes we add some sulfites before bottling - 40mg per litre maximum.
How would you describe the wine? How does it taste?
This is made with 70% Rkatsiteli and 30% Mtsvane which are historical varieties. The wine is amber with aromas of herbs and Georgian spices. It's a straightforward wine with strong tannins and a memorable finish.
How does the 2019 compare to other vintages?
It was a quite good year - the weather was good, not too much rain, not too much sun. The grapes had enough time to develop their sugar. 2019 was a good year for winemaking.
When should people drink it?
It's best to enjoy as old as possible!
Any food pairings you'd recommend?
Kakhetian style wines can be heavy, so it's best to drink with heavy and spicy foods, such as meat or walnuts. In terms of international flavors, it can pair well with North African and Asian spices. It also works well with hard cheeses and vegetables.
Isabelle's thoughts on Rkatsiteli/Mtsvane - Georgians have been making orange wine for over 8000 years so they know a thing or two about skin contact, and this blend of two of the country's 500+ grape varieties is a quintessential example. Made using the classic Kakhetian method - 6 months on skins in kvevri (aka qvevri, big clay pots buried deep underground) - the result is a full on orange experience. Expect tannins, and a lot of upfront aromatics - dried tea leaf, fenugreek, dried thyme, star anis and orange peel oil. This is a dense, full-bodied wine. Serve it around 12/13 degrees Celsius (around 55 degrees Fahrenheit i.e. not too cold).
---
Moraza is a family winery in Rioja Alta that's been passed down to six generations, and is now run by Janire Moraza and Patricio Brongo. The vineyard sits in the heart of the Golden Mile, in San Vicente de la Sonsierra and Àbalos. Over the generations, the family have formed a profound respect for nature and cultivate their vines organically following biodynamic principles. They work only with native varietals, producing wines with a balance of fruit and freshness.
Q&A with Janire Moraza
Can you tell me about your background growing up in a winemaking family, and about Patricio's background?
My family on my father's side has always worked here on the vineyard, and in making wine. Right now, I'm living in my grandparents' house from 1875 and there's the old winery underneath it where they were making wine until 1983. My relationship with vineyards and wine has been since childhood. My father is very passionate. In fact, he's 70 now and is still in love with the vineyards! So it was very easy  for me to inherit that from him. Patricio has also always been involved in wine - he is from Canada and when he was younger, while he was studying, he was working in different restaurants and tasting a lot, and after that he also worked as a cider producer, so in production but a slightly different path.
We always connected through wine and Patricio has actually taught me a lot of things, through tasting international wines - I had a lot of knowledge, but it's more local shall we say, with wines from Spain and a little bit the classics from Italy and other countries, but with him, I have also tasted a huge range of different wines, discovering new styles. Since the beginning, though, we shared the same philopsophy of leaning towards very fresh, fruity and easy-drinking wines.
We have been always connected to wine actually, he also teach me a lot of things, tasting international works because I had a lot of knowledge, but let's say local with ones from spain a little bit the classics from, from Italy or from other places, but for example, with him, I also tasted a big, big whole range of different ones, discovering new things and different styles and we also share the same since the beginning, the same philosophy of fresh wines of great fruity wines and very easy drinking wines.
Has the winery always been organic and biodynamic?
In terms of how we farm, my father and uncle always worked organically, but we since have developed that to the certification which we achieved in 2021. They also worked with some principles of biodynamics, for example working with the moon cycle. Patricio and I were the ones who decided to go one step further and incorporate the preparations - 500 for example, and so on. So the winery has always been following these principles, but with each generation it's our responsibility to improve what's handed to us by the previous generation. We had a strong base and are developing it from there.
Can you describe the vineyard?
We have 23 hectares which are divided into 16 different plots. Most of them are located in San Vicente de la Sonsierra and this village sits just north of the Ebro River. We are in a very privileged place geographically in that we have the chain of the mountains, the Sierra Cantabria, that separates us from the Basque Country and blocks all the humidity from that area. 85% of the time, it's super windy, which is very good and it makes it easier to work organically. We are very dry with low rainfall.
The vineyards face south and are between 450m up to 650m in altitude. People always think of Rioja as the little cousin of Bordeaux, but Patricio and I say it's more like Burgundy, because we have plots from 2000 square meters up to 4 hectares and they are so different, with different altitudes. And even though the soil is mostly clay and limestone, you have more predominance of limestone the higher you go, which gives a lot of minerality to the wine. We decided to separate our vines into plots and each has its own microclimate. For example, there's one vineyard that completely faces south and gets wind from the Ebro River, but in the north we have a pine forest and it blocks the wind. Sometimes the wind can be up to 35 km per hour, which is a lot!
We also have different ages of vines - the youngest is the Tempranillo Blanco which is 8 years old, but the second is 38 years old. The ages generally range from 38 to 50, or 60 years old.
How old are the vines that this wine comes from?
The Tempranillo 2020 is blended from grapes grown on vines from different plots with an average age of 48, and also has the village appellation which is something new for the DOC.
Can you talk me through the process of making this wine?
The 2020 was very peculiar, which I now say every year. I'm not able to say 'in a normal year' any more because the last few years have all been very different. But 2020 was a very difficult year for us because we suffered a lot with the mildew. We lost 50% of the production and didn't have a lot of rain during the winter, but during the summer it was very wet and very warm. In our case the vineyards that had these grapes were okay and not affected by the mildew, the quality was very good.
Something that we do different is that we always harvest early, because we like to make fresh and fruity wines and try to get a little bit more acidity and increase the pH. The idea is not to have a lot of alcohol, but have something very easy drinking with some complexity, very fruity and with enough acidity in order to keep a little bit the tension in the mouth and something very easy to combine with any kind of food.
We harvest by hand and the winery is built entirely from concrete. We macerate with the stems and allow them to fall by gravity into big tanks. We use spontaneous fermentation in naked concrete, which is very good because you have that micro oxygenation that makes the skins and the natural indigenous yeast more flexible and you help to assimilate the sugar and transfer it into alcohol.  My family has a lot of experience working with concrete because in my house, which was my grandparents' house, they had been working with concrete since the 1950s. After that, we moved it into smaller concrete tanks, where it had one year of ageing. We don't add anything throughout that process, no bacterias, no sulfites, no nothing.
If necessary, we add some sulfites during bottling but it depends on the year, the tank, everything really, because the idea is to work naturally but we want to achieve quality and for the wines to travel well. Some wines we make can be 100% without it because of the level of acidity, but some we do add a little. For this wine, you wouldn't find anything over 25-30 parts per million.
How would you describe the wine?
We like the kind of wine that you don't have to think about too much. Say you have some salmon in the house, you can decide to just have this with it because it's not too heavy and goes really well with that. It's a wine that's super easy to pair. In winter, we have what we call spoon plates - things like beans, or beans with some chorizo - but you can also combine it with chicken breast or pizza, or just something you eat everyday.
I mean it's not for a special occasion where you need something like a filet mignon, the idea is that you can just have a wine that's really easy to combine. It's very fruity and always reflects the year.
When should people drink it?
If it were me, I would drink it now or in the next two years. I think it can last around five years but it's a wine for you to enjoy in the moment with your friends and your family, it's a joyful wine.
Isabelle's thoughts on Tempranillo - Nowadays 'Rioja' tends to be synonymous with long-aging in American oak and the archetypal sweet spice (and slightly clawing heaviness) that this engenders. But Moraza's wines aren't that at all. They're part of the new Rioja which eschews oakiness. Their tempranillo is light, crunchy, juicy and fruit-driven, showing notes of bright red cherries and cranberries. It is a well made, silky drop that could almost be served chilled. A lovely, versatile wine for everyday drinking.
---
Glassmaker is a winery run by Jonathan Walton who makes wines from grapes grown across vineyards in California. His first foray into natural wine was through the wines made by his father in their backyard growing up, before Jonathan made his way into the hospitality industry and started exploring the wines of France, Spain and Italy. Before long, he realized his passion lay in the soils of Sonoma, Marlborough, Lodi CoCo and Monterey, which led to the inception of Glassmaker.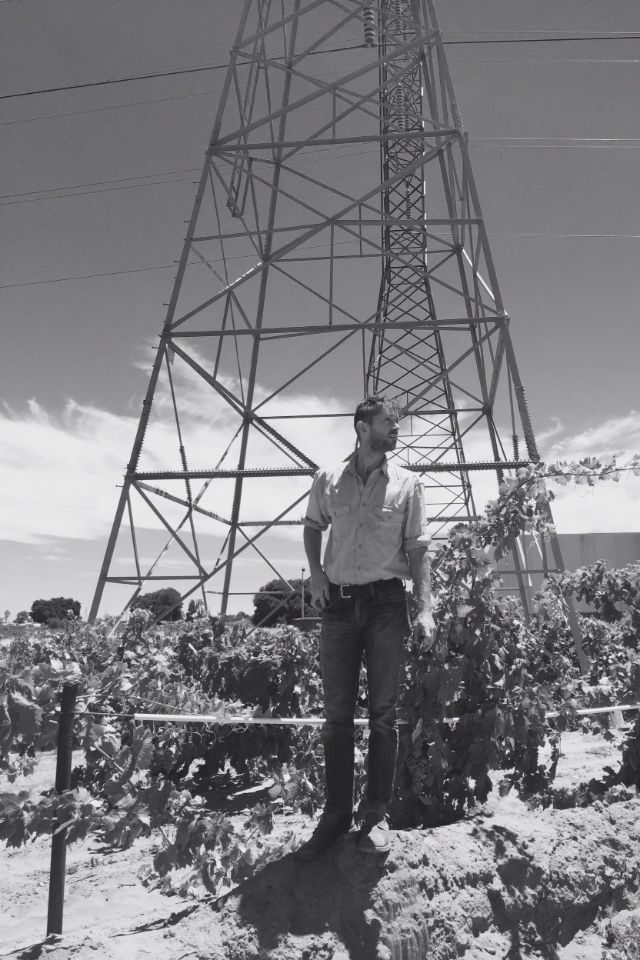 Q&A with Jonathan Walton
Can you tell me about your background - how you came to be a winemaker, and what influenced your style of farming and producing?
I grew up in Monterey County, California, which is a central coast wine region. My dad, Bob, was a home winemaker, so I was introduced to wine at a pretty young age - he was making a couple hundred liters every year in the backyard. We would always have natural wine around by the fact that he didn't have any technology to do anything other than that. He wasn't aware of the natural wine movement in any way, but he was making it in the backyard. Sometimes it was good and sometimes it was not very good!  
The brand of the company, Glassmaker, is named after my mother's maiden name as she was Phyllis Glassmaker. She comes from a farming family in the middle of the country in Iowa where there's 5 generations of Glassmaker family farms, so my uncle and aunts are all farmers - not grapes, but mainly corn and soybeans. I spent a lot of my childhood out on the farm in Iowa and I fell in love with working outside using my hands.
Fast forward 30 years, after drinking and selling a lot of natural wine in hospitality, I realized my passion for the ecology of California was directly in line with organic grape growing on the west coast, so I started apprenticing at different wineries and vineyards around Sonoma, Napa and Mendocino, working holistically across the vineyard and the cellar. During that time, I started Glassmaker Wine Co. - in 2015 I made just 2 barrels and from its inception it was fundamentally natural wine, working exclusively with organic vineyards or vineyards in conversion to organic and biodynamic methods. It grew slowly, combining my passion for different winemaking regions and how they provide a lens for understanding winemaking in California and its unique ecology.
I now farm a very small vineyard of Zinfandel in Sonoma County, along with several vineyards in Mendocino - which is one of the 2 main focuses of my passions right now. Mendocino's inland terroirs are all interspersed with gigantic oak and redwood trees, it's just a stunning area. And the other area which is incredibly different from Mendocino, is Lodi which is in the central valley of California and has really wonderfully unique soils which is alluvial drained soils from the Sierra Navadas. Even though they're completely flat, their soils are incredibly well-drained. That part of my project is kind of where I focus on more Rhone-based wines, from the central valley working with more Syrah, Grenache, Cinsault, Picpoul. But for Zinfandel and a couple other unique things I do, it's Mendocino.  
Can you describe the vineyard where these grapes are grown?
Hillside Vineyard is a gentle knoll of alluvial loam in central Mendocino. It's at the foot of the east side of Ukiah Valley so it catches warm afternoon sun and has little frost risk. I work with vines of around 50-60 years old that are head trained and dry farmed, and the hill stretches for about 10 acres down into a section of old Sauvignon Blanc (which I also work with).
One of the many reasons I love working with Zin is because it's a grape in California that really translates the site very well. With many old site Zinfandels, you'll see uneven ripening in grape clusters which is not necessarily a bad thing. In just one cluster you'll have raisins, really big fat watery berries and big green berries that haven't ripened yet. It can be very hard to know when to pick because some can be underripe and some overripe at the same time. It can be stressful but when you do get it ripe, you get a panoply of flavors.
In contrast, Hillside Vineyard was a vineyard I was excited to work with because it's the exception that proves the rule - it produces some of the most evenly ripening, uniform-looking old vine Zinfandel I've ever encountered. Very healthy, almost generically normal looking grapes will yield a very non-generic product. It was shocking to see how healthy and happy they all looked - very big, plump clusters. The vineyard is farmed in partnership with Beto vineyard management, who is a good friend of mine. We collaborate together to find small vineyards in Mendocino County that we can convert to organic agriculture.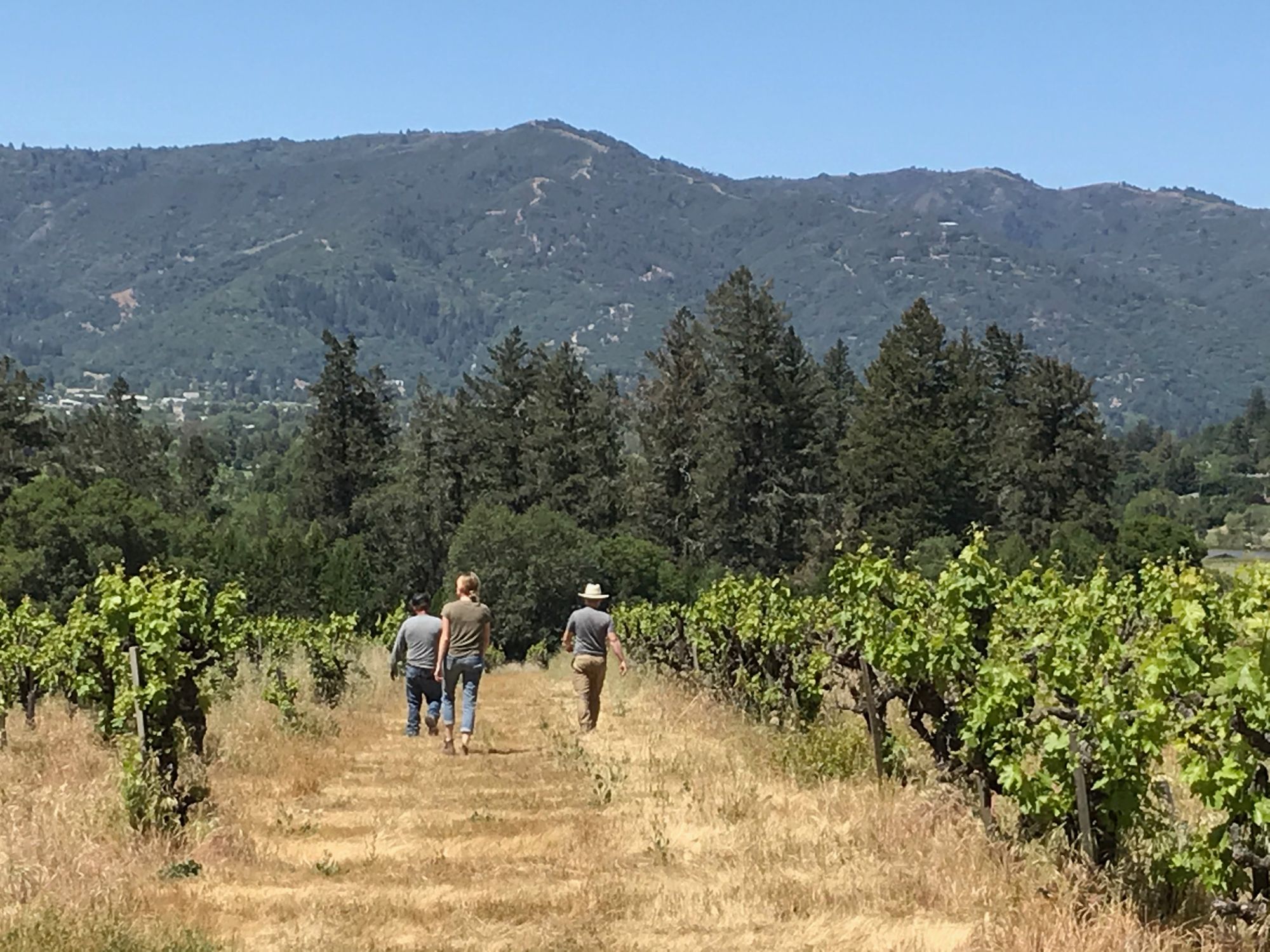 Can you describe the soil and the terroir?
One of the things I like about Mendocino soils is that they provide enough vigor to the grapes that oftentimes don't need to irrigate and the vines are able to regulate themselves. Even though it's a relatively hot climate, you do get a lot of acidity remaining, especially in the Zinfandel grapes and especially if you pick them at a slightly lower potential alcohol. Hillside exemplifies a lot of those characteristics in that you can pick it at a pretty normal sub-13 degree ripeness and get such fresh acidity, but also some concentrated ripe berry flavors.
This part of Mendocino has lots of alluvial loam, which is a brown looking type of dirt - not the most exciting visually for the soil nerds - but this type of soil works wonderfully with organic farming in the warmer parts of the county because it allows the vines to easily regulate and thrive, and ensures more even, slow ripening and freshness!
Can you talk me through the process of making this wine?
This is a unique Zinfandel for Glassmaker - I've made them with slight changes to this kind of approach every year, just trying to find a way to get this wonderful goldilocks zone of happy fruit flavors and really blazing acidity, but also trying to get some tannins and make it a wine that has everything in it, I don't want to sacrifice anything. Once the grapes were harvested across two picks, we did fermentations three ways.
For one fermentation, we removed the stems from the grapes and did typical punch downs everyday. It was around a 3,000 pound fermentation, which is a size that I really like because it allows them to regulate their own heat in a pretty moderate manner and so you're not volatilizing a large amount of the really pretty aromas. It kind of gently coaxes it along until all the sugar is gone. Then it goes into a barrel.
For the other third that was just a very classic carbonic - whole clusters and then sealed up with carbon dioxide for around 12 days. We now tend to go for less time on our carbonic than I was doing in 2019. But that is how you get a lot of the candied fruit flavors - from that portion of carbonic maceration. After those 12 days, these grapes get pressed and then fermented to dryness and aged.
The final third of the grapes was very similar to the first portion, but it had the stems included in the fermentation and was punched down every day. The stems from Zinfandel are  quite interesting. It seems to be that if you have a different clonal selection of Zin, you can have very different flavors in the stems. Sometimes those flavors can be incredibly peppery, but this is not the case with the Hillside Vineyard - their stems afforded more of a really fine grained bitterness that was almost like an Amaro. I was really happy with that portion because that yielded all these wet forest floor and bitter chocolate notes.
I didn't want to sacrifice any flavor from any of the thirds. After fermentation, I blended them all together, trusting that the resulting wine would be complex and delicious, before aging in old Burgundy barrels for around 15 months then bottling.
Do you use any sulfites?
10-20 parts per million after malolactic fermentation and right before bottling.
How would you describe the wine? How does it taste?
This wine is really encompassing on the palate. I wouldn't say it's full bodied by any means, but it is starting to be as it's now 3-4 years old and the texture is integrating with any tannin and any fruit profile to just come across your palate pleasantly. It still has lots of acid so I wouldn't call it smooth, but the acid is integrated very nicely with the fruit components and the moderate tannins. It's fairly easy to enjoy on its own.
In your more generic idea of Zinfandel, you often get wine descriptors of blackberry and there is some of that - they also like to say bramble and there is some of that too - so it has these hallmarks of the grape. In this case, it also reminds me of some of the hillsides of Mendocino that have these little creosote bushes that smell like dry dirt, herbs and sage. It's a brush that covers the hillside that I like to say is California's version of Garrigue from the south of France. They have these essential oils that you can almost imagine infusing the grapes a little bit and it really comes through in the flavor of the wine.
As the wine matures, the carbonic aspect is coming through less and less - the wine is becoming less of a teenager and moving into adulthood. You still get a sense of candied fruit, but that's more on the finish. Usually you get bitterness on the finish, but in this case, the bitterness is in the middle and the wine continues to invite you to drink more.
What's this vintage like?
2019 was a lucky vintage for this part of Mendocino in that it was not yet drought stricken nor was it damaged by fire, so very good!
When should people drink it?
This wine is probably in its prime right now but I'd also be excited to see what its 2-5 year aging window is. One of the reasons I'm excited to work with Zinfandel is because, as a grape, it's my favorite wine to have when it's mature - it becomes incredibly unique when it gets old. It's such a delicious wine when it's young and so many of my favorite natural wines grasp the intangible deliciousness of young fruit flavors and wine. And Zinfandel can do that in spades, but I am fascinated by the grape because of its aging potential. I've been making Zinfandel for five years and as such, I can't guarantee what will happen beyond 2-5 years, but I'm very interested to see how it ages because the tannins integrate and the brambly, blackberry flavors develop into baked cherry and cinnamon flavors. It starts to remind me of an aged southern Rhone, like a Châteauneuf-du-Pape, or anything from Burgundy or Bordeaux.
Which grapes have you used?
Zin zin zin zin zin!
Any food pairings you'd recommend?
I'm actually a pescetarian but all my friends tell me about all the pork and beef dishes they've been pairing it with. Its fruitiness lends itself well to South Asian foods, so pork Bossam, or even just a classic pork chop. I love cooking with mushrooms and king trumpet or oyster are the meatiest in texture with a mild flavor that wouldn't combat the flavor of the wine too much. A middle tier mushroom would work well - nothing too aggressive like a porcini or maitaki, but nothing too mild, like a cremini. As far as cheeses go, one of my favorites is from Vermont creamery. Harbison, it's like a triple cream that's wrapped in willow bark and it pairs well with this wine. Another cheese it works well with is a Monterey Jack that's unique to California called Dry Jack. It's very yellow and its wonderful sharpness and hardness really bounces off the Zinfandel. And if you're feeling adventurous, an oily fish like a sardine could be an interesting pairing too.
Isabelle's thoughts on Hillside Vineyard Zinfandel - Zinfandel has, over the years, developed a bit of a bad rep thanks to its association with cheap, commercial, cookie-cutter blush wines and hugely extracted monsters. But Zin is part of Californian history. Lots of old, exciting plots grace its hillsides, and when made with care, the results are just as delicious and moreish as any other variety. Glassmaker's version is a mid-weight wine with interesting notes of ripe mulberry, sweet ripe raspberries, a little sweet licorice and dried petals on the palate as well as an earthiness on the nose. It is a well rounded wine with lovely, chewy tannins that are nicely integrated and melting thanks to a bit of bottle age which has really brought the wine together.
---
Envínate is a project founded in 2005 by friends Roberto Santana, Alfonso Torrente, Laura Ramos, and José Martínez that focuses on making wine from vineyards across Ribeira Sacra (DOP) and the Canary Islands. They aim to make wines that reflect the true terroir of each vineyard they work from, so harvest by hand, tread grapes by foot and use zero chemicals.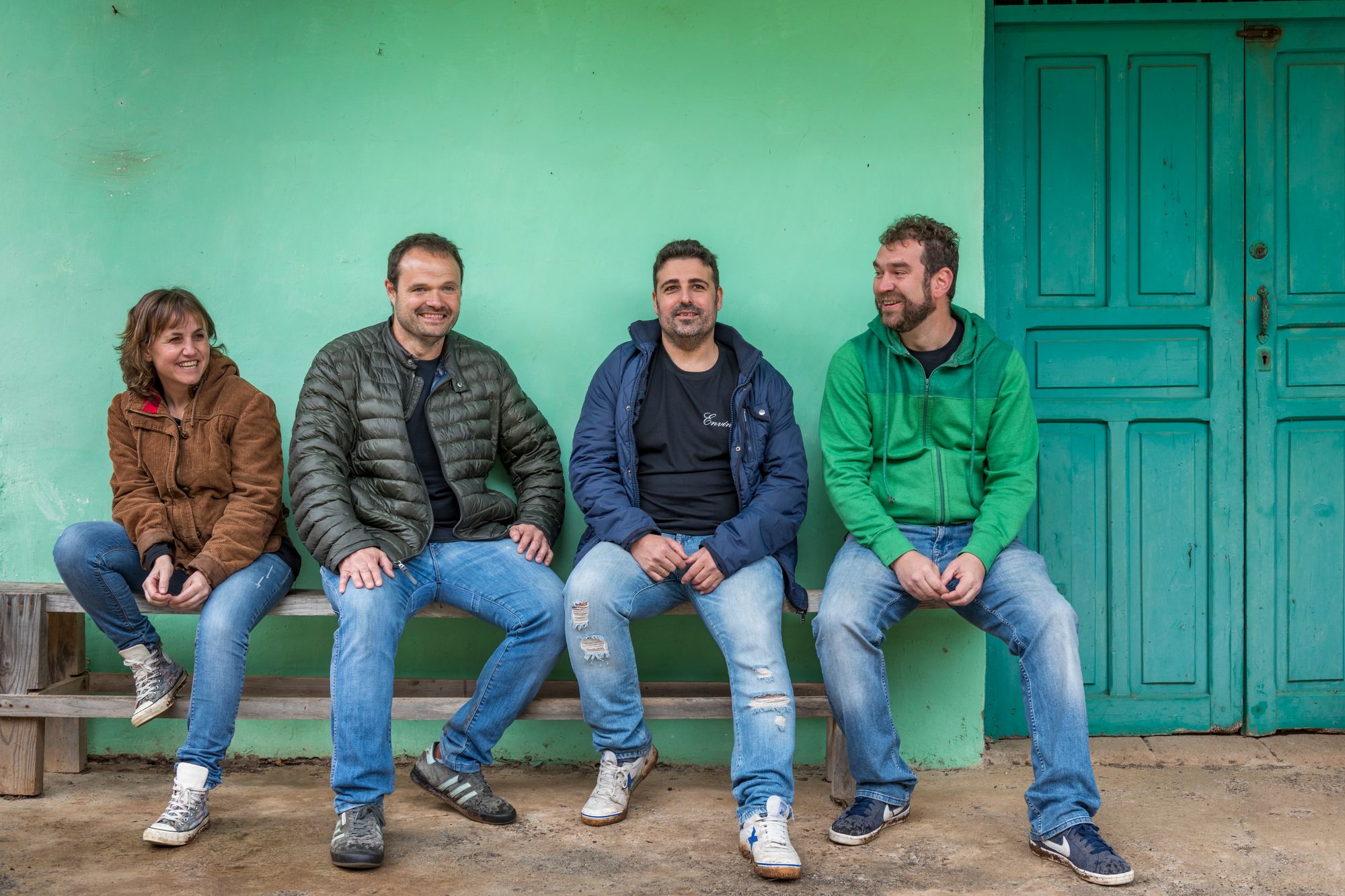 Q&A with Roberto Santana
Can you tell me about your background - how Envínate came to be and what influenced your style of farming and producing?
We are Envínate and we are four friends that met at the Miguel Hernández University of Elche (UMH) in Alicante. Before that, we had all come from different places across Spain - Alfonso and José studied agricultural engineering, Laura studied Chemistry in Murcia and I studied organic chemistry in La Laguna in Tenerife. All four of us had always loved the world of wine, so decided to study oenology and that's how we all met at UMH.
None of us came from a wine family - none of us had cellars growing up or families who worked in wine, so we started from zero. We think this is very important, because all the decisions we make are made by all four of us. We learned at the same time and share the same philosophy and speak in the same language. Our philosophy is easy to explain - for us, wine must have three important things.
One is personality, and you get different personalities from different soils, so we find it very important to study the soils we work with and the microbiology around it, because that's what imparts the personality into the wine.
The second is the character of the wine which is determined by the conditions of each different year - it might be a rainy year, a warm year or a cool year. That must be expressed through the wine. If we make the same wine with the same character each year, it's like making a Coca Cola wine, and that's not the idea we have of wine.
The third is that we must get more involved. We feel that the people around the vineyard and working on it give it soul. For example, you can have a grower who has been working a vineyard for years and years who treats the vineyard like one of his own sons, or you can have a new person who has come to the vineyard to experiment and make wines quickly, or you can have someone who is working a vineyard because they don't have any other choice, and are unhappy because they are working in bad conditions. So the people working the vineyard are very important to us because it's what determines the quality of the grapes and the longevity of the project.
Our philosophy is that the wine must have these three things: the personality from the soil, the character of the year and the soul of the people working in the vineyard and the cellar. When we make the wine, we are trying to interpet these three things with the most sensibility as possible. We must be on the vineyard, be in contact with the soil, understand the year we're working with and be amongst the people. Each day we are learning and trying to learn, learn, learn because we are working for the next generation.
What's the natural wine scene like in the Canary Islands?
Natural wine is a very broad phrase. For us, a natural winemaker is a person who makes wine with respect for the vineyard and the grapes, and doesn't try to add anything in the cellar that makes up for what they have or haven't done in the vineyard. Fortunately in the Canary Islands, and also in mainland Spain, there are some new projects emerging of people that make the wines with respect for the vineyard, working with good quality grapes and try to respectfully interpret them in the cellar.
Can you describe the vineyard and the landscape in Tenerife where the grapes are grown? What's the climate like and the growing conditions?
First, to understand Canary Island wines, it's important to understand the history. The Canary Islands were conquered by Spain in the 15th Century with the help of the Portuguese, which came to and end in 1496. When the conquest was over, the Spaniards gave some of the land to the Portuguese, so the Islands have influences from both countries. It's also important to know that we never had phylloxera here, so people have been making wine here for centuries and we are fortunate to have not lost those traditions. And the Canary Islands sold a lot of wine to the UK in the 16th, 17th and 18th centuries, so we have a lot of culture and history behind the wine here.
And you can see this history and tradition still here today. If you go to the different islands, you will see these different influences through the winemaking methods they used. There's a real diversity of methods in the Canary Islands because people are still working in the same way as centuries ago, and you don't see these techniques in the textbooks.
Another important thing to know about the Canary Islands is that we have volcanic soils and are in a subtropical area, but we also have the influence of the winds. Because of the volcano and its very high altitude, the clouds get stuck at around 800m altitude and don't cross over from the north of the island. In the north, you have a lot of humidity, and in the south, it's very dry, so there's a big contrast between the two. We have vineyards at different altitudes here, with vineyards on the coast at 0m above sea level, and some up to 1700m in Tenerife. For the vineyards below 800m, we get the influence of the clouds and humidity, and over 800m, the climate is more continental because of the high altitude - the change of temperature between day and night is much bigger.
Benje, the name of the wine, is what the local people in Santiago (where the grapes for this wine are grown) call the volcano Pico Viejo - which is a big volcano with a big crater. The native people say that there used to be a devil that lived in the crater called Guayota. You can see the volcano from these vineyards, which sit at an altitude of 1000m above sea level. Most of the vineyards here have a Spanish influence. The vines are between 70 and 120 years old and the mother rock is black basalt. The last volcano eruption in Tenerife was Chinyero in 1909, which is very close to Santiago, and some of the terroirs here have the ash of the eruption.
Most of the vines here are ungrafted and a lot of the grapes are co-planted - we have Listan Blanco (which is the same as Palomino in Spain), Listan Prieto (not to be confused with Listan Negro - it's basically the same as Pais) and a small quantity of Tintilla.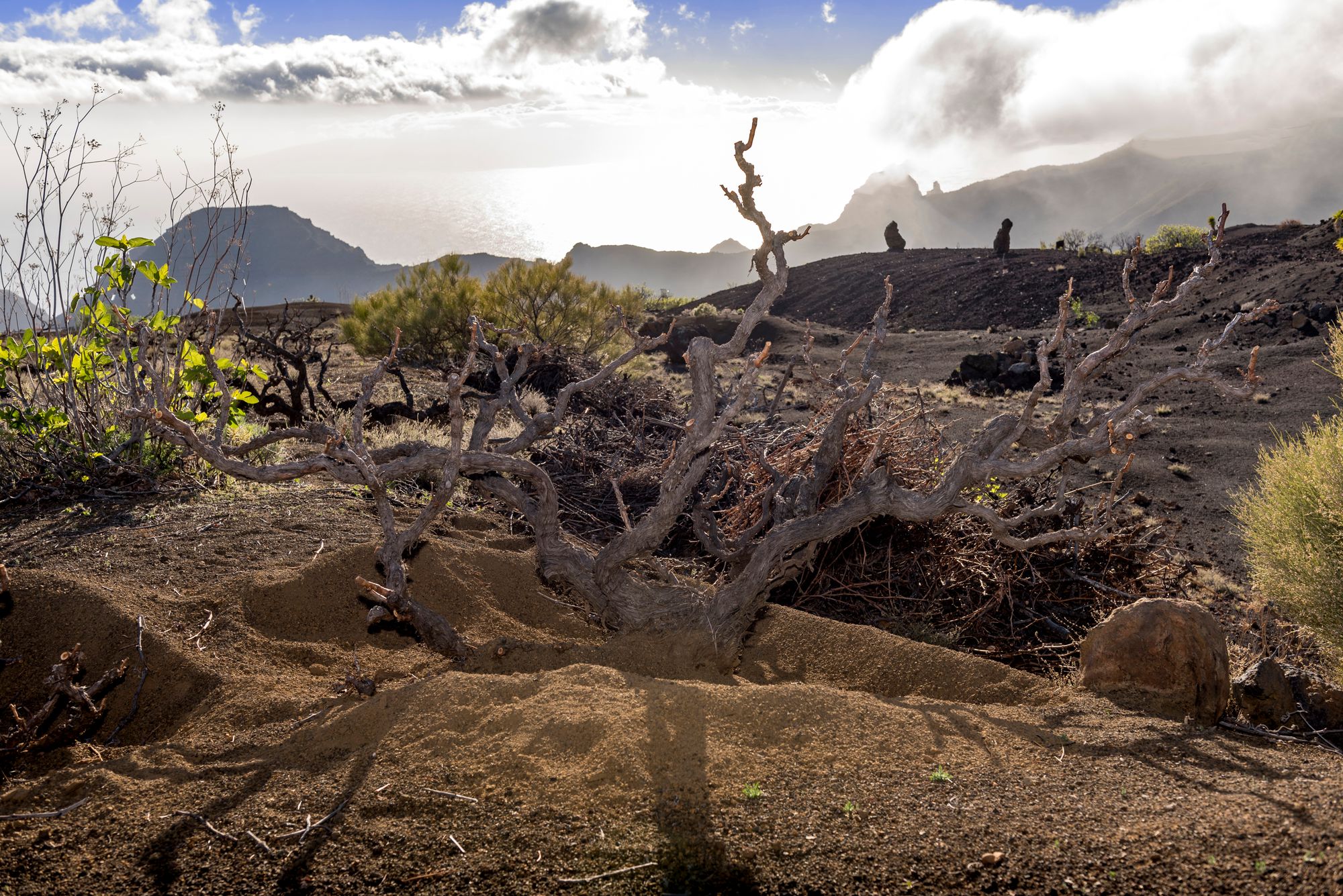 What impact does the volcanic soil have on the wine?
Volcanic soils have high organic material, a low pH and, for us, impart a spicy character and interesting flavors into the wine. When you work with good agriculture, with respect for the soil and the vineyard, the volcanic soil gives the grapes a lot of personality that's difficult to find anywhere else in the world.
Can you talk me through the winemaking process?
The important thing for us is when we make the harvest, which we decide by tasting the grapes in the vineyard. We also look at the soil, the vineyard and the weather. We don't measure the pH, potential alcohol, total acidity or sugar, we just taste and assess the balance of the grapes. It's really important for us to have a grape that is not green and not overripe. The alcohol differs each year and we don't care about the yield per se, but more about the flavor. That's how we decide when to harvest.
When we harvest, we work by hand and in the cellar, we don't use a recipe. Depending on the terroir, we work in different ways and decide whether to work in a concrete tank that's open top, or a small tank, whether to use the stems or not, what temperature to ferment at, and so on.
For the 2021 vintage, we worked with around 12 different wines that we blended, and around 25% of the grapes used were macerated with stems. We don't use carbonic maceration - so the grapes with stems were crushed by foot. Some were fermented at 25 degrees, others at 30, and the maceration lasted between 7 to 14 days. We don't like to use pigeage, but use our hands to separate the skins and bring them to the top of the tank. After the maceration, we give the grapes a soft press and leave the wines on fine lees for 2-10 days. After, 35% went into concrete tanks and 65% went into neutral barrels, where they stayed for around 7 months.
Another important thing for us is that we don't use sulfur in the cellar for our vinification. If we need to add it, we will, but we can often handle this in other ways, such as the fine lees which keeps the CO2 low and protects the wine from oxidation. We work with very good quality grapes so have a healthy product which needs less intervention in the cellar. For the 2021 vintage, we added a small quantity of sulfur (20-30 parts) when bottling, because we don't know whether the bottles will be opened in 3 or 10 years, or whether it will be opened in Tenerife, the UK or Australia, so that small quantity of sulfur helps us make sure that the wine will age nicely and not lose the precision of the terroir that we are trying to interpret. We want to give them the potential to age.
How would you describe the wine?
It has spicy volcanic aromas but also the fruity aromas that are typical of this area. Fresh red fruit like strawberries. It's a wine with complexity that develops, and each time you move the glass it changes from the fresh fruit, to the volcanic spicy aromas. In the mouth it's a big surprise in that it's very smooth, elegant and fresh. It gives you the red fruit then at the end it's spicy and very, very soft.
How long can people keep it for?
That's a good question because we started working in this area and 2015 was our first winter, so only we have eight winters and we don't have too much experience of how it ages. But I think between now or in 3-5 years would be perfect.
What's this vintage like?
Santiago was very very dry in 2021, as well as 2020 and 2019. In this area, it used to rain around 450-500 liters per year, but in the last four years we've had an average of around 200-250 liters. This has meant that we have had a low yield, but we try to work softly with the vines and provide them with shade so they don't get too concentrated or overripe. We also took out a lot of grapes because if you have overcrowded grapes with low rain, the vines suffer. With less grapes, you get a better balance. So 2021 was a lot of work and a lower yield - say 30-40% less than a 'normal' year, but we're really happy with the results and the wine is complex and elegant.
What's the story behind the name of the wine?
So Benje is what the local people call the volcano and Ycoden Daute Isora Tinto is the appelation that the vineyards are in. In Tenerife we have 5 appelations.
Which grapes have you used?
It's mainly Listan Prieto (i.e. Pais), some Listan Negro, 5-10% Listan Blanco and less than 2% Tintilla.
Any food pairings you'd recommend?
I like to pair the wine with with local food, but all the wines of the Canary Islands work well with spicy food, and Japanese, East Asian and Indian flavors. It works because the wine cleans and refreshes your mouth, so it can take these big flavors, like vinegar even, and it's a really really nice combination.
If you have a vintage that's had one year or less in the bottle, I'd say to decant if you're drinking with a group of people. Or if you're having it to yourself, you can have the bottle open for four days easily and if you want, you can open it and see how it develops.
Isabelle's thoughts on "Benje" Ycoden Daute Isora Tinto - If you've ever wanted to understand what a wine of terroir is all about, then you couldn't ask for a clearer example. This is a wine so marked by where it is from that it literally screams of a sense of place. It is the product of extraordinary viticultural conditions in a stark, windswept landscape of volcanoes, wind and sea off the coast of north Africa. Born of tiny bush vines nestled in mini craters that shield them from the harshest weather, the hallmark of this field blend is its mineral bite. This isn't an opulent wine. It is lean and refreshing with notes of pomegranate, black pepper spice, a pronounced minerality, a touch of smokiness and fine, silky tannins.
---