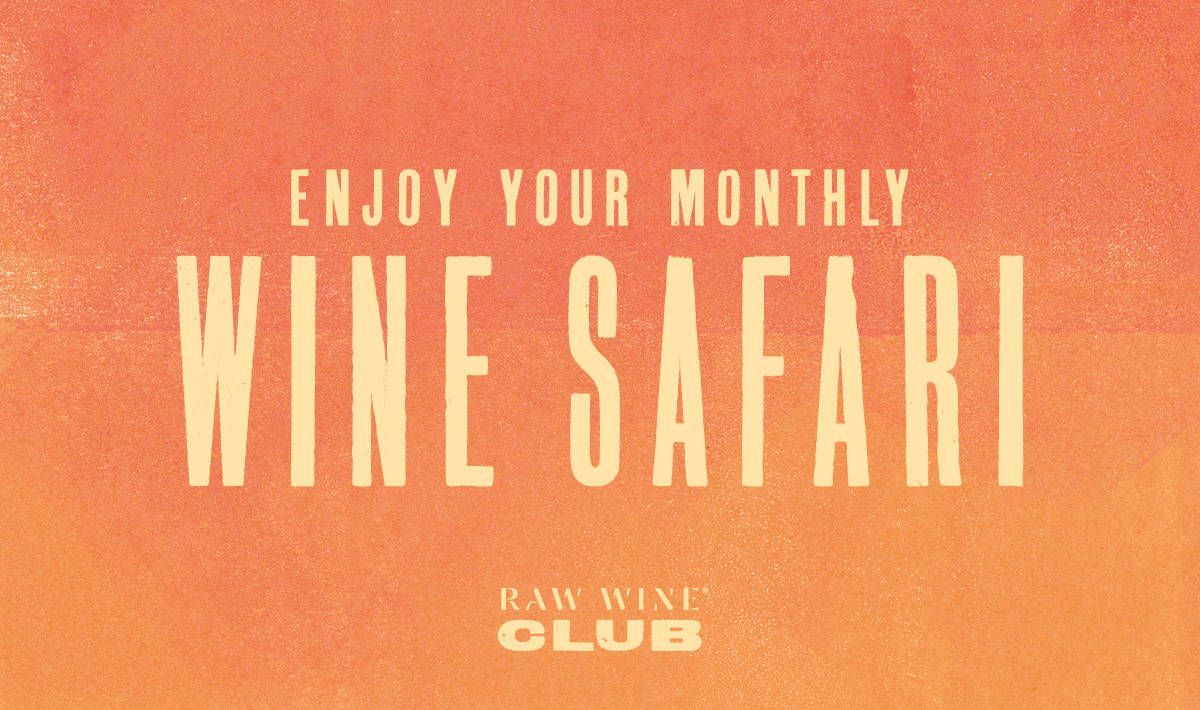 RAW WINE Club - Tasting Notes - August 2023 Selection
40 min read
Hello and happy summer!
After spending a few days in New York state tasting dozens of wines, I am really excited to be sharing our August line-up with you. We have a delicious, umami-rich, skin-contact Prosecco by the iconic Costadilà; a pure, floral, aromatic Viognier from the Rhône; an unusual, salty white (with partial skin maceration) made by one of Spain's top natural wine producers; an upfront, fruity, berry-filled rosé from a very talented producer at the forefront of natural winemaking in South Africa; an incredibly juicy, thirst-quenching Chilean red that also happens to come in a very sociable one-liter format; and a vibrant, refreshing drop that began its life back in 2008!
Warmest wishes and happy exploring,
Isabelle Legeron MW, Founder of RAW WINE‌
---
Costadilà is a small organic farm founded by Ernesto Cattel who sadly passed away in 2018, and is now run by Martina Celi and Alex della Vecchia. The estate sits on the hills north of Venice, where Prosecco di Conegliano e Valdobbiadene is historically produced. They ferment their wines in bottle, according to local tradition.
Q&A with Martina Celi and Alex della Vecchia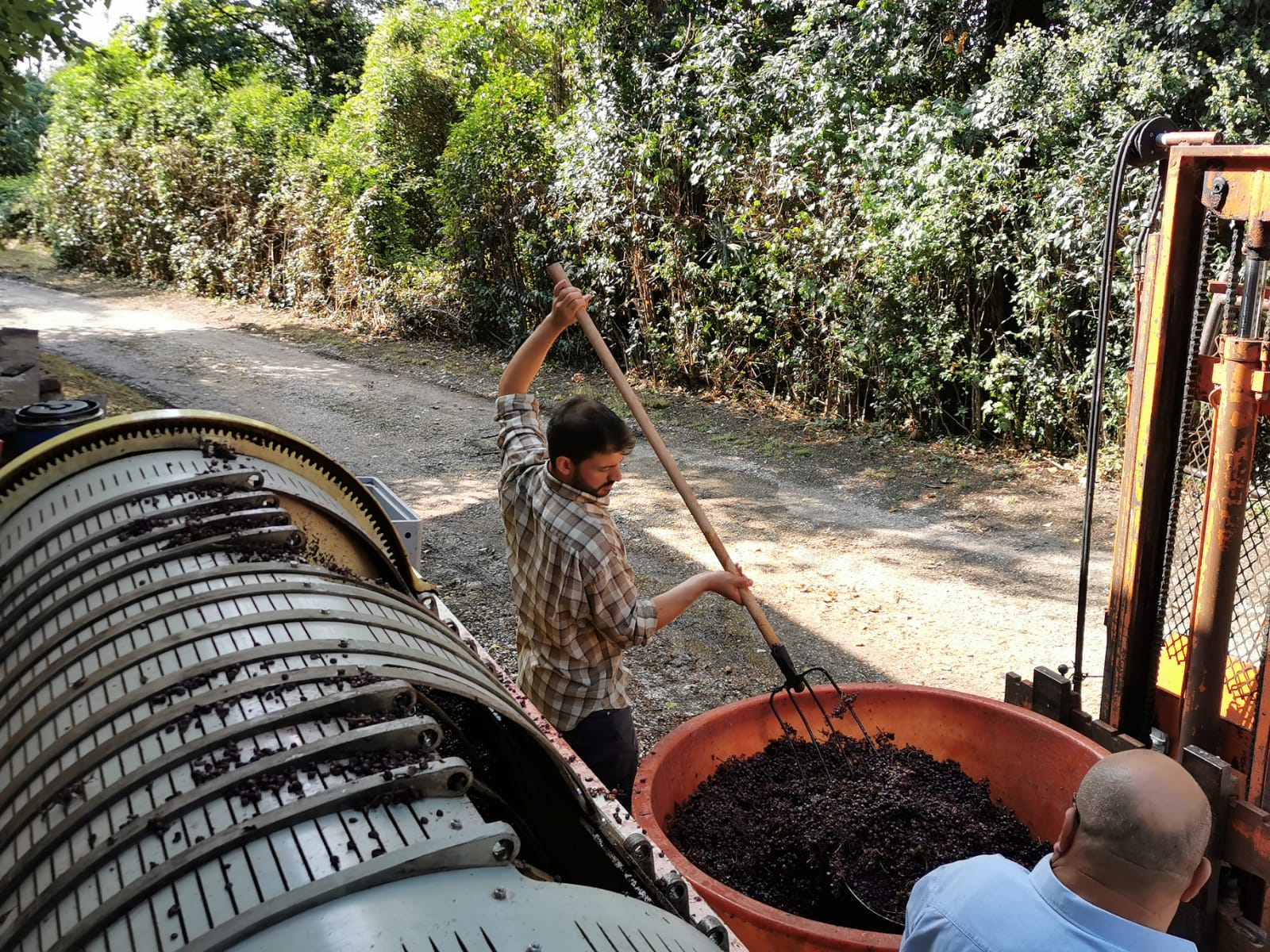 Can you tell me about your background - how you came to be a winemaker, and how you became involved in Costadilà?
Alex: I started out working with my grandfather on his farm in the mountains, where we made wine and had cows. I lived in Belluno in the Dolomites, and in 2010 planted some Pinot Noir to start selling the wine from my farm, under the label Pedecastello. I met Ernesto from Costadilà when I called in to see if I could vinify my grapes there. Then when Ernesto passed away, I continued making Costadilà wine.
Martina: I studied art restoration originally, so my background isn't in farming or wine. I came across Costadilà when I came to the Veneto region with some friends. We came across the farm and met Ernesto, and then later I started working there - mostly helping in the vineyard to learn pruning, not as my full-time job at first, just whenever I had time. But I began to cultivate an interest in the work. I got to know Ernesto better and started working more across the vineyard, and I'm still here! It was a passion that started naturally, not from having a background in wine. I loved the learning aspect - of course, I don't know what it's like to study agriculture in school, but through my work on the farm with Ernesto, I learned a lot about plants, how they grow, how each year is different and all the different factors that go into the end product. It was all very new for me as I came from a city, but I saw that I could learn a lot and I feel richer here, more full.
And what about your style of farming and producing - why organic?
Martina: When people ask me, 'What is natural wine?', I always say that as a minimum, it has to come from organic grapes.
Alex: They're also important for being able to work well in the cellar. When you have organic grapes, you don't need additives, as you can start fermentation with the yeast from the grapes. So making natural wine, it's important to first work organically and biodynamically.
What else do you produce on the farm?
Alex: We have local breeds of sheep and cows for meat, and we keep goats to help maintain the vineyard. Having the animals here is important for improving the biodiversity of the farm, and to create a cyclical, complete farm.
Martina: It's also more fun, working on the farm with animals.
Can you describe the vineyard and its surroundings?
Martina: We are in the area of San Lorenzo, in the hills of Vittoria Veneto, where you find prosecco. It's coastal and the hills cover a big area. The best vineyards are usually along the rivers that you find in the hills. We have vineyards at both the top and further down - the soil at the top is more calcareous, and further down we have more clay and marl. They are very different. We name the wines after the different altitudes (i.e. 280m above sea level), as it's something Ernesto started. We now have more vineyards, so the grapes we use for each of the wines aren't 100% from those altitudes, but in the same soil.
Alex: It rains quite a lot here, and in the winter and spring we sometimes have problems with freezing on the flatter areas, so it's better to plant vines on the hills. It's not a typical mountainous climate or Mediterranean climate, it's colder than Venice.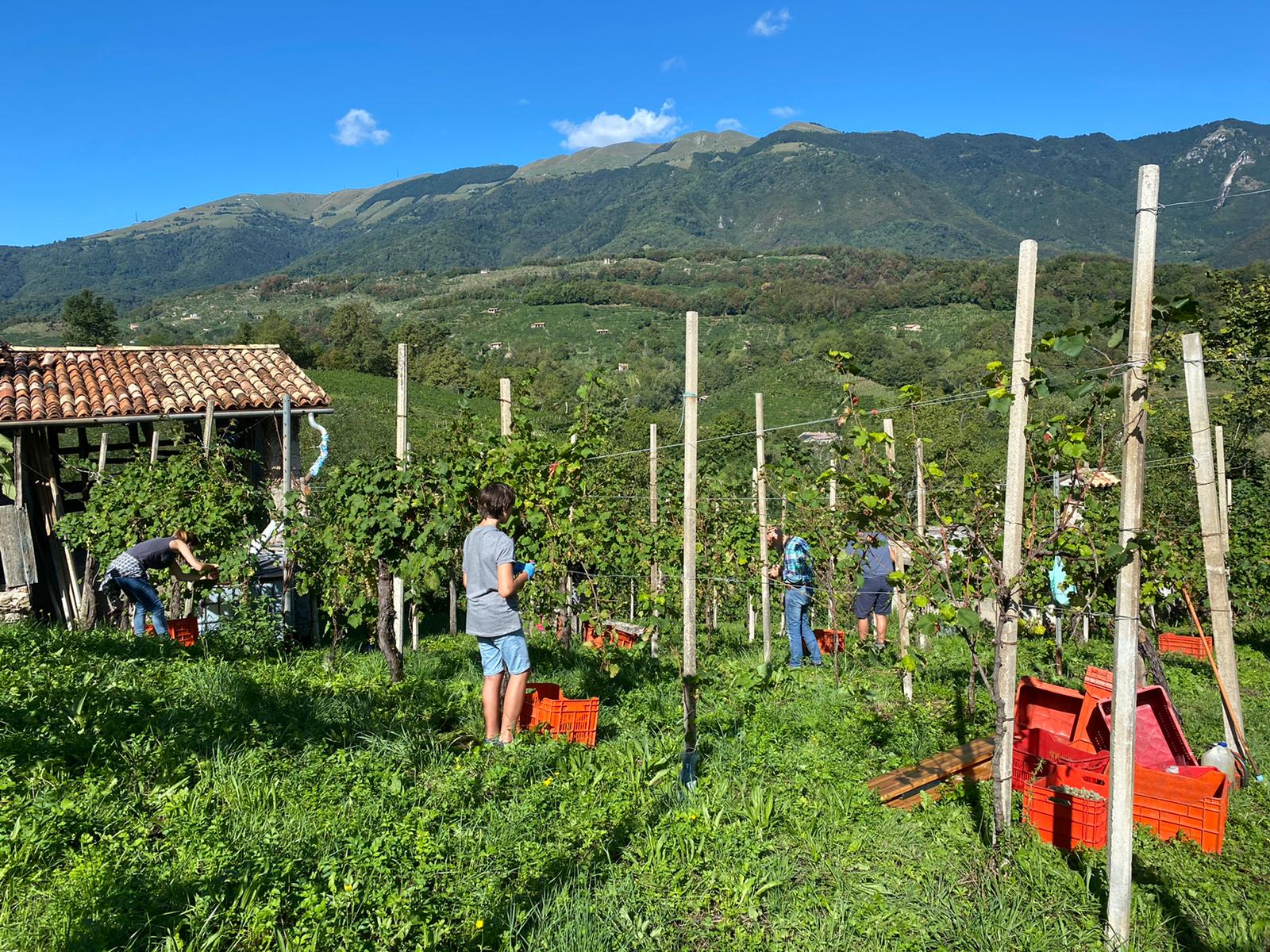 Is the wine you make typical of the historical Prosecco region that you're in? Is there anything you do differently to other winemakers where you are?
Alex: It's typical in the sense that we use the historical method for making prosecco. Until 1970, people made prosecco by doing the second fermentation in the bottle. People stopped doing this and moved over to the Charmat method, where you do the second fermentation in stainless steel, as it's cleaner, easier and faster. You can harvest in September and bottle in December. With our method, you harvest in September, ferment until spring and then do the second fermentation in the bottle, and sell one year later.
Martina: Ernesto also started macerating the wine with skin, but people here don't really like it. An orange wine with sediment is seen as a poorer product, so it was very difficult at the beginning to talk about this wine. But things are changing. Skin maceration still isn't so popular here, but in the last couple of years, more makers have started refermenting in the bottle.
Alex: And skin contact is better for making wines that age well, because of the tannins.
Which grapes have you used for this wine?
Alex: We use Glera, which is used for prosecco, Bianchetta, which is similar but with more acidity, Verdiso, which also has good acidity, and Perera, which is a semi aromatic grape. And Boschera. All the grapes we use are hyper-local varieties, and only found in this area. We harvest them all at the same time for this wine. For our 330 Slm wine, which is only Glera, we do 2-3 harvests.
How would you describe the wine?
Martina: It's an orange wine, refermented in the bottle. Every year we see a difference in the bubbles, because when we make the second fermentation, we use juice from grapes that have been dried out - so it really depends which grapes we use. It's a wine you can drink at lunch or as an aperitif, it's a table wine. It's not a super precious wine - you can drink it whenever you like. It's a simple.
Alex: You can drink it in the morning even - for breakfast.
How do you dry the grapes that you use for the second fermentation?
Martina: We use grapes that are not mature enough at the time of harvesting. We set them aside and lay them on a bed and dry them in a room from September until around December, January time. Then we press, and leave it in a very cold place to prevent it from fermenting.
Can you talk me through the winemaking process?
Alex: We harvest in September - around the start or the middle of the month. We harvest by hand because it's the only way, we can't use a tractor on the hills. All the work is done by hand, and some feet. We take the grapes to the cellar and destem them. We then put them into inox tanks (stainless steel) for skin contact and the first fermentation, and leave that for around 20 days to 1 month. After that, we remove the skins and press using a mechanical kind of press that's used in Champagne. It then goes into 10HL wooden barrels for 3 months, and don't use batonnage or move it at all during this time. We then put it back into stainless steel to help clean the wine's sediment. And in the summer, we bottle it with the dried grape juice to begin the second fermentation. It spends 6 or more months in the cellar, because it's better to drink this wine a year later - or 4 years even. It's a good idea to open one bottle and lay another down in the cellar if you can. But every year the process is different - we like to experiment with length of maceration, with different material vessels, etc.
Do you use any sulfites?
Alex: No, we don't use any sulfites.
Any food pairings you'd recommend?
Martina: It's good with fatty fish and salami - it works well with fatty foods.
Alex: The wine cleans the mouth because of the acidity in it.
Martina: And for vegetables I'd say onions or maybe eggplant parmigiana di melanzane.
Isabelle's thoughts on 280 Slm Bianco Sparkling - Costadilà needs little introduction. Created by Ernesto Cattel, Costadilà made a name for itself by popularizing the production of high quality, Prosecco-style, sparkling wines with a twist. The wines were bottled col fondo (literally 'with the bottom', i.e. the fine lees that develops in the wine during production), an old technique that had been discarded due to modern production methods. The result is a wine that is cloudy in appearance. Ernesto's version also has some skin contact, which gives it a glorious, variable, sunset hue. This is a bubbly that combines pretty white blossom notes with rich umami flavors and an intense chestnut honeyness. It also has a lovely texture from its time on the skins. I like to refrigerate it upright before serving so that the sediments are left to the end - you can drink them (it is perfectly safe to do so!) but remember it will be pretty full on.
TOTAL SULFITES: 13mg/L.
---
Domaine Les Deux Terres is a collaborative project by two winemaker friends, Vincent Fargier and Manu Cunin, who make wine from 13-hectares of vines in a village called Villeneuve de Berg in the Ardeche.
Q&A with Manu Cunin
Can you tell me about your background - how you became a winemaker, and what has influenced your approach to farming and production along the way?
I was not originally involved in agriculture. My only connection to farming was through my grandfather, a simple and content farmer with a small estate - who didn't even have a driver's license. I came to the world of wine quite late in life, after working in soundproofing for events in Montpellier, such as radio shows, circuses and concerts. However, I had a desire to return to Ardèche and thanks to a friend who worked as a tree pruner, I got the opportunity to work outdoors in my region. This motivated me to pursue a BPREA (Brevet Professionnel Responsable d'Exploitation Agricole) and become a winemaker. During this time, I met Vincent Fargier, my partner, who was involved with the small school cellar.
In 1997/1998, my encounters with Gilles Azzoni and Gérald Oustric inspired and motivated me to venture into natural winemaking. Unable to establish my own vineyard immediately, I gained experience by working in various wineries in different regions, such as Alpilles and St Maximin, with Vincent working in the vineyards and myself in the cellar until 2008.
In 2009, Vincent and I took over the vines of a retired winemaker. We rented the school's cellar and started the winemaking process in 2009. By 2011, we had expanded to 6 hectares and built our own winery. However, we still donated some of our grapes to the cooperative cellar. In 2014, I left the cooperative system, and we doubled our vineyard area and production, reaching 50,000 bottles. We also planted some new vines and removed some old ones.
Today, we have 11 hectares with a yield of approximately 55,000 bottles. Additionally, we each have some side projects: I make a bit of wine with my wife, and Vincent sells grapes.
Can you tell me about your vineyards and their terroirs?
Our two vineyards are located in two different terroirs: one on clay-limestone soil and the other on basalt soil.
I am situated on the foothills of former volcanoes in Lussas, where the houses are black and volcanic scree can be found on marl soil. It's a valley, in the slopes of Coiron, offering a beautiful view of "sud Ardèche." The vineyards are at an altitude of 380 meters.
The other vineyard is in Mirabel, where the houses are white, and the soil is clay-limestone. These are the vines belonging to Vincent's father. It's also quite a hilly landscape.
The combination of these two terroirs is extraordinary and allows us to produce fresh and balanced wines. I believe the effect of the basalt helps in this regard, providing finesse to the wines.
How do you make this wine?
We do manual harvests using crates, and since 2011, we've been using a sorting table to minimize intervention in the tanks. The grapes are transported by gravity for the red wines. The white grapes are directly pressed and also transported by gravity.
We do little to no pumpovers, focusing on oxygenating the must to avoid fermentation issues. We limit carbonic maceration to about 20% of the total.
Sometimes, we perform direct pressing on the red grapes (for less attractive grapes) and then proceed with débourbage, pouring the juice over the tanks with the macerating grapes to add juice and freshness and to release our early wines.
What grapes have you used?
We use 100% Viognier from one of Vincent's parcels, which is one of the most beautiful in the estate. The vines are 33 years old, and it's an interesting mass selection with unique heterogeneity. In 2011, we planted half a hectare of Viognier, which we also use to produce L'Adret.
What vessels do you use in the cellar?
I use a bit of everything. The Viognier is fermented in stainless steel to start fermentation and to oxygenate the yeasts, and then 50% of the tank volume completes fermentation in wood. This helps keep the lees thin. The blending is done in April, and bottling takes place in May.
Do you use sulfites?
Since 2012, there are no sulfites used in any of the wines at Domaine des Deux Terres.
How would you describe the wine?
I really like the 2021 vintage because it's quite unique. Unlike the 2022 vintage, which is very 'Viognier' with apricot notes, the 2021 vintage presents a fascinating autolytic reduction and has very floral and eucalyptus notes. It leans more towards citrus notes compared to the 2022 vintage.
When is the best time to enjoy it? Now or later, if someone wants to age it in the bottle?
It's hard to say. The 2021 vintage is good to drink now and should be able to age for a few years (maximum of 7-10 years).
Is there a story behind the name, L'Adret?
We chose the name as it refers to the rising sun on this east-facing plot.
Are there any food pairings you would recommend?
It pairs ideally with white meats, chicken in sauce and goat cheeses, such as a not-too-strong 'picodon' from the region.
Isabelle's thoughts on L'Adret - Some of the world's most profound examples of Viognier come from the Rhône, where its aromatic exuberance is tamed, bringing earthiness and a restrained elegance to the wine. Floral and peachy on the nose and a touch oily in texture, Adret shows notes of apricots, pithy lemon peel, some smokiness and a lovely bitterness on the finish.
TOTAL SULFITES: <10 mg/L.
---
Oriol Artigas Viticultors is a winery run by Oriol Artigas in the Alella region of Catalonia, 15km north of Barcelona. He first started making wine for fun, but decided to share his wines with the public to promote the Alella terroir as simply as possible, with minimal intervention.
Q&A with Oriol Artigas
Can you tell me about your background - you started making wine first for fun, did you have a background in wine?
To tell the truth, I don't come from a family with vineyards and my family didn't make wine. But there was always wine on the table and good food on the table. When I was 22 and I was getting ready to finish university, I decided to abandon my studies in chemistry, because I didn't want to work in that field for the rest of my life. I started working as a mountain guide, then I looked for some summer work and I started working in a big winery, and for me it was immediately something that touched my heart, so strongly. I began making wine at home, as a hobby, and continued working the winters in the mountains. Over time, I spent less time in the mountains and more time in the vineyards. Something that started as fun for me, ended up becoming the central point of my life.  
Was there a moment you can remember where you decided to make it your everything?
Really, I just continued making wine for fun. Obviously the good thing now is that I don't need to work alongside it. I make money doing the thing that I enjoy. I think that started in around 2015. From 2011, I was selling my bottles, but I had to work other jobs alongside it, but 2015 was the last year I did that. Now I can focus on my family and our vineyards and our wine.
Can you tell me about the Alella terroir, and what makes it different?
It's a very singular, very special place because it's maybe the smallest appellation in Spain. There's a very small quantity of grapes and we have three things that give a very special character to the wine. The first is the geology here, there's granite sand and the mother rock is a pure granite. The second is that we are 1-5 kilometers from the sea, which means we have a nice, salty air. Over the years, the little salts in the water has broken the granite down into sand, so there's this relationship between the saltiness of the sea and the granite. The third thing is that we have an indigenous grape called Pansa Blanca, a grape not far from Xarel·lo in terms of genetics, but the expression is very different, very distinctive.
What's the natural wine scene like in Spain? It seems there are a lot of organic vineyards, but less natural winemaking - except for in Catalonia where it's very concentrated. Why do you think that is?
I think it's something about synergy. I don't come from a family with vineyards, but in bigger regions like Penedes, there's families that have 20, 30, 40, 50 hectares of vineyards and they used to sell the grapes to cooperatives who would pay really bad prices. Their grandparents or parents would have the vineyards, and the grandchildren or children would arrive and say, I've been to university, I've traveled, I have some culture, I want a healthy life, a good quality of life, and many people in Catalonia are beginning to make this change.
There's more than 100 producers here in Catalonia and and there's a big exchange between us, but I think in Spain, has not happened yet. It's coming though. For many years Spain's wine has been monopolized by four appellations: Rioja, Ribera del Duero, Rueda and Rias Baixas. And maybe some others for white wines, but these are all very far from the natural way. So it's about educating people on this kind of wine, and their palettes. Which is definitely starting to happen. Three years ago, it was very difficult to sell a bottle of natural wine in Madrid, but now maybe we are selling as much there as we are in Barcelona. It is changing and will continue to change over time.
Can you tell me a little more about the Pansa Blanca grape variety you've used in this wine? What are its characteristics and how does that come out in the wine?
Pansa Blanca is around 70% of all my vineyards, I normally produce 6-7 different cuvees that are 100% Pansa Blanca. I have some single vineyard cuvees and some mixing different parcels, sometmes with two weeks on the skins, sometimes like a pet nat. It's a grape that's very adaptable to many different expressions - the adaptation to the climate and the soils here is incredible. Like with Garnacha for example, we sometimes have some small problems with the grapes, but Pansa Blanca is always perfect. It's not like a Muscat with an explosion of primary flavors - it's more shy in the notes it expresses, but has good fruit, good complexity and shows the composition of the soil, the kind of minerality that we have, really well.
For Pansa Blanca, we have a bit of schist, another of granite sand and another of one of igneous, and we make wine from these three terroirs to show the particularities. For me, it's like Riesling in that the wine can change quite a lot and explain the characteristics of where it's from. When the vineyard is planted close to the sea, it's normally quite difficult to grow white grapes because the nights are warm, which often makes you lose the acidity. But with Pansa Blanca, you keep the acidity quite well and that allows us to make fresh, salty, balanced wines.
What's the story behind the name, La Rumbera?
When I began making wine, I started with two little vineyards - one on the sea side and one on the land side - 70 years old and only Pansa Blanca. These vineyards make a very good, very special Pansa Blanca. In 2015, I had the possibility to get a young vineyard, and young was like 30 years old. It was a little more productive, more juicy and drinkable. My old Pansa Blancas were very serious, more strict and on the complex side. La Rumbera was the idea for a Pansa Blanca that's more fresh, fruity, fun and more like music - but still very serious and well done. For that, we chose an old boat for the label. Something fun but at the same time, with its own roots.
Can you talk me through the winemaking process?
I have seven different plots of Pansa Blanca. There are three on the sea side and four on the land side, always on granite hills and from 60-400m above sea level. La Rumbera is made from all these parcels, to give the whole view of the vineyard, like you're looking at it from a plane. We usually harvest across 5-7 weeks because of the different maturities. Once we've harvested, we macerate with stems from 3-10 days, based on taste. Then, we press it slowly into a big tank and refresh the fermentation. We don't do different tanks and ferment separately, but have one big tank that starts with a small quantity, then three days later we add more juice, a week later we add more, and so on - like when you do bread, you refresh the dough little by little until you have one big fermentation. This process takes 5-6 weeks.
What vessels did you use for maceration and fermentation?
For maceration we use stainless steel, and for fermentation, normally two fibreglass tanks. But sometimes if theres more volume, we will ferment using fibreglass and stainless steel, then consolidate to fibreglass later on.
Do you use any sulfites?
No, not at all. 2015 was last vintage we used some sulfites in the bottle.
How does this vintage, 2021, compare to others?
It's quite a special vintage because in 2020, we had a huge attack of mildew. We had it in May and June, with rains of 30mm in a day and we lost 95% of our crops. But then the flowers grew early and the leaves in the vineyard were beautiful - the plants developed really well after this. It was bad for the wine and for the humans, because we had little quantity, but the plants took a lot of energy and reserves for the following year, so when we came into 2021, the branches were really strong. I've never seen more flowers in my life, the vines were like elderflower trees. We had a high yield but had to discard some of the crops, as one of the characteristics of Pansa Blanca is that when there are too many, the bunches get smaller.
In the end, it was the biggest harvest of my life and the summer was dry and hot, so we got a very good flavour, with low alcohol and mild acidity - which is very surprising with hot weather. You get the full ripeness of the fruit, but the balance and drinkability.
When is it best enjoyed? Now or later, if people want to age it further in the bottle?
Now is a very good moment to enjoy it, but also in the next 2-3 years it will be very good. What will begin to happen is that the fruit will begin to reduce and it'll become more serious and complex. Last week for example, I opened a bottle of La Rumbera 2016, and it was incredible. It has a good acidity and there's a lot of resveratrol in the skins which acts as an antioxidant and gives the wine life in the bottle. I need more experience to know just how long it can age for, but for now I think a couple of years.
Any food pairings you'd recommend?
La Rumbera is one of the most versatile wines - you can pair it with a lot of things. It goes well with seafood and white fish, but I always say pair it with good friends and good music. Also good with salad, something fresh like that, and with mussels because the saltiness of the wine works well with the saltiness of the mussels.
Isabelle's thoughts on La Rumbera - Pansa Blanca (a close cousin of Xarel-lo) is a grape variety best known for its use in the production of Cava. In recent years though, many producers are choosing to bottle it as still wine to showcase the identity of the grape. Oriol's example is a deep straw color. It has a pretty, floral nose with aromas of linden flowers, baked quince and a dash of honey. It also shows notes of fresh hay that is almost minty and a great minerality. Youthful and delicious now, it will also improve over the next couple of years as it opens and gains in texture.
TOTAL SULFITES: <10 mg/L.
---
Intellego is a low intervention project run by prominent South African winemaker Jurgen Gouws, who makes wines from grapes grown on small parcels of land in the Abbotsdale, Riebeek and Malmesbury areas of the Swartland.
Q&A with Jurgen Gouws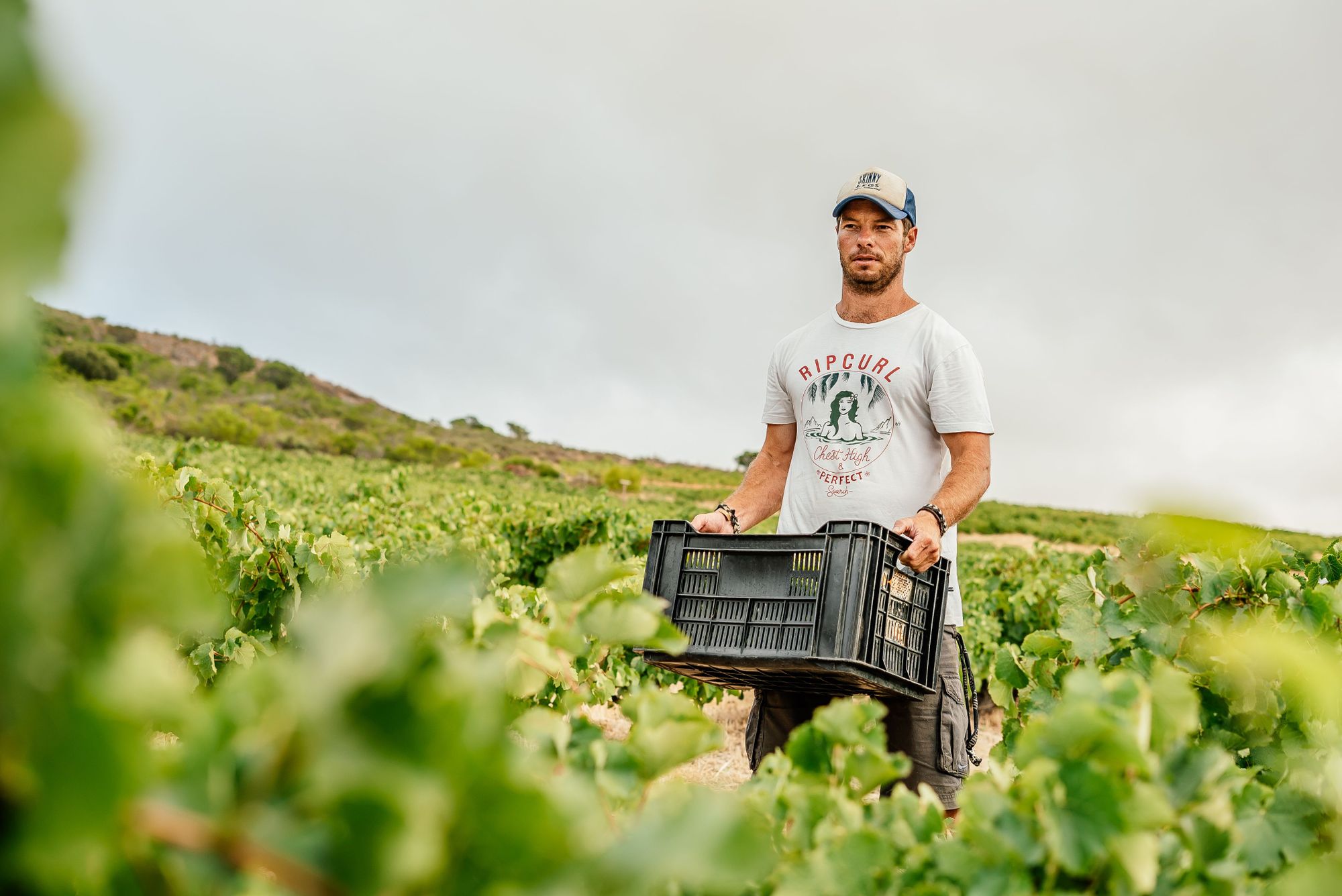 Can you tell me about your background - how you came to be a winemaker, and why you work with minimal intervention?
When I was 15 years old, I decided I wanted to become a winemaker and study wine. I think a big reason for that is that my grandfather used to have a small farm outside of  Stellenbosch, where we would go to on summer holidays, and I really enjoyed walking between the vineyards and seeing how the grapes grow, and the diversity of grape growing and winemaking. I think that triggered it for me, but another big reason is that, in South Africa, 99.9% of wine is grown and made on the Western Cape and I've just always loved this province. I lived on the Eastern Cape growing up where it's a drier climate and more about citrus farming, and I loved coming down here for holidays. I was also at a stage where I was thinking, what can I study that will enable me to live in this province, and winemaking was one of those things. But really it came from spending time on my grandfather's farm.
So, I decided it was a good route to go down and at school, I had a really cool teacher for Agriculture - we got along really well and he told me, your marks need to be good if you want to go and study at the college I ended up going to - he motivated me quite a bit and had a real impact on me. Being on the Eastern Cape, I grew up outside of wne in a very small village with a lot of citrus farming. My mom was a social worker and my dad was a teacher at the school. Winemaking was very new for me. But I'm happy about that in a sense because I could see things differently and explore new things, rather than coming from a rich tradition.
I studied in the early 2000s and was taught the more conventional ways of making wine, which was fine, but I didn't always agree with the methods. After that, I did a few harvests abroad and locally, and worked as an assistant winemaker to try exploring newer methods. I ended up with a very good friend of mine now - Craig Hawkins from Testalonga - at that stage, he converted Lammershoek into these more alternative style, natural wines. It was really interesting for me to be able to work with someone who was taking a totally different route. In South Africa, the biggest style of wines is very concentrated, extracted wines, and Craig was one of the first to break away from that, which was great, and I really enjoyed the wines.
Then I went to do a harvest at Matassa with Tom Lubbe in the Roussillon in France, and on the first night he brought out some wines for a blind tasting, all organic and biodynamic. And the very first one just blew me away. I was like, this is so good, and it was a Riesling from Maillard in Alsace. I had to try and guess what the wine was, and it was just amazing. It kept evolving in the glass and I just couldn't pinpoint it. That was where I realised this is what I want to do, because I always said - even when I was studying - that I wanted to make wine that keeps evolving in the glass and in the bottle. It's not about making a product like Coca Cola for me, where each one tastes exactly the same. During that harvest, we kept doing blind tastings and I just really enjoyed them all. The next morning, I'd always feel pretty fresh, I never had a hangover. It was like my body agreed with my mind. I always say that about food - the body doesn't lie. We can play games with our mind, but your body gives you one of the most honest reactions you can have. That's where it all started for me.
From the South African winemakers we've spoken to for the club, it sounds as though the natural wine scene is very small there. What's your experience like as a natural winemaker there? Would you like to see more people working in this way?
I'd definitely like to see more people do it, so I can buy more South African wines! But yes, you're absolutely correct - we are quite small as a scene. I was at a wine fair back in 2019 and I stood next to a producer from New Zealand, and even back then they had more natural wine producers than South Africa. What's changing now, is that we're seeing a lot of people convert to organic farming, which is great, but not so much towards natural winemaking. I'd like to see that, but I think a lot of people just don't have enough confidence in the process. They perceive it to be a big risk and, back in the day, I felt the same - but sometimes you just need to go for it. It's a pity there's not more in South Africa. The ones we do have are very good examples.
The organic farming shift is great, but for me it's also about celebrating what happens in the vineyard, to transfer that energy from vine to glass. So if you do the farming organically, why would you not want to continue this through to the winemaking? It's not a true reflection of the terroir or the identity. It needs that sense of place. And a lot of commercial wines do have that, but for me, this style just has more of that energy. You can taste it in the wine. It's not evolving all that quickly in South Africa, but the younger wine drinking generation are starting to understand this kind of wine, so demand is slowly growing. In 2023, they understand it a lot more than they did back in 2014 or 2015. And I think the higher the demand gets, that's when we'll start to see it in the supply.
Where did the name for Intellego come from?
It's a way for me to tell my story. I've got my wines with these colorful labels, and sometimes people have preconceived ideas - they'll see a bright label and think, this is too playful, this wine won't be a serious wine. Intellego is Latin for 'to understand', so the moment people understand where we're coming from, what we're trying to do and our philosophy, why the labels are the way they are and the style of wines, there's suddenly this huge appreciation of the wines and people really enjoy them. Just like with a lot of things in life, it's all about understanding. It can make you appreciate things so much more, and it's the same in our everyday lives.
And what about the name for this wine, The Pink Moustache?
My mind works a little weirdly at times. When I made this wine, the idea was to be a light red style, so we do a very short extraction on the skins. To me, it's not a rosé. And back then, when I first started making the wines and was deciding on a label, I had this image in my mind of three male faces where one guy was clean shaven, one had a moustache and one had a beard. For me, the beard represented red wine. Then the guy who was shaved represented rosé, so that's where the moustache came in. It's somewhere in between. And the pink resembles the color of the wine.
How would you describe this wine?
The nice thing with Intellego wines is that these are wines for every occasion, with or without food. This wine is very fresh, very energetic and something that works really well in summer, and can be chilled down if you want - but also in the winter, when you're having lots of gatherings and parties, and want something to serve with dinners. When you first taste it, it's really fresh and vibrant, but it keeps evolving. We will taste it even 2-4 days after opening, and it's still great. I think it'd because of the nice freshness and acidity, that gives a nice grip to the wine. It's got a combination of a lot of sweet fruit, lighter fruit, but then a great acidity tht helps with the length and brings in a bit of complexity. Over time, as people drink it, they see it has a different flavor profile than your normal glou glou wine. There's something almost mysterious about the wine, and with time, you get to discover that mysteriousness.
What grapes do you use and how old are the vines they come from?
Cinsault, Syrah and Mourvèdre. In South Africa, we don't have a lot of older vineyards, so on average they're around 15 years old. The Mourvèdre may be a little older, around 18 years old, but on average, 15. Everything is dry farmed, bush vines, and low yield vineyards - which I don't mind because I feel like you get a different flavor profile out of these grapes. Sometimes we have drier seasons and the plants have to work harder, which can contribute to greater complexity in the wine. We make use of those three varietals and have worked with those for the last five years now. There's good consistency and it's nice to see the differences from vintage to vintage.
Which vineyard do these grapes come from, and can you describe the landscape for me?
The Swartland - it's not mountainous, but it's very hilly with a lot of rolling hills, and is a very big region, one of the biggest wine regions in South Africa. But probably with the least producers, because there's a lot of other commercial farms in the area, cattle and such. What's really nice about this area is that the soils are so diverse. We have a lot of granite soil, then if you go more towards the coast which is to the west, you get more clay, and if you go more northwest, you get more shale, which has over time evolved into schist. So that's something that's really cool about the Swartland, you get these rolling hills with all these different oil types. We're very fortunate that we have a lot of different slopes and can play around with different varieties, as in other parts, you can't do that so much. I'd say the highest altitude is probably around 240m above sea level, so it's not super high. On average, between 115-240m, so it's a lot less mountainous than other places. It's very different, but very beautiful and in the summer, you get beautiful views over the dry wheatlands and green vineyards in between. The view is beautiful from my cellar, where there's all these rolling hills then the mountains in the back from neighbouring wine regions.
Can you talk me through the winemaking process?
It's always interesting to hear stories from when people started making wine, and back in 2016 a good friend of mine, Daniel van de Niepoort from Portugal, was with me for the year and we made a barrel of rosé. It was a Syrah rosé and then he left after harvest, and I just assumed that all the barrels were topped, but we had two that were only around 75% full, because we don't ferment with full barrels. One day, we went to the cellar and I started topping up with Cinsault and it just felt like forever, I thought okay maybe 5 litres then its full, or 10 litres, and it just kept going like that, so this Syrah rosé got a lot of dry red Cinsault for the topping wine and when we tasted it five months later, it was really good. So that's how the Pink Moustache started - one of my friends not topping the barrel. I'm actually very thankful to him and should probably give him a lifetime supply.
Anyway, we normally harvest in summer, whereas I know a lot of people do it in the autumn. This is because we need to retain good acidity and can't afford to harvest in autumn. We harvest towards the end of January, beginning of February, which is probably when we have our highest temperatures. We pick by hand using small 20kg crates - harvesting the three grape varieties separately. We leave the grapes to cool in a cool truck overnight, because the next day, the grapes don't need to take such a hammering. We direct press and then it goes straight into old French oak barrels, with the three varietals fermenting separately. We ferment for around three weeks, and then stop. The wines continue malolactic fermentation, then around June we take the wine off lees and start making up the Pink Moustache. We leave it in stainless steel for another 6-8 weeks, so the wines can mingle and marry together. Mostly, we ferment without skins, but the Cinsault is fermented on skins for around four days. Finally, we bottle around the first week of August. It's about a six month process from start to finish.
Do you use any sulfites?
We use a little bit of sulfur before bottling - I export around 90% of my wines, so it's for me to make sure the wines are safe to travel. The last thing I want is for someone to buy a bottle in the US and feel that the wine has struggled. In South Africa, we've got a wine class called alternative style, which we established around 10 years ago, but it means you can't exceed 40mg/L - so whenever you get a South African wine and it has the black alternative style label on it, you know the total sulfur is less than 40mg/L. We use a lot less than that, just enough for the wine to be in a safe place. I want it to be in prime condition when it reaches a consumer.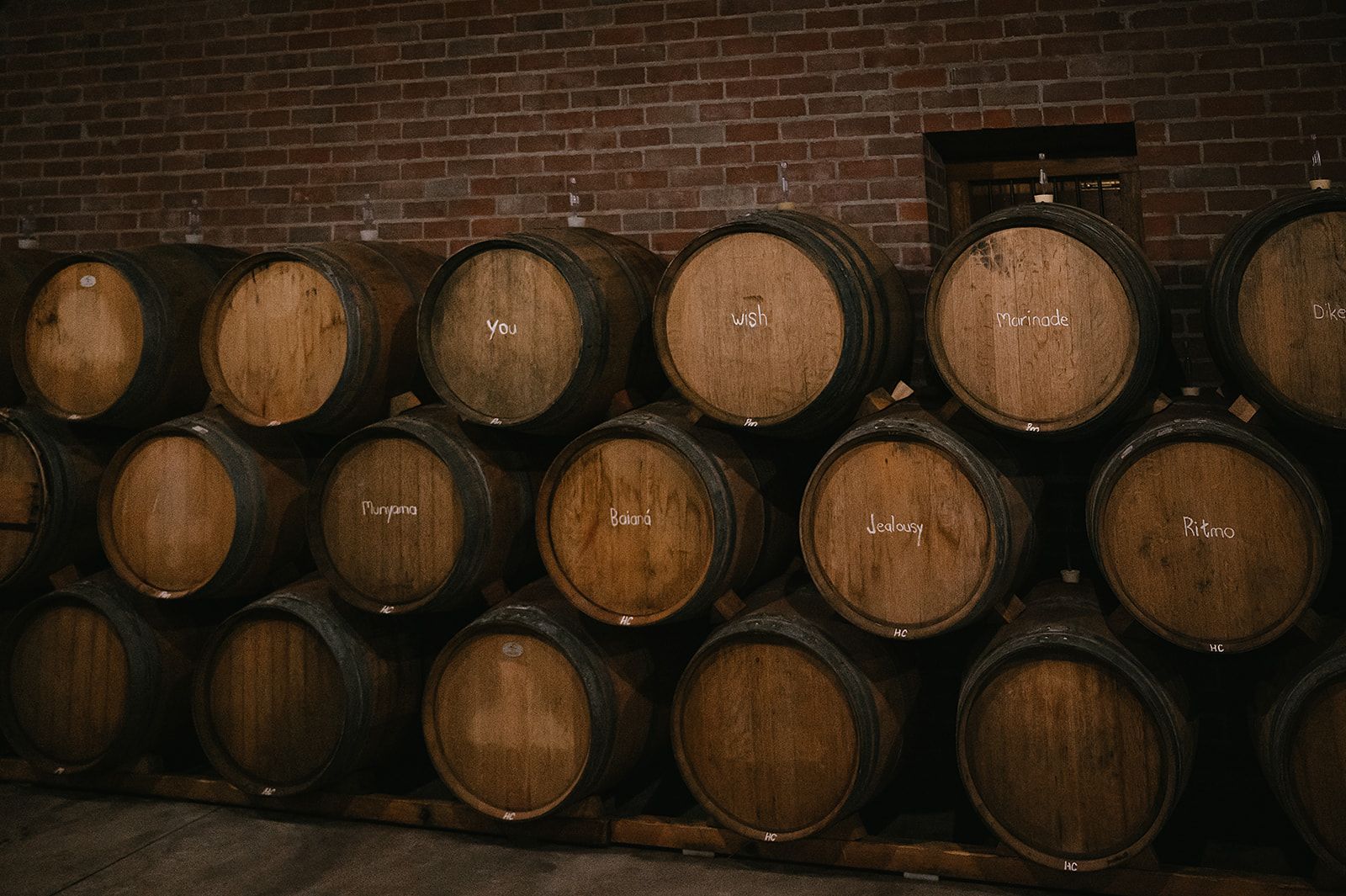 How does this vintage, 2021, compare to others?
It's still early days, but looking at the last decade, I'd say it was one of the better ones and it's still continuing to evolve in an amazing way. It's great to see how the wines come into their own and this actually still feels so young. We had a nice warm summer but with cooler nights, then harvest was not too early and not too late, low levels of disease pressure, so it's definitely been one of the better ones and it's amazing to see how structured the wines are. I think a big reason for that is the acidity we retain, but you also get great fruit maturity.
When is it best enjoyed? Now or later, if people want to age it further in the bottle?
I think now is a good time - it's always a good time to open a bottle, but it will have been two years in August, which I think is a really food time. In 2022, I opened a 2016 that was still showing really well, so I think it'll be good for the next three or so years.
Any food pairings you'd recommend?
The majority of food pairs well with it - we once did a starter with pork and I feel these lighter style reds work well with pork, because you get a lot of sweet fruit sensation, even though it's pretty dry, that works well with pork, or pork belly.
Isabelle's thoughts on The Pink Moustache - I met Jurgen many years ago while he was working with Craig Hawkins, and it has been wonderful to witness the creation and evolution of his own project, Intellego. A fun, upfront, gorgeous rosé, The Pink Moustache is also complex and concentrated, testament to the wonders of the low-yielding, dry-farmed, bush vines that pepper the Swartland. Showing ripe, red cherry and bilberry, it is elegant and fresh, with some notes of ripe pomelo and crisp citrus peel.
TOTAL SULFITES: 25mg/L.
---
Gustavo Riffo is a winemaker from Portezuelo in Chile's Itata Valley. Gustavo makes organic wine from his family vines - some of which are 200 years old - using traditional local methods, including ageing in vats made of Chilean Raulí wood.
Q&A with Gustavo Riffo
Can you tell me how you came to be a winemaker - had your family been making wine before then?
For 40 years, my family and I have been making wine in the Itata Valley, in the central south of Chile, where the oldest vineyard in Chile is located, mainly planted with the Pais variety, which is 200 years old.
My family never owned vineyards, and we didn't have a winemaking history either. It all started in 1983 when my father and his brother made their first wine from Muscat of Alexandria, producing a very limited quantity of 700 bottles.
Over time, our family grew to 9 members, and the winemaking challenge began. This led us to buy vineyards planted with old Pais, Muscat, and Cinsault vines. At the age of 20, I joined the family and the winemaking project. At that time, we had 15 hectares of our own vineyards with mainly Pais, and I started studying agriculture, although my true passion was sports.
Reluctantly, I pursued agricultural studies, even though I wasn't interested in alcohol or wine at that time. However, as I began to understand more about winemaking, I fell in love with the world of wine, especially the wines from our region. Working with 200-year-old Pais vines was a luxury, and I consider myself fortunate to have embraced it and continue here.
After three years of working on the family project, I decided to study oenology and viticulture here in Chile. Meanwhile, I enjoyed traveling for wine and visited Mendoza, Spain in 2014, and France in 2015 to see what they were doing at the time. Eventually, I returned to Chile to work with my family, and today we own 40 hectares, 80% of which are old 150-year-old Pais vines, from which we produce our Pipeno wine. I am happy living in the countryside, making wine.
What's the climate like where you are?
The climate in this area is Mediterranean. Temperatures in Portezuelo range between 5 degrees in winter (we can also experience frost and temperatures as low as -2/3 degrees) and maximum temperatures of 20/24 degrees. The summer is harsh with dry heat, reaching up to 40 degrees, which accelerates grape ripening. As a result, in Portezuelo, Itata Valley, we are the first to harvest Pais due to this warm climate, advancing the harvest every year. Unfortunately, wildfires (like those in 2023) also affected us and advance the harvest further.
Despite these challenges, our vineyards have not suffered. We had smoke this year, but the vineyards are still healthy, and it remains a joy to work with them.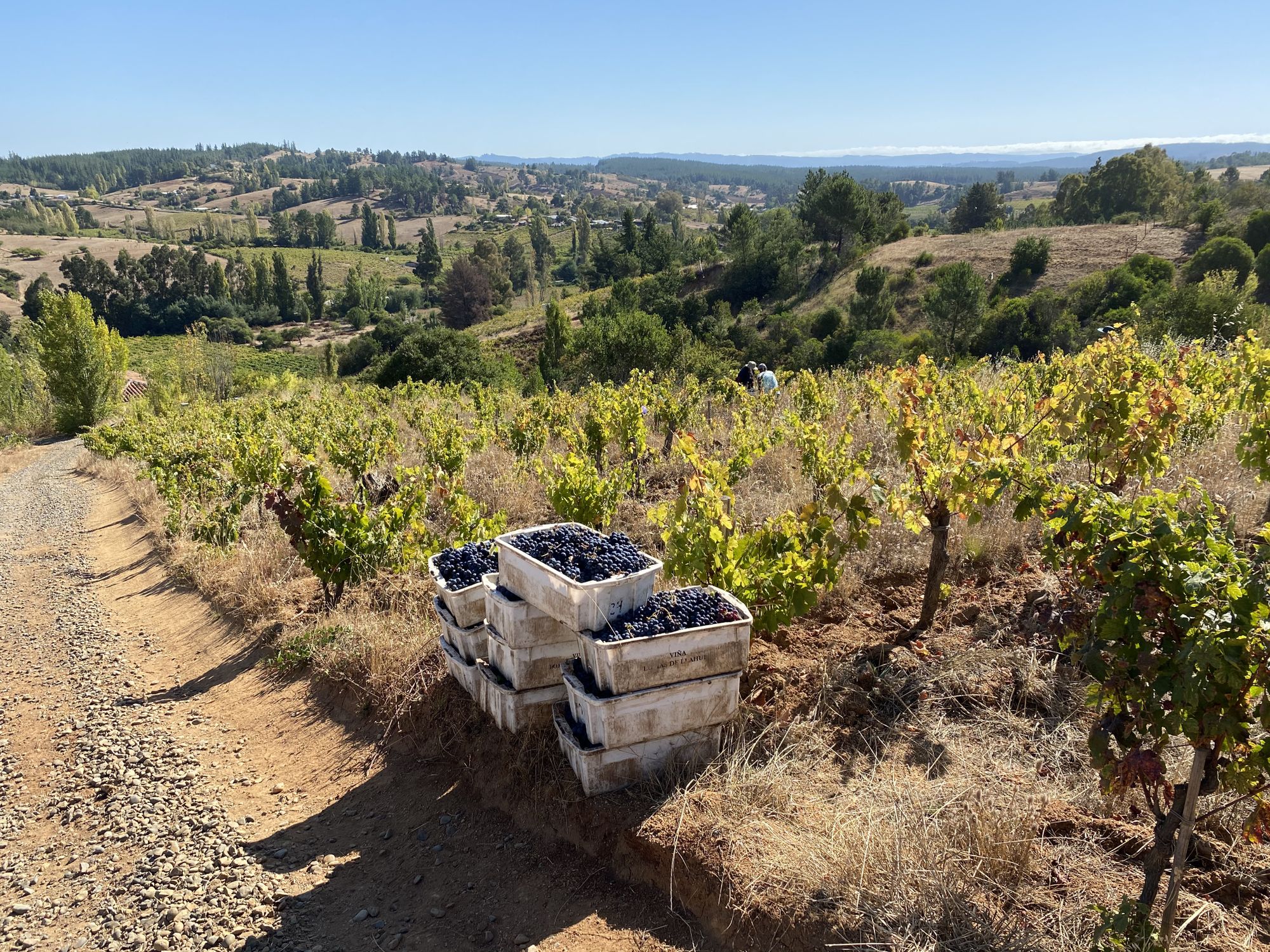 For those who might not know, what is a Pipeño wine and how do you make this wine?
Pipeno wine in this dry interior zone, along the coastal area of Chile, in the dry-farmed regions of Maule and Itata (including BioBio), has always been made. Rather than referring to a specific grape variety, Pipeno is a winemaking method. First and foremost, the grapes must be healthy, without chemical intervention or any external additives. The fermentation occurs naturally without added yeast, exclusively in Chilean Rauli wood for about 15 to 20 days, depending on the ambient temperature and harvest timing. What gives the product its name is the 'Pipa' - a container similar to a 500L barrel, and that's why it's called Pipeno (Pipa = Pipeno). So, it's not about a particular grape variety, but rather a way of making wine found in BioBio, Itata, and Cauquene. For me, that is Pipeno - what is stored in the Pipa or in Rauli wood.
The aging of this wine (150/200 years vines) is done in large Rauli 'foudres' of 30,000 liters each. Currently, we have three 30,000-liter fudres, where the wine is aged for one year. That's why it's called Pipeno, and we bottle it in one-liter bottles because it's the wine we produce the most.
Do you use any sulfites?
During vinification, we use very little sulfites, and we maintain a level of about 15 parts per million of free sulfur. Total is 28mg.
How does this vintage, 2021, compare to others?
The 2021 vintage was a normal year for us in comparison to 2023, which was marked by fires and smoke. We are currently storing the 2023 vintage, and it is somewhat challenging to predict its evolution, but we need to wait and see. On the other hand, the 2021 vintage was significant for us because it produced a very good wine, with no fermentation issues; the wine practically made itself. And with the water being so good that year, it was destined to be a good wine.
When is it best enjoyed? Now or later, if people want to age it further in the bottle?
I recommend buying six bottles of this wine: two to age and four to drink, as it's always good to keep some bottles to observe how the wine evolves. My suggestion is to enjoy this wine within the first three years; that's the ideal time!
Any food pairings you'd recommend?
In the summer, it goes very well for daily consumption. In the winter, it's best to enjoy it at room temperature with a homemade salad. It pairs well with a variety of dishes, as it is a very gastronomic wine with mild tannins and abundant fruit flavors. It complements light meals, snacks like not-too-intense meats, green salads, arugula, lettuce, tomatoes, and even desserts.
Isabelle's thoughts on Lomas de Llahuen Pipeño - This is quintessential Pipeño - thirst-quenching wine made from the versatile País grape and destined for easy-drinking at village fiestas in southern Chile. Juicy and glouglou, this liter bottle is alive and vibrant. Expect black cherry compote flavors; plummy, pomegranate notes, and sweet cinnamon spice.
TOTAL SULFITES: 28mg/L.
---
Orsi Vigneto San Vito is a winery in Colli Bolognesi, the hills south of Bologna in Italy's Emilia Romagna region, run by Federico Orsi. The winery sits at 200m above sea level, and was taken over by Federico in 2005, after being established over 50 years ago.
Q&A with Federico Orsi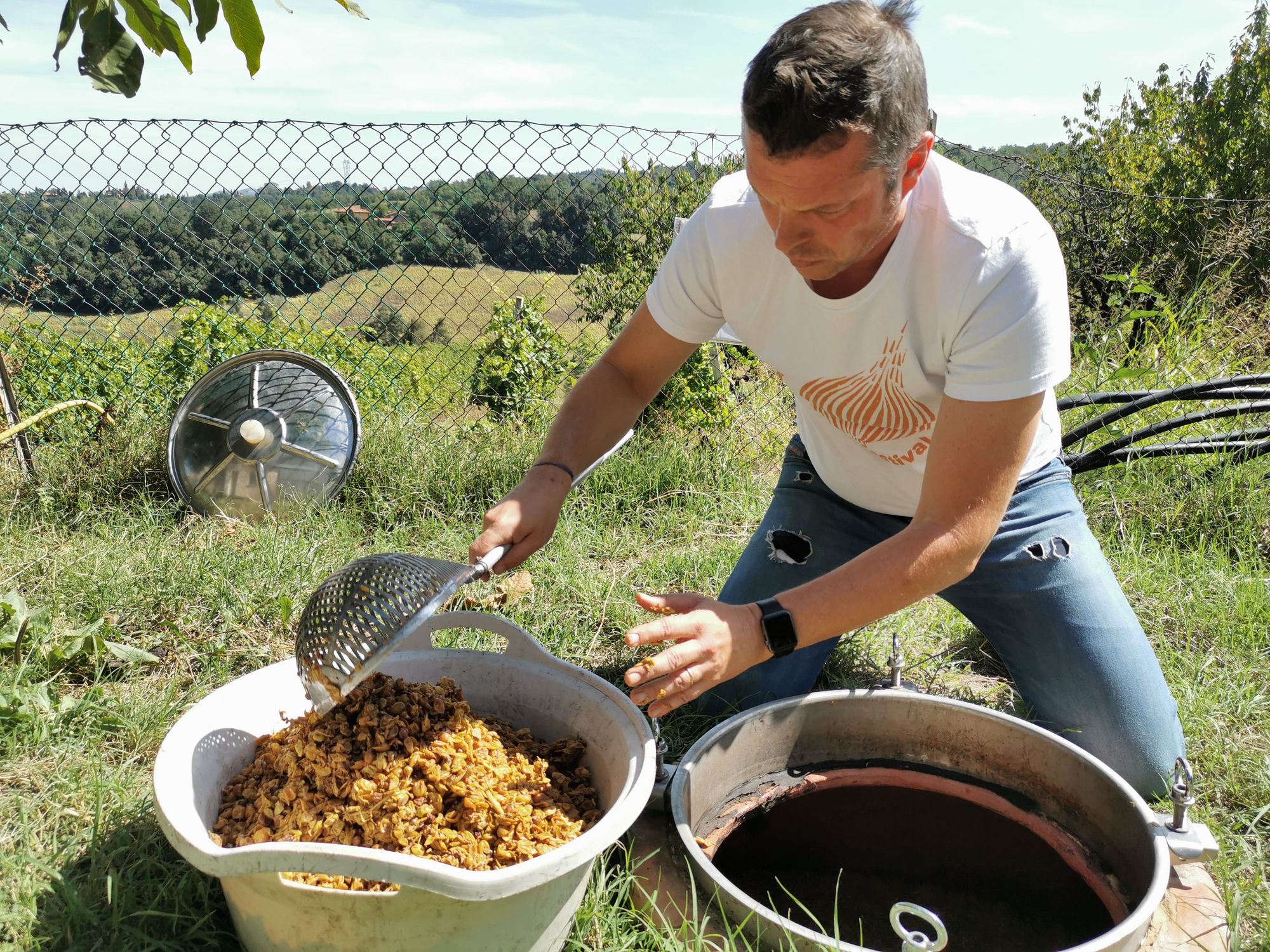 Can you tell me about your background - how did you come to be a winemaker?
My grandmother's family were farmers for centuries. I was born in Bologna, then when I was three I moved to Brazil, where I grew up. I came back to Bologna for college, and at that time my grandma divided the farm between her nine children - my mother had eight brothers. It wasn't a farm that focussed on winemaking. They had grapes, but other crops too. My grandfather was really passionate about wine and travelled a lot to visit different wine regions, so a typical trip for us as a family was to go to Barolo or another wine place. His love of wine stayed with me, so when I came back to Bologna, I decided to become a sommelier as a second job while I was studying, working in some restaurants in Bologna. Then I became an engineer, so I have a very scientific background and started working as a business consultant. In 2005, when I was back home, I joked to my family about there being some vineyards for sale nearby - actually one of the ones my grandmother used to have - in a better spot. That's how it all started.
And what about the way that you farm and make wine - how do you work in the field and the cellar, and why did you choose to take this approach?
The idea at first was to be, at the very least, organic. I was very interested in biodynamic farming, but I didn't know a lot, so I started studying it. And the winemaking: I was initially drinking all the big wines, but the moment I started to appreciate wines that were made naturally - like La Stoppa, Radikon, etc. - that's I wanted to make wine in the same way, because they were the wines I was enjoying at the time. And back then, Colli Bolognesi where we are, was a very unknown place, so I saw potential in the fact it had been hidden for so long. And at that time, winemaking wasn't as much about making wine that belongs to the place it's from - the wines that were well considered in our region used international grapes and made very technically. I wanted to go against the grain and use local grapes and simple vinification. I saw there was a lot of potential.
Can you tell me about where you are, in Colli Bolognesi?
The hills around the city of Bologna have been farmed to make wine for centuries. We are on a hill called Oliveto and we have evidence of winemaking all the way back to the year 1,000 - nearby there is the Abbey of Monteveglio and evidence tells us that the monks were making wines in the XI century - so we have a very old winemaking heritage. The terroir is very different - it's not huge, it's kind of small actually, with less than 1,000 hectares of vineyards here. And because it's pretty hard to keep the vineyards here in the hills, compared to on the flatlands where you can farm industrially, we're losing some of the best vineyards from our region. Although it's not big, we have a lot of different valleys, with lots of different soils, like in Vicenza. We have three main valleys: Valsamoggia (where we are), Valle del Lavino and Valle del Reno, and all of them are very different. We have a lot of diversity - and another reason there's no one, common idea of what wine from this region is like.
What soil do you have?
It's not that easy to describe, because it's a very unique soil. We have 15 hectares, all located on the same hill, with an altitude that goes from 100-200m above sea level. On the top we have mainly clay, then going down it becomes very steep, with a lot less. Then we have pebbles, sand, limestone - all very different types of soil.
Can you tell me about the 'perpetual tank' method you use?
The Posca Blanca and Posca Rossa are non vintage. The Posca Rossa is made in 'Vino Perpeto' - a perpetual tank. It started in 2008 and since then, every month, we bottle a small portion (5%) of this tank and top it up immediately with other wines we have in the cellar, to avoid oxidation. We now have in the same tank, wines from 2008 to 2022, made from all the grapes, from all the vineyards.
When I say all, I mean Barbera Negretto, a little Cabernet Sauvignon, Sangiovese and Lambrusco. But also the memory of some of the grapes we don't have anymore. Since the tank will never be empty, we always keep back the memory of the old grapes. We used to have Merlot and Cabernet Franc, before they were replaced with indigenous grapes.
This method is traditional to try to achieve consistency, mixing different vintages. The idea is to have a little bit more of an average wine that didn't change that much from vitnage to vintage. In our case, it's a little bit different. Our way of farming and vinification is to focus on the diversity that nature gives us. IN this case, even if we are always mixing, we will always have a different batch each motnh. It's an evolution that changes month by month, small step by small step. We don't put a vintage on the bottle, but the month and year that it was bottles.
Where did you first hear about this method?
It actually happened by chance. When I started, natural wine was not that common or popular, especially on the reds - I couldn't sell much of the wine I was producing. I started at a farmers market in Bologna and had the idea to sell it as a bulk wine, so people came with containers and I would fill them up. It became very popular, so popular that some restaurants asked to stock it, in boxes. I was a little afraid about putting my wine into a plastic bag, so the solution was to put it into a bag in a box for just a couple of weeks and for the restaurants use it quite quickly. We would only sell it in this way to restaurants. But we then had the problem of how to find the wine to fill the tank. This was back in 2008, so I decided to top up the tank with 2009. Then in 2010, the wine was starting to become really interesting, so I kept going. I came across a winemaker in Sicily that used this method, not a marsala, but a red wine with a lot of oxidation. I realised that, in most parts of Italy, you can find people using this method. I even started to find these perpeto tanks in Champagne. Instead of doing blends from different barrels, a lot of them were keeping a perpeto tank as a base for their wines.
Is there much of a natural wine scene in Colli Bolognesi?
Yes - finally yes, and I'm super happy about it. To try and promote more farms that are starting to work with this way, I joined up with some other producers and decided to make a group called Tôt d'un fiè. The idea is to work with new farms who are either working naturally, or almost naturally, and help them improve their methods, show them what can be done, and that there's a market for this wine, not just in Bologna but outside of it too. Often the place closest to you will not understand this kind of wine. And some of these guys work with me part time, and are picking it all up that way. As a group, we run events to promote the new natural wines from the area.
How would you describe the wine?
It's our easiest wine I would say. Even for someone that's not used to natural wines, will feel not uncomfortable with Posca Rossa. It has a lot of texture, is quite round, and has good acidity thanks to the Barbera. The idea of the Posca, the perpeto, is to tell the story of our winery, the vineyard and the grapes. We have the continuation of all our different vintages - hot ones, cold ones - you get different layers. It's easy to drink, but not simple. And if you look for it, you can find a lot of complexity.
This wine is very symbolic of how we make wine in a very instinctive way - we don't have set goals, everything always turns out different. We don't lead the wine, we follow it. We become the wine and accept what nature gives us. We try to see this biodiversity as a strength, not a weakness. And that means having a totally different approach, trying never to force the process. To understand that sometimes you just have to wait, some wines start terrible and over the years, they find their balance and become incredible wines. Waiting is always a good thing - but it's not always possible, so it's important to try.
Can you talk me through the winemaking process?
The idea for the vino perpeto is that you have all the grapes and all the vinifications. There are different lengths of maceration, different vessels - big barrels of oak, amphoras/qvevris, concrete tanks - but I'd say that the majority, around 70-80% of the red wines we make, are done in big oak barrels of 30-40 hectolitres. I bought them used 15 years ago. I do very traditional fermentations, skin contact for a month, then I rack it out, and it stays in the same type of barrels for 12 months more. But also we have a smaller portion done in qvevris for 3-4 months on skins.
We actually have a resort here, with accommodation, so if people want to come and visit us, we bring them on for what we call an 'easy harvest' - they don't have to, but if they want to get involved for any length of time, they can. Even if it's an hour, then they want to go and sit by the pool, it's entirely up to them. So if someone wants to come and take part in a harvest, they're super welcome.
Do you use any sulfites?
Only when needed. We've had a lot of cuvees without any sulfites.
When is it best enjoyed? Now or later, if people want to age it further in the bottle?
The idea of the Posca is to be drunk fresh from the cellar, so that's why we don't use cork. You have a glass closure. It can remain in the bottle without a problem, but it's ready to be used, to be enjoyed. The reason for this type of closure is to encourage restaurants to serve by the glass, so it's easy to open and close. That's also why we promote our magnums quite a bit, to serve by the glass.
Any food pairings you'd recommend?
I always say, if you have a preference for something you like to eat with the wine, then that's the perfect pairing. But if I was to make a suggestion, it works well with any type of juicy, fatty meat, because of the tannins and acidity in the wine. And also with cheese, or any kind of dish with tomatoes, vegetables cooked with beans and a little spiciness, would be nice.
Isabelle's thoughts on Posca Rossa - I have always found this wine intriguing as the idea of doing a perpetual blending for a still wine is brave. Produced using the Solera system (like sherry, but without the protective veil), the winemaker leaves their wine in tank for years, taking some out for bottling and then topping it up with the latest vintage year on year. The result is a curious mix of the fresh, fruity flavors of youth and the deep, tertiary ones of age. Orsi started their mix in 2008. Featuring fresh, upfront notes of sweet cherry, blackcurrants and liquorice stick, it also showcases interesting mature, savory notes such as cinnamon bark.
TOTAL SULFITES: 30mg/L.
---