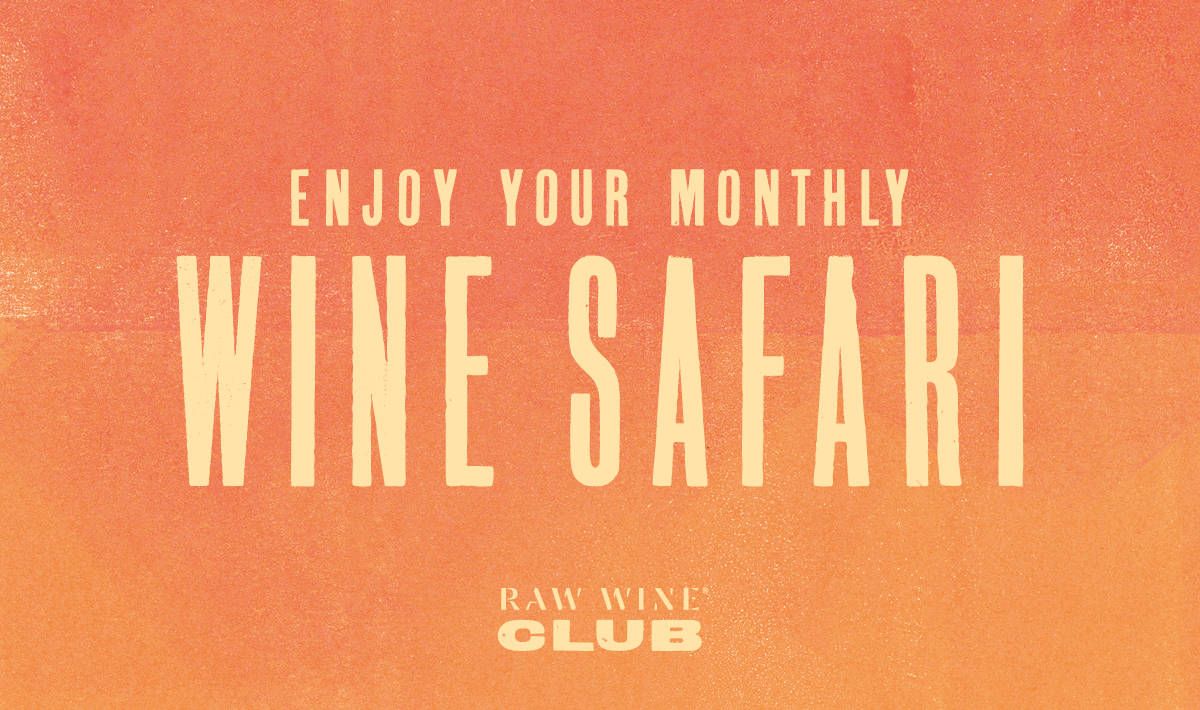 RAW WINE Club - Tasting Notes - April 2022 Selection
17 min read
Welcome!
And thank you for joining us on this RAW WINE Club adventure. I have had a wonderful time putting together this first monthly selection for you and the result, I hope you'll find, is delicious and eclectic. There's a charming pet-nat from the Loire; an unusual salty white from southern Spain made by one of Champagne's Natural Greats; a spicy, skin-macerated pinot gris from unpruned vines in Austria; a crunchy, highly quaffable Italian barbera; a juicy, mineral red from Mount Etna fermented in old lava stone tini; and an elegant, mature, decade-old red made from the rare sumoll grape. Scroll down for more information on each of them (including short Q&As with each grower-maker), together with my tasting notes and thoughts on each wine. I have listed them in order of full-bodiedness, starting with the freshest/lightest of the bunch at the top.
As promised, our digital tasting event with Isabelle Legeron MW took place on the 28 April. It was great fun and the wines were showing beautifully. Thank you to all of you who were able to take part live. We recorded the session and the video is now live - scroll down to the bottom of the page and happy tasting!

Here's to wishing you all a great start to this tasting adventure (if you have any questions whatsoever please do get in touch).
Isabelle Legeron MW, Founder of RAW WINE
---
Les Terres Blanches is a winery in the south of the Loire, a twenty minute drive from Saumur. Céline and Benoit Blet took over the estate in 2004 and tend to 10 hectares of vines - mainly Chenin plus plots of Chardonnay, Cabernet Franc, Gamay de Bouze and Gamay Beaujolais.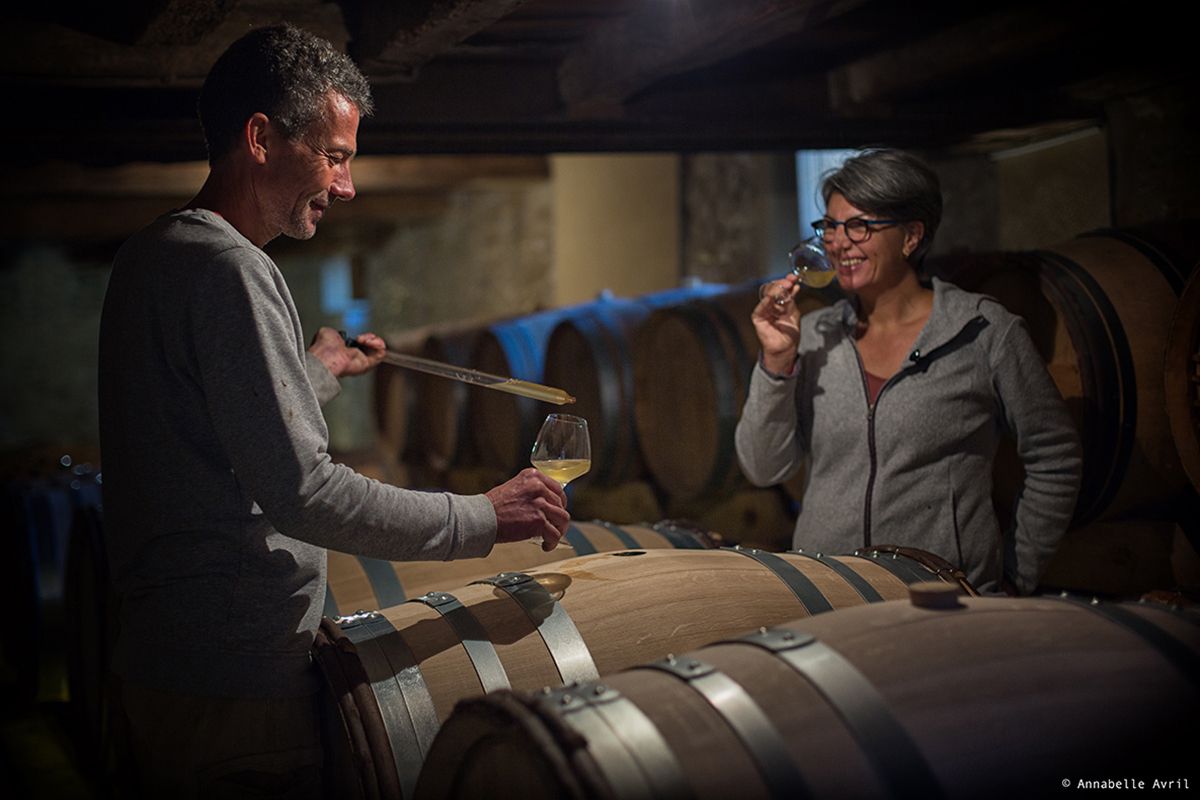 Q&A with Céline and Benoît Blet
How would you describe the wine?
We make this from our first early harvest of the Chenin Blanc grapes. We have only one type of terroir so it is very important for us to pick the grapes at different maturities to have various expressions of the grapes. We use this first picking to prepare our sparkling wine with the ancestral method. When we pick the grapes they are a minimum of 13% percent alcohol - this is very rich for bubbles but we want to have the minimum of 13% to have a good fermentation in vats and bottle.
Talk us through the process in the cellar.
We put all the grapes in the press and press very slowly, in order to preserve all the concentration and flavours in the grapes. It's two or three hours of pressing. Then we put the juice in stainless steel vats. The fermentation begins within 24 hours. We work totally naturally and the vats get warm so we open up the cellar to increase airflow. When the alcoholic fermentation begins in the vat we then bottle at 20g of residual sugar per litre so that we have all the energy of fermentation in the bottle. Thanks to this concentration and the maturity of the grapes we have a very good concentration of flavours - pear flavours with very small and  fine creamy bubbles. We work in a biodynamic and totally natural way: this wine is made without any sulfur so that gives an energy to our wines. It's a very good expression of our soil.
What's the terroir like in your corner of the Loire?
It's strong red rock. Our village is situated on the convergence of two kinds of special terroir and soils - the Paris Basin and Armorican Massif. There is special sandstone like in the south of Cote du Rhone and the soils are very dry.
Do you add any sulfites?
This wine is totally natural. Sometimes we use a little sulphur but only for the bottling if it is necessary.
What was the vintage like?
It was a very nice vintage because of the good concentration and maturity of the grapes.
Any recommended food pairings?
​​Drink as an aperitif. The fine bubbles mean you can enjoy this wine with all meals, especially with fish and desserts.
Isabelle's thoughts on Ancestral Blanc - This chenin blanc pétillant naturel is grown and made by amazing growers in the Loire Valley. Les Terres Blanches is under the radar but has been quietly producing a great range of natural wines. This disgorged pétillant naturel (all the sediments from the fermentation process have been removed) shows very pretty, perfumed aromas on the nose. The palate is refreshing and intense with flavours of almond, ripe apples and a dash of fresh sourdough bread notes. The bubble is creamy and gentle.
If you are based in the UK, you can buy Les Terres Blanches wines in our wine shop.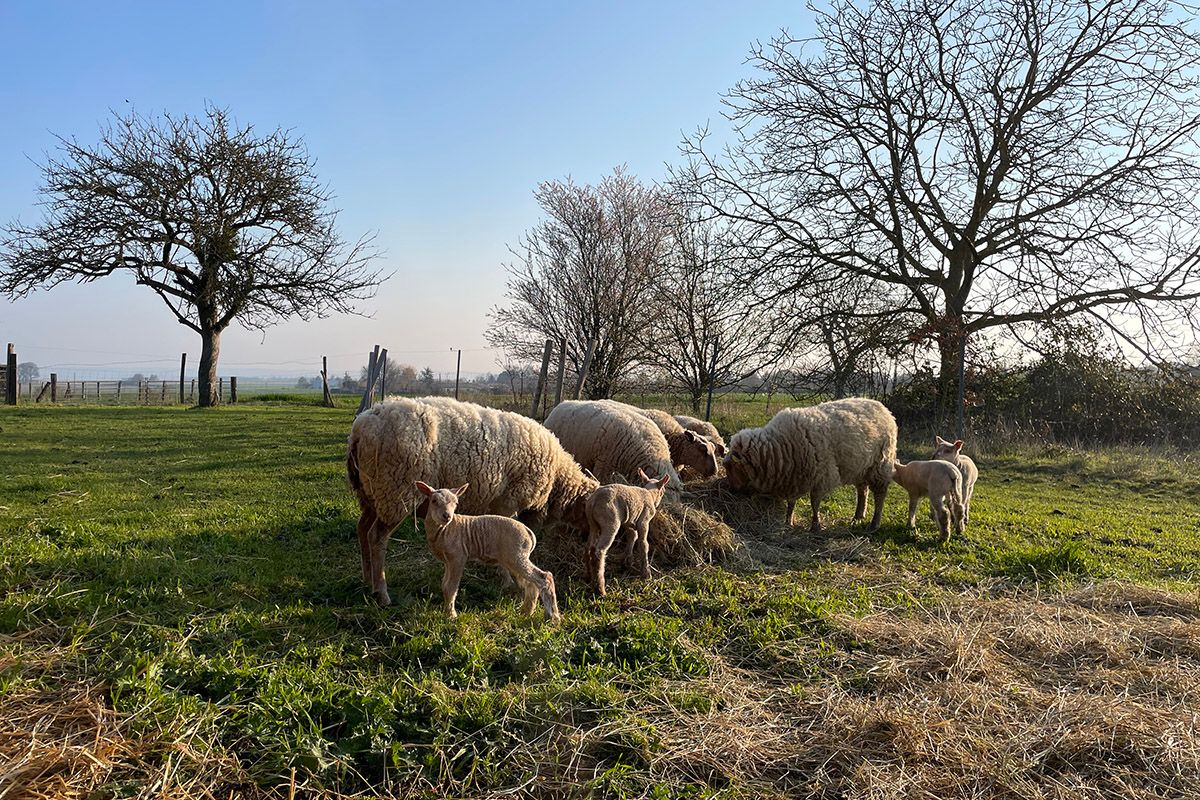 ---
Muchada-Léclapart is a new winery and collaboration between architect turned winemaker Alejandro Muchada and pioneer Champagne grower-producer David Léclapart. Together they biodynamically farm 3 hectares of old Palomino and Muscat vineyards, then in their small bodega in the historic Barrio Alto of Sanlúcar, producing wines of simplicity, elegance and purity, through the absolute minimum of intervention.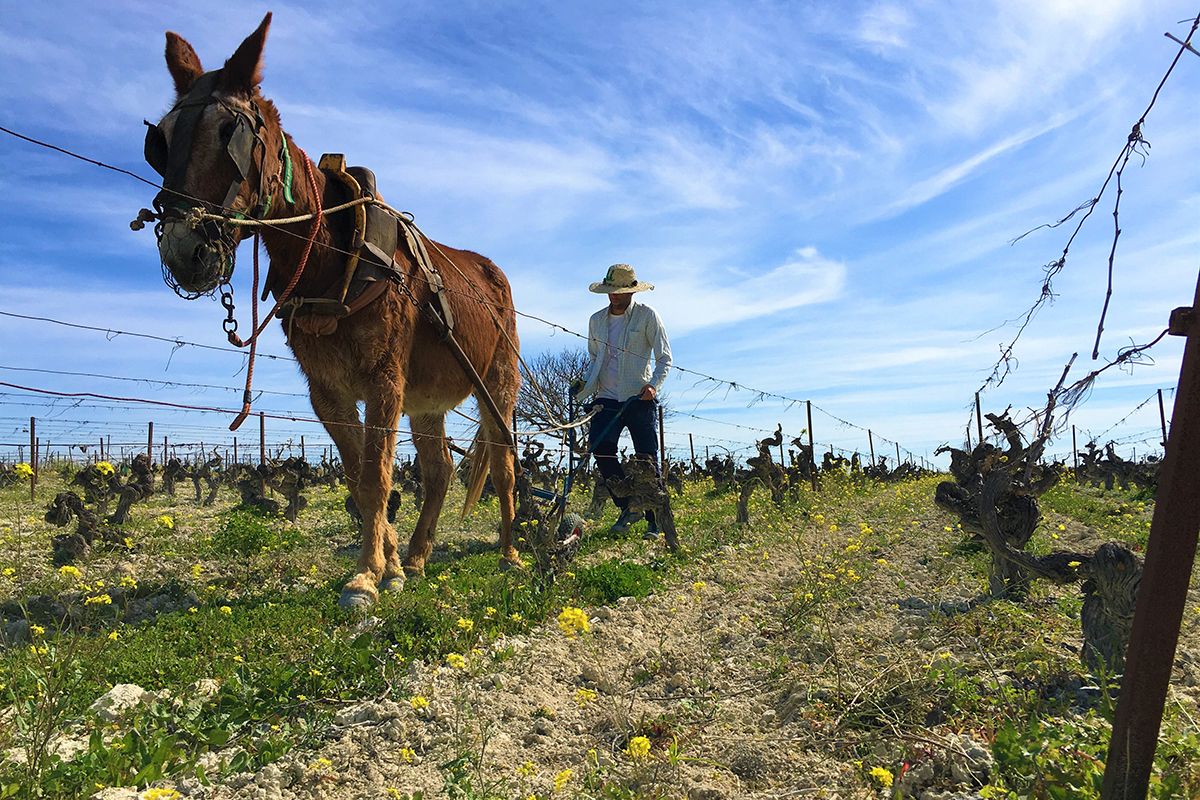 Q&A with Alejandro Muchada
How would you describe the wine?
Univers is 100% Palomino from vines of 20 years old. We like the electricity of the young vines, like a bolt of energy.
How did you decide on the name?
Univers is the entrance to our "Universe". It is fresh, saline and elegant - the pure Palomino grape. The grapes come from the lower area of our best vineyard, which is called La Platera. Its salinity and purity stand out due to fermentation in old champenoise tanks made of solid steel. The young age of the vineyard further highlights this salinity. All our wines speak of immaterial things that we cannot touch but are very important - such as the Universe (the cosmos), light, the elixir. In addition, our symbol of the lotus flower appears in blue, like the sky.
Can you describe the terroir?
The plot is located in the Pago Miraflores, one of the most historically relevant pagos in Sanlúc. It's also the most coastal, right on the Atlantic. Combined with the orientation, facing west, it is the ideal location within the Marco de Jerez to make unfortified dry white wines. It is one of the coolest spots in the Miraflores Baja which allows us to pick the grapes at an optimal moment of maturation, without the alcohol content rising. We think it is a mistake to pick the grapes early, looking for acidity. We seek balance in maturation. The acidity and freshness are obtained from the soil and from our style of viticulture. By not rotating the soil and not adding chemical fertilizers we achieve concentration, structure, and minerality.
How was the wine made?
Univers is fermented and vinified in solid steel tanks from Champagne. (The tank is not inox, it is "acier emaillé", so 8mm steel tank with a ceramic lining). It is our only wine that doesn´t touch wood. The grapes are pressed in a Vaslin de Champagne press. We press with whole bunches to provide the full range of sensations and flavors of the grape. The press has a champenoise pressing program, so it presses very gently in a process that lasts four hours. During those four hours a small oxidation and a small maceration take place, which we think is interesting for the palomino grape. The different grape juices from the process (cuvé, taille 1, taille 2 and Rebeche) are blended to produce the wine. We do a racking the first night and then we move the wine to the tank where it ferments and remains vinifying for a year. In addition, we leave all the fermentation lees throughout the process, so that they protect the wine and provide it with a sinuous and interesting mouthfeel.
Do you use any sulfites?
We add sulfur at the beginning, before fermentation: from 3 to 5 gr/hl. Later we do not intervene, not even in bottling. In analysis, the wines have final total sulfur less than 10 mg/l.
What is the soil like?
Chalky soils: clay-limestone soils of "albariza" and "lustrillos"
How do you farm?
We work all our vineyards in biodynamics, from an artisanal model (we cultivate 3 hectares) and from a very sensitive approach to the rhythms of the plants and the life of the soil. The great challenge in the Marco de Jerez is to work with live albariza calcareous soils. Only a living ground can compensate for the wonderful astral forces that exist in this place. To do this, we never rotate the earth. We work it little and always on the surface. We leave uncultivated areas to work with green manures, promoting biodiversity. We apply biodynamic compost and nettle slurry as fertilizer. We use plant infusions and apply small amounts of clay to complete the composition of calcareous soils.
Which grape varieties?
100% Palomino.
How would you describe the vintage?
2017 was a warm vintage, with a good amount of rain,and a summer with an easterly wind. This provided a good amount of fruit to the wine, while at the same time making visible the minerality of the calcareous soils. 2017 was also a special vintage for Muchada-Leclapart, as it was our first vintage of this new joint project and the first vintage from our La Platera plot.
Any recommended food pairings?
Palomino grape wines and albariza soils are very gastronomic because they do not have acidity and have a lot of salinity. Univers is ideal as a starter, to accompany tapas of raw fish, boiled shellfish, cooked shellfish, even accompanying spicy sauces for Asian food.
Isabelle's thoughts on Univers - Famed for its production of sherry, this part of southern Spain is also home to a few avant-garde growers rediscovering the region's potential for the production of still white wines. And Muchada-Léclapart is one of the best examples - their farming is nothing short of exemplary (David Léclapart, one of my favourite natural growers in Champagne, is a partner in this project). This white wine is unusual. It was not aged under flor as is the tradition for the production of sherry but the wine definitely hints at its origins. Concentrated and racy, it is salty, with aromas of fresh nuts (almost flor-like), iodine and lime zest.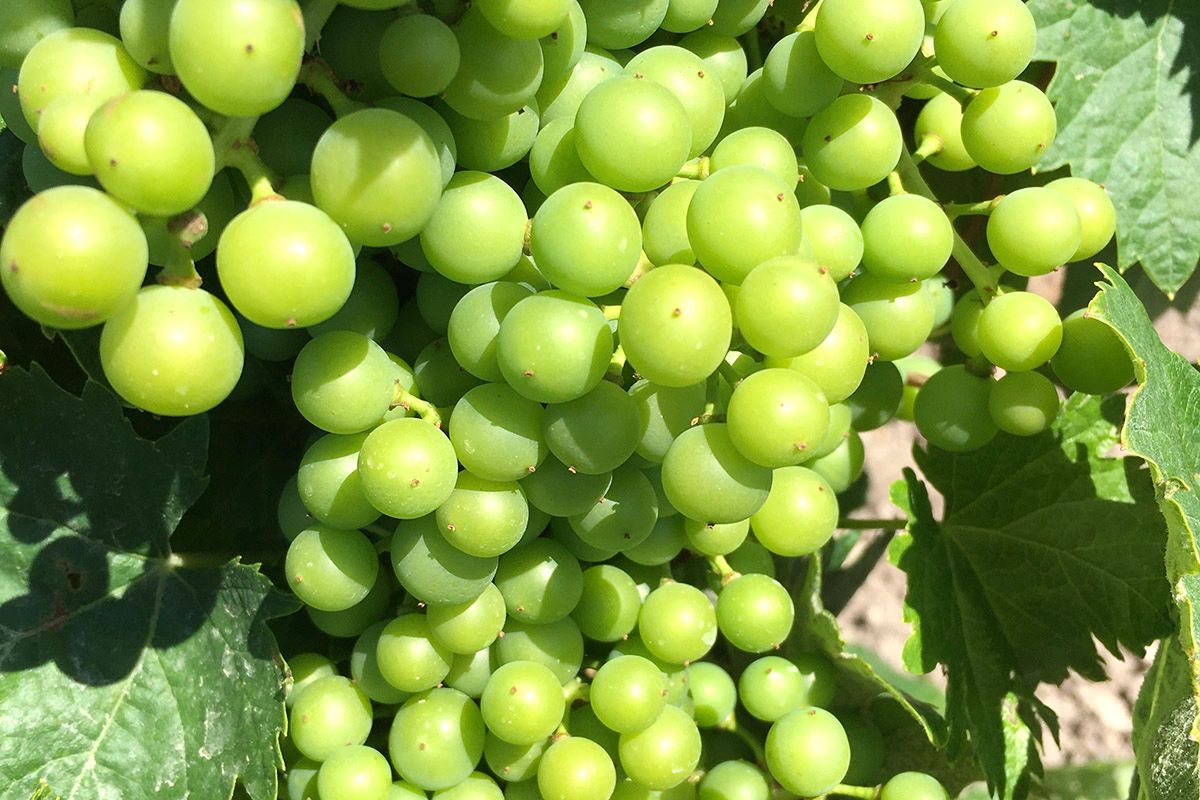 ---
Meinklang is a winery and mixed biodynamic farm in East Austria, south of the capital Vienna. The team leave some vines unpruned in what they call their 'Graupert' (unkempt) project - a bold viticultural experiment - that allowed the vines to grow without constraint and instead find their own equilibrium.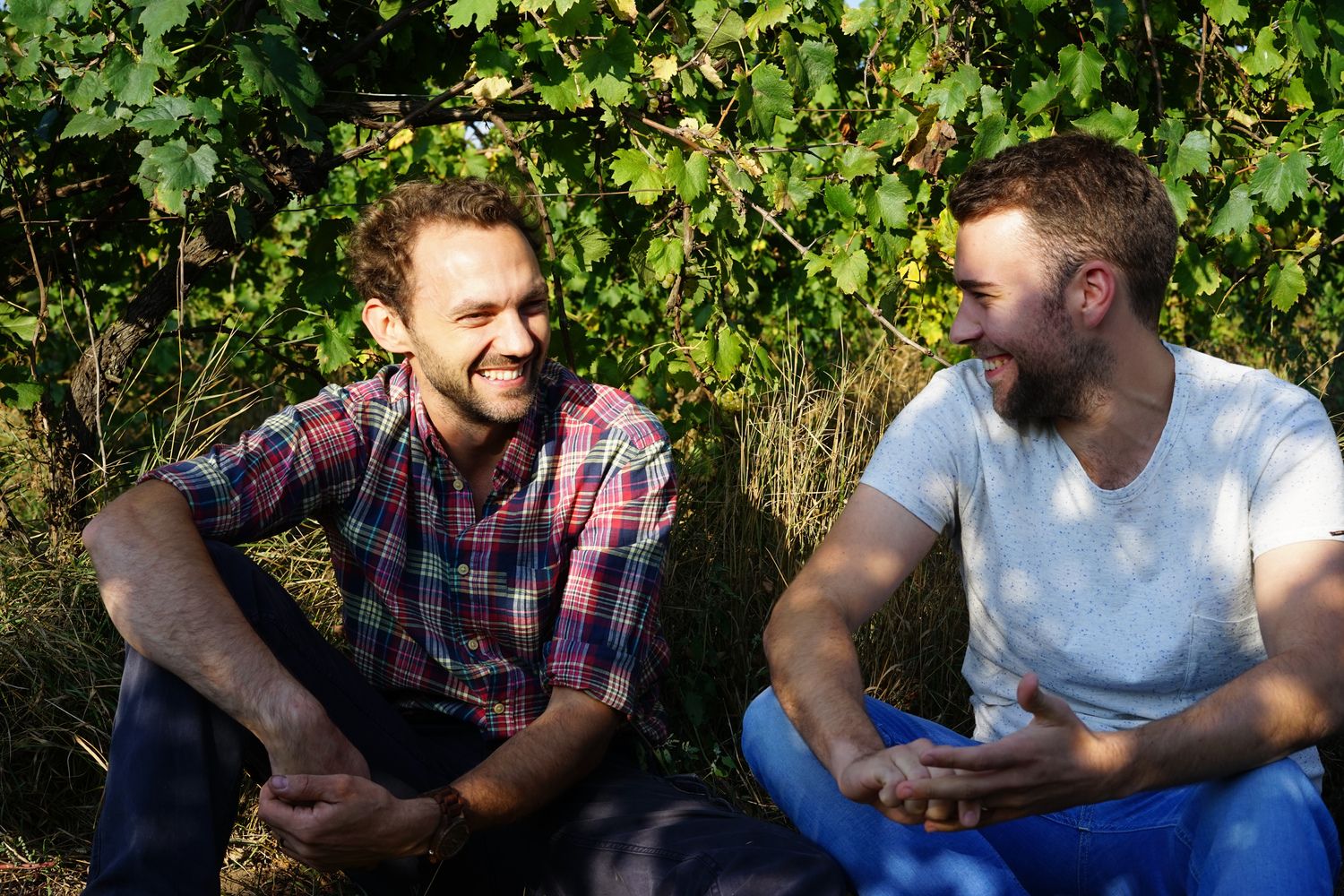 Q&A with Niklas Peltzer
Can you describe the wine?
Graupert proudly rises from the wilderness of its pruning-free vineyard. The mash-fermented Pinot Gris impresses with a variety of aromas and density and pure enjoyment. The wine walks the tightrope between impetuous rusticity and graceful grace.
How did you decide on the name?
Graupert stands in the dialect for "Unkempt" referring to wild hairs in the morning. The name is related to its vineyard which is unpruned and therefore very "unkempt". Villagers use this term to refer to that vineyard, as common vineyard management imposes on you to have "clean" and "tidy" vineyards. We loved that and used it for the wine.
Is it a challenge working with unpruned vines?
Obviously you get less grapes and less perfect bunches. It's about trusting in nature, trusting that it can solve its own things. It depends on the perspective you look from – the angle you take. Unpruned vines have some more challenges but it's like a research project for us. If you look at a conventional vine growing it's a very artificial thing these days. We all talk about natural wines and biodynamics but it's a grafted, heavily cloned plant which is grown mostly by itself in a monoculture and mostly grows in a monoculture. The vine does not want to be cut in the middle of vigorous growing - it is against the physiology of the plant. You get a certain disharmony. We may think conventionally trained vines perform better - from our human perspective - but we are starting to understand there is a necessity of healing on a deeper level, on an energetic level, because it is a disturbed plant. It is also a disturbed planet.
How was the wine made?
We left the wine on skins for two weeks, full fermentation. We used steel for fermentation and half stainless steel and concrete eggs for ageing. We use 10mg of sulfites at bottling.
Did you add any sulfites?
Yes, 10 mg per litre at bottling.
What is the soil like?
Clay and sand.
How do you farm?
We have been biodynamic certified since 2001.
Which grape varieties?
Pinot Gris. On these vines, the grapes are small so you get thick skins and intense, bold aromatics.
How would you describe the vintage?
The wine  is very alive – it has an intense liveliness. It was very hot and dry and we had to fight with ripeness and not getting to high PH levels. Overall, though, a very nice and riper vintage.
Any recommended food pairings?
Very diverse, like many orange wines. Great with pork ribs and mushroom risotto. Spicier dishes work well too.
Did you know? Meinklang is living proof that it is possible to farm beautifully at scale. It is a closed-loop, self-sufficient, 2000 ha (approx 5000 acre) biodynamic farm, home to Angus and Aubrac cattle herds, Mangalitsa pigs, horses, sheep and a few chickens. It grows spelt, oats, rye, winter and summer barley, winter and summer durum wheat (Einkorn, Emmer & Kamut), millet, corn and buckwheat, Topaz apples, grapes (some of which are completely unpruned), makes wine and even ancient grain beer. Meinklang's scale and success is remarkable in the natural wine world. To find out more about how they have achieved what they have achieved, listen to Werner Michlits (the genius behind it all) who joined us for Alive! back in December to talk about being Big & Beautiful (all talks were professionally recorded and available to watch - click 'view session' and enjoy!).
Isabelle's thoughts on Graupert Pinot Gris - This spicy, skin-macerated pinot gris shows exuberant flavours of Turkish delight (heady rose and jasmin aromas, fresh orange rinds and allspice) but its intensity is balanced by a contrasting mineral freshness and mouthwatering zesty notes.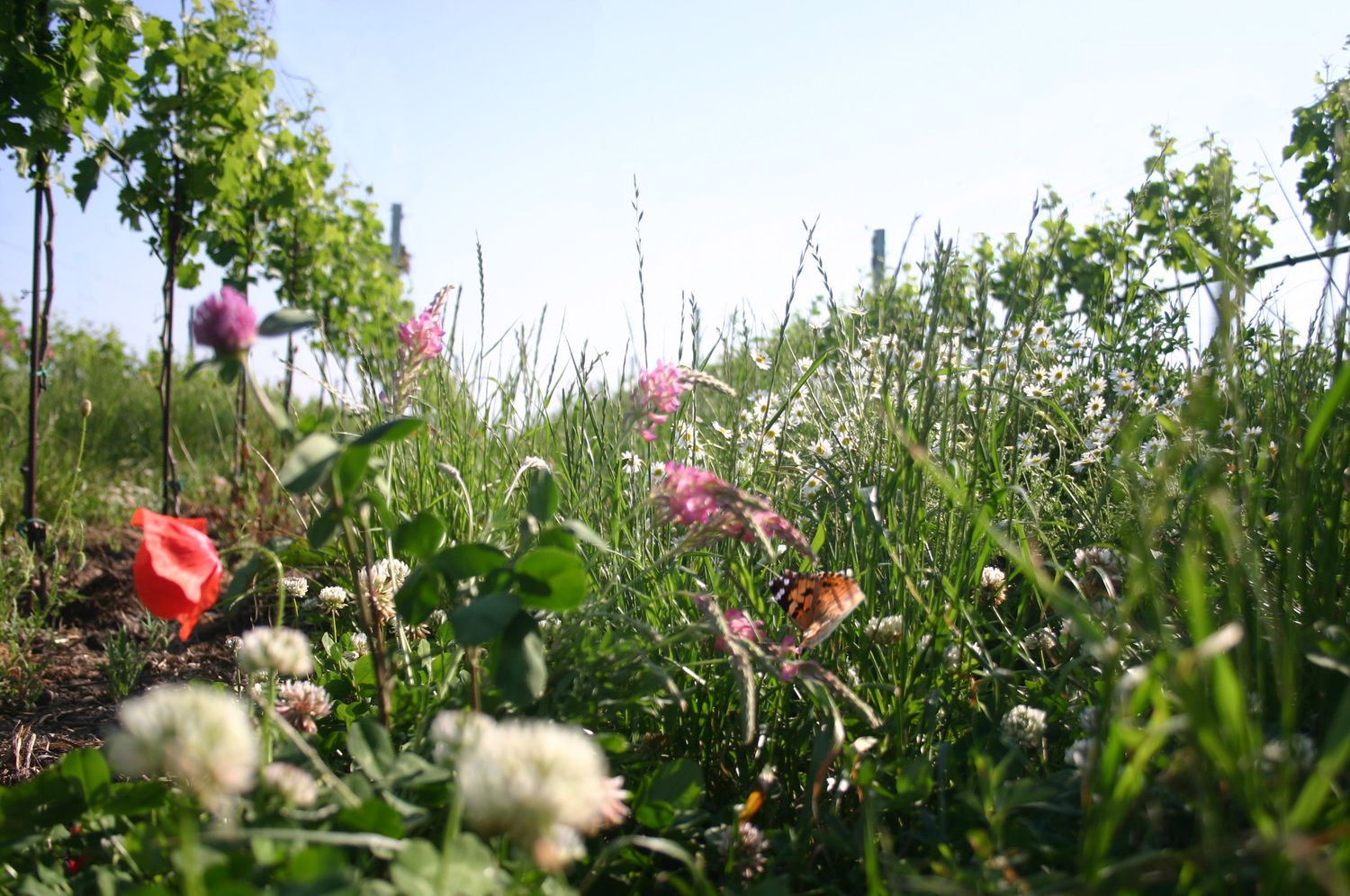 ---
Fabrizio Iuli runs Iuli, a winery in the Monferrato area of Piedmont. It's a beautiful, remote spot. Fabrizio grew up here and is the only farmer left in the area. He  tends to vines planted by his grandfather back in the 1930's. He has since expanded the vineyards and planted old Piedmontese varieties like Slarina and Baratuciat.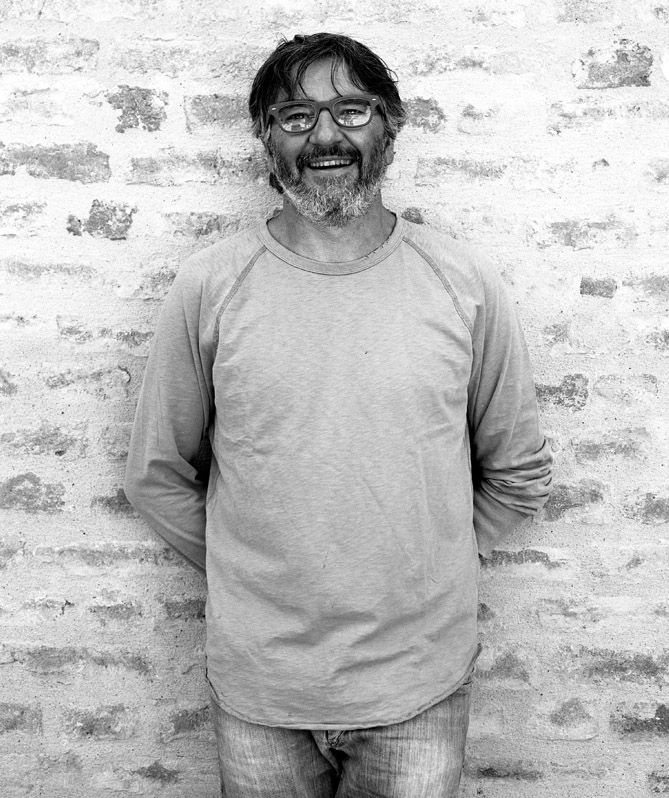 Q&A with Fabrizio Iuli
Can you describe the wine?
It is a friendly, simple and convivial wine. Good acidity and rich fruits.
How did you decide on the name?
Because the wine is made with Barbera, which is the only grape variety that has spread into every area of Piedmont. 'Umberta' is the Piedmontese name for excellence.
Why are you so passionate about the Barbera grape?
It is my grape. It is indigenous to Monferrato, where I was born. But at the same time you now find it in every part of Piedmont. Barbera is for all of Piedmont. Nebbiolo, Grignolino, Freisa or Dolcetto are more local grapes in local different little regions like Langhe.
How was the wine made?
I work in the traditional style of Monferrato which is big oak and concrete. Although now I look for a bit more balance and elegance. I make the wines that I like to drink. In the cellar, I keep it very simple and easy. I don't use sulfites, except for a tiny bit when the malolactic fermentation has finished, and only use wild yeasts. I use less oak now and have large concrete tanks in my Cascina, which is 500 years-old. This cellar used to make wine for the whole village and surrounding area.
For 'Umberta' the grapes spent around three weeks macerating on skins and the wine was fermented and aged in concrete.  
Can you describe the landscape?
Historically this area was full of vineyards but in the 1950's there was hail  for five consecutive years. The farmers had big families and little money so they moved to Torino for work. Now all the abandoned vineyards have become wild forests. I am the only producer - in fact, the only farmer - in my area. The landscape is rich with biodiversity. And the forests offer a little shade and protection to the grapes - especially with global warming. I like this.
How do you farm?
This is a pristine valley that has never seen a chemical. In the 1950's, farmers started to use pesticides and fertilizers but my grandfather and father decided not to do it. They chose not to change the way they were farming.
Any recommended food pairings?
The food is not important. What is important is sharing the wine with friends.
Isabelle's thoughts on Umberta - This crunchy, fresh wine is everything I love about this style of barbera, meant for simple, everyday drinking. With bright, upfront fruit of juicy raspberries and wild strawberries, it is quaffable for sure while also showing complexity, intensity (thanks to great farming) and lovely silky fruit tannins. Barbera often gets caked in oak as some people feel it lacks structure, but the best examples are those in which you can pick out the texture of the fruit tannins themselves.
If you are based in the UK, you can buy Iuli wines in our wine shop.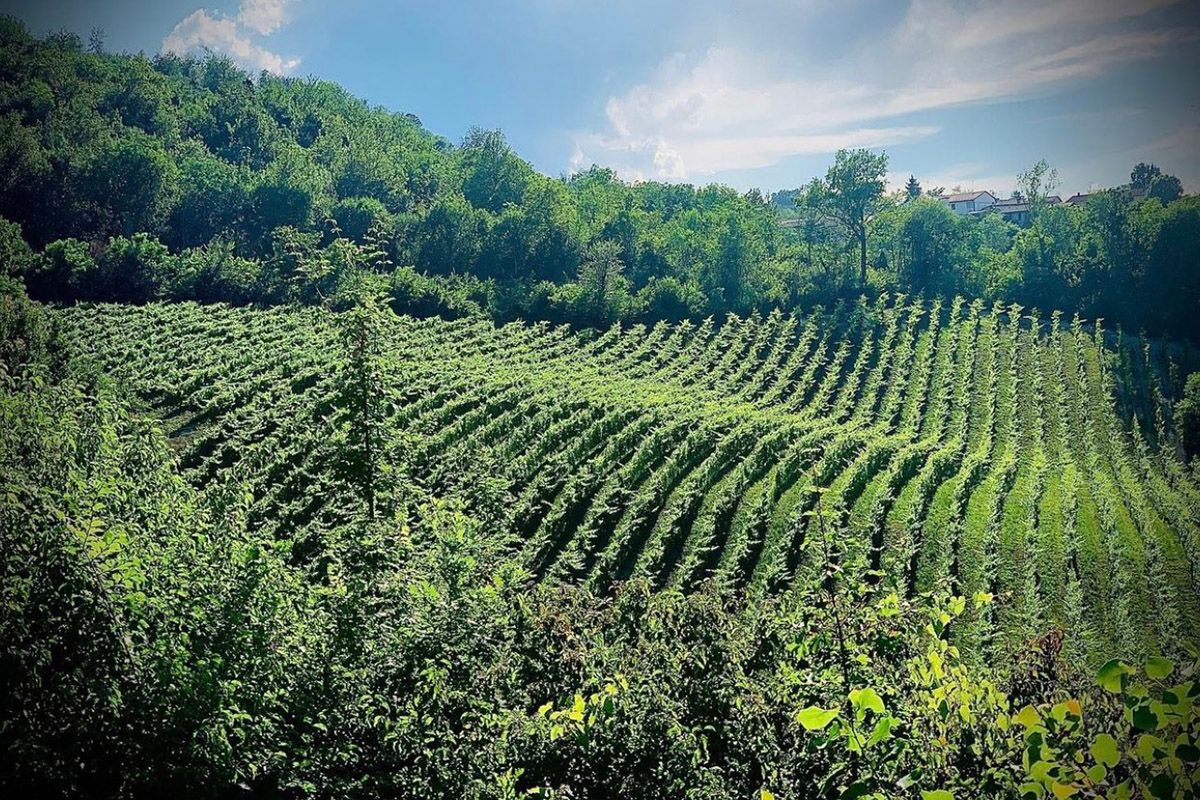 ---
Vino di Anna is a small wine estate situated on the north face of Mount Etna, Sicily. Anna Martens and Eric Narioo have been making natural wines for more than 10 years from these volcanic soils, using a patchwork of around ten vineyards.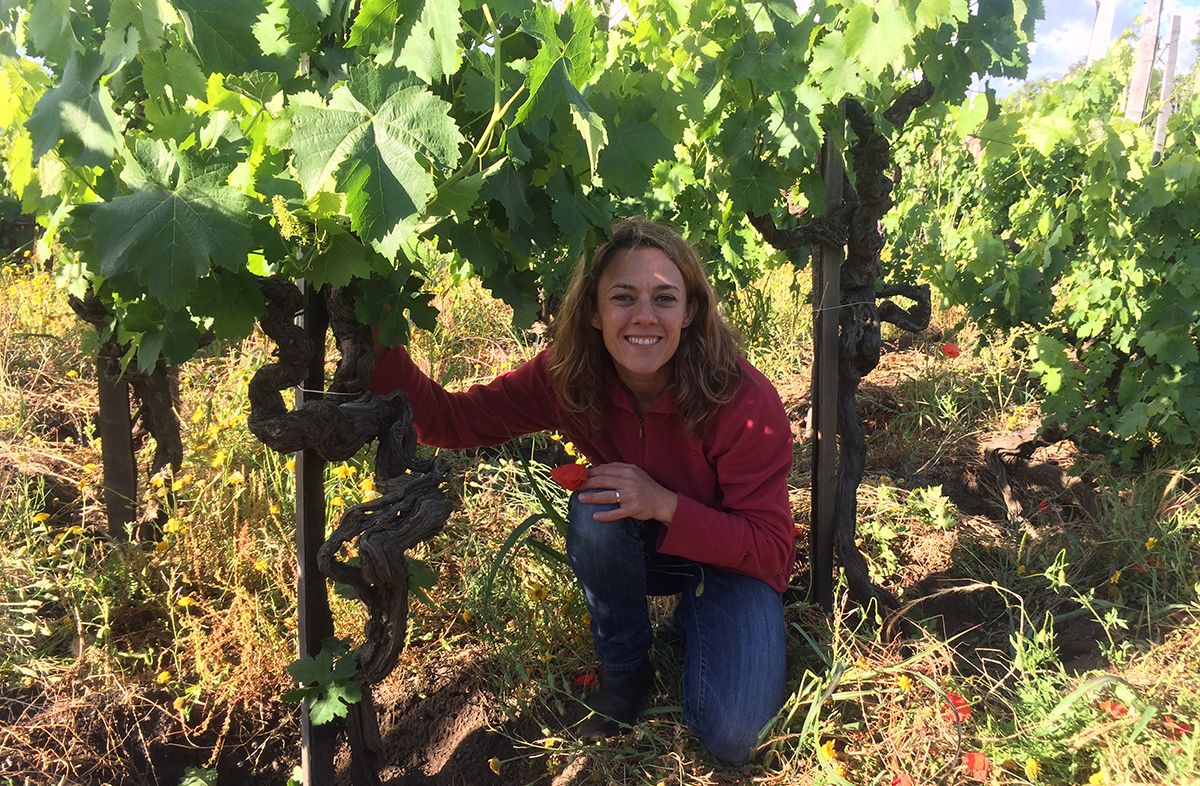 Q&A with Anna Martens
How would you describe the wine?
Vibrant, ruby red in colour. This wine has attractive cherry and wild strawberry aromas. The palate is dry, fresh and lively. It has red fruit flavours, juicy tannins and an underlying minerality from the volcanic soils.
How was the wine made?
The vineyards are terraced and located on the northern side of Mount Etna. They range in altitude from 650 to 950 meters.The vines are between 70 to 100 years old. This wine is really a field blend. We pick the vineyards as a whole. The wine is made in an ancient vinification building made of lava stone called a Palmento, which is unique to Mount Etna.
We always play around with the percentage of whole bunch and destemmed. In 2020, it was about 40% / 60%.  We put the grapes in layers into the lava stone tini (plural for tina) which are vessels built under the arches that supported the Palmento. Within 12 hours, they start fermenting. We have stainless steel lids so we can close the tini and keep the CO2 in to start a sort of a semi carbonic maceration.
After five days of fermentation, the grapes are  pressed and the fermenting must is divided between stainless steel, old oak casks and Georgian qvevris. It ferments to dryness in those vessels and then we blend, usually at the end of January or beginning of February. It was blended in January 2021 and left on fine lees until bottling in April 2021 without fining or filtering.  No sulfites were added.
What is the soil like?
Volcanic - black and dark grey basalt. The soils are coarse, fast draining, nutrient poor and mineral rich.
How do you farm?
We farm using biodynamic principles and practices. The vineyards are very labour intensive: everything needs to be tended by hand because of the small narrow terraces. The high luminosity of the northern side of the volcano and the afternoon breezes means disease pressure is low. We do not use copper in our vineyards or any agrochemicals.
Which grape varieties?
Predominantly Nerello Mascalese (90%). The old bush vine vineyards are co-planted with small quantities of Nerello Cappuccio (2%), Alicante (Grenache) (3%) and indigenous white grapes; Grecanico, Minella Bianca and Catarratto (5% in total).
How would you describe the 2020 vintage?
A late start to winter, followed by a mild spring with a good quantity of rain. 2020 was a really lovely year: a nice, easy growing season, really healthy fruit and sunny sort of Indian summer. Harvest was the last few days of September into the first week of October.
Any recommended food pairings?
Caponata, grilled courgettes, arancini, pizza.
Isabelle's thoughts on Palmento Vino Rosso - There is no denying that the steep, low-yielding, black and grey basalt slopes of the volcanic Etna produce some of the most exciting wines in Italy. Don't be fooled by the appearance of this pale looking red, a lot wine hides behind the colour. It is juicy and very easy drinking but also incredibly dense in texture. It shows spice and dark berry fruits, and an overarching mineral intensity typical of great producers on Etna.
If you are based in the UK, you can buy Vino di Anna wines in our wine shop.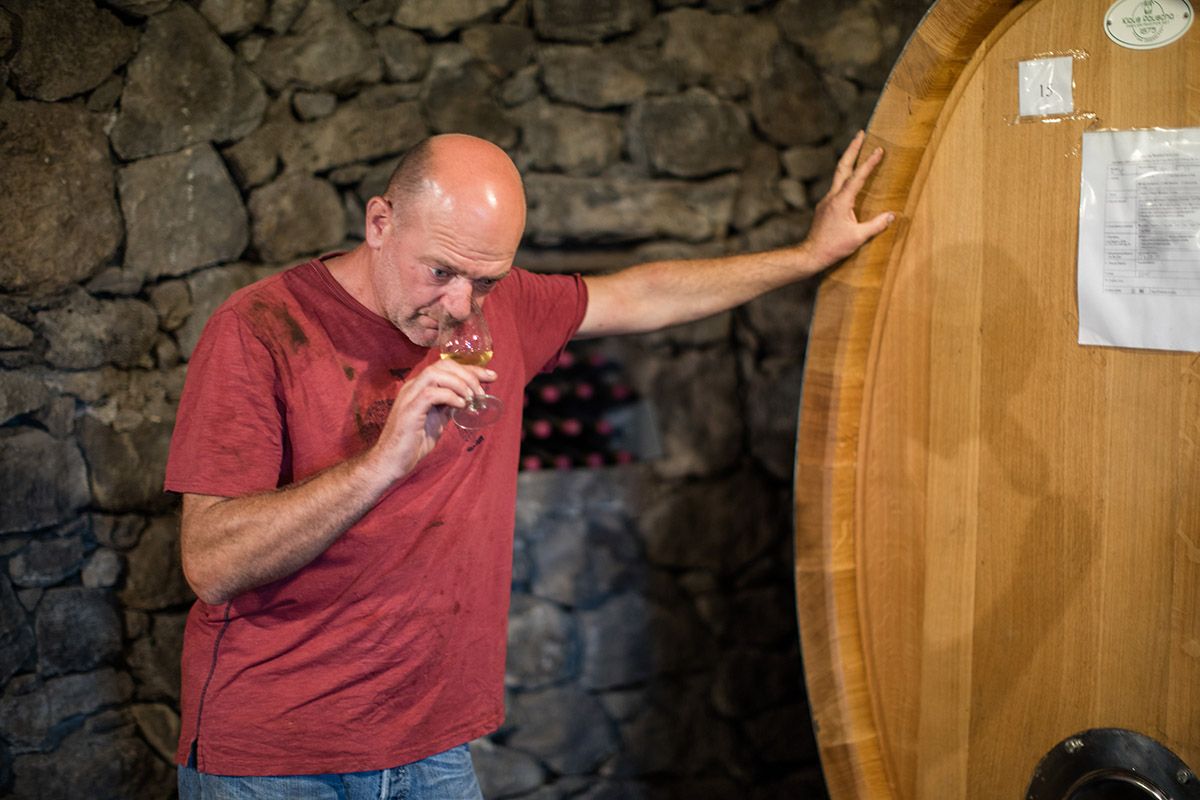 ---
Clos Lentiscus is an ancient winery in Catalonia, not far from Barcelona, that was established in the 14th Century. The vineyards have a calcareous sandy soil and are located in the Parque Natural del Garraf, a protected area, at around 225m of altitude. Since 2010, the farming here has followed biodynamic principles. Manel Aviñó and his daughter Nuria focus on local grape varieties such as Malvasia de Sitges, Xarel.lo, Sumoll, Parellada, Cartoixà Vermell, Muscat of Alexandria, Carignan and Ull de llebre.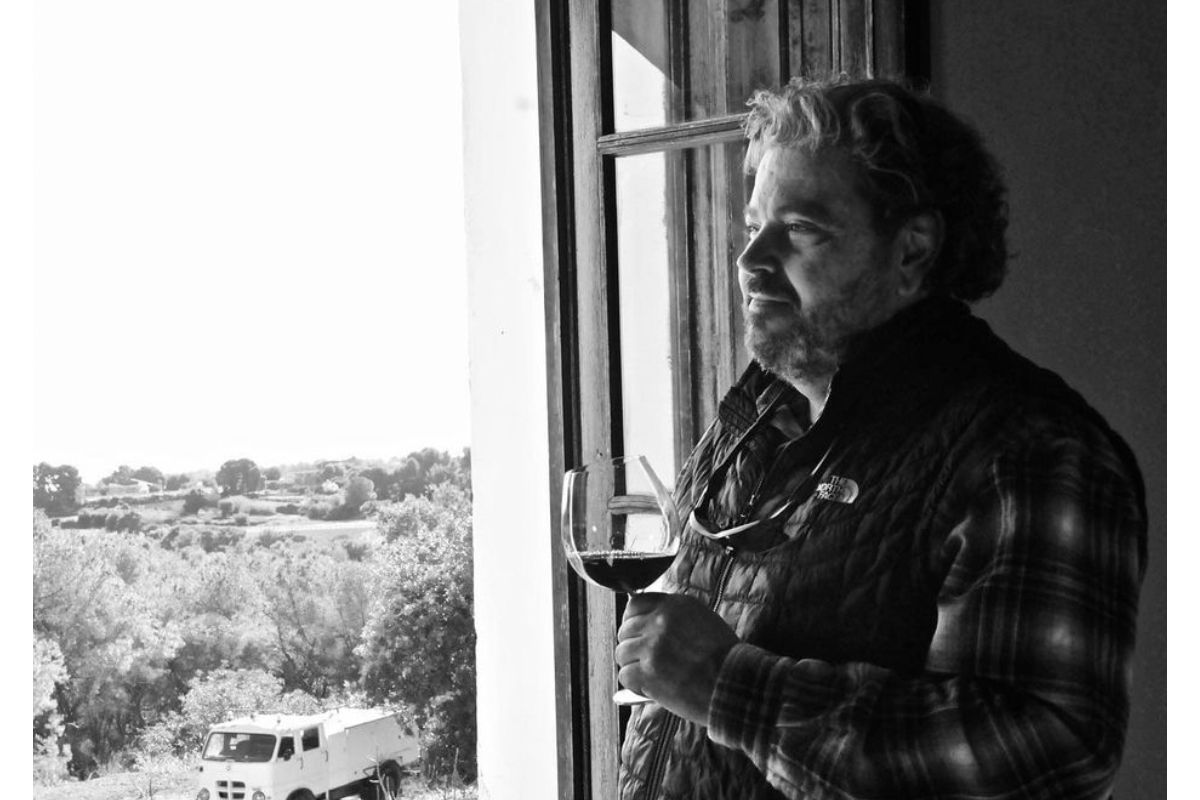 Q&A with Manel Aviñó
Tell us about the winery
We have a 100% Mediterranean influence in our grapes and in our wines, too. It is only four miles to the sea. My family has worked on  our domain since the 14th century. I don't know how many generations it's been but we are a very, very traditional vine growing family.
How would you describe the wine?
This wine is a homage to my grandfather Tomás and is 100% Sumoll, which is a very local grape in our area. He was born in 1903 and experienced the huge disaster of the Spanish Civil War. He was always working on the domain. After the war, Spain was very poor. He opened a little bistrot by the sea, 10 km from the winery, with my grandmother. They sold the vegetables, fruit, olives and wine from the winery - things like apricots and watermelons. This wine has a light ruby colour, with red forest fruits and a rosemary aroma. It is light and fresh in the mouth, with oak notes. The name 'Perill Noir' translates as 'Black Danger'.
Talk us through the process in the cellar.
We used whole bunches and the wine was left on skins for 22 days. It starts like a carbonic fermentation with this skin contact. We use 500 and 1000- litre tanks. Once you take out the grape skins and stems we need to replace the volume, topping up from other tanks. We then use concrete and French oak barrels.
Do you add any sulfites?
This wine is totally natural.
What was the vintage like?
It is an excellent vintage. A cold winter, rainy spring and dry summer.
Any recommended food pairings?
This is a coastal place and I love the old recipes from my grandmother. These are fishermen recipes. For example, fish marinated in a tomato sauce with garlic, onion, peppers and olive oil.
Isabelle's thoughts on Perill Noir Sumoll - I have long been a fan of Catalonia's rare sumoll grapes, and what a treat to be able to drink a fully mature bottle that is also completely natural. An elegant red wine, still showing some bright red cherry fruits even though the tertiary, developmental notes come to the fore, with dried rose petal, cedar spices and earthy notes. Tannins have completely mellowed and are beautifully integrated.
If you are based in the UK, you can buy Clos Lentiscus wines in our wine shop.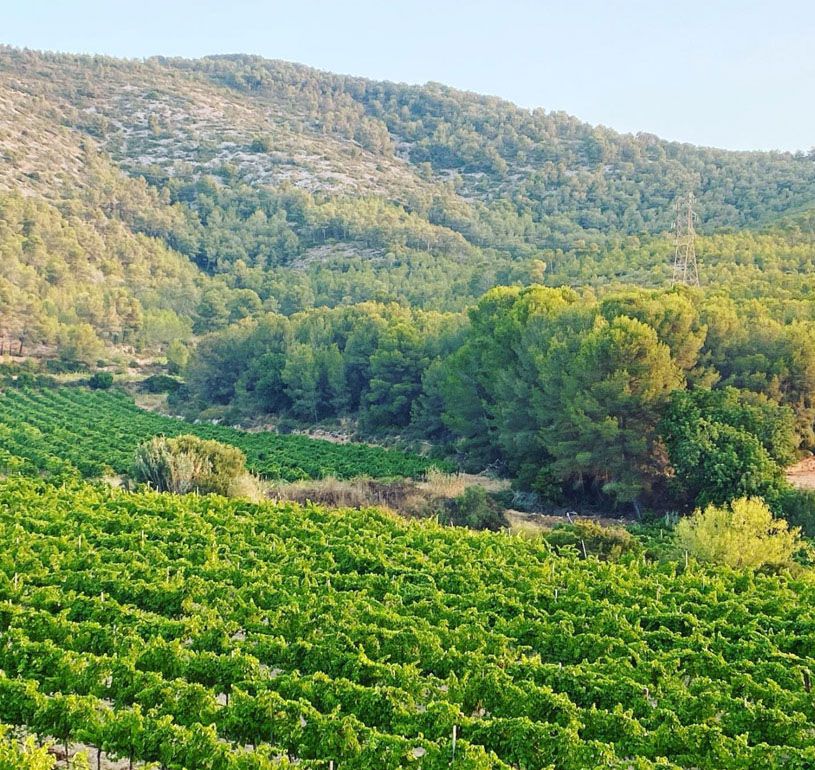 ---
Launch Tasting with Isabelle Legeron MW
(28 April 2022, 8 pm EST)
---