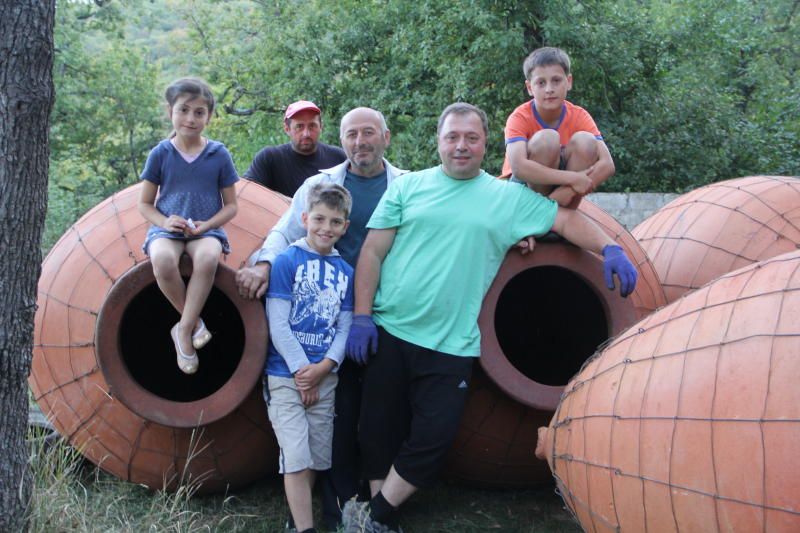 Meet Winemaker Beka Gotsadze from Gotsa Wines
6 min read
Beka Gotsadze runs Gotsa Wines in Kiketi, 25 kilometers from the center of Tbilisi and 1300 meters above sea level. His first vintage was in 2010.
"My great grandfather was a winemaker. I trained as an architect and had a big company up to the end of the 2010 but it wasn't interesting for me anymore. I thank God it gives me possibility to go back to my great grandfather's job - we were always making wine in the family. Every Georgian is making wine in their balcony, garage, or basement."
"Now we are established here in the village of Kiketi, half an hour driving in the mountains. The goal was to establish the winery here with an ambient temperature around the winery and the vineyard is located down on the slopes. This region was where winemakers made sweet and semi sweet wines for the royal family. They took the grapes to the mountains because of the cool temperatures.
I have 14 varieties of the grapes - very old Georgian varieties. The vineyard is not big, it's around 21,000 vines.  I plant 7300 vines in one hectare, which is crazy a lot compared to conventional vineyards - maybe double. Do do this because it is very dry here. The vines must fight for the humidity and nutrients. When they have stress they are giving you excellent fruit.
I have 40 qvevris (kvevris) in my winery. The fermentation section is separate from the ageing section. We ferment most of the varieties separately. I am always trying to build something new, you know. For example, why can't we blend Western Georgia varieties with Eastern Georgia grape varieties?"
"Our varieties of Georgian grapes give us the possibility to macerate the wine on the skins and the stems, which also gives the wine stability and high tannin levels, which works as a preservative. We crush the grapes and put everything into the clay barrel we call a quevri (kvevri),  which is buried under the ground.
We ferment it and close it and then wait up. In the Easter, we ask up to God - please give us the good wine. We opened the quevries and it was a fantastic wine, you know with the great color, great taste. If you age these wines, then it will be better and better. But in Georgia, nobody was aging the wines before because they were drinking these wines before the new harvest."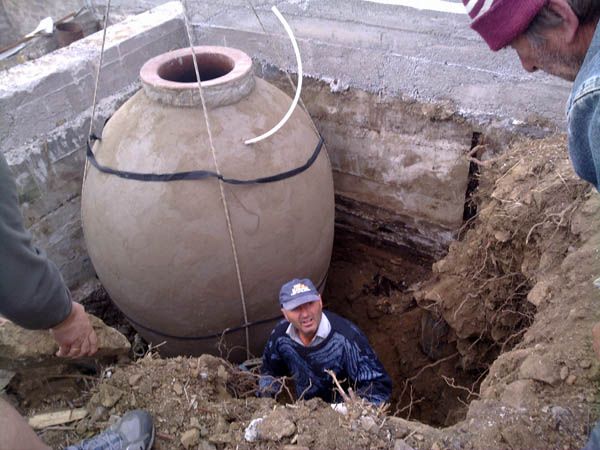 "For me, it's new that I using biodynamic agriculture and viticulture. I think it transfers us to the times where people took much more care of the soil and the earth in the 18th, 19th, 20th centuries before we destroyed everything with new technologies, this new agriculture with all these herbicides and pesticides which are killing the soil.
I am not an educated winemaker. And it helps me because my mind is clean. It's not dirty from all these crazy books. They tell us how we can make wine with a lot of additives, how we can make wine from grapes which are not such good quality. How can you have a  standard taste of Chardonnay? How can Australian Chardonnay be the same as a French or Californian?  When people taste my wines, they must taste my terroir and taste my climate. They must taste my soil and taste the bacteria which are living in my winery - my energy, my heart. This is more interesting than to drink always the same - like orange juice from the TETRA packs."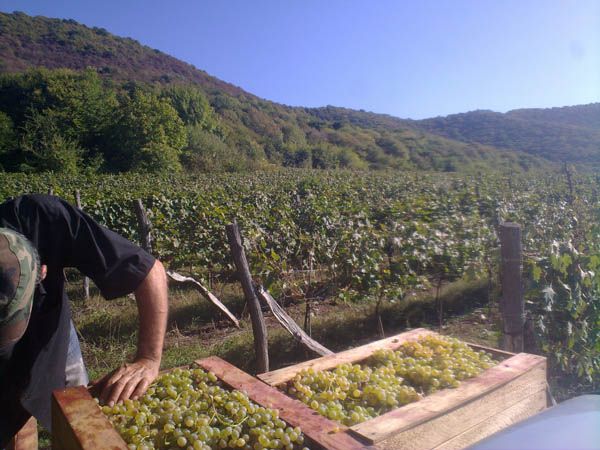 "Even now, if you go to the village in the west part of the Georgia you will find the older people with a lot of connectivity to the moon calendar and agriculture. If you ask them they will take never the compost to the vineyard in the New Moon.
I make a compost from the skins and stems. After fermentation, I take them back to the vineyard and my philosophy is to give to the soil everything what we are taking from it. For example, we leave the cuttings in the vineyard and there's a special machine we use that is connected to the tractor and it's makes a powder, a  mulch from these cuttings.
I use silica  powder of the stone. When you use it in a spray, you can see that the color of the leaves are changing to a much much more green color. It gives to the plant much more energy to transfer sun energy to be food for the roots. The plants aren't afraid of the sunshine and photosynthesise more quickly."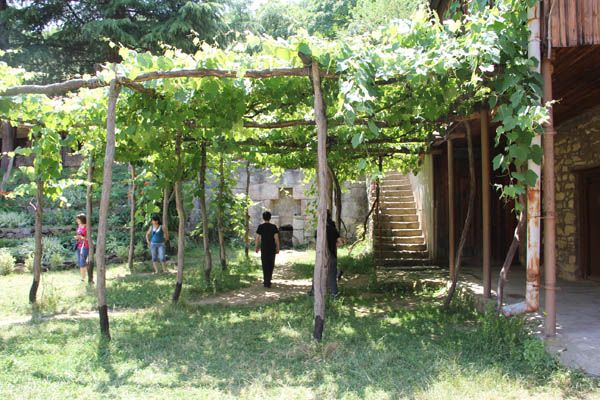 I am not a sommelier and I think it's the crazy you know when they say 'This is the apple' and 'This has notes of raspberry'. What I feel in my amber wines is the dry fruit. These are totally dry wines. But when you drink this wine, you feel the sweetness. They are high tannin wines but because of the aging, these tannins are smooth. They are glossy and round.  With the amber wines and red Saperavi you need the fireplace in the winter - you need fatty food, fatty cheese, fatty meat. The rosés are very aromatic - not standard rosé that's a little bit pink. These are just not macerated. They are summer wines with fruits - you must with vegetables and salads."
Here are his notes on three of the wines available from the Raw Wine online store.
Kisi-Khikhvi, 2019 "In this 50/50 blend, the Kisi and Khikhvi were fermented, macerated and aged separately. Then we thought it would be good to make a blend of these Eastern Georgian varieties. They were macerated for seven months on skins and stems  then we transferred them to the aging quevries (kvevries) then we age them until after the after the next spring. That means that from harvest to bottling time is around 16 months. Khikhvi  concentrates very high sugar and when we ferment this wine it has some residual sugar.  I don't like it when you get some residual sugar in wine and because of that the decision was made to blend because the sugar level comes down. But you can still feel it when you drink. I think it was a good blending - it was my idea."
Tsitska-Tsolikouri, 2019 "These are Western Georgian varieties. There is no tradition there of using skins and stems - they are making more European style wines. But my idea was to make an amber wine. For the 2019, we ferment whole bunches without stems then the maceration was done around five, six days. For the Tsolikouri is was a little bit more - around 30 days.  Nobody is doing this in Georgia. My friends were telling me I would damage the wine but it was crazy fantastic
It's a more acid wine. It's more light than the Eastern Georgian varieties. But you can feel he high alcohol and tannins. All my wines are ambre so they are full body wines. You can feel their sweetness, acidity, alcohol. There is not an alcohol taste but after two three glasses you will feel this very intelligent alcohol. It's not the alcohol of  gin or whiskey, it's something else - it's more more cosy alcohol."
Rkhatsiteli-Mtsvane-Khikhvi, 2019 "This is the traditional blend. Rkhatsiteli is around 70%; Mtsvane is around 20-25%; and the Khikhvi is roughy 5-10%. They are macerated on skins and stems for seven months. This is an assemblage - not blended. We macerate them together."
---