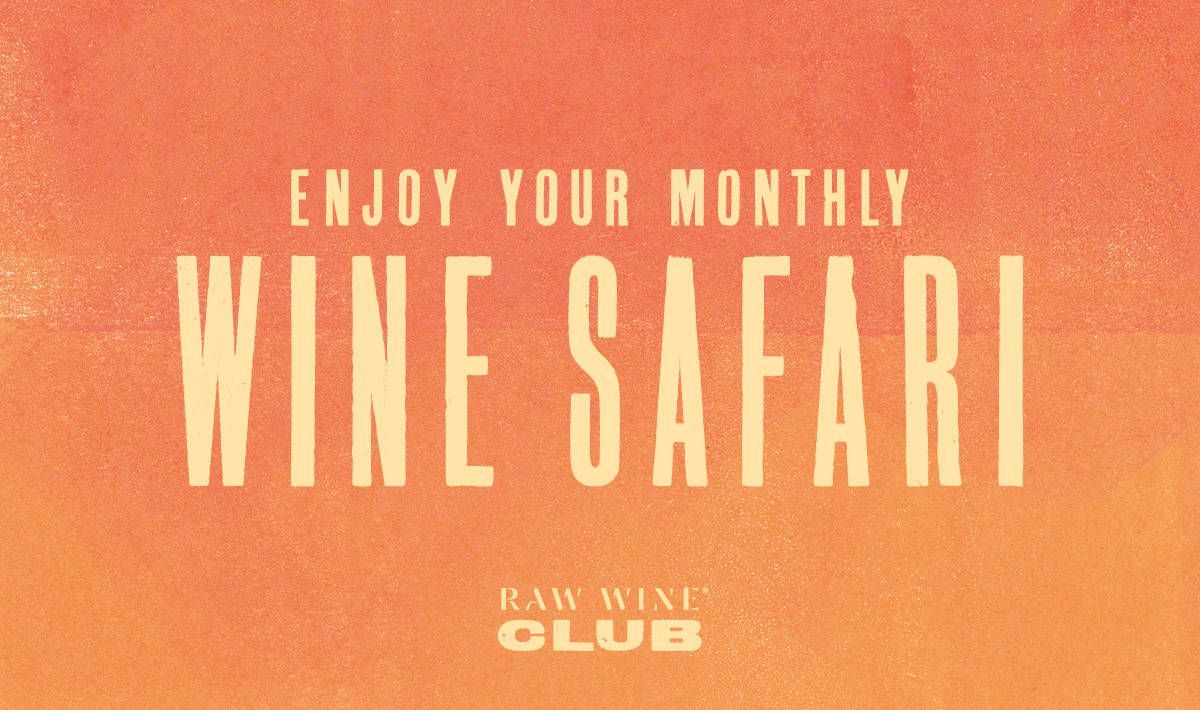 RAW WINE Club - Tasting Notes - November 2022 Selection
29 min read

Hello and welcome back.
This month's selection is full of exciting, young talents - in fact the grower-makers of the first three wines are barely 30 years old, and they're all helping bring about a renaissance in their respective countries. I have also included three New World wines in this selection - a smoky, old-vine Chilean País, a mellow Ossie red and an unusual Riesling / Pinot Noir blend from New Zealand.
All in, this is a versatile, festive, food-friendly box, ideal for pumpkin pie, roast dinners and all the trimmings of Thanksgiving. What's more, they are bottles meant for sharing in that they are each eminently drinkable and joyful.
Here's to wishing you all a very jolly Thanksgiving indeed!
Happy tasting,
Isabelle Legeron MW, Founder of RAW WINE
Piri Naturel is a family winery in Nahe south west Germany run by Christine Pieroth. On completing her winemaking studies, Christine made the decision to move towards natural winemaking, first in the vineyard, followed by the cellar. She views the vineyard as a 'wine garden', fostering a diverse habitat not only for the grapes, but for local plants, insects and wildlife.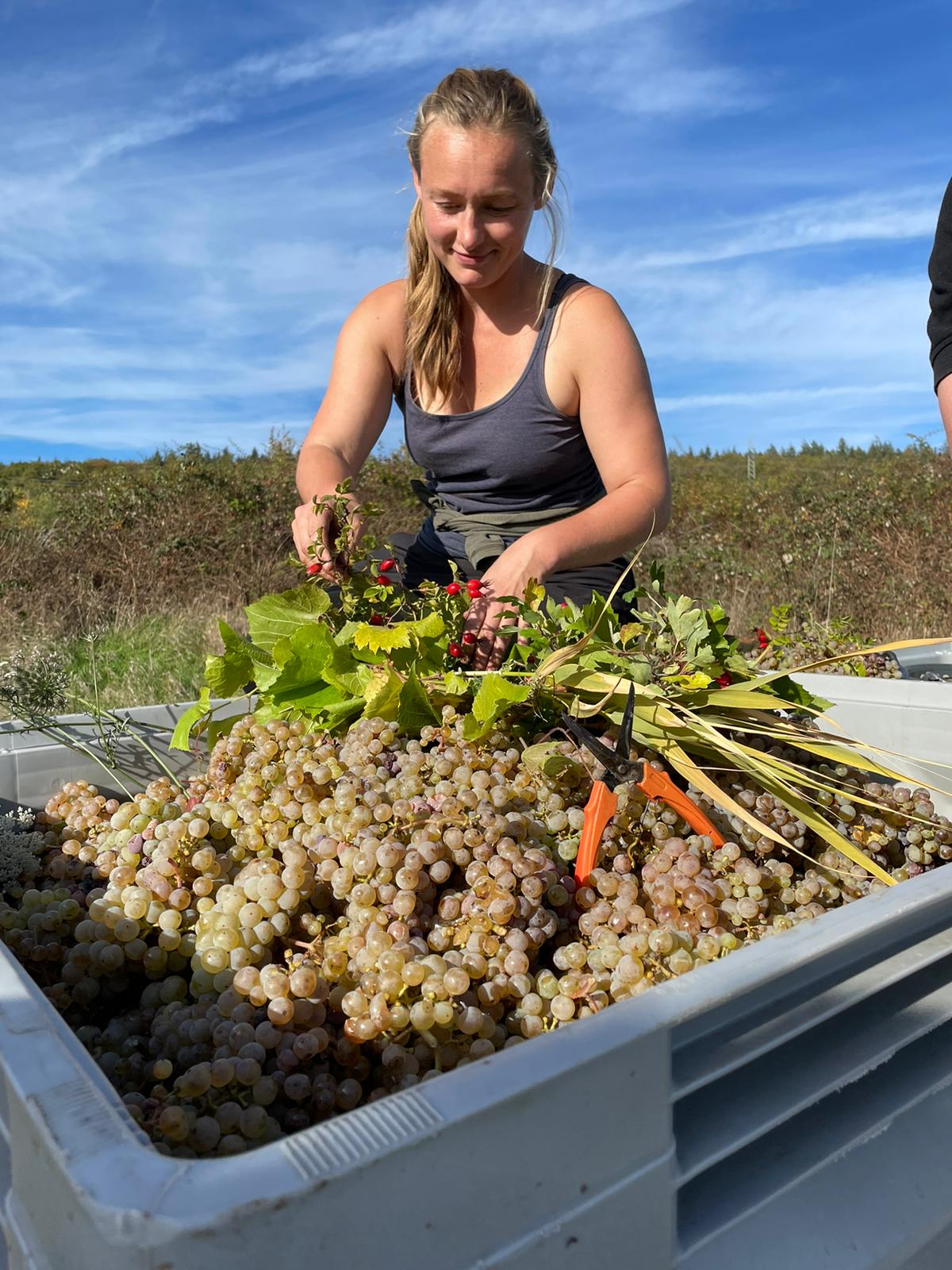 Q&A with Christine Pieroth
Can you tell me about your background - how you came to be a winemaker, and what influenced your style of farming and producing?
I grew up here in our family winery, so of course I was in touch with the vineyard and with wine in general, but I was always most passionate about the vineyards. As a teenager, the farming was the most important part to me, but as I got older I started to see the bigger picture and realized that all the steps are important - it's a complete cycle of development. When I came back from my winemaking studies, which involved a number of internships and apprenticeships at other wineries, I came back to the family winery and switched all farming to organic. I didn't want to farm conventionally. My parents were really happy about it - of course it's much more work and time, but they were really pleased that I initiated it and we all worked together on that. For me though, the farming wasn't enough - I wanted to go a step further and make sure this approach also followed through to the cellar so that we could make completely natural wines.
What's the natural winemaking scene like in Germany at the moment, with the new generation of young German growers?
It's very enthusiastic and interconnected, with lots of young people getting involved. I know a lot of them from my studies - it's a small scene but very active. We get together, have dinner and share wines. Right now, I can see that this very young and motivated spirit is evident in the wines - they themselves are young and energetic, often released quite early. You can tell there's so much happening, so much movement. It's an interesting time, because the scene is really influencing the energy of the wines. There's a lot happening.
Can you describe where you're based and tell me about your vineyards?
We're based in the south west of Germany - roughly an hour south west of Frankfurt - the region is called the Nahe. It's a fairly small wine region, but it's very well-known for its high diversity of soils. Here we don't just have one particular terroir, stone or soil, but around the village we have steep slopes, flat areas, really diverse valleys. Some facing south, some east, some west. It makes the region not only beautiful, but the vineyards are really different. In the flat areas, we have clay soil, in the slopes we have stony soils, on the other side, sandy with lots of pebbles. All this diversity makes the region unique. It's not monotone at all - very diverse.
The vineyards for me, I try to look at it as more of a garden - like a wine garden. Of course we want to harvest grapes and make wine, but it's also important to make sure there's not just grapes growing. There's so many local plants that have the opportunity to grow. And with this high diversity in the vineyard, we'll draw in more insects, wildlife - pheasants, deers from the forest right on the edge of the vineyard. It all belongs together. It's important to create a habitat for the wildlife. We have also started planting trees right in the vineyard, so it's an agroforestry vineyard - the first in the region - so I'm really excited about it and am hoping other winemakers will visit and see what's possible. I see it as a garden, and not only a space for grapes.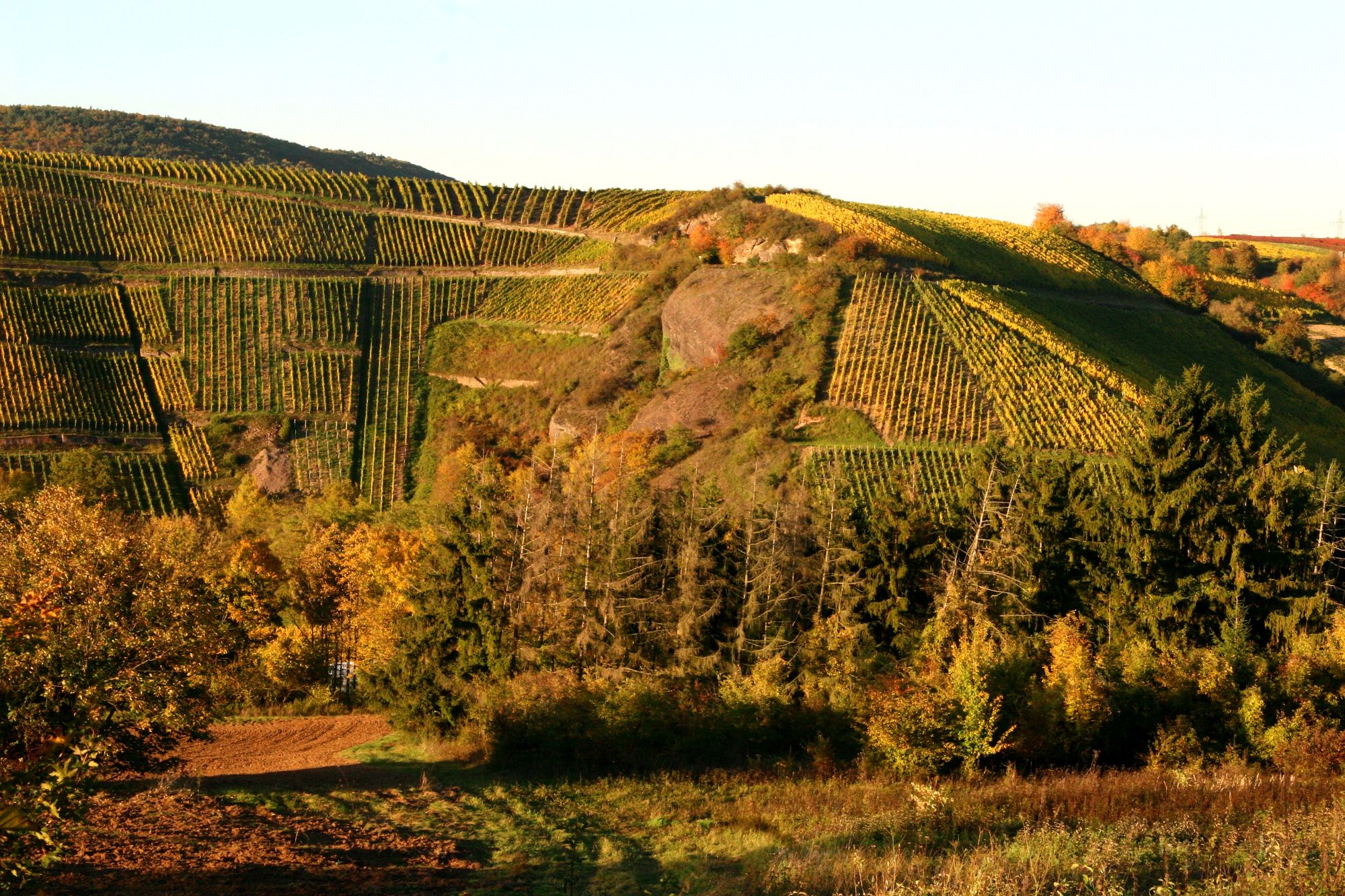 What's the soil like?
The grapes for this wine are grown on a schist type of soil - what's interesting here, we have many different types of soil. But even within the schist, we have different colors. In some vineyards, it's more red, but where the pet nat is grown, it's more blue. It's very old Devonian schist - quite weathered already and easily breaks into the tiny pieces that this type of soil is known for. And it brings this very spicy touch to the wines.
Which grapes have you used for the Pétillant Weiss?
100% Scheurebe - it's one grape variety. It's a little bit more on the floral side. It adapts very well to the soil that it grows on. You can tell it was grown here.
Can you talk me through the process of making the wine?
In the vineyard, throughout the season we do a lot of handwork to make sure we have not too high a yield, but to harvest ripe, aromatic grapes. The time when to pick is one of the most important decisions. Just a few days can make a huge difference. So I find the right timing when the skins are very crisp and full of tension, I want this tension to be present in the wines.
We hand pick the grapes and for this pet nat, we only had a maceration for 1 night and then directly pressed the next morning. I don't want them to be skin fermented or anything, it gets too heavy, so I want a very short maceration. Fermentation takes place in 2 different vessels - stainless steel and used oak barrels. Then I combine them and bottle directly. What's so special about the fermentation is that we have a cool climate so the grapes ripen later, and we harvest mid-October, sometimes even later. It's cold outside, the grapes are cold, the cellar is cold, so fermentation is really slow.
It's quite unusual for a pet nat - we bottle early summer the following year - then fermentation finishes in the bottle. It's not disgorged. I try to bottle the pet nat with a little bit of lees, but not too much. I think the original lees add really nicely to the mouthfeel and the aroma. Then we age for half a year in the bottle before release. It's a pet nat with a long fermentation and aging. A very laidback wine - taking it slowly and not rushing the process.
Do you use any sulfites?
No - we work completely without sulfites.
How would you describe the wine?
When first opening the bottle, it has a very gentle fizz but because of the time we give it and long fermentation, the bubbles are very fine and gentle. On the nose, it's very herbal - like a wild meadow with herbs and flowers - then on the palate, gentle bubbles, smooth and relaxed. What I like a lot, the grape is related to Riesling, so there's a really nice acidity to it, which is the backbone to all my wines.
All my labels show local flora that we have in the vineyard - showing the plants we have here and that it's not only about the grapes, but it's so much more about what's happening and all the life in the vineyard. On this label it's chervil.
What's this vintage like?
It was very warm in the summer - we've had some really hot summers in the last few years, very hot and dry. Unusually hot for our region. But the vines dealt really well with the heat - especially for the old vines, they have such deep roots and I was amazed to see how green and vivid they looked, despite having little rain. When harvest started, it cooled down, which helped the acidity stabilize. I'm really happy with the 2020 vintage - ripe fruit, full aromas and nice acidity.
When should people drink it?
You can drink it now - we age quite a lot in the cellar and bottle before release - but my wines develop well so if you prefer to keep it in the bottle for longer, you can.
Any food pairings you'd recommend?
The other day, I made a quiche - we make it a lot for lunch, with whatever's seasonally available in the garden - so a quiche with whatever vegetables you have right now, with a nice salad on the side. And a vinaigrette which has a little honey in it.
Isabelle's thoughts on Pétillant Weiss - Christine Pieroth, like Andi Weigand below, is part of Germany's exciting new wave of winegrowers shaking up the uber-controlled, highly interventionist, German winemaking tradition, where heavy-handed sulfite use is the norm. This pet nat is made from the highly individual Scheurebe grape variety (a deeply aromatic Silvaner and Riesling cross), and yet it is surprisingly elegant, delicate and savory. It shows pretty floral notes of wisteria, celery seed and a moreish minerality, which will definitely have you reaching for another glass.
---
Andi Weigand is the third generation of the Weigand family to produce wines in Franken, or Franconia, in Germany. While he has modernised the winery from past generations, he has maintained some tradition: grapes are picked by hand and wines are made without filtration or added sulfites.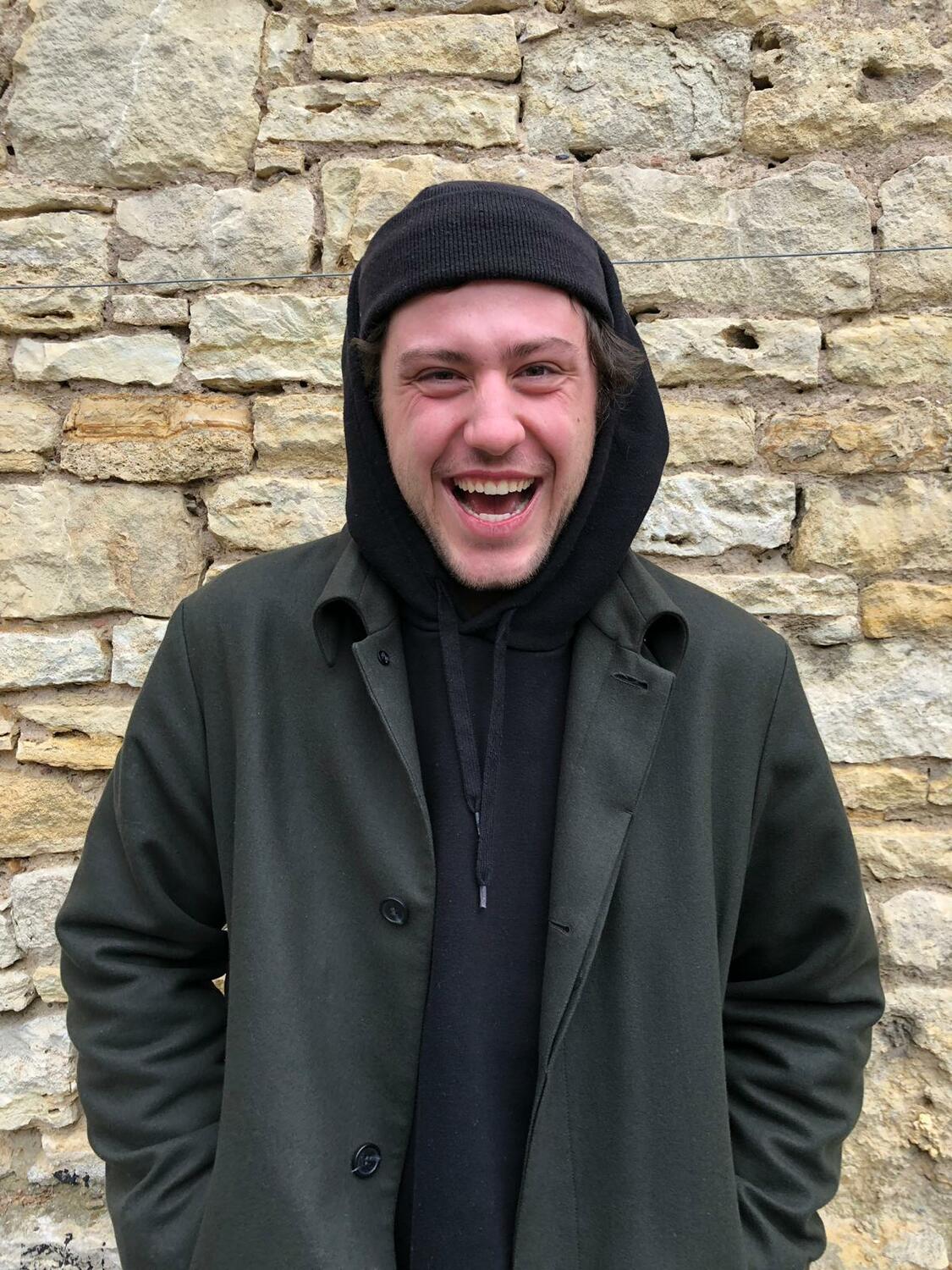 Q&A with Andi Weigand
Can you tell me about your background - how you came to be a winemaker, and what influenced your style of farming and producing?
I am 30 and from a family winery. Until I was 20, I wasn't interested in growing, the idea of running a winery was not romantic at all to me - I wanted to become a DJ! But I decided to study winemaking and discovered how nice this job is and never boring. I could see the beauty of it and how cool it is. It became infected with the idea and decided to change the winery at home. In 2016, my parents let me change the winery from quite classical wines over to organic wines, hand picking and changed stainless steel to old barrels. We make natural wines which means that we do not use sulfur or filtration.
As a farmer, I want to take care of everything. We are certified organic and working biodynamically. We do everything on our own and know that all our wines are very well made. This is why I don't want my vineyard to expand or for other people to run our vineyard so that I can keep this quality of vine growing and making.  Our aim is to gently and carefully handle the vineyard to make sure that the grapes are healthy and nice. It's a bit like looking after a garden.
Can you describe the vineyard, where the grapes are grown?
My vineyard is located in Iphöfer Kronsberg in Franken (South Germany/North Bavaria). It's a very small region and I have 10 hectares here. It's a super nice vineyard made of Keuper soil that makes wines spicy and with a lot of taste - low alcohol with light grapes but full of flavor. The average  age of the vineyard is 35 years old and the oldest is 60 years. I take good care of my old vineyard because old vines can handle the climate change. We also have a big mountain on the top of a forest. Our vineyard is underneath this wonderful space.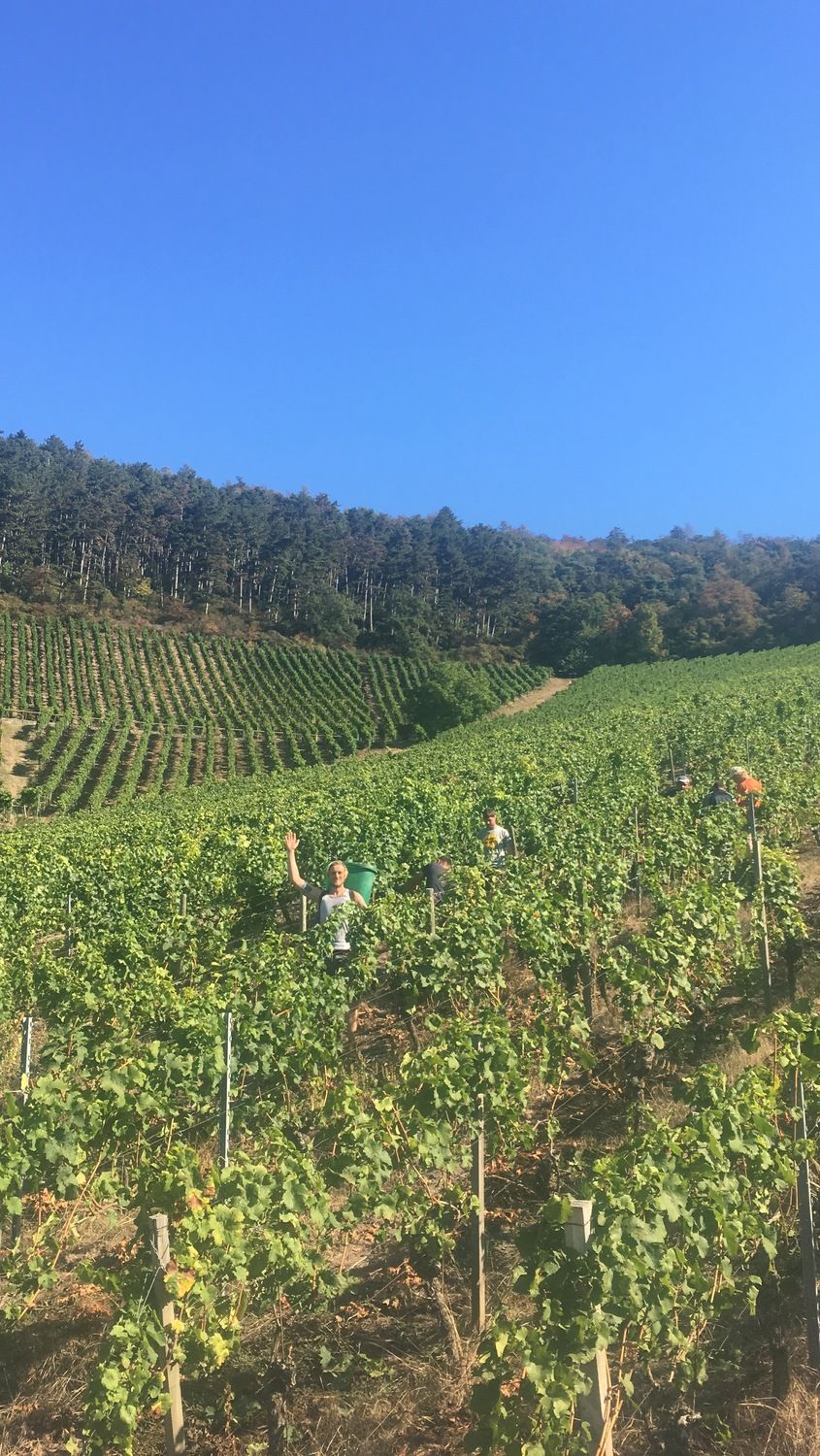 Can you talk me through the process of making this wine? What vessels did you use?
All our grapes are harvest by hand, gently and directly pressed to 10-year-old 1250 liter barrels with an 80-year-old basket press. Juice ferments spontaneously and is left for 9 more months in barrels. The wine is bottled unfined, unfiltered, and with zero addition of sulfur.
In the cellar, we usually direct press the grapes for 80% of the production and we skin ferment 20% of the rest in amphoras for 9 months. We like to work with Amphoras and qvevris because it gives a nice structure and a special taste that we enjoy. It's a lot of fun to work with them because it's also very different every year.
After we press the grapes, we put them in a barrel for another 9 months. We leave the fermentation to occur, then after 9 months, we rack and bottle.
Do you use any sulfites?
We sometimes use sulfur to protect the vineyard when necessary but we tend to reduce the quantity to the very minimum. We never use sulfites in the cellar at any stage!
How would you describe the wine? How does it taste?
This white wine is a blend of typical varieties of the region (Bacchus 20%, Müller-Thurgau 10%, Pinot Blanc 10%, Riesling 10%, Scheurebe 20%, Silvaner 30%). The vineyard we use is 40 years so quite old and very typical of the region.
It's a wine with a balanced structure but very fresh at the same time. It is very reflective of our region. I want people to enjoy the balance of the grapes' different characters.
It is tasty, light, fruity and easy to drink. It's a natural wine that can be tasted and appreciated by people who have yet to discover this type of wine.
What's this vintage like?
2020 was a complicated vintage. The year was okay but we had frost in May and lost 50% of the production. The end of the year was great, hot and dry.
As a result, we had less grapes but they were very nice ones, ripe ones, tasty ones and with not too much alcohol which is great because I don't want to have wines that are too heavy.
When should people drink it? How long can they keep it for?
It depends on people's tastes - for people interested in fresh wines: you can drink it now! For people interested in more intense, more oxidised or ripe tastes, you can wait a few years.
Any food pairings you'd recommend?
It goes well with light and fresh food - vegetables, salads, fish. It doesn't work as well with heavier meals like dishes with a rich sauce, or wintry dishes.
Isabelle's thoughts on Andi's White - Like Christine Pieroth, Andi is a great example of the new Germany finally making its mark on the international natural wine scene. This is a real cocktail of a wine - 6 local grape varieties go into the mix, some are macerated on their skins, while others are direct-press but all are fermented in large, old oak barrels. The result is very pretty, featuring tight, linear aromas and a prominent earthiness. Expect notes of white pepper, white flowers and camomile tea.
---
Bodega Clandestina is a natural wine project founded by Ferran Lacruz in the Penedes region of Catalonia in 2018. A small winery outside of any appellation of origin or regulation and without any barriers to imagination, they make small batches of wine made from grapes grown organically and biodynamically.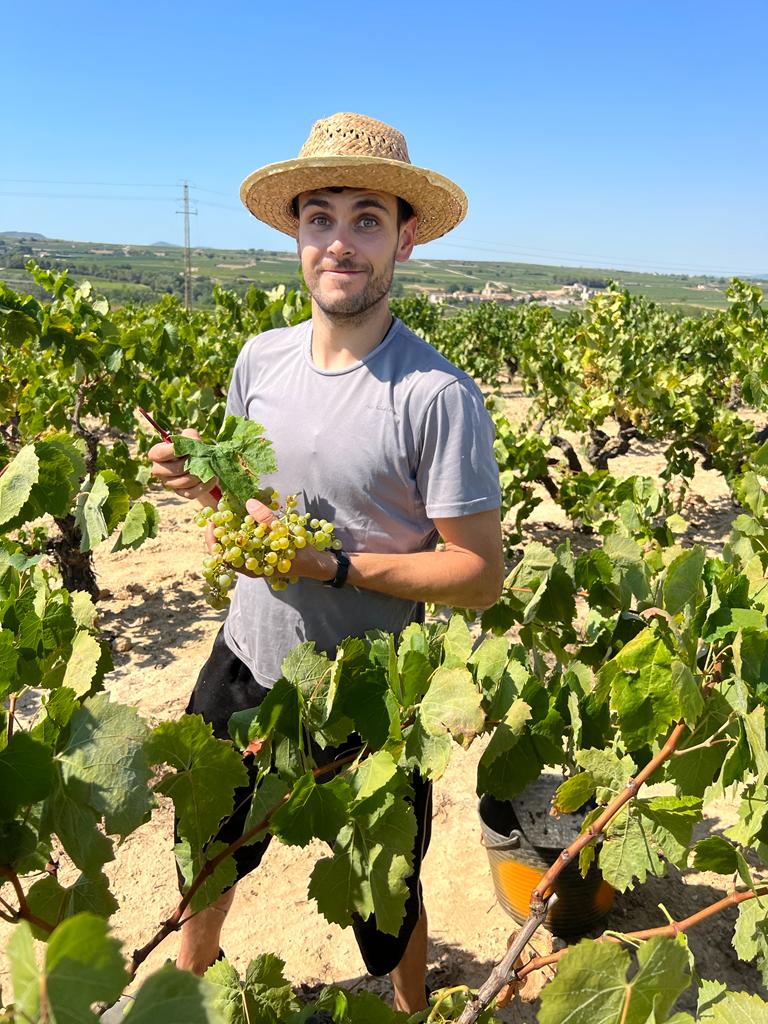 Q&A with Ferran Lacruz
Can you tell me about your background, how you became a winegrower and what influenced your growing and production style?
How did I end up in the world of wine? I think I've always been in it - my uncles Antonio and Fina have always inspired me. They are the ones from whom I get my motivation. They inspired me and taught me everything. They have taught me how to prune, how to harvest.
At university, when we had to choose an orientation, as I always liked languages I decided to study tourism. When I was doing my internship, I started to do tourist visits to wine cellars. As I have always been drawn to the 'real' and 'healthy', I completed my studies with the addition of viticulture and started to make wine.
My goal is to make a wine that is not the traditional Cava of my region. I wanted to start with a project that represents my vision of the Penedes region, but a different project because they are wines without any additives, clean wines. I think a lot about my wines - I design them, they are like works of art that allow me to transmit messages, intentions!
Can you describe the vineyard where the grapes are grown?
Penedes has both the sea and mountains. The nights are cold and the days are hot. My vineyard is concrete and strives to achieve a balance between acidity (to have wines without many defects) and ripeness (typical of the Penedes). We are certified organic and work with respect to nature.
Can you describe the soil and the terroir?
Here, the soil is clay and calcareous because of the fish that lived here in the sea  before the tectonic plates collided. The soils are rich in calcium but quite poor. Plants suffer a lot because there is not so much water in the soil.
Can you explain the process of making this wine?
This wine is marked by the vineyard. It has a 6% slope and 3 different rootstocks. There is also shade because there is a forest above it. The grapes never ripen at the same time - I had to harvest 3 times.
For the first harvest, I did a very soft direct pressing and did the fermentation in stainless-steel and the ageing in a 'dame Jeanne'.
After a week, I harvested the middle of the vineyard (very balanced grapes). I did one day of maceration with the skins, pressed everything, fermented in stainless steel tanks and aged in a dame Jeanne.
A week later, I harvested the last part with more shade. I fermented this part with the skins for about 3 weeks and the ageing was done in a concrete tank.
I put the 3 wines together to make the final wine - a perfect mix between acidity/balance/ripeness.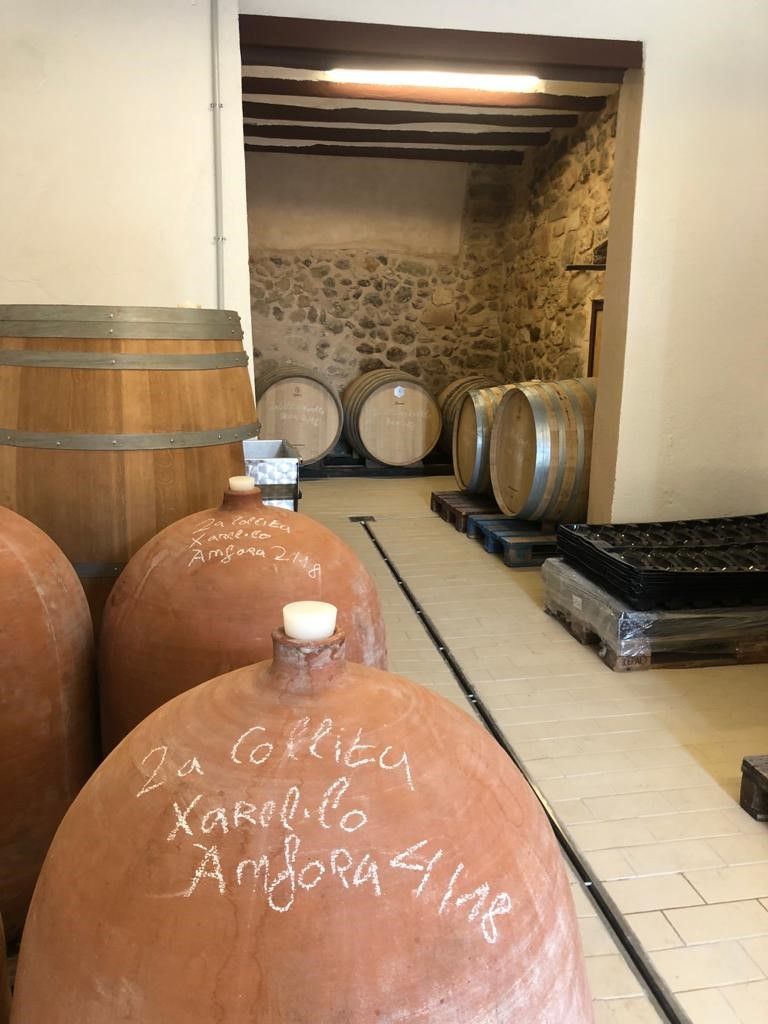 How would you describe the wine? What does it taste like?
It is a wine that brings order to a vineyard that is in chaos. The taste is very much towards minerality. It has a balanced freshness, with a good texture in the mouth. It has apple and pear notes. It conveys the purity of the grape - my aim is to keep the complexity of the grape.
What is this vintage like?
2021 was a very dry, hot year. We came from a very rainy 2020 so we had water reserves. At the time of ripening, we had no more water in the soils and it was not so good for the grapes. In addition, it rained a lot during the harvests.  As a result, it was a year with low production and slow fermentations.
When should it be drunk?
This is a wine that is versatile. Now, it is balanced and drinkable but as it has good acidity and structure, so it can age 3-4 years and more !
What is the story behind the name of the wine?
The story is the general concept of the Bodega Clandestina. It's called that because I come from the Penedes where there are many very big wineries. Most of the farmers here sell their grapes to these big wineries, they have to produce a lot to live but there is no quality.  I didn't want to do that and I had to go into hiding to think about my project. A project that is different from what is done in my region.
I want to keep my critical spirit and not enter into a system of bureaucracy. That's why I chose this wine's name Blanc Sans Papers which means 'without documentation'.
Which grapes did you use?
100% Xarel-lo.
Any food pairings you'd recommend?
It's a wine that goes very well with fatty meals whose taste doesn't last too long in the mouth - rice, pasta, shrimp, risottos etc. The wine has small tannins and acidity that helps to clean your mouth.
Isabelle's thoughts on Blanc Sans Papers - Ferran is exacting, a perfectionist producer. Each of his wines is carefully considered and precise in its execution. The Penedes, where Clandestina is located, is famed as the home of cava but rather than follow suit, Ferran chose to focus on showcasing what pure Xarel-lo (known for its fresh acidity) and other indigenous Catalan grapes are capable of producing. The link result is honeyed, sun-kissed and surprisingly saline, with notes of wild Mediterranean herbs like fennel and saffron, and since some of the grapes are skin-macerated, expect a grippy texture, brine but also Mediterranean weight and ripeness of fruit (loquats).
---
Gentle Folk is a winery led by Gareth and Rainbo Belton in the Adelaide Hills where they farm grapes from vineyards in the Basket Range, Forest Range and Ashton. They make wines with as little intervention possible, not defining their style but working in a fluid way that responds to the grapes and seasons to make wines with optimal drinkability.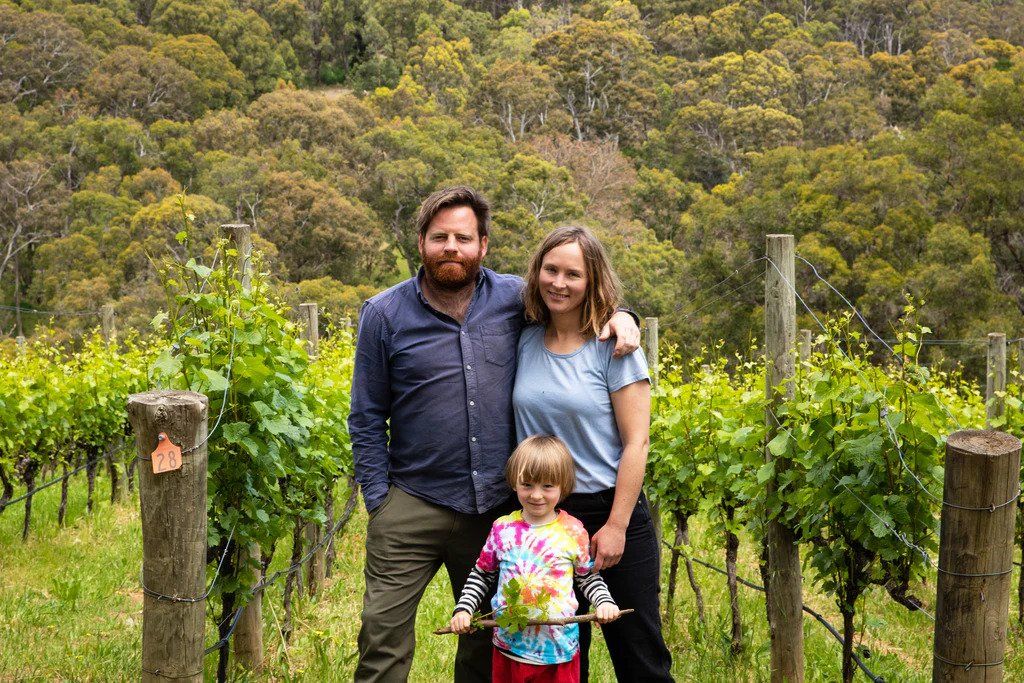 Q&A with Gareth Belton
Can you tell me about your background - how you came to be a winemaker, and what influenced your style of farming and producing?
My background is in science - I started off as a marine scientist and I worked for a number of years doing that and then I just got bored. I was living in Victoria at the time - it's a great place when you're in your twenties but it just got to the point that I needed to get out. I took up a PhD position at the university in Adelaide.
Adelaide is a town dominated by wine. We've got the Adelaide Hills, Barossa in the north, McLaren down south - and as soon as you leave the city you drive through a wine region. In the city, there's so much wine about, it's a big part of the culture with every other person a winemaker. A couple years into my PhD I met a couple of people making wine up in Basket Range - James Erskine, Taras Ochota, Anton van Klopper, Alex Schulkin -  and started hanging out with them on my days off.
That's going back to 2010 and 2011 when natural wine didn't really exist in Australia. It was a super exciting time and a small group of people. So I got involved and made a little wine, bought a property up here and was commuting in for my job. But it got harder to leave Basket Range, so I got my PhD done, made my mum happy, then quit to start making wine here in our shed at home. We started with 3 barrels then that turned into a packed shed. At the start, I bought grapes but at that stage I just thought, if we're going to do this, I want to get stuck in, so I found some vineyards to lease. I'd never pruned a vine or driven a tractor. It seemed like a good idea at the time.
Luckily, I met a viticulturist called Dylan Grigg who had just moved back, he was wanting a change and to be back near his family. He'd just started a PhD and I'd just quit one. He was looking for something to do when he wasn't studying and it was almost like the stars just aligned. It's coming up to 10 years now that we've been working together. We picked up 3 hectares at first and have grown to 10 hectares of vineyards across the hills.
There was never a thought of not being organic from the beginning - we started on day one, it took lots of brush cutters and hard work. We didn't have the tools and couldn't afford to get it done at the time. But it's now grown into something where we have the tools we need and have been able to get to a place where we can farm organically a lot easier than we could before. The natural wine scene has really changed in Australia - there was nothing back then, it was very rare, you had to import your wine really. But there's been a big change in organics in Australia and in the community and it's in a much better place now.
Why Gentle Folk?
Rainbo came up with that. It's what my name means in Welsh, but also we have a beautiful old stone cottage here and in the beginning, before everyone had kids, we used to have all our interns stay with us and it was a beautiful period. It just felt like an appropriate name during that time. And it stuck.
Can you tell me about the region and where your vineyards are located?
We are in the Adelaide Hills in South Australia. In general the south is a pretty warm and dry place, it's very rural - you've got some pretty flat areas to the north of us which can get really hot and dry. But we get a lot more rain here in the hills and we've got steeper slopes. We don't have as much of a diverse soil environment as other regions, with various labels of sandstone, soil, schist and clay. You drive due east of Adelaide and 25 minutes later you're at our house. It's steep, it's forested, and it's beautiful. There's not so many vineyards here in Basket Hill because of it being so steep, but we have been growing apples and cherries in the hills for over 100 years. Over time, that's given way to grapes.
A lot of people here are worried about bushfires, so I guess that's what's kept people out for a time, but now it's just going crazy - everywhere you look there's vineyards being planted, cellar doors opening. There's been a big shift in the last 5 years and the hills have become an epicenter of interest in Australian wine. There's a lot of jealousy in the industry because of it, but I just take that as a compliment really. It's a great place to grow grapes and in recent years we've had the kind of vintages I thought were fairy tales - the last 2 years we've been picking grapes into April. The rainfall has been great in a way - maybe in another southern region, if they had this amount of rainfall they'd be in trouble, but we're blessed with sunshine. We've also just got an amazing community here, the kids can run wild and we can grow amazing grapes. It's like a southern version of Tuscany without the amazing cheese and meat.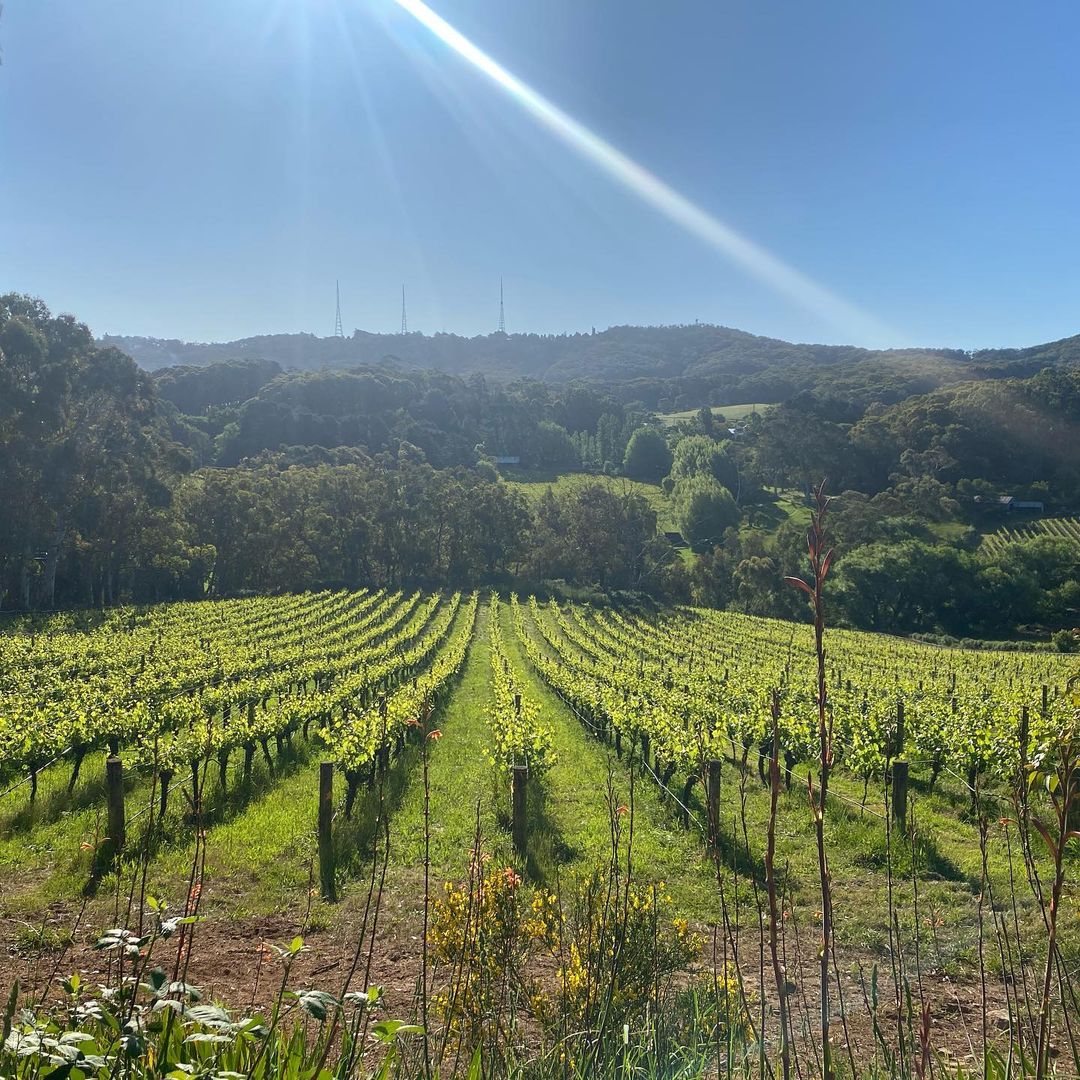 Which grapes have you used?
Normally it's Pinot Noir and Pinot Gris, but this one is Sangiovese - we've mainly been Pinot Noir and Chardonnay makers, we've got one of the coolest sites which is important for Pinot Noir, but it's a warm place and so Pinot is marginal in most of the region. For longevity, we needed to start looking at other options for red wines and Sangiovese has been a passion of mine for a long time. All the fruit for this wine is bought  from a vineyard in Charleston - a perfect place for growing grapes - beautiful wide rows, nice and long. We buy most of the grapes for Rainbow Juice and Sofa off them. 2021 is mainly Sangiovese, then there's Syrah, Merlot and Pinot Noir.
Hopefully when people drink the wine they understand it's come from a long way away. We have a beautiful community here and the grapes are grown by a lovely family that feels like our family. With their help and support providing us with grapes and selling our wines so well locally, it's been like this magical moment in our lives where we've been able to buy and move into a new winery - it's changed our world really. There's a lot of love in that wine from their vineyard. The 2021 is the first and it's a wine that we love - we drink shit loads of it at home!
Can you describe the soil?
They're pretty bony soils - they would be clay and sandstone dominant, but they're bony which helps to balance it out. You know, it's not lush, carrot growing country. You can see the rocks jutting out of the soil. But it's in the Goldilocks zone of soil as we like to call it - it's just right.
Can you talk me through the process of making this wine?
Because those varieties are all so different, we pick them at different times. We don't work the ferments very hard, they get a bit of push down with our feet. We do less funky techniques now and use more traditional methods that we used to. We work with the Pinot as whole bunch, so that comes in, we fill a vat, seal it up and press it off. Nothing too complicated. Merlot we destem, then after 2 weeks we press it off and it goes into old oak. Syrah is 100% whole bunch and on skins for less than a week because the Syrah can go ink black and massive really quick so it's about finding a balance. The Sangiovese, we leave on skins for a long time, and it's pressed off once the tannins soften out. Once each wine is tucked away into tank or barrel, we go on holiday, come back and blend. We tweak the ratios depending on what the wine needs, a bit more Pinot if it needs a softness etc…. We are aiming to make a wine in a certain style, it's not meant to be juice, it's supposed to be a wine of the Adelaide Hills -  medium with some tannin structure. Highly drinkable.
Do you use any sulfites?
They'll get sulfites when they're blended and in 2021 that's all it got - we added a total of 30 parts per million.
What's the story behind the name, Vin de Sofa?
Going back to the days where we had heaps of people staying here, we had a lovely French guy Francois who was living with us - working with us in the vineyards and cellar, and he loved to drink wine after work. He used to not always be able to sit upright at the dinner table. We have a Winchester couch in the kitchen that we inherited. One night, we were drinking wine and we tend to drink a huge range, and he was drinking, drinking, drinking… It got to the point where we said, "Okay Francois, time to get on the couch now," and he started some rant about how all wine from France should be vin de table, you know, and that 'vin de table' as a name is shit - it should be vin de sofa. And we all thought it was one of the best things we'd ever heard, we all had a big laugh and one of the guys staying with us at the time was an artist, so he drew Francois on the sofa for the label and that's how we got to Vin de Sofa. I also have this thing where I hate when people who can't speak French name their wines using French words, so it's a bit of a joke about that as well.
How would you describe the wine?
My favorite wine in the world to drink is Chianti - not classico, just plain Chianti. It puts the biggest smile on my face. If we can make a wine that tastes somewhere in that realm, a little bit savory, a little bit sweet, a little bit dusty, not too fruity. It's got to find that balance for me of where there's fruit, tannins, fun - I want to be able to open a bottle with my parents and drink it and for them not to be like, "What the hell is this?" It's a wine to enjoy with friends. Hopefully a wine that's just - you're not supposed to think too much about it, just drink and enjoy.
When should people drink it?
It's designed to be drunk on release, but you can keep it if you like. We blend for drinking now, but there's no reason they wouldn't hold for a couple of years - maybe longer, but I don't have anything to go by on that front so wouldn't like to give a specific number of years. 2021 was my favorite I've ever made by far - it's got a good life ahead of it if people do want to hold it.
Any food pairings you'd recommend?
Pasta for sure - just something you can share with people, The idea of the wine is to share. I'm a big fan of various types of pasta and this wine just does magic with it. Whether it's a cacio e pepe or a beef ragu or a bit of cheese in the park. Or even dumplings.
Isabelle's thoughts on Vin de Sofa - Gentle Folk is part of a vibrant natural wine community that has sprung up in the Adelaide Hills in recent years. Just as its name suggests, Vin de Sofa is playful and wonderfully easy drinking. Soft, chewy and mellow, it is lovely and approachable showing juicy cherry and peppery notes. This is a crowd pleaser - perfect for sharing with friends and family. Serve it on the cooler side.
---
Agricola Yumbel Estacion is a vineyard located in Yumbel, amongst Chile's Bio Bio Valley. Winemaker Mauricio Gonzalez Carreño cultivates his vineyard using traditional viticultural methods, with some vines over 200 years old. He also uses rauli, wood from a tree native to Chile, to ferment and age his wines, adding no intervention or sulfites.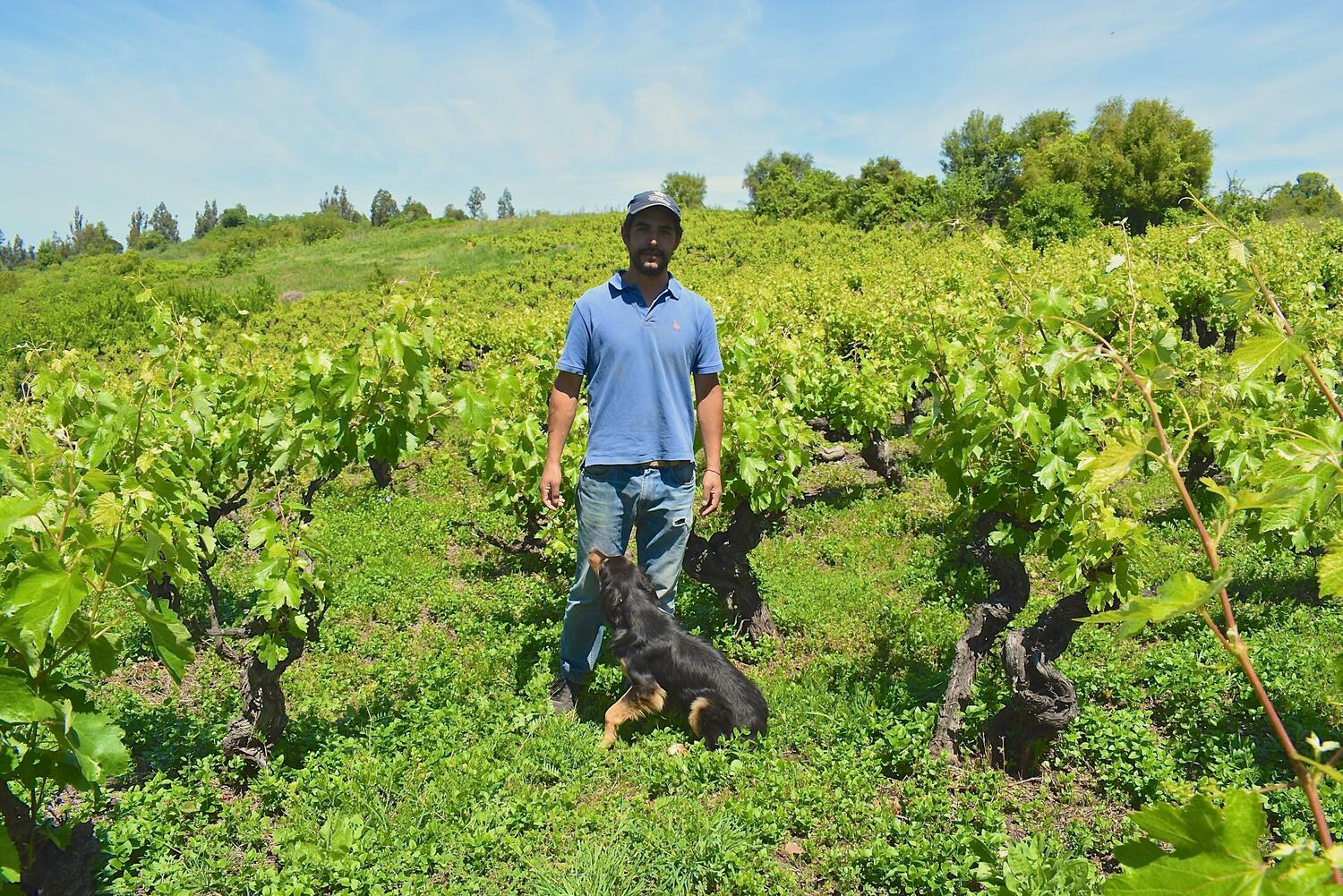 Q&A with Mauricio Gonzalez Carreño
Can you tell me about your background, how you became a winegrower and what influenced your style of cultivation and production?
My hometown is Talca and my family is made up of farmers - country people who grow vegetables. In this place, there was a lot of conventional wine growing and making - including a French type of wine production for poor people. Almost all the families here made wine for their own consumption. I knew I was going to work in the countryside and decided to study wine in Santiago. It makes more sense to me to be, live and work in the countryside because it's like taking a 'picture' of a place.
I started out in a conventional winery where I fell in love with the land and the winemaking process. I spent 7 years learning all the phases of winemaking and also tasting the wines. The problem was that I didn't feel like I was part of the society surrounding this type of wine.
I went to work in Argentina where I felt more comfortable with the people. Pedro Parra was the one I learned a lot from and he really liked the old vines. He was one of my bosses and he pushed me to start making wine by buying grapes, with friends, my family, etc. I was 28, 29 years old and it was the beginning of my project.
In 2012, I started to do some winemaking with friends from the university in Itata, and in 2013, we started to export some bottles of our Tinto de Rulo to the USA. It was an incredible surprise because I made this wine in a much more natural way and people liked it a lot. I went back to work in Chile in a 4000 hectare winery from 2013 to 2014 as a winemaker. It was horrible and I got fired!
In 2015, I bought a small piece of land to build a winery and a small vineyard in Yumbel with my wife and we started to make wines. We are part of a small community here and that's what I want to do. I can't live any other way. I want to go walking in the vineyard and my winery. I feel that Yumbel rescued me, it saved my life. It is a town that has a soul, all the people in the countryside are very spiritual and wine is something normal here!
Can you describe the vineyard where the grapes are grown?
The vineyard is a multicoloured landscape with birds singing in the surroundings. We have a fresh, deep and intense air. It has a very abundant life and is a paradisiacal place that gives you clean, healthy wines. The soil is composed of volcanic ashes, very sandy and deep. The landscape here is very green and offers a symphony of plant and animal life.
Can you explain the process of making this wine?
The Pipeno interior is made with the Pais grape variety. It is the most important wine made in Chile. It represents the culture of the countryside, of the native but also multi-cultural people. Formerly, it was a wine kept in pipes (old barrels made of rauli wood, a typical Chilean tree). Its fermentation was always in open rauli wood.
It is a wine with a strong identity. It is harvested early to preserve its acidity. It is crushed with a wooden sieve, fermented in a wine press for 3-4 weeks and kept for 4 or 5 months in pipes. Today they are very difficult to find as the last person who made them has died. It is really the wine of the country people. Its elaboration is very simple and nothing is put into this wine.
The only thing I sometimes do is to add a small amount of sulfites at bottling. The challenge is to make wine here with a variety, with little pH. This is the reason why everyday, we have to think and relearn how to make wine.
How would you describe the wine? What does it taste like?
It is a wine that corresponds to the rusticity of the country and has a tannin that I consider unique. It is a variety that has been defending itself for more than 200 years. It has a cherry, plum flavor.
How's this vintage?
2020 was quite an early year. The year before we didn't have much rain. We had to harvest 10 days earlier than normal. We had a normal production and dry weather.
When should it be drunk?
The origin of Pipeno is that it has to be drunk when it is ready. It can be drunk 10 months after the grape harvest. Here, people say that the wine is to drink and not to keep! But if it is well preserved, it can be kept for several years.
What is the story behind the name of the wine?
Pipeño Secano Interior is the appellation of origin. It is determined by the Chilean government.
Would you recommend any food pairings?
The traditional here is to drink wine with pork meat, lentil dishes, tomato and onion salad and, of course, bread!
Isabelle's thoughts on Pipeño Secano Interior - The natural wine scene is fairly new in Chile but it is catching up fast. With a wealth of incredibly old (some several hundred years old) ungrafted País bush vines, it is not surprising that Chile is one of the most exciting wine producing countries right now. This is a pretty wine, showing crunchy, chiseled tannins, smoky pomegranate, soft, round, juicy mulberry fruit.
---
Kunoh Wines is a project by Yuki Nakano, a Japanese ex-sommelier who now makes wine in New Zealand. He switched career as a result of the frustration he felt when working in restaurants: diners would ask him how the wines were made but he had no practical, hands-on experience of the process.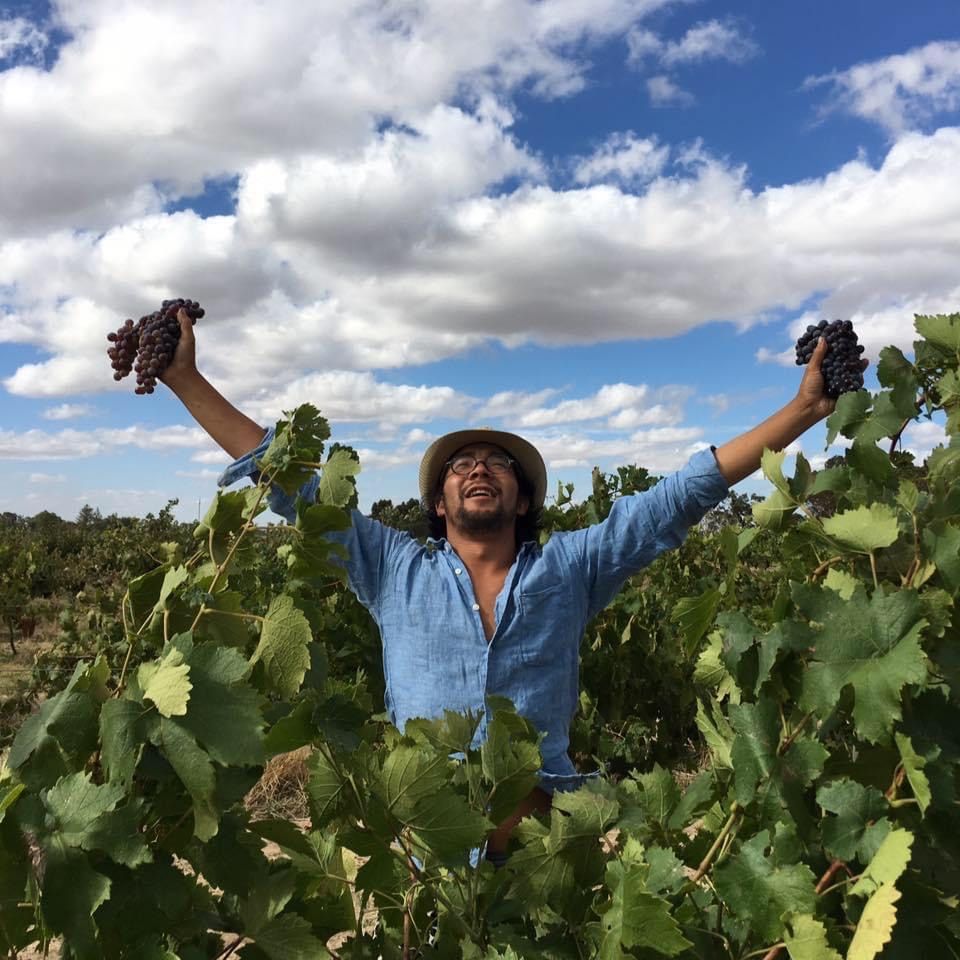 How would you describe this wine?
This is one of my new wines. It is somewhere between a rosé and red wine made with pinot noir and riesling. This is a new style of wine designed for serving cold like a white wine. It is from clay soil. The vines are north-facing. The place is hilly, windy and right next to the sea.
How did you make it?
2020 was a really dry year. The last rain was three or four months before harvest. The ferments were reductive and stinky because there was not enough nutrition in the grapes. I thought I would need to do something different. I did a rosé but it was stinky. I did a red wine designed to drink cold and it was drinkable.  In th end did five separate ferments: a direct press rosé; a barrel ferment; another rosé fermented in steel with Riesling co-ferment; one carbonic for five days; another was a whole bunch ferment, a month on skins. This last one has so many different characters. It was designed to drink cold.
I then blended these wines before the malolactic fermentation. I let the malo finish and then bottled. Normally I wait until the malolactic had finishes for each one but this time I tried a different style. The ratios were 40% whole bunch pressed, co-fermented with pinot noir and riesling and press separately, 50% barrel fermented and 50% fermented in steel, 45% of 20% whole bunches on top de-stemmed on skin 10 days, 10% carbonic maceration for 5 days / 5% all of the grapes de-stemmed on skin for 31 days. I put whole the bunches on top. Normal winemaking is you pump over in the morning and afternoon. But I think if the wine has a healthy ferment you only need to pump over once every two or three days as I have so much CO2. And no bacteria problems. I used no SO2 that year.
How would you describe the experience of drinking this wine?
It is designed to drink cold. It is like a rosé - a little bit fruity from the combination of reduction and the carbonic maceration. When it gets warmer you can taste different elements - a bit more tannic. The backbone is the destemmed, whole-bunch taste. It is not an easy drinking wine.
How does your experience as a sommelier inform your approach to winemaking?
I was a sommelier in a restaurant in Japan and I tried a lot of food pairing. I wanted to make wines that are drinkable but always with something extra, something spicy - sometimes with reduction or tannins. So this wine is a good balance. My wines often have a unique character. This one has a really strong pinot backbone. This is a red wine but could go with fish - like tuna sashimi or sushi.
When I was a sommelier, it was quite stressful: I had to describe how wines were made but I had no practical experience whatsoever. I really wanted to get outside. I studied winemaking and approached many wineries but couldn't get a job. Then I got a reply from Poggio Scalette in Tuscany. I just loved it - being outside, picking, being in the winery, the ferments and people.
After six months I quit the job and flew to Australia to work there at Smallfry. Now I am mainly making wines in New Zealand. I am assistant winemaker at Kindeli and this is my side project. Because of Covid, I was stuck here for three years. New Zealand is my base now.
Isabelle's thoughts on Wasurenagusa Forget Me Not - It is wonderful to finally see the natural wine scene taking off in New Zealand, which has lagged behind most other wine producing countries when it comes to the growing and making of natural wine. Wasurenagusa is an unusual, creative blend of pinot noir and riesling. The result is a perfumed red with upfront notes of ripe blackberries, raspberries and violets, as well as a touch of savory seaweed.
---