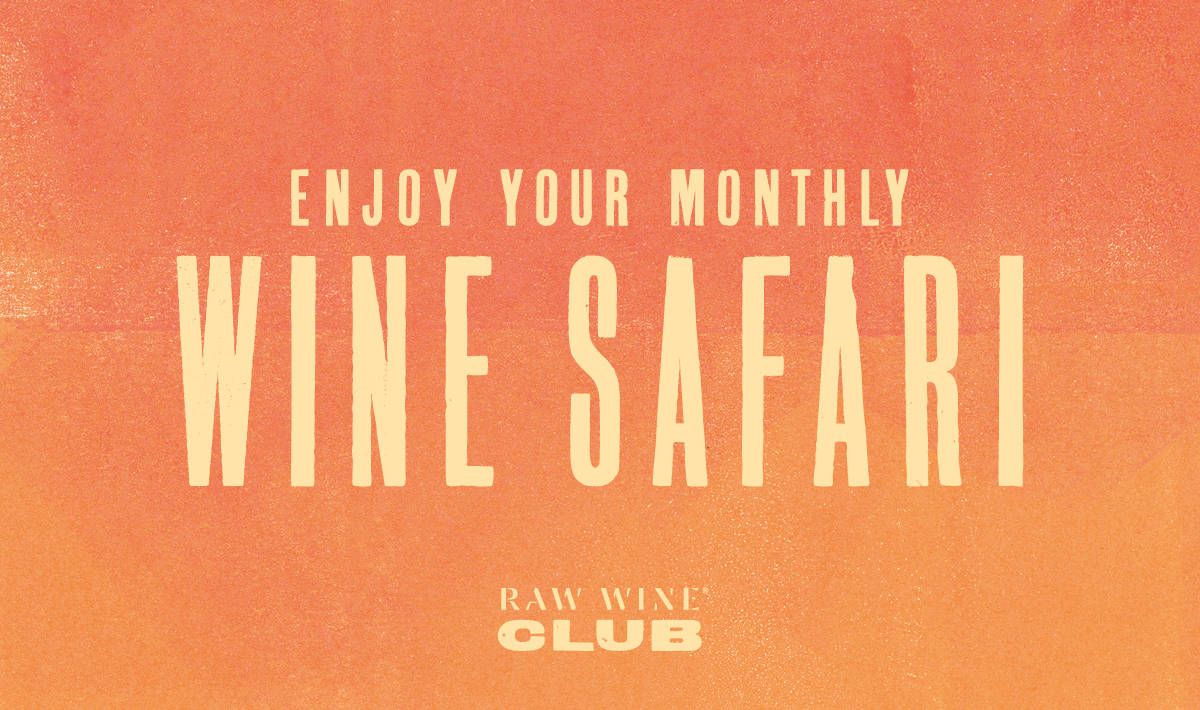 RAW WINE Club - Tasting Notes - May 2022 Selection
16 min read
Hello and welcome back!
I hope you enjoyed last month's box and that you're ready to get going with number 2. As with last month, I have worked to make sure this RAW WINE Club selection showcases a diversity of styles and origins, so, were you to drink them one after the other, you'd be sure to have a fun papillary adventure. We've got a crisp, white Syrah from the Roussillon (southern France); a cristalline, saline, touch-of-the-tropical alternative to sauvignon blanc from Galicia (northern Spain); a biodynamic pink pet nat that goes down a treat with Sacher-Torte (Burgenland, Austria); a fun, peachy, perfect-sundowner from northern Mexico (Baja California); an up-front, juicy, easy-drinking red from Dalmatia (Croatia) that also happens to be surprisingly serious to boot; and a vibrant, savoury, age-worthy Morgon (Beaujolais, France). Enjoy!
Here's to wishing you all another great tasting adventure (if you have any questions whatsoever please do get in touch).
Isabelle Legeron MW, Founder of RAW WINE‌
---

Clot de L'Origine  is a winery in Roussillon in south-east France. Established in 2004, they farm organically in four different areas of the region in order to express the distinct terroirs.
‌Q&A with Marc Barriot
How would you describe the wine?
It is crisp and fresh with a good balance. It is made with 80% Syrah but I also have a bit of Merlot, Carignan and Grenache.
So grape varieties typically used for red wines?
Yes. Basically I harvest everything very early at 9 or 10% alcohol and then press very quickly and gently with a pneumatic press. The juice is a little bit pink. Because I harvest early I have a high acidity, even after the second malolactic fermentation.
The Syrah and Merlot are from Caudiès in the far west of Roussillon, about 350 metres high. The Grenache is from north-facing vines in Maury on clay. The Carignan is from rocky soil in Espira - old vines, about 45 years old.
I start to harvest around the 22nd of August. It's not the typical Roussillon climate - we always have a bit of rain and humidity, with less wind and hot weather. So the sugar in the grapes develops more slowly. That's why I can make white wines in my terroir with Syrah as the berries are full of water but with not too much alcohol and the colour hasn't ripened.
I have a team of about 20. We harvest in the morning using small buckets that we fill to a maximum of 15 kilos then bring it back very quickly to the cellar. We can harvest 300 buckets in three hours.  We put the grapes directly in the pneumatic press - we don't destem and we don't crush. So we have much less maceration with the grapes. You have less colour if you keep the time short between the harvest and the press. Also, the juice oxidises during fermentation and some of the colour falls down with the lees.
Do you add any sulphur or sulfites - and at what stage?
I add a small amount - about two or three grams per litre - after pressing the juice. The sulphur has many different actions. It kills bad yeast and bacteria and also slows down the beginning of fermentation - so you can wait an extra one or two days and also take out the colour. When you add sulphur, the next day it falls down with the lees - so when you rack the clear juice there is almost no sulphur left. That is why you can begin the fermentation with basically zero sulphur.
Any recommended food pairings?
It is better not to drink it too cold as it is quite acidic and crisp. I prefer to drink it a bit warmer as an appetiser. It is best with fish, mussels, oysters. Some restaurants pair it with lobster.
Isabelle's thoughts on Le P'tit Barriot - A terrific blanc de noir (i.e. white wine made from red grapes), which is  unusually delicate for the Roussillon - mostly because the grapes are grown at altitude (1300 feet) on black schist and mountain limestone, and see plenty of water. Le P'tit Barriot has a pomelo nose, and a lovely texture that is almost opulent, which is doubly surprising given how fresh the nose is. It shows crisp, almost grassy aromas, and some fresh, spicy hazelnuts at the start that give way to citrus notes as the wine opens up and becomes more linear (this took a few hours).
If you are based in the UK, you can buy Clot de l'Origine wines in our wine shop.
---
Constantina Sotelo is a small wine estate in Galicia in Northern Spain.‌ Located right by the Atlantic, it is a windswept area with high annual rainfall. Most of the old vines are trained as a canopy (see photo below) and are ungrafted (i.e. still on their original rootstocks).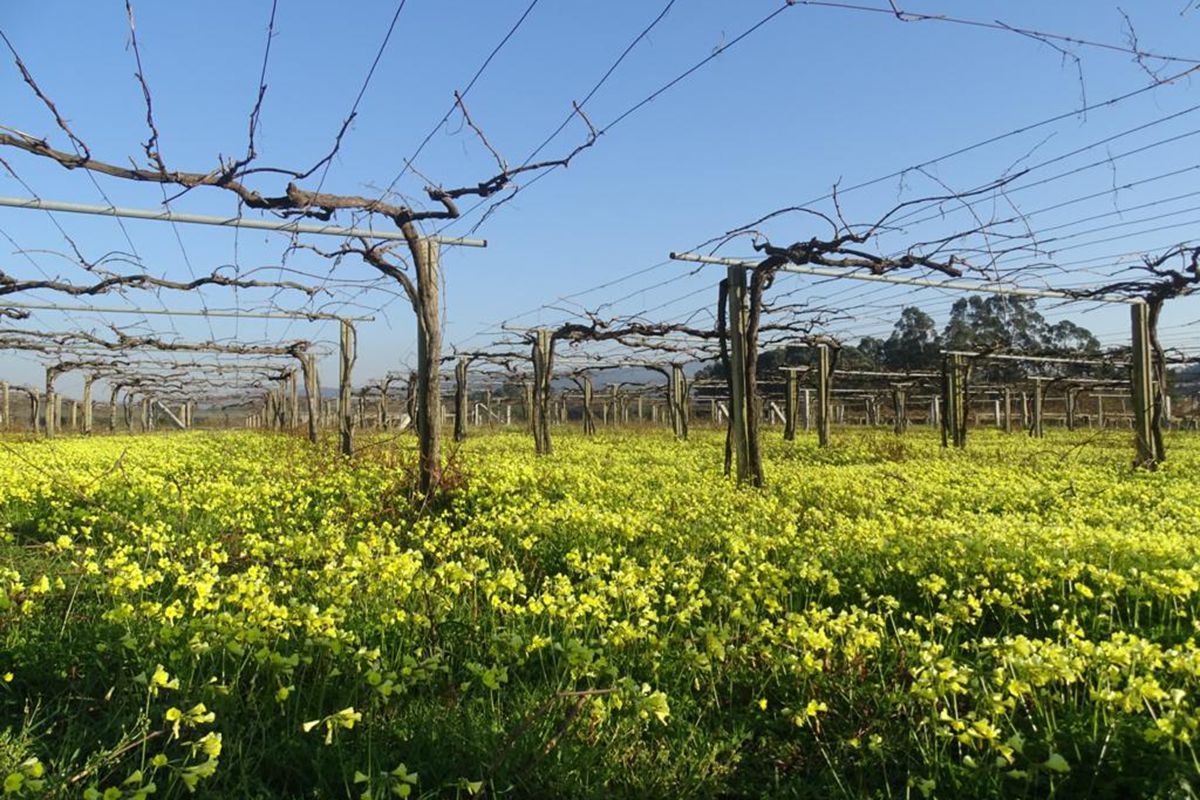 Q&A with David Bugallo (Constantina Sotelo's son, who works with her).
How would you describe the wine?
It is a pale yellow wine - very fresh, with a lot of minerality and salinity. You can find stone fruits such as apricots, apples and of course citrus fruits such as lemon or clementine. It is made with Albariño from vines that are approximately 30 years old.
How did you decide on the name?
Well, the name comes from the connection between sea and earth - "MARISTERRA". We are trying to capture those vineyards that take us to the sea. Their fruit has been kept in clay amphora. It is also an acknowledgment to my parents as my father Ramon was a sailor and my mother Constantina is a farmer. We wanted to make a design that reflects the route of the sea and the land.
How was the wine made?
We used 2 terracotta amphorae of 1000 liters. We press whole bunches. After that, the wine spends around 10-11 months in the amphora until bottling including during the alcoholic and malolactic fermentation. We don't use any type of racking after pressing.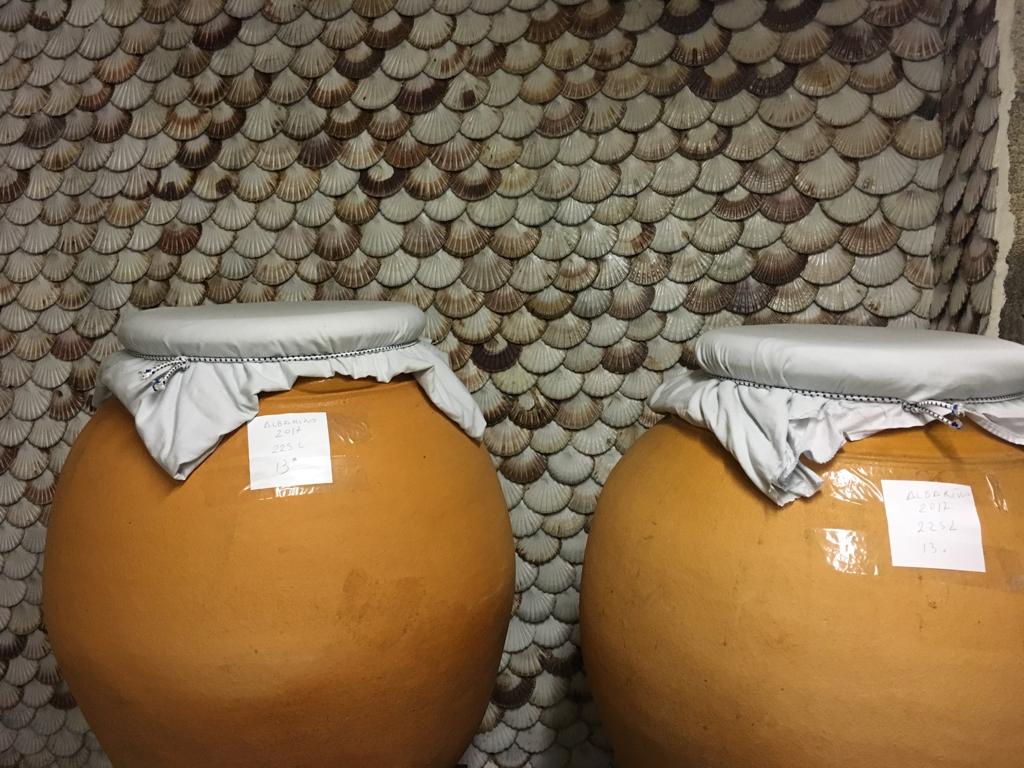 What is the soil like?
Our soil is mainly decomposed granite.
How would you describe the 2020 vintage?
We have great difficulties every year as our climate is very extreme, which encourages the proliferation of fungi such as mildew. So each vintage is a real challenge. Despite this, in 2020 we did not complain because we were able to harvest some grapes.
How do you farm?
I think our style is independent of any influence or movement, although we could classify ourselves as natural due to the deep respect for the land and the cycles of life and nature.  We are governed by the knowledge and experience from generations of our ancestors who have cultivated the vineyards for more than two centuries. We continue to learn today.
Any recommended food pairings?
The ideal is to enjoy it in good company.
Isabelle's thoughts on Maristerra - Albariño has become a firm favorite in  stores and on restaurant wine lists, as it is a great alternative to the ever popular sauvignon blanc. Natural albariño, though, is actually pretty rare. Constantina and her son David are true artisans. They craft lots of variations (white, orange, concrete, clay) and although distinct, each is a pure, crystalline example that harks back to its atlantic origin. Maristerra (the place where the land meets the ocean) is fresh and salty, with great purity of aromatic intensity showing some tropical star fruit and ripe lime juice notes. Thanks to being aged on its lees for the entirety of its life in clay jars, it is wonderfully textured.
If you are based in the UK, you can buy Constantina Sotelo wines in our wine shop.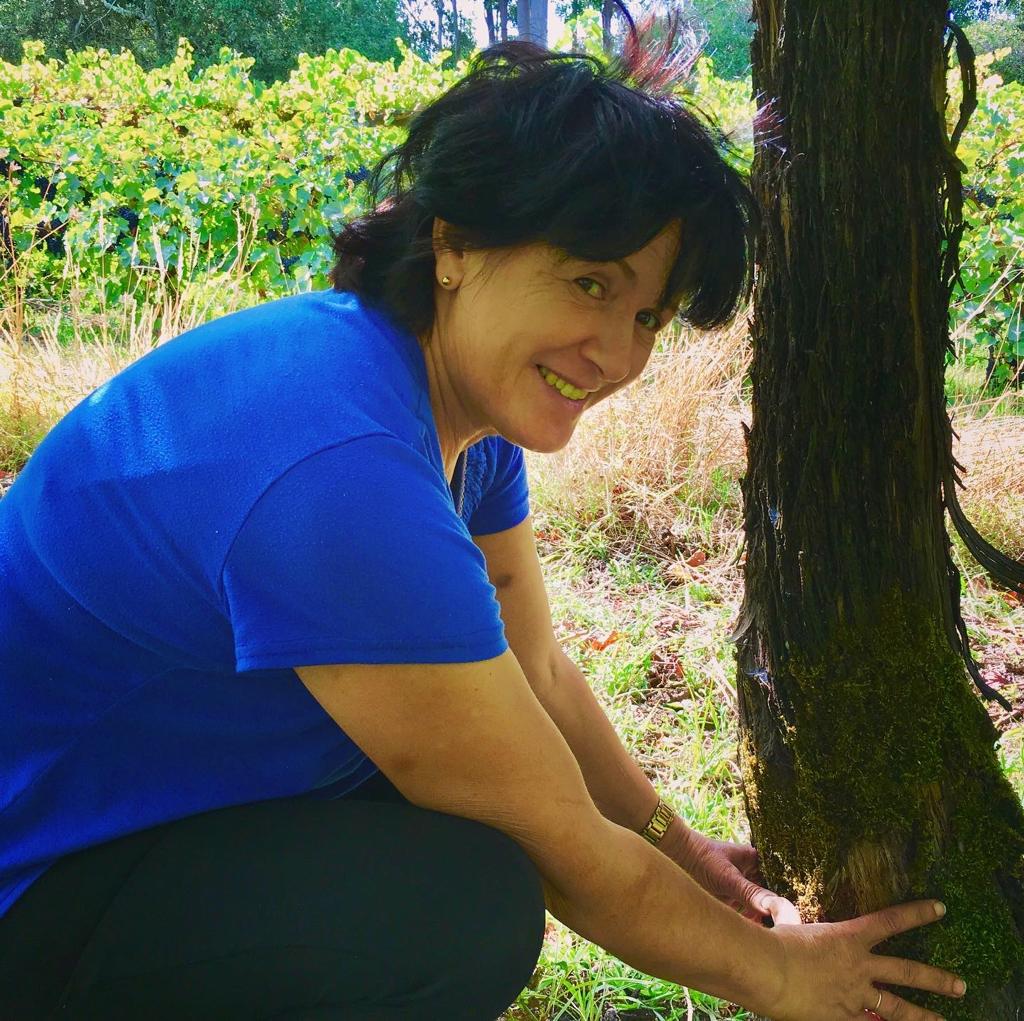 ---
Georg Schmelzer is a pioneering biodynamic winemaker in Austria, where he works alongside his wife Elisabeth. They describe their wines as "honest handshakes".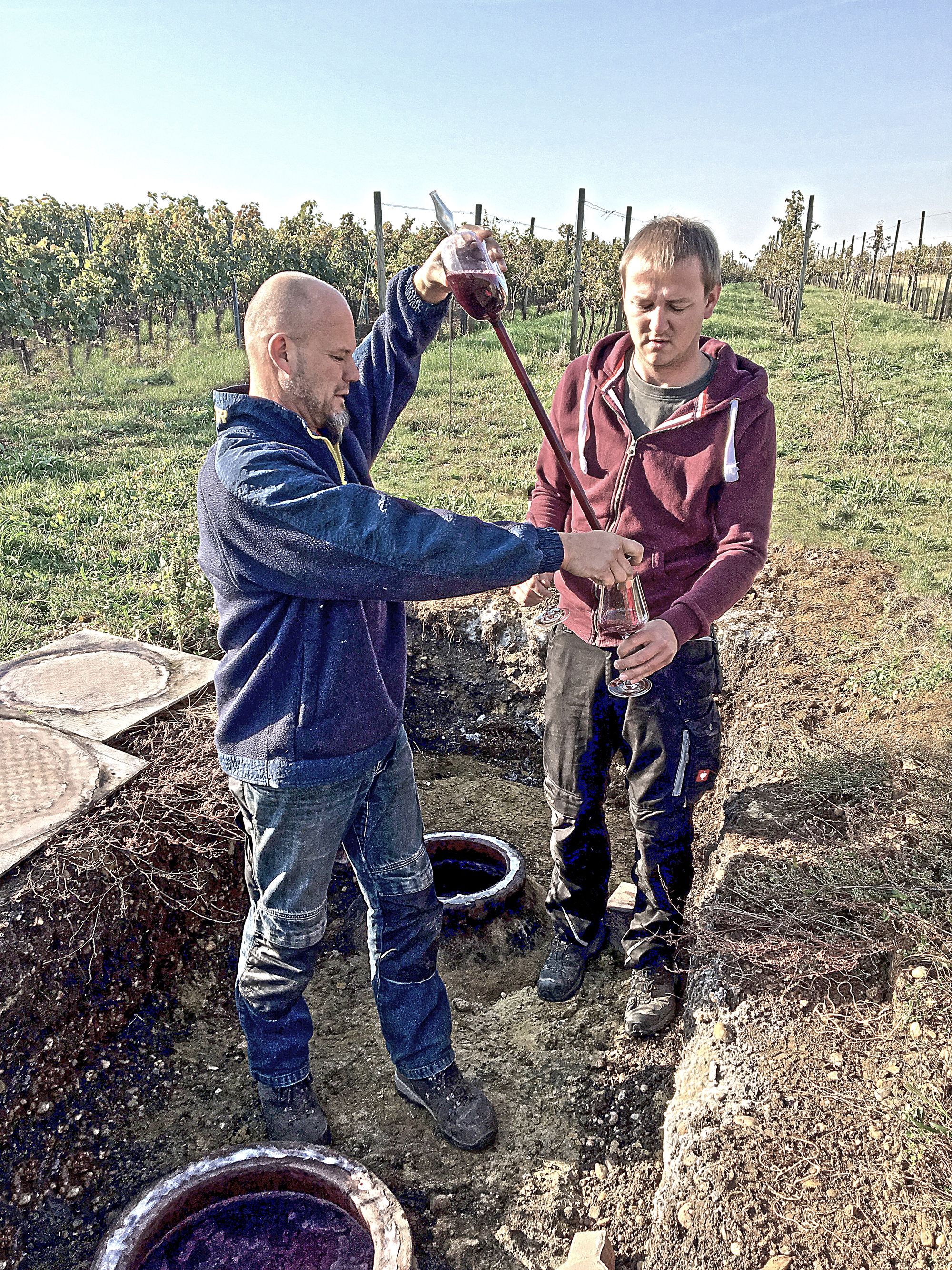 Q&A with Elisabeth Schmelzer
Can you describe the wine?
Pink, a mix from black raspberry, fresh cherry and herbs on the nose and on the palate, it is fresh and fruity with some citrus notes! It is a blend of 50% Zweigelt and 50% Cabernet Sauvignon.
What is the soil like?
Clay, gravel and sand. One of the vineyards faces north; one is on the flat near Lake Neusiedl at 140-160 meters.
Can you paint a picture of the landscape?
We have a big lake - the biggest lake in Europe that is not fed by rivers. It is one metre high and is a national park. The area around is completely flat. We have only a small hill in the east about 200m high. It is very hot in the summer - about 40 Celsius - and cold in the winter. We have many birds. The area is famous for its storks, which make nests on many of the houses.  Many birds from the north make a stop here on the way to Africa. There are cows here as well. Sometimes, in the summer, visitors say it looks like Africa.
How was the wine made?
We used steel tanks. The juice had three hours skin contact but without maceration.
How would you describe the vintage?
It started with local late frost, turned into drought and ended in severe thunderstorms with hail and storm. There was little yield but top quality!
How do you farm?
We are biodynamic - Demeter certified. My husband started officially using biodynamics in 2003. But he had been working in this direction a long time before this. His father died young in a car crash so Georg started on this winery when he was 16 years old.
The biodynamics was completely new and he didn't tell me about it at first. He worked by himself. He worked the vines completely the way he wanted. This way was really crazy for many other winemakers.
Any recommended food pairings?
Seafood, fish, noodles, vegetables, desserts. I actually love to pair this pet nat with our traditional Sacher-Torte, as the combination of dark chocolate and the fruity aromas of the wine is great! Its alcohol is fairly low at 11% so it is great also by itself as easy drinking aperitif.
Isabelle's thoughts on Pétillant Naturel Rosé - Georg is a very committed and inspiring biodynamic farmer who has been experimenting and working with biodynamic concepts for 30 years, way before biodynamic farming became more well-known and globally recognised. This is a pretty, bright, pink pétillant naturel made from zweigelt and cabernet sauvignon that were kept on their skins for a short 3 hours prior to pressing. Crunchy, bright and refreshing, it is a peppery bubble with notes of blackcurrant leaf and juicy raspberries.‌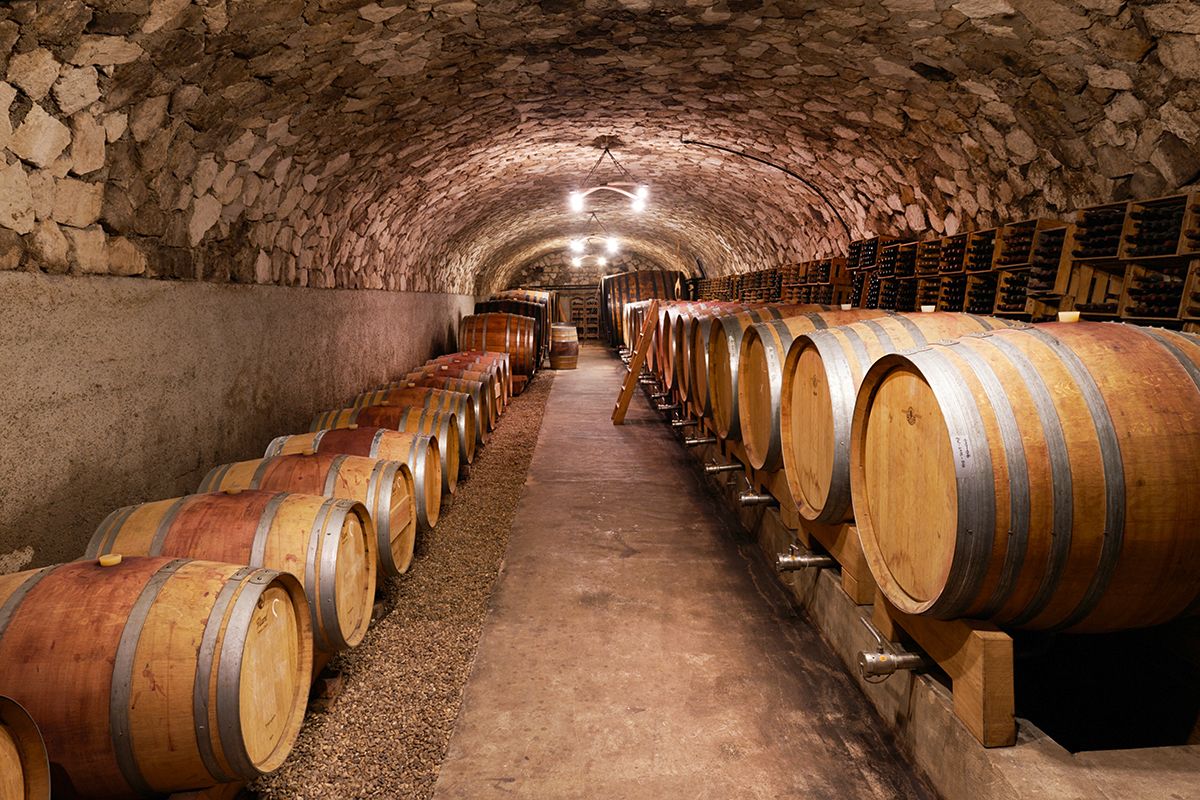 ---
Aborigen is a winery in Baja California, Mexico. This region has a long history of winemaking, but in recent years the number of the wineries has grown rapidly. Lucas D'Acosta of Aborigen is the son of Hugo D'Acosta, one of the original pioneers of winemaking in this region.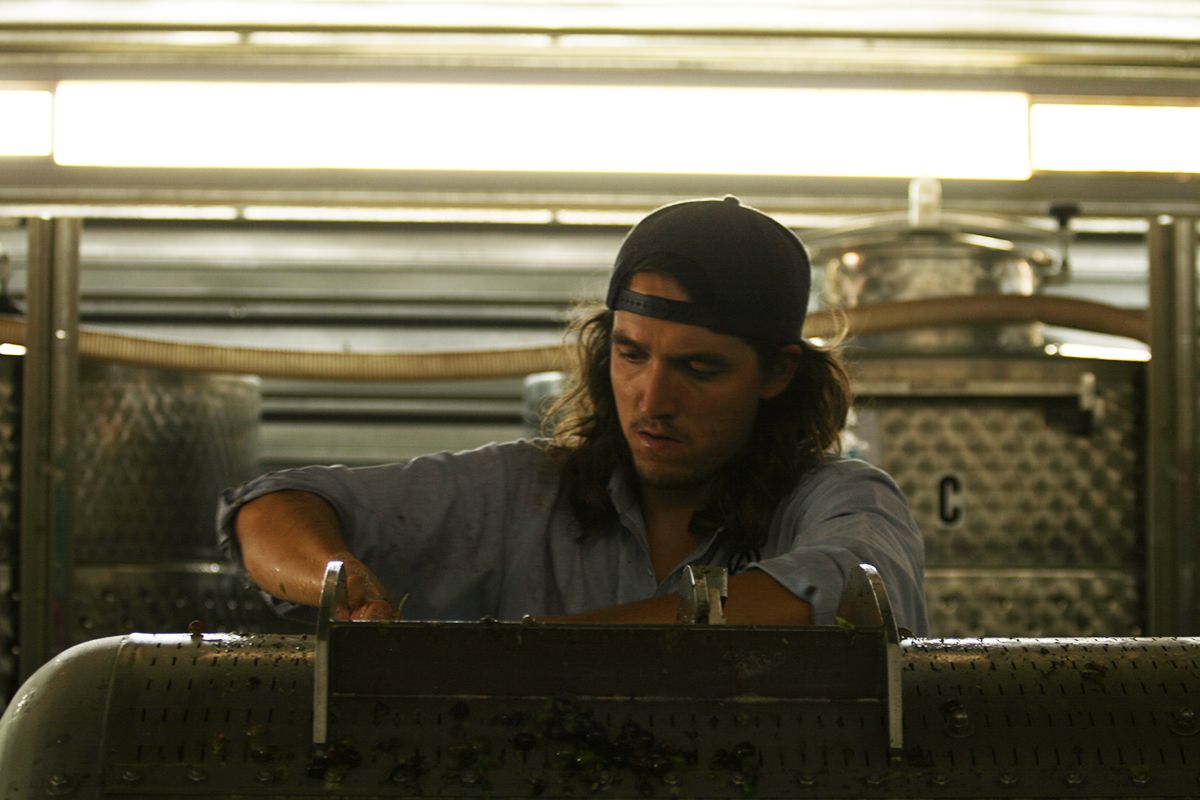 Q&A with Lucas D'Acosta
Can you describe the winemaking scene in Baja?
I grew up here when there was nothing - no phone signal or tv. Wine has been made here for around two hundred years but from a tiny number of wineries. But in the past twenty years it has grown exponentially and we are now more than 300 wineries. It's going in two directions. There is a big problem with touristic wine making - they are making wine just to sell to the tourists. And there is another movement to express the personality and terroir of this place.

Can you describe this wine?
Fresh, fruity, and juicy with a balanced acidity.
How did you decide on the name?
This wine is a collaboration with a good friend of the family called Jair Tellez. The name is a twist on some north Mexican slang.
Which grape varieties did you use?
Dolcetto, Misión, Rosa del Peru. The vineyard is around 300 metres above sea level.
How was the wine made?
We used steel tanks that rotate and beer tanks that hold a lot of pressure. It's semi desert here - really dry - so we always have big problems with water and heat. The acidity of the grapes is often not the best. We need to be really careful - especially with natural wines - as acidity is a good protector of the wine. So we use the 'Super Ocho' technique, which is a different type of harvesting. It is is a way of controlling the fermentation so you don't have oxidation in the process.
How does the Super Ocho work?
So if you are going to make a fermentation of, say, three tonnes you harvest three hundred kilos first. The grapes are really green with big acidity but not the best flavour. With the heat here the grapes change significantly in three or four days. So you harvest another 300 kilograms with less acidity and you put them on top then you go again and again and again. The last part may not have acidity but it will have structure and alcohol which will contrast with the first pickings. The whole process takes around two weeks
We have two types of tanks - a normal beer tank that you can pressurise, but we let regularly out the CO2. The others are what we call 'roto fermentadores' - this is a really thick cylinder that twists, so the effect is like a 'batonnage'.
Did you add any sulfites?
7.5 ppm before bottling.
What is the soil like?
Decomposed granite and more sandy soils. We have really sandy places because of the canyons. This place used to be under the water so it is really salty. Wines from North Mexico are really salty - it gives a personality to our wines that most of the other regions of the world don't have.
How do you farm?
We are uncertified organic and always work with varieties that adapt well to this terroir. It's always much easier to work with a happy plant.
How would you describe the vintage?
It was a hot year and the acidity dropped fast. We needed to harvest the Misión a bit early to have a better acidity.
Isabelle's thoughts on Arre Nino Ensenada Rosé - The Mexican natural wine scene is budding, with more and more growers embracing natural vinification and finally showcasing what this old winemaking country, with its plethora of ancient vines and great terroirs, really has to offer. Plantings started in Baja California in the late 1600s, a whole century before current day California (then known as Alta California). This is an upfront, fruit-driven rosé with notes of soft fruit like nectarines and peaches, a creamy texture and a great salinity that frames the wine, and reminds us of the proximity of the Pacific Ocean.
---

Cota Vina is located in the Karst region of Croatia in the village of Gorjansko about 5 km from the sea. It is ten hectares of land, first purchased by Petar Cotar's great grandfather. Around 4.5 hectares are under vine, with the rest dedicated to fruits, olives, nuts, vegetables and other crops. The family has been making wine for four generations but only began to label and sell wine a few years ago.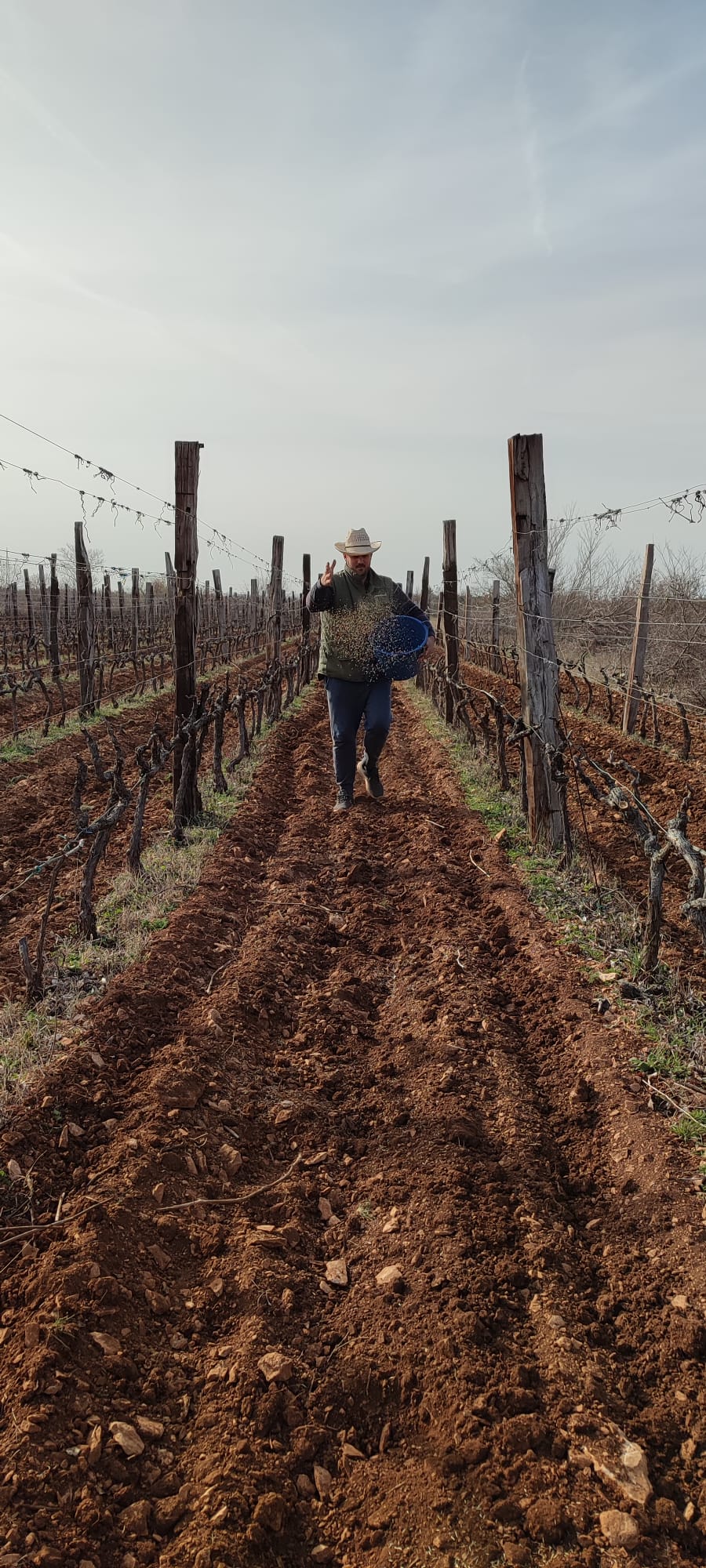 Q&A with Petar Cota
How would you describe the wine?
Fruity, fresh, youthful acidity, aromatic.
How did you decide on the name?
My nickname is Pero. Ever since I was young I have always liked to eat and I enjoy food too much. So this wine is named in the spirit of hedonism. I started winemaking in 2016 with my brother. We have six varieties of grapes and back then we made 500 bottles of each to see what every variety was capable of. We are still learning - maybe in 50 years I could say for sure.
Which grapes do you use?
It is 50% Plavin and 50% Lasina. Plavin is similar to Plavac Mali, which is a very famous grape in this area. It has great sugar and acidity and loves skelet soil with lots of stones. Lasina is a very special variety and it has no genetic parentage - it is unique and indigenous and you can't find it elsewhere. It has been here since the Roman times.  
How was the wine made?
Pero J'Dero is the first wine I ever made. I had help from Kreso Petrekovic, an associate of our cellar, who has many years of experience in natural wines. We made it together over the phone. I was calling him from the cellar - tasting and smelling. We made it over three or four months. I didn't want to learn winemaking from university or from books. I wanted to visit other wineries to see what they are up to.
How did you make the wine?
At the start of September we spend a lot of time in the vineyards. The climate changes dramatically from day to day. The temperature jumps around a lot - especially here as we are surrounded by mountains and we are 22 kilometres from the sea.
We pick a bucket from every row - from the start, middle and end. So it is equal in acidity and sugar levels. We press this 10% of the grapes in whole bunches to make  "starters" with indigenous yeasts. We do this a few days before the main harvest.
Then we put all the grapes for the starter together and our wives tread them with their feet - 200-300 kilos. After two or three days the first fermentation begins. When it starts we then go to the vineyards the following day, starting at 4am in the morning. We crush the new grapes and mix them with the starters.
Do you use any sulfites?
We use it only before bottling, 3 mg/l
What is the soil like?
Limestone, skelet, terra rossa.
How do you farm?
Organically with aspects of permaculture.
How would you describe the vintage?
A dry year - high in sugar.
Any recommended food pairings?
A greasy double cheeseburger or pizza with all the extras.
Isabelle's thoughts on Pero J'Dero - I was really impressed by this wine. The Croatian wine scene has long been dominated by fairly extracted, oaky wines but there is now an exciting movement of young growers harnessing the amazing potential of some of these old vines, whilst using respectful winemaking methods. This blend of Plavin and Lasina is meant to be a juicy, easy drinking drop (and it is) but there is also a lot of wine in here - and by this I mean that it is actually surprisingly layered. It's a serious wine where the juiciness is quickly followed by great intensity and a complexity of flavors, including purple plums, fragrant black mulberries and sweet allspice.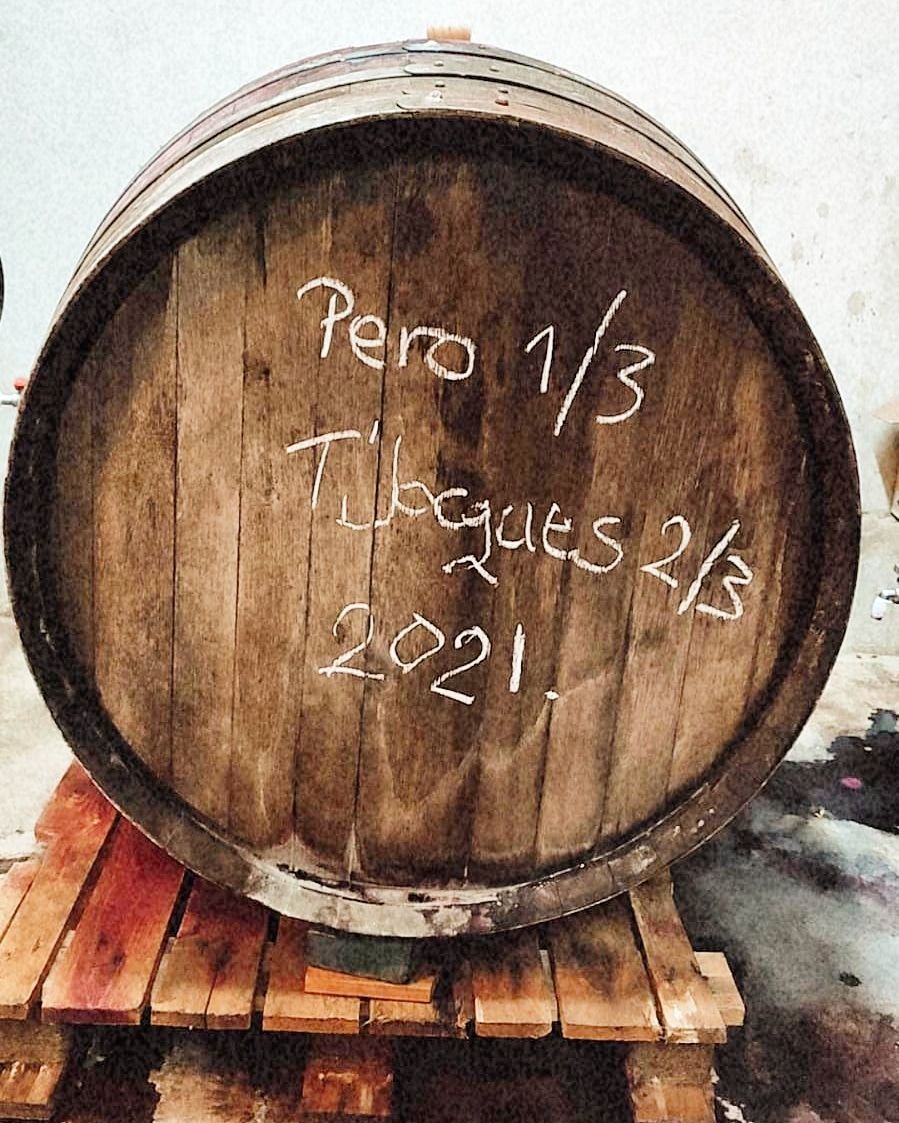 ---
Maison Perraud, Morgon Grand Cras, Beaujolais, France, 2019

Maison Perraud is an 8.5 hectare estate in Vauxrenard, Beaujolais. Founded in 1987, Isabelle and Bruno Perraud now farm biodynamically following an incident related to the use of insecticides.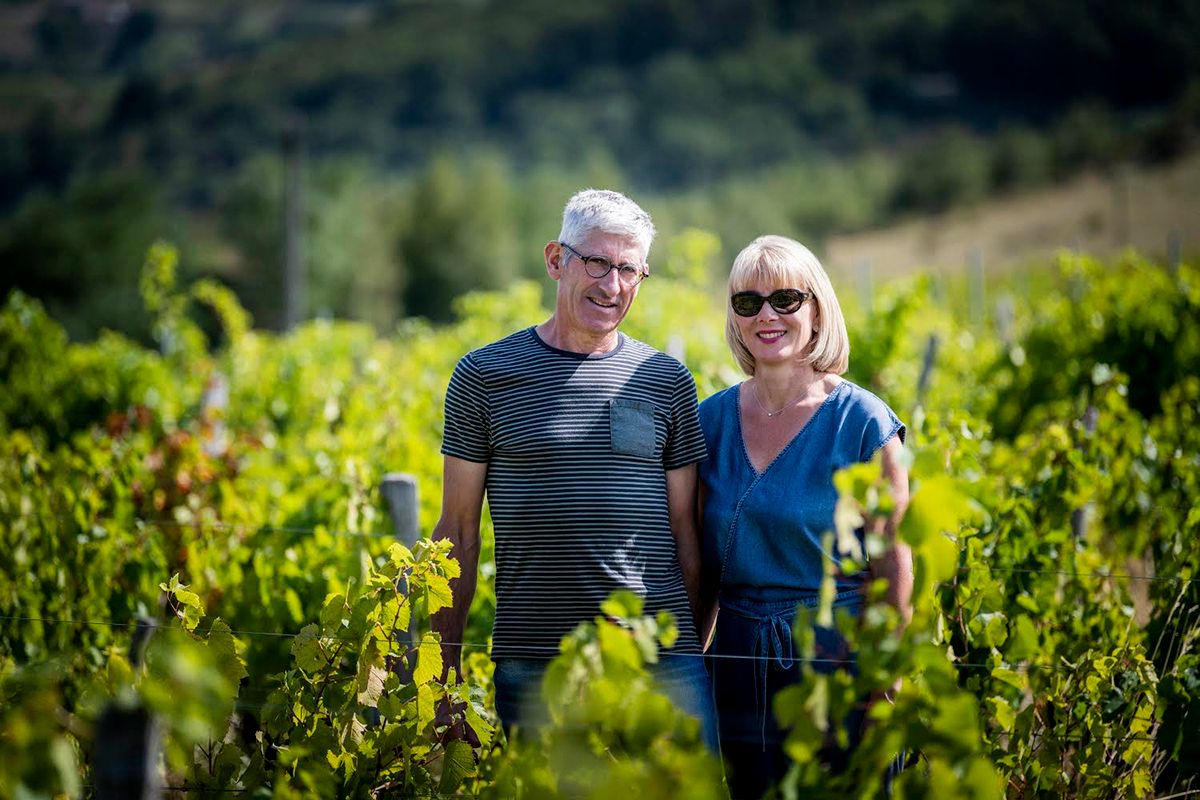 Q&A with Isabelle Perraud
How would you describe the wine?
It's a very natural wine - a little bit sparkling. A lot of carbonic gas. It's particular for this wine at this time. We have aromas of dark fruits. It's a wine you can keep a long time and I think it will improve in one year.
What is your style of farming?
We work in an organic and biodynamic way and we do permaculture. So it's important for us to have many flowers, many plants in our vineyard for the biodiversity. We don't like to plough because it is not good for the soil. The soil needs to have grass and flowers and we don't like bare soil. We work a lot by hand We have eight hectares but we have 17 parcels - it is like 17 gardens.
Talk us through the process in the cellar.
It's a semi-carbonic maceration over 15 days. We use steel tanks. We put whole bunch in the tank and the fermentation begins naturally. We work with our senses and instincts. We don't cover or add yeast. We don't have a recipe. It's just grapes. Every year is different.
Do you add any sulfites?
No.
You converted to organics after Bruno fell ill. What happened?
He was giving a chemical treatment to the vines one afternoon and in the evening he did not feel very good. He fainted. We decided to stop using all chemical products because I was very afraid. It was horrible to see Bruno like that so we decided to stop using all chemicals.
What was the vintage like?
It was a dry and hot vintage.
Any recommended food pairings?
Gamay is delicious for every food!
How long could you keep this wine?
10 years.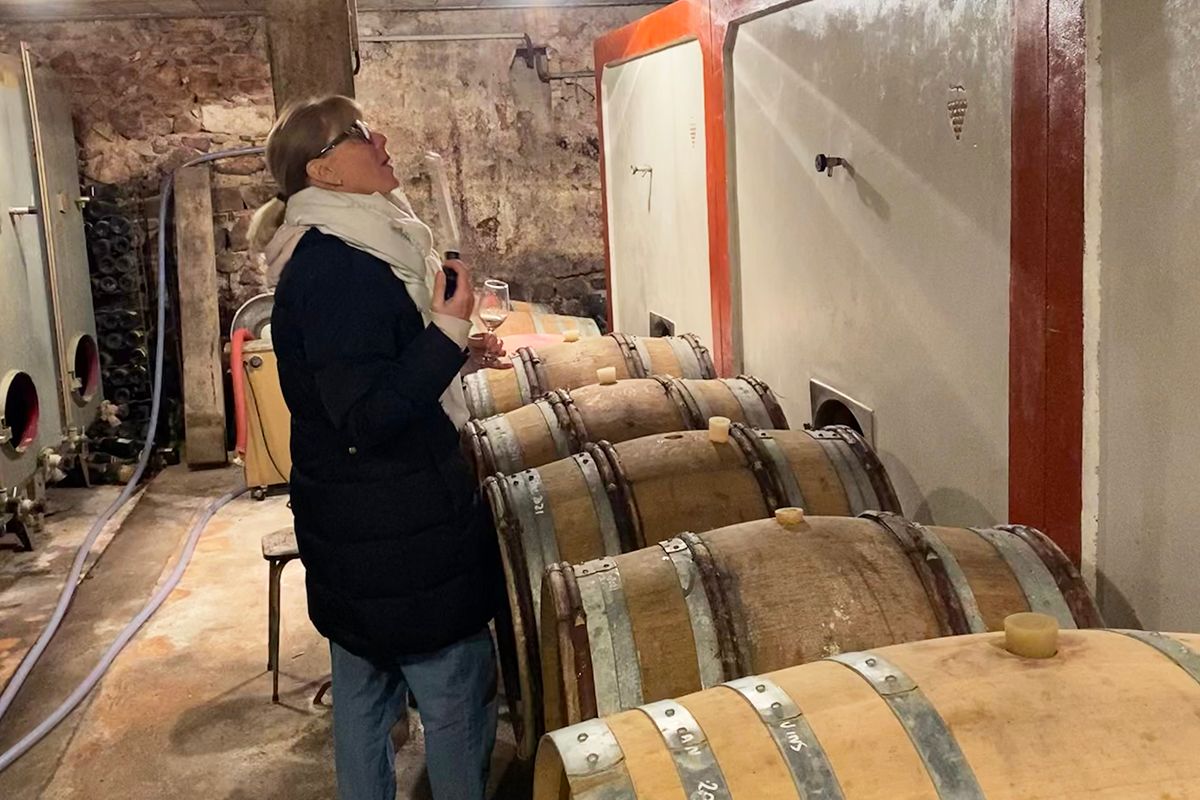 Isabelle's thoughts on Morgon Grand Cras - Isabelle and Bruno Perraud use permaculture to farm their vineyards, and don't plow as they believe the topsoil should always be covered to prevent soil erosion and to protect the ambient biodiversity. This wine is a great example of a serious old-vine gamay from Morgon, one of the most austere and long-lived of the Beaujolais crus. Gamay from great terroir is surprisingly long-lived - I have personally tasted delicious natural Gamays from the 1920s! Mineral and ethereal, this Gamay has a vibrant acidity and a tightly-grained texture, with concentrated black cherry fruit and a gorgeous violet perfume. A wine with a lot of exciting years (if not decades!) ahead.
---