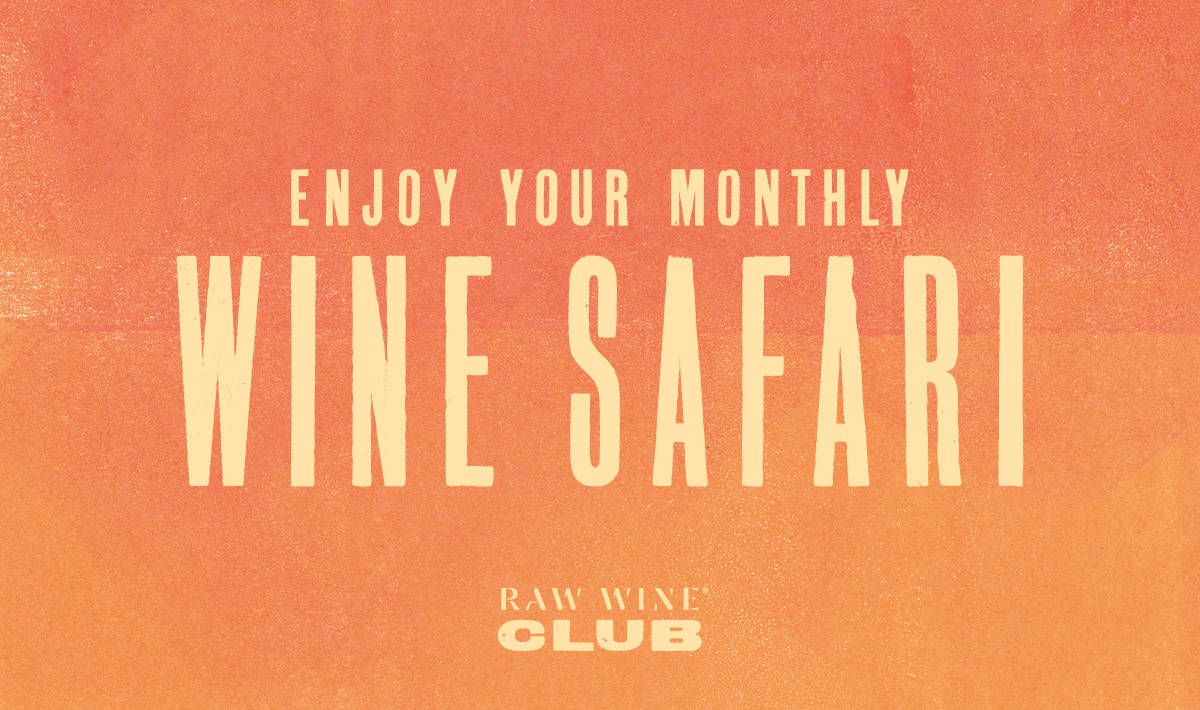 RAW WINE Club - Tasting Notes - June 2022 Selection
17 min read
Hello and welcome back!
This month's selection is a little bit unusual as four of the wines are from California!
I spent a long time exploring California back in 2014, while researching for the first edition of Natural Wine, and my word have things changed. Whereas back then only a handful of producers doing interesting things, today the state is awash with incredibly talented growers & makers. In fact, I tasted so many outstanding wines during our fairs in New York and Los Angeles that it was hard to pick just four bottles to include in the selection. The final selection is a good snapshot of the elegance, attention to detail and commitment to quality that we are seeing from domestic producers.
The final two bottles in the six-pack are also from sunny climes - South Australia and the Roussillon. They're both juicy, vibrant and a great way to celebrate the arrival of summer!
Here's to wishing you all another great tasting adventure (if you have any questions whatsoever please do get in touch).
Isabelle Legeron MW, Founder of RAW WINE‌
---

Terah Wine Co. creates wines using grapes sourced from a variety of organic and biodynamic growers across California. Terah Bajjalieh has been making wines for a decade but started her own brand in 2020 with a micro cellar in her garage. Terah currently makes wine for a family in the Santa Clara Valley and uses their winery to make Terah Wine Co. wines.
‌Q&A with Terah Bajjalieh
How would you describe the wine?
Aromas of melon, tart strawberries. There's a delicate floral backdrop that comes and goes. Fine and full bubbles with richness on the pallet. Residual sugar on the finish yet clean and vibrant.
Which grapes have you used for your pet nat?
Pinot Noir and Chardonnay.
How did you source the grapes?
It's a short relationship. I met the grower last year - he is a neighbour. It's a small area so people borrow equipment, I sold him barrels. The vineyard is pretty famous as he has ancient vines on the property.
What was the process and what vessels did you use?
Making a sparkling pet nat is a new technique for me. Sparkling wine is not my speciality. So when I had the opportunity to get fruit from this particular vineyard I thought it would be a good way to showcase the Santa Clara valley and the very old and small vineyards that exist here. The wine was whole bunch pressed and then allowed to settle for one day then racked to stainless for primary fermentation. It was bottled aged in champagne glass.
Tell me about the vineyard?
It's from two vineyard sites that border the Santa Cruz Mountain Ava and the Santa Clara Valley Ava. It sits in a cool region of the valley surrounded by mountains and is exposed to the maritime breeze from the pacific ocean. North facing and non irrigated. This particular vineyard has sandy clay soils. I also have some Grenache from 100 year-old vines from this vineyard.
What was the vintage like?
We had a lot of heat spikes during ripening which caused sugars to spike before phenolic ripeness. Everything ripened at the same time.
Did you use any sulfites?
Yes - 15 ppm at crush and then 5 ppm at disgorging.
Any suggested food pairings?
Try it with a semi sweet dessert. It goes well with coconut, melon and prosciutto, strawberry shortcake with cream.
So what have you learned about making pet nats?
I've learned to try and  get the base wine really settled and clean before putting in bottle because the more tartrates and sediment you have in bottle when you go to disgorge it, the more gushing is likely to happen and you end up losing more wine. Keep it somewhere warm when fermenting in bottle is also important. If it's too cold the fermentation is going to stop and when you disgorge, it may not be finished. Trying to get fruit that maintains a low pH in California can also be difficult - so finding regions that can produce a fresher style is really important.
What excites you about this winemaking journey?
I think the overall excitement and support of women and people of colour. I've been making wine for ten years now and to do something of my own now just feels really good. The possibility of succeeding with this brand is what keeps me going and pushing hard - to make better better wines and source better vineyards. Also, the excitement around exploring new regions and new varieties. There are more and more growers that are getting on board with farming properly - going into more organics and regenerative farming and are more willing to try growing more obscure varieties to see what can do well in more warm climates.
What worries you about the changing climate?
Fires are a really big deal in California. The cost of labour is becoming more and more expensive. Migrant workers can sometimes make more money in other crops - so if your winery is off the beaten path and the workers can't stay very long it is very difficult to get them to come here.
Isabelle's thoughts on Pétillant Naturel - When I first tasted this bottling in March 2022, there was a fair bit of residual sugar. This is the way it goes with pet nats. When you bottle your fermenting juice, there is always a chance the yeast doesn't ferment its way through all the sugars. I re-tasted the wine at the beginning of June to see if the yeasts were back in action or not, but the residual sugar is pretty much the same, which means that this pet nat may well remain off-dry. I know sugar can have bad press these days but it is not always warranted, and this bottle is a case in point. The residual sugar present is natural grape sugar, not an additive, and for a wine with so much weight and aromatic complexity it isn't a problem whatsoever as the wine is still in balance. In fact, its touch of grape-juice-ness probably makes it that bit more moreish. The wine has a pink hue which is a great reminder that there is pinot noir in the blend. A generous creamy body and mouthfeel. The effervescence is soft and gentle. You get white flower blossom notes, peach and some pink grapefruit. It is great on its own as an aperitif and it would also work well with summer fruit tarts. Only 47 cases produced.
---
Margins Wine was founded by Megan Bell, who lives in the Santa Cruz Mountains in California. She named her business in the belief that vineyard, just like people living in the 'margins of society', can be outcasts too. She works with growers transitioning to organics and biodynamics, providing a home for their grapes. Megan is interested in working with underrepresented regions, vineyards and varietals.
Q&A with Megan Bell
How would you describe the wine?
Citrus, fresh ginger, salt. When most people see skin fermented they expect a heavy extraction,  orange in colour - but this wine is not that. It is a very delicate skin fermented wine.
Tell me more!
You cannot tell it is skin-fermented from the colour of the wine. It is just a little bit hazier that direct press. When tasting it blind, people might not even call it skin-fermented and that is definitely intentional. I wanted to make a low extraction, skin-fermented white wine because I don't know of anyone else doing that. No one else I know is leaving the wine on skins for 23 days and getting that delicate extraction. It's almost a sub-category of skin-fermented white wine. A lot of people are doing it for red wine but no one else I know is doing it for white wine and getting that delicate extraction.
Can you talk me through the process?
The soil is alluvial - loam. The vineyard sits in the flat Central Valley of California at an elevation of 7 feet! The vineyard is bordered by water: lying next to the Sacramento River on one side, and the Elk Slough on other. The wine is fermented on de-stemmed skins for 23 days in open-top stainless steel then was moved to neutral oak for five months. I added 8 ppm of SO2 in late September '21, 10 ppm in mid October '21, & 20 ppm the week before bottling. The wine tests at 27 ppm total SO2.
How was the vintage?
2021 was an incredible vintage. There were no challenges from the weather or otherwise in any of the vineyards I work with.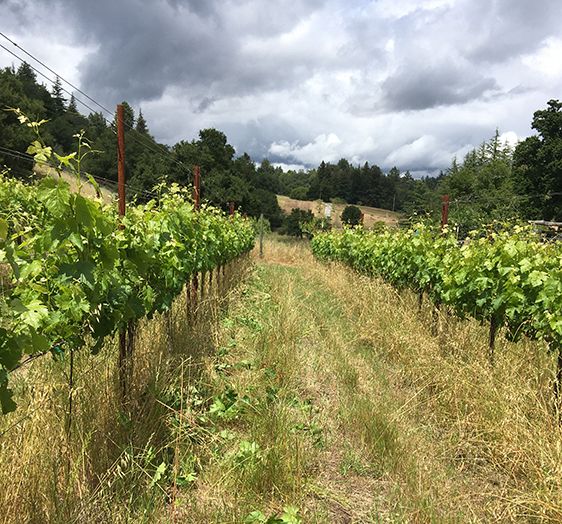 Any recommended food pairings?
Oysters, seafood, salad, chicken.
Isabelle's thoughts on Skin Fermented Chenin Blanc - I have been an admirer of Megan Bell's ever since meeting her in September 2018, when she was co-sharing a fermenting space. She now makes beautiful wines in her own cellar. Agricultural change is at the heart of what Megan does, championing underrated grape varieties and regions and helping farmers transition to organic farming. This is a pretty restrained skin-contact - the slight orange tint and slight tannic texture are the only giveaways. A spicy, elegant, fresh wine, with some aniseed, bergamot and citrus peel notes, it is highly versatile, and would be great with a seasonal risotto (broadbean, leek etc)
---
Smallfry Wines  is located in the Barossa Valley. Wayne Ahrens and Suzy Hilder bought a farm planted with some of the oldest vines in Australia. It needed some love and they now farm organically and biodynamically, exploring techniques to build resilience in the face of climate change.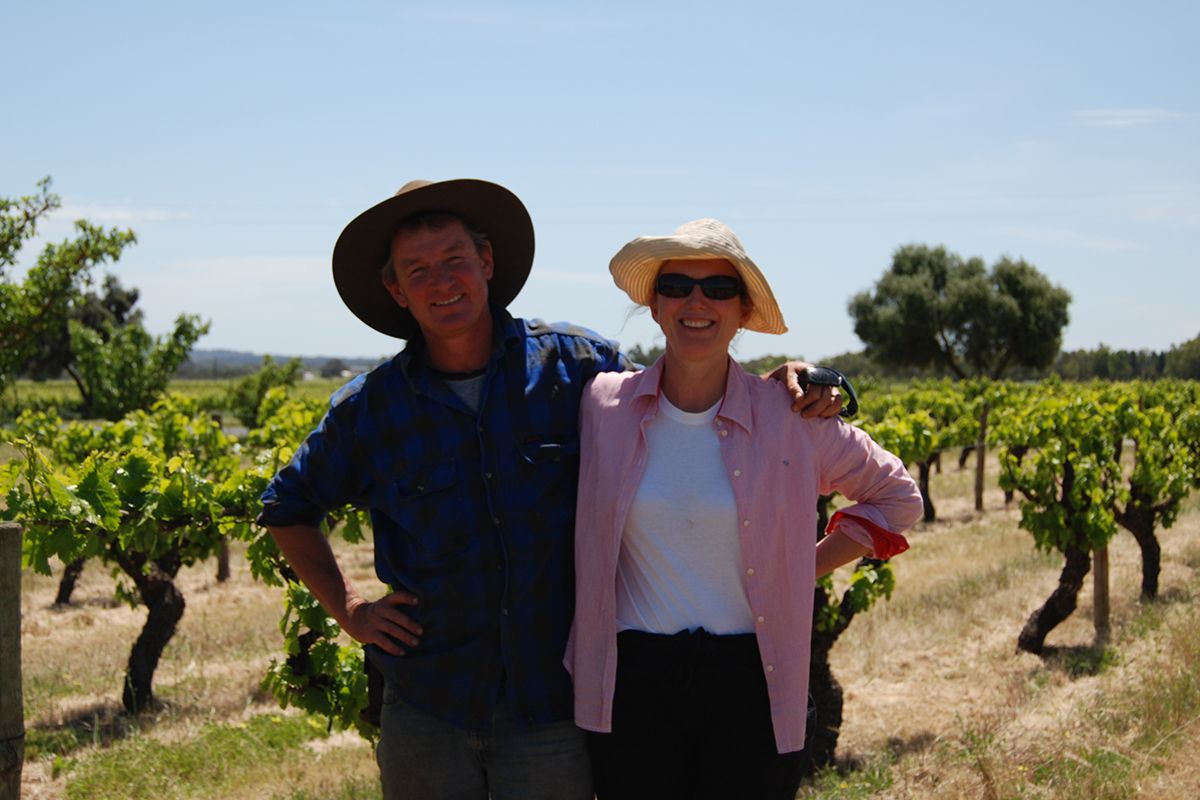 Q&A with Wayne Ahrens.
This wine has quite a reputation. Can you tell me more about it?
Tangerine Dream has become our signature wine, entirely of its own accord. The vast majority of the wine comes from vines that are more than a hundred years' old. It has been a huge success for us. It has changed everything. This wine repurposes ancient, tremendously old vines that had no place to go - unpopular and unsaleable - but we just couldn't bring ourselves to pull them out.
Previously, we made a verjuice product that we sold at the local farmers market to keep the vines in the ground. Then I went to my first festival and went to school on the Radikons and Georgian wines and spoke to the people that made them. They said you just make them like you make a red wine.
It seemed to me that there was something there but that we needed to make an orange wine lite with less aggressive tannins. Something more approachable. We started with 1 barrel and it has grown to 20kL over 8 vintages. We now don't have enough white grapes to keep up with demand so we buy in some grapes from local growers that we trust. The wine is a blend of early, mid season and late harvest fruit, often co-fermented. It tries to tread the line between interesting and approachable. Late harvest PX (Pedro Ximenes) is key to making the wine "taste like orange".
Which grapes did you use?
Semillon 40%, Pedro Ximenes 25%, Riesling 20%, Roussane 6%, Marsanne 4%, Chardonnay, Crouchen, Muscat 5%. We generally start harvesting in February which is earlier than it used to be when I was young. That is the new normal. We pick all through the season - a good portion of Semillon early at 11% or 10.5% alcohol with a good acid line in it. And we continue to harvest all through the season up until the late harvest PX, which is where I believe the orange rind and orange pith flavours come from. April Fool's Day was the last day of harvest this year. Some parcels are co-fermented; some on their own. We have an early, mid and late portion and blend later on. The early material - about a third - goes into oak barrels. The rest in Inox (stainless steel).
Tell me about the history of these old vines.
They are a piece of history. It's like having a time machine. The vines were planted by the Seppelt family and was in the Schlieb's family for three generations and he was 75 when we bought the farm. They are the original planting vines. The farm here is 45 acres and 40% of that area is what I term original planting vines - maybe 1850s or 1860s.
How was the wine made?
We harvest, crush, de-stem and into the fermenter. It's a simple ferment on the skins until it is dry. It is oxidative handling in the cellar in the early stage of ferment. So lot's of air - as the yeast need oxygen in the latter stage of the ferment. Manually depressing the cap or a bit of pump over. I am a big believer that oxygen is fundamental to ferment health. Then three weeks of skin contact and no filtering. The malolactic fermentation often finishes on skins. Then we drain and press.
I added SO2 after malolactic fermentation had ceased prior to bottling. Total sulphites are 66mg/L. This wine is a blend of parcels, 30% was aged in seasoned oak for 3 months, the rest was aged in inox, the wine was bottled 3 months after vintage.
How did you choose the name?
I didn't want to offend the good people of Orange, a wine region here. I just wrote 'Dream' in chalk at the end of the first barrel I made. In those days, our wines didn't have names. I always thought it was a bit wanky. But the name stuck. It turns out it is also the stage name of a famously well-endowed Quebecois porn star in the 1970s; it's a German prog rock band; and a strain of marijuana!
How do you farm?
We are certified organic and biodynamic.
What is the soil type?
Sand over clay.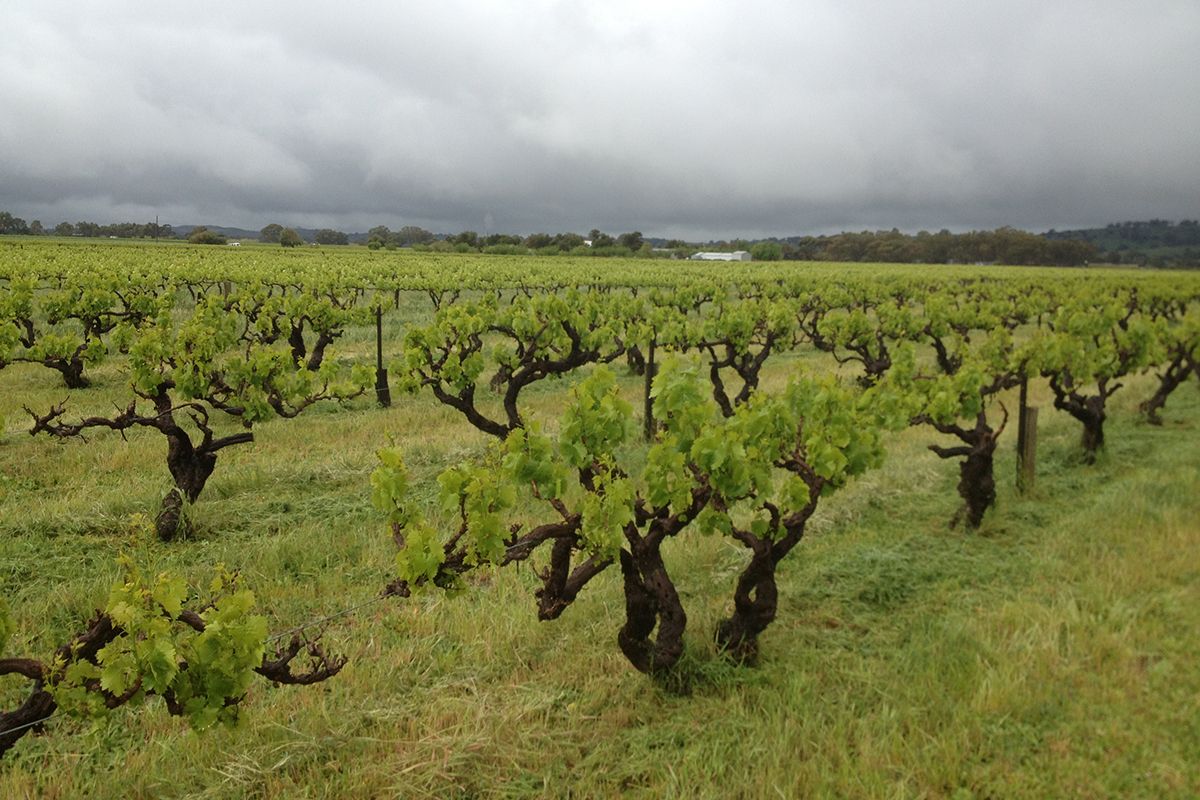 Isabelle's thoughts on Tangerine Dream - Wayne is a very energetic, enthusiastic producer from South Australia, and this wine reminds me a lot of his energy and ingenuity. A sort of bon vivant, fruit salad wine, it is blend of 8 grape varieties, and is bright gold in color. It shows a great mix of explosive, vibrant fruits and savoury earthiness. Think passion fruit, green melon and fenugreek. Some bitter tannins add a touch of phenolic richness and texture. This wine develops nicely in the glass. A great wine to take on a picnic as it is incredibly versatile.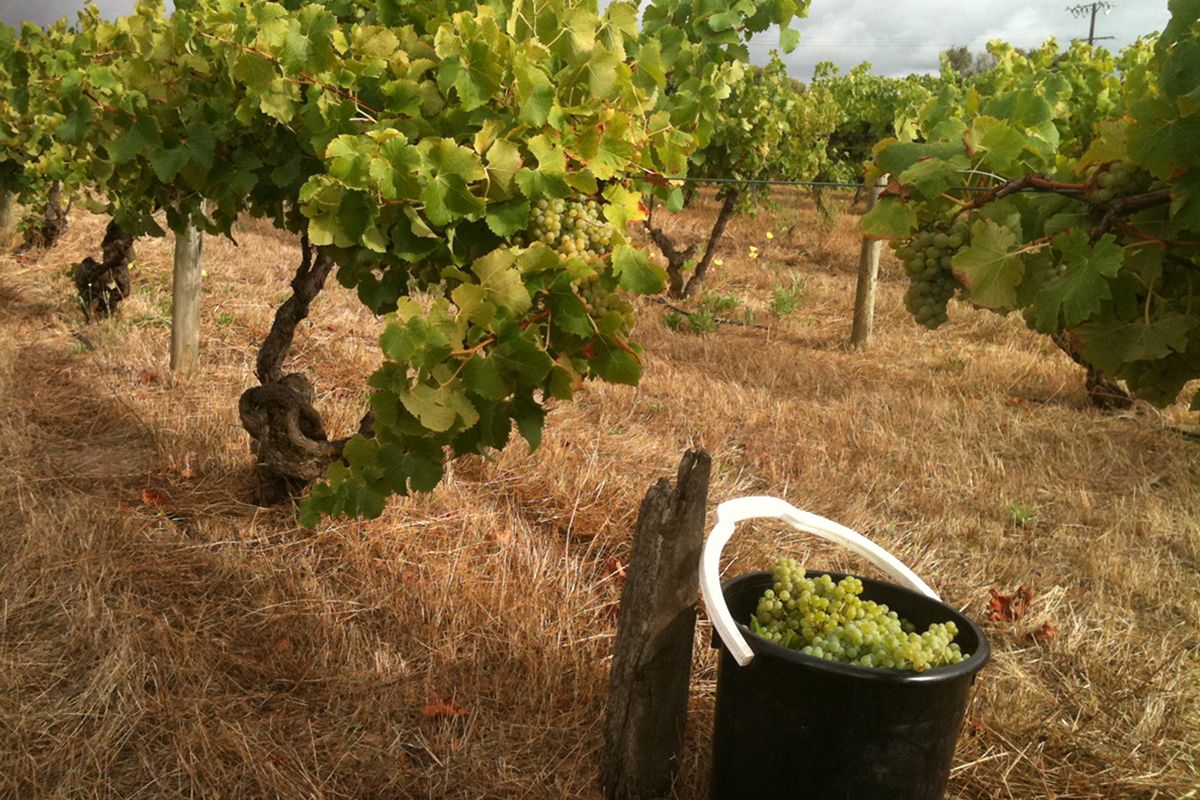 ---

Q&A with Edouard Laffitte

Can you describe this wine?
I don't like to talk about my wines on the aspect of feeling, defining them or judging them. I try to make them well, without artifice.  L'Echappée Belle 2020 is a 100% syrah wine made from a direct press and without de-stemming. Malolactic occurs nearly immediately. Fermentation lasts approximately 15/30 days. The result is a wine whose color is rather sustained, turbid.
How did you decide on the name?
I have chosen this name because the grapes are the same as the ones I use for my "Echappée Belle Red" which was my first cuvée. "Echappée Belle" has different meanings in French, including 'to have a narrow escape'. I went through different tricky situations with the vineyard but everything went well in the end.
Which grape varieties did you use?
It is 100% Syrah.
What is the soil type?
Vines are planted on a gneiss and granite soil located in Cassagne.
And the aspect?
This vineyard is located at 370m high and north oriented for more freshness. The Syrah planted there is 40 years old.
How would you describe your style of farming?
I am a farmer, I am close to nature and my leitmotif is to produce authentic wines, without artifice, which emphasize the essence of the soil. I have always been organic certified and I also follow the lunar calendar practices. I mostly describe myself as a natural winegrower/maker.
How was this vintage?
This 2020 vintage was an easy year. I was spared mildew and didn't lose grapes. It was a great harvest. I didn't use any sulphites for this vintage.
How did you make the wine?
Alcoholic fermentation for this wine was performed in a stainless steel tank and the wine aged in the same tank until bottling.
Any suggested food pairings?
It is a wine which will adapt with happiness with a kitchen of the south, with the white meats and which also marries with dishes of the type: beef bourguignon, grilled meat, veal chop...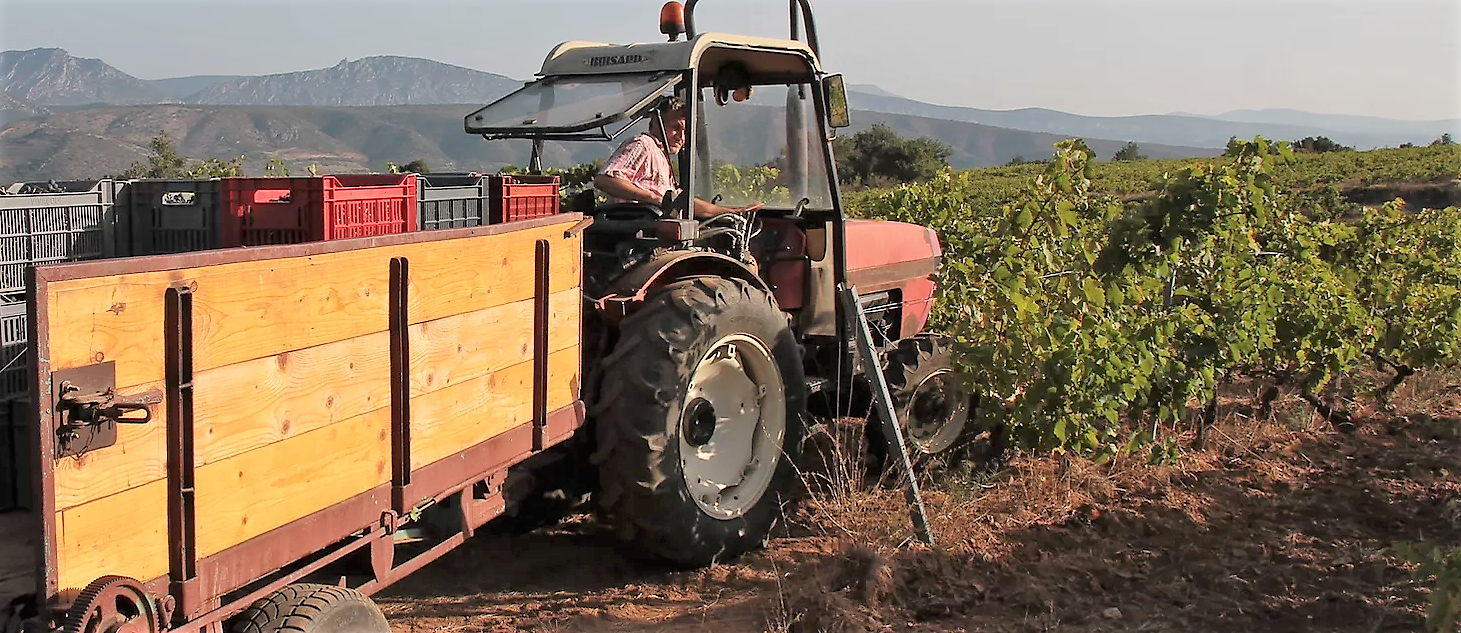 Isabelle's thoughts on L'Echappée Belle Rosé - This rosé has bags of personality. It is textured, weighty and lively. The nose shows gorgeous rose petal perfume that initially reminded me of muscat. This 100% syrah is grown on cool slopes in the Mediterranean Roussillon. There is a little bit of excess volatility, but for me it adds complexity to what is a joyous wine - it doesn't detract  from it. Pepper spice, wild strawberries and jasmin flower. This would work well with Lebanese mezze (babaganoush, falafel, tabbouleh, kibbeh).
---

Conduit is a partnership between Aaron Bryan and Amy Krahe. Aaron, an economist by trade, is the winemaker but has had no formal training. He has been working with grapes for years and went full-time in 2013.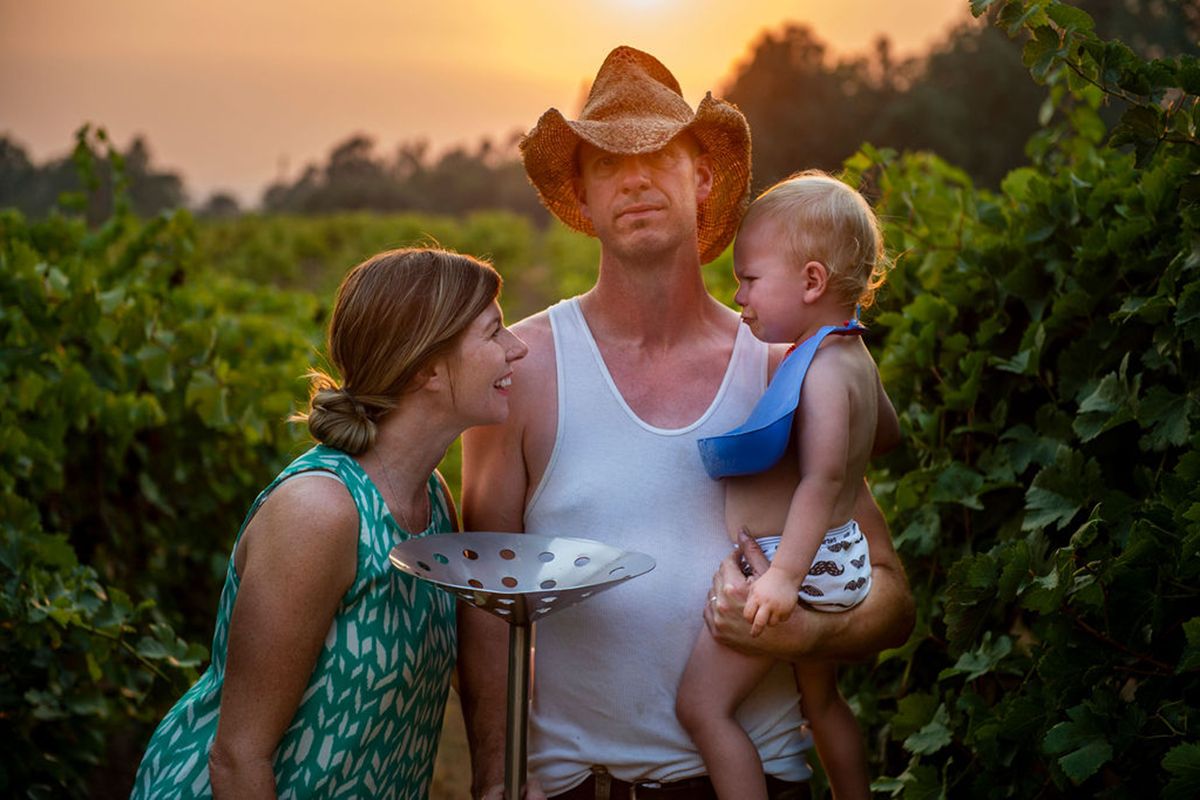 Q&A with Aaron Bryan
How would you describe the wine?
Our first vintage of Syrah from our estate property opens with fragrant aromas of violets and black olives framed by flavors of blueberry, raspberry, under ripe blackberry and soft pepper, followed with light tannin and fresh acidity.
Which grapes do you use?
70% Estate Syrah, 30% Estate Viognier. The Viognier freshens it up. My wife says it gives the wine a spritz perfume.
How would you describe the terroir?
Our estate vineyard sits on a ridgeline in the foothills of the Sierra Nevada mountains at 825 meters (~2,700 feet) elevation.  The Syrah block is located on a "shelf" with a few rolling hills, whereas our Viognier is planted on the top block of a north-facing hill, which allows for uneven ripening of the fruit, the top rows develop the phenolic ripeness, while the lower rows bring the structure and freshness.
How was the wine made?
The Syrah/Viognier was co-fermented 100% whole cluster. No pre/post maceration was used for this wine. I use whole bunches straight off the vine with the stems on. I go by weights. I will weigh out the grapes and then, as they go into the fermenters, I layer them - Syrah / Viognier - and then I jump into the bins and foot tread. It gets the juice exposed to the native yeast on the skins. I generally foot tread for about a week until the fermentation really takes off and the bunches start to break down. The Syrah fermented from between three to four weeks in the bins. Once fermentation is done I move it over the to the press and press it off into old French oak barrels. That is where they will age. The 2020 aged for 12 months before I bottled - unfined and unfiltered. We only used SO2 prior to bottling in order to protect the wine as it's moved from barrel to blending tank and finally to bottle.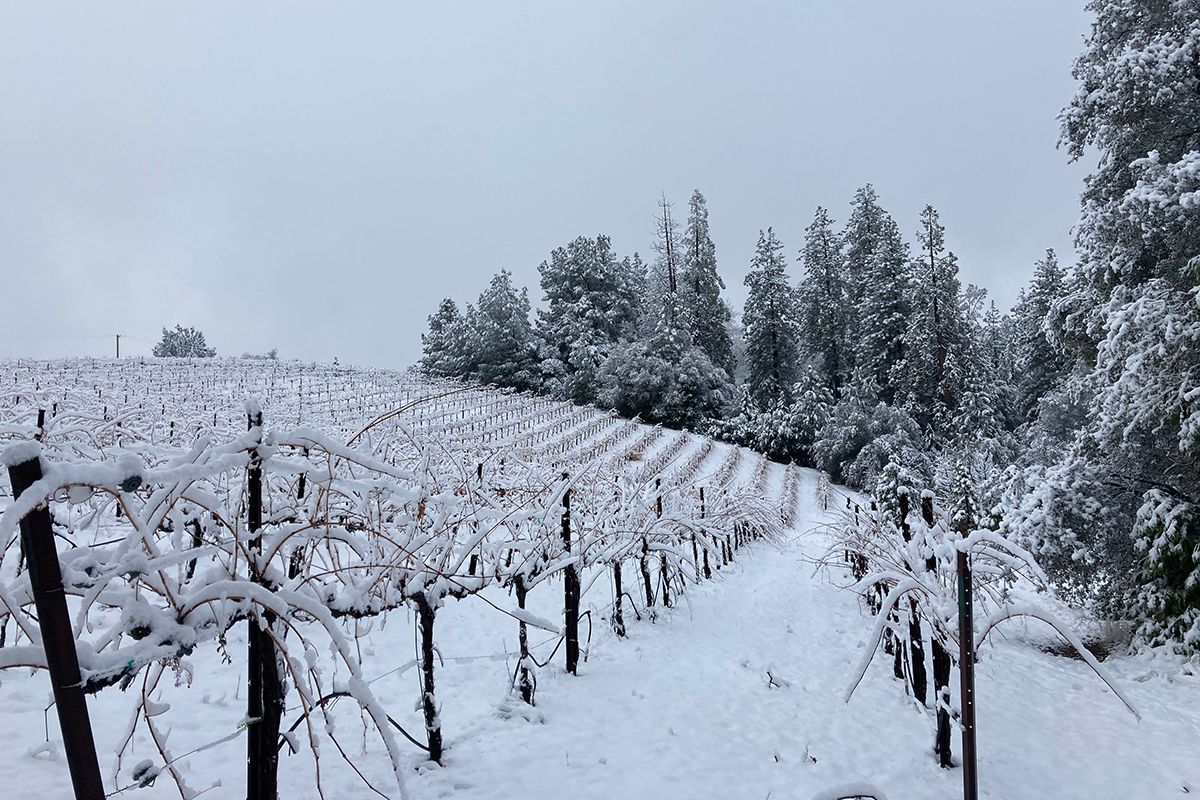 Any suggested food pairings?
Lamb, steak, and hamburgers.
How long could you keep this wine?
You can lay this wine down for 8-12 years.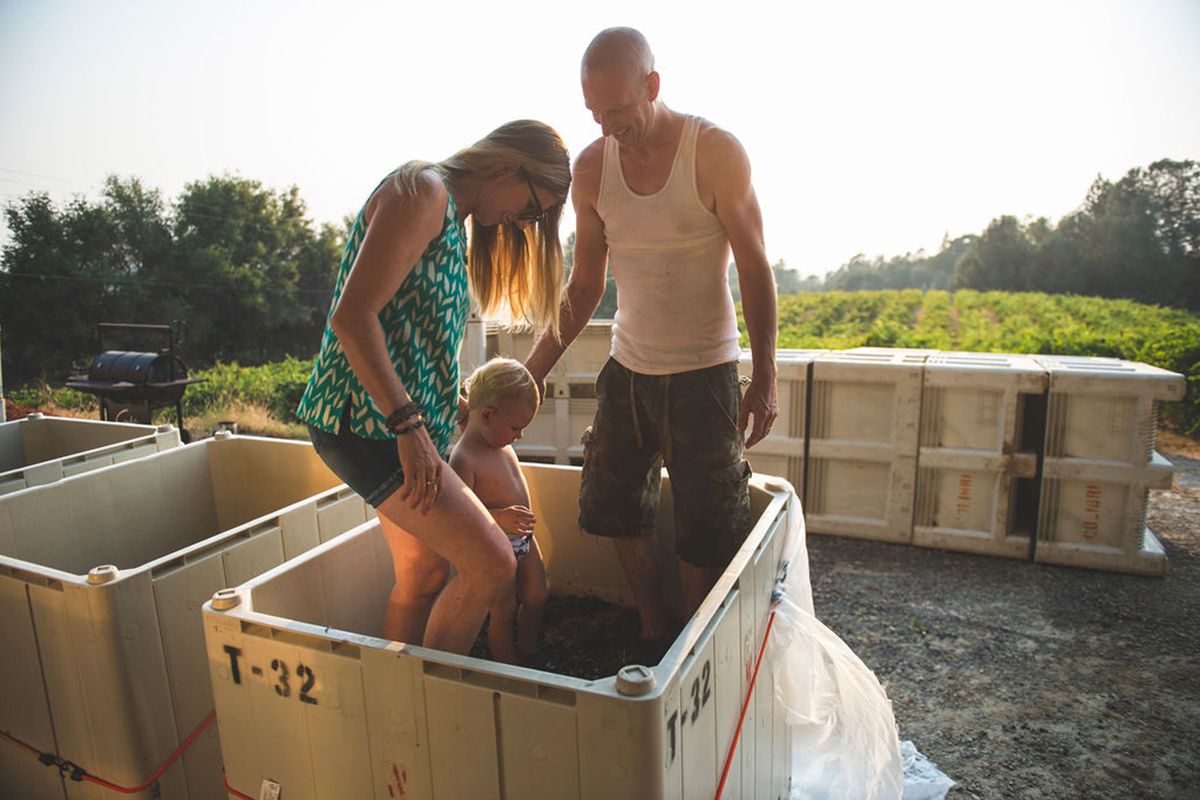 Isabelle's thoughts on 'Gold Dust Vineyard' Estate Syrah - Northern Rhône wine styles (including the likes of Côte Rôtie) were the inspiration behind this estate blend of 70% syrah and 30% viognier. Aaron and Amy recently bought this small vineyard, located at 2700 feet altitude, in the foothills of the Sierra Nevada. This cool climate site plays a big factor in the peppery, violet, almost minty aromatics you find in this wine. The viognier brings lightness and a touch of florality whilst the syrah frames the wine in a tight, grippy texture. Anyone for spaghetti puttanesca? Would be a delicious pairing.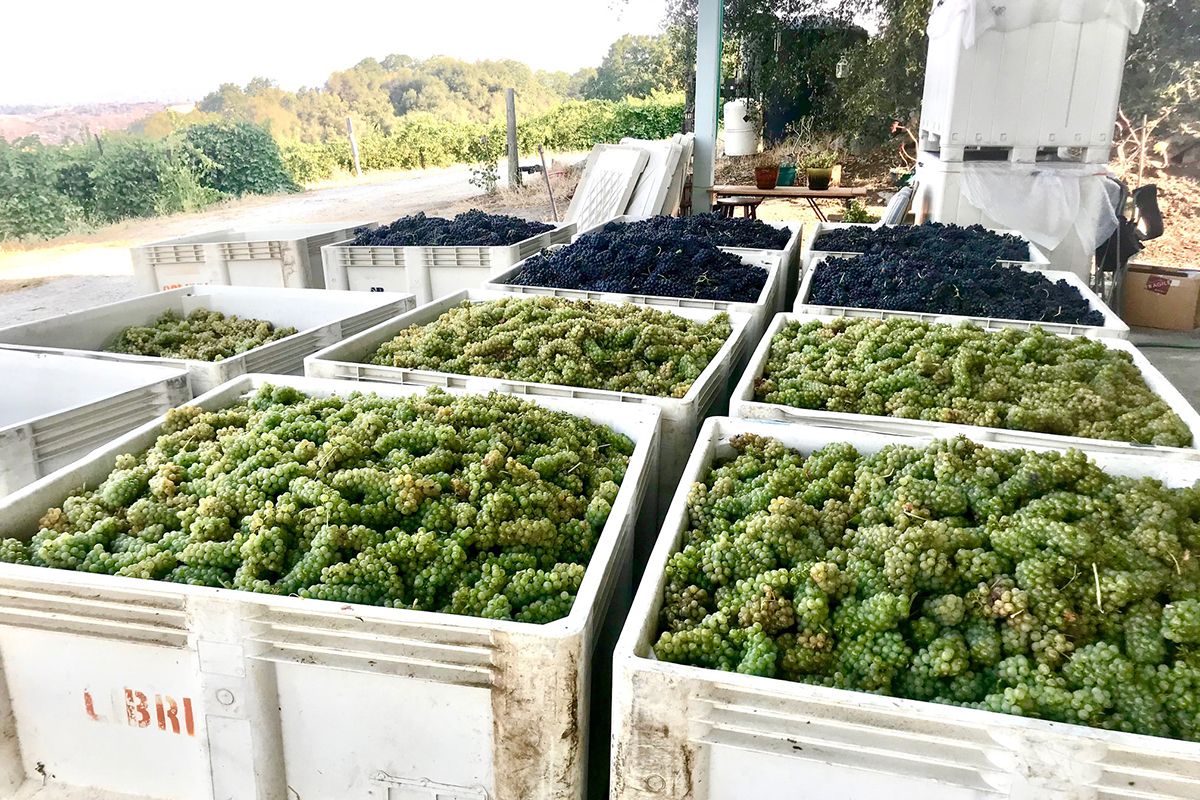 ---

Two Shepherds is led by William Allen, who states he produces uncommon wines from small lots - in an old world style. His style of working is unusual. He grows his own grapes but also buys them in. However, rather than agreeing tonnage contracts with the grower he leases rows of vines or blocks so that he can take more control of the crop.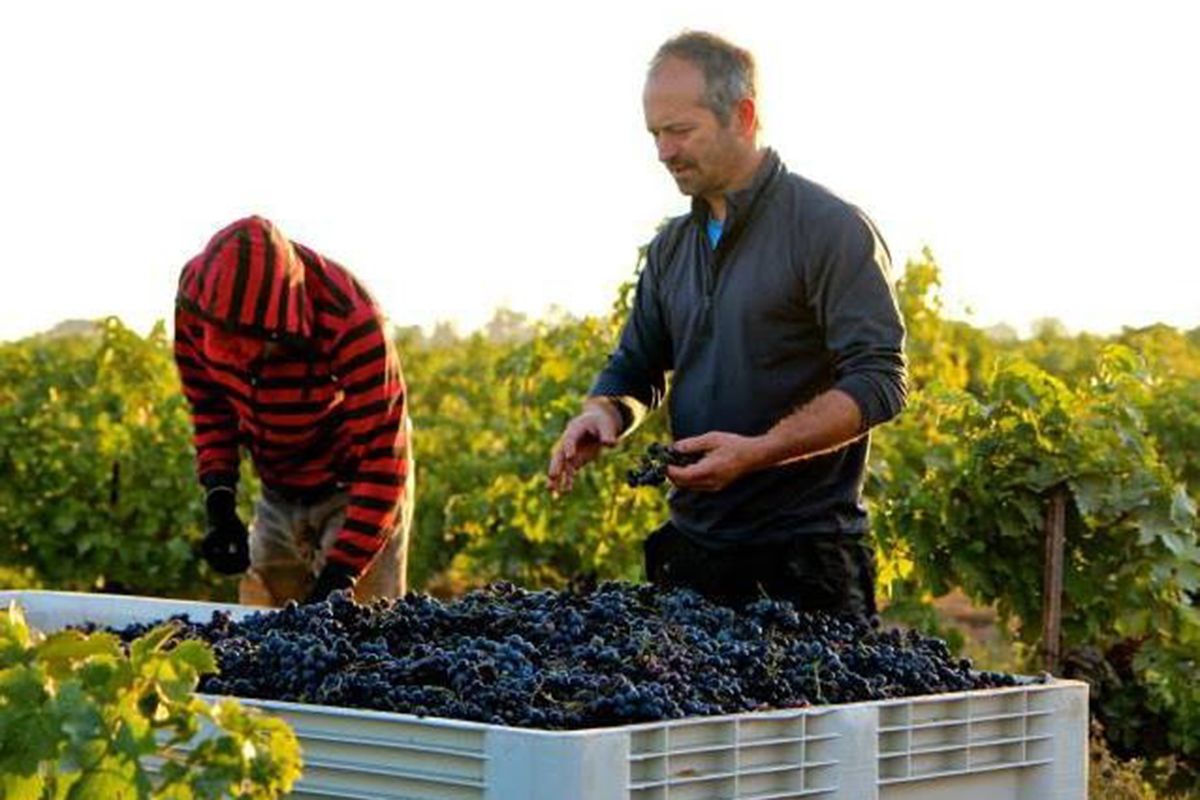 Q&A with William Allen
Tell me all about these ancient Cinsault vines.
The Bechthold vineyard is quite famous. It is a very magical place. All dry farmed and farmed organically. It is the oldest surviving Cinsault vineyard in the world. For a long time, no one realised it was Cinsault. They thought it was a barely used grape called Black Malvasia because this clone of Cinsault looks like a big fat table grape. It become very popular and almost impossible to get hold of after that. We get very little of the fruit. That part of Lodi is home to several old vine vineyards planted around canals and pure sand so it survived the phylloxera root louse.
How would you describe the wine?
Elegant and aromatic, simply ethereal. Aromatics so expressive you can hardly take your nose out of the glass, except to keep sipping. Soft structure and spice notes from 100% whole cluster. Enjoy notes of strawberry, raspberry, red currants, and ripe plums. Please serve lightly chilled in a Burgundy glass when possible.
Why did you choose the name?
Named for the varietal and the legendary vineyard - 135 years old
What is your style of farming?
Organic. I tend to pick much earlier than most California wineries. Our method of leasing rows is unusual but frankly it is much better for everybody. In an up year you take more but in a down year - which we had a lot in the last few years because of drought - everybody shares the loss. And we often multi-year contracts. It is a much fairer way all across the board. We can go in and do more strategic activities like trimming leaves or dropping fruit. It enables us to increase production as much as we can given the unpredictability of Mother Nature these days. It gives us a chance to really learn from the vineyard and variety.
What was the vintage like?
2020 was picked early amidst the catastrophic fires of August 2020.
How did you make the wine?
I used 100% whole bunch and old / neutral barrels. I used sulfites once, after malolactic fermentation. 10 ppm
Any recommended food pairings?
Its light fresh style makes it great as an aperitif wine with a slight chill. Light fare like salmon or chicken, grilled or roasted.
How long could you keep this wine?
You can lay this wine down for 8-12 years.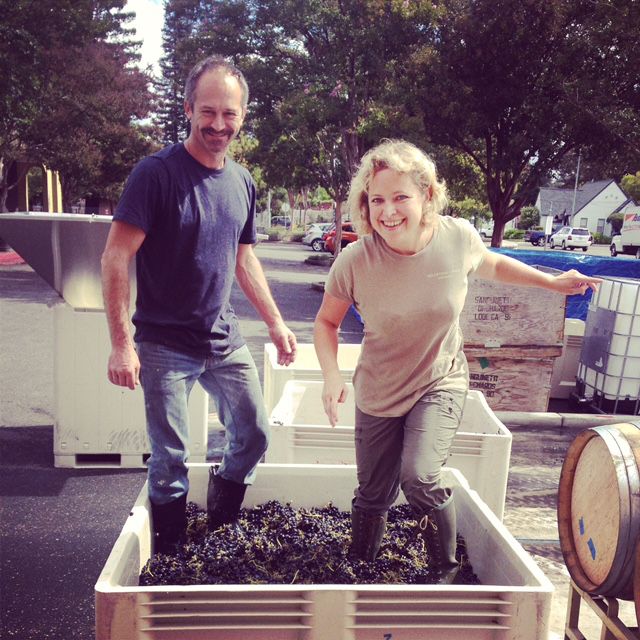 Isabelle's thoughts on Cinsault Ancient Vine - Cinsault is often (wrongly) considered a second rate grape because of historical use as a workhorse, bulk-wine grape. Instead it is capable of producing incredible wines, particularly when planted in appropriate locations, and Cinsault is perfectly adapted to the Californian climate. This particular vineyard is made up of stunning, 135 year-old vines. The result is a complex, concentrated, earthy, elegant drop, full of sweet spice, ripe mulberry fruit and silky fruit tannins. It is delicious but also still very youthful and definitely a keeper - if you have the time, patience and self-control! A wine worth revisiting in 10 years. Would work well with Fabada Asturiana style dishes.
---