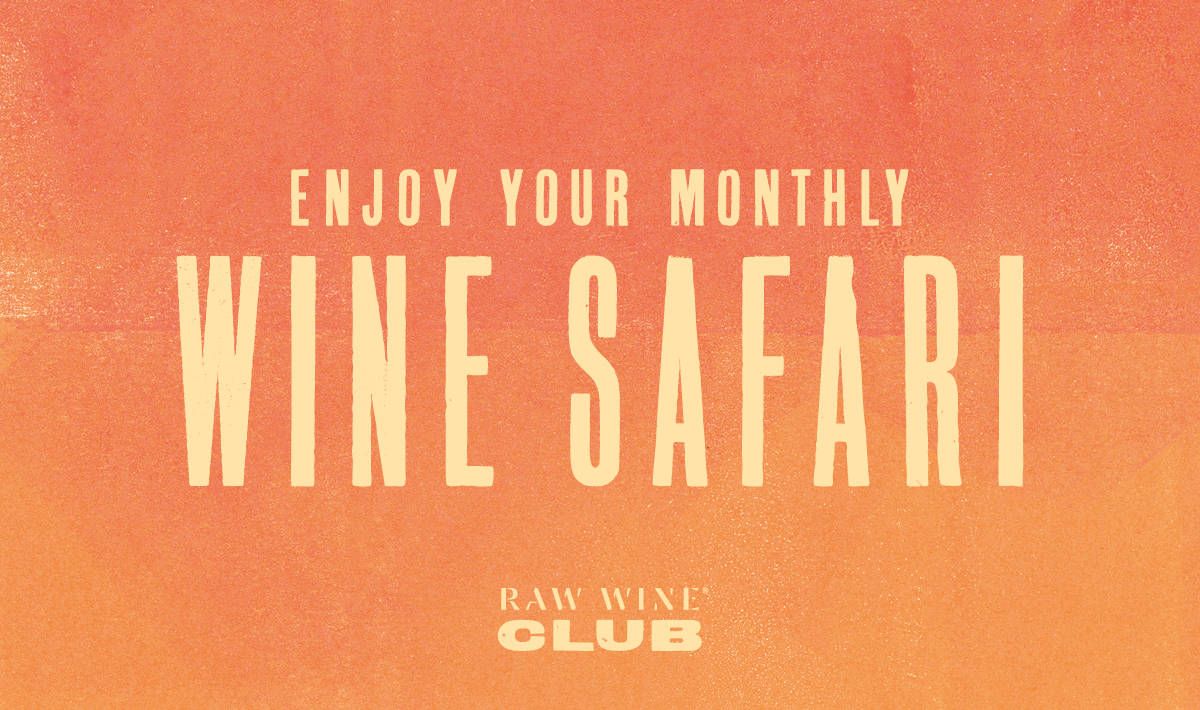 RAW WINE Club - Tasting Notes - July 2022 Selection
19 min read
Hello and welcome back!
This must be our most eclectic selection for the wine club so far, so get ready for some palate gym as each bottle is radically different to the next.
Putting the selection together was a lot of fun, particularly thanks to a comprehensive tasting of Greek wines that was wonderfully eye-opening in terms of the sheer quality of the drinks that are now gracing the export market from this ancient wine land. It was tough to restrain myself to 2 so as not to flood the box with Hellenic spirit!
The 6 wines I have chosen could not be more different one from the other. There's a pet nat from Spanish pre-phylloxera vines that are hundreds of years old, two exciting wines from Greece (a sort of saline-peach-melba white & a cocktail-like rosé), and three very different reds from the south of France - a rustic, earthy Duras; a chill-able, provençal fruit salad; and a serious, full-bodied Grenache that encapsulates the wild garrigue of the south.
Happy tasting,
Isabelle Legeron MW, Founder of RAW WINE‌
---

Microbio is a winery located in a small village called Nieva in the centre of Spain, around 900 metres high. Ismael Gozalo believes in 'pure' viticulture and looks after many ancient, pre-phylloxera vines - their youngest are around 140 years old, the oldest 274 years. 85% of the grapes are Verdejo; the remainder are Tempranillo, Merlot and Shiraz.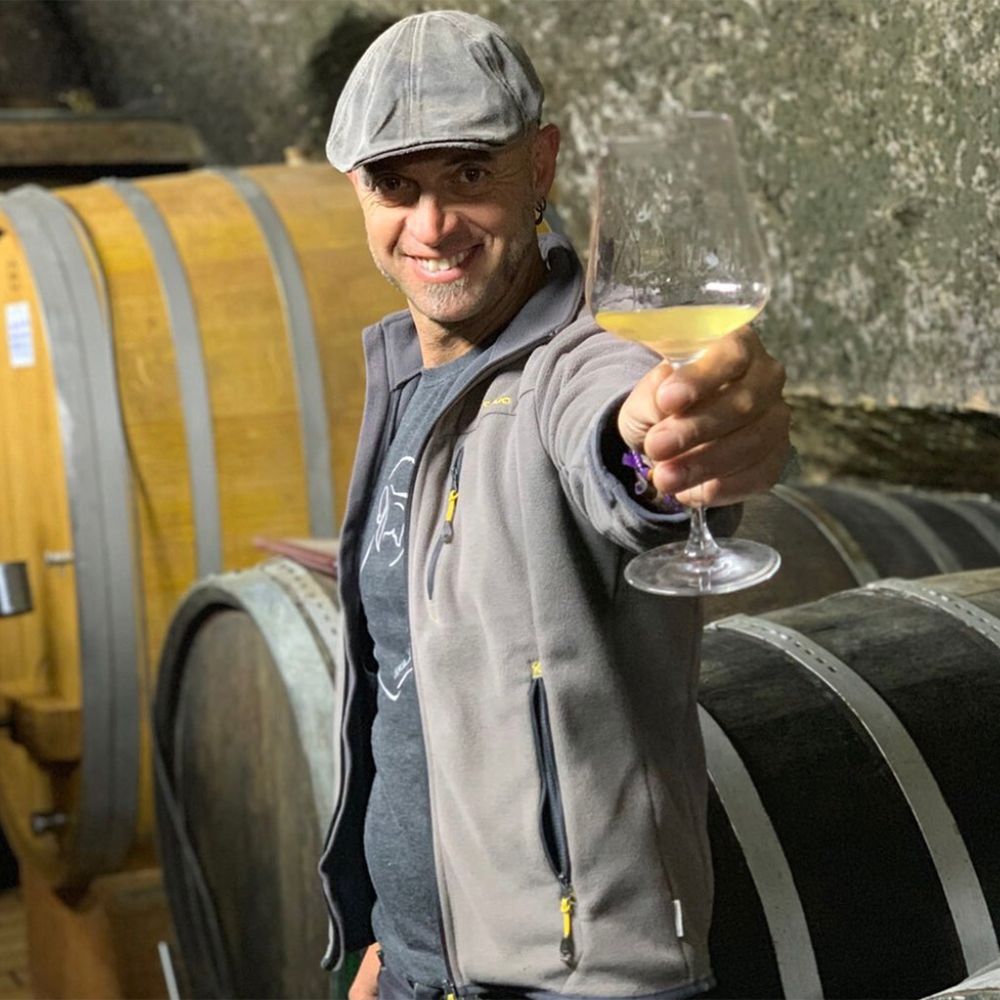 ‌Q&A with Ismael Gozalo.
Tell me about your style of farming. I know you use the word bio synergy?
Yes. We do bio synergy and biodynamics. Before you make any action with the vines you should observe and be quiet. Relax, take some time, and then do it. Never do things automatically. Each vine needs its own work.
How would you describe the wine?
Fresh, juicy, citric, refreshing, exciting. It was an amazing vintage for us.
What's the story behind the name?
The name of my village is Nieva and here we always make a joke between the name of NYC [New York City - Nueva York] and the name of Nieva!
Which grapes have you used for your pet nat?
Just Verdejo 100%.
How would you describe the soil and terroir?
It's very sandy here. All my vineyards are located in high, flat land at around 900 metres above sea level. I farm biodynamically. All of my vines are ungrafted. Phylloxera never arrived here. It cannot survive in the sandy soils.
What was the process and what vessels did you use?
I use steel tanks to start fermentation and finish the fermentation in the bottle.  In my humble opinion you have to sleep in the cellar to make a good pet nat. That's because when you analyse and taste the sugars in the evening it might be too soon to bottle. But when you come in the morning it might be too late. So you have to open some bottles in the night and and wait for that special moment to do the bottling. It might be three or four in the morning.
The yeasts are alive and every year is completely different. For us, the most important thing is always the balance. We always play with the ph and acidity and residual sugar to know which is the exact point to bottle. It's not possible for make any adjustments afterwards.
We do a 'soutirage' (where we separate the wine from its gross lees) two or three days before bottling because we want the fermentation to go slowly. We only separate the gross lees (which are in fact dead yeast cells) because if you take off all the yeasts maybe you can't finish the fermentation and you could end up with some unfermented residual sugars left in your petillant naturel. We want are pet nats to be completely dry, and they always are.
Did you use any sulfites?
No.
Any suggested food pairings?
The wine is ideal before or after a meal to clean the mouth. When you open the first bottle, you can't stop to drink the rest - it's an addictive wine!!!
Isabelle's thoughts on Nieva York Pet Nat - I was thrilled to be able to get my hands on this pet nat. I love all of Ismael's Gozalo's Verdejo wines. My path first crossed with Ismael while I was filming a series for the Travel Channel some 13 years ago. As part of the tv show, we tasted at Ossian, which Ismael had started with his business partner, and which was a project focused on this amazing grape variety, although their style of winemaking was quite different at that time. Ismael went solo in 2013, making amazing wines from very old, ungrafted Verdejo grapes. Ismael is an incredibly precise farmer and winemaker, and he takes a lot of care in the crafting of his pet nat. The result is a pitch perfect, fresh drink, with incredible purity and bursting with briny citrus fruits and crisp apple. Try this with ceviche or spicy guacamole and tomato tacos.

A quick update on this wine: we have had a few issues where the crown cap popped and most of the bottle emptied itself out, most probably due to a combination of heat and transport. Please do get in touch with us if this has happened to you.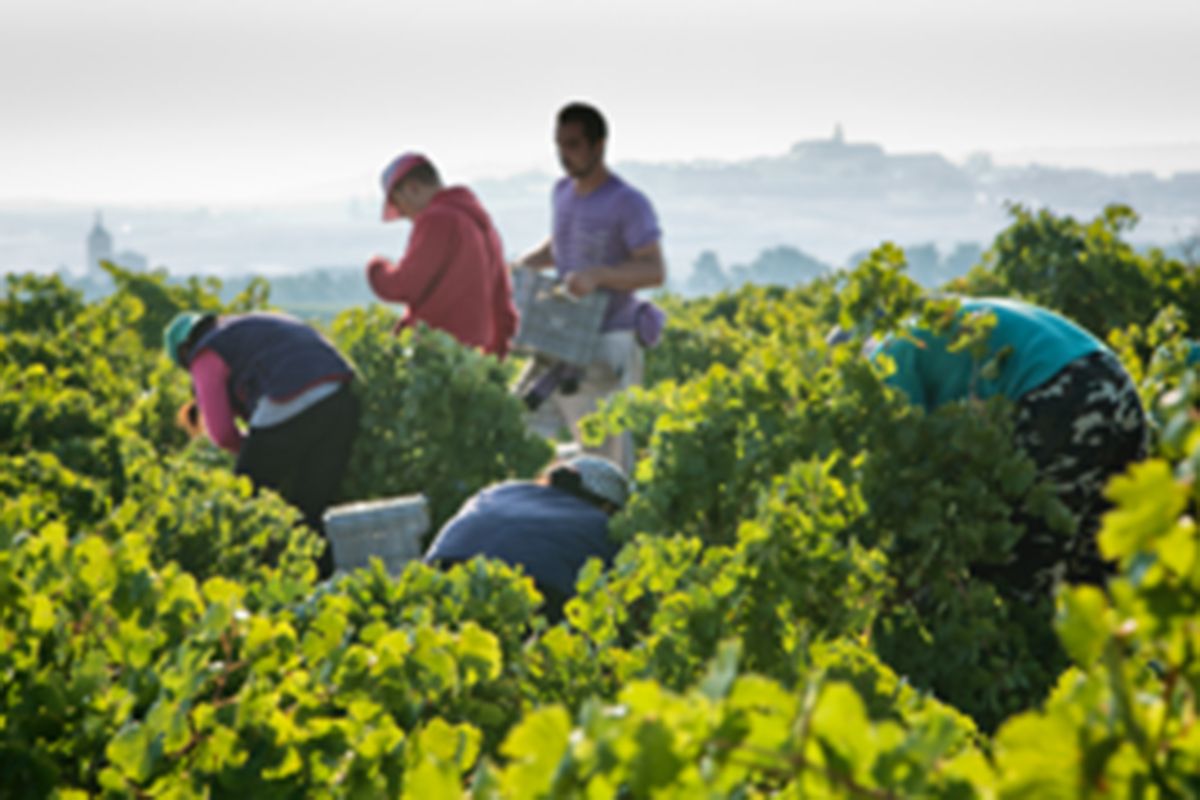 ---
Halkia is a small organic winery in Nemea, the largest winemaking region of Greece. Anna Arapolgou-Halkia, who runs the winery, makes wines with wild fermentation and lo-fi practices from Agiorgitiko, Assyrtiko, and Roditis grapes.
Q&A with Anna Arapoglou-Halkia.
You're based in Nemea - what are the wine traditions in your area?
A lot of people don't know that wine has been made in Greece for thousands of years. This is one of the largest vine growing areas in the Peloponnese. What we have here is called the Agiogitko grape. It is not a variety - it is named after the place where it is grown.
We decided to plant Assyrtiko in our vineyard 7 or 8 years ago just to try it out. Assyrtiko is better known for growing in Santorini.  Not all varieties of wine grapes will mature as much as we want to in this area. So we planted a small vineyard and it was a success. You can't say if it is a sweet or sour grape - it has the two different combinations together. It is not a big bunch. It does not have very big berries. It has a golden colour when it is fully ripe. And that gives us the colour of the amber which gave us the name.
How would you describe this wine?
Citrus fruits and delicate flowers, nicely interwoven tannins.
How long have you been making wine?
Since 2004. I came to Greece from Australia in 1985 after having lived there for most of my life. I married my husband who was from a grape growing family - but not a wine making family. They used to grow the grapes and sell them to various buyers. When my children grew up and went to university I had plenty of time. I didn't want to sell my grapes to the co-operative and decided I wanted to make wine. I started with very small quantities. In 2008 we became organic. We were one of the few people in Nemea that had organic vineyards.
Have you faced any challenges as a female winemaker?
First of all I love what I do. I like every aspect of the process. But I am also battling in a very male orientated sphere in Greece. In my area it's men that have the opportunity to get involved in the art of wine. As a woman I am not considered very strong or capable. But I have proven them wrong. I have had to battle to get to where I am. It makes me feel very powerful that I can achieve almost anything if put my mind to it.  I get such pleasure when someone enjoys my wine. It fills me with such joy.  I just love my job and do the best I can.
Can you describe the vineyard?
A good wine starts in the vineyard and you have to look after your vines. I farm with a lot of respect for my vineyard. We let the vines grow as they want to grow. We don't want to intervene. We are very natural in what we do. There is a combination of pine forest and olive trees here. I just love living in nature and we try and preserve nature. The vineyard is oriented North-South and the altitude is 280 metres. It is a clay soil.
Can you talk me through the process?
The grapes are picked very early in the morning because we want them to be as cool as possible. We harvest in the middle of September where the temperatures are 40C+. The grapes are handpicked, brought to the winery then placed in the destemmer and then straight into a vat. We leave the must and berries for four or five days of skin contact, checking every day as we don't want the skin contact to make a hard or coarse wine. We have to be very careful to not let the tannins go wild.  After five days we extract the skins and leave for another 12-15 days. And then it is left on its lees until the time of bottling which is very early in January. It is unfiltered.We use stainless steel, temperature controlled vats.
How was the vintage?
2021 was an incredible vintage. There were no challenges from the weather or otherwise in any of the vineyards I work with.
Do you add any sulfites?
30 mg/l at bottling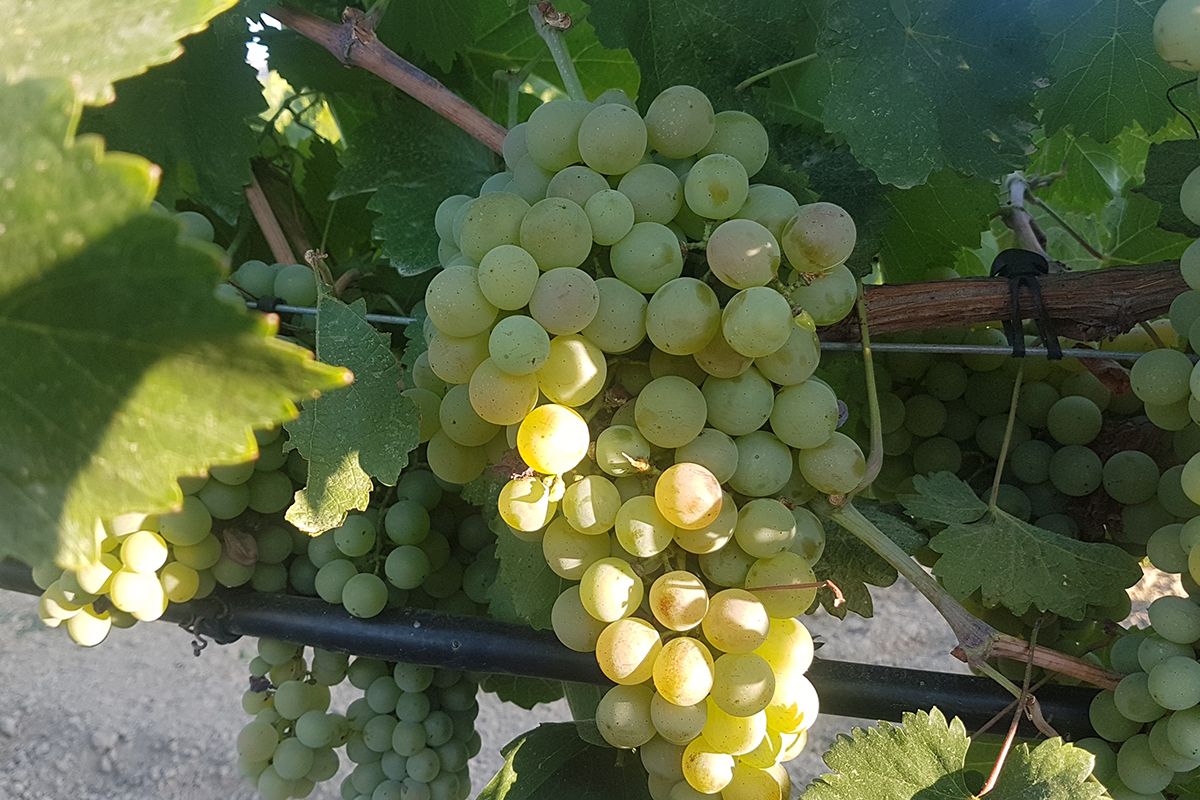 Any recommended food pairings?
Seafood and white meat is a perfect pairing.
Any plans for the future?
We have planted a new vineyard with a rare ancient grape variety which is called Kidonitsa. It is an ancient Greek variety which not many people have. We want something Greek, that was in the past, that has the character of Greece.
Isabelle's thoughts on Corinthia Assyrtiko Amber - Greece is at an exciting point right now. There has been a lot of traditional, organic farming but making natural wine is a fairly recent development and it is wonderful to see more and more growers experiment with natural winemaking methods. Greece has such diverse terroirs and such a wealth of indigenous grape varieties that are unique to the country, as well as an ancient winemaking history, that the combo is a recipe for brilliance. I am excited for what's to come. Corinthia Assyrtiko Amber is, technically speaking, a white with a short, 4 days of skin contact, but the short time on the skins has certainly marked the wine, which has a soft tannic texture and a little extra weight on the palate. Overall the wine is creamy, with notes of ripe peaches and pears but also a lot of saltiness that brings a sea freshness to the wine. I would recommend drinking it with bottarga grated over fresh pasta.
---
Siflogo is a small, organic wine 'workshop' in Platystoma, 500 metres high on the island of Lefkada in the Ionian sea. It was founded by Dionysis and Maria Papanikolopoulos, and is run by their son Vasilis. They cultivate and preserve indigenous grape varieties, farming without the use of chemical fertilisers or pesticides and harvesting the vines by hand.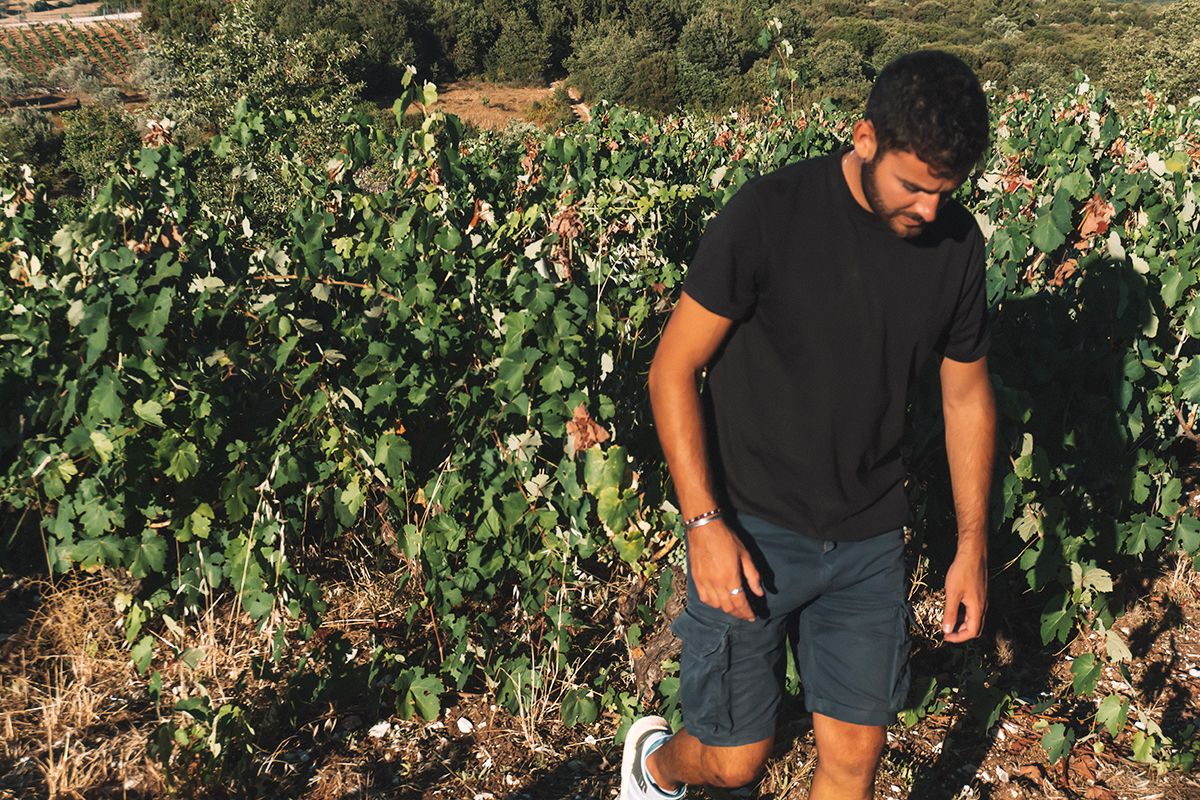 Q&A with Vasilis Papanikolopoulos.
Why do you focus on these rare grape varieties?
It was always our family's philosophy to cultivate these rare grapes. My dad loved them. I grew up hearing my dad speaking about them. He passed all these things to me. I decided to study something more related to engineering. But then I came back and decided to take over the winery and fulfil all these dreams. It makes me happy that I can see rare varieties from the island travelling around the world, that a lot of people can taste them and tell me their opinion.
What's the landscape like on your island of Lefkada?
It is not a very winemaking region. It is very mountainous. We have some up to 1000 metres high. We have very nice soil and picturesque small villages and forests. It is a very nice island of the Ionian sea with a lot of green waters.
Tell me about the Mavropatrino grape?
Mavropatrino is a grape variety which isn't used for vinification anymore. It was almost forgotten. The vine is very sensitive and this is why a lot of people stopped cultivating it. You have to be very careful with pruning. The colour of the skin is unusual - some are pink and light purple and some remain green, even when matured.  You can also enjoy it as a table grape.
We call it Mavropatrino (or Patrino, people add the word Mavro~ which means black in greek in order to distinct it from a similar, white grape). Its light purple skin is ideal for rosé wines because even after long macerations, the wine remains light in color. Mavropatrino 2020 is a dark rosé with an intense floral nose of floral and fruity citrus aromas while the red fruits enrich its dry palate. The refreshing acidity and the high alcohol reflect the island's climate. Its evolution in the glass is impressive, just give it some time and you will find it out!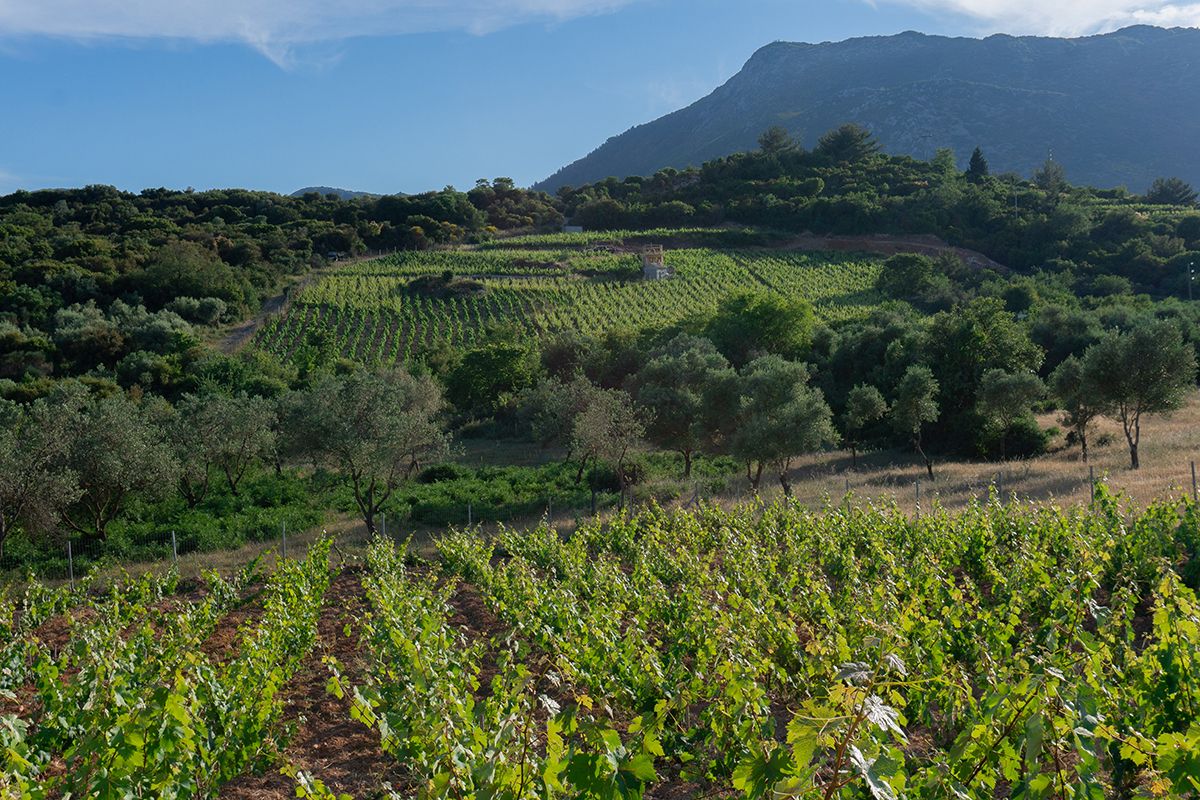 Can you describe the terroir?
The soil is rocky limestone and clay. The vineyard faces northeast. A cool and dry northern wind minimizes fungal diseases so spraying is almost unnecessary. The altitude of the vineyard is 500 metres high on the mountainous area of Lefkada island. Our style of farming is organic. We keep planting, pruning and cultivating the vineyards as our ancestors did, using occasionally Bordeaux Mixture or sulfur.
What was the vintage like?
There is a difficulty in finding out the best harvesting window for Mavropatrino. The maturation rate of the grape changes every year due to the climate change which makes picking the grapes at the best moment very difficult. This affects the fermentation and the yeast growth and, as a result, there are incomplete fermentations and residual sugars (Mavropatrino 2020 is a good example).
How did you make the wine?
We destem and crush the grapes for the maceration. The wine stayed four days with the skins at 6-8ºC. Then we remove the must and the fermentation starts spontaneously after 1 day. We use stainless steel tanks for maceration, fermentation and maturing of Mavropatrino. It is important to change tank for each procedure and every vessel is sterilized with pure steam. Gravity helps us to move the wine from one vessel to the other until the end of its maturation and then we use a pump only once in order to bottle it. We don't use sulfites at all.
Any recommended food pairings?
As a family we keep it simple: we usually enjoy a chilled glass of Mavropatrino without food. However, it is a very gastronomic wine. It can be paired with a great variety of oyster dishes, mushroom risotto and many traditional greek recipes. I think the ideal drinking window is late 2021 - 2023. The evolution of this wine is very interesting. In the first five years you could enjoy and fully experience the grape's characteristics.
Any plans for the future?
I would like to increase production a little bit - to about 3.5 hectares. We now  have 2 hectares. We have a new project - a very special vineyard on the top of a hill - a very rocky place. We are going to plant some new vineyards in the rock and put some clay vessels in the ground and mature some wines. I like to experiment - every year I do about 3 experimental wines.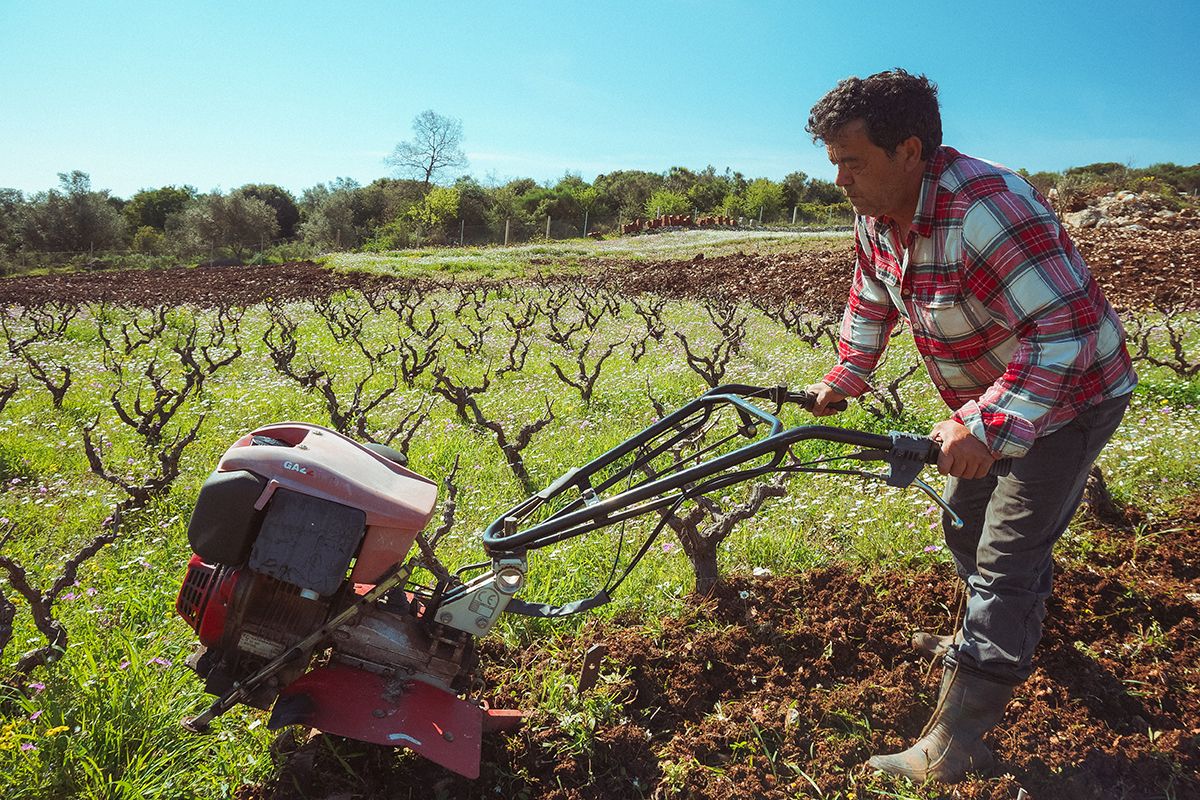 Isabelle's thoughts on Lefkada Mavropatrino - The rare Mavropatino is an unusual grape variety. The skin can range from pink to light purple to green! So the wine is always lightly coloured, no matter how long the skin contact. This is a thrilling, surprising wine.  When I tasted it, I was amazed at how it tasted almost more like a cocktail than a wine. The acidity is very bright and very intense. On the aroma front, you get an explosion of citrus, especially pink grapefruit and lime rind, but there is also an incredible floral lift, a mix of mimosa and honeysuckle. It is fun and serious all at once but above all it is a memorable, delicious drink. Will be great with simple nibbles like salted almonds and kalamata olives.
---
Domaine des Terres Promises is a family-run winery located in Provence, France, on the eastern flank of Mount Sainte Baume. Jean-Christophe Comor and his family work 15 hectares using organic farming practices.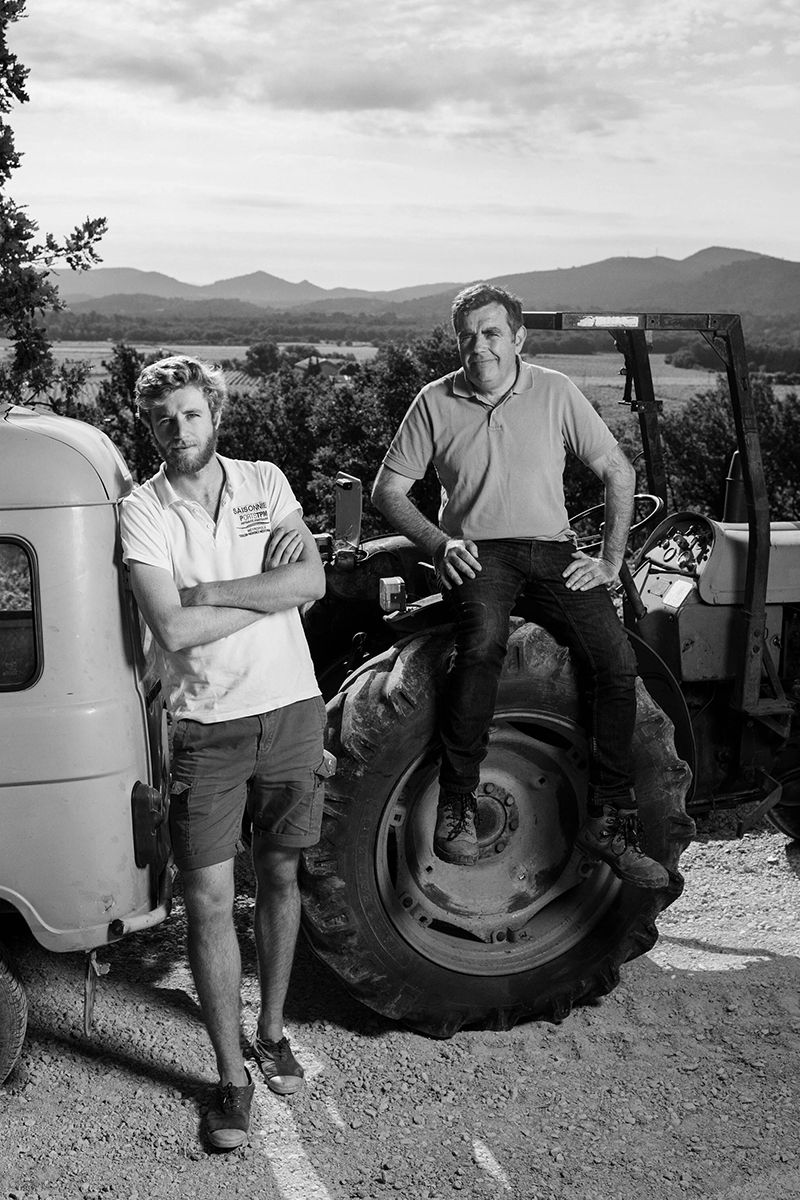 Q&A with Jean-Christophe Comor.

Can you describe this wine?
I have only one word to describe this wine: it is my consolation!
How did you decide on the name?
I called this wine A Ma Guise because I let each person who tastes it think what he wants. It is a way of saying that each person will find his own pleasure in it.
Which grape varieties did you use?
I use 16 grape varieties. These are all the varieties that we produce in the vineyard. We have Grenache, Carignan, Cinsault, Carignan Blanc, Macabeu, Muscat Blanc à Petits Grains, White and Pink Clairette, Syrah, Vermentino, Roussanne, Mourvèdre, Mourvèdre Gris, Bianco Gentile, Ugni Blanc and Jacquez.
What is the soil type?
The soil of the domain is clay and limestone.
And the aspect?
The vineyard is oriented East/South on the foothills of the Sainte-Beaume massif, in the village of La Roquebrussanne (Var). It is located at 400 metres above sea level.
How was this vintage?
This year has been particularly good and the vintage is simply full of momentum and red fruit.
How did you make the wine?
As far as the vinification is concerned, it is quite simple: the maceration is done with all the grapes, with the skins, for about fifteen days. No pumping over is done. I use stainless steel tanks.
Do you add sulfites?
Yes, an extremely limited amount at bottling is used and total is always less than 10mg/l.
Any suggested food pairings?
A Ma Guise marries perfectly with lightly grilled meats, citrus-based starters or chocolate desserts.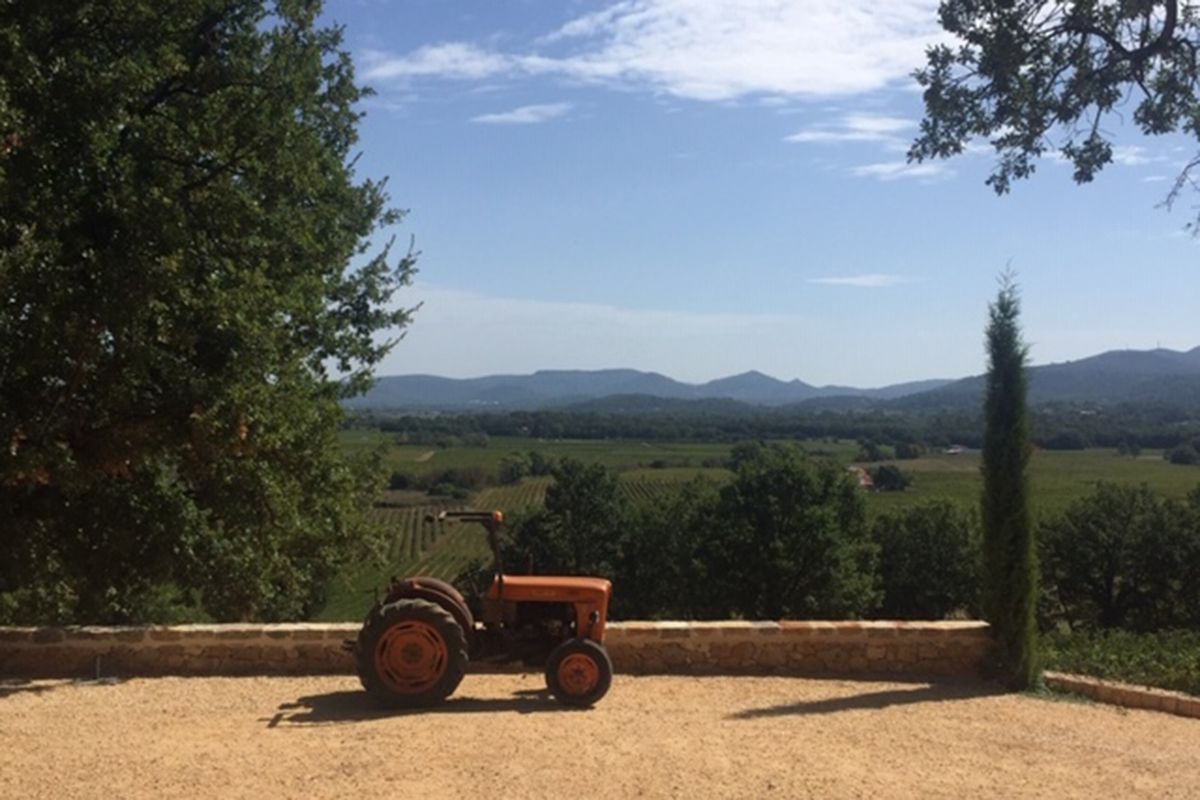 Isabelle's thoughts on A Ma Guise - All 16 grapes for this cuvée (a real medley of white and red grapes) are harvested early in the season, in fact they are the first to be picked (in this case in August) to make a light, easy drinking style of wine. A true field blend, all 16 grapes were vinified together in stainless steel. A quintessential vin de soif (or thirst quencher), it is light, juicy, and a little bit too easy-drinking thanks to its abundance of ripe red cherry and wild strawberry notes. If pétanque were a popular pastime in the US, this would be the wine to take along, in an ice bucket, to watch a game under the sun.
---
La Ferme du Vert is run by Jérôme Galaup in Gaillac, southwest France. He cultivates 7 hectares of vines, planted on clay-limestone soil across four south-facing plots. Coming from a long line of winemakers, Jérome and his father work biodynamically with only local grape varieties, offering a true reflection of the terroir.
Q&A with Jérôme Galaup.
How would you describe the wine?
This wine has a history! A few years ago I tried a wine that I gave to an old neighbour, a woodcutter, who was a total neophyte when it came to wines. His first thought grabbed me: he told me, in Occitan of course, that this wine was the perfect replica of the one he drank 60 years ago and that the grape variety could only be Duras!!!! This convinced me that what I was looking for was not the taste of the wine but the emotion it brings. So it was this old neighbour who inspired the name. It means that it is an "easy" wine, light, digestible, a wine that can be enjoyed every day... It is a wine of "terroir" and it is above all a farmer's wine!
Which grapes do you use?
This is a 100% Duras from plots where only Duras is planted. There has never been any replanting with other varieties either.
How would you describe the terroir?
This history of the ground is very interesting because we are here on red sandstone from the primary era which is commonly called "Grésigne" which means in Occitan "the sandstone which bleeds". Indeed, when it rains here, the rivers flow 'red'. This red colour is due to the high concentration of iron and magnesium in the soil. I have had the opportunity to make analysis which reveal that the wine is also rich in iron and magnesium. This is wonderful as it really shows that wines here are a reflection of this particular soil! The vines have been planted here in a north/south direction so that they are exposed to the morning and evening sunlight.
How would you describe your style of farming?
If I am a winegrower, I claim to be above all a farmer, close to his land, his animals and his vines. Yes, the word takes on its full meaning in my case; I am a peasant!
How was the wine made?
To make this wine, I use the "Mille-feuilles" technique. For this vintage, I started with a layer of whole grapes, then a layer of destemmed grapes, a layer of whole grapes and then destemmed grapes again. This allows me to obtain wines with a good body and less tannin from the stems. It's a pretty crazy story because the fermentation took place in only 3 days with only one pumping over after one day. I use fibreglass to keep the wines easy, authentic and fruity.
How was the vintage?
The 2020 vintage has received a rather Mediterranean influence. Indeed, its main characteristics were warmth but not excess. It differs from the oceanic 2021 vintage in that the rain and the north wind were invited this year. The result is that we have obtained totally different wines.
Do you add sulfites?
This vintage received 1.5mg of sulphites at bottling and the total is less than 30mg/l.
Isabelle's thoughts on Cado Tsoun Rouge - Duras is not exactly considered a sexy grape variety. In fact I think it must be one of the most rustic and obscure grapes out there, which is partly what makes it so appealing as well. It has a reputation of making robust, red wine that can need a lot of time to soften so I was very surprised to taste such a juicy, fresh, easy drinking wine when I opened the bottle. It is a very interesting drop - it is true to its earthy and rustic reputation but also has tons of very appealing, highly individual licorice, black olives and menthol notes with soft tannins. Its juiciness and softness is a lot to be attributed to a very gentle-winemaking process, which produces - as Jerome himself calls it - a proper farmer's wine. The local fare is traditionally very hearty (think stews, beans, sausages) and thanks to its fresh savoriness and bright acidity, Cado Tsoun Rouge would definitely hold its own in this context.
---

Domaine Fond Cyprès is a winery located on a 15 hectare vineyard in Escales, northern Corbières, France. The winery was founded in 2004 when couple Laetitia Ourliac and Rodolphe Gianesini struck up a friendship with the iconic Burgundy winemaker Frédéric Cossard, bought the plot and decided to work as naturally as possible from vineyard to cellar. Nearly 2 decades later, they are certified organic and have worked hard to discover their vineyard's true identity – through understanding each plot and trying different methods and grape varieties.
Q&A with Laetitia Ourliac.
How would you describe the wine?
La Grenache du Bois de St Jaume is a big wine - it is very strong but it has a good balance and is fresh, too. I recommend you try it with a good dinner.
How do you work the vines?
We are used to working together and we are different because I am a woman so we have our take on things but we usually manage to find the same road. We have a big experience of natural wines and of our area. We are very calm before the vinification and harvest too.
Can you describe the landscape for this vineyard?
It is a parcel of vines that is on its own. They are some forests on three sides, which means it is a very secluded landscape. The soils are like sand. It is very light soil which is good for the tannins of Grenache. They are very big, hardy vines - around eighty years old. The vineyard is located on the north face of the mountain. It is in the appellation for Corbières - there is a lot of sun and it is very hot.
What was the vintage like?
If I remember there was a lot of production in 2018 so the wines have a good balance (they are not too concentrated or extracted). It was a good vintage. In Languedoc in the south of France it's different from other areas because the vintages are more regular because there is a lot of sun every year and it is not humid - it is dry. What changes each year is quantity - sometimes there are less grapes than other years.
How did you make the wine?
We harvest the grapes and put them in big wooden vats of 45 hectolitres. We just put in the destemmed grapes - which is the traditional way of doing things here in the south. The vinification is very traditional: it is about 10 days and after that we press the grapes and keep the juice in the same vat. This particular parcel is vinified separately and matured on its own. It is aged in oak for approximately one year. No filtering - there is no need as during the one year of ageing the wine has time to settle. No need for sulphites either because it is a wine with big structure with a lot of tannins and alcohol.
Any recommended food pairings?
You can drink this wine with a big dinner - duck, beef, cassoulet is best. Cheese is good. The wine is strong so you need something that has character.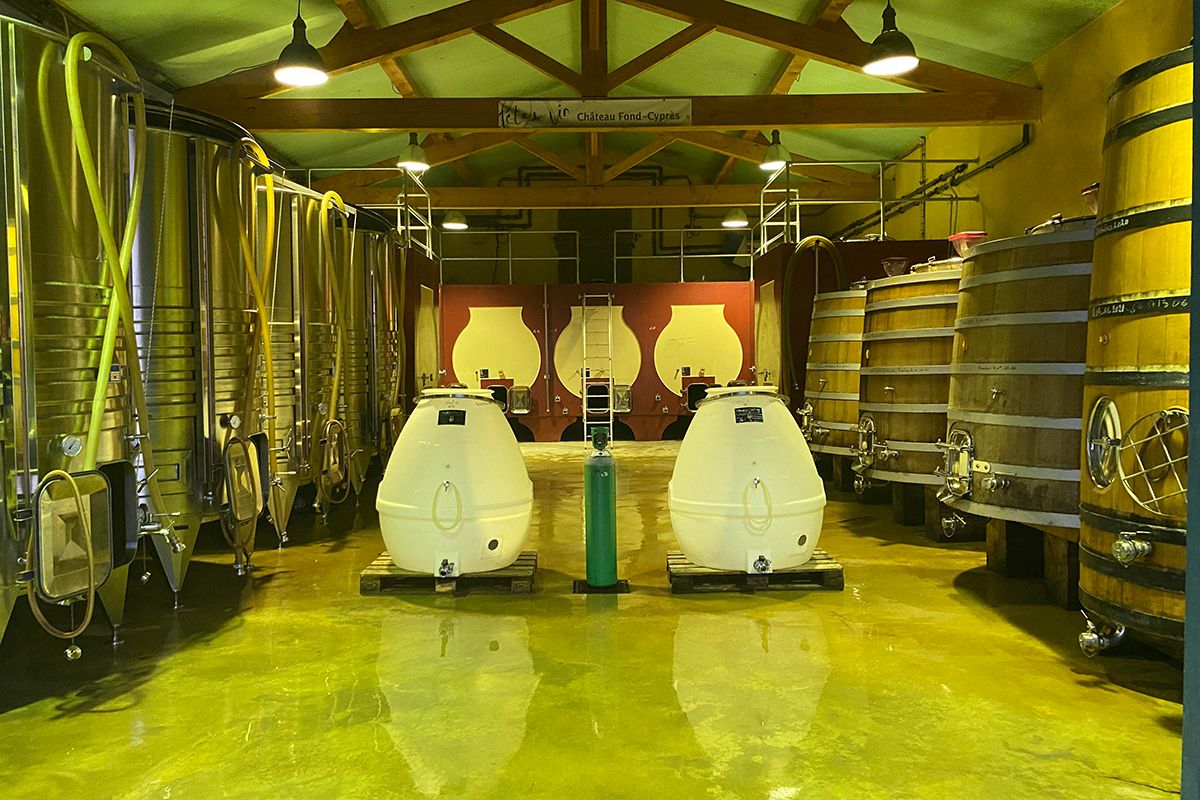 Isabelle's thoughts on La Grenache du Bois Saint Jaume - This is a pretty full-bodied wine that shouts of its arid, Mediterranean origins. You can definitely taste the garrigue and the sun but at the same time, there is great elegance in this wine. The 80-year old Grenache vines, surrounded by woodland, give great concentration and tension to the wine as vines this age have usually become consummate berry producers and balance is often a given, whilst the light sandy soils and the north facing vines brings coolness and a lightness of texture. Aromas are lifted, clean and pure with red berry notes, black olives, dried herbs (rosemary and mint) and a hint of dried flowers starting to develop from the level of maturity although this wine is still very much in its primary stage. A great pure Grenache that would put many a Châteauneuf-du-Pape to shame. More of a dinner party wine, when you fancy serving something out of a decanter and in slightly bigger glasses.
---