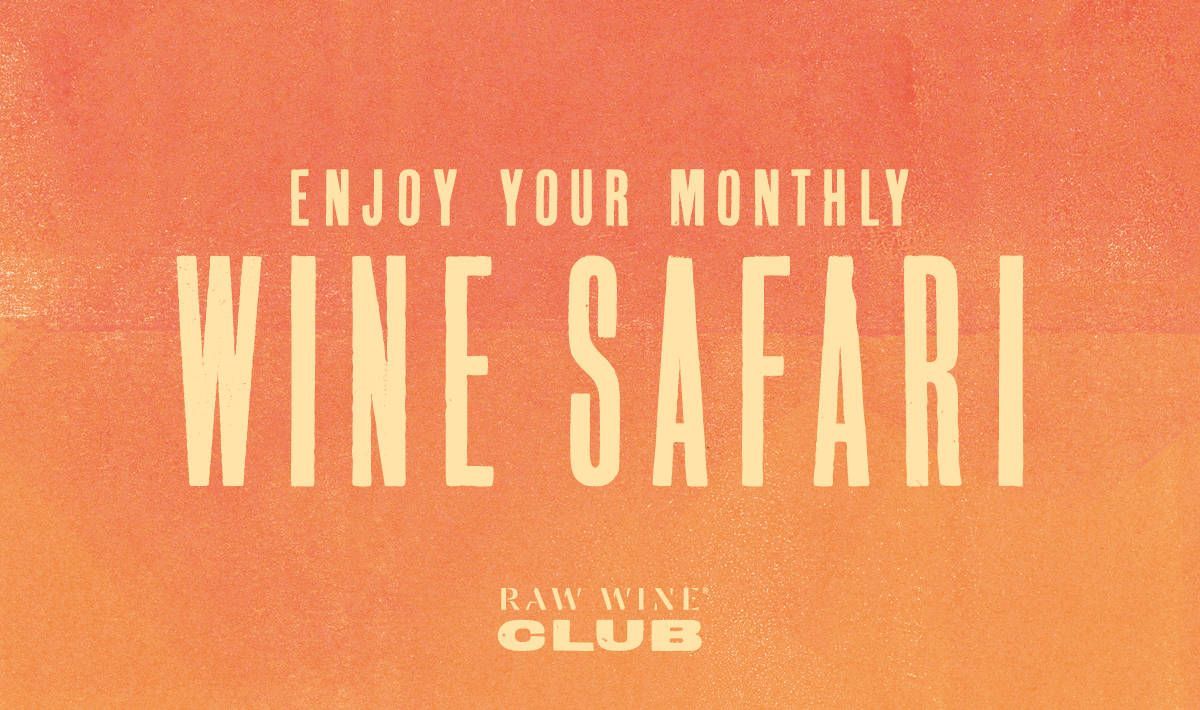 RAW WINE Club - Tasting Notes - September 2023 Selection
35 min read
Hello and happy fall to all!
Our September line-up includes a gorgeous, pink Tuscan pétillant naturel; a zippy, citrus laden Austrian white; a wild, spicy more-ish orange from the Rhône; a crunchy, peppery, floral Syrah also from the Rhône valley; a deliciously pretty, earthy field blend of 5 Tuscan red grapes; and a stunning, focused red with great purity of flavor from one of Galicia's top natural wine producers.
Warmest wishes and hope you enjoy the box,
Isabelle Legeron MW, Founder of RAW WINE‌
---
Montesecondo is a winery in the Chianti region of Tuscany, run by Silvio Messana. Until Silvio took over, Silvio's father had run the 10-hectare estate to sell grapes in bulk. Silvio instead decided to focus on bottling the soul of his terroir and converted to organics in 2004.
Q&A with Silvio Messana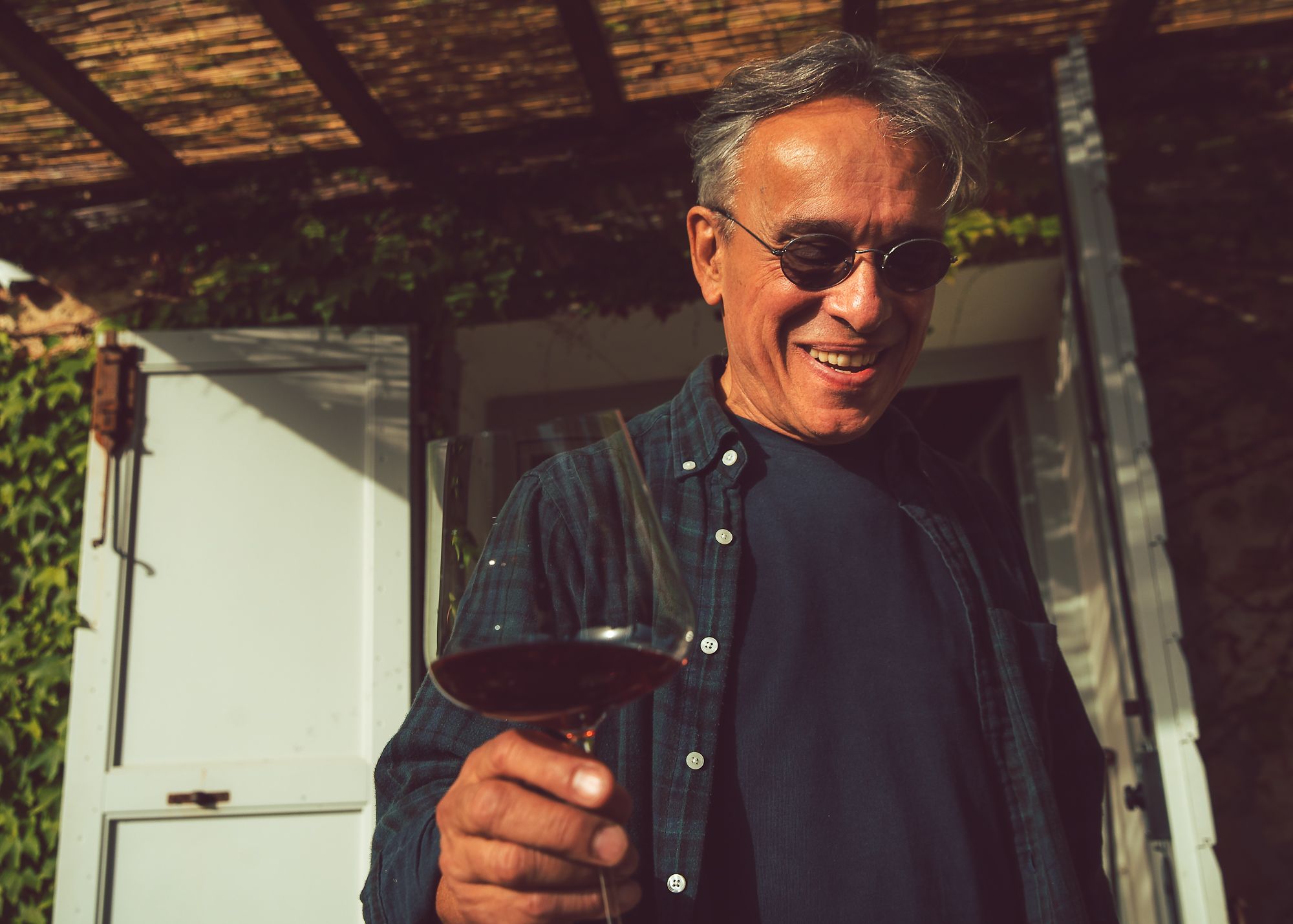 Can you tell me about your background - what career were your pursuing before you decided to takeover the family estate, and what was it that made you decide to come home and run the winery?
I grew up in North Africa in Tunisia, I was born in Italy but grew up there, where my great grandfather moved in the 1850s. On my father's side, there have been farmers since that time. In North Africa we had vineyards and olive grows, vineyards in Tunisia and olive groves in Libya. In Libya, we had 3,000 hectares of olive groves, so it was a big farm, but eventually we lost it when the government expropriated us in the early 1960s. I grew up there and went to French school, then I moved to Florence for university and took a degree in economics. During that time, my father bought a small farm in Tuscany, where he planted vines and was selling grapes to a local cooperative, so there was no bottled wine at that time. When he passed away, I started to run the farm, but after a little while I decided I wanted to do something different.
When the end of my studies approached, I sold the farm and moved to the US, as I wanted to be a musician. A gentleman from Northern Italy made an offer to buy the farm. He gave us a down payment, then he withdrew and abandoned the deal, but I was already in the US, so my mother started running the farm to sell the grapes. I stayed in the States for 15 years. I took a degree in economics here in Florence, but over there I took a degree in composition, working in saxophone and film scoring. As a musician, though, there's a lot of periods where you don't make money. In New York, if you say you're an artist or musician, they ask you, "What restaurant do you work at?"
To make some extra money, I started selling wine for Michael Skurnick Company. It was a very good experience in terms of tasting wines, that I'd otherwise have no way of tasting because they were expensive or hard to find. Suddenly I was exposed to a lot of wine and it was a fantastic experience. I stayed in NYC for 10 years and my two older children were born there. But after a while, I decided to come back to Italy and start the winemaking, as it was difficult to make money from the music. That was in 1999 when there was no winery. I started without any clear idea of what I was doing, as I didn't have the oenological skills or knowledge, but I cooked a lot, so that was helpful as a foundation and I knew what I didn't want.
When did you know that you wanted to do things differently - moving over to organic methods - and why did you make this decision?
It was around 2-3 years in. My first vintage was in, 2000 and by 2003, two things happened: I met Nicolas Joly and Stefano Bellotti and they showed me the alternative methods of farming that were out there, and I was also exhausted with what I was doing, which was reasonably conventional farming. For the first few years, I worked a lot in the farm, spraying, pruning, building walls, and it was great for learning, but I was very unhappy with my farming methods. In the winery, I always used indigenous yeast in cellar, I had this vision of low or no intervention from the very beginning, as the wines I had tried from fruit of higher intervention, were not wines that I liked. Through Stefano and Nicolas, I discovered a new way. That, and anthroposophy and Rudolf Steiner was already in the family, as all the children went to Steiner schools. Their mother was always very attentive in terms of health and medicine, so there was something there already. It was a combination of things that made me go down that route, and I didn't want to use the products everyone was using. In Tuscany, organic and biodynamic was not widespread.
Has this changed at all?
Italy has one of the higher densities of organic farming in the world, in terms of its concentration. Tuscany has got much better, but is still a little behind. Not as bad as it used to be though.
What challenges have you faced making wine using these methods in the Chianti Classico region?
The comments of my neighbours. Everyone thought I was a bit bizarre and made fun of me because there was grass in my vineyard, and to them it felt disorganised and disorderly. Also my wines were found with too much acidity for the local taste.
What's your relationship with the DOCG?
People ask me, out of the 10 wines you make, why only one Chianti Classico? But I do think it's important for me to make it, because little by little, you can make change from within. So I don't reject the DOCG. At the beginning, yes it was annoying  - because of the vision they have. I have some colleagues who have left, but then you're on the outside and it doesn't make you a hero. From the inside, you can make a difference if you're patient. It's been a challenge of course, but there have been some great results. More farms are using organics and biodynamics, and the wines are getting closer to the terroir and the grapes, and I'm happy with that.
Can you describe the vineyard and its surroundings?
It's beautiful, there's pine trees, cypress trees and hills. The beauty of Tuscany is very well preserved. I remind myself every morning to be aware of where I am, and to not take it for granted. It really looks like what you see in the pictures. I have two locations: the original Montesecondo winery in Cerbaia which is in a valley with beautiful roads leading to it; and the second, Montesecondo in Vignano, is on the upper hills, with a beautiful view, mostly of vineyards, olive trees and an old farmhouse.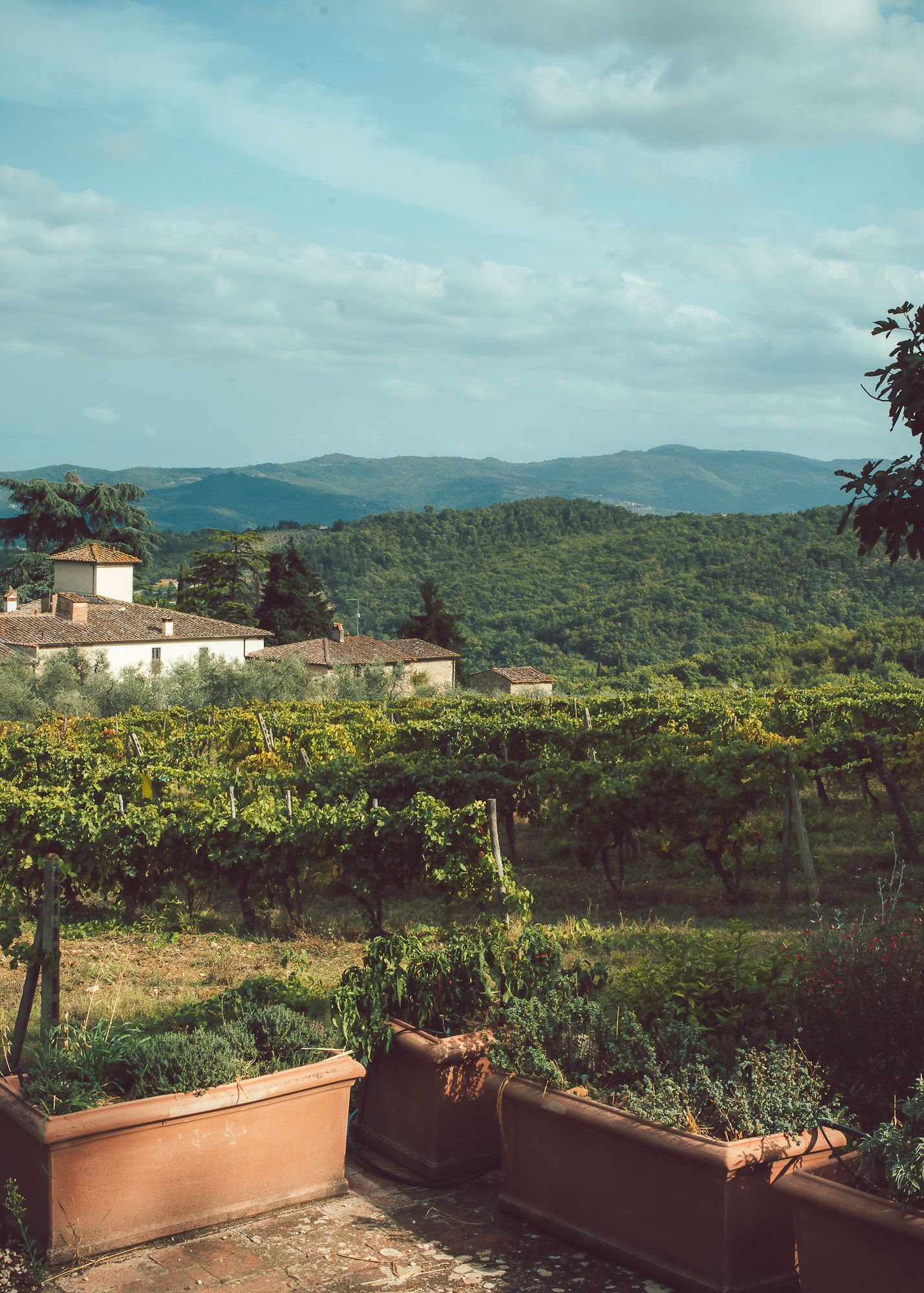 Can you describe the soil and the terroir?
We have two soils I'd say. In Cerbaia it's mostly sand, with a clay valley and fluvial stones. Here, in Vignano where I live, it's mostly galestro, and a higher vineyard - 500m high - and exposed to the northeast, so with a cooler climate.
What grapes do you use for Ghazii?
100% Sangiovese. I make six Sangioveses and, in my winemaking, I don't blend. The only wine that's a field blend is the Chianti Classico, but otherwise it's mostly all Sangiovese, all Trebbiano, all monocépage (monovarietal). We have a really broad range of Sangiovese expressions - with six different bottles of the local grape, so it's a really nice way to explore the region. Ghazii is probably the least conforming to tradition - it's a little bit outside of what Sangiovese is known for and this isn't a land of sparkling wines. But it's interesting to see that wines can move away from tradition and still offer an interesting expression. I think as a taster or someone who's curious, being able to try so many different expressions of the same grape, is a really interesting opportunity.
What's the story behind the name of the wine?
Ghazii comes from North Africa, in Tunisia, where I grew up. It means sparkling, but it's also the name of the fighters who were resisting colonisation.
Can you talk me through the process of making it?
The idea is to have freshness and acidity so the Sangiovese must be picked early. It's become more of a challenge in recent years because of the heat. I try to get wines that have 11.5-12% alcohol maximum, I usually succeed but not always. I use the ancestrale method of fermentation. You pick the grapes, destem and press, get very short skin contact - 1-2 hours just to give it a little colour - then you cool down the must to 1 or 2 degrees Celsius and after 24 hours, you rack it, taking out the lees and getting a clear must, and then you ferment it. Then when it's at about 12g residual sugar, I bottle it, so the end of the fermentation is made in the bottle. In terms of vessels, I use stainless steel usually or if I have a tank available, it's concrete, but it's a short process so I'm not super concerned about the vessel because it gets bottled so quickly.
Do you use any sulfites?
Not for the Ghazii.
How would you describe the wine?
The idea is freshness and acidity. I'd describe it as a joyful wine, a happy wine, something that calls for a second glass. Its' refreshing. If it was a person it'd be a fun person to be with, a nice companion, a happy companion who doesn't take themselves too seriously.
How does this vintage, 2021, compare to others?
For me the 2021, very honestly, is a little bit high on alcohol, and there's a little bit of sweetness in the first taste - which I don't dislike, as it has a dry finish. But personally, I'd be in favor of a little less alcohol. That said, it has a structure, and it's kind of seducing when you drink it, and good acidity
When is it best enjoyed? Now or later, if people want to age it further in the bottle?
I'd say it's best enjoyed now. I have no experience in ageing this kind of wine, but I don't see the point. It's a simple wine that's fermented in the bottle. The fresher the better. You can lay it down, it won't damage it, but I'd drink it now.
Any food pairings you'd recommend?
It's definitely a wine you can drink in the afternoon as an aperitif, with some anchovies, olives or cheese. That little bit of sweetness pairs well with a lot of foods. Again because of the acidity, touch of sweetness and structure, I think it'll work well with - I hate to use the word pizza as pizza toppings can mean so many different things - but pizza with toppings like anchovies, olives or tomatoes. Even pickled vegetables, or some sweet and sour flavors would match well. I don't know about spicy food, but it would be interesting to try. Certainly aperitif food - easy food.
Isabelle's thoughts on Ghazii Sparkling Rosé - A pink, juicy wine that drinks a little like a watermelon slushie and looks a bit like a lava lamp. Textured, opulent and overt, it is a highly drinkable, fun, ripe pet nat showing rich red fruit notes as well as a restrained earthiness that adds a layer of umami that is very moreish. Remember, the wine was not disgorged which means there are a lot of lees so keep the bottle upright in the fridge before serving to let it all settle.
TOTAL SULFITES: 10mg/L.
---
Weingut Heinrich is a renowned Austrian winery run by Gernot and Heike Heinrich in the town of Gols, in the Burgenland, and founded from Heike's family's 2 hectares of vines in 1989. Today, they cultivate over 100 hectares using biodynamics and fostering biodiversity.
Q&A with Gernot Heinrich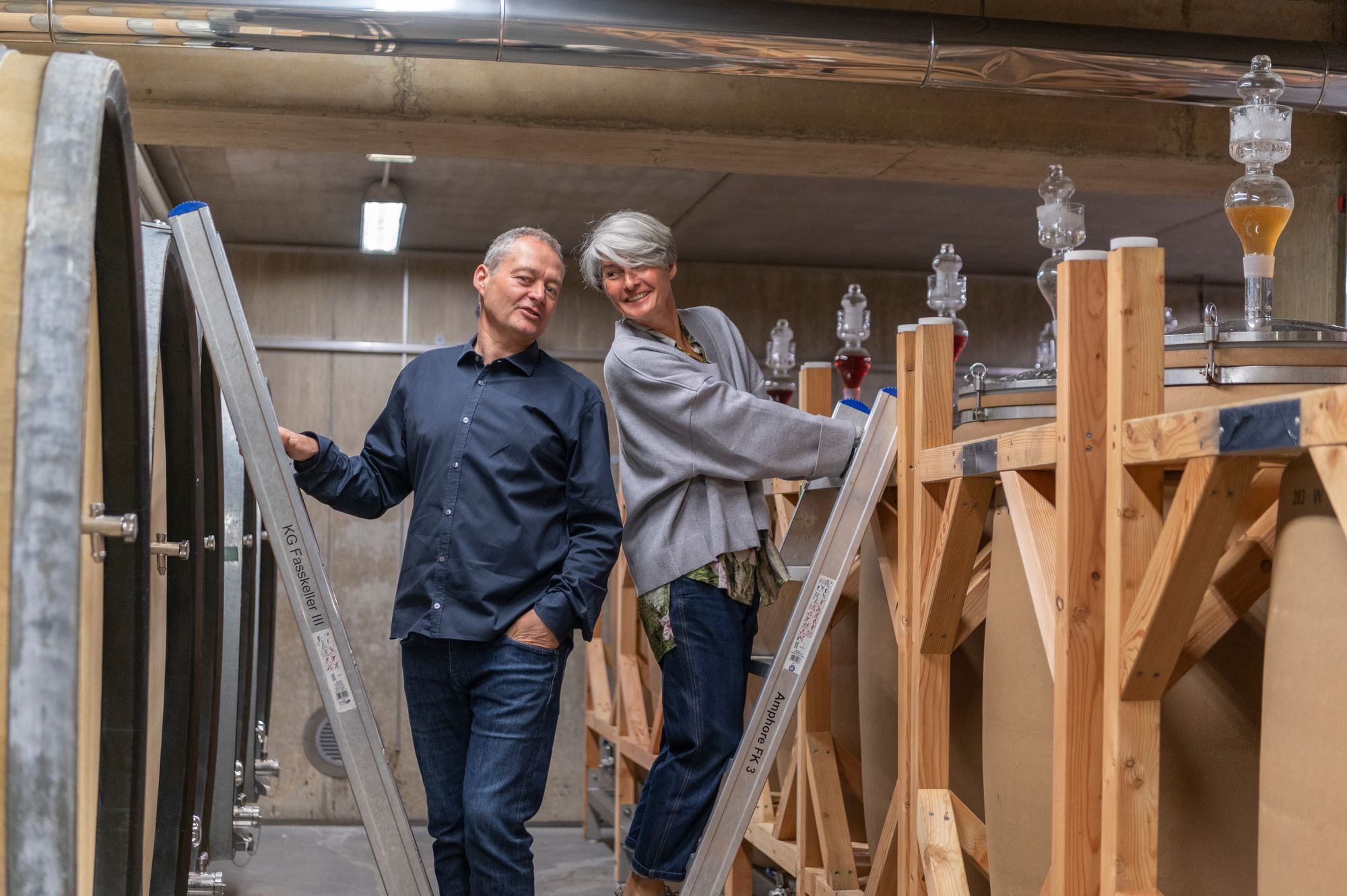 Gernot, can you tell me about your background - how did you get into the world of wine?
When I was born in 1964, my parents had already started their little winery in Gols, at the home of my grandparents. I think it was less than 1 hectare, which is the same size I started with many years later in 1989. I remember all kind of animals on this little farm - chicken, rabbits, geese and ducks, horses and pigs. We got fresh milk from cows in the neighbourhood, but unfortunately there is not a single cow in the whole village today. Anyway, I grew up with wine, working in the vineyards and the cellar. When I was a little child I helped to plant garlic and cucumbers between the vines, which brought some additional income for my parents. It was really the poorest region of Austria, the Iron Curtain a few kilometres to the east, with dead end roads everywhere. We didn't even have running water in the house and the toilet was outside, but that would be another story to tell. I remember very well this exciting time of the harvest when family friends, neighbours and relatives would help pick, and I remember exactly the smell of the dried leaves of the big walnut trees next to the old wine-press that was outside. In the 1970s, harvests always started at the beginning or middle of October, where the night temperatures went down to sometimes less then 5 degrees, very different to nowadays, when we harvest August to September time.
The Heinrich vineyards have grown substantially since you took them on in 1989. What measures do you take to make sure the wines you produce retain their sense of place and identity?
In 1989, my parents' winery had 5 hectares of vines and they gave me just one vineyard of 0.2 hectares in the famous site of Gabarinza. That was the beginning for me and a good motivation. In 1990, I started renting and buying vineyards in and around Gols, and I was also working with some suppliers to get the business started. Then, step by step, we grew to 30 hectares by 2006, which is also when we converted to biodynamics - we did this in one big push over the course of 3 years.
To answer the famous 'Why' question when it comes to biodynamics: we realized that it requires much more than just scientific knowledge to produce a great wine. We were searching for more spirit and inner quality in our wines. And that was the time when we started tasting biodynamic wines from other countries, especially French wines, but also wines by our Austrian colleagues, such as Sepp Muster who inspired us in the same way as our mentor and consultant Andrew Lorand. He introduced us to biodynamics. We spent many days in different vineyards observing nature and evenings reading Rudolf Steiner, followed by long discussions and interpretations. And of course drinking great biodynamic wines.
We realized that biodynamics is a craft, an art AND a science, with personal approaches and technical challenges. It was a journey of learning and professional practice together with our winemaker collegues of the Pannobile-Group in Gols, but also with the Respekt-Group (wineries in Austria, Italy, Germany, Hungary). This helped us in understanding Rudolf Steiner, his framework, intentions and indications. Biodynamics is, at its heart, anthroposophical medicine for agriculture. It can be described as a spiritual, ethical and ecological system of agriculture. Understanding earth as a living being in a living universe. And so is each farm a living being, much like a human being, with physical, etheric, soul and spirit.
Biodynamic viticulture has helped us a lot to keep the interpretation of our terroir alive, and to make our vineyards more resilient and vital. It's important to get this healthy balance of our soils, but also the plants, animals and people. It doesn't always work perfectly - 2008 for example was a difficult year, in our third year of biodynamics. We lost a few hectares because of downy mildew, as it was raining all the time, then in spring we couldn't do canopy management in time, so some of our top sites were destroyed completely. We've learned a lot from this.
What other changes have you made along the way?
Since 2006, all our wines are fermented spontaneously, remain on their lees for an extended period of time, are bottled without fining or filtration, and with very low doses of sulfites - or sometimes none.
Doing less leads to a better taste at the end, the results are vibrant wines that are pure and strong in character as they reveal the essence of their specific places of origin – we are talking about sense of place or spirit of place, which is most fascinating for me.
Is your evolution as a winemaker continuous? If so, what would you say are the ways in which your production is currently evolving?
Of course, we are learning year on year! Since we discovered this great terroir on the other side of the Lake Neusiedlersee, the Leithaberg, with its fantastic schist and limestone soils, we are improving our interpretation of this pure character with every new harvest. And even though it will be my 38th harvest this year, if I counted correctly, it's still is very exciting. Always new challenges, different weather conditions, new plantations with new 'old' varieties, new 'old style' amphoras, and so on.
What are your thoughts on machine harvesting - do you have any trouble finding the manpower for harvests?
No - I think it's a very important matter. I cannot imagine working with grapes harvested by machines. It's one of the most important processes in the vineyard - to make the selection by hand. We have so many sensitive grapes, like Saint Laurent, and the Pinot varieties, if you have rotten berries inside, you have to cut every bunch and check what's inside. And we're doing more and more whole bunch fermentation in amphoras, so it just wouldn't be possible to machine harvest to the same vinification. We have 32 permanent employees throughout the year, and get people to help us with the harvest, so it's no trouble.
Can you tell me about where you're based, in Gols and in the Burgenland - what's the natural wine scene like there and how has it evolved since 1989?
The winery is situated in the village of Gols on the eastern side of the Neusiedlersee, it is the northern part of Burgenland but also the most eastern wine growing area of Austria.
About the natural wine scene – it started around 2007/2008 and since then many producers have converted and some have became famous - such as Christian Tschida, Gut Oggau, Claus Preisinger, Pittnauers, Judith Beck, Renner Sistas, Nittnaus and many others. It's an ongoing process, very lively and especially within the Pannobile group, there is an intense exchange of experience, tasting and also drinking a lot together.
This Saturday, and the first Saturday in September each year, we invite our guests, clients and friends into the winery, share our knowledge and give cellar tours. It's very important to be open to colleagues, to young people - I always enjoy tasting with them, having lunch and dinner with them. It's a really exciting time of the year and important to do.
What's the landscape like in Gols?
The landscape is quite flat to the east, you can see the Pannonian Plain towards Hungary, there is the Parndorfer Plain to the north, which is a plateau with an escarpment of just 50 meters with its typical gravelly and sedimentary soil. But we also can see some mountains from the rooftop of our winery – the Leithaberg (Leitha Mountains) on the western side, and far away in the background we can also see mountains with an altitude of 2000m and snow all year around, the so called Schneeberg (Snow Mountain). And from all our top sites with different exposures, we can see the Lake in the middle.  
What's the terroir?
We are growing on three different types of soil: sedimentary soil with sandy clay and gravelly soils on the south-faced slopes in Gols; limestone soils on the Leithaberg in the village of Winden, fossil rich, calcareous sand and limestone; and mica schist in the village of Breitenbrunn, rich in iron, potassium and other minerals.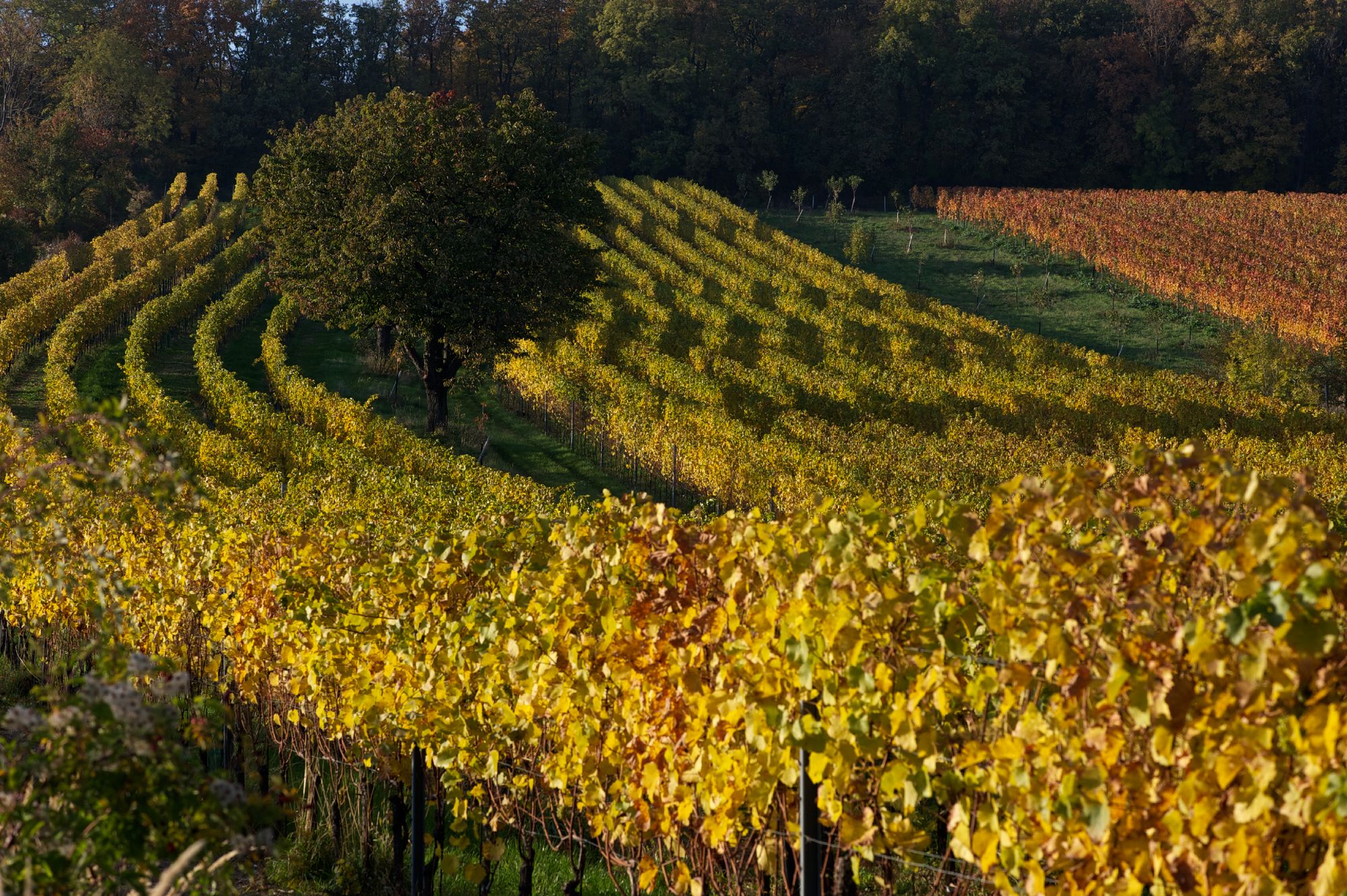 What grapes have you used for Naked White?
For the 2021, it's 38% Pinot Blanc, 37% Chardonnay, 11% Pinot gris, 8% Grüner Veltliner and 6% Welschriesling. But it's not the same every year.
What's the story behind the name of the wine?
We started in 2017 as it was getting more and more difficult to achieve the proof number (Prüfnummer), so we decided to add the term Naked instead of origin and level of quality, just to express and explain in a way our style of vinification. Nothing added and nothing removed, unfiltered and unfined, just naked!
Can you talk me through the process of making it?
First of all it is very important to harvest by hand. The selection in the vineyard during the harvest is one of the most important processes all over the year, so all our pickers and members of the team are well trained and they know what to do because they all like to drink good wine!
We do a short maceration after gentle crushing with the stems for about 6-12 hours, sometimes overnight. This happens in stainless steel vats or even in the press directly. During this stage we are extracting phenolic elements which are important for the structure of the wine. After pressing we rack into big oval shape oak casks with a size of 25 hl (most of the casks are old) and then we are just waiting until spontaneous fermentation starts. Usually it takes 2-3 days until fermentation starts and is finished after 10 days, but sometimes it can take a few months or even until the next summer. Also malolactic fermentation happens spontaneously followed by an extended maturation on its own full lees for about a year. We made two bottlings for this wine, one in August (a smaller volume) and one in November, both with a minimal addition of sulfur - only 10mg/L.
How would you describe the wine?
There is a nice description on our website - I can't do it better than our good friend who wrote that: Naked and unadorned. Delicately hazy lemon-yellow. Fragile pear skin, nutmeg and subtle rose petal pair with feathery light tannins and chalky minerality. Unadulterated pleasure. For best enjoyment, shake before pouring!
How does this vintage, 2021, compare to others?
It was a perfect vintage with the best conditions, good weather all over the year and also a nice harvest period with cool nights which preserved acidity and freshness, but also very good ripeness and complexity. In some other vintages, we have used more aromatic varieties as well, like Traminer and Muscat.
When is it best enjoyed? Now or later, if people want to age it further in the bottle?
Tasting and drinking is always very individual, actually I do like all stages of a wine, and it is very interesting to follow this development. And we do know that Naked White has a very good ageing potential. You can also leave the bottle open for a week, without it oxidising or getting mousy.
Any food pairings you'd recommend?
You can drink it on its own of course, but it's very versatile. At the moment, we prefer fresh vegetables from our garden and sometimes fresh fish from the lake – pike-pearch.
Isabelle's thoughts on Naked White - Naked White is a blend of all sorts of grapes that give the wine a somewhat eclectic profile. Bright, crisp and refreshing, it shows notes of crunchy red apple skin, lemon peel, lime and flint, as well as an aromatic vein of peach and pineapple. It has a lovely texture and concentration that holds well once open, even overnight.
TOTAL SULFITES: <10mg/L.
---
Ad Vinum is a winery in Vallabrix in the Gard region of the Côtes du Rhône AOC, founded in 2016 by Sébastien Chatillon. Until then, Sébastian had worked with Domaine Mosse in the Loire, before becoming the head sommelier at the Le Chateaubriand bistro in Paris. At first, he made wine using purchased grapes, but from 2018 starting using his own grapes as well. He now has 10 hectares of vines that he manages on the estate.
Q&A with Sébastien Chatillon
Can you tell me about your background - what was your entry point into wine? Was it Domaine Mosse and, if so, how did that opportunity come about?
I started making wine in 2004 at Domaine Mosse, working in the vineyard for 4 years. After, I was a sommelier at Chateaubriand in Paris for 8 years. I now live in the south of France, in Vallabrix. I got the job at Domaine Mosse by luck, I was born in Normandy but decided to leave and make a career for myself, as I was up partying and drinking wine until 5am - so I decided to start learning how to make wine. I first spent 10 days at a sh*tty winery, making wine for bargain boxes at places like Carrefour, before I moved onto Domaine Mosse. I was with a Brazilian girl at the time and we moved to Brazil for 2 years, then when we came back to France, she wanted to go to theatre school and I wanted to stay in natural wine because I was passionate about it. I gave my CV to a few people and the sommelier at Cheateaubriand, David Vincent-Loyola who is now at Aux Deux Amis, was leaving. I had no experience - they just trusted me.
Why the jump from being a sommelier to being a winemaker, and what challenges have you faced? Do you miss the floor at all?
It was not a challenge at all - I just wanted to leave Paris. I was 24 when I arrived and 32 when I left. The job was really cool, but I'm from the country and wanted to come back. I'm friends with a winemaker in Vallabrix and I would visit him a lot. One day he spent the day showing me all around the region and it was beautiful. I came back to rainy Paris and the weather in the south of France is always good, so I just thought, 'What am I doing here?' I don't miss it. I just realised I had no more to do there.
Does your time working in hospitality influence the work you do now?
Definitely - I travelled a lot for the restaurant to find new wines, meet new winemakers and import new wine companies. I got to go all over the world and talk to lots of different people, learning a lot along the way.
Why the name, Ad Vinium?
It's Latin for 'To the wine'. I've got no idea why I chose it - it was a friend who told me it.
Can you describe the vineyards and their surroundings?
It's very cool because, in the beginning I was just a negociant as I wanted to immerse myself in the cellar. I made only negoce wine for 3 years, from 2016 to 2018. Then after this, I started buying and renting vineyards. I did have 10 hectares, but have since reduced down to 5. Vallabrix is a small village - we have limestone, clay, sand - lots of different soils. It's a fresh climate in terms of the ground, as the village sits on top of natural water sources.
You mentioned that you're currently harvesting. What's this year's harvest looking like so far? And how does it compare to other years - particularly 2020?
This year is cool, but we have some problems with mildew as we had lots of rain in spring - not the juiciest grapes, but good quality. In 2020, I lost a big quanity of production, so bought some grapes for Alsace, including the Pinot Gris. In 2021, we were full of grapes and had lots of juice. 2022 was 40 degrees Celsius for 5 months, and I lost 1.5 hectares in a fire. Every year is very different.
Can you talk me through the process of making this wine?
I harvested in September into a refrigerated truck. The grapes then get 7 days of skin contact in a stainless steel tank - the skin contact is because I'm a big fan of Princic and Radikon who I spend a lot of time with, so it's kind an homage to them. Then it goes into two barrels to age for a year, one 500L and one 220L - it's a very small production.
Do you use any sulfites?
No - never. In the village, we have a guy who has a distillery, so if I ever make any mistakes, I can distil it into gin or something.
How would you describe the wine?
I like to think there's a good balance between oxidation and fruitiness. It's also fresh.
Why the name, Ravaged?
Every year, we change our vinification, so we change the name of the wines and the labels. We never do the same wine. This year, we decided to make the wine about a B-movie called Ravaged. The names are usually based on the wine, the year and a movie. My wife and I will spend a day watching movies and drinking the wines, and decide the names.
When is it best enjoyed? Now or later, if people want to age it further in the bottle?
It's difficult to say, because I like wines more when they're young. But I think you can keep it 15-20 years if you want. But for me, it's better between 3-10 years.
Any food pairings you'd recommend?
It's good with squid, or a strong fish like a red mullet. And for vegetables, a spicy carrot puree, some pickles and fresh herbs.
Isabelle's thoughts on 'Ravaged' Pinot Gris - This lovely copper-colored wine does take a bit of work if you're new to the more unusual styles of natural wine. Wild and funky, it shows some VA (volatile acidity) but at levels that are balanced against the depth of flavor. On the one hand there's the sweet aromatics of a pinot gris, while on the other there's the tug of the savory saltiness of the skin contact. Ravaged shows notes of candied apricots, creamy vanilla and spicy nutmeg that are framed by a minerality which, coupled with the VA, adds an uplifting bite and freshness. A very pleasurable, thought-provoking wine. Only about 1000 bottles produced.
TOTAL SULFITES: 14-17mg/L.
---
Domaine Du Coulet, Petit Ours, Côtes du Rhône, France, 2021
Domaine Du Coulet is a winery in the Cornas appellation of the Côtes du Rhône, founded in 1998 and run by seventh generation winemaker Matthieu Barret. Matthieu manages 16 hectares of vines planted in granite Cornas on steep terraces and facing the Eastern Mediterranean, using organic and biodynamic methods.
Q&A with distributor Pierre Gastaldello, on behalf of Matthieu Barret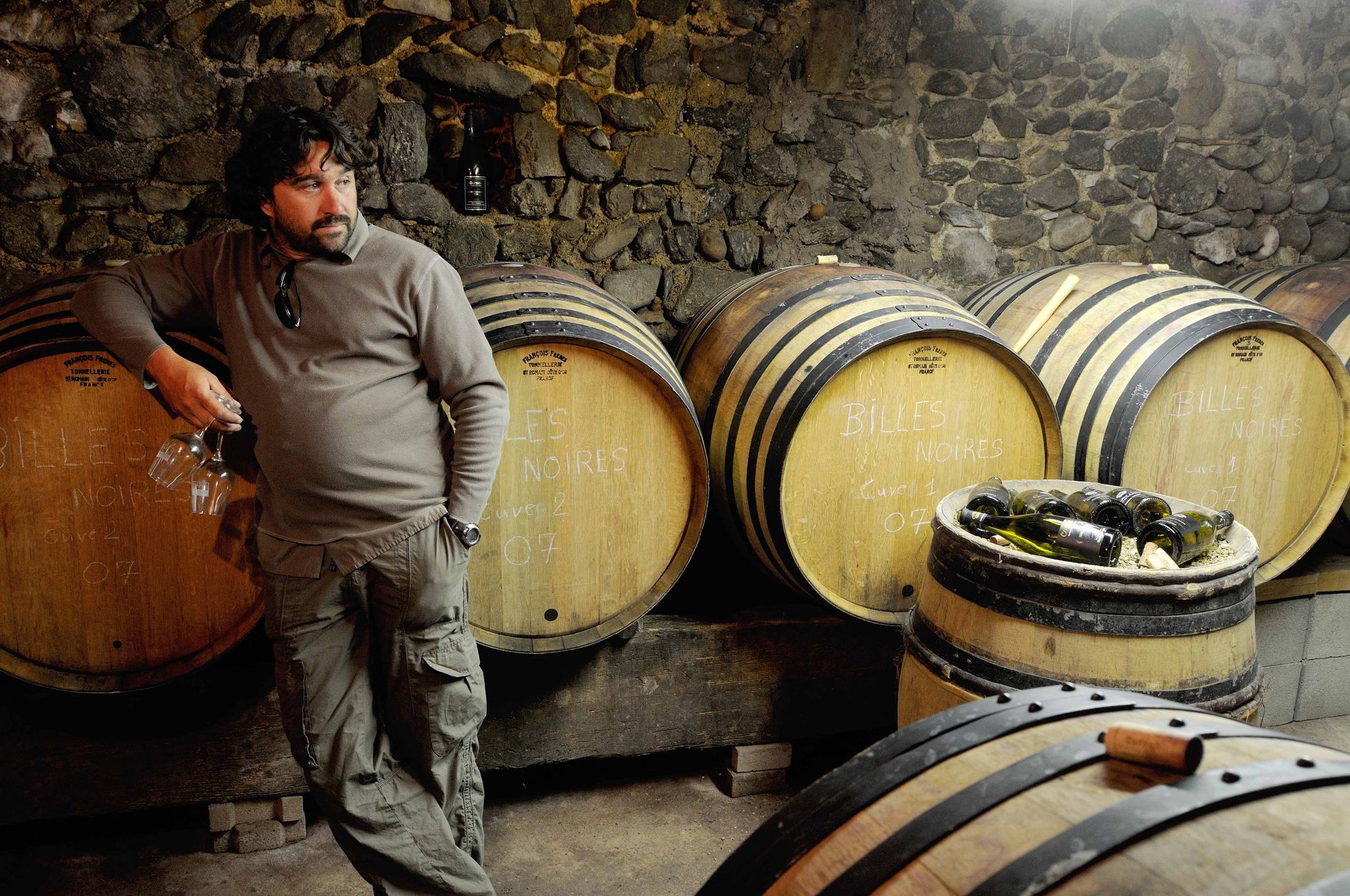 Can you tell me about Matthieu and his background - as a seventh generation winemaker, was this always going to be his path?
What you need to know about Matthieu and his family is that yes, they're seventh-generation growers, but Matthieu was the first to make the wine and bottle it. Before him, the family were selling grapes to local winemakers. And usually when you're in a long line of wine growers or makers, there's an expectation that you have to respect tradition and continue their legacy, but because Matthieu was the first to actually make the wine, he was free from the very beginning to work as he wanted to -  using organic and biodynamic methods, and creating atypical wine labels. When you think about Côtes du Rhône, the wine that comes out of it is normally very classical and quite serious, it doesn't have the most playful or fun marketing, so Matthieu stands out in that sense. He thinks outside the box and is trying to change tradition with the way he works.
Why were organics and biodynamics important to him from the beginning?
Matthieu went to school to learn about winemaking, and there they taught him how to add yeast and use various methods and additives to control and manipulate the vinification. His first step away from tradition was not following what he was taught. He wanted to make wine without manipulation or additives - but wine just made of grapes. That's why he was keen to use organics and biodynamics, because when you're making wine just from grapes, you need the grapes to be at their healthiest so that you have a strong foundation to work from. Matthieu is also very sensitive to nature and is aware that chemicals can destroy wildlife and biodiversity. This is something that's been in him since childhood - in his DNA you could say - to respect nature and the vineyard, to produce grapes that are full of energy.
Can you describe the vineyard and its surroundings?
There are two vineyards that Matthieu used grapes from. The first is his family estate based in Cornas, where he has 11 hectares of vines. He's actually the largest vineyard owner in Cornas - nowadays, it can be hard to even buy 1 hectare, so this is a testament to how long his family have been there. They were there even before some of the bigger names in the appellation, but weren't famous as they weren't bottling the wine. The vineyard there is on granite soil and the vineyards are very steep, so you can't really work with machines. Matthieu works with mules instead, which is much smoother and much more delicate on the soil.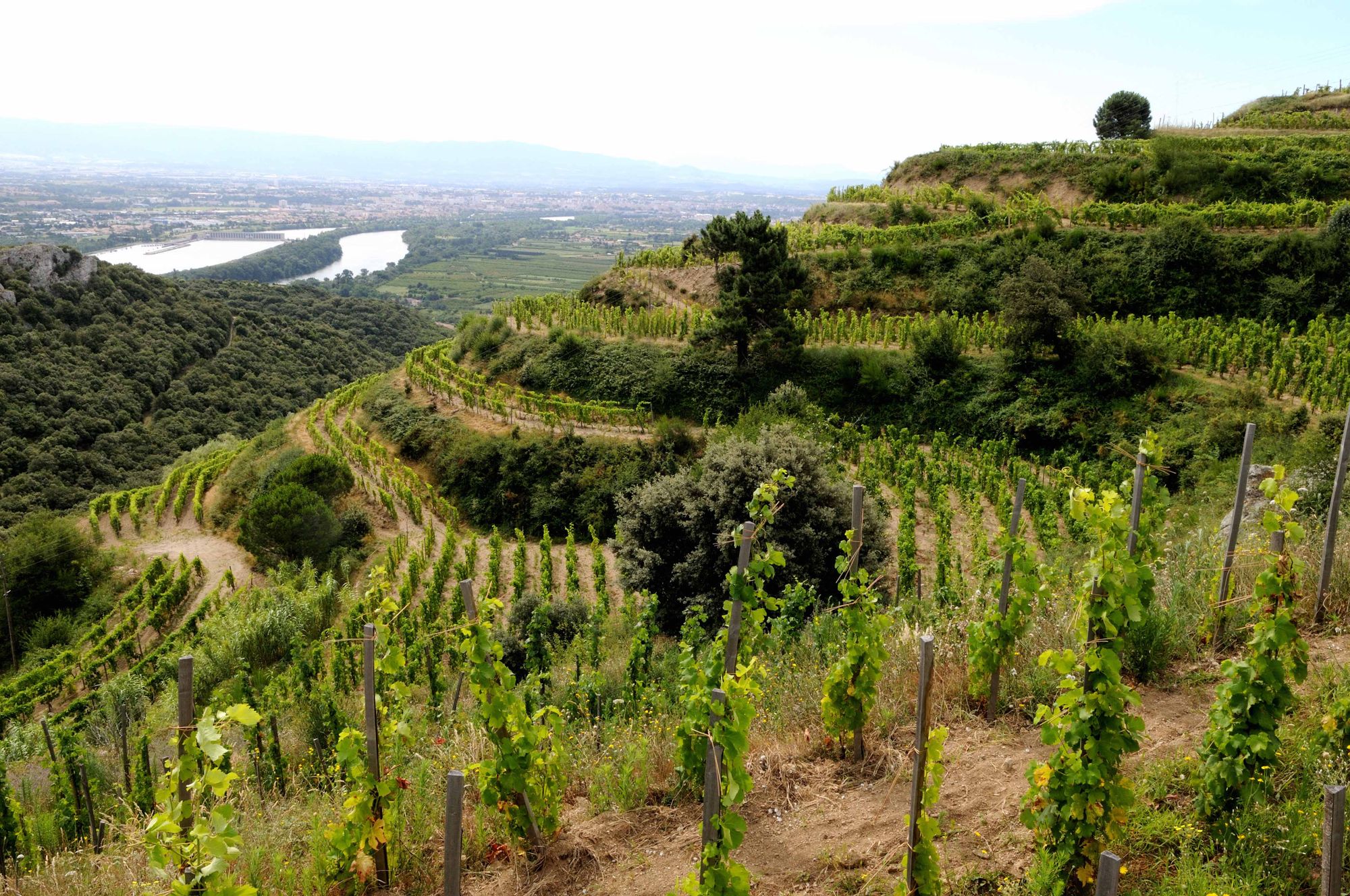 He also purchases grapes from another vineyard, south of the Rhône valley, where the grapes for this wine come from. They're from an organic farmer who owns 20 hectares, and the parcels these grapes come from are quite small, located next to forests with a lot of biodiversity around - not surrounded by other vineyards, which is really important. These grapes are on clay and limestone soil.
What's the story behind the name of the wine, Petit Ours?
It's a funny story actually. Matthieu is quite a short man with a big beard and a big belly, and he's very often grumpy. So in the wine world, everyone calls him Petit Ours - which means little bear. Like a bear, he may look scary, but when you hug him, you realise he's actually very nice. He decided, well, everyone's making fun of me, so I might as well be in on the joke.
What grapes are used for the wine?
100% Syrah.
Can you talk me through Matthieu's winemaking process?
It's harvested by hand, in small cases. Fermentation is spontaneous in concrete tanks for 15 days, with only wild yeast from the grapes, which allows for a pure taste of the terroir. The grapes are destemmed, so it's fermented with berries only. Once fermentation finishes, they rack, press and blend the free run juice with the pressed juice, before ageing for 6-9 months in concrete tanks. Once they taste it and decide it's ready, they rack one last time and bottle with just a little quantity of sulfites.
How would you describe the wine?
It's a pretty atypical Côtes du Rhône - as usually it's a blend of different grapes, and this is 100% Syrah, so it's really unusual. Normally, Côtes du Rhône can be very rustic, with really high alcohol and very dense with a lot of tannins. This is the opposite, it's a very drinkable Côtes du Rhône with light extraction and crunchy, delicate tannins. You can enjoy it with food, but it's not too powerful to enjoy on its own. Typically of Syrah, it has spice and black olive notes, some jammy red fruits. But what's interesting is the beautiful sensation of freshness it has - not candied fruit, but ripe fruit, balanced with the acidity and freshness. So it's a Côtes du Rhône that's light in style compared to what we're used to, very fresh and very drinkable in the early stages, with a delicate texture.
How does this vintage, 2021, compare to others?
2021 was a very hot vintage, but not as hot as 2022 because that was without water for a long time. 2021 had a little rain, so it was still a balanced vintage. The rains really helped to keep the alcohol level low - 2021 is 13.5% and 2022 will be around 14.5%, as the fruit was overripe. So this one is a hot but balanced vintage.
When is it best enjoyed? Now or later, if people want to age it further in the bottle?
The ageing potential for this wine has a limit - if you aged it for 5 years, it may drink even better. But beyond that, I think the taste would go down a bit. 2021 will drink amazing now, and maybe even better in the next 3 years. After that, it'll still drink well, but not as good as it could be.
Any food pairings you'd recommend?
It could be a wine for lunch, with a salad or something fresh during the day. It's a red you can enjoy with light, healthy food - salad, cooked vegetables or pasta. And at night with a piece of chicken or veal, any kind of white meat with some vegetables. But not with pork or beef, as the structure is not big enough - lighter style dishes. You can also enjoy it on its own.
Isabelle's thoughts on Petit Ours - This pure Syrah shows classic notes of cracked pepper and violet as well as lean, silky tannins. Mathieu's family are from Cornas, the home of Syrah, so - unsurprisingly - he knows a thing or two about this grape variety that can be wonderfully focused and crystalline. Unusually for a Côte du Rhône (which would normally be a blend of Syrah and the more rounded, plusher Grenache), Ours is an unabashed celebration of Syrah at its best. Linear, precise and elegant it is not only floral but herbal too, showing notes of olive, rosemary and a freshness that is almost minty.
TOTAL SULFITES: 13mg/L.
---
Fabbrica di San Martino is a farm and winery in Tuscany, 5km northwest of Lucca and in the Colline Lucchesi wine area. It's run by Giovanna Tronci - a pharmacist, hotelier and restauranteur born in San Martino - and Giuseppe Ferrua - a former restauranteur. They work using biodynamic methods.
Q&A with Giuseppe Ferrua
Can you tell me about your background - how did first get into restaurants, and what was your route into winemaking?
I had restaurants for 25 years before becoming a winemaker. My passion started back then, especially at the last restaurant I had. In Lucca, back in 1990 when it had no tourists, I had a trattoria which was really popular with the locals - around 200 of the same clients, every day. I made simple, fresh, seasonal food, that wasn't expensive, so we had people coming in all year round. I combined local food with local wine. Fabbrica di San Martino belongs to my wife. I started selling wine from the estate and at that time, I liked wine, but it was nothing on the passion I have today. And people really enjoyed this wine and told me it was very local, very typical of the area. That was really the beginning of my interest in wine.
I started speaking to different makers here and asking them about the grapes they use and realised, at this farm, they had been making the same wine forever, without making any changes along the way. It's wine with lots of history. Fabbrica is a very old place, a historical villa that was home to nobility in the 1700s - and nothing had changed in the way they make wine from back then, all using the same grapes. This was very important for me. When I started here, it was around the time that Italy was losing its traditional grapes for the likes of Cabernet and Merlot, but it became my mission to keep these old varieties and methods alive.
At first, I just helped out on the farm as I still had the restaurant, but then the farmer here retired. He worked organically before he knew certification existed, and worked very simply. I got the certification in 1995, simply by declaring what he had been doing. When I started working alone, that was the moment I realised organic was not enough. It didn't work for the metabolism of plants. Plants are in connection with the cosmos in a way that's much deeper than what organic can offer.
Around 2000, I started reading about biodynamic agriculture and in 2002, I started using those methods. Thanks to biodynamics, I can arrive at a true taste of the grape, that exists in the variety, the soil and the weather. No manipulation, no fertilisers, no added yeast - just wine made in relation to nature, moons, planets, and the zodiac - forgetting chemicals. I don't grow international varieties, only local and traditional varieties. In 2008, I got the Demeter certification and we still work this way today.
How has your background in hospitality influenced the way you make wine?
I worked in hospitality for many years - we have apartments here and agritourism, so people can come and stay with us, but I don't prepare meals anymore. I've done that already - no more! [Giuseppe laughs]
How about the way you farm and make your wine - what influenced you to work biodynamically for instance, and what is your philosophy in the cellar?
The most important thing is reaching a taste of the grape which is a true taste. That is the main thing. We can talk simply of the quality of the wine, but for me, now, it's also about the quality of life, of the environment and of the future. When I started making wine, this concept was not impressed in me - I focussed more on the quality of the end product. Today, it's not only the quality that matters to me, but the future as well.
Can you tell me about what it's like to work in the DOC Colline Lucchesi? Are many others making natural wine within the DOC?
In my opinion, the denomination is something that is going to disappear. It doesn't represent the truth. Nowadays, people don't look at the label for denominazione di origine controllata (DOC) or appellation. People, or people who work in wine at least, prefer to look at what's in the bottle, not the certifications. For me, they're going to be lost. You have to follow permissions to make the DOC - they work in a formal, stupid and superficial way. It should be about if a wine represents the territory. In reality, they're tasting wines and judging it on if they do or don't like it. I think the importance of this will disappear for wines made organically and biodynamically.
In Lucca, we had a commission for the DOC, which made a lot of progress last year. Most of the wines here are organic and many of them are biodynamic, and in COVID, this commission was moved to Florence, so now all wines from Lucca are mostly refused. All my wines in the last 2 years have been refused. So now I'm looking to make wines Indicazione Geografica Tipica (IGT), which is a larger certification and without commission in terms of tasting. It's just a geographical certification. You can write IGT on your label if it's in this territory. DOC is going to disappear, or the approach of commissions will change, because at the moment they're still following conventional models of taste that belong to a time long, long ago. Anyway, we'll see. I think 2-3 years, we'll see.
How many hectares of vines do you have, and can you describe the vineyard and its surroundings? We like to paint a picture for people.
I have 2 hectares of vines, so it's a small production with a total of 12-13,000 bottles per year. We are 2 people, me and 1 worker, who do everything. It's only at harvest that I bring in more help - from our children and friends. We are in a very nice place in Lucca, north of the city and looking south. We have the sun all day and a wonderful view of Lucca. The property is big, because we have a total 220 hectares, and all the vineyards and olive trees are surrounded by forests. We have no neighbours, except one who also works organically and biodynamically. We are very, very lucky for this position.
What's the soil and the terroir like?
The territory of Lucca is a very mixed soil, we have clay, limestone, many different stones. We have a calcareous soil called Massiccio Toscano.
Which grapes have you used for the Rosso Arcipressi?
This is the oldest vineyard we have. It's 70 years old. In it, there are 14 different grape varieties: Ciliegiolo, Canaiolo, Colorino, Aleatico, Malvasia Nera, Moscatellone (moscato nero d'amburgo), Foglia Tonda, Barbera, Barsaglina, Sangiovese, Colombana, Roussane, Trebbiano and Malvasia di Candia. It's a field blend - blended in a very traditional way of Lucca, with lots of different grapes. This type of wine was originally made for local markets, and each farm had its own taste. In Lucca, you can find many vineyards like mine making field blends.
And Arcipressi means cypress. We have some at the entrance of the farm. The last farmer, Mario, grew up here and worked here all his life. Arcipressi was the furthest place from the winery. When I had a donkey or a horse that ran away, Mario would say that's where they'd be, because it was the last place they would be able to run to. In Lucca, only one restaurant has this wine. It's the most territorial wine we make. It's rare and unique.
Can you talk me through the process of making this wine?
This wine is made simply in stainless steel, as I didn't want a container that would change the taste. It macerates with skin contact for around 7 days and then it's into stainless steel, where it remains for a minimum of 1 to 1.5 years and then in it's bottled, and sold at 2 years old. It was originally a wine to drink very young, at around 6 months old. But today, I think because of global warming, the tannins are so strong, it needs longer in the cellar to become smoother and more drinkable. Now I sell it at a minimum of 2 years old.
Do you use any sulfites?
I don't add sulfites before bottlling. My wines just have very low levels of what occurs naturally - 30 to 40mg/L.
How would you describe the wine?
It's a wine that's very complex, very rich in flavors and taste thanks to the 14 grapes. At the same time, it's very simple. I take a lot of care with acidity, and don't want super alcoholic wines. With a lower PH and acidity, I can use less sulfites and I have fresher wines. It's easy to drink - all my wines are around 12.5% alcohol maximum, no more. It's very fruity, but with intense tannins. In Tuscany, wines always contain lots of tannins. It's great with local foods, fatty things like pork and olive oil. Compared to a traditional Tuscan wine like a Sangiovese, though, Arcipressi is a lighter wine for daily use. I used to describe it as wine for the week. Sangiovese is more of a wine for Sunday, to have with your Sunday meal.
When is it best enjoyed? Now or later, if people want to age it further in the bottle?
Arcipressi is a wine to drink at 3-4 years old - this is the perfect age for the wine. Not a wine to store for 10-15 years. There is Sangiovese in it, but a small quantity, so it's not a wine to age for a long time. I'd say maximum 5 years. It doesn't have the acidity or tannins to age for a long time. It's a fresher wine.
Any food pairings you'd recommend?
Local Tuscan food. It's perfect for pairing with simple dishes - not an elaborate Sunday meal. Of course, in the US, you can't have actual local Tuscan food, but I'd suggest trying a simple Tuscan recipe.
Isabelle's thoughts on Arcipressi - This is a delicate drop with a beautiful texture that is light and crunchy with silky tannins, and a lovely purity of fruit on the nose and palate (think red cherry, firm blueberry and rhubarb). It also has a rustic touch in that it is pretty old fashioned in nature - it is not trying to be fruit forward. It is an earthy wine, made to be drunk with food - even if just a slice of pizza.
TOTAL SULFITES: 35 mg/L.
---
La Perdida is a project by Nacho Gonzalez in Spain's Galicia region, where he manages a number of vineyards that he inherited from his grandmother. In his work, he focuses on 'soil recovery' and old grape strains, cultivating approx. 4 hectares of vines with a majority of Grenache Tintorera, along with Jerez, Godello, Sumoll, Doña Branca and Palomino.
Q&A with Nacho Gonzalez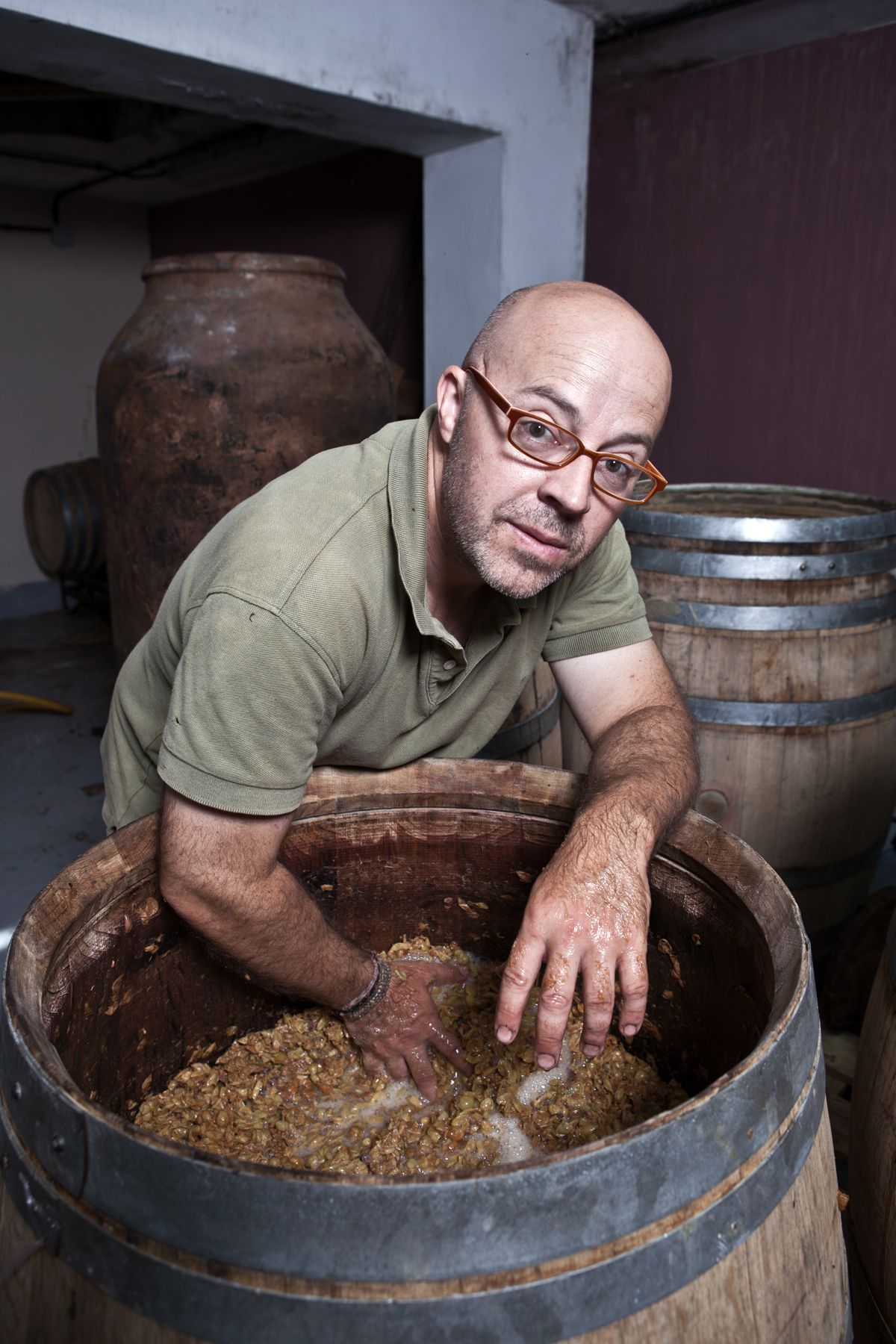 Can you tell me about your background? About inheriting the vineyards, and whether you had explored winemaking before this?
I inherited my first vineyards from my grandmother. She always made wine at home. She sold some of her grapes and kept some back to make wine for the family to drink that year. I have memories of making wine from when I was a child and harvesting the different vintages. The whole family helped.
I originally trained as a biologist and, in 2011, settled permanently in Valdeorras to work in that field - not at all related to winemaking. But I had the afternoons free, which allowed me to start working in the vineyards that my family had left to me. That first year, I made 600 bottles. The next year, I acquired a winery that had been closed for years - and that's how it all began.
Why is soil recovery important to you and how does this influence the way you work?
Soil is everything. Plant life begins with healthy soil, where all the biological processes that occur in nature can develop. My goal is for the soils of my vineyards to resemble the soil of a forest.
Can you tell me about the old grape strains you work with? Are they unique to Galicia?
They are not exclusive to Galicia - the dominant varieties are Palomino and Garnacha Tintorera that were planted a lot in my area after phylloxera. Consumers in my territory did not value them until now, but to me they are magnificent, and a lot of them old vines. Other varieties that I use are Godello, Dona Branca, Merenzao and Mouraton.
Can you tell me about the different terroirs you work with?
I have different types of soil: clay with slate rock, limestone in a hotter area and granite located at higher altitudes.
What is the wine scene like in Galicia?
Wine without adding anything is complicated because I am practically alone in that. As for my territory, the Godello grape has been promoted and that has caused many large wineries from Ribera del Duero and Rioja to arrive. I don't like this situation - I lived very peacefully before
What grapes did you use for this wine, O Trancado, and what soil is that grown in?
70% Garnacha Tintorera and 3o% Mencia, grown in clay soil and slate bedrock.
Can you talk me through the process of making this wine?
I've been doing it since my first year - all my Grenache and Mencia goes into this cuvee. Recently, I have lowered the level of extraction and it spends a few days with the skins, with half of the fermentation in 500L plastic tanks and half in barrels. It goes directly to the bottle after 6 months - there is never a change of container, only to the bottle.
Do you use any sulfites?
No.
How would you describe the wine?
It's a Grenache that's easy to drink - not tannic and very fruity.
How does this vintage, 2020, compare to others?
I can't tell you much either because they are all different.
When is it best enjoyed? Now or later, if people want to age it further in the bottle?
It ages phenomenally, yesterday we opened a bottle that appeared in the winery from 2016, and it was very good.
What's the story behind the name of the wine?
It's the name of the vineyard that I inherited from my grandmother.
Any food pairings you'd recommend?
It's good with everything!
Isabelle's thoughts on O Trancado - Deep purple in color, O Trancado is a stunning wine. Intense and long (very), it has a bright acidity, vibrant aromas, a pronounced minerality, a crunchy texture and a marked complexity that give the wine a real sense of place. This is a wine with great terroir. It shows notes of crunchy blackberries, red mulberry, blackcurrant leaf, as well as wild thyme and sage. A luminous wine.
TOTAL SULFITES: 12mg/L.
---