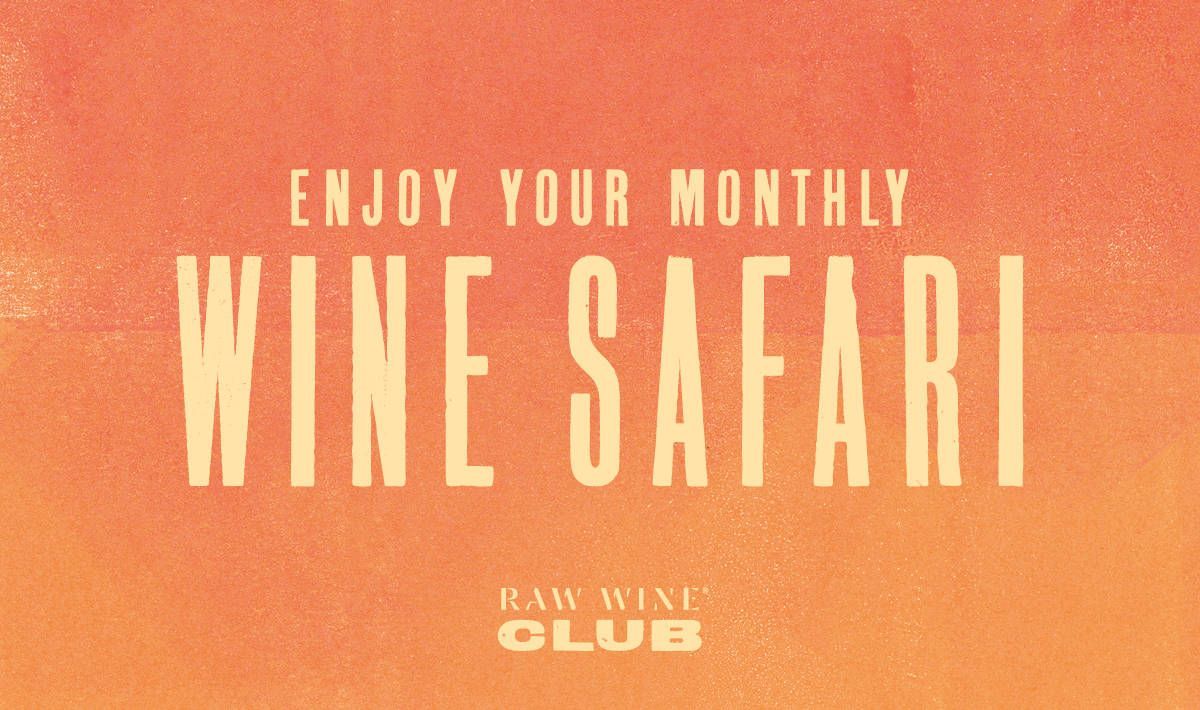 RAW WINE Club - Tasting Notes - November 2023 Selection
34 min read
Hello & welcome back!
As the holiday season approaches, I wanted to take a moment to say a huge thank you for being part of this wine box adventure with me. It is a joy putting together a selection each month but it would be to no avail without you on the other end to enjoy it. So thank you. Thank you for putting your trust in me and for being curious about flavor and the goings-on in the natural wine world.
This month I have put together a deliciously eclectic selection for sharing with friends and family over the holidays. There's an easy-going sparkling from the Loire - a great apéritif; a crisp, intense, herbal Austrian white; a gorgeous, smoky, floral, full-bodied Mexican rosé; a chillable, easy drinking red from the Languedoc-Roussillon that is bursting with plums; a serious, concentrated, silky Gamay from one of the most age-worthy Beaujolais Crus; and a beautifully concentrated Californian red that is perfect for sharing over dinner.
Warmest wishes, happy holidays and hope you enjoy the box,
Isabelle Legeron MW, Founder of RAW WINE‌
---
Domaine Le Facteur is a winery founded in 2013 by friends Fabien Brutout and Mathieu Cosme in the Loire's Vouvray AOC, where they make organic wines. Fabien first started working with Mathieu in 2008, after a two-year apprenticeship with Sebastien Brunet in Vouvray.
Q&A with Fabien Brutout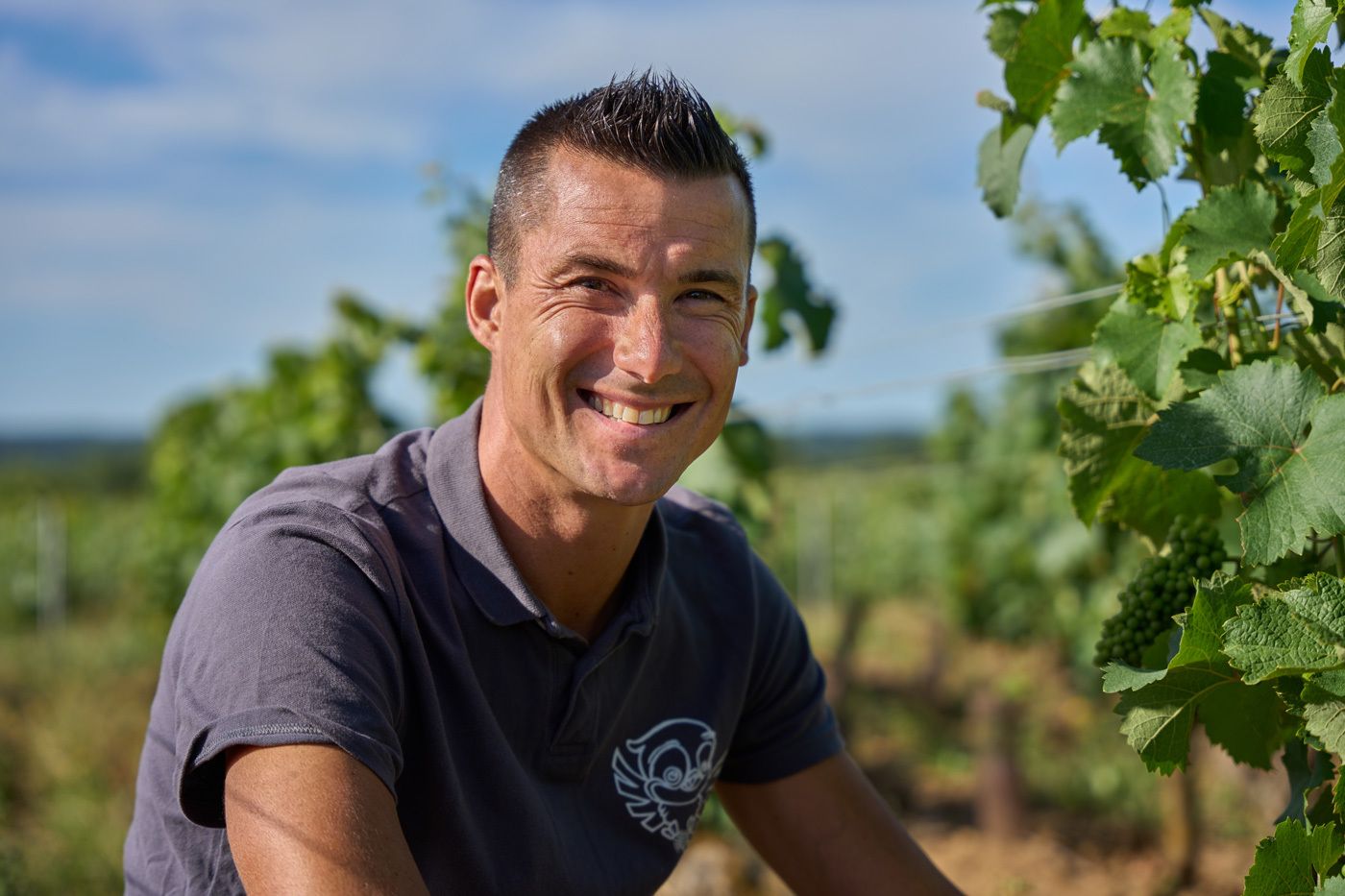 Can you tell me about your background - what was your entry point to the world of wine?
After completing a university program in the field of wine and obtaining a bachelor's degree in 2007, I worked for 2 years as an apprentice with Sébastien Brunet in Vouvray. It was an incredible learning experience working alongside one of the great winemakers of the appellation. In late 2008, I joined Mathieu Cosme and committed full-time to the domain.
In 2013, the idea to create a range of wines complementary to those produced by Mathieu began to take shape following a discussion and tasting with friends from Belgium. 'Le Facteur' was born, and I had carte blanche when it came to winemaking.
In 2018, I established myself in Noizay by acquiring 4 hectares of vineyards in the A.O.C. Vouvray and Vin de France appellations. In the meantime, myself and my farmer brother, who took over the family farm, planted 2 hectares of vineyards in the northern region of Indre-et-Loire, in the hamlet of L'Encloître, Beaumont-la-Ronce.
These family owned lands with limestone-rich soils were affected by phylloxera. Since then, Chenin Blanc has become the predominant grape variety. I also have Sauvignon, Chardonnay, Pineau d'Aunis, and Gamay grape varieties. This diversity fuels my creativity in winemaking.
Today, I run my own business and no longer collaborate with Mathieu. I am in charge of a 9-hectare vineyard spread across various terroirs.
What grape varieties do you work with, and how many hectares? Is it a mixture of Mathieu's and your grapes?
The cuvées of Le Facteur are blends of wines from several of my parcels. These wines are easy to drink when young but can also be aged for a few years in the cellar. They are 'friendship wines' that invite another round and will remind cinephiles of Jacques Tati's famous postman in 'Jour de Fête'.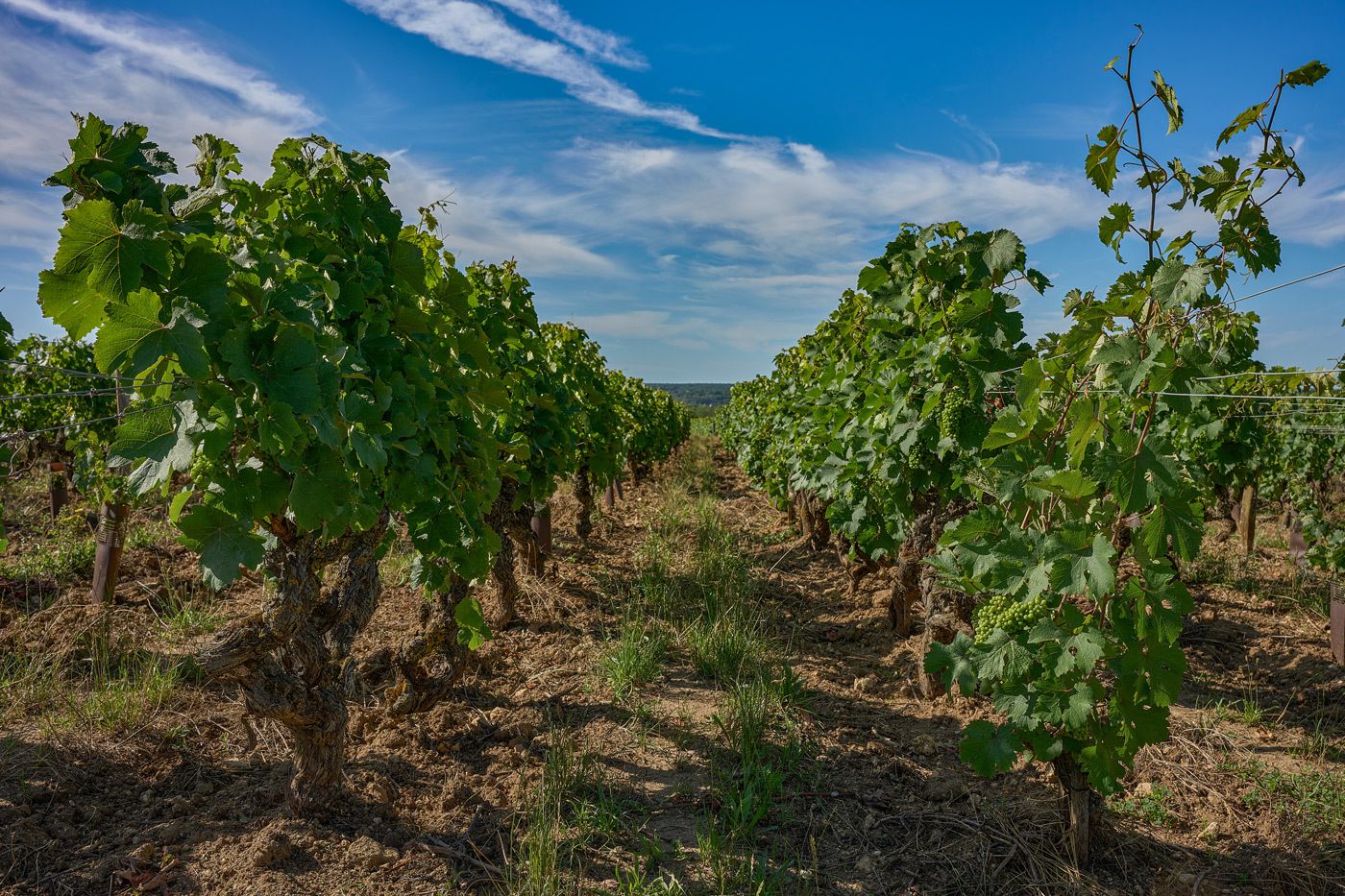 What varieties have you used for La Bulle du Facteur?
This wine is 100% Chenin Blanc.
What soil do they grow in, and what's the climate like?
It's a clay-limestone terroir. The climate is of the Loire region, with the Loire River located 2 kilometers from the vineyards. The river helps combat frost, and in the summer, it brings fog and freshness. Springs are mild, and summers are hot but manageable. These are ideal climates for the vines.
Can you talk me through the process of making this wine?
2021 was a very challenging year due to early frost and wet conditions during the harvest. Manual labor was crucial for selecting the finest grapes during the harvest. I use the ancestral method for this wine, with a single fermentation started in stainless steel tanks and then refined in bottles with natural sugars and indigenous yeasts. The aging on lees lasts a minimum of 6 months.
Do you use any sulfites?
I use very few sulfites, in homeopathic doses (below 20 in total) during pressing, with total amounts always below 20mg/L.
How would you describe the wine? How does this vintage, 2021, compare to others?
It was a very challenging and cold vintage with quite a bit of rain compared with the others. As a result, the wine is pale yellow with acidity and complexity, featuring notes of fresh fruits, Granny Smith apples, and lychee. The malolactic fermentation occurred in the bottle after disgorgement - it was the first time this happened - so it's no longer characterized by a buttery aspect, but is rather a round wine that I particularly enjoy.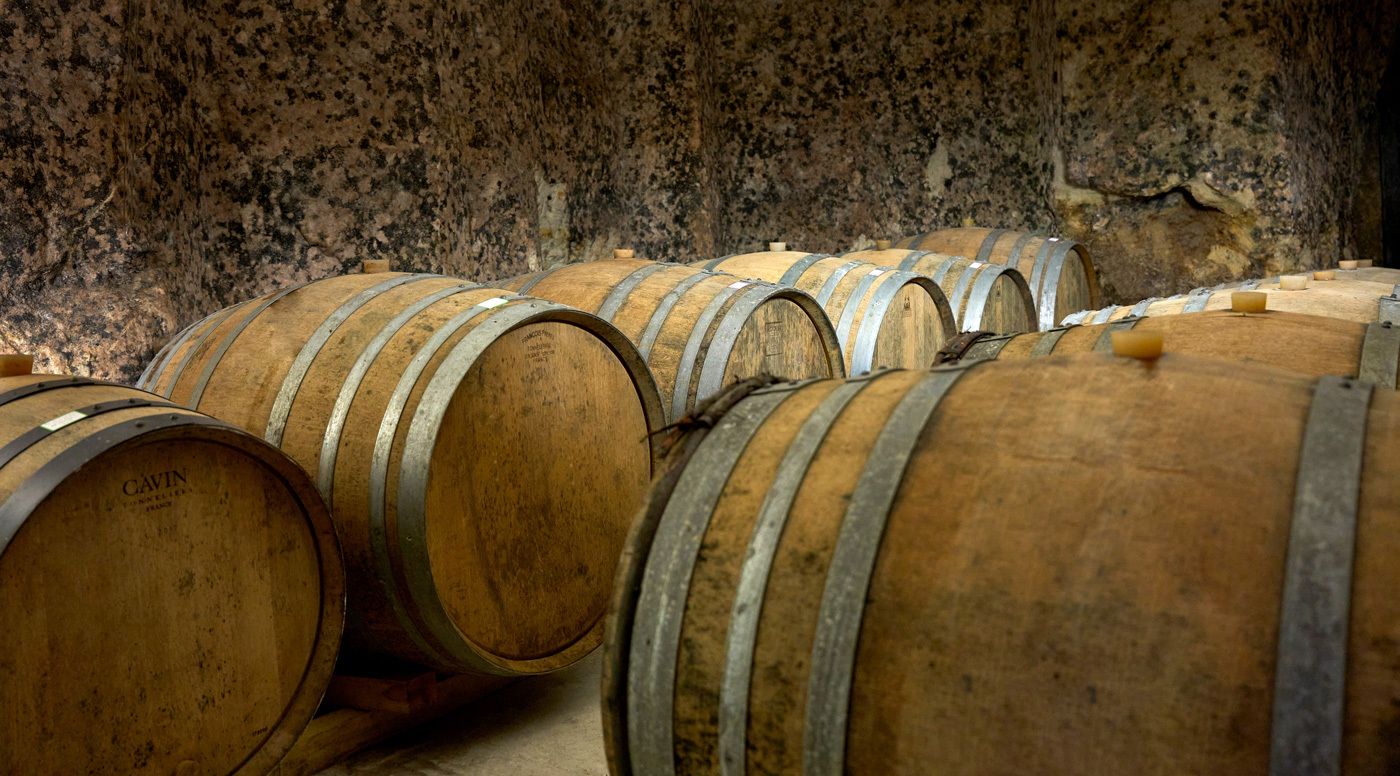 When is it best enjoyed? Now or later, if people want to age it further in the bottle?
This wine can be enjoyed within 4 to 5 months and will remain ideal between 12 to 24 months, maintaining notes of quince, Williams pears, licorice, and nuts. At 4 to 5 years, it reaches its peak with toasted notes, gingerbread, and more.
What's the story behind the name of the wine, La Bulle du Facteur?
It all started with a famous French expression, 'Remettre le facteur sur le vélo,' which means 'To start drinking again the day after a night of heavy drinking.' The name of the domain was born from a joke about this topic.
Any food pairings you'd recommend?
It's an ideal aperitif wine that pairs perfectly with a snack or cheese.
What's your connection to RAW WINE? Have you done a fair before and, if so, has it benefitted you?
My participation has been beneficial in terms of visibility, both directly and indirectly. Joining the community allows me to establish legitimacy for my wines, and I've also been able to find importers through these fairs.
Isabelle's thoughts on La Bulle du Facteur - This is pet nat at its most easy drinking and quaffable. Effervescent and creamy, with some residual sugar, La Bulle du Facteur drinks like juice. It shows greengage on the nose, and notes of apple, pear and baked quince alongside a touch of sweet cinnamon spice on the palate. Make sure you serve it well chilled though as it can gush on opening.
TOTAL SULFITES: <10 mg/L.
---
Weingut MG vom SOL is a winery in Weinviertel, Austria run by Michael Gindl. It's named as such because M and G are the winemaker's initials and because SOL is the name of an ancient vineyard in Michael's home village Hohenruppersdorf - but is also reminiscent of the word 'soul', because Michael aims to make wines with soul.
Q&A with Michael Gindl
Can you tell me about your background - how you came to be a winemaker, and what influenced your style of farming and producing?
Farming has been our family business since 1807, but always conventional farming. My father ran it as a side business so, 19 years ago, when I was done with school, I took over. For a few years, I worked using conventional methods. Then on Christmas Eve 2003, we sat down together as a family and had a tasting, with my wines and my grandfather's wines. My grandfather's wines from the late 1970s and 1980s tasted fresher and more lively than even some of my 1-year-old wines. At that point, I decided to do organic and biodynamic farming, and low intervention vinification like my grandfather. When he was making wine, artificial additives didn't exist, so everything was natural in the cellar.
Can you tell me about Weinviertel and its climate and terroir?
The climate here is more or less cool, although not so much anymore because climate change is hitting us hard. When I was a kid, my parents harvested at the earliest at the beginning of October, usually mid-October to mid or the end of November. Now, we are sometimes beginning the harvest in August. Compared to other regions in Austria, though, we're known as having a 'cool' climate.
The terroir is also interesting because we are the biggest wine region in the country, and known for lower quality, table wines. But we have a lot of limestone here, similar in amount to the big French regions, like Burgundy or Champagne, so that influences our wines quite a lot. Most of the wines here are very technically produced, so you can't see the influence of the soil as much, but it gives our wines a deepness, and good balance of acidity and tannins.
And how about the vineyard?
We have 12 hectares of vines, with very different varietals. Again in this region, vineyards are typically planted very far apart, with 3m between rows to allow for tractors to pass through. So we have some older vineyards, planted in this way. In the last 10-15 years, we've been planting more densely. On our more 'normal' and less special plots, as we call them, we have 2m between vines to allow for tractors to pass through very occasionally, with around 6-7,000 vines per hectare. On our special plots with the best soils, we have around 8-9,000 vines per hectare and work these vines only with our horses.
We spray as little as possible. This season, we sprayed 5 times, whereas our other organic neighbours sprayed around 15 times. We think about soil health so avoid working with tractors as much as we can, to protect the soil. To me, soil is a very important thing and a lot of organic winemakers aren't that interested in it. They talk about the plants, and less often about the soil. But to be able to produce with low intervention in both the vineyard and cellar, it's very important to have healthy soils without compaction.
What's the average age of your vines?
We're planting a lot at the moment - we had some old vineyards in an imperfect condition that we pulled out to replace with new vines, with more per hectare. Not for the sake of quantity, but in response to climate change. Each vine now has less grapes per hectare, and the root congruence is also bigger, so they grow deeper into the soil and handle it better if you have a really dry period. So the ages of our vines are between 4 and 65 years old. A lot of them are around the middle, so I'd say 5+ of our 12 hectares are 25-30 years old.
What grapes have you used for Flora 2021, and what soil do they grow in?
The varieties for Flora are more or less the same each year. 60% Riesling, 30% Scheurebe and 20% Muscat. It's a blend of all our aromatic varieties on the farm, that come from a variety of plots. Riesling and Muscat are grown on gravel, and the Scheurebe is on a lighter, sandy soil with more organic materials. Certain varieties can struggle with gravel soils in in dry periods, but Riesling and Muscat can work really well.
Can you talk me through the process of making this wine?
Harvest is separate for all three varieties. We harvest the Muscat and 50% of the Scheurebe very early, and the other 50% later with the Riesling, which is more or less the last harvest we make. This year, we harvested with 1 month in between. We are looking for fresh notes and aromatics from the Muscat and also from Scheurebe, which is a little like Sauvignon Blanc, so we want to have more green notes. The other half of the Scheurebe gives more ripe notes. The Riesling we harvest later to give the wine body.
The vinification is all done in old oak barrels - a bit different than 5 years ago, when we were mainly in stainless. The first harvest is macerated for 6 hours on skins, and the second harvest is macerated also on skins for a minimum of 24 hours, depending on the vintage. Fermentation is really natural, so no temperature controlling. It's difficult to give a timing for that, as sometimes it needs 6 days and sometimes it needs 12 months. It's a big range, especially for the Riesling as sometimes it gets cold and fermentation stops over winter.
In 2021, it was a very fast vintage, so I'd say between 6 days and a maximum of 3 weeks for fermentation. It's then all aged for 10-12 months still in old oak barrels, then we blend it in stainless steel tanks where it stays for a few weeks. We add 20mg of sulfur just before bottling. That's the whole process - quite simple. All wines are on full lees, so no racking until the blending right at the very end. Nothing added. Just waiting.
How would you describe the wine?
The name Flora is self explanatory. It's very floral on the nose and the palate. It's a really interesting wine, as for the first 2-3 years, the 20% Muscat is very dominant. Very floral, peachy, exotic fruits, with a good texture in the mouth. If you leave it in the cellar for 5-10 years, it tastes like a pure Riesling. In the first years, the Riesling is shy on the nose, more in the background.
How does this vintage, 2021, compare to others?
2021 was a hot vintage and early harvest. If we have a hot vintage, the wine is more dominated by tannins at the beginning, but I always work to protect the acidity. With this combination, it's a wine with a very good ageing potential.
When is it best enjoyed? Now or later, if people want to age it further in the bottle?
It depends if you want a more floral wine, in which case, drink it now. If you want more of a straight Riesling, lay it down for 5-10 years.
What's the story behind the name of the wine, Flora?
The picture on the label is more or less our idea of a perfect ground - with crops, herbs and flowers in the vineyards, and high biodiversity. The name comes from this, as well as the floral nature of the wine.
Any food pairings you'd recommend?
Asian food always works with my wines because of the acidity. But I tend to say pair it with whatever you like - if you enjoy it, that's the main thing. Every human being has a different sense of taste. If we each eat the same apple, you might taste something different to me. Taste is different for everyone. Some might enjoy the wine with food, some might not. For me, it's important that people just enjoy it, and not to think about whether how they're having it is right or wrong.
Isabelle's thoughts on Flora - A high octane light white wine  with a dash of residual sugar. Very floral and very aromatic, Flora is well made with a lovely intensity of bergamot and basil, and a long perfumed finish. Great with deeply aromatic food like Thai or Vietnamese.
TOTAL SULFITES: 15 mg/L.
---
La Casa Vieja, Rosado, Baja California, Mexico, 2021
La Casa Vieja is a family winery in Baja California, Mexico, first restored and now run by Humberto Toscano. He makes wines from the 120+ year old vines which are dry farmed and just 5 miles from the sea.
Q&A with Humberto Toscano
Can you tell me about your background - how did you come to be a winemaker?
Actually, I was born in this ranch that came with the grapes included! So we decided to make wine from them and share it with whoever liked what we do.
What's your approach to farming and winemaking, and what are your influences for working in this way?
We make the wine 'the old way' to honor the plants and the ranch itself. We try not to change the plants or the way we care for them. I learned from my father and the other farmers around us the traditional way, and we like the results - so why change?
Isabelle's thoughts on Rosado - Some people worry that rosé is neither here nor there, but this is a rosé with lots of personality. Rosado is a luscious, full-on crowd-pleaser that is so intense and deep in color it looks more like a red. It is also a wine with great depth. Showing notes of poppy and a touch of smokiness, alongside sweet liquorice, wild strawberry and bilberry, it is the perfect pick-me-up for the cold and dark creeping up on us.
TOTAL SULFITES: Xmg/L.
---
Domaine Benjamin Taillandier, Bufentis, Minervois, France, 2018
Domaine Benjamin Taillandier is a winery named after its maker, located in Minervois - an AOC in the Languedoc-Roussillon wine region. Taillandier founded the winery in 2007 and is the first in his family to make wine.
Q&A with Benjamin Taillandier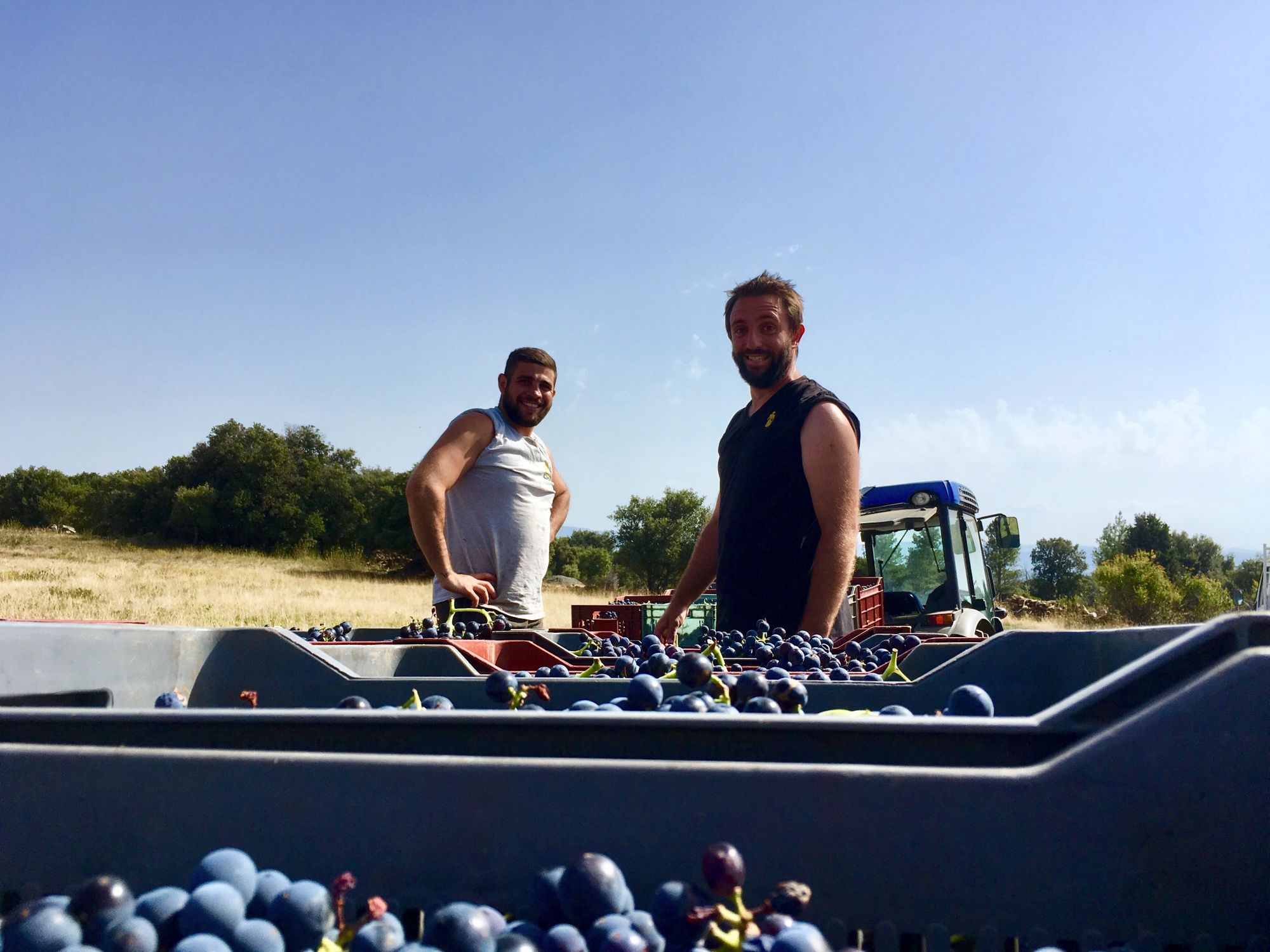 What's your background and how did you come to be a winemaker?
When I was very young, my parents and I arrived in Minervois. I fell in love with the region and the world of wine - my parents aren't in winemaking, but it was this that inspired me to go down this route. Winemaking was my first and only job. I started making wine for myself in 2006 and worked for another domaine in the southwest of France, before my studies.
When it came to starting my own winery, I didn't want to make wine anywhere but Minervois. I love the weather here - it's very nice for most of the year, except for winter. I love the people, the variety of grapes and wines, and all the colours of the mountains.
Can you tell me about Minervois? What's the natural wine scene like?
Minervois is a huge appellation - there are 80 villages, tonnes of vines and winemakers. I live in the northwest of Minervois close to the Black Mountain, so the vineyards are higher round here, with a bit more water and rain than the rest of the region. There's not a lot of people making wine here considering the size of Minervois - there's maybe 10 in total. It's quite poor and there's not a good dynamic between us winemakers either - we don't know each other very well.
What's your approach to farming and winemaking, and what are your influences for working in this way?
When I studied, I met some natural winemakers in Languedoc and I said then that I wanted to make the same wine as them. All my farming is organic and biodynamic. Organic because the grapes are better and biodynamic because, when I taste wines in other regions and countries, all the wines with the best acidity and best flavor are from biodynamic farms. My winemaking methods are very simple - we pick by hand into small boxes of 10-12kg, then we put it into the tanks and we do nothing. It's very simple. We leave the native yeasts and juices to play, and use only time and the temperature of the tanks. We let the wine do the work for itself.
Can you describe the vineyard and its surroundings?
It's composed by close to 20 hectares of vines, with a lot of Cinsault, Grenache and Syrah. But I use a lot of other varieties, too - Terret Gris, Terret Blanc, Clairette, Aramon, Carignan, Grenache Blanc, Grenache Gris and Muscat. With global warming, I've also planted some varieties like Macabeau, which come from Roussillon or Spain, where it's drier.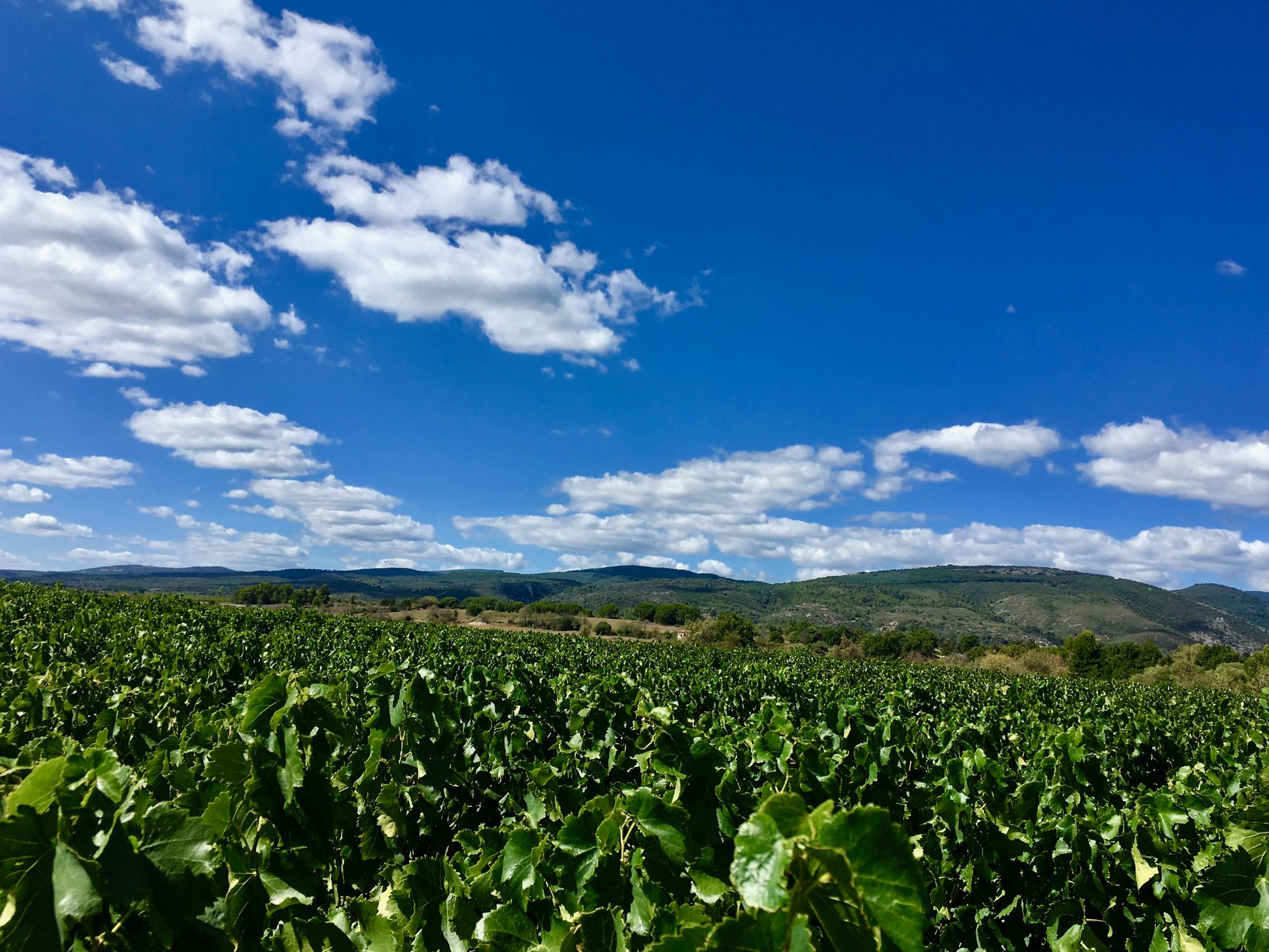 What grapes have you used for Bufentis and what soil do they grow in?
For Bufentis, it's 50% Syrah and 50% Grenache. The Syrah vines are 40 years old and the Grenache vines are 80+. They grow in clay soil.
Can you talk me through the process of making this wine?
Both varieties are harvested on the same day and fermented in the same steel tank. I ferment them together because Grenache is oxidative and Syrah is reductive. We let them macerate for 3 weeks and then we press, before putting it into barrels and amphoras for a year. Before bottling, we blend again.
Do you use any sulfites?
I use a little bit - around 50mg/L total. First after malolactic fermentation and the rest just before bottling.
How would you describe the wine?
Bufentis is a full bodied wine with tannin, but also with a lot of freshness. It's not hard to drink and you can drink it for quite a while. And you don't necessarily have to have it with a big meal, you can have it with something simple.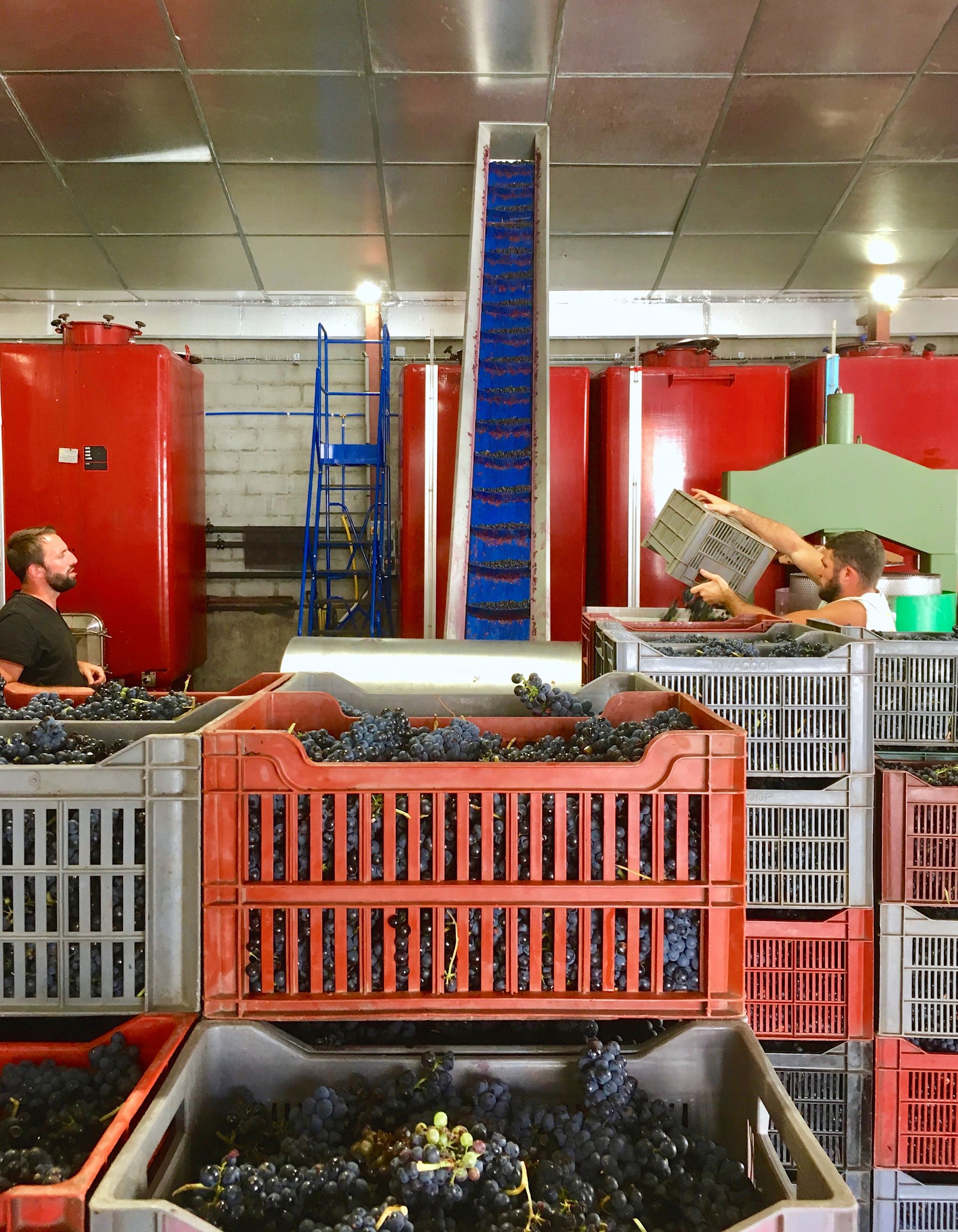 What's the story behind the name, Bufentis?
My village, Caunes-Minervois, was known as Villa Bufentis in the Roman times. And in French, Bufentis is the name of the wind. It's a very windy place and it's good for preventing disease in the vineyard.
How does this vintage, 2018, compare to others?
2018 was a classic vintage with a little bit more rain than the others, but good for ageing.
When is it best enjoyed? Now or later?
I think it's good now - as it's already 5 years old. The best time to drink Bufentis is between 4-8 years.
Any food pairings you'd recommend?
For me, it's nice with lamb, because we have lamb here in the Black Mountain and it goes very well together. It also works well with daal - with lentils and spice.
Isabelle's thoughts on Bufentis - A great little wine with some bottle age that is easy going and light. Showing notes of sweet plum and pomegranates, Bufentis has a lovely acidity that gives it a deliciousness that makes for very easy drinking. Perfectly mature now, it is best served slightly chilled.
TOTAL SULFITES: 50mg/L.
---
Domaine des Moriers, Moulin-à-Vent, Beaujolais, France, 2018
Domaine des Moriers is a winery in Les Moriers, Beaujolais, run by François de Nicolay. Francois is a fifth-generation winemaker who also runs his family estate, Chandon de Briailles, in Savigny-lès-Beaune with his sister, Claude.
Q&A with François de Nicolay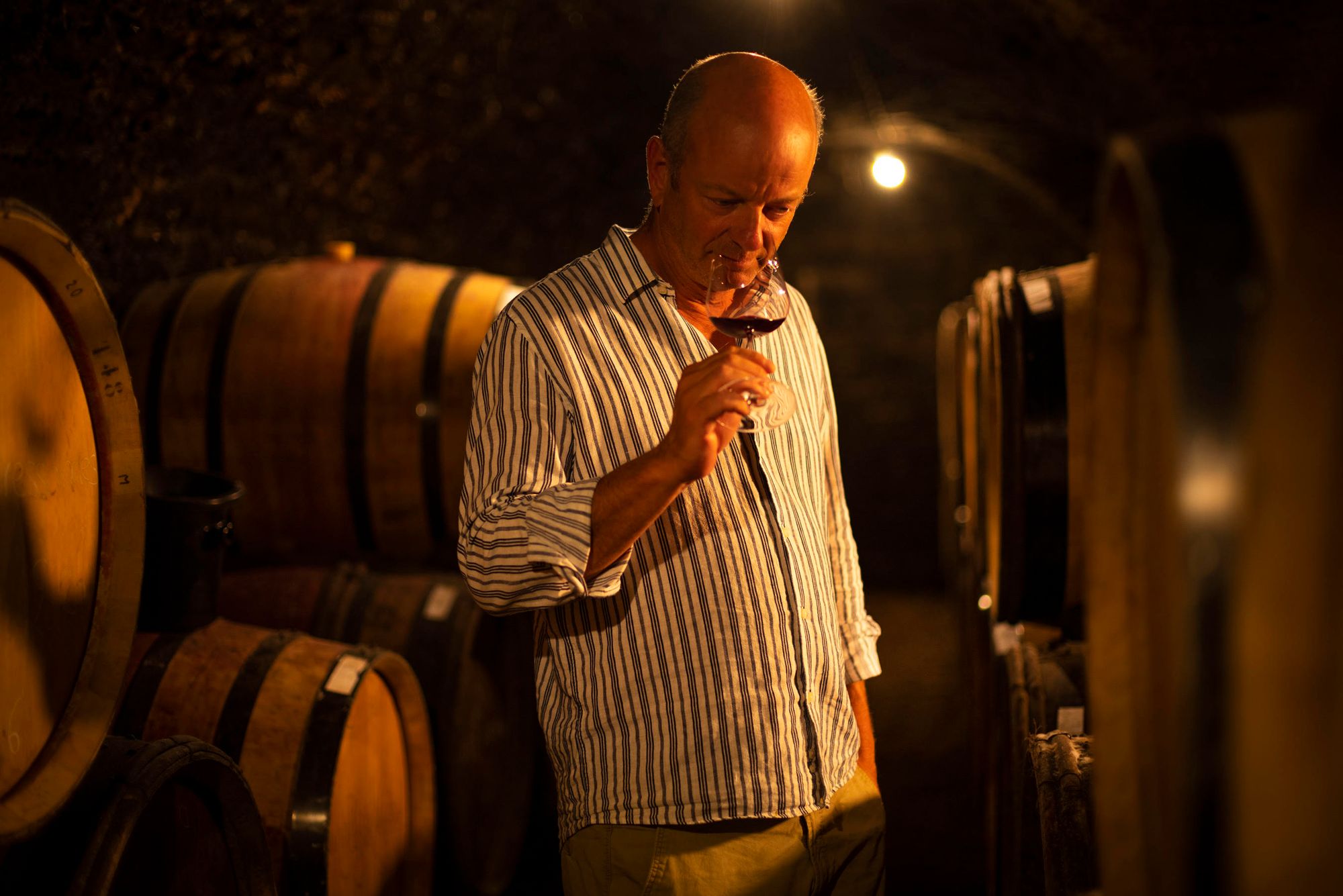 Can you tell me about your background - as a fifth generation winemaker, did you always know it was the path you'd follow?
I started my career in Paris, studying business management and international commerce. I launched my company there in 1994, distributing wines from estates in Burgundy, which is how I started learning about wine. I then opened a wine shop in Paris, but in 2001 my mother - who was running the family domaine at the time - called me to tell me she wanted to retire, and to ask if I wanted to continue the domaine with my sister, Claude.  I said yes, of course, and moved from Paris to Savigny-lès-Beaune. I learned about vines and winemaking through working, not from school. When I was distributing, I worked with Domaine Leflaive who are biodynamic. From that experience, I knew I wanted to turn the estate towards biodynamic agriculture, which we did in 2005 across our 14 hectares.
What was it about biodynamics that convinced you to convert the estate?
We did a number of blind tastings at Domaine LeFlaive, comparing wines made from grapes grown on the same plot - one third farmed using conventional methods, another organic and another biodynamic. In the blind tastings, I always chose the biodynamic wine as my favorite. The purity of the wine was so different. Also, in 1998, I went to Domaine François Chidaine in Mont-Louis, where they used the same methods and I recognised the same quality in the wine. I recognised that biodynamic was the best method for the quality of the wine, so I trusted it wholly.
Then when did you begin Domaine des Moriers and why? Is that also a family project, or a product of a friendship?
I started Domaine des Moriers with a friend of mine who wasn't in the wine business, but passionate about wine. We bought half an hectare in Moulin à Vent "Les Près Ouverts" at first and started making wine in 2005, thinking that one day we could use this estate to make something interesting. Then, in 2008, there was an opportunity to buy a small domaine with a Beaujolais Villages, Chiroubles, Morgon, Fleurie and Moulin-à-Vent. Now the estate is 15 hectares.
Is there any difference in your farming or winemaking approach at Domaine des Moriers?
It's quite similar. For the vines we are now certified organic, so the next step is biodynamic. We do all our fermentation whole bunch in concrete tanks, and usually press just before the end of the fermentation, as we need to separate the stems from the grapes and the juice, to make it not too tannic.
Do you grow or buy grapes for this project?
We grow all the grapes we vinify, we don't buy any.
How many hectares of grapes do you work with, and what varieties?
It's only Gamay. For me, Beaujolais is the best terroir in the world for making Gamay. Here in the north of Beaujolais, we have granitic soils and it's warm - but not too warm. You get very complex Gamays in some parts - Gamay that's more aromatic and more structured. Whereas in the south, you get more limestone and clay soil.
Why is the granitic soil so beneficial for Gamay?
If you plant Gamay on limestone soil, it loses the elegance. Granitic soil allows for the complexity. It depends on the grape - if you plant Pinot Noir on granite, it's nonsense. Pinot Noir is only good on limestone and clay.
Two of the main appellations you work in are Fleurie and Moulin-à-Vent. Did you seek out these appellations in particular, and if so, why?
These two appellations are considered the best in Beaujolais. Fleurie is very floral and aromatic, as the name suggests, and not too light but not too structured, with a lot of length. It's kind of the opposite to Moulin-á-Vent, which is much more structured in terms of tannins, much more body, but also with a lot of length.
Can you talk me through the process of making this wine?
2018 was a ripe vintage. We fermented whole bunch, then pressed with a vertical press, which means we get a very good juice. It was then blended and finished fermenting in a concrete tank. Fermentation generally lasts around 15 days. It then went into aged oak barrels for around 14 months, before bottling at the domaine with no filtration and very low sulfites.
How would you describe the wine?
It is a wine that's very ripe, very easy and with a touch of sweetness. It's mature, so now is a good time to drink it.
How does this vintage, 2018, compare to others?
It's very approachable - there's no aggressive tannins, it's all smooth because of the ripeness.
Would it benefit from any further ageing?
You could age it for another 4-5 years, but I wouldn't go so far. It's not a vintage made for long ageing and it's drinking really well now. 2020 is a better vintage for ageing.
Any food pairings you'd recommend?
It's not a wine to drink on its own in my opinion, but to had with a meal. It would be good with red meat, tuna, vegetables, or a roast chicken.
Isabelle's thoughts on Moulin-à-Vent - November (in the wine world) is famously all about Beaujolais Nouveau so this bottle, while not a Nouveau, is a little nod to this dynamic region in Burgundy from one of its most long lived cru. A bright, plush, juicy red, Moulin a Vent shows notes of blackberry, blueberry and allspice with a lingering finish. It has a lovely ripeness and a soft cotton texture with fine, silky tannins. Fresh and long, this is a Pinot Noir that punches well above its weight. Versatile with food, it is also absolutely delicious on its own.
TOTAL SULFITES: Xmg/L.
---
Ruth Lewandowski Wines is a winery run by Evan Lewandowski. He makes wine from grapes grown across various organic vineyards in Mendocino County, California, which he initially drove in a refrigerated van to his first cellar in Salt Lake City, Utah. Now, he has premises closer to the vineyards, in Geyserville.
Q&A with Evan Lewandowski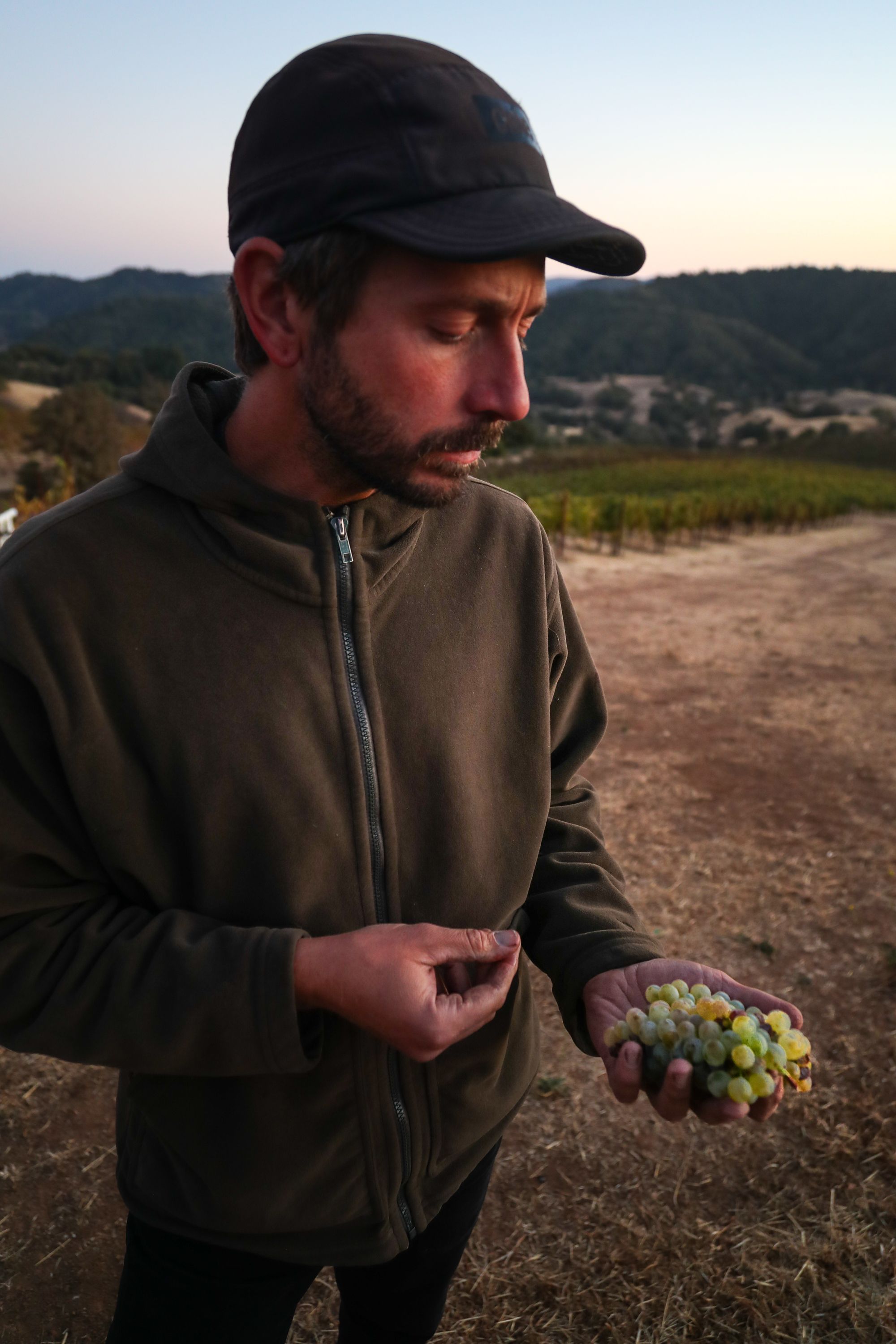 Can you tell me about your background - how did you come to be a winemaker? Are you from a winemaking family?
Absolutely not from a winemaking family. Not really even a wine drinking family. I think my first memories of wine were sneaking little sips of rosé out of my mom's Franzia box that was in the garage fridge when I was like, 8 years old. That was about the extent of what I understood wine to be by the time I reached wine drinking age. Or the you know, the the parties in college where you've got the red cups full of whatever and I just wasn't interested at all. My dad was air force, so  we kind of moved around all over the country. We moved every 2 or so years growing up and I had no real exposure to wine until I was I was bussing tables at this little French restaurant in Salt Lake City, where I went to university.
When I was 21, I got promoted to be a server and we were required to go to a twice monthly wine training, one red and one white, and it just absolutely blew my mind. It was a real epiphany, or life changing moment for me. The sommelier who was leading the training was just incredible, talking about geography, geology, history and I found it all so interesting - particularly because I was a geological engineering major at the time and super into dirt, rocks, organic material. So it was a sort of light bulb moment that wine was interesting and varied enormously depending on where it came from, how it was made and who was making it. I couldn't really get enough.
I kept studying and there was a point where I think I realized, well I think I'm going to have to either change my major or go back to school. I was talking to my dad about it and he was like, 'Well, you're in your last year of college and you're lucky enough to have your father pay for school, so I say you finish this degree on my dime and then you can go do whatever the hell you want afterwards!' So I finished my degree which ended up being exercise physiology, then went back to school for viticulture and a did a bunch of apprenticeships and internships as part of that. Those were more enticing to me, having been in school for 6 years. I didn't want to study anymore and I was tired of academia - particularly because what we were being taught was kind of the lowest common denominator of how to make wine to get it on the shelf in any state, country or continent.
I was much more interested in the philosophical, artistic and feeling side of things. The kind of things that you only learn from working for people who've been doing it for generations, so I kind of struck out and tried to get as much experience as I could in cellars around the world. I was hopping back and forth between hemispheres for a few years and did a dozen or so apprenticeships or internships, both pure vineyard and vineyard and winery. Then, finally in 2012, I couldn't take it anymore and decided I had to start my own thing. That's when Ruth was born.
Are there any places you apprenticed or interned at that shaped your winemaking approach?
There's two cellars in Europe in particular that still inform my decision making and philosophy today.
The first is Loacker who have a small estate up in the hills just outside of Bolzano, Italy. Hayo Loacker and his family have had that estate for for a long time, and they also have a Montalcino estate. I was able to work for both spots and those varieties are some that I still work with today. I distinctly remember the day I arrived there when they had just picked the first grapes, which were waiting to be thrown into the press. I was super surprised to see a white grape that I didn't recognize and assumed it was Sauvignon Blanc. Hayo the winemaker was like 'Oh no, that's Kerner' which I'd never heard of before. It's a variety that was developed to mimic Riesling in a lot of ways, but could pull off ripeness at an earlier stage.
I fell in love with Kerner and in that same vintage, fell in love with Schiava as well. I'd had a couple of Schiavas before then, but living in the heart of the Santa Magdalena AOC really drove it home for me. As well, I was captivated by the Gamay of northern Italy. Now, we have a planting of both Kerner and Schiava in Mendocino County, and Riesling too, all planted next to each other. So there's that for sure, but also in terms of how they work. They're a very hands off, low intervention facility, working quite homeopathically with really low sulfur and no additions in the winery.
But I think the most mindblowing vintage for me was 2011, when I worked with Christian Binner in Alsace, France. He's kind of the holy grail of Alsace for me. I'm hugely into aromatic white varieties - Riesling is my number 1 wine in the world, particularly Alsatian Riesling. It's very sunny and warm there, so you're able to express Riesling in a way that's both flashy, flamboyant and ripe, but also hauntingly aromatic and very expressive of the soils it comes from. Getting to work with Christian in Alsace was a dream come true. It was the first vintage I'd done at any cellar that was entirely additive-free. Not even a hint of sulfur or water. Nothing at all.
I had imagined that that could happen and I had heard of people doing it, but I'd never actually seen it done or been a part of it, so that was  groundbreaking for me moving forward. And not just that - it was also the conversations we'd have throughout the vintage. I went back for a pruning internship because they prune fairly differently, so I learned an awful lot from him and the family. That was a real benchmark vintage for me in terms of impact.
You originally set up a cellar in Utah, making wine from grapes in Mendocino County. What attracted you to Utah and why were you interested in buying your grapes from Mendocino?
Of course I had studied in Utah and after I'd been off working all over the world, I always had the dream of coming back to Utah and planting there. But I found myself working here in Northern California as an assistant winemaker at Quivira Vineyards in Dry Creek, where I worked for 3 years. I got to know the area and made a lot of connections here, so when I finally went back to Utah in 2012 to start this project, I decided to source the best fruit that I could from the people I know and trust. They just happened to be here in Sonoma County and mostly in Mendocino - including Testa Vineyard which is where the grapes for the Boaz come from. I've been working with them since 2012 and another vineyard called Foxhill since 2009 when I had a little side project.
I started out bringing those grapes back to Utah for vinification, but there came a point where I looked around and realised it was no longer logistically feasible. The trucking back and forth, it was stressful and felt almost unnecessary. It's a 15 hour drive, so you'd need to either dry ice or refrigerate the grapes, or add sulfur, and we weren't really into that. I knew I either needed to expand the Utah cellar and hire some people, or move out here and make the wine closer to the vineyards. I got involved in this small co-op here in Sonoma County with a bunch of friends and share a cellar with some very likeminded people - including Sam, the owner of Idelwild Wines, who's my best buddy, so it was an easy transition and kind of a no brainer.
Is setting up a vineyard and cellar Utah still a dream for you?
As long as I'm alive, that dream won't die. It sounds funny, but I was absolutely flabbergasted by the growth that we've that we've achieved in the last 10 years. I think we caught a wave of this sort of new movement of winemaking in California and luckily we were on the front end of that, so we've expanded basically every vintage from the beginning. For the last 10 years, it's just been me trying to get my feet under me and it feels like I've just been sprinting trying to figure it out and make it work. It's been incredible for sure, but it's it's also kind of taken me a little bit away from that that original dream of the Utah planting, which is on the backburner at this point. I'd love to go back there. There's a piece of property I'd be overjoyed to work with, but who knows. I love everything that I do, the vineyards I work with and the people too, so it'd take a fair bit of effort so I'll keep the dream alive here for now.
How many vineyards do you buy from now and how many hectares do they cover in total? How do you decide which farmers you want to work with?
We're probably working with around 13 hectares spread across six different growers. Foxhill is our main vineyard, I pull in at least 50 tonnes off that property every vintage. Broc Cellars are the new owners, and he's one of the godfathers of natural wine in northern California, so an absolute legend in my mind, so to have him buy that property and carry the torch now is absolutely incredible.
Testa Vineyards we still work with them - they're an incredible family, fifth generation Italian immigrants. Very much the California story. It's mind boggling to hear their story and what's they've been able to accomplish.
Then we work with Cole Ranch Vineyard, with an appellation owned by one family. They're super good friends and we buy Riesling from them.
Our Grenache comes from a 113 year old planting in Mendocino which I've been working with since 2013. Who else? There's a new Russian River site down here in Sonoma County, called Las. We get Gruner Veltliner from them which we skin ferment into a wine called Stockpot. It's very savoury, smells just like chicken stock. It's kind of crazy.
One of the things I really love about this whole endeavour is that it's very relational. You're able to develop relationships with growers and it ends up being this wine family, and you all take care of each other. You've got to because it can be tough, both as a grower and a producer because the market is fickle and not always reliable.
For me, I don't want to be taking fruit from some random person and cutting them a check. I love the idea of swimming in their pool in the summer, having barbecues together. I really trust them and their farming, and hopefully they can trust that the producer buying their fruit will treat it with the same responsibility. If I'm putting their family name on a bottle, it's my responsibility to do that.
How would you describe your approach to winemaking?
First and foremost the the fruit quality is is the first thing. My philosophy is the idea of doing nothing - bringing in the fruit, processing it and working out intuitively what that fruit needs. Things like whether it needs to be destemmed or whole cluster. But the idea is to to not add anything and not take anything away. I wouldn't consider myself dogmatic enough to be zero zero all the time. I think if if you can if you notice something going wrong and you have the opportunity to sort of corral it into a better place, then you should - but responsibly and conservatively, and not just prescriptively. Working with every wine on a case-by-case basis.
I'd say most of our wines end up being zero zero at the end of the day, but there are cuvées that sometimes just a little bit more help and they go a little bit aldehydic or mousey, and there's not really a place for that at at Ruth Lewandowski Wines. Our wines push boundaries, but I want customers to be confident that they're also consistent and that we've done everything we can to make a clean, delicious, zero zero wine. I don't want any dogma to get in the way of a pleasurable experience.
Talk me through the concept of Ruth.
When you start a brand, you have to name it and there's a certain amount of pressure to make it representative of you and something that will last, hopefully, forever. There's a lot of 'Evan Lewandowski Wines' out there if you know what I mean. A lot of people using their name with the word wines after it - and that's okay - but I thing there's probably enough ego out there in the wine world. It's not that much about me at the end of the day. It's more about the fruit that's grown and the community around me. I can't do all this on my own and so having my name on there feels a little gross. But I did love the idea of having my family name on there. Having worked in Europe for a few years, there's this idea of legacy and the mother and father's name continuing on with the estate, so they'll often be named after a person who's no longer the winemaker. I think that's lovely.
So I wanted the family name on there and I grew up fairly Catholic, and then I had a stint in this sort of right wing evangelical church for for a while and thank God - or thank Gods, whoever's out there - that I graduated from that sort of mindset. But I still find a lot of inspiration, romance and power in spiritual texts, and there's certain ones that that resonate a little bit more with me - in particular, The Book fo Ruth. That whole book is incredibly important to me and it's very short, around four chapters, but I think it sums up what everyone's trying to say, no matter what religion they belong to.
It depicts this cycle of death and life - how life happens despite death, or life happens because of death - and how that's a beautiful thing. Whether it's compost in the soil or the the cessation of a relationship or particular situation, that something has to die for us to carry on or to live more fully. And that we ourselves are dying so that others can have a better life. It's that redemptive quality of the universe. Beauty will always come from death or from the cessation of things, whether or not it's immediate or if it takes generations, but the universe makes everything right. That's what that book represents to me. And there are myriad farming applications with that, it's exactly what fermentation is.
And why the name, Boaz?
Most of the wines we make are named after characters in the book of Ruth, so we have Boaz, Naomi, Chilion and Obed. Boaz is the main male character in the book and considered the redeemer of this horrible family situation where Naomi is married to Elimelech and all the men in the family die, so the women are left to pick up the pieces. Boaz is this character who comes in and saves the day. And Boaz in Hebrew means 'by strength' or 'in strength'. This was our only red at the beginning and our biggest, most powerful wine, so that's why we called it Boaz.
The horse on the label is a nod to the Testa family who arrived from Emilia Romagna in Italy and travelled across California until they found somewhere that looked like home. They decided to plant their vineyard here and a lot of the work back then, in the early 1900s, was done by horse.
What grapes have you used for this wine, and which vineyard do they come from?
It's a co-fermentation and the percentages vary from vintage to vintage, based on  the conditions and ripeness and tonnage available. We get roughly a ton or a ton and a half, sometimes two tons of Grenache, which is the original planting from the first generation in 1912. There's also Carignan and Cabernet Sauvignon.
We put the Cabernet and the Grenache whole cluster on the bottom of the tank and then we tread Carignan on top. A lot of the Cab and Grenache end up being kind of untouched throughout fermentation and go through this interesting carbonic maceration at the bottom of the tank. It keeps things it keeps things lighter and brighter and fresh. I'm a huge fan of of the idea that things can be powerful and delicate at the same time, and this wine is a good example of that. It's bright and high-toned and lithe, but it can be brooding and deep at the same time - so approaching the grapes in this way helps to keep things more alive.
What soil do they grow in?
They're all somewhat similar to each other but all different sorts of consistency. It's all it's all on this soil series called the YOKAYO soil series and it expresses itself a little bit differently depending on the block. The Carignan block is really powdery, very light and super dusty. It's you're walking through the vineyard, it's almost as if you're walking through a snowstorm where you've got six inches of snow on the ground. It's almost hard to walk in. Across the estate, the Grenache is on the same series, but less eroded and so it's a pebbly and fine sort of gravel that just hasn't broken down quite so much. The Cabernet is just a little bit more clay and a little heavier soil, but all very well drained.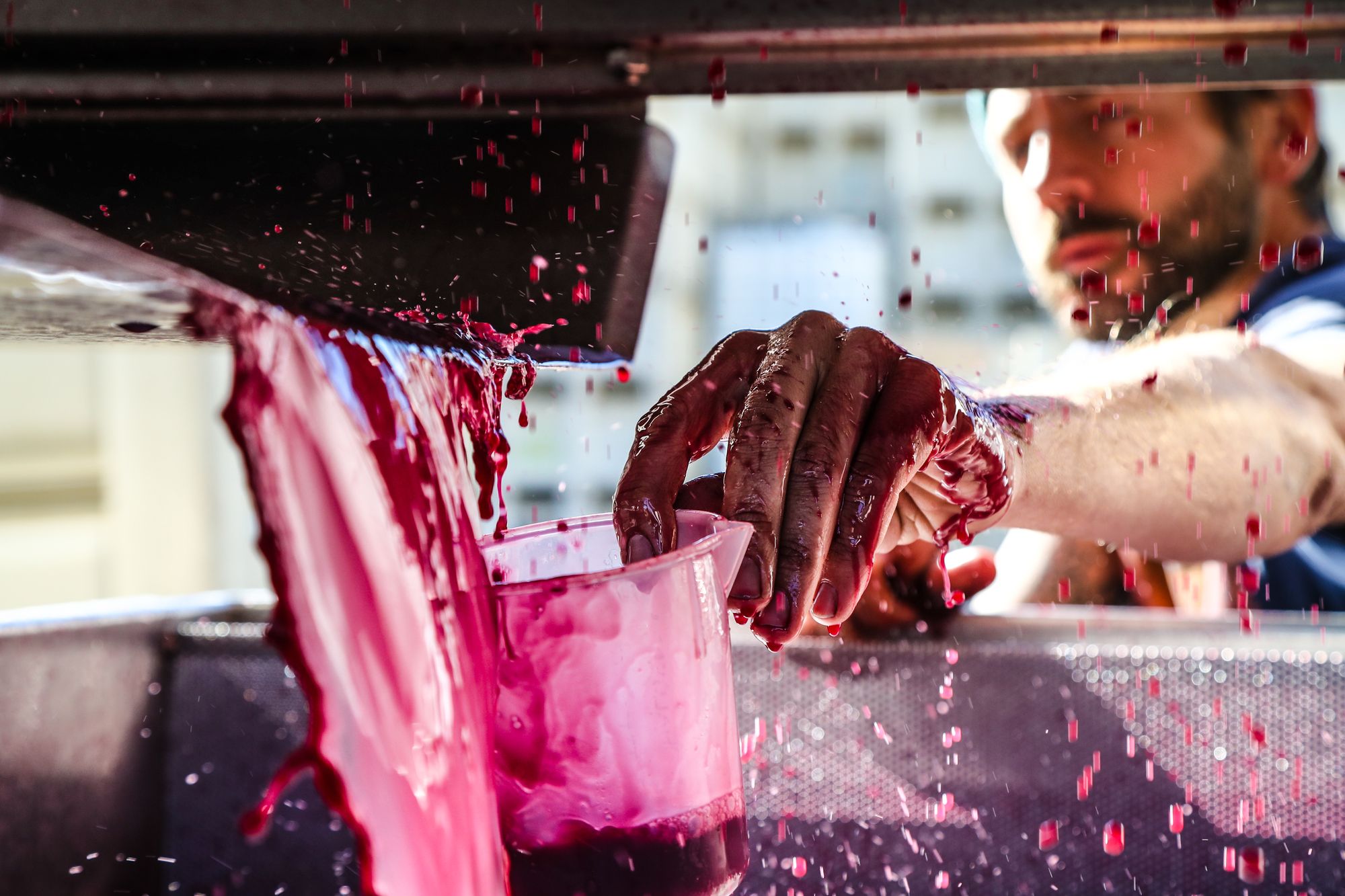 Can you talk me through the process of making this wine?
Like I said, everything is picked on the same day. The Cabernet and Grenache go into an open top stainless fermenter, with the Carignan on top. Fermentation takes 10 days to two weeks and we'll tread every now and then, do pigeage, but it's a fair bit of pumpover so I favor remontage over pigeage with this particular wine. I'm not necessarily going for tons of extraction, color and texture, and Carignan you do tend to get more of that the more pigeage you do. We then drain it off into another stainless tank and then it goes into the press altogether.
I used to separate the free run and the pressings, but I don't anymore. I like the pressings, so they always end up finding their way back into the the larger portion of wine anyway. After pressing, it goes into a mixture of egg-shaped flex tanks which are made from a form of polyethylene which is porous like wood, but neutral, some cube-shaped polethylene tanks and some old oak barrels. A mixture of vessels, all providing slightly different texture.
We bottle about a year later in August, unfined, unfiltered and with no sulfur.
How would you describe the wine?
I like to think that it's a window into the Testa family, because you're getting the 1912 Grenache, the post WW2 Carignan and the more modern Cabernet. It's the original, middle and current generations of the same family.
It has a tea note to it, almost like black tea or oolong, like an aged tea. And it smells sort of barky, like tree bark or forest floor. On the nose it gives you these little hallmarks of Carignan, like huckleberry and roasted meat on one end, and this sort of leafy spicy floral note on the other. From the Cabernet, because it's always a little bit underripe when we pick it, you get this greenness. And there's this sort of Jolly Rancher-esque strawberry candy coming from the Grenache. You have all those three varieties, with the Carignan at its core.
It's deep and brooding, but with a sort of salivating acidity and is still light and fresh. It's nice with a little bit of a chill on it as well.
How does this vintage, 2021, compare to others?
2021 was one of our first vintages where we weren't surrounded by wildfires and so didn't have to evacuate our homes and present credentials to the national guard to get into the valley. It was a refreshing vintage on that front. The ripening was even and we always have a little bit of a heatwave in early September that pushes things along, and this vintage was no different. It wasn't super intense for heat, I'd actually say it was quite mild. Still in a drought though - concentration was great, but our yields were abysmal. We made a lot less, but the quality of the product is really high quality.
When is it best enjoyed? Now or later, if people want to age it further in the bottle?
There's always a little bit of a benefit with a bit more time and I always like wine with some bottle age behind it. For this wine, those floral notes and bright, volatile esters fall off as it ages, and the tertiary notes like the earthiness, freshly turned soil, mushroom and porcini notes come through with age.  I think because we're still young in the world of wine, it's hard to give a timeline for how it'll age, but it's very pleasing at this point in time, and I'd say it'll still be great in a few years, as well.
Any food pairings you'd recommend?
The sort of of foresty tea-like notes make it work very well with game, deer, venison, water fowl, duck cassoulet or duck sausage. The almost smokiness of the Carignan works really well with foresty type foods. Romesco sauce - that sort of red pepper, deep sort of smoky nuttiness works well. Any sort of mushroom risotto, a rich mushroom sauce on polenta, or cauliflower, root vegetables, beetroots.
What's your connection to RAW WINE? Have you done a fair before and, if so, has it benefitted you?
When I did New York back in 2016 or 2017, we were still fairly new on the scene so it was kind of mind-boggling to even be there in the presence of some of those legends, people you tend to idolize in the wine world, gods and goddesses amongst men. Just to be in the same room was incredibly inspirational and you leave wanting to do your job better and hone your craft.
We do fairs somewhat frequently, but especially with RAW WINE it's bringing people together from all over the world that we wouldn't otherwise get to see. We can't always go over to France, Croatia, Australia or wherever, and hang out with these people. Being in the same room, you're not only inspired, but you get to develop relationships. It's the gathering us together which I find incredibly beneficial. And RAW WINE brings consumers to you so that you can taste with them and see their eyes light up.
Isabelle's thoughts on Boaz Red - Elegant and silky, this Carignan-Cabernet Sauvignon-Grenache blend has the texture and structure of a Pinot Noir. The volatile acidity is on the high side but the wine copes with it nicely. A dash graphite on the nose, the palate shows notes of raspberries, dry petals and cacao nibs, with a touch of jammy-ness and a drop of balsamic. This is a wine that needs food.
TOTAL SULFITES: <10 mg/L.
---