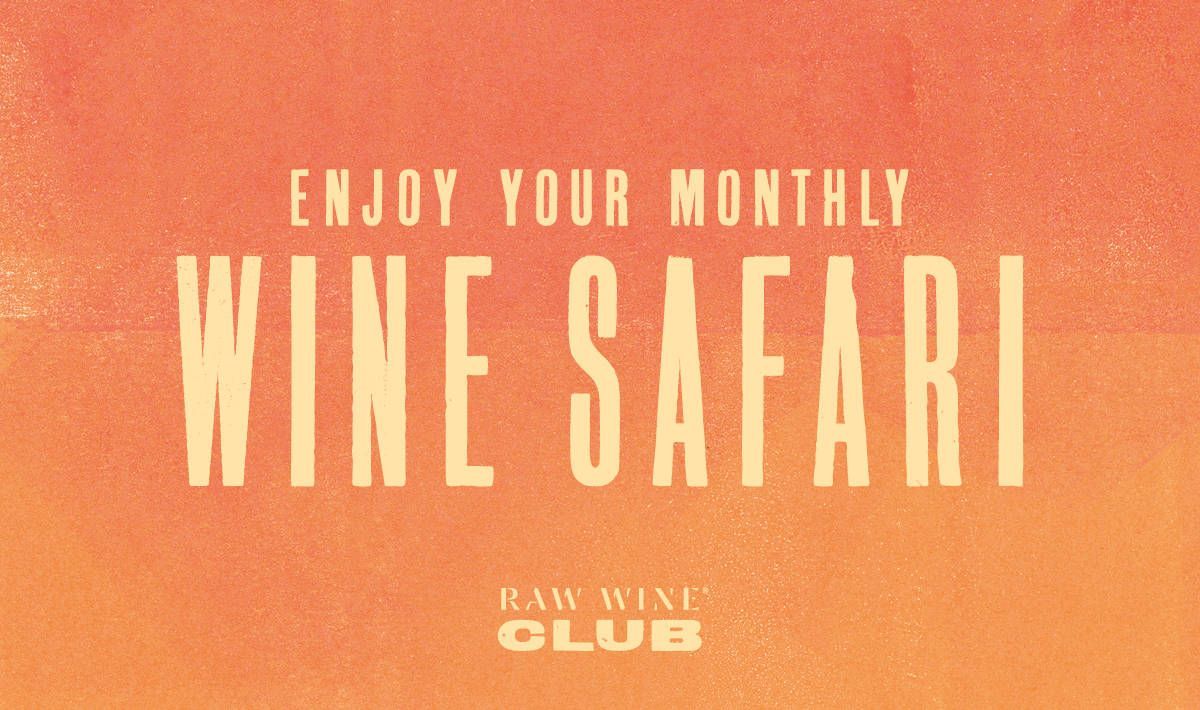 RAW WINE Club - Tasting Notes - March 2023 Selection
39 min read
Hello all!
Welcome back. As I write, all the ladybirds who have been hibernating in my window frames are starting to wake up and the woods are awash with the smell of wild garlic, which is all very exciting as spring is nigh.
This box is all about the new - growers rediscovering grape varieties and styles (including Kumpf & Meyer's Alsatian Gewurztraminer, and Dominik Held - who is part of Germany's New Guard that is busy reinventing what German wine is all about), as well as new bottles that are made by/with icons of the natural wine world. I am particularly delighted to have been able to include four of these - a red bubbly by Sebastian Van de Sype who is mentored by none other than Frank Cornelissen; a Le Raisin et L'Ange bottle made by Gilles' son Antonin; a bottle from Cyril Fhal's (Clos du Rouge Gorge) new(ish) project in southern France; and a bottle by husband and wife duo Arturo and Carolina from Viñedos Herrera Alvarado, who were part of the producers who consciously pioneered natural wine production back in 2003.
As usual, all the bottles are delicious and great for drinking now. Enjoy, and let us know how you get on.
Warmest wishes,
Isabelle Legeron MW, Founder of RAW WINE‌
---
Sebastian Van de Sype founded Tenuta La Fiaminga with his wife in 2020, with the aim of producing wines of uncompromised quality with full respect for nature. They work across almost 10 hectares, half of which with Grasparossa and Trebbiano grapes grown on vines with an average age of 15-20 years old. More recently they have launched a project to build a new winery under the domain within the next 5 years, but until then work using a colleague's facility just 500m from the vineyard.
Q&A with Sebastian Van de Sype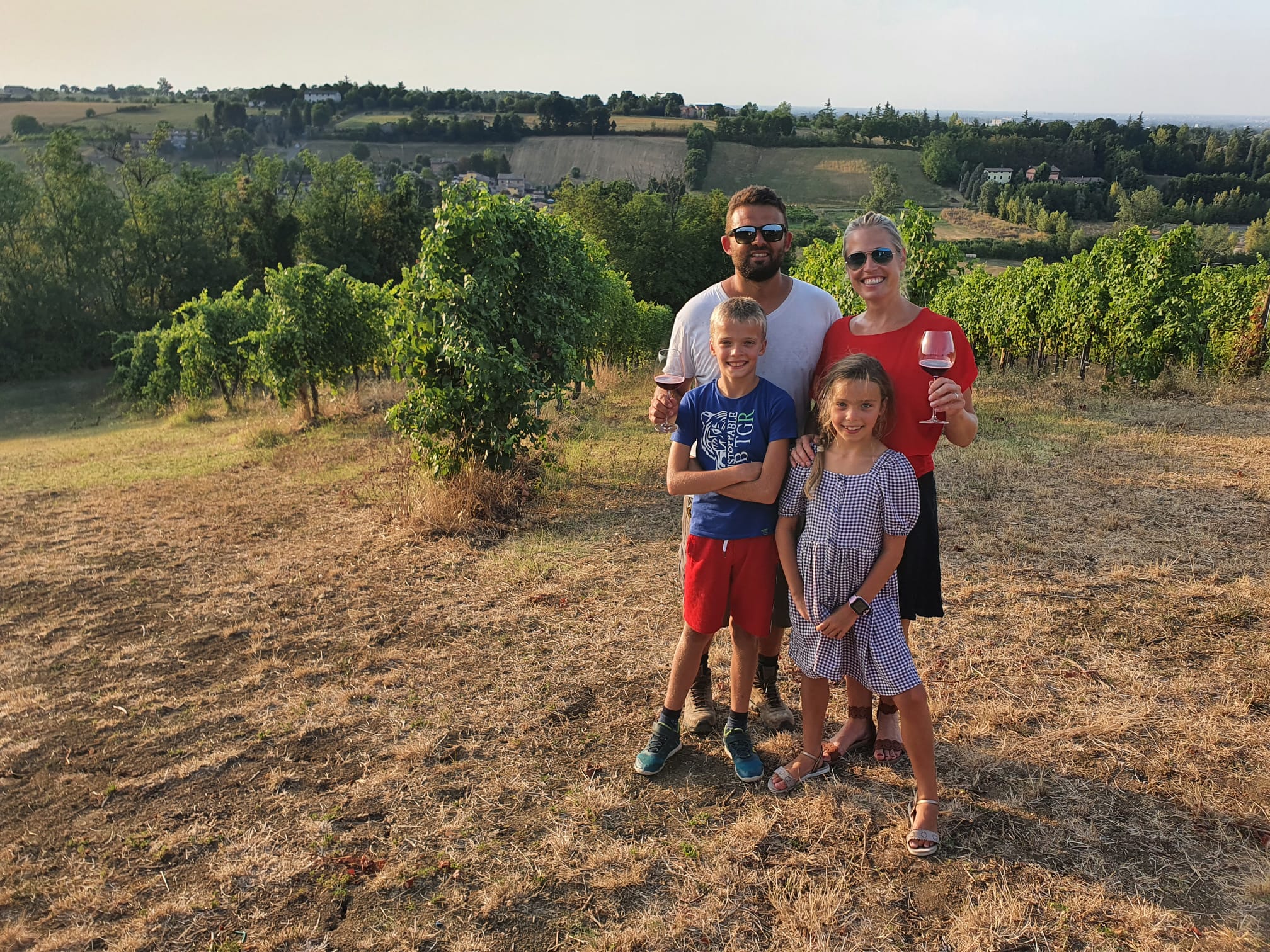 Can you tell me about your background - how you came to be a winemaker, and what influenced your style of farming and producing?
I wasn't born a winemaker - I studied aerospace engineering, worked in Formula One and had my own business. In 2020, together with my wife, we decided to go for it and became full-time winemakers because it had always been a long-time dream for us to make wine and live a bit closer to nature. I was influenced by the family I grew up in, which was very gastronomical and wine oriented. Frank Cornelissen is a good friend of my parents' and came over to my house a lot, so I enjoyed a lot of moments with them all not really drinking, but tasting wine with a search for quality and good things. That was the spark that ignited the idea and we just reached a certain point in life where we decided to go for it. In terms of farming and producing, it was very straightforward for me. I wanted to make a very genuine product with good balance and equilibrium with a natural process. Very low intervention, with farming focussed on balancing the energy in the plant. Traditional on one hand, but natural on the other. No chemical intervention in the field or the cellar and only bottle fermentation.
Are you still connected with Frank?
Yes - he is my SOS phone number and my consultant in every aspect. He's really supportive in helping me with everything - with the winemaking and the business side too. We're very far from each other geographically but he helps me a lot. He's quite involved, just from a distance.
Can you describe the vineyard and its surroundings?
We are in Castelvetro di Modena, where the Apennines start - in the hillside before the mountains. We have part of a hill there which is nice, as we get different exposures that vary from east to north west. The slope of the hill is a bit varying and the parcels have rows that are oriented differently. At this point in time, I'm playing a bit with the different parcels to get a balance in the wine between acidity and sugar level. I do not do crus, parcel per parcel yet, because the domain is not gigantic and I am still in the process of understanding what our terrain has to offer us. Both products we make are from the same base material, the same grape must. But the vinification process is different between the Ancestrale and the Rifermentato, which are the only two products we make at the moment.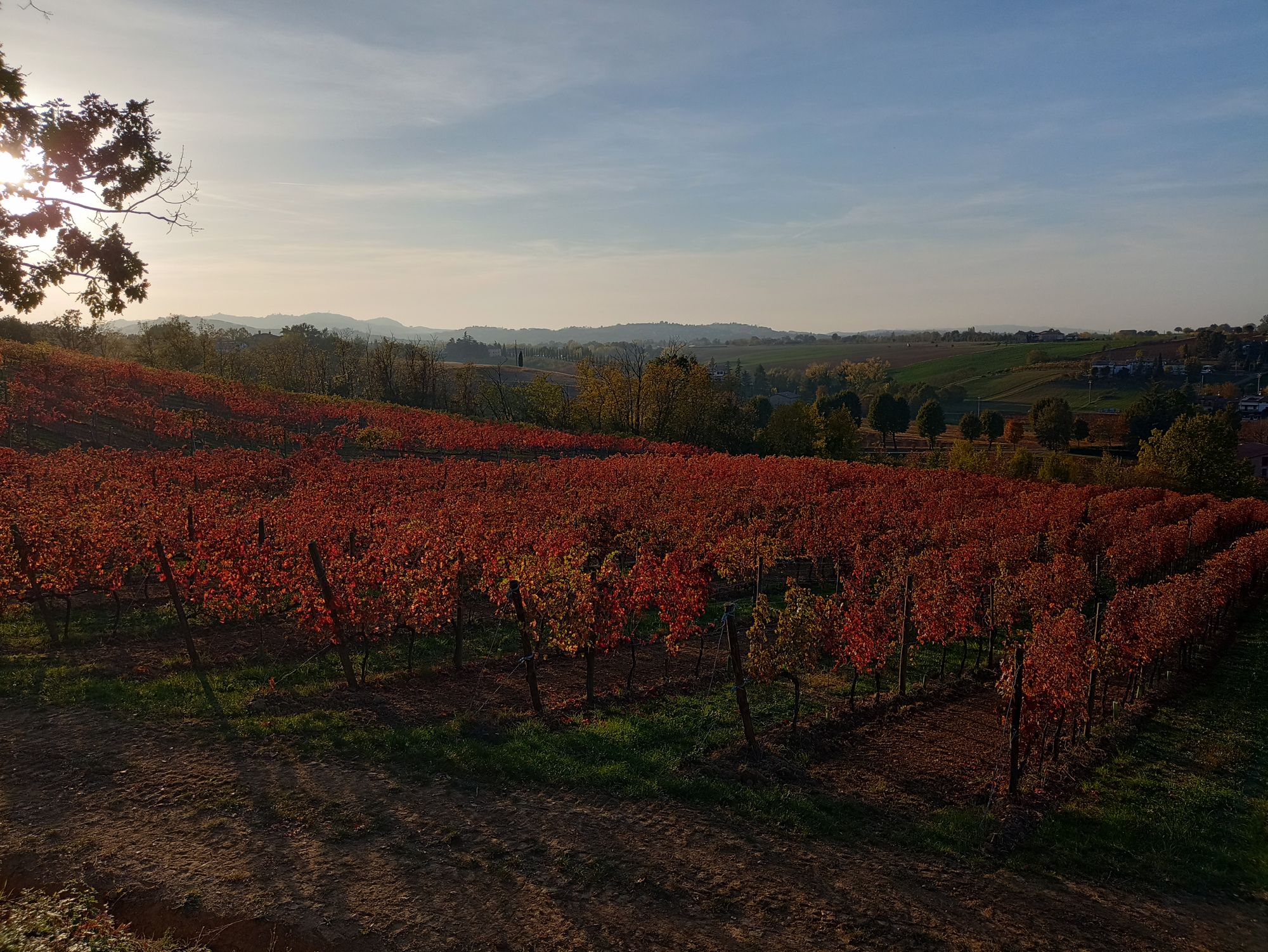 Can you describe the soil and the terroir?
We are around 200m above sea level and the soil is mainly limestone and clay. That's a challenge, as the climate is quite dry and hot in summer, so with that type of soil you need to be very careful to manipulate it well to keep all the water inside the ground, as the clay can break up. But that is the typical soil of these regions, it's always a mix, not a single soil type. Sometimes I find seashells in the soil from many, many years ago.
Sparkling red wine is rising in popularity at the moment. Why is it such a traditional style in your region?
Sparkling red wine has been in this region for a very, very long time. It was written about already by Virgil and is one of the oldest known Italian wines. The Grasparossa or Lambrusco family in general matures very late and winters at that time were very harsh. If they harvested in November, the fermentation would stop as the temperature dropped and referment in Spring time when the temperatures rose again, making it a sparkling wine. That's how it was born here and it became part of tradition with the food we have here - very rich pasta and pork dishes. We say it has the sensation of degreasing the mouth. That tradition with this style of wine has been going on for many thousands of years.
Can you talk me through the process of making this wine? Has the technique changed much over the years?
Ancestrale was really intended to follow that historical process. It's a single fermentation which starts in a tank and I activate it with a "pied-de-cuve" and solely indigenous yeasts. It starts in the tank and ends in the bottle. I bottle with a residual sugar level and fermentation continues in the bottle, going under pressure. It makes a very fine bubble and later, after 6-9 months I start disgorging. I shoot out 90-95% of the deposit to clean it up and have a balance in the product as I like it. I don't freeze the top of the bottle as we do disgorgement 'à la volée', the real old style disgorgement. We don't have 5 to 6 bars over pressure as in champagne, we only have around 2 to 2.5 bars.
Which grapes have you used?
100% Grasparossa which is in the Lambrusco family. It's a name that is used for a lot of wines, but it's a family of grapes and every region has its dominant variety. Where we are it's a DOC Grasparossa, the hillside around Modena. We are south of Modena in the hillside and the plains are north.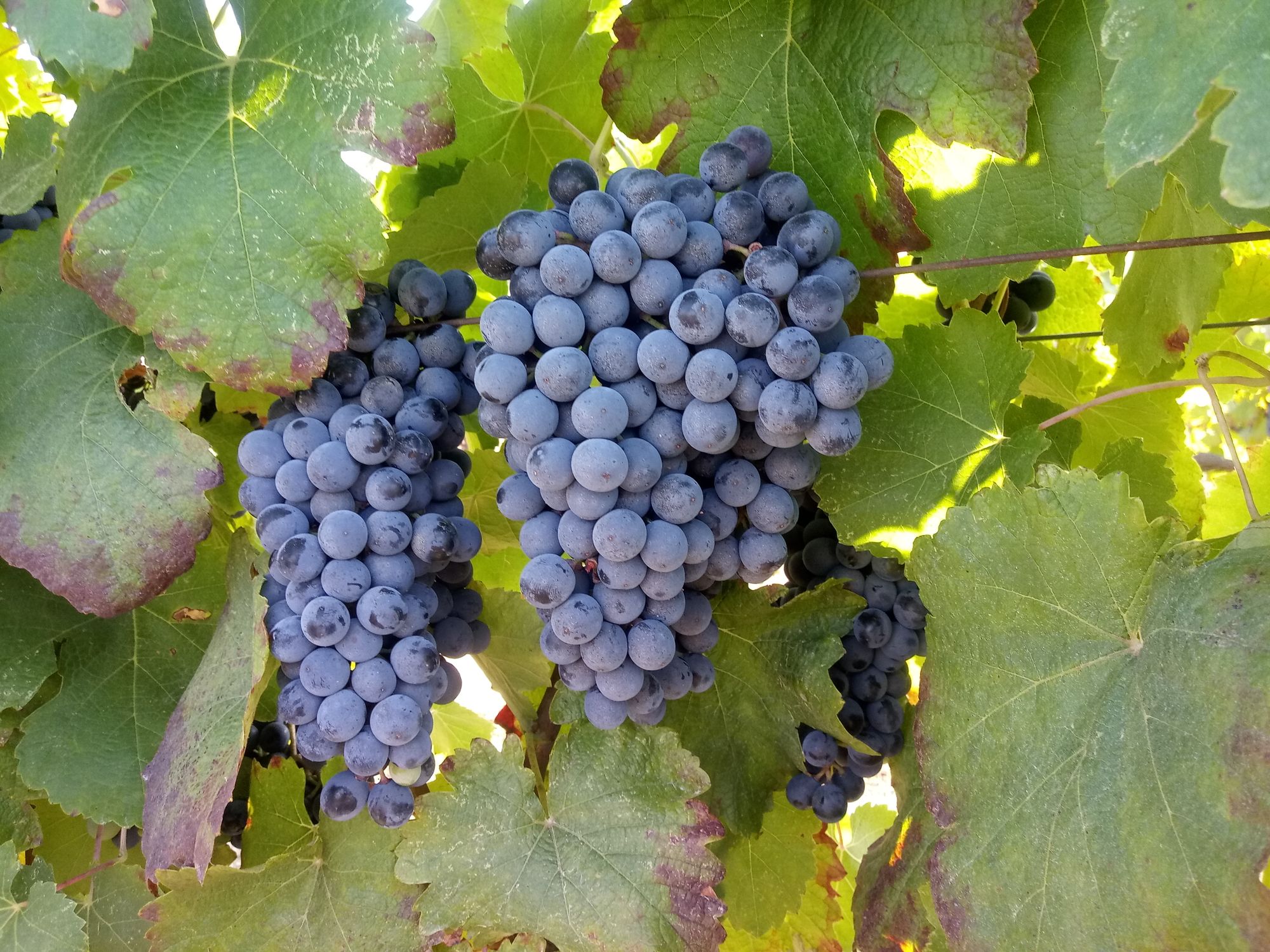 Do you use any sulfites?
I use very minimal sulfites. The total levels are quite low and our grape variety has a natural sulfite level which is quite high compared to other varieties. During fermentation, it creates some natural sulfites on its own, but overall it is a very low level.
How would you describe the wine? Aromas, taste, texture, finish, etc.
It has quite a good body and is a very layered wine in the sense that it releases its flavors in several steps. Even when your mouth is empty the sensation continues. You have dark berry fruit, cherry notes. With evolution you get the spicyness. But that dark fruit and forest fruit is really typical for the Grasparossa. The Ancestrale has it in particular. It finishes with a slight acidity which balances the tannins because that's the big challenge with sparkling wines. The gas in the wine augments the sensation of tannins. To balance it correctly in a non intervention wine is the biggest challenge I have. You don't want the sensation with the tannins to become too harsh. I work very hard to balance that out.
How does this vintage compare to others?
2020 was the very first wine I ever made. It's a decent starting point and I'm happy with it. 2021 which is available in the market now, I have balanced the tannins even further, but 2020 was an easier vintage for climatic conditions. All in all, the acidity level is a good point. It's the very first one which I think is important for people to know.
When is it best enjoyed? Now or later, if people want to age it further in the bottle?
The Ancestrale can be enjoyed now and later. It's in a good place now, 2 years in, but has all the aspects that you'd like in a wine to age a bit more. It has good acidity and good tannins. I'd be very curious to see what this wine does in 5-10 years. It's a living product inside the bottle so gives you a different product with even just a couple of months between. It has potential to age, but also very good at this moment in time.
What's the story behind the name of the wine?
We called it Ancestrale because of the single fermentation - it's the old style. They didn't activate the second fermentation. The difference for me is that with my other style, Rifermentato, you activate a second fermentation with must, to a base wine that's already fermented. Ancestrale is bottled during primary fermentation. That's the process I was talking about before with winter blocking the fermentation for a while and temperatures rising in springtime.
Any food pairings you'd recommend?
As well as pasta and pork dishes, definitely grilled meat - the wine has enough body to counter the flavor. But people are also experimenting with fish dishes, particularly grilled fish with that charcoal element. The nice thing is that even though it's a red wine, it's very fresh with a good level of acidity and the bubble refreshes a lot, so it can still work with fish - maybe slightly richer fish dishes with a butter sauce. And lobster even. Anything with body would go very well.
Isabelle's thoughts on Ancestrale - This wine is unusual - it's a sparkling red, which tends to elicit a bit of a marmite reaction in people - you either love it or hate it. I, personally, am a huge fan when it is well made. It's a very old, traditional style that has been popular in parts of Italy for a long time (particularly Emilia Romagna where Sebastian is based), and which has experienced a bit of a recent revival worldwide. The beauty of the style is that it works well with food and can be enjoyed as an aperitif or with a range of dishes. This particular example is refreshing and light-bodied, with light tannins and notes of crunchy blackcurrants, chocolate, kirsch, black cherry and a touch of meatiness. Dark in color, it is also very floral and perfumed on the nose thanks to the grape variety. Made using the ancestral method, this is Sebastian's first vintage of this wine so it's nice to show our support.
---
Dominik Held is a winemaker in Rheinessen, Germany, making "good wines and good vibes." He works organically, but is not yet certified, handpicking his grapes, using low intervention in the cellar and as little sulfur possible. He focuses on Silvaner, Sauvignon Blanc and Blaufränkisch.
Q&A with Dominik Held
Can you tell me about your background - how you came to be a winemaker, and what influenced your style of farming and producing?
I was born into a wine maker and grower family which actually dates a long time back - we have a family coat of arms which dates back to 1604, but I think some generations in between have been lost somehow. It started back then and I got to be a winemaker as well. My father was a winemaker and so was my grandfather. During high school, I didn't really want to follow this path but somewhere along the line it just clicked in my head and I realised it's much more than working in the vineyard and in nature, it's also communicating with customers and doing tastings. I then did some apprenticeships and started out with a classic approach, but came to natural wine at Hochschule Geisenheim University where I studied viticulture and enology, and was introduced to the wines of Claus Preisinger and Heinrich. This was a turning point for me. I ended up doing an apprenticeship with Andreas Gsellmann in Austria and came back and knew exactly what to do with my vineyards that my father gave me. My winemaking style is partly influenced by Andreas Gsellmann, who has an outstanding Traminer which is fermented on the skins and introduced me to a more oxidative style of wines. I like the wines of the Jura region in France as also Domaine Matassa and Tscheppe and Werlitsch from Southern Styria in Austria. Wines that you don't get to taste very often but are unique with a power play between oxidation and reduction.
There seems to be a real movement of young winemakers in Germany at the moment. Is that something you feel part of?
During university, I had two flatmates who I am still very close with now and we work a lot together. We started looking at winemakers who were 2, 3 or 4 years older than us like Andi Weigand and Andi Mann, and they just made it feel more fashionable to go that way. Of course, we knew some older, guru style winemakers who were 60, 70 years old and pioneers of ecological winemaking, but it didn't feel like we fit into that world until we saw the young guys coming in and doing something completely different. Now we have a sort of loose association between nine winemakers - we call ourselves Tour Natur - and will have a series of events this summer in the Rheinhessen and Pfalz regions in Germany. There's a lot of new wineries emerging each year and it's growing.
Can you describe the vineyard and its surroundings?
In our region, you have the Rhine river which goes straight up north to the city of Mainz and then turns to the west. You can draw a triangle with Mainz being one of the corners, and all that area inside it is the Rheinessen where we are. You get vineyards near the river which is where the most well-known winemakers are, but we are located 10km west from the river in a place called Dolgesheim, which means 'land of the small hills'. It sounds more beautiful than it is but where the wine is growing it really is beautiful. We grow in two different plots on the hills, with valleys in between where they grow grains, like barley, so it's surrounded by agriculture.
Can you describe the soil and the terroir?
Usually we have a lot of loess soils and in certain areas, where I try to grow my single grape varieties, we have heavy clay or marl and other parts with more sand or layers of calcarous soils where I have planted Chardonnay and Riesling. Where the marl is, there's Silvaner or Sauvignon Blanc, so quite fitting for the wine I want to make. Usually it's 1-2 degrees hotter by the river, because it captures the heat of the day and gives it back to the grapes and the vines and therefore they harvest 1-2 weeks earlier. Because of the winds we get here, we're a little higher and colder and harvest later than those places.
Which grapes have you used?
In this wine, we have a grape called Huxelrebe, it's usually grown in only Germany and is not well known outside of the country. It was created in 1926 or 1927 in the next city to us called  Alzey. It's a very local grape variety with a lot of aroma, acidity and high sugar production. It's the very first grape I harvest each year because it ripens very early on. We also have a very classical grape variety which is Müller-Thurgau - a very classical grape variety for Germany, and some parts of Austria and Switzerland. Very floral, not too confusing, not too much - easy drinking wine usually. We also have some Riesling, which is of course the most renowned grape variety from Germany - we have that in there for acidity and minerality. Also Scheurebe which resembles the Huxelrebe, but it's a little bit different. It's more Riesling like so it ripens later on in the harvest and has a Gewurtzraminer-like aroma profile.
Can you talk me through the process of making this wine?
We have four grape varieties - Huxelrebe, Müller-Thurgau, Riesling and Scheurebe -  in this wine. The two most aromatic grapes are macerated on the skins for the week. The others are directly pressed to preserve freshness. And they are all ripened in separate tanks - some in wood, some in fibreglass and some stainless steel. One month later I blend and then 2 weeks before bottling, I look at how stable it is and if I think it could benefit the wine, I add something like 10mg per liter. It's a very low quantity and for me it preserves the status quo from the vessel during the bottling process. It's a very oxidative process so I just want to preserve the exact aroma that I tasted in the tank, into the bottle.
How would you describe the wine?
It's a funny question because last year I would have answered it totally differently. It went through a lot of phases from when it was bottled in August 2021. I tasted it yesterday, and when I bottled it, it was very floral, very up front and maybe too much for some people because of the skin maceration. Now, it's a bit more grown up with subtle aromas of yellow fruits and a little bit of pear. And taste, like most of my wines, it's focussed on minerality, salinity and saltiness. It has a bit more texture and crispiness on the tongue. This wine was intended to be my entry-level white but developed better than I expected. The finish is longer than I expected too. I have other wines which are fruitier, but this wine is more grown up, darker even and challenging to some people because it's developed some complexity over time.
How does this vintage compare to others?
It's the first vintage I ever made of this wine and overall - other than working with my father and making wine during my apprenticeships. 2020 was quite hot and quite an early harvest, so there was less time for the grapes to develop full on ripeness before getting too much sugar. Some wines were a little too green but it worked out in the end if you gave the wine enough time in wooden barrels to overcome this green flavour. The 2021 was a lot wetter with more rain and less sunshine, it turned out a lot greener even though it was technically the same in terms of sugar, acidity, etc. but the aromatic profile was completely different. It was pure green in 2021 and more yellow fruited in 2020.
When is it best enjoyed? Now or later, if people want to age it further in the bottle?
I tasted it at bottling, then again a couple months later and it was even better. Then 6 months later at RAW WINE Los Angeles, I tasted it again and it was even better yet. Then when I tasted it this week, you can taste that it's still developing and not declining at all. I'd say it still still has some time left, but because I don't have the basis to work from, I'd say why not buy two bottles - drink one now, age it for 2-3 years and see its potential. But it's not a wine intended to lay down for say 5-10 years.
Any food pairings you'd recommend?
Almost all of my wines work well with seafood. Dishes with a little saltiness and fattiness. Also, someone told me they paired this wine spicy food and it worked really well, so try it with spicy dishes, maybe Thai food, as well.
Isabelle's thoughts on Cuvée Weiss - And here's another first vintager! Cuvée Weiss is a blend of different white grape varieties - a traditional winemaking method in Germany. The result is easy drinking and moreishly pleasurable. It's a delicate, crisp, fresh, fragrant, white wine with bright acidity, lots of minerality, and notes of white and tropical fruit, including crunchy pear and lychee. It also has a touch of celery pepper about it. Dominik is part of Germany's New Guard - the country's young, upcoming talent who are doing things differently and producing drinks that are exciting and delicious. Everything I have ever tried of Dominik's has been extremely elegant, and his wines really do deserve to be discovered.
---
Kumpf & Meyer is a second generation winery across 15 hectares in Alsace run by Julien Albertus, who took it over from his parents Sophie Kumpf and Philppe Meyer who founded the estate in 1997. Julien took over in 2010 and introduced organic farming and natural, low intervention winemaking.
Q&A with Vincent Hamm, who works at the winery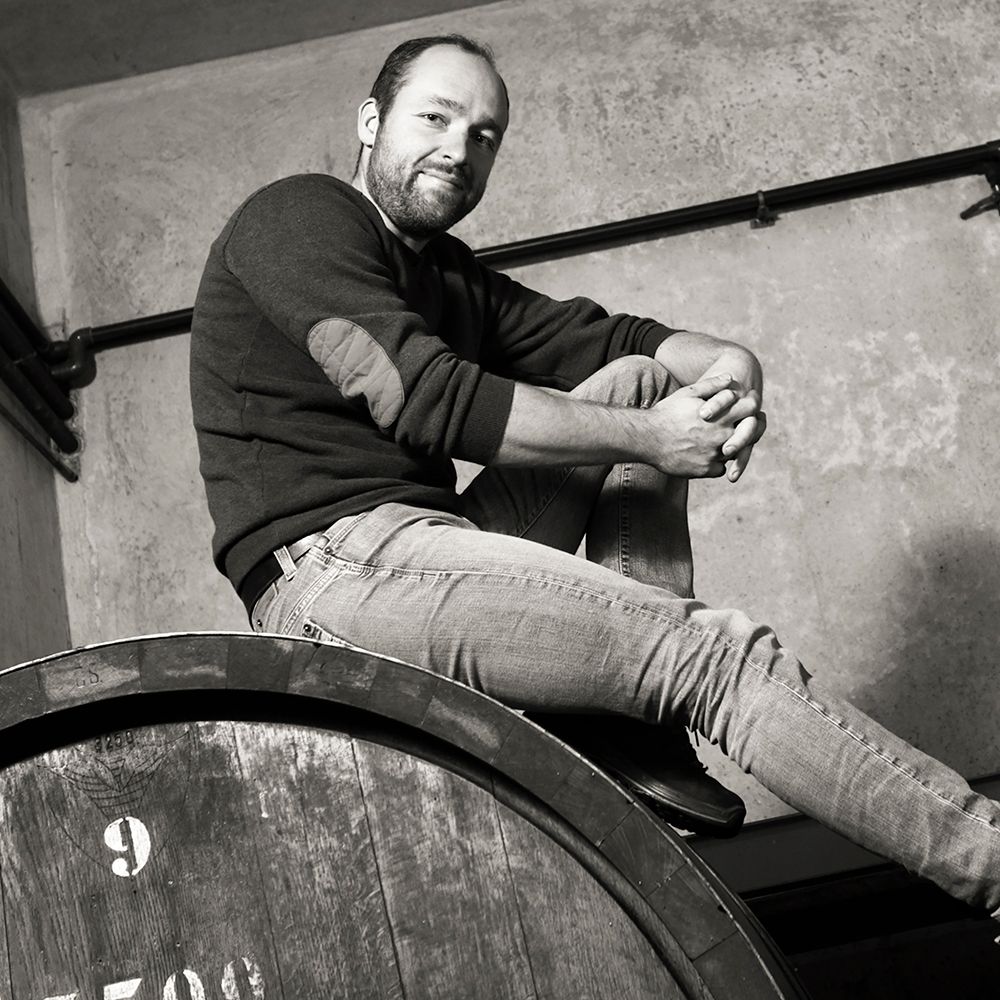 What is your role at the winery?
I have worked at the winery since June 2020 and work outside in the vineyard, as well as in the cellar, labelling, order preparing, so doing a bit of everything.
Can you tell me about Kumpf & Meyer - how it came to be and its influences?
Kumpf & Meyer was founded in 1997 by Sophie Kumpf and Philip Meyer, after they got married. They both came from winemaking families and decided to join forces to make one big winery. Now, we farm 17 hectares, split into 80 different parcels. All the vines are around 2 main villages - Rosheim, where the winery is - and Molsheim. We started organic farming in 2012 and all the vines have been certified since 2016. And the same with natural winemaking, we started working naturally in the cellar in 2012 and have been 100% natural since 2016, with native yeasts, no sulfites and no filtrations. Organic grape juice from our vineyards only. Sophie and Philip divorced in 2010, so Sophie took over the winery at this point and Julien Albertus is now co-owner. Julien was aware of organic and natural winemaking as he had worked in organic and biodynamic vineyards. When Julien joined, he and Sophie explored the idea and they decided eventually to go down this route. We are just 4 people now who work on the winery all year round, but we hire 4-5 more people to help us during busier periods.
Can you describe the vineyard and its surroundings?
The Alsatian vineyard is located in the Rhine Valley which is around 50km wide, so quite big. On both sides - the French side has a mountain which we called Les Vosges - and on the other side, it's the German side called Black Forest. In our part of the vineyard, there are many hills, most are calcareous and limestone. What's nice is that it's not just vines, there's also some orchards, fields and places for sheep to graze. The ground is not always the same - in some places the soil is 50cm deep then it's limestone, then in others, it's 20cm deep. The vines can struggle in those places but to us, that's where the best wines come from. The vines have to fight against the elements, the sun and the soil to stay alive and produce fruit. It's a semi-continental climate - we are 1000km from the ocean and protected by the Vosges mountain. The Alsace has some of the driest vineyards in France and can be compared to Perpignan on the border of Spain which doesn't get much rain - it's around 450mm per year. This is because the clouds from the ocean are stopped on the east of the mountain, where it rains twice as much even though it's only 30km away. Because of this, we are protected from the rain, strong winds and frost. It's quite cold during the winter due to the continental influences and in the summer, it's super dry and very hot because the Rhine valley is like an oven and keeps the warmth in.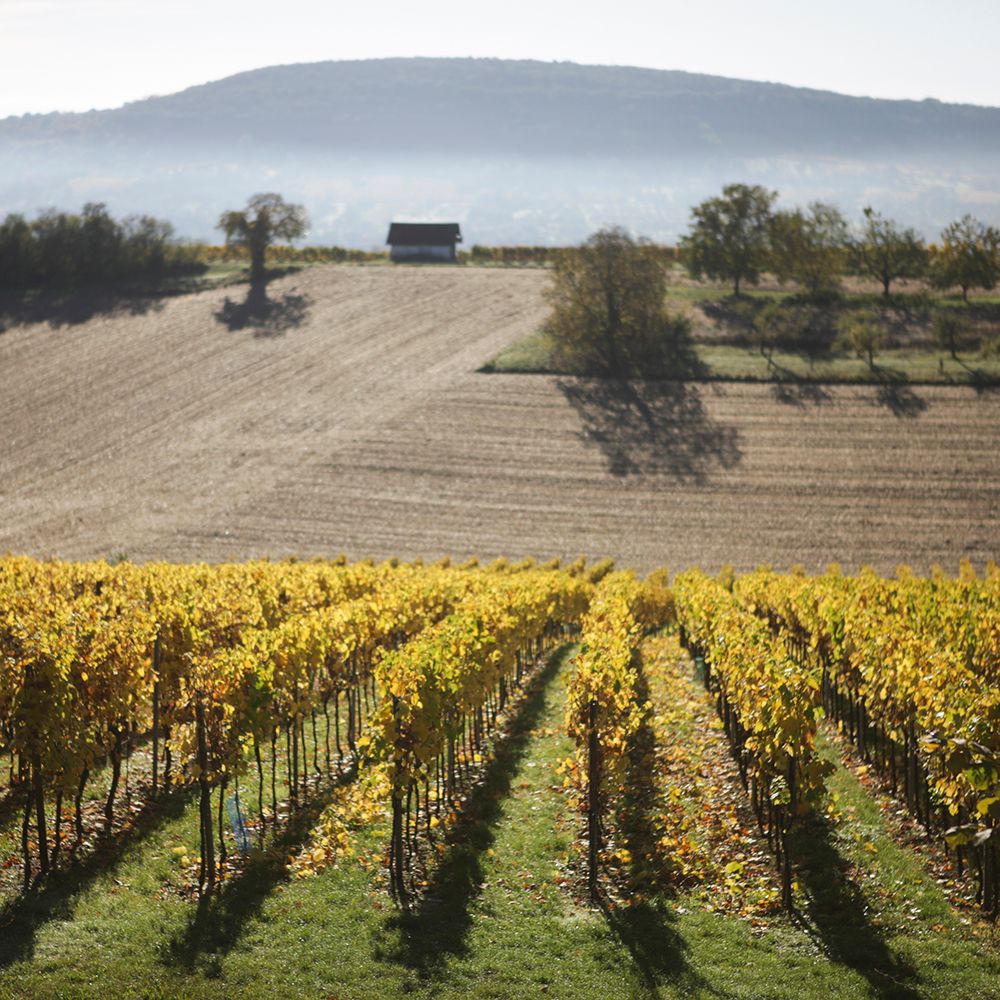 Can you talk me through the process of making this wine?
It's hand harvested and the grapes get skin contact for 2 weeks, whole bunch. We pump the juice 3 times and fermentation starts here, then we press the grapes and age for 1 year in stainless steel tanks. It's then bottled just before harvest in 2021. We use native yeasts, no sulfites and no filtration. This year, the yield was 35 hectolitres per hectare.
How would you describe the wine?
I used to be a sommelier so I can try to describe it for you. It has a bright golden colour, with some pink flecks. I last had tasted it just a couple of months ago and on the nose it had mangoes and apricot jam, with spices like cinnamon, saffron, and pepper. Sometimes it also smells like black tea - earl grey specifically, as it's a little citrussy. In the mouth, it's warm and spicy with black pepper, cinnamon and bitter orange. It is quite tannic with a nice texture. It's like velvet - not rude and brutal. And it's a powerful wine - around 14.5-15% alcohol - with a finish that is long and intense.
How does this vintage compare to others?
This was my first vintage working at the winery, but it was hot and sunny. We got a little rain - enough to get good grapes and a decent yield - compared to 2021 which was rainy and really challenging. 2020 was perfectly ripe and we are quite happy with this vintage. All our wines turned out well that year and, according to Julien, it's comparable to our vintages in 2015 and 2018.
When is it best enjoyed? Now or later, if people want to age it further in the bottle?
It's good to drink now but you can probably keep it for 5-10 more years. We only started the Gewurztraminer in 2016 so we don't really know beyond this. Of course, as it ages, it will become less aromatic and fruity, and take on more spicy, more earl grey notes. It becomes more like toffee - jammy and less bright than when it's young.
What's the story behind the name of the wine, Utopiste?
Julien found the name Utopiste because it felt like a utopia for him to enjoy Gewurztraminer. Most of the time it's semi-sweet, boring and heavy. But skin contact Gewurztraminer is more dynamic and funky.
Which grapes have you used?
100% Gewurztraminer. It comes from the Traminer family - it's the same family as Sauvignon. Gewurzt means spicy, so it's the spicy Traminer. It has pink skin and makes very small berries in small bunches. The grapes, even when you eat them, are fruity and spicy. They taste like lychee and mango and even before fermenting it's super aromatic. You can eat it as a snack or a dessert. After fermentation it's even more aromatic and spicy.
Any food pairings you'd recommend?
Asian food is the perfect match - Indian dishes or even Japanese food, not sushi or raw fish, but there's a dish they eat of roast pork with ginger and semi-sweet soy sauce. With the spice of the ginger and sweetness of the soy sauce, it's a great match. Also a strong cheese, like the ones we have in Alsace with strong flavor and smell.
Isabelle's thoughts on Utopiste - This is a full on, orange wine - in a similar vein to the Georgian bottle I included in last month's selection. This type of wine is great for drinking now, in the hinterland between winter and spring, as it is warming but with hints of blossom and fresh aromatics associated with early spring. Gewurztraminer can be a tricky grape to work with because its aromatics can be quite heady if left to run riot in the wine. In Alsace, where this wine is from, Gewurztraminer is typically known for the production of heavy, sweet wines full of lychee and strong rose notes, of which, personally, I am not a fan. But in recent years, it has been tamed by forward thinking makers who macerate their grapes on skins, controlling the aromatics and producing a more restrained style of wine. Utopiste is of that ilk - it celebrates subtly over exuberance. The tannins from the skins add restraint and structure, and help make the wine more refreshing. Yes, it is full-bodied, opulent and generous with tropical, spicy notes (typically Gewurztraminer), but also citrusy with hints of bergamot tea, dried herbs and a hint of smokiness. An incredibly moreish wine.
---
Le Raisin et l'Ange is an organic winery founded by Gilles & Antonin Azzoni in the Rhône where they work with zero intervention and no additives, such as sulfur, yeast, filtration, etc. - "nothing but the grapes."  
Q&A with Antonin Azzoni
Can you tell me about your background - how you came to be a winemaker, and what influenced your style of farming and producing?
My father started to work in wine about 45 years ago and he was from the south of Paris and wasn't enjoying his life at that time. So he went to Beaune to learn how to cultivate vineyards and make wine first for 2 years, from 1977-78. He learned there then came to Ardèche in 1983 to take on a small farm that he was renting and where the owner let him do what he wanted with it. It had mostly old, hybrid vines at the time then he planted Grenache, Syrah and Viognier and then started to farm them organically in 1997. In 2000, he had his first 100% certified organic vintage and started making natural wine around that time, removing sulfur and yeasts and filtration. A turning point for him was when he first tried wine by Domaine Marcel Lapierre - he tasted it and thought ,"Wow, I have to do the same." The Cuvée Robert was the first wine, named after the owner of the farm. In 2014, I then took on half of the farm where I had grown up, and also started buying grapes. In this region, many people who grow grapes want to sell to the cooperatives, but the coops don't care about organic grapes. So I decided to buy the grapes and make wine naturally, just like my father. The growers are happy because they get paid more and I'm happy because I get to do it how I want.
Can you describe the vineyard and its surroundings?
Around the farm, it's limestone soil - as is around 80% of south Ardeche. But for the Merlot and the Gamay, which I buy, they're grown next to the Auvergne mountain which is still in Ardeche but has a clay soil. Around 50km north of us you start to have a continental climate, but in France it's sunny and hot around the Mediterranean sea. It's the same for us - we don't get a lot of water and it's around 40 degrees every day in the summer, and stays quite warm in the winter. It can get a bit too hot for me sometimes!
Can you talk me through the process of making this wine?
Almost all my Bran now follows the same process for vinification. We start in the vineyard and I get the grapes from the same producer each year. It's all hand picked then we take the grapes to the cellar with a refrigerated truck, then we destem by hand. We put that in the tank for 15-16 days and that's it. No pigeage or anything like that. We press and elevage in stainless steel tanks, then it's straight to the bottle in June.
Do you use any sulfites?
Whenever you see Le Raisin et l'Ange, you will know that it means no sulfites, no additives, no nothing. We have a logo on all our bottles that shows that we are 100% organic, hand picked, no sulfites at all, filtration or yeasts as approved by the French administration.
How would you describe the wine?
This is a funny one for me because winemakers don't necessarily think about wine like a sommelier does, who are able to describe a wine. We think more about the wine from a technical perspective, so the levels of alcohol, acidity, sugar, salinity, etc. But what I can say is that it has plenty of Merlot, which was very rich and nice in 2021. It is very fruity and I try to macerate with a lot of juice, so you get more flexible tannins in the mouth and sapidity at the end. I make wine for drinking, not for degustation or a big tasting, but as affordable and easy drinking as possible so people can enjoy it with friends. For me, if someone goes to get another glass of wine and says - "Oh f**k, my bottle is empty!" - for me, that's when I know I've done my job.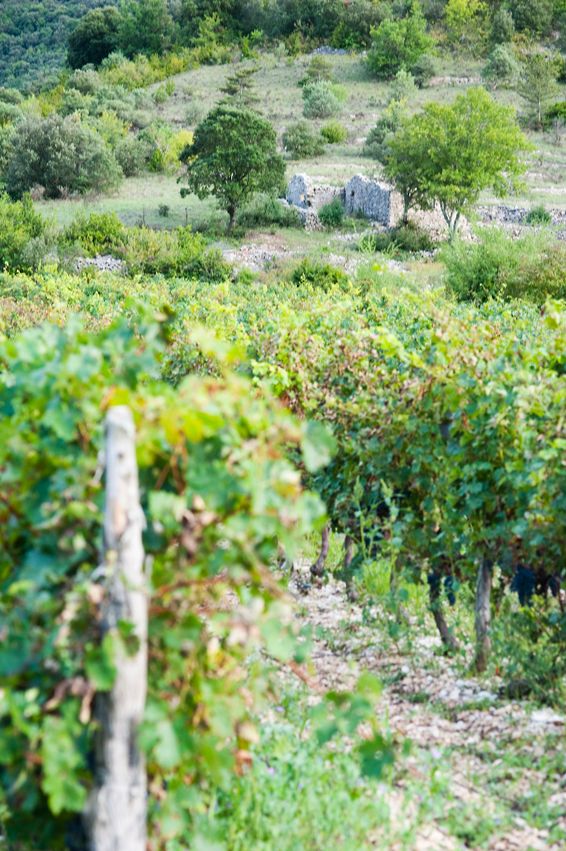 How does this vintage compare to others?
For 2021, it was a really warm vintage but we've had that now for 10 years. 2020 was a bit cooler but otherwise, it's generally very warm. In 2021, we didn't get a lot of rain but got nice grapes with a lot of juice. We started picking quite early in August and now we do that every year. Because it's hot, the fermentation can go very quickly, so my job is to cool down the grapes a little to try and slow this process. I don't cool my tank, so I have to manage the temperature in the cellar. I refresh the grapes before they go into the tank, but once they're in, I don't control the temperature. Sometimes this means some vintages can be complicated because of bacteria in the tank, but this is something we learn to work with.
When is it best enjoyed? Now or later, if people want to age it further in the bottle?
It depends on the cellar you have for ageing - you need to have a good cellar to keep it in. The 2021 vintage can be enjoyed right now and if you want to age it, I'd say 5-6 years maximum. After that, you will lose the fruitiness and the energy of the wine, so I don't think it'd be worth ageing beyond that.
What's the story behind the name of the winery and the wine?
The translation of Le Raisin et l'Ange is The Grape and the Angel - we chose this name because, in the 1990s before my father started making natural wine, the domaine was called Mas de la Bigude. In France, if you want mas, domaine or château in your name, you need to be labelled, but when my father started, he lost the appellation and was really angry because people didn't really know what he was doing. So he created the brand and decided that, even if we got the appellation, we would keep the name. Bran was the third cuvée and is destemmed and a bit more high class.
Which grapes have you used?
It's 75% Merlot and 25% Gamay.
Any food pairings you'd recommend?
Whatever gives you a good time - the best food you can get and the best time you can make with the people you're sharing it with.
Isabelle's thoughts on Bran - Gilles is part of a group of veteran natural wine producers from the Ardèche (in the Rhône), a real enclave of natural wine in France. Gilles was one of its pioneers and Le Raisin et L'Ange is an iconic natural wine world producer - fortunately Gilles' son, Antonin is now taking up the mantle. Bran is 100% natural (organic, nothing added, nothing removed), and a great example of how wines without sulfites can age well for years. This bottle is soft, juicy and easy-drinking, with medium tannins, a touch of meatiness and lots of sunshine notes - ripe plum, black cherry, as well as violets and poppies. It is a lovely, rustic wine that is definitely glou glou in nature but with added structure and complexity. You could even serve it slightly chilled.
---
Hors Champ is a project in France's Roussillon run by Cyril Fhal (Clos du Rouge Gorge), who makes wines from old vines in the Pyrenees and from small organic plots in neighbouring villages.
Q&A with Cyril Fhal
How did you come to be a winemaker? What background did you come from?
I started out as a bad student really - I loved math and started college, but didn't enjoy it. I started working on grape harvests in 1995, before I went to college, and the second year of harvests that I did, I had a big change of heart and decided I wanted to learn more about it. I applied to a school in Bordeaux where I studied from 1996 to 98. I studied there and did my training in Anjou. I had a young uncle who was a bit like an older brother who often brought bottles home - my parents are not in the culture of wine - so I fantasized a little about that environment and the idea of making wine.
It showed me that I was looking for a career that I would not be limited by. I love the job of a wine grower because you get to be across everything in agriculture. You get to meet a lot of people and it's both a social job and a solitary job. While doing the harvests, I started discovering this world and then, as I continued to study,  I became more and more passionate about it. I worked for five years in the Loire and then in 2002, I decided to move on as I felt it wasn't for me, so I started a small project here at Latour de France.
What brought you to natural wine, was it your uncle?
No, it wasn't that - but he was a real gardener and had a real sensitivity to nature, so I suppose those were the green shoots. He was more interested in the people making the wine and the setting. I was always a good worker and we have strong convictions as a family, but on the other hand we didn't have a wine culture. I had tasted in a scholastic way, but I had no culture to back it up. It's like an analogue understanding. I had to gain the culture and the knowledge.
When I worked in Anjou, I worked across three domains there and converted more than half the vineyards into organic farming. I was neighbouring Marc Angeli and one day he came to see me and invited me to join their wine tasting club where there was Chaffardon, Jo Python and also Richard Leroy who arrived on the scene aroud that time as well. and this is where I started getting goosebumps tasting these wines, like Gramenon and they were so far away from the style of wines I was used to during my academic time in Bordeaux. That was really the trigger for me.
Since Anjou, there was always a hunger that guided me to try to understand why this wine gives me chills. I am guided by that more than by a technological approach. Above all, I try to seek out wine that moves me, wine with freedom, emotion and a resonance with nature.
What attracted you to the south? You could have found your happiness in the Loire.
Also, in the Loire, there are times when it can be more pleasant, but there are also times where you get four months of winter. It's kind of the opposite here now that it hasn't rained for six months.
I also saw that young producers with a similar profiles were starting to settle down, like Antoine Foucault, who worked three hectares of vines on his parents' estate. That's when I started to know it was the right thing to do. But I had to make plans - I couldn't afford to just do it as I didn't have money or inheritance, anything really. So I imagined I would have to get a job and rent a vineyard, and start with a transitional model like that. and this would be easier to do it in the south of France, I also need a change of scenery. I moved to the south and within a week I found some vines. I also fell in love with the landscape, it is incredibly beautiful and I never tire of it.
Can you describe the vineyard?
How do you describe the foothills of the Pyrenees? At the base we start with siliceous terroirs and we progress to granitic soils. There's something in the granite, an energy, a luminosity that I love.  Then we have the Canigou mountain, which is a little bit like Etna for Sicily. It's a pretty impressive mountain because it starts from zero and goes up to 2700 meters, so it's really a monument. We've got this semi-mountainous landscape with the sea not too far away and the whole landscape has an enormous feeling of freedom, something pure and untouched.
There are two young people who work with me that I also help work with on their own projects, and I helped them find vines as well. The prices are quite correct here. And it is, there is something very easy. That's pretty unique. We suffer from quite a lot of worry about the climate, but we still have an ease at this level.
Can you tell me about your vines, particularly those that went into the Une Vie la Nuit?
When I started in 2002, I had no money but I was able to buy some inexpensive vines.  At the beginning I was also working for another domaine to have enough money to survive. Two years later, when I started to sell my wines and little by little, it just grew, you know? At the beginning I was in the small cellar under the house, then it grew to five hectares which I was working alone. I started early at 23 years old - in charge of three chateaux with ten employees and I started on a roll, but I wanted the experience of actually doing it myself. Not telling others what to do, but getting that direct experience.
I did this and worked on my own for ten years but I got to the point where I wanted to share it and to surround myself with others, to reassure me and to build a team. I also wanted to take on some more vineyards and find a place to accommodate a little more wine and to have an economy set up that allows all that. I wanted to find a beautiful place with history and found a cellar in a splendid old castle which I could take on.
The negociant project was born in 2017 after the huge drought of 2016 when only produced half of our normal production.
I didn't want to be in that kind of situation every year and when you take on a team, you have to take a bet with salaries and such, but it's an investment in the long term. It's more fun to work with others and now we can make more wine and experiment a little. The experiments are often where we learn. We enjoy the challenge of making vintage after vintage, of discovering other terroirs and try to get back to the creativity I started with.
It wasn't an economic decision to make more bottles, it's more that in making more wine, the quality increases. If a cook makes only one meal a day and if there is nobody in his restaurant, he will not progress. I think that when the negoce is done like that, with a real collaboration with the grapes that you take with the growers on the other side, it's a real win-win. For them, it is also a fabulous opportunity. They can learn from their side too, it's a great marriage. I have a different interpretation of their grapes which makes the experience even richer.
The parcel that you buy from for this wine, is it from the same terroirs? What's the difference?
Not exactly, but the idea was to have fun with a little economic support but also to avoid duplicating the domain. I'm not going to redo a light Grenache and or old Carignan vines, things like that, so the idea for Une Vie la Nuit was to make a wine from the Syrah from local, old vines. I often find Syrah, particularly in the south, to be a little bit saturated, a bit too ripe. I wanted to challenge myself to see what we could do with it and there's a lot of organic Syrahs, so I wanted to explore it out of a personal curiosity. A lot of people who like natural wine don't like Syrah, don't like Muscat, but that's changing and it's easy to find the grapes. It's harder to set up a business with Grenache Gris and Maccabeu for example.
In 2017, we started working with a Syrah at 600m altitude on granite soil, it was a little austere at the beginning but I have changed the way I make it as I really wanted to produce a wine that would be enjoyed straight away and give a lot of pleasure. An easy wine in a way. Wines that don't need to be aged for too long where you get a sense of immediate pleasure, to compensate for some of the domain's wines which need to be kept. But we then had a problem with the Syrah grapes that were reducing a lot during the winemaking process. And therefore, since 2019, we make in maceration at the beginning of tank on the bottoms of tank, we put a little grenache and Grenache compensate the reduction side of the Syrah. And this has increased since we first started, we now use 30% Grenache. This recipe seems to work well for us.
Can you talk me through the process of making this wine?
We use a small concrete tank. We have the Grenache at the bottom and the Syrah on top. Often the Grenache grapes have a little firmer texture and it avoids turning into mush straight away. They are very lightly crushed in whole bunches, so that there is juice that fills half the height of the tank. And we let the grapes infuse like that. we get the fermentation started with a bucket of something that is already fermenting. And we press after one week roughly, when there is sitll a lot of sugar left. It really is a very gentle extraction because we do the infusion when there is little alcohol present. Then we bottle in May the following year.
Do you add any sulfites?
It really depends but it is rare that we need to add any sulfites.
How would you describe the wine?
It has a nice mixture of aromas of the south and aromas of the Syrah with notes of tapenade, but also floral and fruity like strawberries with some resin tones. All this makes a synthesis of the Mediterranean landscape which is very nice. But it also has this juicy side, hyper easy drinking and at the same time with a real elegant structure and tension in the wine.
Any food pairings you'd recommend?
I can't actually thing of the perfect pairing right now. I would say something fairly classic like BBQ, grilled pork chops maybe?  
When should people drink it?
Well, I think it can be kept. But I tend to advise my clients to drink them within two or three years because I have a little doubt on a technical issue, but not on the wine, but on the actual cork. The cork we chose is very high quality but I am unsure it will enable to wine to age for a very long time. We are looking into this at the moment. So I would say, enjoy it and in the next 2 to 3 years. Also right now the fruit is really amazing and vibrant so it drinks perfectly.
What's the meaning behind the name of the wine?
The name of the négoce project is 'Hors Champ' which means out of frame in French, so something more on the side as well as literally meaning 'different fields or piece of land' so it seems appropriate.  Une Vie La Nuit, because often it is a new life, a new energy that happens when night time starts. Differentes conversations with friends for example, maybe more free thanks to a glass of wine. This is what I wanted to encapsulate with the name of this wine. A certain freedom I guess.
Isabelle's thoughts on 'Une Vie La Nuit' - Hors Champ is a discovery for me. I knew of Cyril's work and when I heard he was involved in this project, I was really curious - particularly because of the Syrah. When I think of Syrah from the south of France, I expect something quite big and lacking in real freshness and acidity because the grape doesn't really like heat. It's not easy to find a good Syrah from a warm place. But this is a Syrah / Grenache blend that, while southern, is actually grown at altitude, and while there is undoubtedly sun, it is also cool. The result is a wine that is fresh and vibrant, full of notes of black and red peppercorn. It is medium to full bodied but feels very delicate, with pretty, chiseled tannins. It is lean, mineral driven and polished. Cyril's wines are always incredibly elegant and this is no exception.
---
Viñedos Herrera Alvarado is a winery in Chile's Marga Marga province, in the region of Valparaíso, run by couple Carolina Alvarado and Arturo Herrera. The vineyard, which is 2 hectares of biodynamically farmed grapes that haven't been irrigated for many years, is just 15km from the Pacific Ocean and surrounded by forests. The cellar is built from local clay, with no electricity or temperature control. The couple use cowhide vats, clay amphoras and Chilean Raulí wood vats to age their wines with the aim of making the product just as it was made centuries ago.
Q&A with Franz, son of Carolina, and Arturo, who Franz translated for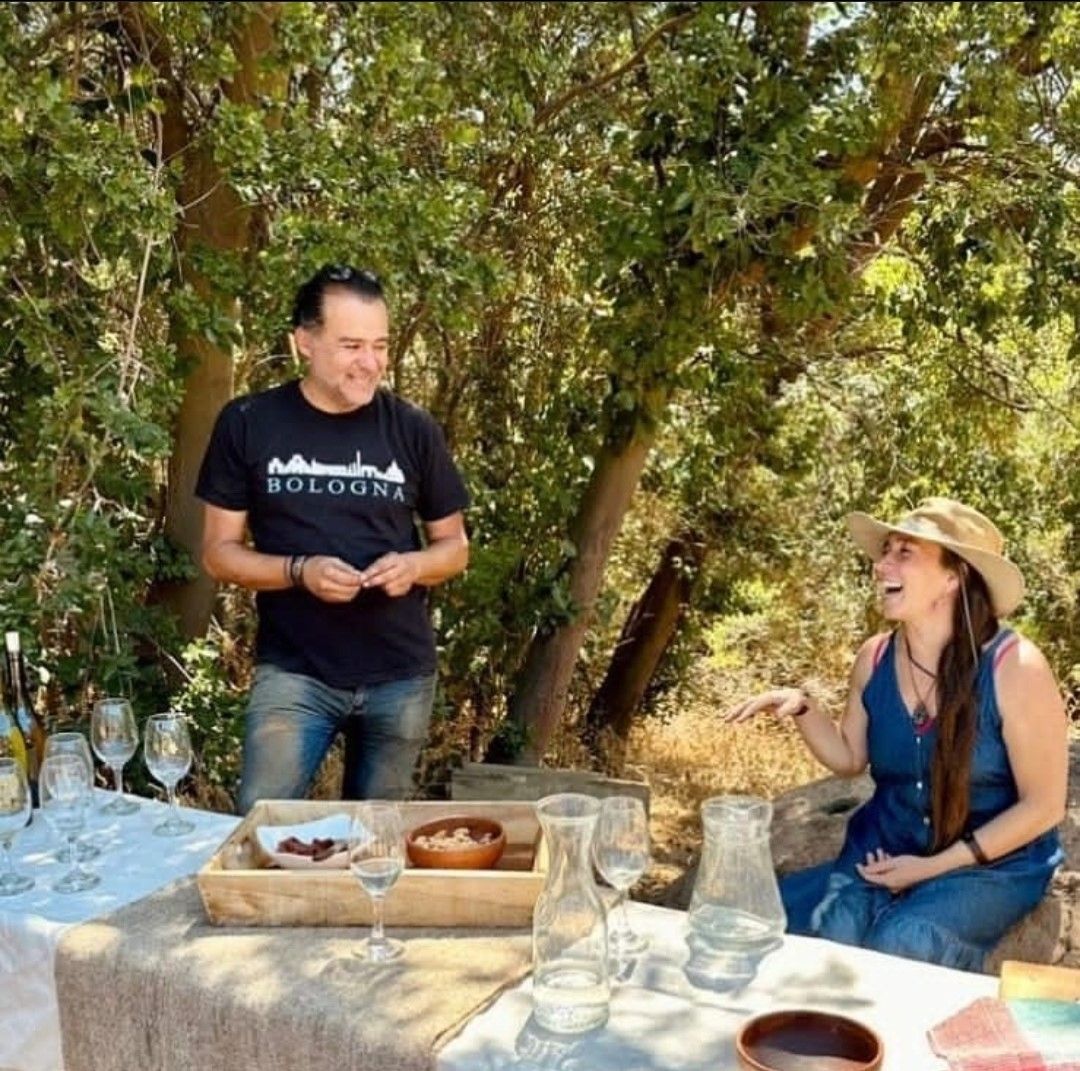 Can you tell me about how Carolina came to be a winemaker, how she met Arturo and what has influenced their style of farming and producing?
My mother, Carolina, was working in agriculture when I was a baby, learning from the people she worked for about the plants they cultivated and how nature needs to be treated. She has always loved using very unconventional methods methods to protect nature and is different from a lot of people who might prioritise profit over the environment. Carolina and Arturo first met at school and came back together when I was a child. Both of them went into the world of agriculture and it just seemed as though they had the same goal of working to conserve nature.
Wine had been always been something that was very important for both of them. There was a time when Chile, or at least Marga Marga, had a lot of wine cellars, but gradually more and more began to close. It was important for them to work to retain the traditions of those places and to reintroduce methods of making wine that were lost from when they were both children, and that deep connection with the world of nature.  In a way it's the old way of making wine where people just took care of nature and then with it, and with ancient methods, they make wine.
I understand Carolina and Arturo were some of the first natural wine producers in Chile - why was this important and how has the scene grown since then?
The growth of natural wine has been somewhat fast and it's in part because the entire world is turning their heads to nature, and thinking about the environment more and more.  
It's interesting when you watch the faces of people trying a wine like my mother makes, you can see how it resonates with them in their eyes and in the expressions on their faces. They start remembering things, like moments of their life, their childhood and that happiness in their face is the fuel for for my mother to keep working in this natural way - because of the connection the person that drinks the wine makes with their life. Natural wine doesn't just generate a taste, it also gives people that nice experience.
The benefits of wine made in this way - including to the environment, to health, to the industry - are something that Arturo and Carolina want to share with the consumer.
Have the recent fires affected you?
We have a very sad history of fires in Chile. They've been happening for years and years, and it's very tough because it's also related to a poor conservation of nature by the government. The way nature is treated and the laws behind it. It's terrible. We work and fight each time there's fires to show that nature can be respected, but it's difficult when there are people that want to see the forests go to make way for industry. We see around 10% of fires, or less, in Chile as starting naturally. It's very typical for forests to just be burned. The greatest problem for us is that, in the wine and food world, we are very small and people like us are the ones most affected by the fires.
Water is also an issue in our country - you can see miles and miles of mountains, forests and nature dying through not getting enough, but just further along you'll see a dam that's full of water. Because nature isn't a priority in our government, our laws, our industry and people, it can be a huge problem.
Can you describe the vineyard?
We live in a little village in the country side, almost nine miles from the ocean divided by a little mountain at 300m above sea level. It was very dry here for a long time but there has been a lot of soft rain lately which helps. And so now it is a green place, with lots of forestry and moisture in the morning and sometimes humidity. The ocean also helps with soil moisture, so the vines can survive the dryness. We have clay soil with a very tough kind of soil surrounded by sclerophyll forests. And our home is just meters away from the vineyard. It's beautiful to see the landscape from it - the vineyards, mountains and forests.
Can you talk me through the process of making this wine? Do you use cow hide to ferment it and any other traditional Chilean methods?
It's a real family process. We usually have company too with lots of friends and family when we harvest, so that's always a lovely moment, and we do it all by hand. We box up the grapes and take them to the cellar, where we put them into a cow leather. It's not a method that's commonly used outside of Chile or even outside of the region, but basically the grape is placed in the cow leather then we crush them with our feet. It's a nice process because you connect with the grapes. Sometimes you can get little stings on your feet but we always do it this way. People dance and jump and that moment of happiness where we all come together to crush the grapes is really important.
Once the grapes are crushed, they're left in the cow skin for 15-20 days to ferment. This is a very old tradition and it leaves no taste or smell - there's no interaction between the skin and the wine. It's just an ancient method. After fermentation, we press the grape and the juice is aged in old oak barrels for almost a year. Then we bottle and my mother is very proud to not add anything at all. It's a very natural process. Why should we interfere when the natural process is so beautiful? And fun actually.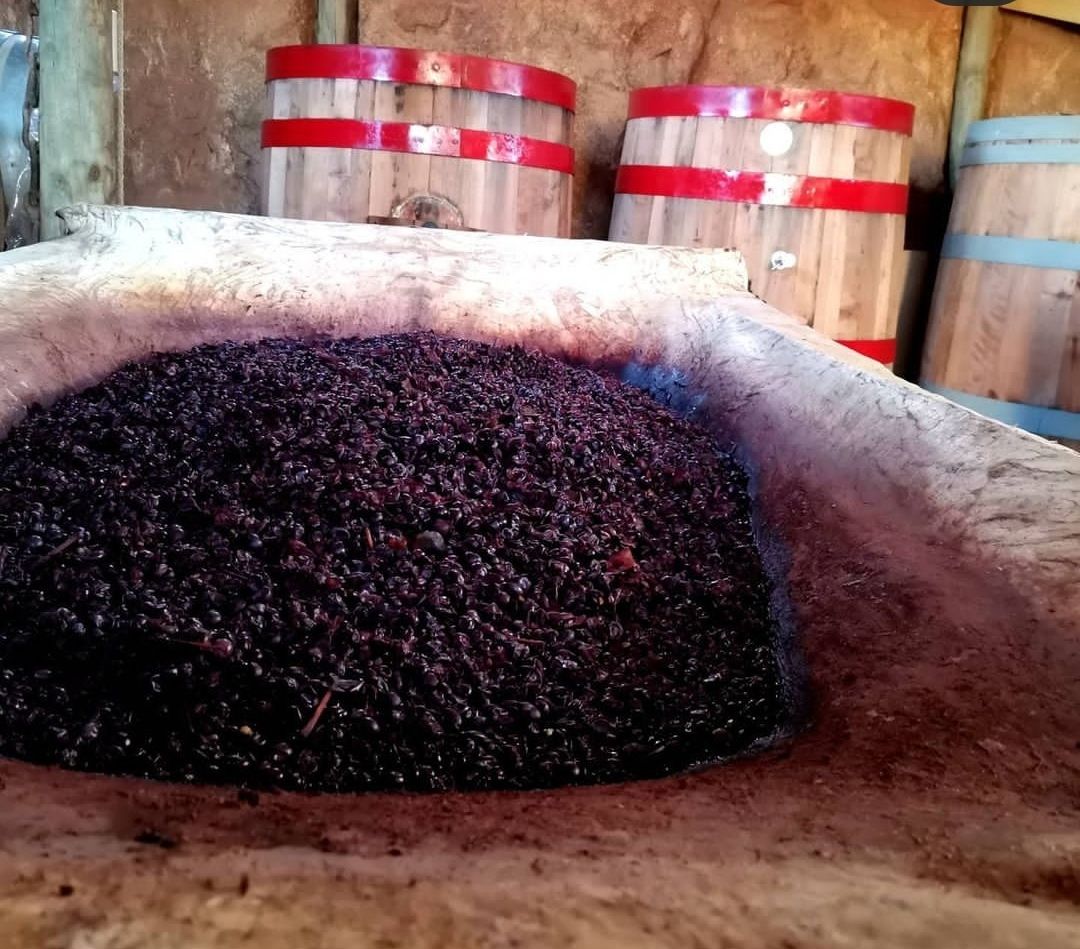 How would you describe the wine?
What's very important is that, because we make wine so naturally, the taste changes depending on the seasons, the environment, the weather, water levels, etc. Of course you find very strong similarities between the same wine of the different years. But the changes between vintage is something my mother is very proud of as it speaks to the randomness of nature. She loves how nature interferes with the wine and changes it, even just a little.
It's a very rustic wine - very strong, very different from convention. It has an earthy taste, as well as floral, and gives you the sensation of juice with a little acidity.
How does this vintage compare to others?
In terms of the results from each year, they're actually very similar. Sometimes it can vary as I said depending of the moisture and the season. But the acidity stays quite similar as we harvest early. Because we don't use pesticides, birds would take everything if we waited too long.
When should people drink it?
It's important that when you open the wine, you share it with family and friends. It should depend on these moments - the company is more important for choosing when to open the wine. If you are talking and laughing, this is the right moment to open it.
What's the story behind the name of the wine?
It means cow leather or cow skin in Spanish.
Any food pairings you'd recommend?
Again, this is something to base around the moments you're having in your life. Say, you go to the beach. maybe you want to eat some fish so in that moment, you should drink the wine with fish. Whatever you can have it with to enhance the memory of that moment. That's more important to my mother than choosing food that tastes good technically.
Isabelle's thoughts on Cuero de Vaca - It's not everyday you get to drink a wine that's been fermented in cow skin! This is a tradition that dates back to the 17th century, when Europeans first moved to Chile. While the church and wealthy landowners built winemaking facilities to rival those they knew back home, the working population used whatever they could get their hands on and so cowskin fermentation was born. The first time I came across this method was with Louis-Antoine Luyt's wines and what struck me was that it seemed to give the wine an incredible lift since the skin didn't impart any flavor to the wine. Herrera Alvarado's Cuero de Vaca Carménère is incredibly pure, with gentle tannins, great freshness and soft purple fruit aromas of mulberry, blackberry and pomegranate, and floral notes that are almost iris-like. A really pretty wine from an incredibly lovely family.
---
---