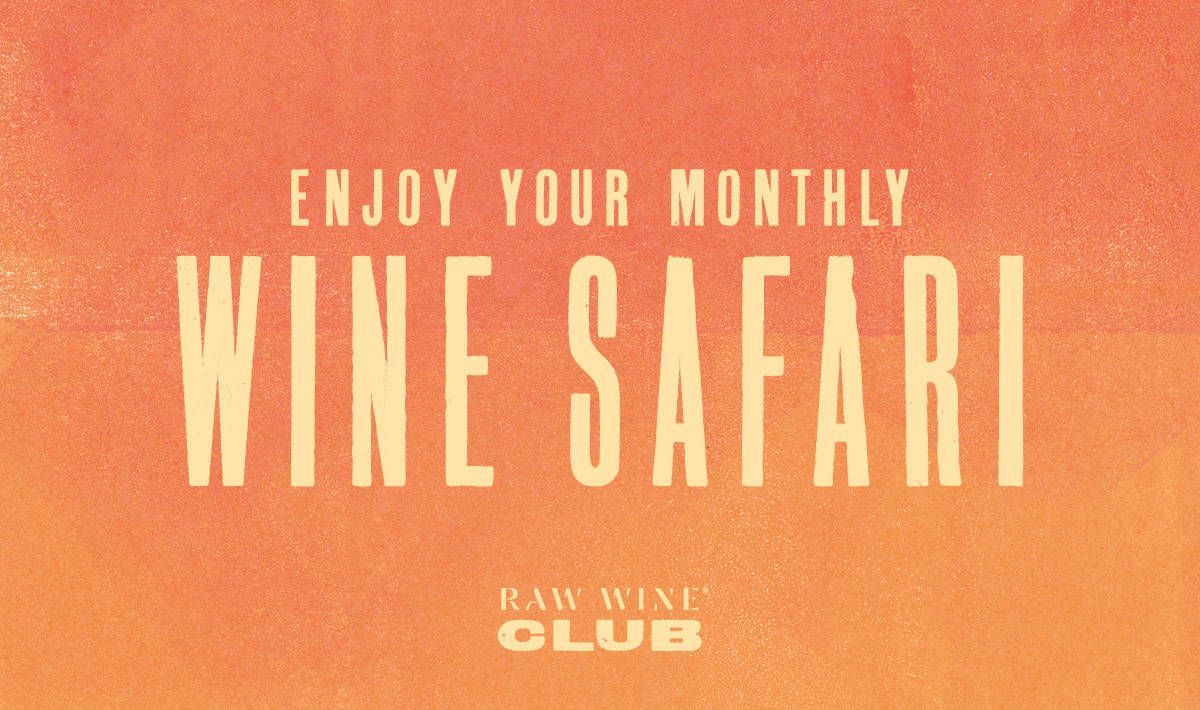 RAW WINE Club - Tasting Notes - June 2023 Selection
38 min read
Hello again.
June's selection is all about European expressions of purity, crunch and digestibility, traits which each of these bottles share and which are exactly what you want to be drinking as we head into summer. There's a mature, savory sparkling rosé made in tiny quantities; a refreshing, crisp Clairette from a natural wine legend; a floral, elegant Riesling from a young, rising talent in Germany; an authentic and beautifully pure example of Valpolicella Classico; a savory Sangiovese bursting with ripe, red cherries; and an ethereal, silky Pinot Noir from Burgundy.
Warmest wishes and happy drinking,
Isabelle Legeron MW, Founder of RAW WINE‌
---
Bodegas Viña Enebro is a winery run by Juan Pascual Lopez Cespedes in Murcia's Cehegin municipality. The vineyard sits at 500m altitude in the valley of the Quipar River, where they have clay-loam soil with high lime content and a mixed Continential and Mediterranean climate.  
Q&A with Juan Pascual Lopez Cespedes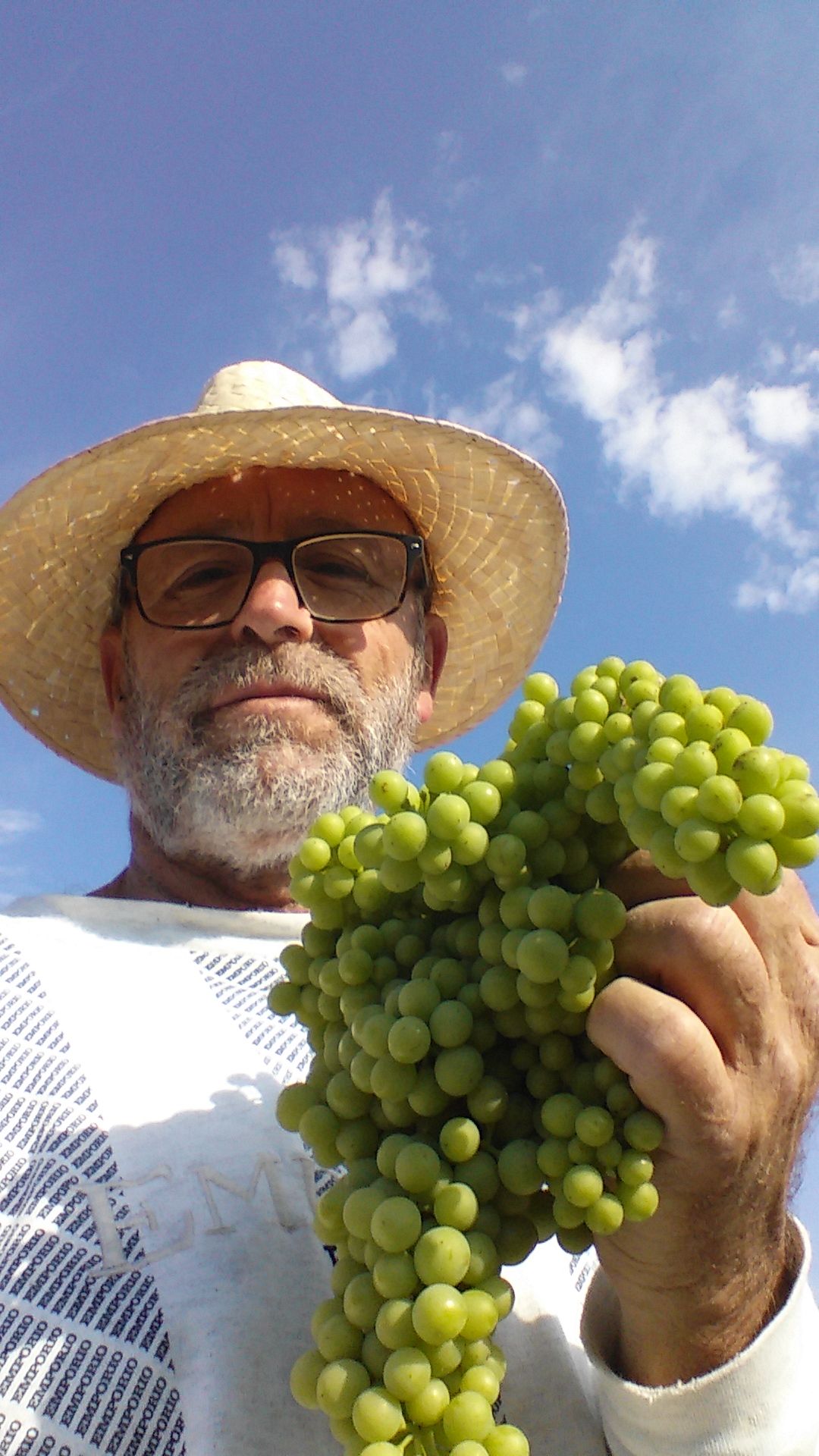 [Apologies for the delay getting this interview to you - Juan Pascual has proved somewhat elusive recently. We hope to be able to add his interview here by the end of this week. Thanks for your patience!]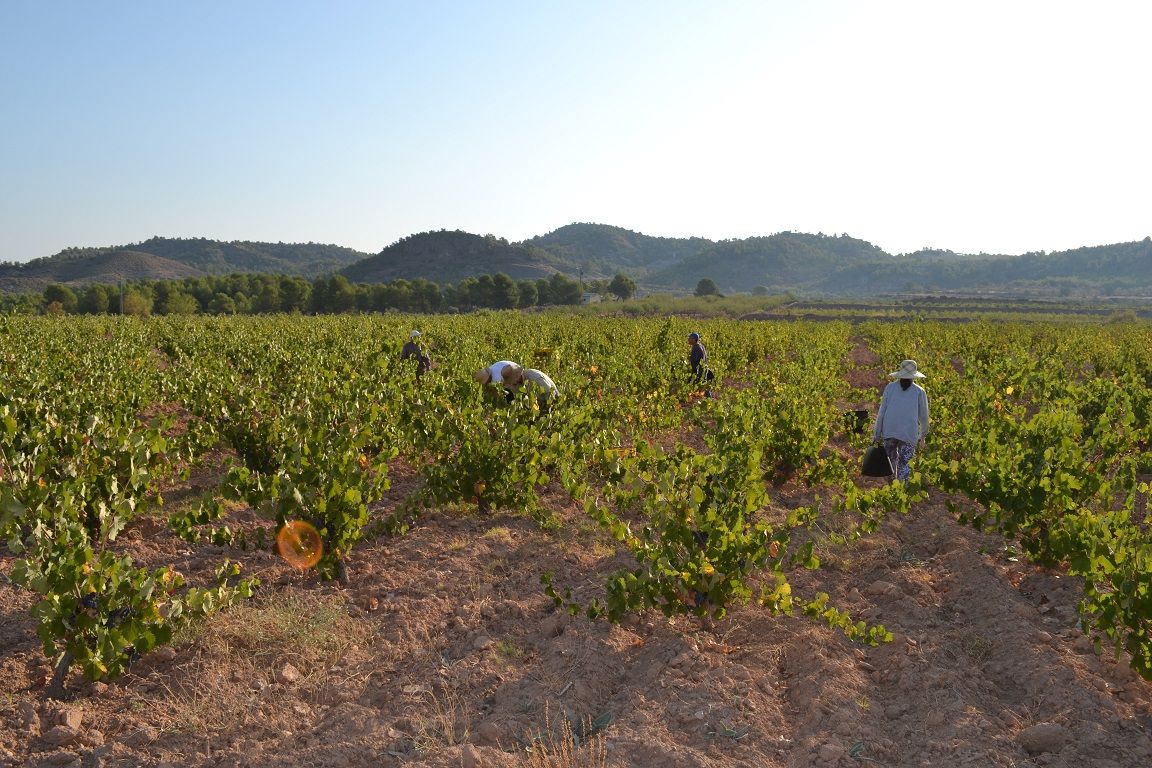 Isabelle's thoughts on El Cuarteo - This 100% Monastrell (aka Mourvèdre) was matured for 30 months in the cellar before release. It is a delicious, full-bodied, southern Spanish, pink bubbly made using the ancestral method. Showcasing notes of dried mulberries, it is also a little biscuity and almost tastes like a mature pinot noir Champagne but with riper, creamier notes. A vinous bubbly, great with food.
---
Mas Coutelou is a domain in Puimisson, a village in the heart of the Languedoc with the sea to the south and the Cévennes mountain range to the north, not far from Béziers. The estate is run by Jeff Coutelou and its 13 hectares have been farmed organically since 1987.
Q&A with Jeff Coutelou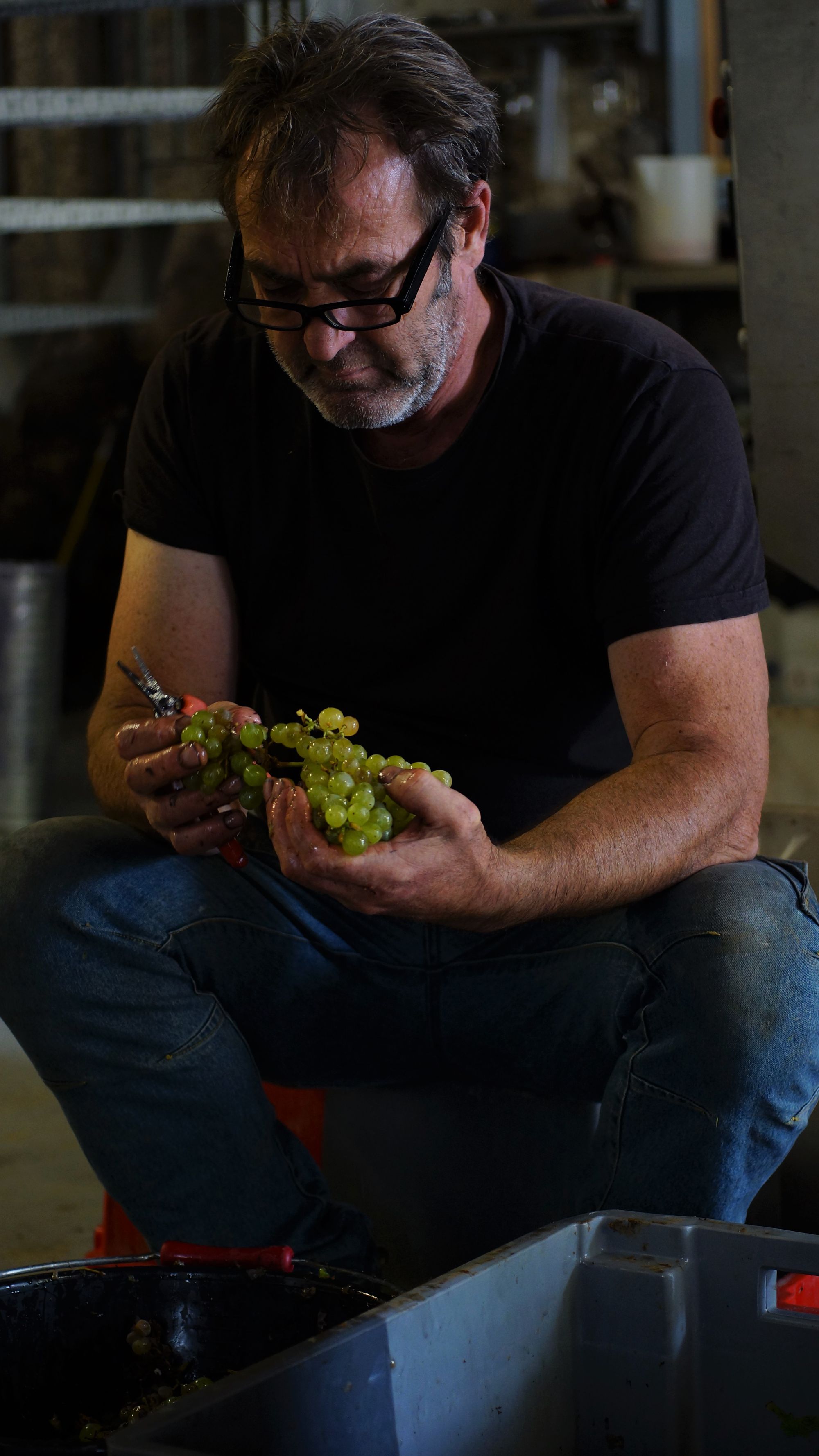 Can you tell me about your background - how you came to be a winemaker, and what influenced your style of farming and producing?
This is a family domain and I'm the fifth generation of winemakers. My father started working organically in 1987, at a time when it wasn't fashionable to be organic. Living in the domain, I've been influenced by it my entire life and I started winemaking in 1993. I also studied hotel and catering management and started making my own way, but then when I finished my studies my father basically said, you take over the domain or we sell it. Of course, I took over the domain, but there was a lot of investment needed. For a while I had two jobs - one to give me money for food, that was teaching, and the other to allow me to invest in the domain, that was winemaking. For 15 years, I had those two jobs. But now I'm full time in the domain.
Can you tell me about the domain and where you are in Languedoc?
Where we are, it's a beautiful terroir - we have a soil that's not too poor and not too rich, so it's possible to make really good wine here in Languedoc. But most of our neighbours make wine industrially, so the job we have is about recreating biodiversity - planting trees around the vineyards and trying to achieve balance within each terroir. We also plant a lot of old grape varieties and have more than 30 varieties overall, some classical which are Syrah, Grenache, Carignan, Cinsault and Mourvèdre, but we are also reintroducing some old varieties. Biodiversity is one thing, but diversity in the grapes is another when it comes to making a new style of wine in Languedoc.
If you have a parcel of two hectares which is only one grape, you have only one color of leaf and only one color of grape. If you have two hectares with 20 types of grape, you have 20 colors of leaf and 20 colors of grape. It's like when you are painting - you can paint using just black which is okay, but most painters need many colors to make a good painting. It's the same thing for me.
Is that approach something that came from your father?
My father started working this way in 1962, but he ended up having to work more uniformly. He was selling all his wine to negotiants, so there wasn't the possibility to be more creative as they just wanted regular wine. He was limited by that, so taught me the importance or planting and recommitting old grapes, to have a variety so that I can make the most beautiful painting.
How has the domain evolved over the generations?
To give you an idea of how organic farming has developed where we are: when my father started working organically in 1987 there were less than 200 hectares of organic vines, now there are over 23,000 hectares. It was a revolution to be organic at the time my father chose to do so. It was very difficult because to be different can be complicated, but he was convinced that it was the right thing to do. What I have brought to the domain in my time so far is planting these new kinds of grapes and making the vinification without sulfites or anything added - just the grapes, work and love for the domain that goes into it.
Can you describe the soil and the terroir?
Our place is a mosaic of many terroirs in the same 2km squared area. Where the Pyrenees begin, there are many types of soil in the same place. Most of what we have is clay or 'calcaire' (limestone), but we also have two hectares of Villafranchian and some places with marl.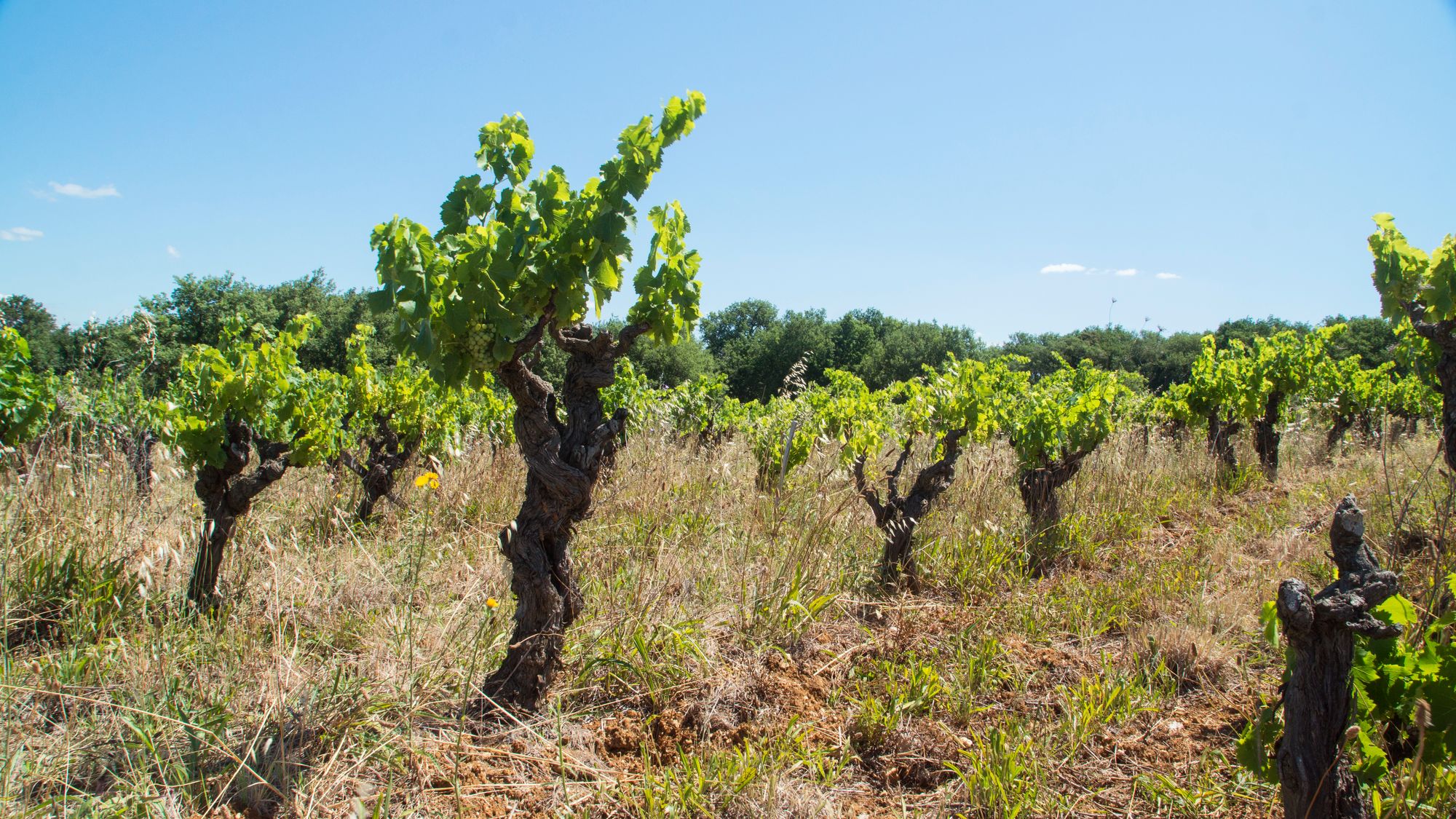 Can you tell me about your work in the field and the cellar?
Climate change is one of the reasons I work the way I do. Climate change has resulted in wines with more alcohol and less acidity, especially white wine. To counter this, most winemakers harvest before the grapes reach full maturity to maximise acidity. But I don't think that is the best solution, because when you make wine from grapes that haven't fully matured, you will never have a good wine. It's like when you eat not fully matured fruit - you can eat it because you love it, but it will not give you all the pleasure. My work now is to achieve a balanced wine and I find bitterness is something which can help balance out the lower acidity. The composition I aim for is about gastronomy.
If you look at the European way of making a dressing, you make it with vinegar or lemon because it's all about acidity. When you look at a Japanese or Asiatic sauce, most of the time they are made with something fermented like soy sauce and it's not about acidity. I think with climate change, it's about approaching the wine different so not being all about acidity, but having some bitterness too to make it well balanced. It's for that reason I chose Clairette, as it's a grape with low alcohol, low acidity and a lot of bitterness. My work now is to work with these kinds of grapes.
How is Clairette made?
We harvest manually, destem and macerate for 3-4 days to allow for a little tannin, then we press and move the juice to steel tanks for 6 months of fermentation. No sulfites, no filtration, just grapes, work and love. We also work following the moon calendar. Around 10-15 years ago, I bought some big, transparent bottles that I could use as an experiment to see everything happening in the winemaking process in relation to the moon. I saw how the wine changed throughout the moon calendar and identified that it was important to work this way, so I still do to this day. The moon calendar is one thing, and another is the wind and the pressure. We are by the Mediterranean sea, so we need the wind coming from the northwest and from the south, and the pressure has to be not too low and not too high.
Which grapes have you used?
100% Clairette.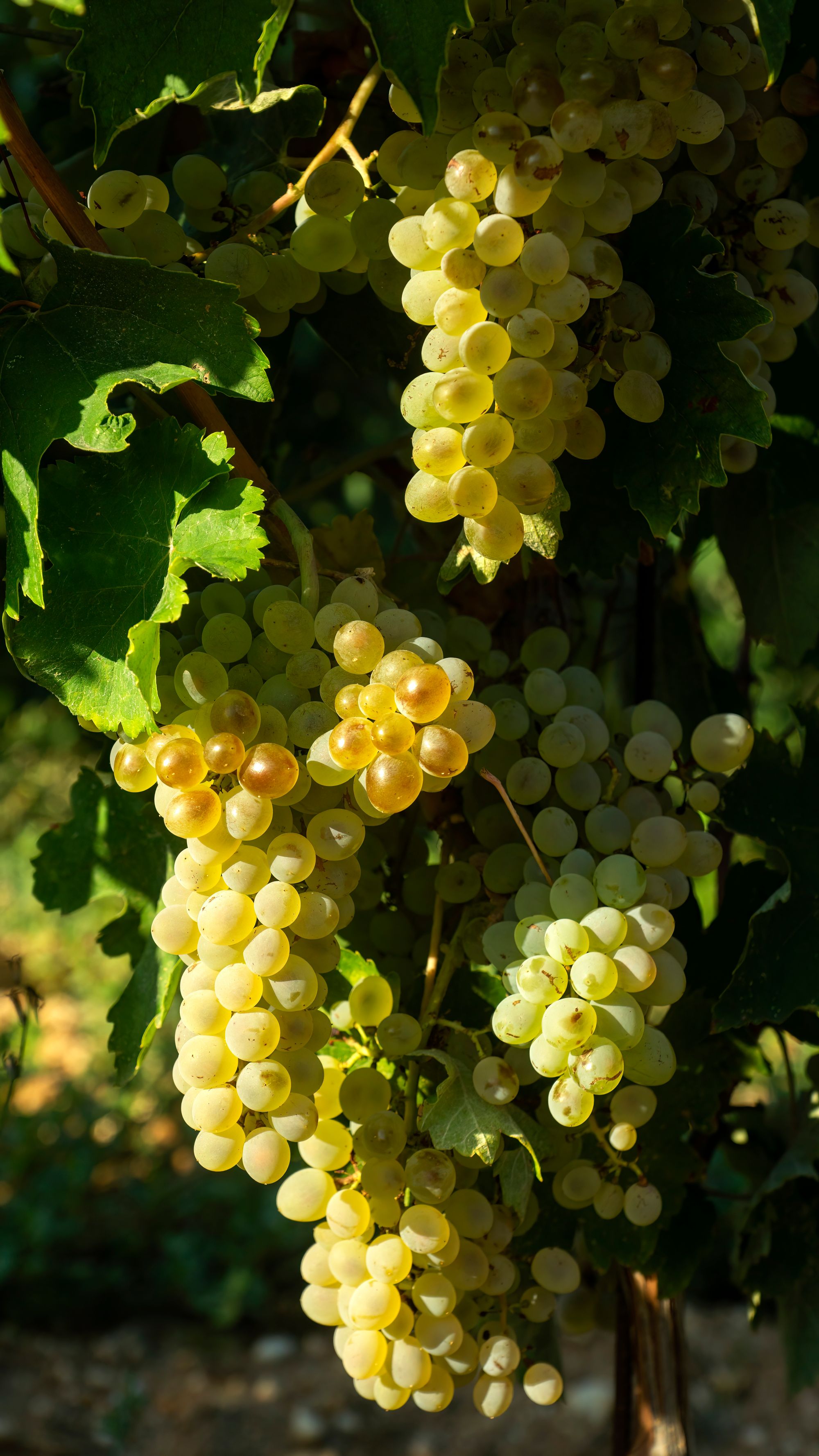 How would you describe the wine?
If I was joking, I'd say it's just like mineral water with the taste of wine. Having a white wine with low alcohol, low acidity and with bitterness makes it something that's very simple but very lovely to drink. Most of the time when you have a low alcohol wine, you don't have a lot of taste or anything lingering on the palate. But this one is very interesting because it's simple, but with a lot to taste in the mouth.
How does this vintage compare to others?
Every year we have to adapt to the climate. 2022 was so complicated yet so easy in the end. It was very dry winter with no rain, so we started spring with no reserves, then we had around 280mm of rain over five days in March. This rain brought a good start to the season and until June it was good. In June the heat came and at the end of July, beginning of August the vines were struggling to give love to the grapes. It was very difficult. We were supposed to start harvest on 16th August and on 14th August, we got around 40mm of rainfall, so we delayed the harvest by 10 days. It was so beautiful because we have big maturity in the grapes, but low alcohol, which is the dream for any winemaker.
When is it best enjoyed? Now or later, if people want to age it further in the bottle?
You can age it but it doesn't need it - it's very interesting to drink now. It's not high alcohol or acidity so it won't age a long time. But a lot of consumers now struggle with high acidity, especially in white wine. This one is very drinkable for everyone. I have a friend who struggles with acidic food and drink, and can never drink more than one glass of white wine. But this one, he tells me he can drink one bottle, and a second as well!
Any food pairings you'd recommend?
You can enjoy it with fish, salad or cheese. It's good an aperitif with tapas too as it's low alcohol and you can enjoy it for a long time.
Isabelle's thoughts on Clairette - Jeff Coutelou and his family are pioneers in natural winemaking in the Languedoc. They converted the vineyard to organic farming nearly four decades ago and stopped using sulfites during vinification back in 2006. This Clairette is light bodied and delicate, with notes of white flowers and yellow peach but also hints of lime zest with a lovely bitterness on the finish.
---
Max Dexheimer is a winery in Saulheim, in the center of Germany's Rheinhessen. Founded in 1896, Max is the 5th generation of winemakers in his family and runs the estate with the help of partner Marika, an Estonian sommelier. They follow biodynamic principes to produce unique, characterful wines and use spontaneous fermentation and native yeasts in the cellar.
Q&A with Max Dexheimer
Can you tell me about your background - how you came to be a winemaker, and what influenced your style of farming and producing?
I come from a classical wine family and am a 5th generation winemaker. The winery as it is now started in 1896, but before that there was always some kind of classical wine production. When you grow up on a winery, you kind of think you know everything. When I was at school, I was faced with the question of what I wanted to do - I saw how much work went into the winery and didn't really like it. But as I got older, I got one of my first vineyards from my parents and they said to me that I could do whatever I want. I really liked the work, and that you could do something where, after 1 year, you can hold something physical in your hands. That's how I started out, then I did an apprenticeship to become a winemaker and worked at two different wineries, before going to university in Geisenheim to study winemaking. From there, I got to know more like-minded people, made some really close friends and we all wanted to make really good wine.
When you're young, of course you want to become better and better, so it was a logical next step for us to think about improving our farming. That's something we all discovered in that friendship group - me, Marto [Martin Worner], Andi Weigand, Andi Mann and Jason Groebe - basically all the German natural winemakers who studied together. That's how everything started and what brought me into the natural wine world, but we're still always thinking about our production and how to improve. Since 2021, I'm no longer a one man show. I work together with my partner Marika who was a sommelier before and is familiar with wine and has really great taste. She's a real inspiration for me in my winemaking as we talk about what she thinks we should aim for with the wines. So we have been developing things together and what we're bottling soon will be the first full vintage of that partnership.
What was it about natural winemaking that appealed to you?
When you have classical training, you're presented with a whole range of additives and fertilizers you can use. But for me and for us, I had experience in classical wineries who worked using good farming methods and I could see the difference in quality in the wines, but everytime we tried something organic or biodynamic, we realised just how different it can be. It's better quality. I knew quite early on that I wanted to work organically in my vineyard, and to work biodynamically. We're not fully there with biodynamics and still have some things we need to prepare - like looking at how the winery is set up and structured - before we can officially start to work biodynamically. For me, this kind of farming results in the best wine quality.
Can you describe the vineyard and its surroundings?
We are in the heart of Rheinessen, right in the middle of Germany's biggest wine producing region - where bulk produced wine is super present as well. What's typical for bulk wine is that you mainly have younger vines, because they give more quantity which means you get paid more. 30 years later, you rip the vineyard out and plant a new one. My dad had done this, but we have some vineyards which are 30 years or more old. He still has some vineyards, but I now work the majority - which is around 10 hectares. We have vineyards that are 6-7 years old, most are around 15 years old and some really special plots that are 25-40 years old. These are what we really like to focus on. In previous years, we were focussed on planting missing vines to make sure we had the essentials. But we don't want to rip vineyards out anymore - there's no reason to.
Last year we had a really great example of why old vines are important when we were bottling the 2021 vintage. You could really see that the grapes and the wines from the older vineyards were so much more tasty and balanced. Yes, the quanity is decreasing, but it just makes sense to work with old vineyards when you have a really different level of taste. We want to improve the quality of our wines, so want to work with older vineyards and work organically and biodynamically.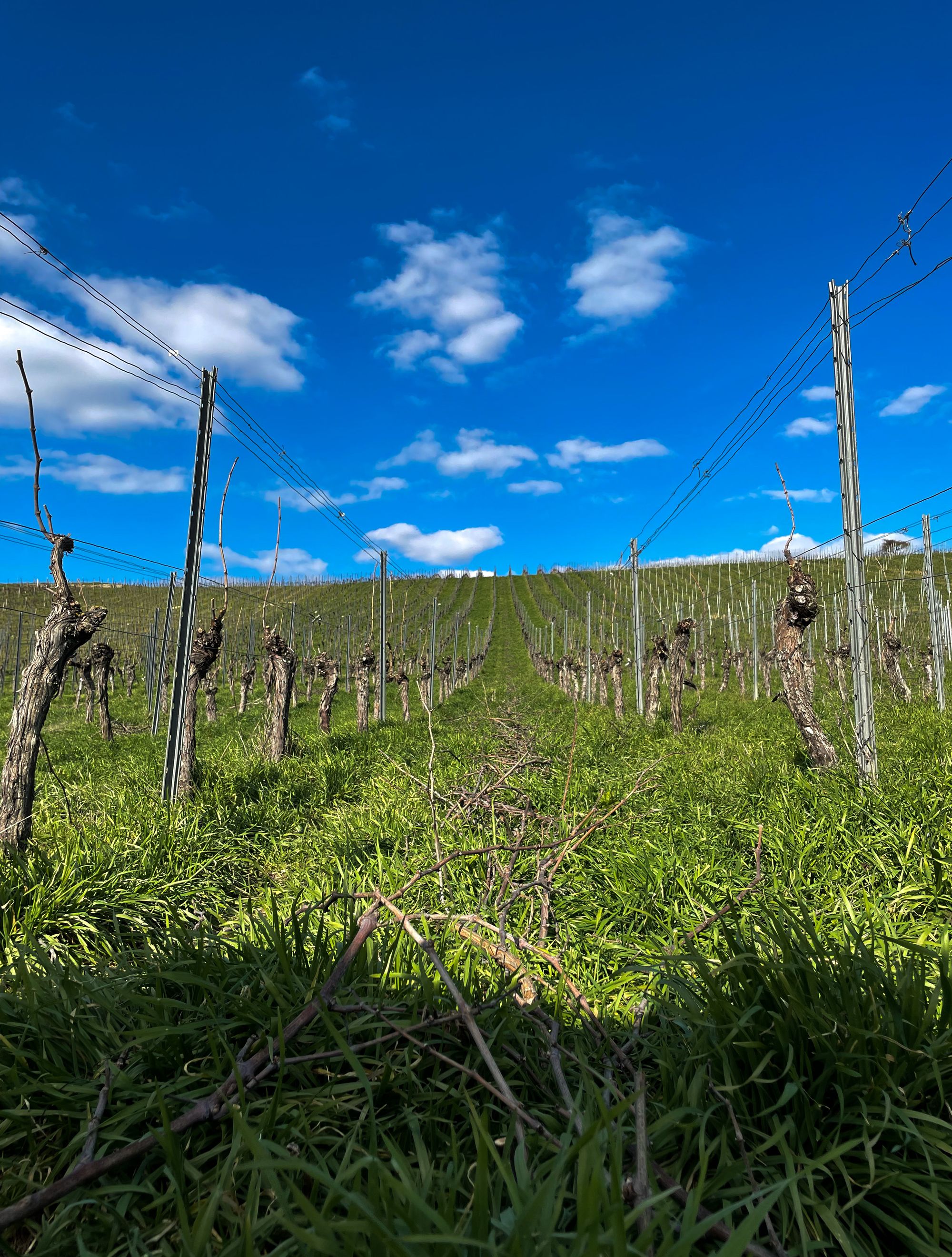 Can you describe the soil and the terroir?
We have manly loess and clay, with a really nice amount of limestone - around 20-30% in some plots. Which is amazing.
What about the climate? Is climate change affecting your work?
Climate change has affected us a lot in recent years. At the moment, it's all still okay for us and in a way, you could say we're benefitting from it in that we can harvest a bit earlier with nice acidity and ripeness. But we do struggle with dryness in the summer months - this year, we haven't had rain. It'll be really interesting to see how things develop. We work with compost to improve the quality of the soil to be more resistent during these dry periods. It's certainly a challenge and we need to adjust our whole production system to combat it. It's one of our biggest problems facing us in the future.
What's the natural wine scene like in the Rheinessen?
Germany has been a bit slower on the natural wine front, compared to other countries. We had the first generation of natural winemakers with Rudolf Trossen, then the second with people like Bianka and Daniel Schmitt, and now we have Andi Mann, Andi Weigand, Marto [Martin Worner] and me coming through as the third generation. Ten years ago, there were maybe only four or five natural winemakers in Germany, and now we have around ten just in Rheinessen alone. It's kind of exploding at the moment and young winemakers really like the style of making wine that's much more alive. I must say it's still completely underrated what kind of quality we can produce here. And we have great conditions to make some super easy, fresh wines and also some high end, quality wines. That's what our soil and climate is offering us.
Is there anyone who's been instrumental in your evolution as a winemaker?
I don't know him personally, but I really love Ewald Tscheppe [Weingut Werlitsch]. His wines really opened me up in terms of how I think about natural wine. I remember during my studies drinking Werlitsch, Gut Oggau and Matassa, and everything was okay. We were comparing them with some of the German winemakers in the same vintage and the German Rieslings were just so boring. They were almost dead, you could feel that the sulfur was preventing everything and not letting anything through terms of development. And the Werlitsch wine was just so alive. You could feel in your mouth that it was still alive. Of course, you had some oxidative notes, but it was just mind-blowing.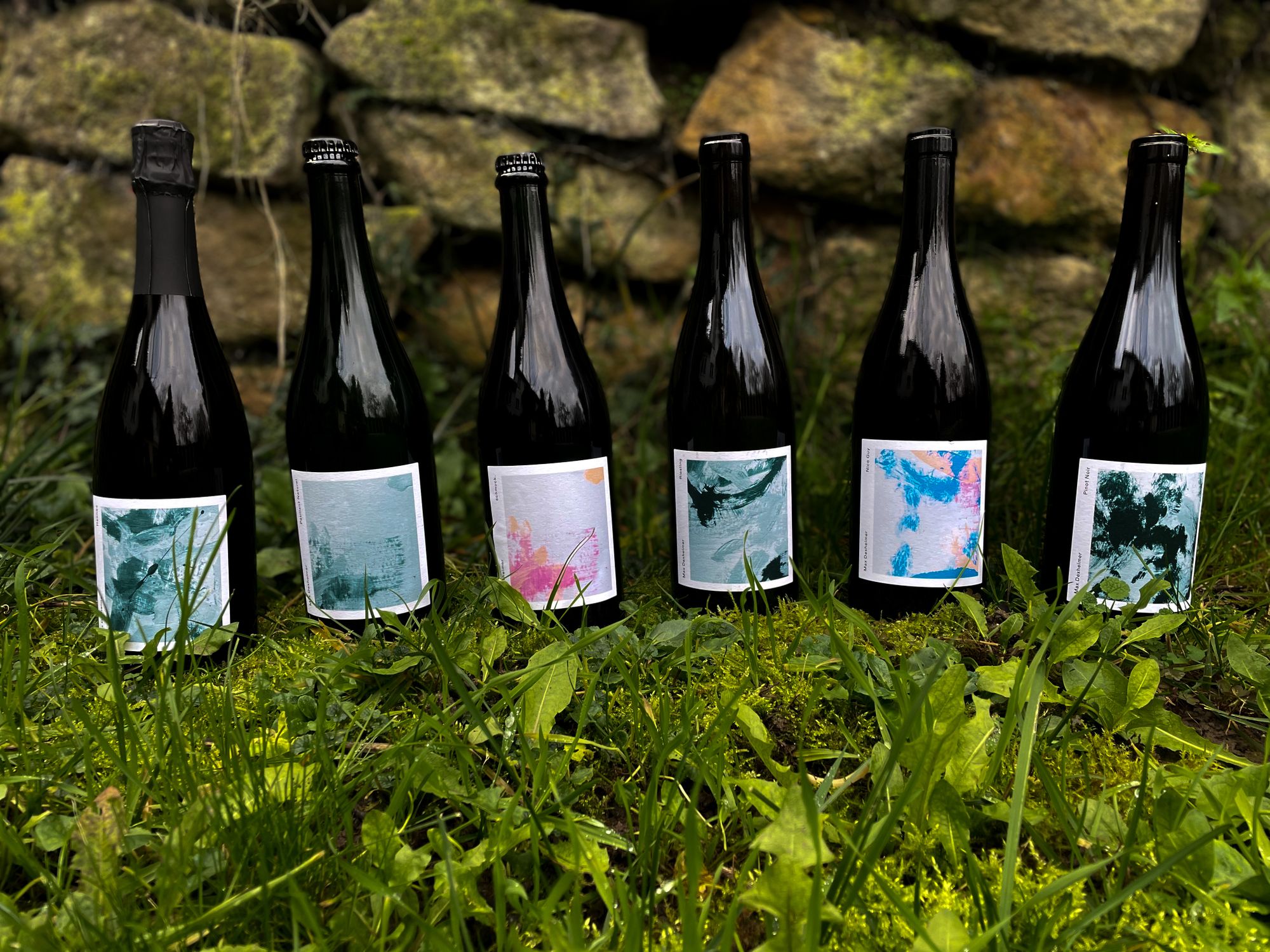 Can you talk me through the process of making this wine?
We harvested the Riesling in October, by hand. I don't think skin contact is really suitable for Riesling, so we always direct press and crush the grapes with our feet, and it depends on the year as to whether we have some whole bunches as well, but we like to generally have a nice mixture of whole bunches and crushed bunches, so as not to extract too many phenolics. Then we put the juice into traditional wooden barrels called Stückfass of around 1,200L, to ferment for nine months. Some of the barrels are 60-70 years old. Then we bottle before the next harvest, around July or August. For this vintage, it was actually really tough - we had so much rain and huge problems with mildew which caused us to lose around 50% quantity on average in the vineyards, some 100%.
Do you use any sulfites?
We use 5-10mg at bottling, but not for all our wines. We test oxidation and have some wines without sulfites.
How would you describe the wine?
It's super crisp, with a really nice acidity. It's really fun right now, but I know there's much more to come in say a year's time. It has some really nice salty, mineral notes and some yellow and green fruit, like apple and pear. You get the limestone saltiness at the end. It's also really light in alcohol so you can drink it really easily, which can sometimes be a little dangerous!
When is it best enjoyed? Now or later, if people want to age it further in the bottle?
I think you should try to keep it for a little - right now of course you can easily drink and enjoy it, but if you age it, it'll become more bold and still with the crisp acidity. I'd say maybe it'll be at its best in three years time, but it's also great to drink now.
Any food pairings you'd recommend?
I like it with flavorful fish dishes, like monkfish with fresh herbs and lemon oil. And also with a seaweed salad - it works nicely with the saltiness and the fresh flavors of our wine.
Isabelle's thoughts on Riesling - Here's another rising star from Germany! Max's Riesling is mineral driven with a delicious, juicy acidity that makes it a great option for summer drinking. Expect notes of bright, ripe, yellow fruit, a dash of smoke and young, fresh almonds, as well as a creamy texture.
---
Società Agricola il Sasso is a winery run by Stefano Bellamoli in the hills above Verona and in the heart of Valpolicella. They farm organically to encourage biodiversity and soil health, plant wild spices to create a fertile environment for the vines and use stripped back winemaking methods to showcase the terroir.
Q&A with Stefano Bellamoli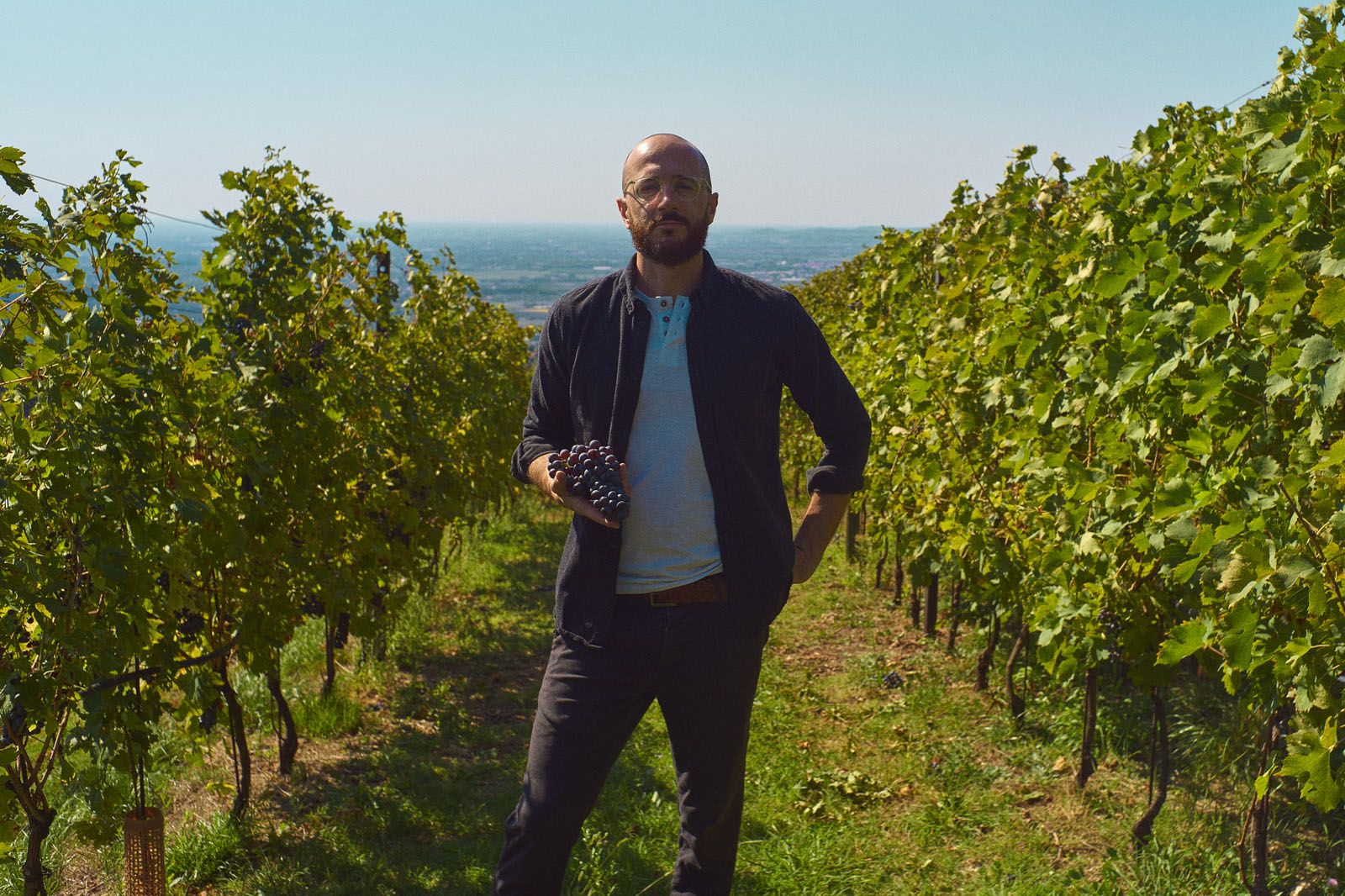 Can you tell me about your background - how you came to be a winemaker, and what influenced your style of farming and producing?
This is a fun one because I come from a different kind of background. I started in industrial design and then specialised in art direction. I worked for a few years in Milan where I established myself in that area. I then moved a little sideways because I love photography and that became my main job for a few years, taking photos for advertising and brands. In a parallel universe, my father and uncles all worked in the marble sector for construction and architecture. They found out that a really nice, but wild and rocky piece of land on the hills in Valpolicella was for sale, and wanted to invest in that piece of land. I was really into wine and food and travelling to discover different things, just as an aficionado, so they asked me to find out whether it's a good investment and what to do with the piece of land, and I took it quite seriously.
I discovered that a vineyard could be built on this piece of land and decided to start this project. I needed a lot of information and knowledge, so started to take courses in organic agriculture. Since the start, I was already into this kind of new culture of organic and natural farming, and decided that it was the only way to go. On my course, I met this agriculturist who ended up being the agriculturist that we work with on the vineyard today. He helped me plan and layout the vineyard.
It's been a long journey of learning and asking people about how to change traditions and innovate. I didn't have any history behind me, or any ancestors working in wine, or clients to keep happy. So we started from scratch which allowed us to be a really fresh new project. We planted 10 hectares and started selling the grapes initially, then in 2013 I decided to experiment with fermentation as the buyers were telling me that the quality of the grapes was great. 2015 was the first commercial vintage for us and that's how we started the label.
Can you describe the vineyard and its surroundings?
We are in the historic part of Valpolicella, which is an area north of Verona, northeast of Italy. The vineyard is in the southern part of Valpolicella and the 10 hectares we own are spread across three hilltops. They all face south but each a different side - southeast, southwest and south. The top of one of the hills gets the sun all day.
The terrain is very rough and before we worked the soil to plant the vines, it was these really rocky wild meadows. The soil is all pretty much marine sediment. It's a bit like limestone and has a yellow colour. It gets very brittle in some parts - you can crumble it in your hand. It's rockier in other parts. We have very dry soil as we don't get excessive water here, but we have a bit of moisture retention with humidity which is good. There isn't much rich soil where we are, aside from that top part that gets the sun all day and is richer in red clay. The rest is pretty much yellow and 80% of it is on terraces. We grow the vines guyot style [grown in rows supported by posts and wires].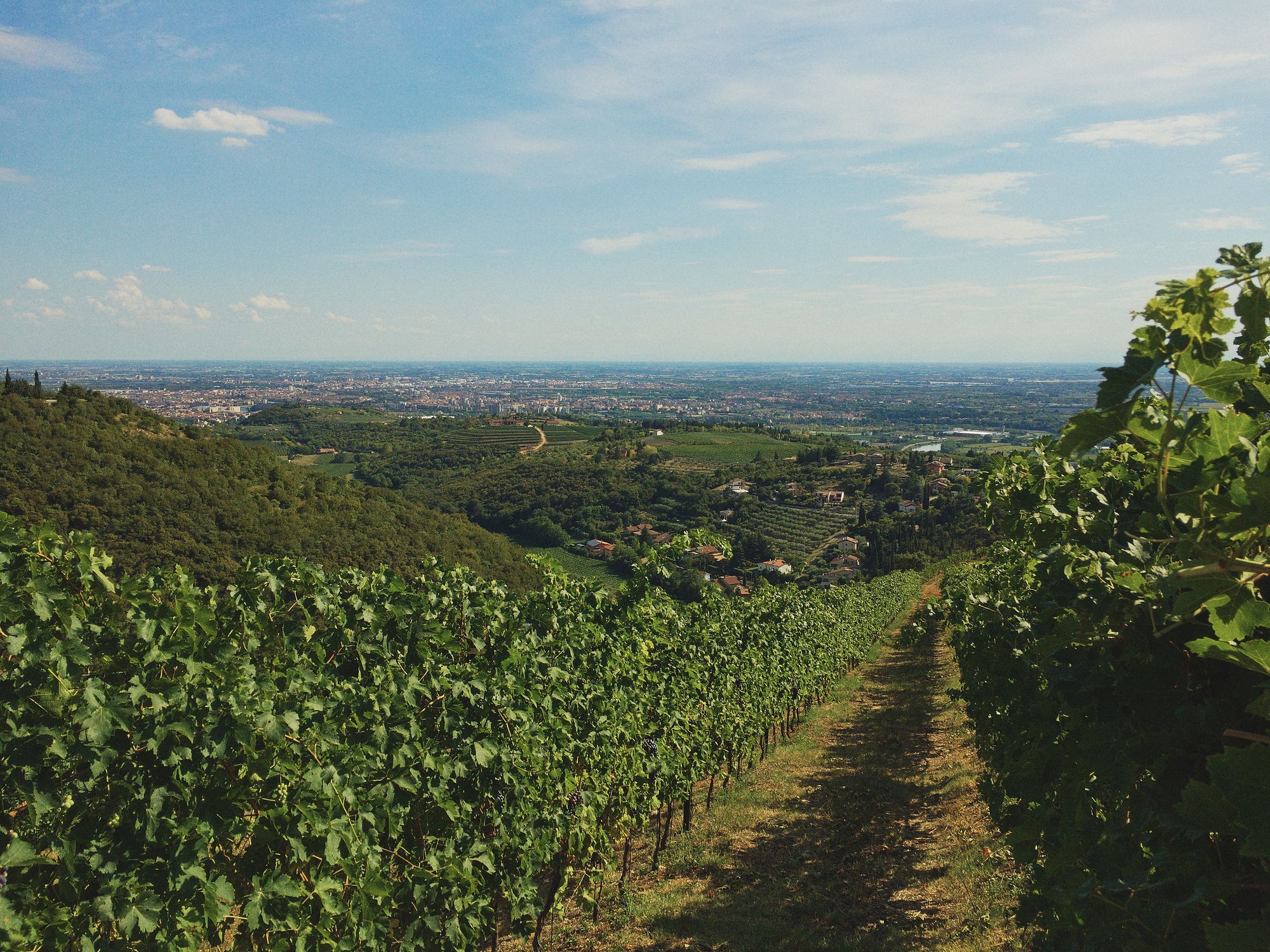 What's it like to make natural wine in such a classical region? Do you ever have issues with getting the DOC or DOCG approval?
This is also interesting as we're in a very historic DOC. When I started fermenting and working on our first wines, I decided straight away to try and intervene as little as possible. I didn't have any style to match or have any clients to make happy or family traditions to follow. So I started from a blank canvas and decided to grow just three varieties: Corvina, Corvinone and Rondinella. These are historic and the mandatory varieties you have to use to get the appellation. We ferment with 40% Corvina, 30-35% Corvinone and the rest Rondinella, so quite classic percentages, and use natural, spontaneous fermentation - no yeasts are added. The approach was let's just see how we go.
The results were quite interesting but very different from the market. I was thinking at first, what did I do wrong? Is there something other people are doing differently? But our grapes have very mild tannins, and the result is a medium bodied red. Very elegant and very particular. And I think the market decided to move towards a bolder red style to meet the expectation of the US and British markets, which are more accustomed to Tuscan and Piedmont style wines which are much more bold and strong. So they decided to build concentration and a style of Valpolicella to match the market, which feels a bit too far from the terroir for me. When I discovered how our terroir worked with those grape varieties I was very intrigued and decided to put our first bottles on market.
We didn't have any big issues with the DOC as the first vintages I was making was the kind of wine that could be considered Valpolicella Superiore. Wine that has the full extraction, a couple months of maceration on the skins, and then at least one year of ageing that makes it a Superiore. We decided not to work with wood in the cellar, because I was trying different wines and found that our tannins were already quite smooth and mild, and don't need a lot of oak finishing or rounding to make them easier to drink. And in certain cases, the oak can overshadow and kill the subtle, fruity flavors that we have which are quite delicate and interesting about our terroir. We skipped the wood finishing and work only with steel and concrete. But the wine we got was lighter than expected from the DOC, but still within it.
Later, when I introduced the Classico, the wine we're talking about now, it's a very pale red wine and we make it with the first grapes of the harvest and try not to overextract the tannins, so we use just a light press after fermentation and keep it in steel tanks for the winter to retain the freshness. The colour of this wine raised a few eyebrows because I decided to put it in a clear bottle to show the real color of Valpolicella, which was quite provocative. I wanted to show what the wines of Valpolicella can be like if you don't intervene too much.
Color was always an issue. In Valpolicella, they have always used pigmented concentrated must to raise the color to a dark red, or purpley red wine and I think that also helped to establish a style of commercial Valpolicella which is too far from the terroir. So our ruby red Classico is the result of traditional grapes which are fermented naturally and not over extracted.
We also raised a few eyebrows when we worked on our first Amarone which is the bolder rendition of Valpolicella. Amarone is made with 100% dried grapes of the same varieites - dried for 2-3 months indoors to concentrate everything and result in a really strong, alcoholic wine that's 16-17% ABV. It's usually aged in oak barrels and mandatory to age for at least three years, and we do that, but we use ceramic vessels to keep the wine clear and straightforward to the terroir. This means that our colour is not enriched by the tannins from oak, and it stays quite soft. It's very different. So in the case of the Amarone, the 2018 vintage went through the DOC, but 2019 didn't as they asked me to adjust a few things in the wine but I wasn't willing to. Right now, we have a market and customers who love our style of Amarone.
I don't want to make any compromises in the style of the wine because I think our iteration of the terroir and of Valpolicella is acturally the truest, because we don't intervene very much and I think people need to understand this. But luckily other producers are moving in this direction, small producers mainly but the bigger producers are slowly getting to see it too - it's shifting a little to more drinkable wines. And the drinkable wines are good for the market because people drink more quickly and easily, which means more profit.
How many natural winemakers would you say there are in Valpolicella? Has this grown over time?
I'm a young player in the game, so couldn't put an exact number on it, but I'd say there's around 12-15 producers amongst hundreds. I think it's all going to shift to more drinkable wines and of course truer wines. That's my main objective with this project - the terroir is at the centre of everything, and why I chose to work with low intervention. It's not a religion. It's just my need to express what I think the treasure is about this place. I want other people to taste exactly that piece of land and those grapes in their particular vintage. We have three wines that we produce with the three grape varieties, using different methods for each. From lighter to the darkest and strongest.
Can you talk me through the process of making this wine?
The process for the Classico is the easiest of my three wines. It's the first grapes we harvest to allow for less sugar and acidity, harvested across three weeks in the middle of September. In these three weeks there's still a lot of maturation going on, so the first grapes to be used are much less sugary and strong. It's also the first fermentation of the year and we move the grapes from the vineyard to the cellar, where the three varieties are fermented together, not blended. We always work with Pied de Cuve and start with a small quantity of grapes.
We follow the first fermentation closely and try to make sure everything's working as it should. It's usually quite fast because the sugar is low, so around 7-10 days. We destem pretty much all the grapes for the Classico as I want it to be fresher and younger, so we try not to extract too many tannins. We have a percentage of the grapes uncrushed to allow some carbonic fermentation, which keeps the freshness at a higher level. We use skin contact for the whole fermentation, and then we press the grapes very gently so that we have all the free run juices and the pressed juices from the first round of pressing. They're all united in a steel tank.
There's still juices to be pressed but we use those to start the next fermentation after, for Superiore. So there's a nice continuity between the wines. The Classico stays in steel tanks for the whole winter. Steel keeps the freshness and we also get the thermal shock - the cellar gets very cold in winter which helps the wine to fine and clarify, so we don't have to use heavy filters or clay or anything. At the beginning of May, we bottle the Classico and don't filter it at bottling. We do filter prior to this but a very big filter which only stops large pieces of debris, so it's quite alive still with some deposits in the bottle.
Do you use any sulfites?
We gauge the level of sulfites according to the vintage and only add it at bottling. We need the strength of the fermentation and the yeast to be at its peak, and don't want to slow down its process. We have to enter the cellar with healthy grapes but that's not an issue as we hand harvest.
How would you describe the wine?
It's a very straightforward wine to describe and as close as you can get to fermented grape juice. It's very light and fresh to drink. I think of it as the first chapter of the Valpolicella story, as it's the freshest. You have wild cherries, fruitiness and acid, but it's a very gentle and elegant rendition of Valpolicella, that's it.
How does this vintage compare to others?
2020 was the first vintage, 2021 the second and 2022 the third. 2021 has been quite the perfect vintage in our area. Not extremely hot, with rain at the right time. It was quite an easy to work vintage. For example, 2020 was very light and pale - all the wineries around us experienced the same. Very vertical and elegant, but very light bodied in colour and roundness. 2021 has been very well balanced. 2022 has been very hard and difficult to work but with Classico being the first to be harvested, it was saved from the over maturation that we had for the rest of the harvest. So 2022 has a more generous color and wider body than 2021, but slightly less elegant.
When is it best enjoyed? Now or later, if people want to age it further in the bottle?
It's perfect to drink now - it's young, it doesn't have a lot of tannins that you need to evolve in the bottle, so I'd say the first and second year are the best times to enjoy the Classico. You're not going to get much by ageing it. It's meant to be enjoyed while young and fresh.
Any food pairings you'd recommend?
Anything that's a small bite, like a cold cut or a light pasta dish. I'm also seeing it paired with fried fish, which works well because of the acidity. And I'm told it pairs well with pizza.
What's the story behind the name Il Sasso?
Il Sasso means the rock. It was the first thing that came to our mind when looking at the land before we started this project. The locals always called the hill Il Sasso so it was kind of a natural name that was given to the place, and then it became the name of the company.
Isabelle's thoughts on Valpolicella Classico - It is rare to find an expression of Rondinella, Corvina and Corvinone that is this pure and elegant. A lot of wines in the Valpolicella region rely too much on over-extraction and oak rather than letting these grapes express their natural lightness and elegant nature. Naturally light in color, this Valpolicella is bright and crunchy with notes of red cherry and mulberry, a floral perfume and light, chiseled tannins.
---
Saiano is an estate in Torriana in Italy's Valmarecchia, between Romagna and Marche. It sits across 100 hectares, with 7 hectares of vines amongst olive trees, fruits, barley and a working farm. Around 70% of the estate is covered by an uncultivated forest.
Q&A with Alex Fulvi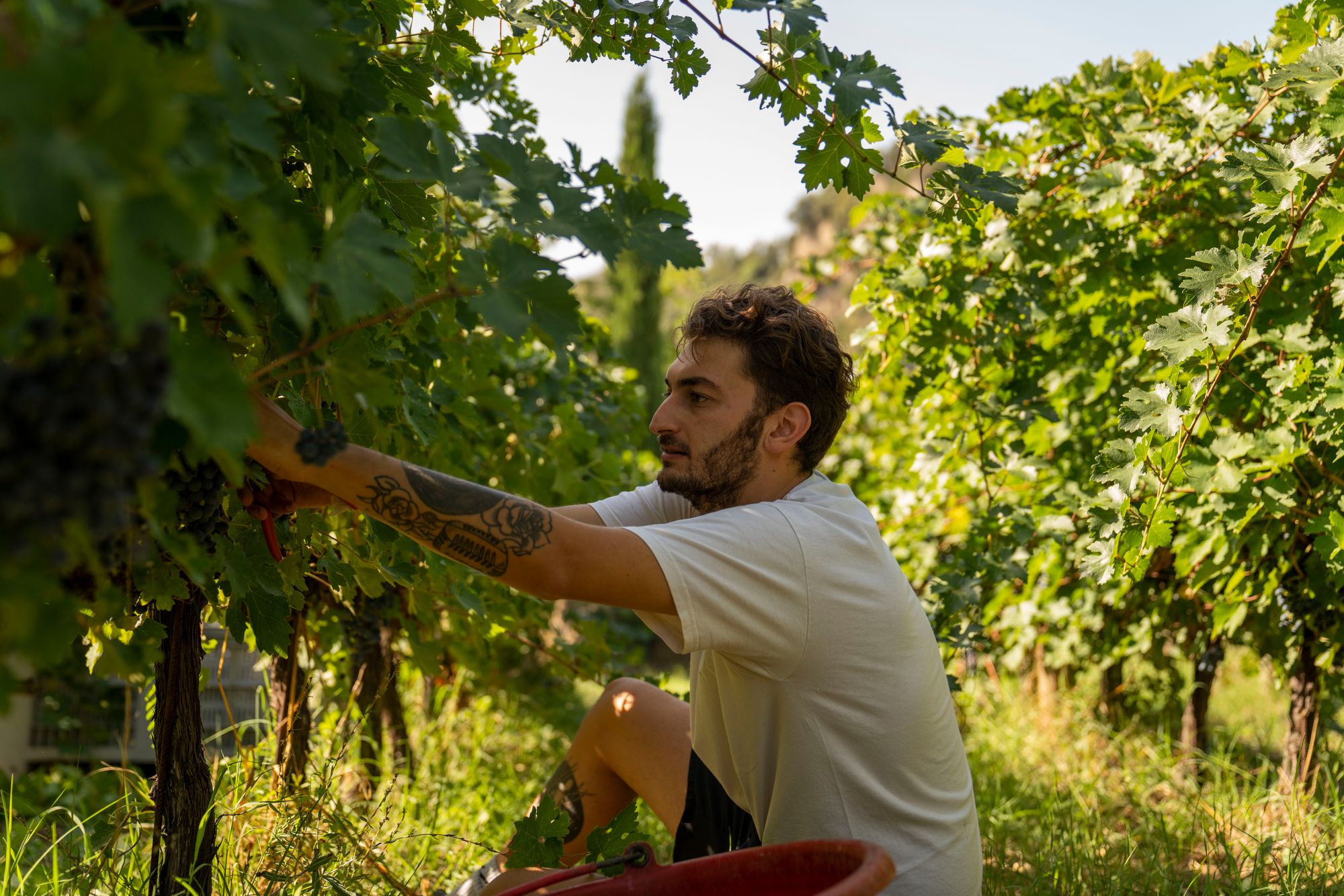 Can you tell me about your background - how you came to be a winemaker, and what influenced your style of farming and producing?
It's not the usual story - my family has nothing to do with agriculture, my parents run different businesses. When I finished high school I went to work in London and spent time working in various restaurants. That's where I first became interested in wine, and in low intervention agriculture and beverages. After 2-3 years, I decided to come back to Italy and apply to university in Piedmont to study at the University of Gastronimic Sciences. During my 3 years there, I became more in touch with wine and winemaking.  Piedmont is probably the most important region for wine in Italy and one of the most important regions in the world, so there were a lot of winemakers there.
The university is where I met Olivia, my girlfriend, and Tenuta Saiano is her family estate. Her grandfather, who is 92 years old - his birthday was just last week - but is still the boss of the estate. He set it up back in the mid 90s then Olivia and I started in 2020 - she wanted to be closer to her family what with everything happening with COVID, so that was our first vintage. With my background in restaurants, I didn't start out in the field, but gradually picked it up by meeting producers and doing some harvests. And what's I've been doing for the last 3 years is learning by doing, which I think is the best really. Olivia works on the business side of the estate and we have 3 other people who help out in the field and the cellar. I'm proud to say they're all very young guys, which is uncommon here as it's a small village. They each have a university background, which helps when it comes to the business side of things.
I hear you have a keen interest in fermentation outside of winemaking.
During university, we got in touch with different kinds of fermentation. Studying wine, you get to explore the chemistry of it and realize how important it is and just how much is involved in the fermentation process. We started with more conventional fermentations using specific yeasts, then moved onto spontaneous fermentation - not just for wine but coffee, kombucha and breadmaking. I used to make bread a lot.
Now I do the same thing in a bigger environment and with bigger quantities. It's more technical, more precise and you also carry out analysis which you don't do when you make bread at home, but the same principles remain. We use no temperature control, no selected yeasts: all fermentations are wild and spontaneous. You always get to learn something new that way as you don't control every aspect. We kind of look after it and discover new things as we go over the years. Thankfully we don't need to make any adjustments. We're lucky as we have an adequate environment and the grapes are healthy. It's nice to see how differently it works each year. I think people worry too much about controlling the process - many things that happen we don't know about, but that's okay.
Can you describe the vineyard and its surroundings?
Geographically we are in Torriana, it's a small village in Rimini, in the south part of Emilia Romagna. The valley is called the Valmarecchia before the beginning of the Marche region in the south. Central Italy, basically. One of the most important characteristics of ours - of our terroir and landscape - is that we are in the middle of sea with the Adriatic coast and the hills with the Appenines. On the east, we have the Appenines and Tuscany, and on the west around 20km away, we have the sea. We are 460m above sea level.
So we get a mixture of the continental climate from the hills and the altitude, and the Mediterranean climate from the sea. We try to represent this kind of climate and terroir with our wines. It's something that naturally appears in the taste profile. When Olivia's grandfather bought the land, it was basically uncultivated forest and no chemicals were being used as it's a protected area. A number of different families owned small plots which were used for agriculture during the war, so he found leftover vineyards and stalls where the animals slept. He bought a number of plots and they all had this specific soil composition from the forest which covers 70% of the estate.
He keeps the forest uncultivated which really influences the work we do. It's a very mixed system with different animals like bees, goats, sheep, free range pigs and chickens, and we use them in the fields so it's kind of biodynamic. Not because we're crazy about biodynamics, but because of how it's best to the structure of the farm and the estate.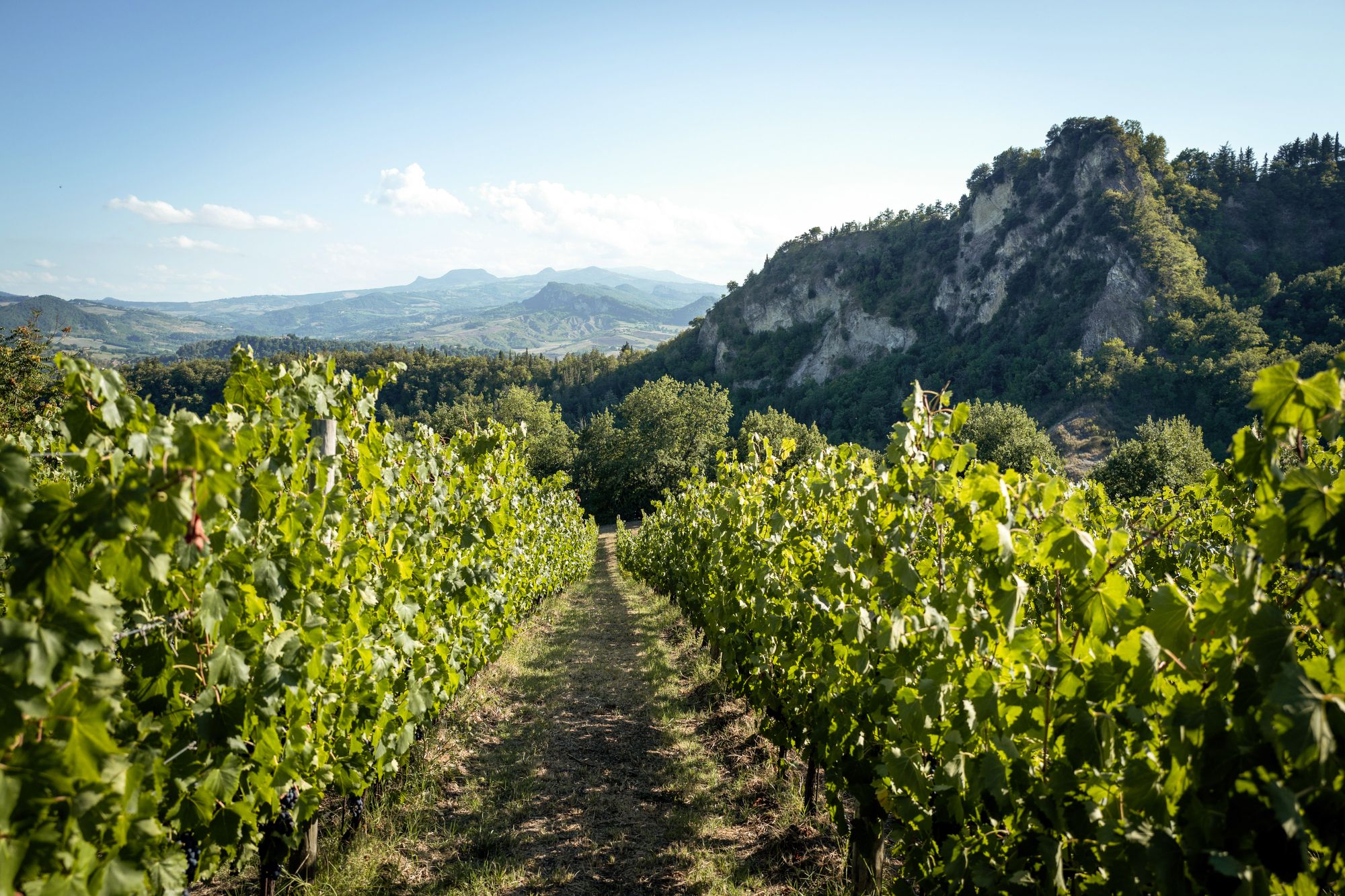 Your wine labels are all hand drawn with flowers and plants. What's the story behind that?
Olivia draws the labels - we were looking for something that represented the estate and the wines. We have really elegant expression but fragile, thin wines because of the soil, which is predominantly clay with chalk. It's rocky and you get lower yields but with the great characteristics that comes from chalk, such as saltiness, minerality and high acidity, so the wine has a defined, clear backbone. It's a relatively young terroir with soils that are 15-20 million years old and used to be covered by the sea. So we wanted something elegant and minimal that represented our way of winemaking. Olivia worked on them for a while and I liked them, so we decided to use them. This wine, though, was bottled before we changed over to these new labels, so the Club members will get a chicken on their label!
You're in the Indicazione Geografica Tipica (IGT) wine region. What can you tell me about the region and the wines that typically come out of it?
IGT is the common region of indicazione. We are not part of any DOCG because they're typically really classical. When you make natural wine, they say they're incorrect in terms of smell or characteristics. Sometimes we don't have enough alcohol to make the DOCG and we're fine with that.
Would you say your wines are typical of the region?
I would say no. Historically, Romagna and Emilia have been quantity oriented and used to sell everything to the north of Italy, Veneto for example. That changed in the late 80s to early 90s, when Romagna was inspired by Tuscany and all the super wines coming out of the region. A lot of Cabernet Sauvignon and Merlot got planted as they made a lot of cuvees with Sangiovese, like in Tuscany. The region was looking for, and is largely still looking for, concentrated and powerful wines. We are not. Not because we are special or because of what the market wants, but because of the terroir and the soil we have. We can't make concentrated, full bodied wines. We have Sangiovese, Trebbiano and Grechetto, which is a white grape typical of the area, but the taste profile is one that a lot of people say doesn't belong to Romagna, which I take that as a compliment for some reason. We try to represent the terroir and region we're in, but without covering the wine with barrique, crazy extraction or tannins, etc.
Can you talk me through the process of making this wine?
It's hand harvested and we gently press some of the bunches and keep a good quantity whole bunch. You have a really soft extraction, which isn't typical for Sangiovese, and the fermentation starts spontaneously in steel vats. The maceration takes 30 days, which is also longer than usual. Once we rack it up, it goes into 15 hectoliter cement vats for at least 10 months. We don't do much bâtonnage as we try to move it as little as possible. Then we add 10mg of sulfites at bottling. It gets at least 6 months in the bottle, which is very important for Sangiovese as it's a really reductive grape variety. If you taste it 1 month after bottling and compare it at 6 months, you wouldn't be able to tell it's the same wine. It's a difficult grape variety - for Cabernet Sauvignon for instance, you immediately understand what you're drinking. Sangiovese is the opposite - more shy, closed and reductive. So it takes a while to show up and that's what happens during this bottle ageing.
Which grapes have you used?
100% Sangiovese. It's a Sangiovese from Romagna. Very different to Sangiovese in Tuscany as it has bigger bunches and softer skin. It's more floral and juicy, lighter in body and with more spices. You can smell white pepper and citrus fruits. It's fresher than what you usually find in Sangiovese - in a good way, it's a table wine. That's also why we call it Sanzvais, which is what we call Sangiovese in Italy, as it's a wine you open with your family to drink. It's not a big deal kind of wine.
How does this vintage compare to others?
This was our first vintage and it was a really nice vintage, particularly compared to 2021 which was a real disaster, and a little better than 2022. It was fresh with a good amount of rain which is very important for a place like ours, for Romagna in general. From a wine point of view it's the beginning of southern Italy, so when you have rain, freshness and cooler temperatures, you get a good vintage. It was a really balanced vintage and the wines represent this. 2021 was the opposite, with high temperatures and low rain, so we ended up with a higher alcohol wine and maturation didn't get to the proper point.
When is it best enjoyed? Now or later, if people want to age it further in the bottle?
The 2021 needs more time for sure, but for 2020, I'd say to open it now and open half an hour before drinking, as Sangiovese needs a little air.
Where does the name Saiano come from?
Saiano comes from a place in our valley where there's a church and is the name of the road which cuts across the estate.
Any food pairings you'd recommend?
I think it's better with food - you could have it as an aperitif, but I'd say to enjoy it with food. You can really eat it with whatever. If you had something from the Italian tradition, of course, that would be perfect. But it's not heavy - it's pretty juicy and easy drinking, so whether you want a good salad, a pizza, some fish or a piece of meat, you can have anything and play around with the pairing. It changes with different dishes.
Isabelle's thoughts on Sanzvais - Our second Italian red is another pure, precise wine but this time made from Sangiovese. Featuring black cherry notes, fresh rosemary, wild herb spices and light tannins, this is an elegant, earthy, almost savory Sangiovese with bright acidity. This is a textbook expression of Sangiovese as it was before the Parkerization of Tuscany.
---
Ami, named as such because it means 'friend' in French, is a Burgundy domain run by good friends Paul Perarnau and Willy Roulendes Skaufmann. The principle of friendship is carried throughout their work, from the relationships between producer and the people working in the vineyard, and the producer and the people drinking the wine.
Q&A with Paul Perarnau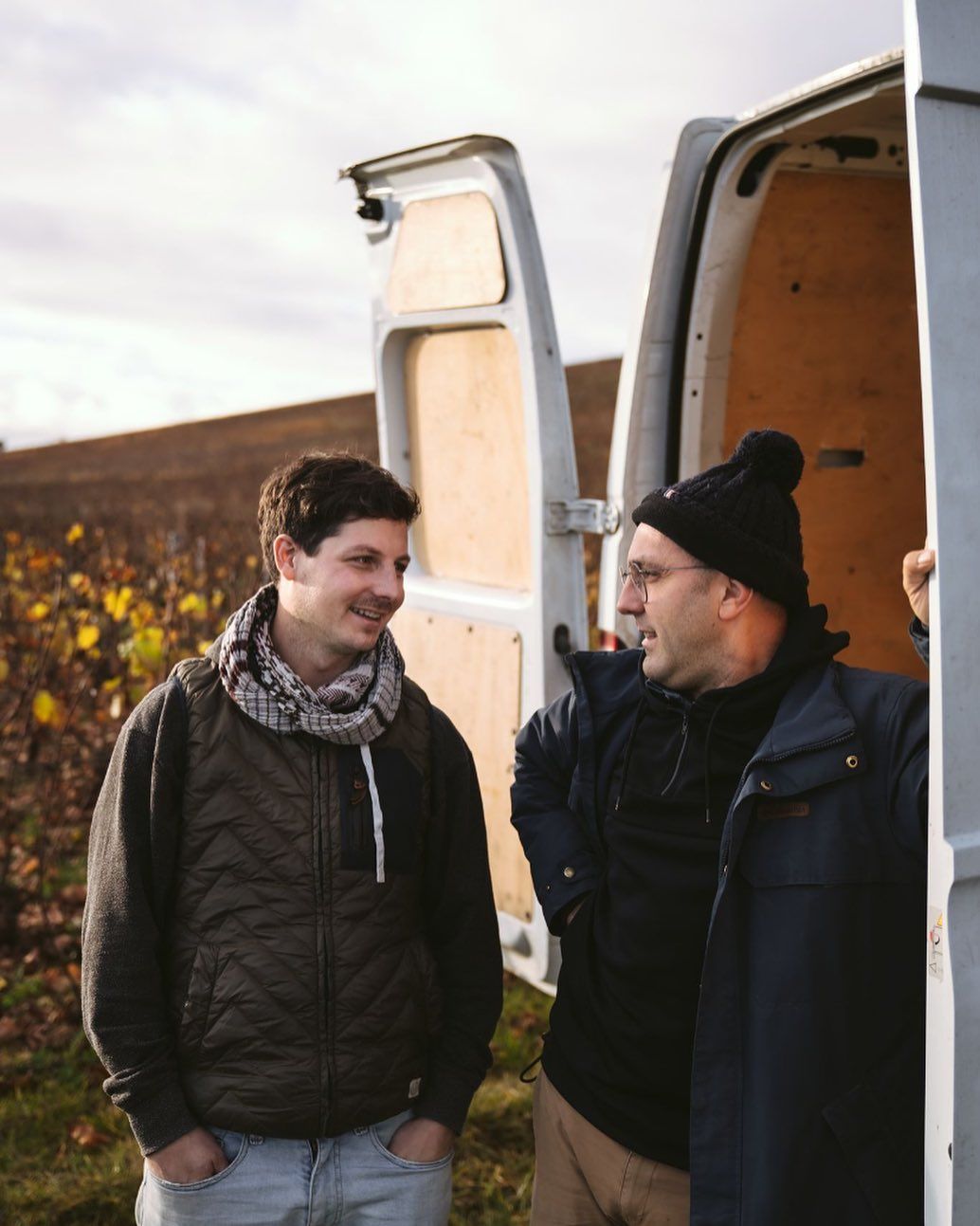 Can you tell me about yours and Willy's backgrounds - how you both got into wine, and how you came together?
We both come from the south of France, from Roussillon and Languedoc. But because we wanted to make wine, I suppose we both just considered that Burgundy was the best place to learn it. I used to joke that Burgundy was considered the mecca of wine, and since wine is our religion, that's where we decided to go. Willy spent 10 years at De Montille, a historical biodynamic domaine, mainly working in the vineyard, and really got to know the different terroirs in Burgundy - he was ploughing vines from Corton through to Pommard and Puligny.
He got to know the soil before he got to know the vinification - so he's not just a conceptual thinker, he knows the plots and when they dry faster because of their soil composition, or when they're more humid, and so on. He has this reference point from his experience, which is really useful as we're 50% domain [growing their own grapes] and 50% négoce [buying grapes]. From De Montille, around 10-15 years ago, he joined Clos du Moulin aux Moines  to rebuild a domain there and move it into organics and biodynamics, and he's now the director of that. But I met him when he was just in charge of production.
On my side, I was working with distributors and importers in London - that's how I met Isabelle actually - so my experience was in tasting lots of wines from all over the world and meeting different producers. Then one day, I decided I wanted to learn to make wine. I had a good friend in Athenais de Beru in Chablis and asked her for a recommendation for a good place to learn to make Pinot Noir in Burgundy, and she sent me to her friend's place, La Maison Romane. So I had learned in different places across Burgundy and Provence, and arrived at Clos du Moulin aux Moines somewhat randomly, and that's where I met Willy. We had a sort of instant man crush on each other - I was super interested by the way he talked about making wine, with so much humily and simplicity. He's a person with a lot of sense, and without any notions of being an artist or some kind of god, and that's something I like.
We decided to set up a small négoce first, buying grapes from our producer friends and vinifying that, which is why we called it AMI. It was just a side project initially - garage wine you could say - while we kept our other jobs. 2014 until 2017 were very much done in that way, without thinking about making a living from it. But we had fun together and little by little, we realised we could do something bigger and more professional with it. We had the opportunity to buy a hectare and a cellar in the Maranges, and so we started AMI properly around 2017 to 2018. It was a big change building up a proper domaine, while still working as a négoce.
Can you tell me about the vineyard where the grapes for La Tête dans les Nuages are grown?
The grapes, which are 100% Pinot Noir for this wine, come from one of our own vineyards in the Maranges area - it's a valley south west of Cote de Beaune, after Puligny. The specificity of that valley is that there is always quite a cold wind and fresh air coming through it from the Cote. It's also higher in altitude than the rest of the Golden Coast. We harvest it 10 days later than the other vineyards - Pommard gets harvested on on 1st September, then we harvest this terroir around the 8th, 9th or 10th. In terms of soil, it's clay and limestone, which is typical of this areas. It's well drained soil, so it always makes quite light reds - not any of those extremely powerful reds. And the vines are around 50 years old.
Can you talk me through the process of making this wine?
We harvest manually with our team, in small cases and bring the grapes to the cellar, where we put them into open wood tanks for 100% whole bunch fermentation. We ferment for 14-15 days, with daily press downs or pumpovers. When the juice is fermented completely, we press pneumatically and blend the press and the juice which then spend a month in stainless steel, before moving into old oak barrels for a year. We rack and at that moment, decide if we want to put some sulfur in or not. In this wine, we have 20mg per liter.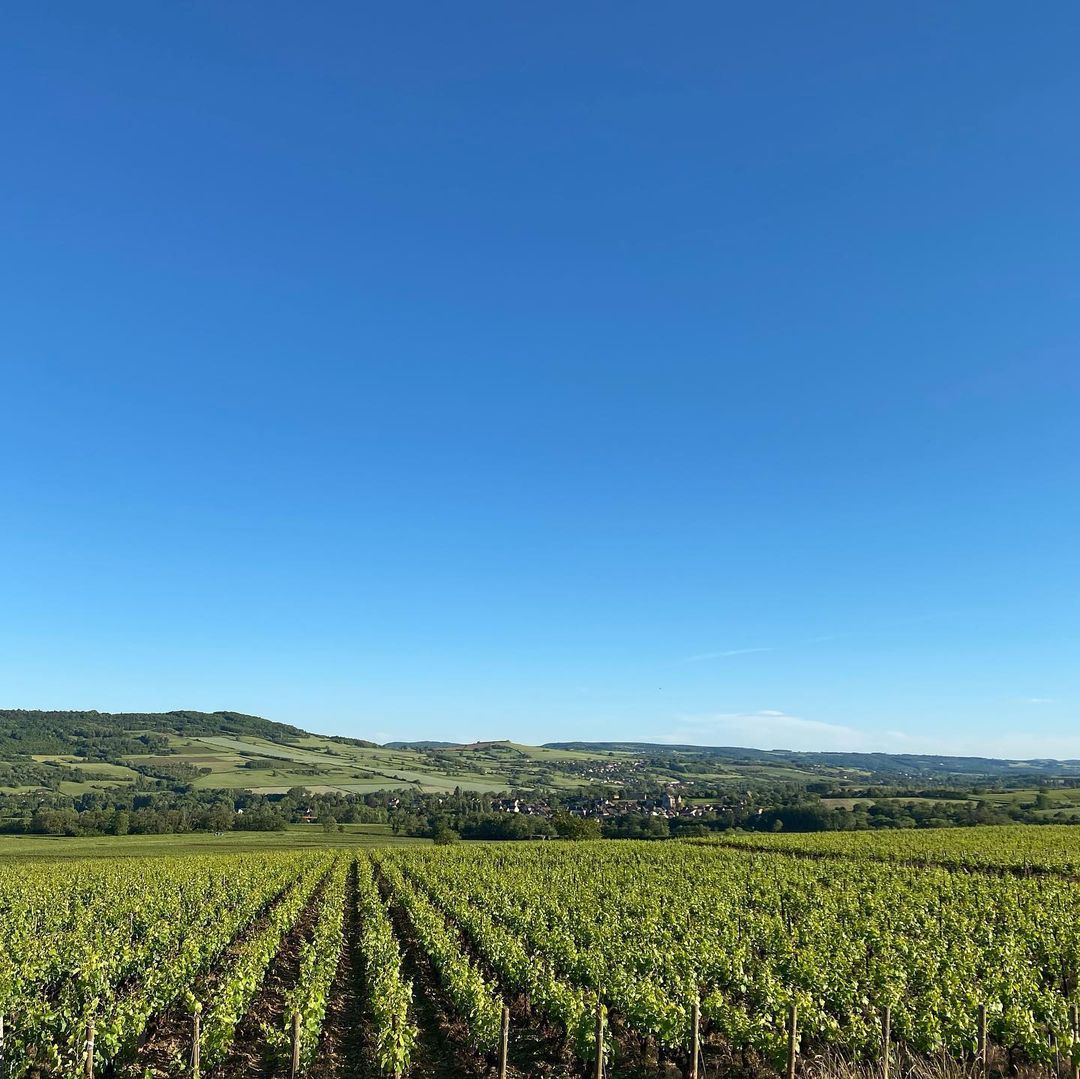 How would you describe La Tête dans les Nuages?
It's important for Willy and I to have two dimensions in the wine we make: horizontal and vertical. The horizontal dimension is about the fruit. We want our wine to be fruity and generous - sometimes in opposition with classical Burgundy, which can be a little austere. We want it to be generous, smiley and fruity. The vertical dimension is about having a sense of place and character, so we like to make sure it has structure. Not just a glou glou wine, but a wine with a certain level of tannic structure. So you have this horizontality of fruit, and verticality of structure and sense of place, and this wine is really representative of the balance we try to achieve overall.
And what's the story behind the label?
Burgundy is super conservative and we wanted to make a label that would be able to communicate without those more classical standards, so really it was important to bring in something colourful, that would pop and speak to our generation, being born in the '80s. And the cloud signifies the lack of rain and, more generally, climate change.
How does climate change affect you as a winemaker?
Firstly, I just want to say that we're not in an awful situation like some of the Mediterranean side can be. People around there are suffering a lot with the absence of rain. We are not in that situation. Our issue relates to the density of our vines. Historically in Burgundy to make quality wines - the higher the density, the better. But we have to change that mindset if we are to adapt to global warming. We need to have more trees, for agroforestry, but if you want trees, you have to accept a lower vine density. We need to stop having naked soils, and cover some of them with grass. But with a high density of 10,000 plants per hectare, with a plant for every meter, it's just not possible. We need to have half this amount to allow for trees and for grass. We also need to let the vines grow taller, but this isn't something you can do when you use a tractor. In Burgundy, the tractors sit almost on top of a row of vines, with the wheels either side. So you can't let the vines grow too tall as the tractor won't be able to go over them.
Agriculture in Burgundy will need to change to respond to global warming, especially when it comes to vine density. We had the opportunity to plant two hectares with lower density and impressive results, and I think we now have to start thinking about working in this way. It's going to be a very difficult but important change, as the old conservative vignerons are still in that high density mindset, which was probably a good thing 15 years ago. Of course monks developed this way of working over thousands of years and knew what they were talking about, but agriculture needs to evolve with the climate.
How does this vintage compare to others?
2020 was a warm vintage. Unfortunately we are facing more and more of those. What we try to do with AMI is to find vineyards with more altitude, or vineyards  surrounded by forests or rivers. So we tend to suffer less from these over sunny vintages and were lucky in 2020 with this vineyard. We had to harvest our Pommard vineyard on the 25th or 26th August, which is really early for Burgundy, because the berries were drying. On this vineyard for Nuages Rouges, it suffers less from lack of water, so we had the opportunity to wait to harvest and were were very lucky, as at the end of August, we had some rainstorms. Not huge but enough to allow the vineyard to breathe and take in the water and its freshness. We harvested on 6th or 7th September, which meant we had mature fruit, but with better balance between maturity of fruit and phenolic maturity.
When is it best enjoyed? Now or later, if people want to age it further in the bottle?
I think it's perfect now and for the next 4-5 years, not much more.
Any food pairings you'd recommend?
I like it very much with cold chicken, which is something you can find all over the world. Well cooked chicken of course - nothing too boring! But roast chicken is perfect because of the smokiness a roast has, and you get the same with a Mediterranean gratin, as a vegetarian option.
Isabelle's thoughts on La Tête dans les Nuages - This is a project close to my heart as it was set up by a friend who used to work for Dynamic Vines, one of the UK's top natural wine importers. What started as a small negoce has now evolved into a vineyard project, and given this is Burgundy, that is no small feat. La Tête dans les Nuages is an ethereal Pinot Noir. It is pure and perfumed with silky tannins and notes of soft red fruit like raspberry.
---