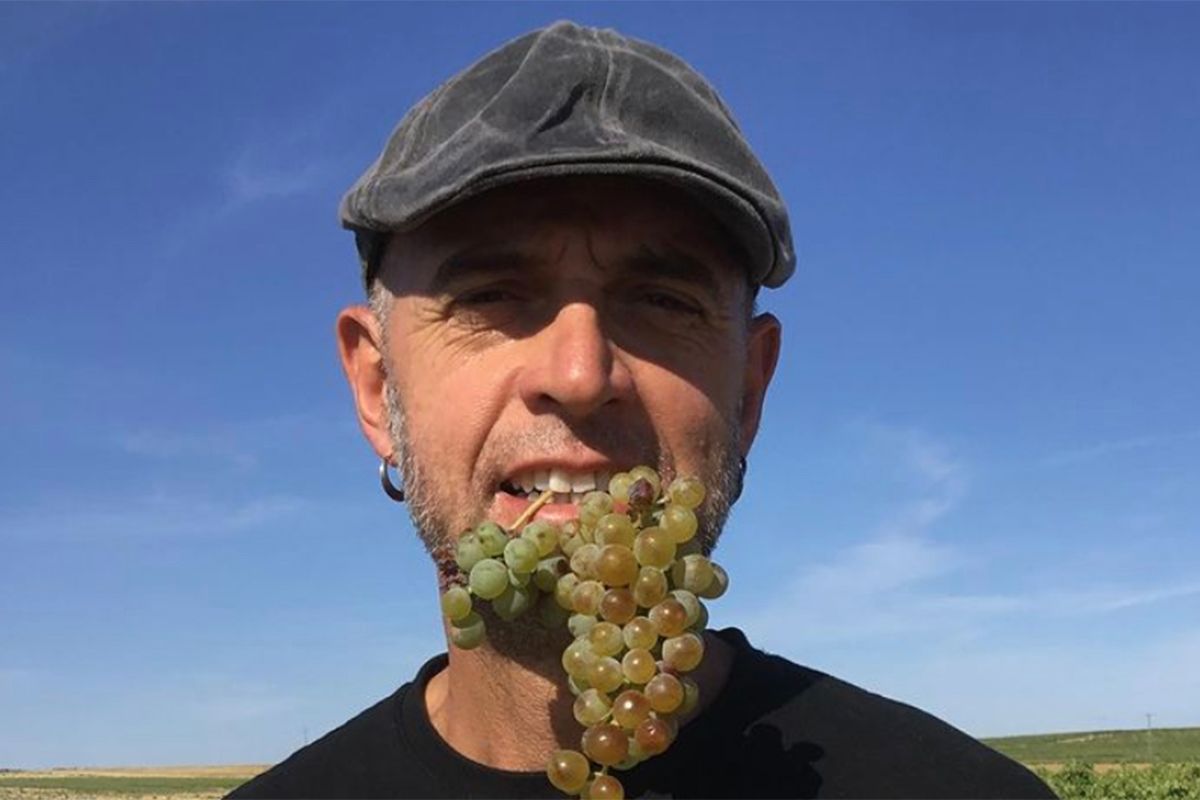 Microbio Wines - The Ancient Vines of Ismael Palomo
4 min read
Ismael Gozalo Palomo runs Microbio Wines - a winery located around 900m high in the centre of Spain. Ismael looks after many ancient, pre-phylloxera vines - some nearly 300 years' old. 85% are Verdejo; the remainder are Tempranillo, Merlot and Shiraz.
"We are located in the center of Spain in a small village called Nieva, around 900 meters high. In the summer, we can get 40 Celsius very easily and in winter we can have -17. So it's more easy when you make very different wines.
For us, our young vines are around 140 years old and the oldest vines are like 273 years' old this year. All of them are ungrafted. Phylloxera never arrived here because it's a very sandy place.
We need to take more care when working with ancient vines. When you prune the vines you make an open wound, which makes them open to virus and bacteria. It is necessary to know which one is good to cut or not to cut. Not all my team are able to prune the vines. We are a team of seven but only four of us prune the vines.
We do bio synergy and biodynamics. We observe and be quiet. Relax and take time. And only then do the things that we need to do in the vines. Never do things automatically. Each vine has his own work. That is the meaning of bio synergy. Because before Steiner and biodynamics was Pliny the Elder - he always talked about biosynergy, not about biodynamics.
For us, it is never less than six or seven weeks from beginning to end of the harvest.We make the first days of the harvest every year to make our pet nat ancestrels with unripe grapes about 11.5% of alcohol. With a long harvest, it is very easy to lose the freshness in the grapes and to lose the aromas because we are in a very high, hot and dry place.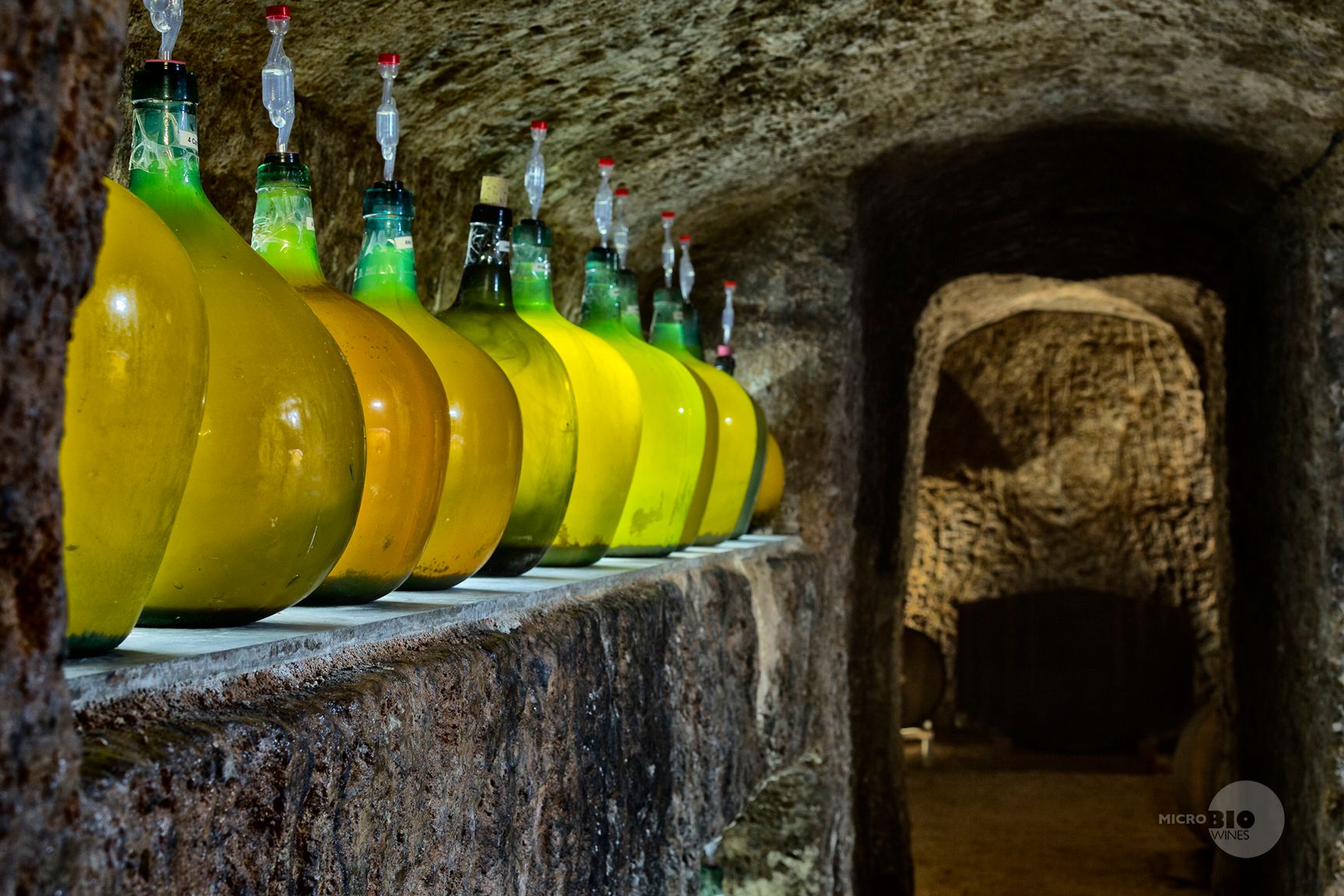 Every year, we make two different orange wines. Some years we make a third. We look for a very nice ripeness in the grapes, because it's not possible for me to make an orange wine with unripe grapes.
We make a Km0 Origen and Tentados. The big difference between both is that Km0 Origen is whole bunches, the whole cluster, fermented in amphora during six to nine months; for Tentados fermented as well in an amphora but the difference is we are destemming - grapes but never the cluster.
Our amphora are called 'tinaja'. They are a different size and different shape and volume to the kvevri. Usually the kvevri from Georgia are round; tinaja are taller and larger. We have some really old tinaja - like 250 years old, 1800 liters. My grandparents never used barrels or steel tanks. We have two different cellars for my two parents, both of them underground. My father's family has made wine for five generations; my mother's for three generations.
For me, orange wines are like the origin of wines. It's like Georgia, Armenia and Turkish wines. It's like 9,000 or 10,000 years ago, when we first had the origin of wines. That's why I have the name of Km0 Origen - it is like my small homage. That's the idea.
"We don't want to speak about 'natural' wines. It is much better when we talk about 'wines' or 'chemical wines' - you choose what you want to drink."
Our process is basically the same as the kvevri. One of the most important things is to have a nice temperature in the cellar. For us, it means less than 10 Celsius. We never we never press grapes above 12 Celsius because when you press warm grapes in the cellar you have that really nice aroma but it disappears from the grapes - it means the wine will never have that kind of aroma again. For that reason, it is very important to cool the grapes, to cool the juice before you start fermentation.
After fermentation we cover the neck of the tinaja to keep inside the CO2. We leave a gap between the grapes and the top of the tinaja. If the clusters of grapes are completely ripe we can keep it around nine months; if it's not really ripe then four or five months. Afterwards, we rack into very old oak wooden barrels. You can never feel the oak.
We don't want to speak about 'natural' wines. It is much better when we talk about 'wines' or 'chemical wines' - you choose what you want to drink. We don't want to put on our labels 'bio', or 'biodynamic' or 'eco wines' because for us the virtculture must be pure. When you don't do this kind of viticulture you are a liar - you need to put cross and bones. This wine is a f****** chemical wine. That's the big idea - a big difference. Not natural wines. It's wine or chemical wine - don't confuse the customer."
---