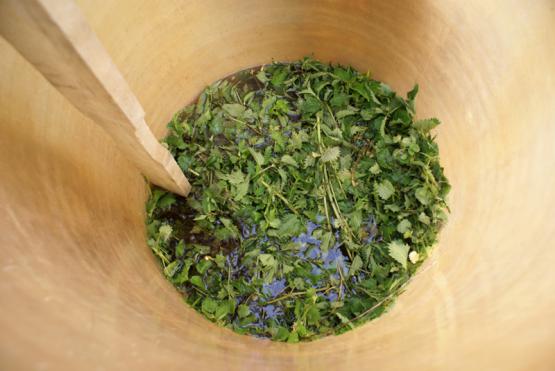 Newsletter - EDITION X RAW WINE: wine bar pops up in lead-up to the fair
4 min read
With only 6 weeks to go until the fifth edition of London's RAW WINE wine fair, and with most of the growers attending making their way onto the website (hold your breath this year is going to be a biggy), the countdown to the 15 & 16 May has begun. To celebrate the kickoff we're announcing a very exciting partnership between us and the spectacular London EDITION hotel on Berners St (home to Jason Atherton's famed Berners Tavern).
For the two weeks leading up to the fair we will be running the most avant-garde of wine bar pop-ups to hit the streets of London. Featuring bottles from growers coming to the fair as well as wines available nowhere else in the UK, The EDITION X RAW WINE Basement Pop-up will feature daily wine specials, mini-tastings for the trade exploring the portfolios of some of the UK's best natural wine importers, and will showcase a selection of 100+ low-intervention organic and biodynamic wines, including a selection of old vintages to give guests the opportunity to taste aged natural wines. Many of the wines will be available by the glass and several growers visiting London for the fair, will also be making guest appearances so expect late nights and delicious encounters.
Over 200 grower profiles are slowly but surely making their way onto the website. Scroll down and e-meet a few of them, or follow us on Facebook and Twitter and get to know them as we share their stories online.
Meet les Fleury – Benoit, Jean-Pierre, Morgane & Jean-Sébastien – the pioneering growing-making family behind Champagne Fleury, who were amongst the earliest adopters of biodynamics in Champagne. Check out their 100% pinot blanc called Notes Blanches, a rarity in Champagne.
Meet the bubbly Amédée Mathier, of Albert Mathier & Fils, Swiss pioneer who was one of the first producers outside of Georgia to use qvevris (kvevris) in his Alpine cellar. His Forestier pinot noir is grown in the Pfyn-Finges, a natural reserve in the heart of the Valais near the origins of the Rhône river making it, as Amédée puts it – "quasi an upper Côtes du Rhône"!
Meet the goregous hubby-wife team who gave up their lives as they knew it to create a biodynamic haven up in the hills of Emilia Romagna where "fertility and well-being could coexist". Al di là del Fiume ('Beyond the River') was born not only as a productive farm but also as a project promoting wellness and well-being through educational, artistic and therapeutic endeavour – as they put it "we believe that 'cultura e coltura' (culture & agriculture) are inextricably linked and mutually influential".
Meet Sylvain Fadat, of Domaine d'Aupilhac. Organic & biodynamic grower in the Languedoc, whose vineyards include "les Cocalières" located in a natural amphitheatre surrounded by wild garrigue at 350m.
Meet Françoise & Pierre from Guirardel in southwest France. Petit and gros manseng reign here and come in all sorts of delicious shapes and forms, from sweet to dry to 'vin jaune' style. Worth seeking out.
Meet Jacques de Chancel, from Domaine de l'Ausseil in the Roussillon (ausseil being occitan for 'Bird'). They produce around 10 different cuvées: white, rosé, red and natural sweets, which involves as they put it "a lot of work at the vineyard, and as little as possible in the cellar".
Meet Clotaire Michal, of Domaine Clotaire Michal, whose low-intervention wines from his small 3.2 Ha farm in the Beaujolais are very digestible indeed. As Clotaire puts it "let's taste"!
Meet Florence & Cyril, dynamic husband & wife duo from Château Mirebeau in Bordeaux. And if you ever fancied finding out more about 'cristallisation' and what this can tell you about wine, Cyril is defintiely the man to speak to. Come meet him in May!
Meet Christine & Matt of the organic Okanagan Crush Pad, Canada. Winemaking vessels of choice include Amphorae, Concrete Eggs and Nico Velo Concrete vessels, but best of all, as you can see they have the cutest field workers…
Meet third generation grower Vincent Couche, of Champagne Vincent Couche, whose 13 hectares of vineyards in the heart of the Côte des Bar in the Aube (Champagne's southern region) are farmed organically and biodynamically. Above are some of the plants they use in the preparations they use to keep their vines healthy and strong.
---