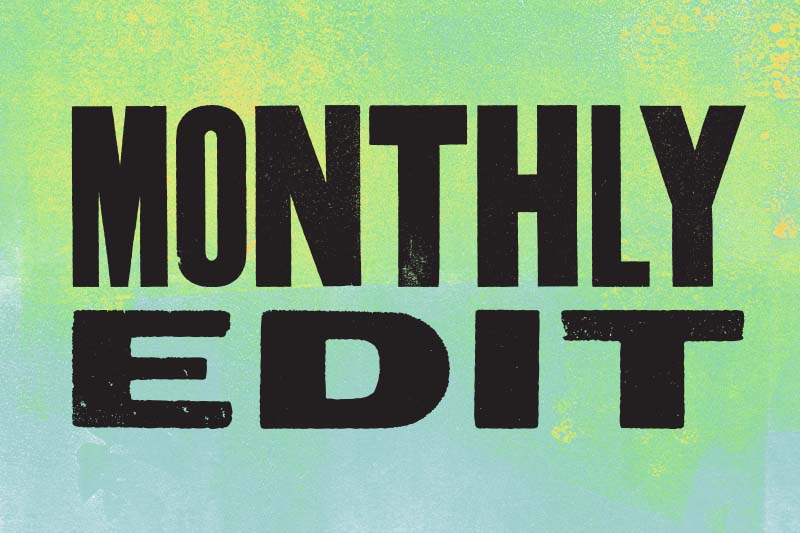 8 min read
Welcome to the RAW WINE Edit. Each month, we will be sharing a themed selection of wines, grower/maker interviews and recommendations on 'Learn' to help you discover more on a particular subject. For February, we're looking at orange wine.
#rawwineEdit ‌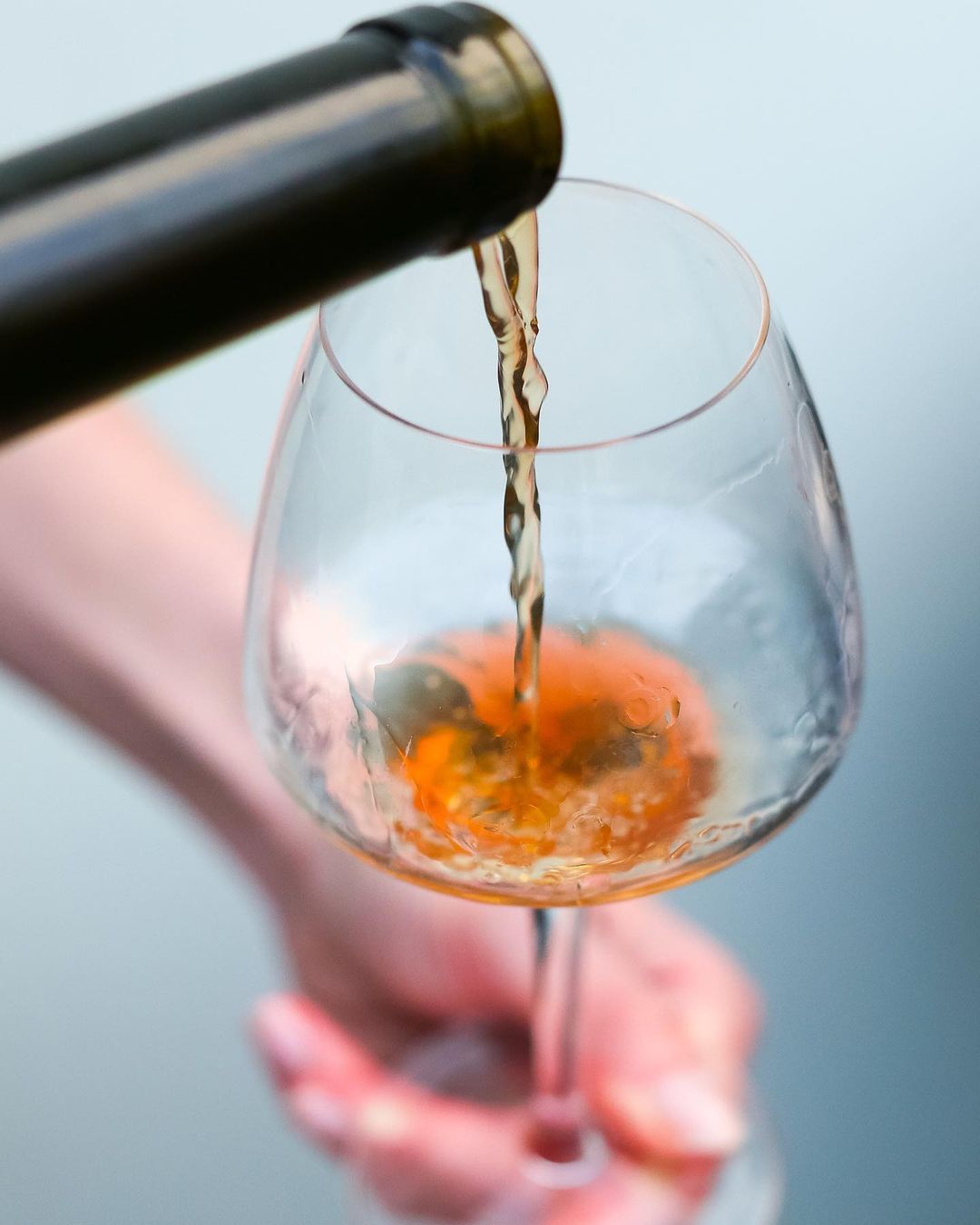 In simple terms, orange wines are made from white grapes using a similar method to (most) reds. Instead of quickly squeezing the fruit and fermenting only the juice, the winemaker adds the skins and pips - and sometimes the stems. The wine is then left to macerate or soak for anything from 24 hours to many months. The result? An orange wine with more body and tannins, and whose colour can be anything from a dark yellow, to amber, even Fanta-coloured, and everything in between.
What is orange wine?
Orange wines are also known as skin-macerated white wines. But don't fret about the semantics. Just wise up on the key facts with our introduction to this intriguing and ancient style of natural wine: What is orange wine?
Orange wines to try
While we have a whole section of the shop dedicated to orange wines, we have selected some bottles to help you discover the style from Georgia (the unofficial home of orange wine where the tradition has existed for thousands of years and the wines are born out of clay pots completely buried underground), Spain, South Africa, Hungary and, of course, Italy, where some of the most profound examples are made today.
Enjoy 15% off all orange wines for the month of February with the code ORANGEWINE15 at checkout.
Ribolla, 2016 by Radikon ‌
‌From £39 per bottle
Run by Saša Radikon (and his father the legendary Stanko Radikon before him), the Radikon winery is located in Oslavia, on the plateau that goes from the bridge on Isonzo river, near Gorizia, to San Floriano hill. Saša is an iconic maker of orange wine. He macerates the skins, pips and juice in oak for months and the wines are then aged for  years before release to market. In Ribolla, made with Ribolla Gialla grapes, the result is a complex, aromatic wine that is always intensely coloured and surprisingly youthful despite its age. A bucket-list wine that should be tasted at least once in your lifetime. Explore our full range of orange wines by Radikon and, for full immersion, read our interview with Saša.
Rkatsiteli-Mtsvane-Khikhvi, 2019 by Gotsa Wines ‌
‌£20 per bottle
Excitingly, it's so good we can't believe it has not been imported to the UK yet so we've brought it over ourselves. Gotsa Wines are now available in our shop!
Gotsa Wines is a Georgian estate run by the exuberant Beka Gotsadze (a former architect) at 1300m altitude in Kiketi, 25 km from Tbilisi, which in centuries past had been one of the principal wine regions supplying the capital. This wine has an amber hue and an intense nose showing dried apricots, melon and oriental spices. It has depth and a strong tannic structure, typical for Georgian orange wines. Read our interview with Beka for more insights and explore our full range of Gotsa Wines, including some Isabelle highly recommended pet nats!‌
Kisi, 2020 by Nikalas Marani ‌
‌£23 per bottle
This is another exceptional Georgian grower-maker whose still hadn't made it to the UK, so, like with Gotsa Wines, we've brought it over ourselves. Check out Nikalas Marani wines now available in our shop!
For this bottle, hear direct from the grower-maker himself - Zurab Mgvdliasvhili - who you can read our interview with at the bottom of this page: "This is a more rare kind of grape, which was not used much in the past. During the last century, during Soviet Union time, we only had Rkatsiteli and Saperavi. Most of the wines were made out of those two grapes. Kisi is something really rare and now coming back slowly slowly to the market. In this case, I make Kisi also in a different way - not really the traditional way. I don't use stems for fermentation. I ferment Kisi with the skins and leave it for fermentation for one month for maceration with the skins. After that I remove it from the skins."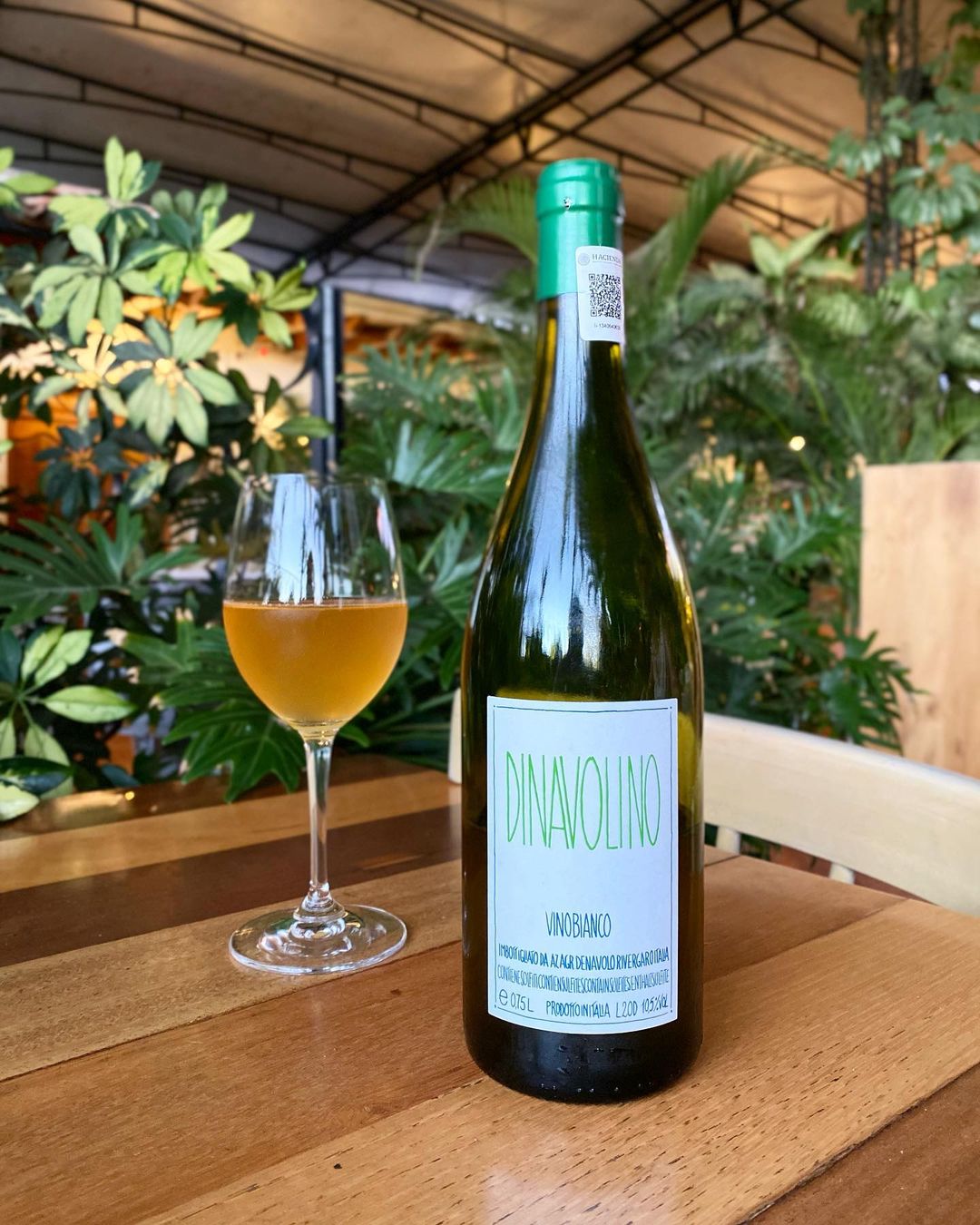 Dinavolino, 2020 by Azienda Agricola Denavolo‌
‌£23 per bottle
Azienda Agricola Denavolo is a small family estate owned by Giulio Armani, the winemaker extraordinaire of La Stoppa (see below). It produces electric wines in the province of Piacenza, on the hills that divide the Trebbia Valley from the Nure Valley in Emilia Romagna, Italy. This orange wine, which is a blend of Malvasia, Marsanne, Ortrugo and Trebbiano, is dense, intense and fragrant, bursting with orange peel and tropical notes of passion fruit and mandarin leaf. Lively and young, it's best enjoyed on the cooler side. Explore all of the orange wines we stock for Azienda Agricola Denavolo.‌
Tenta 2, 2019 by Microbio‌
‌£28 per bottle
Microbio by Ismael Gozalo is an estate in Nieva - in central Spain's Castilla y León region - that's seen five generations of winegrowers. The cellar, just in front of the church of Nieva, was previously used by monks. Situated at an altitude of 800-900m, the grapes are farmed organically (in fact, the estate has been chemical-free since its inception) and the wine is made with as little intervention as possible. The oldest vines are ungrafted (like all of the vines tended by Ismael) and are now 273 years old. Ismael follows the biodynamic calendar to align the activities in the field and in the bodega - for more insights from Ismael, read our interview with him. Tenta 2 is made entirely from Verdejo grapes - try this bottle for something bright, intense, aromatic and zesty.
Ageno, 2016 by La Stoppa ‌
‌£36 per bottle
La Stoppa, owned and run by the charismatic Elena Pantaleoni, is an iconic estate in natural wine circles. Founded over a century ago in the Emilia-Romagna region of Northern Italy, its vineyards stretch along the Trebbiola Valley, not far from the Trebbia river in the province of Piacenza. The estate extends over 58 hectares, of which 30 are under vine and 28 are left to nature. La Stoppa's Ageno is another bucket-list orange wine for anyone wishing to get up to speed with this genre. Named after the estate's founder, lawyer Ageno, this thrilling, heady and complex drop is made mostly from Malvasia di Candia, plus Ortrugo and Trebbiano grapes.
El Bandito Skin, 2020 by Testalonga‌
‌£29 per bottle
Testalonga by Craig and Carla Hawkins was founded in 2008 in the Swartland region of South Africa. Craig is one of the most interesting producers from the country and a real pioneer - "In South Africa, there was no one doing skin macerated white wines. I was saying 'Let me find the orange wines. Let's taste how our orange wines taste'. And I couldn't find any. And that for me was very interesting. So I thought, okay, I'll have to do it myself," says Craig in our interview with him. El Bandito Skin is made with Chenin Blanc and with only a few days of skin maceration and a 10.5% alcohol, this is a lighter style of orange wine compared with the rest of our selection. Moreish, peachy, fresh and elegant, this is the perfect apéro wine. Of his wines, Craig explains that "The key thing I always base it on is acidity: I'm looking for tension in a wine, something that makes you thirsty after you take the first sip, something that wants you to keep on drinking, but also to balance food." That something becomes incredibly clear when you try one of Testalonga's wines, which you can explore more of in our shop.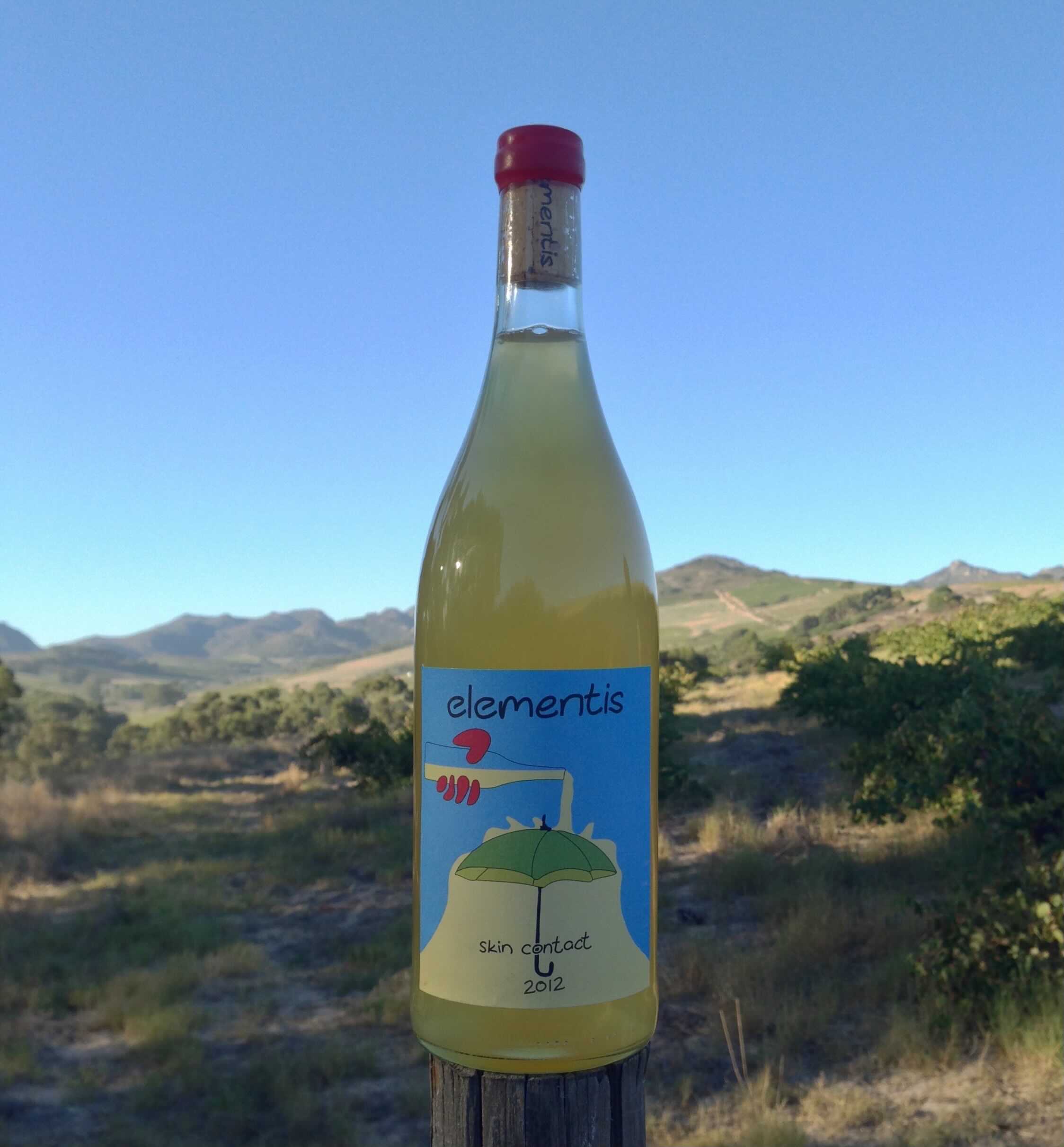 Elementis Skin Contact, 2020 by Intellego‌
‌£27 per bottle
Another of South Africa's most interesting producers - in the Swartland region like Testalonga - Intellego by Jurgen Gouws has a philosophy of minimal intervention, believing that a great wine celebrates hard work done in the vineyard. Elementis is made from Chenin Blanc, de-stemmed and fermented on the skins for 13 days in open tanks. Think pineapple, hay and lime. The Latin name refers to the elements - earth, water, fire and air - and Jurgen describes how, "The bottle symbolises the region from where the grapes originate while the umbrella is the contrast as it symbolises the style in which the wine is made – skin contact. The red of the hand symbolises fire, the yellow water, the green umbrella earth and the blue air." Explore Elementis and our other wines by Intellego.
Pelicas, 2019 by Sotelo‌
‌£24 per bottle
Pelicas by Constantina Sotelo is an estate in Galicia, northern Spain. Constantina, who took over the estate from her family in 1985, makes a truly exciting range of pure and aromatic albariño wines, all worth checking out. Pelicas is an orange wine made with 3 weeks of skin contact and matured for just under a year, without temperature control, sulfites or filtration. Lifted notes of orange blossoms, passion fruit and allspice. Skin contact suits albariño. It gives it texture and a savoury characteristic that complements its aromatic nature.
Héjon Erjesztett by Hegyi Kalo ‌
‌£25 per bottle
Hegyi Kalo is a family winery in Eger, Hungary, run by Júlia Hegyi-Kaló (daughter of our good friend Imre Kalo) and Ádám István Hegyi and farmed organically. They make natural wines without any additions that they mature in traditional Hungarian oak vats, usually after only a few days maceration. This highly individual Grüner Veltliner sees 60 days of skin contact. The result is a tannic, vividly orange wine with beautiful notes of apricot, aniseed and dried herbs. Explore our full range of wines by Hegyi Kalo.
Meet the makers
As part of each month's RAW WINE Edit, we'll be sharing interviews with the people that make our favourite bottles. For February, it felt only right to speak to Beka Gotsadze from Georgia - the birthplace of orange wine.
Meet Beka Gotsadze from Gotsa Wines‌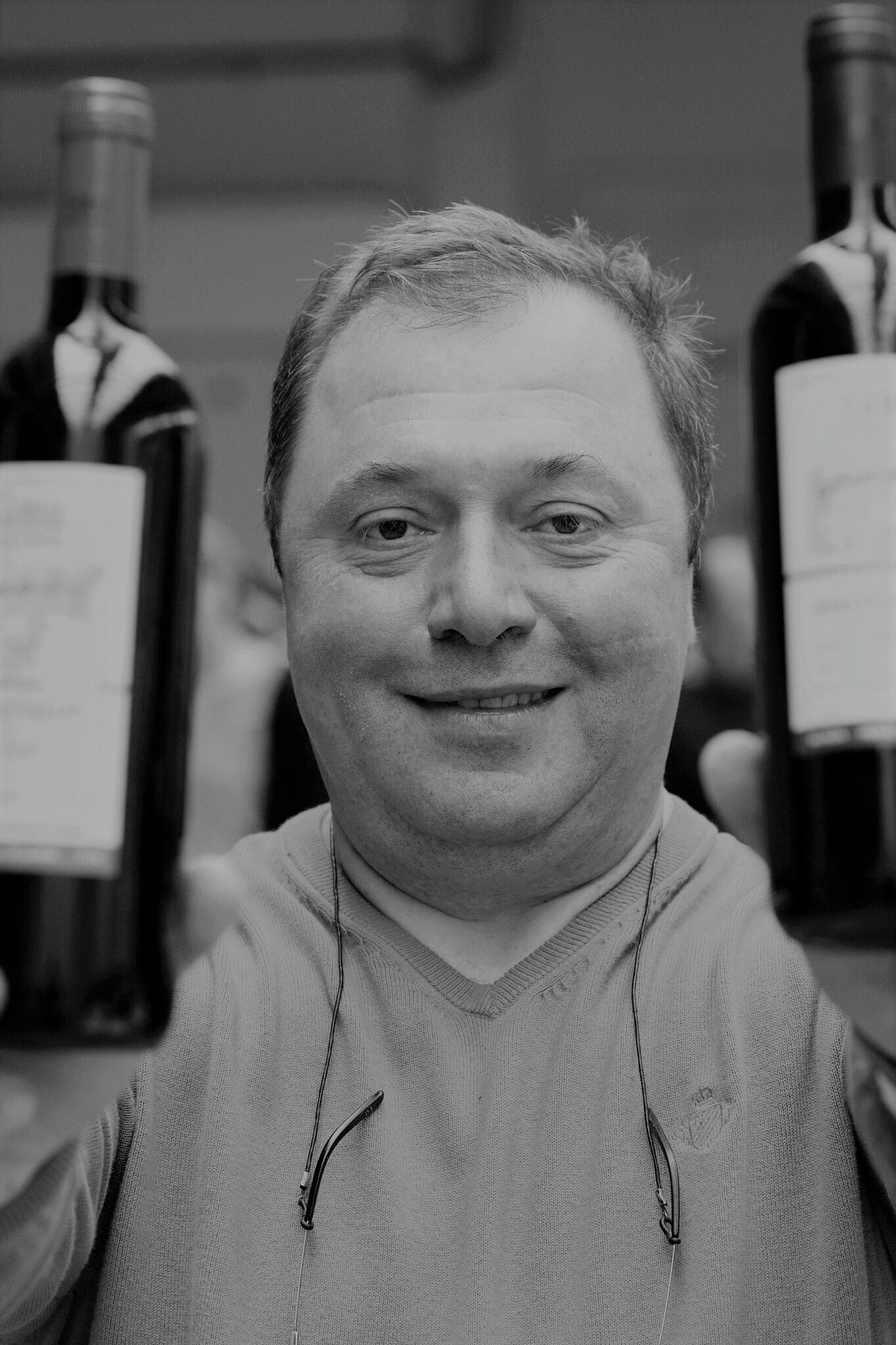 Beka Gotsadze runs Gotsa Wines in Kiketi, 25 km outside the capital Tbilisi and 1300 meters above sea level. His first vintage was in 2019.
"My great grandfather was a winemaker. I trained as an architect and had a big company up to the end of the 2010 but it wasn't interesting for me anymore. I thank God it gives me possibility to go back to my great grandfather's job - we were always making wine in the family. Every Georgian is making wine in their balcony, garage, or basement."
Meet Zurab Mgvdliasvhili from Nikalas Marani winery‌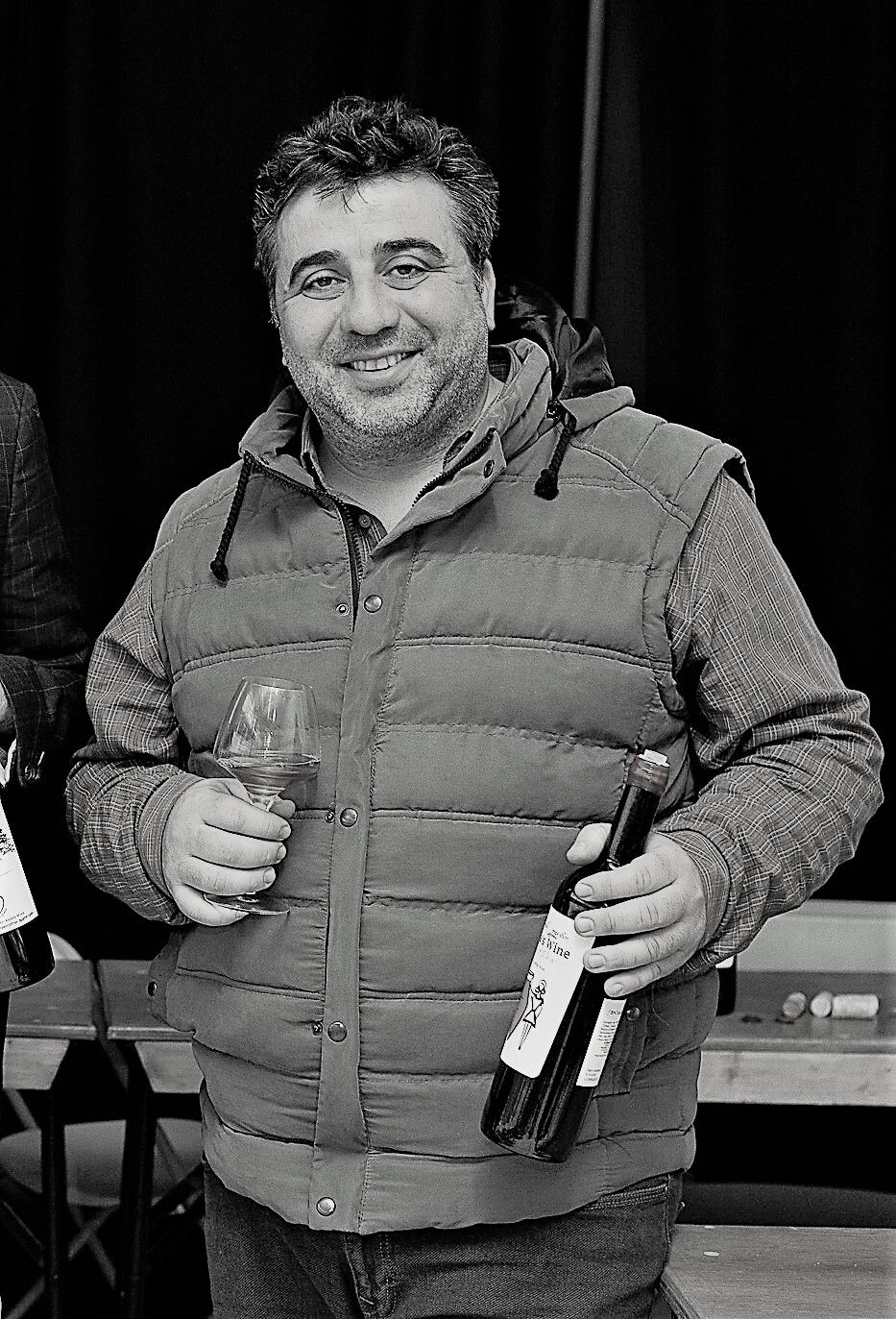 Zurab Mgvdliasvhili runs the Nikalas Marani winery in the Kakheti region of Georgia. The cellar was built by his great grandfather in 1928 - the winery is named in his honour. He makes natural wines using the  kvevri (qvevri) in traditional and more modern styles.
"My winery name is Nikalas Marani. It's in east part of Georgia. The region is called Kakheti and the village name is Kardanakhi. Kakheti its most famous place for winemaking in Georgia. My vineyards are in three locations located on the east side of Alazani Valley looking towards Caucasus mountains. The place itself is really hot. So the wines are mostly heavier in my region. And most of the wines are made with the skins and the stems so most of them are amber wines."
Did you know... Zurab heads up the Natural Wine Association of Georgia.
Read our interview with Zurab.
Learn more
For a more in-depth exploration into orange wine, read our piece on The Complexities of Producing Orange Wines which includes interviews with leading natural winemakers including Iago Bitarishvili in Georgia, Saša Radikon, Martina Celi and Giulio Armani in Italy, Christian Binner in France, Ismael Gozalo in Spain and Craig Hawkins in South Africa. We also have an orange wine section of the online shop dedicated to orange wine which you can browse at any time.

---